The Most Stylish Backpacks For Men In 2022 For Work & Travel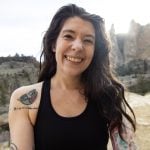 This product guide was written by Tuesday Kirby Kahl
Last Updated
May 16, 2022
Tuesday Kirby Kahl
Tuesday Kirby Kahl is a contributor at Gear Hungry. Her fierce love for the outdoors fuels everything she does. Her professional pursuits include writing, creating art, and photography. These professional passions allow her the time to live life outside as a rock climber, skier, runner, backpacker, paddle boarder, swimmer, and explorer. When Kirby is indoors, she enjoys tea, whisky, old films, cooking, and baking. Her product testing and feedback have shaped the design of everything from climbing shoes to candles.
GearHungry may earn a small commission from affiliate links in this article.
Learn more
Looking for the most stylish backpacks for men that you can carry with confidence? You've come to the right place. It is our firm belief that the best backpacks should be not only practical and comfortable to carry, but also stylish so they can complement your personal style. Whether for office, school, travel, or hiking, a good-looking, quality backpack can help both keep you organized and look more polished. Sure, a quality messenger bag often does look more stylish, but if you need lots of valuables with you, it's always best to carry a backpack as it evenly distributes the weight of your valuables to both shoulders.
But with so many backpacks available on the market, how do you find the right one for your needs and budget? We recommend looking for models with plenty of pockets and compartments so you can pack all your gear and accessories with ease. As style is personal, we won't go into specifics, but we do recommend opting for designs and colors that best go with your everyday style.
Without further ado, here are some of the best, most stylish men's backpacks around. Well-organized, durable, and seriously good-looking, these backpacks will help you navigate the chaos of everyday life in style.
The Most Stylish Backpack For Men
Troubadour Ridge Backpack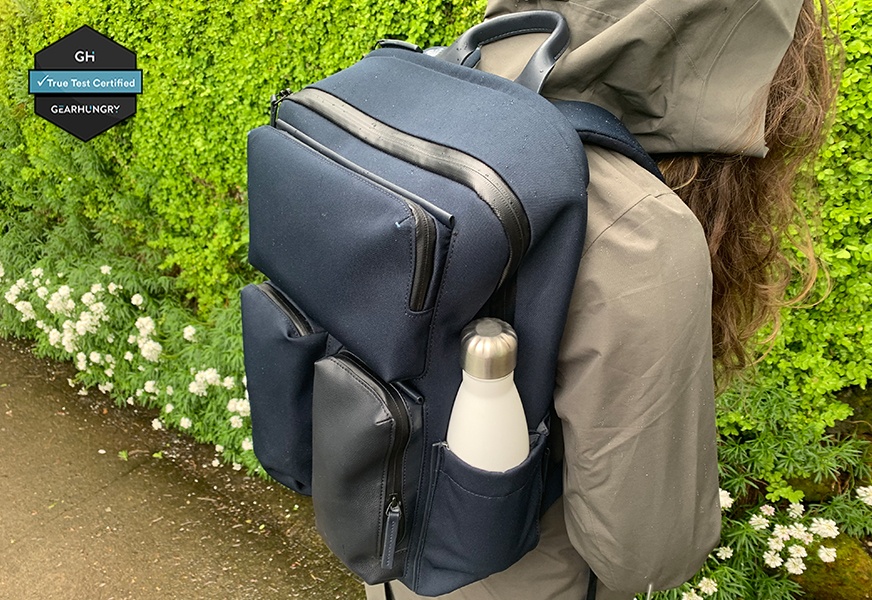 Stylish, quality, pockets galore, a dream, those are just a few words that describe the Troubadour Ridge Backpack. When I first opened the box this backpack was in, it was clear how different it was from a regular backpack even with the classic backpack silhouette. I was, and still am, quite impressed with the sheer amount of pockets. I love pockets, and I find them perfect for organization and small items.
This backpack has proved itself water-resistant by handling all the Portland rain storms and snow storms extremely well. There are no sternum or waist straps for supporting large loads but there are padded shoulder straps on this bag. I also love the multiple pockets for water bottles on the sides, they both stretch to accommodate large 32-ounce bottles too! A win in my book. Instead of a padded laptop pocket in the main area of the bag, there is an entire separate zippered laptop pocket behind the main compartment for extra security.
Key Features:
Separate zippered laptop pocket
Dual water bottle pockets
Lots of storage pockets on the inside and outside
Waterproof fabric, backpack and lining
Specification:
Brand

Тroubadour

Weight

2.8 Lbs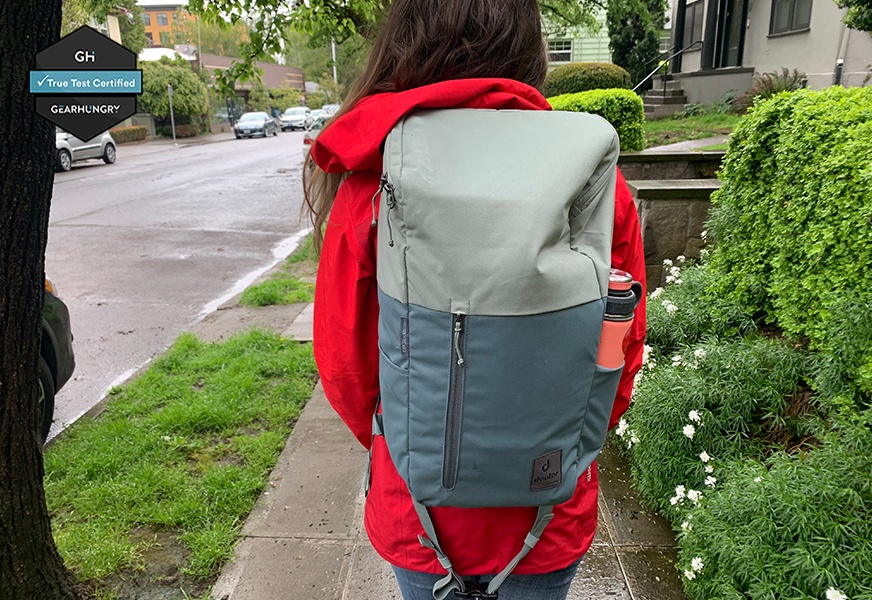 The Deuter UP Stockholm is an excellent bridge between outdoor style and city style. This pack is great for outdoor adventures like hiking or rock climbing, and the padded straps, removable sternum and hip straps make carrying heavy loads easier, but it's also fantastic for students looking for a seriously sleek backpack. I love the zippered flap opening, it makes it easy to pile anything you need inside or if you forget to zip your backpack often, there's less of a risk of all of your belongings falling out onto the street.
I'm also a huge fan of how environmentally friendly this BlueSign Certified product is. The construction of this bag contains 35 PET bottles. It's a perfect blend of form, function and sustainability. The interior of the bag hosts a padded laptop pocket and two smaller pockets for extra storage space. The exterior of the bag has a water bottle compartment on each side, and a zippered external pocket on the outside.
Key Features:
Spacious main compartment
Padded laptop compartment
Removable hip and sternum straps
Made from recycles plastic bottles
Zippered front pocket
Specification:
Brand

Deuter

Model

UP Stockholm

Weight

1.76 Pounds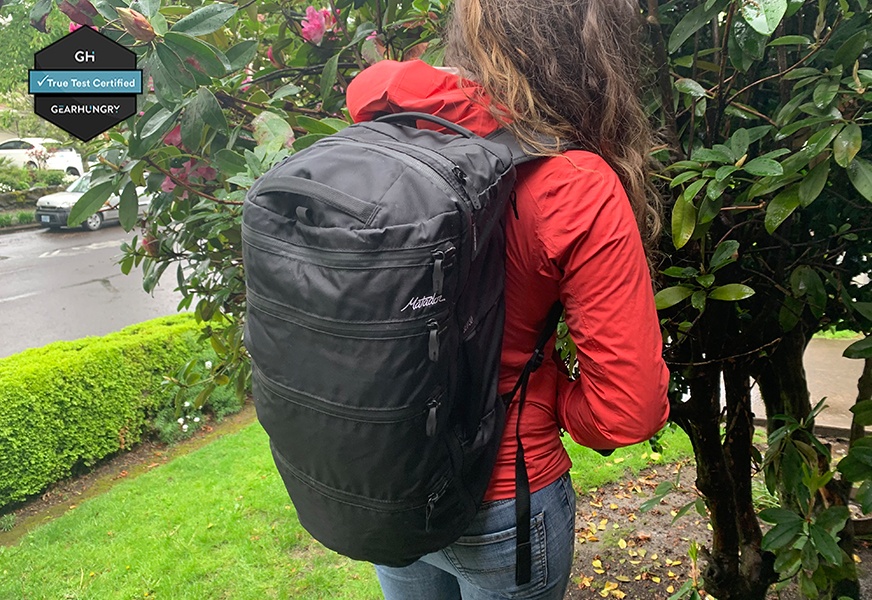 The Matador SEG30 is an exceptional travel backpack that excels in organization and durability. I love using the SEG30 for short three to five-day trips. The fact that you get external access to every pocket makes it perfect for storing what you need, day by day. My favorite way to use this bag is to pick out my outfits for each day of a trip and place them in a pocket. Then place toiletries in their own pockets and any large items or a laptop in the larger back compartment.
However, you can use this bag however you want. The durable materials that make up this bag including UTS waterproofing, nylon wear panels and Dynatec liners and dividers mean it's great for any adventure, whether you're headed outdoors or to explore a new city.
Key Features:
Seemingly infinite number of pockets
UTS waterproofing
Nylon construction
Dynatec liners and dividers
External access to all pockets
Specification:
Brand

Matador

Model

SEG30

Weight

8.4 Ounces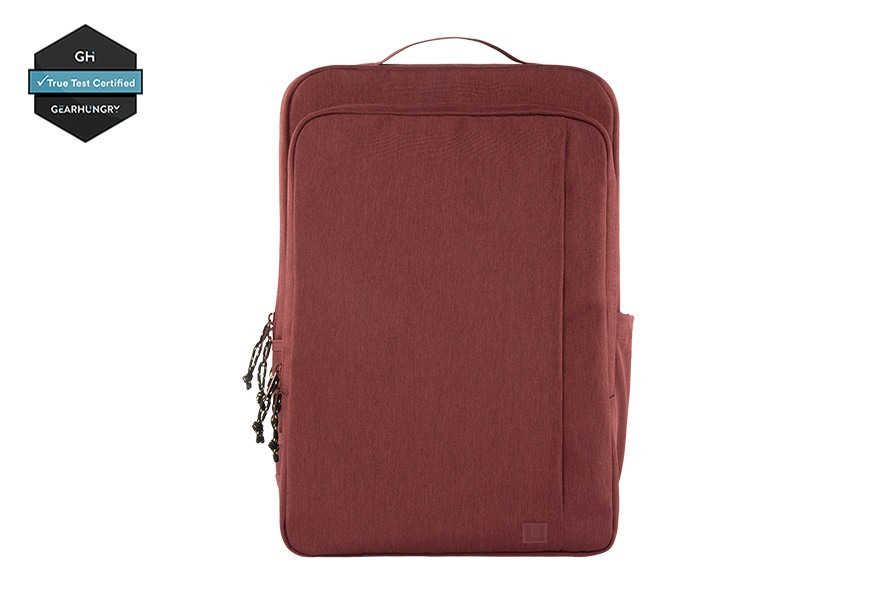 The UAG [U] Mouve Backpack is a sleek, stylish and lightweight backpack with a pop of color that is great for students, commuters and more. This pack is their perfect bag for a light weekend trip, for school or more. The spacious main pocket is great for books or clothing, and there is a padded laptop compartment to keep your laptop safe while in transit. This slot held my Macbook without any problems. I used this backpack for overnights at my partner's home a few times but mostly as a commuting pack on my walks to work or to the gym.
I love the simplicity of this bag, it isn't too big or bulky. This pack puts a slightly modern twist on the classic shape of the backpack with just enough frills.
Key Features:
Water bottle pocket
Padded laptop compartment
Lightweight
Plenty of storage space
Specification:
Brand

Urban Armor Gear

Model

UMouve Backpack

Weight

1.26 Pounds
Herschel Retreat Stylish Backpack
Another great men's backpack is the Herschel Retreat Backpack. Manufactured in Vancouver, Canada, this classic silhouette is one of the many stylish and innovative creations of Herschel Supply Co. With their great regard for detail, they have designed a backpack that is sizeable enough to accommodate all things you may need for daily activities, such as your laptop, books, and writing supplies. It can also act as an overnight bag with its big carrying capacity.
For added stability and to prevent the backpack from toppling over, the Herschel Retreat Backpack has a reinforced bottom. Other features of this incredible creation include contoured adjustable shoulder straps, a striped fabric liner, an adjustable drawstring closure, a padded laptop sleeve, an external storage sleeve, and a classic woven label.
Key Features:
External storage sleeve
Internal media pocket with headphone port
Contoured shoulder straps
Classic woven label
Specification:
Brand

Herschel Supply Co.

Model

10066-00001-OS

Weight

1.69 Pounds
Carhartt Legacy Standard Work Backpack
The nature of the work environment is constantly changing. In recent times we have migrated from having 40-hour long workweeks to working remotely with fewer hours and commuting less. The Carhartt Legacy Standard Work Backpack is a bag made for the millennial who has a versatile working lifestyle, and wants to feel comfortable wherever they work.
This is a bag that can be used for anything. With its built-in padded laptop sleeve, the Carhartt Standard work backpack is a polyester creation with a Duravax Abrasion-resistant base, in addition to its rain defender repellent, which offers both stability and safety of your valuables respectively. The exterior of this backpack features several zippered compartments provided to help you store all your writing supplies and accessories. Two water bottle pockets adorn the sides and the back panel is designed with a padded air mesh. For easy carrying, the padded shoulder straps are adjustable and have a contour fit for extra comfort. 
Key Features:
100% durable polyester construction
15-inch laptop sleeve
Zippered exterior compartment
Contoured, padded shoulder straps
Reinforced base
Specification:
Brand

Carhartt

Model

19032102

Weight

1 Pounds
Osprey Packs Daylite Plus Stylish Backpack
The Osprey Daylite Plus Daypack is a bag you can take anywhere with you, from a day trip to entire summer vacation. It is the ultimate companion that offers users nothing but easy storage, safety and comfort. Made from polyester, the Daylite Plus provides easy access to its main compartment via a sizeable zippered panel. This takes you into the backpack which features a sleeve that can hold your tablet or laptop and other necessities.
On the outside, there are dual mesh pockets for extra storage of accesories. The front pocket is secured via buckles and is great for storing layers you don't need any more or a helmet. This is an outdoors-focused pack but its sleek profile makes it a great water-resistant option for everyday use. The back panel of the Daylite Plus offers ventilation while adjustbale shoulder straps, a sternum strap and a hip belt provide optimum comfort. Make sure you also check our guide to the best laptop bags.
Key Features:
GRS-certified recycled polyester
Large panel loading main compartment
Dual stretch mesh side pockets
Mesh covered backing for ventilation
Specification:
Brand

Osprey

Model

10000409

Weight

1.19 Pounds
Burton Annex Stylish Backpack
The Burton Annex Backpack is another durable polyester creation developed by Burton. This packable backpack is lightweight yet sturdy and features a large main compartment that can fit anything you need for your next big trip, a long day at work, or an overnight stay.
The center compartment is accessed via a zippered bucket top opening that keeps all your valuables safe and secure. On the outside, the Annex backpack is ergonomically designed with adjustable load lifters, adjustable straps, and a sternum strap to enable you to carry it about with ease, but no hip belts. Other interior features include an external accessory pocket lined with fleece, a zippered mesh pocket, and storage pockets for all your accessories. Exterior features include adjustable wearing straps and extra pockets for last-minute packing. Be sure to also check out our list of the top day packs for more great items like this.
Key Features:
Rugged polyester backpack
Bucket top and adjustable fit
Laptop compartment
Lots of storage pockets
Specification:
Brand

Burton

Model

136551

Weight

2.2 Pounds
Sharkborough Supreme Anton Men's Stylish Backpack
The Sharkborough Supreme Anton Backpack is a backpack designed for the modern man or really anyone who appreciates sophistication, the texture and look of full-grain calfskin, and needs a lot of pockets to store all the essentials for work, school or anything in between.
With inspiration drawn from a classic college backpack, the Anton is a sleek yet casual backpack that has been crafted to be extremely body-friendly. The exterior of the Anton bag features pockets on the rear, front, and side. The interior is made up of flat pockets and a laptop compartment. This compact bag is great for commuters and students and is the perfect size to carry small to medium laptops and notebooks.
Key Features:
Calfskin, full-grain leather
Fits up to 15″ laptop
Front adn rear pockets, plus side pockets
Top handle, adjustable leather shoulder straps
Specification:
Brand

Sharkborough

Weight

1.76 Pounds
VASCHY Leather Laptop Backpack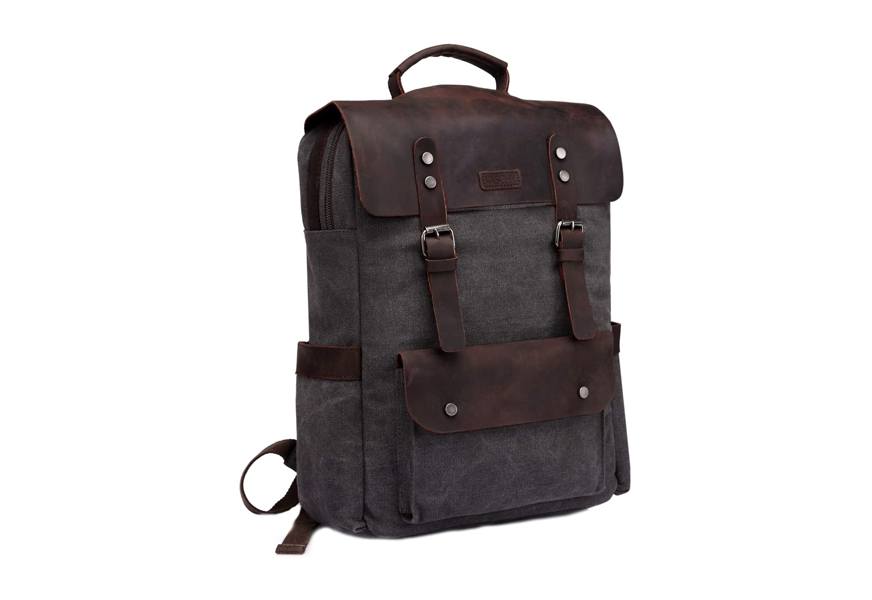 Generosity, class, and simplicity have been stitched together to create the VASCHY Leather Laptop Backpack, a fashion statement bag made from top quality canvas and leather. This is a shrink-resistant, breathable, soft, yet rugged backpack. The main compartment features a leather flap and leather straps, all in a bid to make this durable bag more secure.
Apart from the designated laptop space, the Vaschy leather backpack features two interior pockets and a main compartment for storing all kinds of items. This cool backpack is a multi-function bag that is ideal for school use as it provides spaces for everything, from writing supplies to electronic accessories to wallets.
Key Features:
Leather and canvas construction
Made to carry a 15″ laptop
Adjustable straps
One-year warranty
Front pocket with magnetic closure
Specification:
Brand

VASCHY

Model

VABP012GA

Weight

2.68 Pounds
Polare Men's Handcrafted Real Leather Vintage Laptop Backpack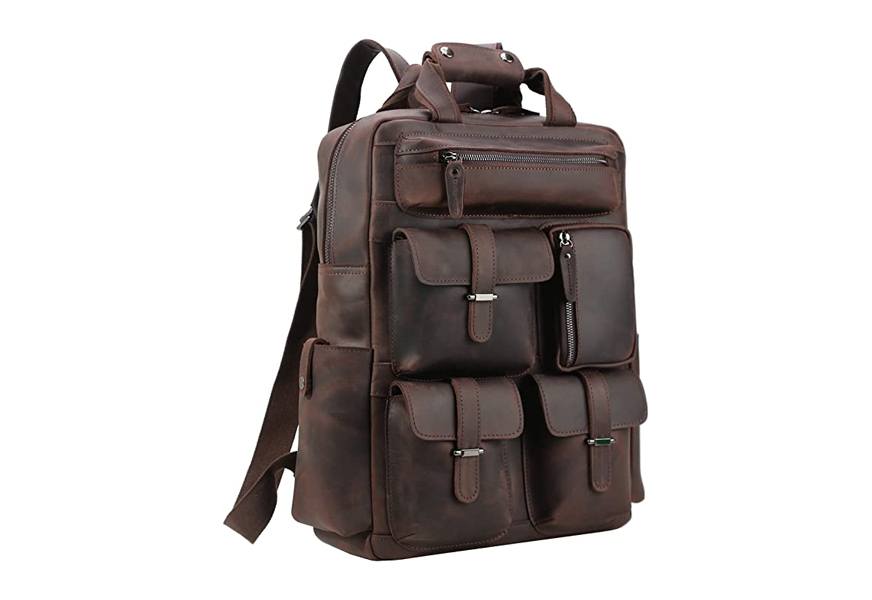 Another excellent cowhide leather backpack is the Polare Vintage Laptop Backpack, an Italian-designed work of art. This bag is the definition of tough. It holds 16″ laptop with more space to store any extra items in the main compartment. All zippers used are double-stitched and operate smoothly. This bag is both durable and beautiful and features four front pockets, three of which can be secured via the hook & loop system. The multiple compartments allow for quick and easy organization of all your small valuables.
Leather makes for a great backpack material as it is durable, ages gracefully and is water-resistant As a bonus, it looks incredibly stylish adn expensive. This can be a great travel backpack when you are traveling with your laptop.
Key Features:
Quality full-grain leather
Reliable, customized hardware
Durable zipper with two zipper head
Front pocket with hook & loop
Adjustable shoulder straps
Specification:
Brand

Polare

Model

3411380

Weight

4 Pounds
Herschel Classic Stylish Backpack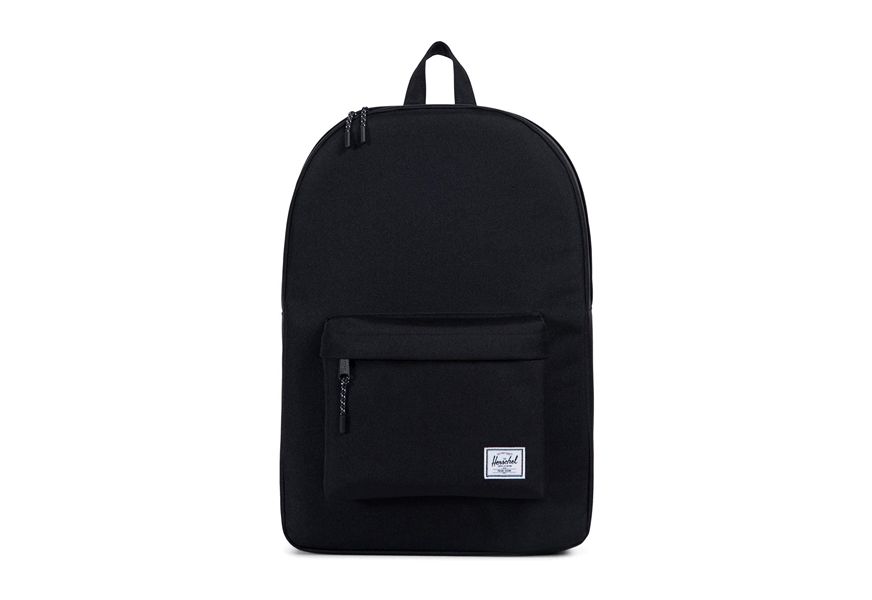 The Herschel Classic Backpack is tailored to complement every man's style perfectly, making it a product true to its timeless silhouette. Use this backpack for your next trip or for commuting to work. The backpack features a main pocket and an easy access front pocket. The main pocket can accommodate a lot of valuables, even though it may not seem the case from the exterior. While it doesn't have a separate shoe compartment, it can easily hold your socks, shoes and shirts.
Padding in the shoulder straps makes the Herschel Classic bag a joy to carry with you wherever you please for long periods of time. This lightweight backpack can make for a fantastic gift for any male figure in your life, as it's both functional and incredibly stylish. This simple, but timeless everyday backpack is available in various colors so you can pick your style. 
Key Features:
Outer zip pocket featuring a logo patch
Pockets: 1 exterior
Locker loop and padded shoulder straps
Tailored to fit your style
Specification:
Brand

Herschel Supply Co.

Model

10001-00001-OS

Weight

1 Pounds
Oakley Men's Kitchen Sink Backpack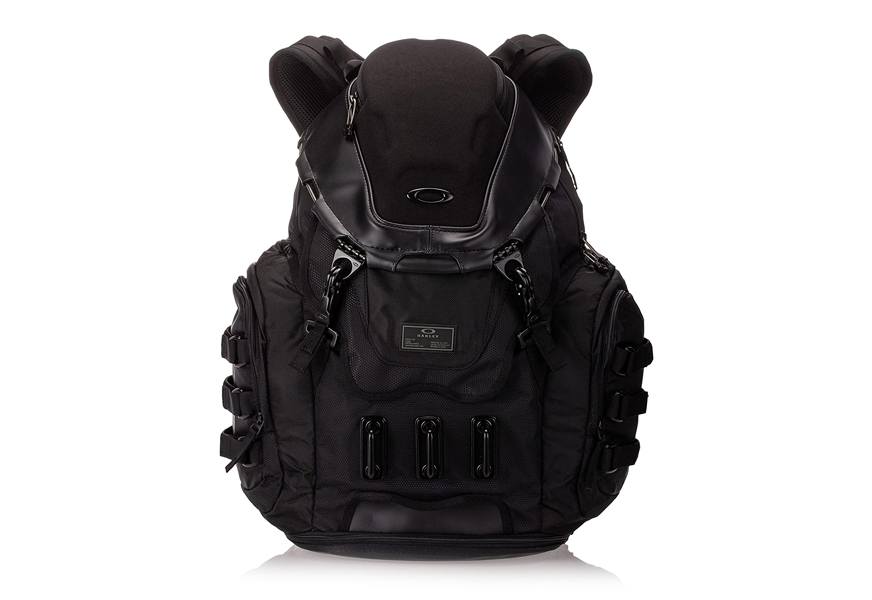 The Oakley Men's Kitchen Sink Backpack is outfitted with versatile storage options and serious hardware, making it the complete package with a heavy-duty appeal. To keep your 17″ laptop safe and secure, this backpack features a padded side-access laptop sleeve. It also comes with functional internal pockets and external pockets to cater to all your protection needs as you take a day trip or a more extensive vacation.
Haul this backpack with ease and comfort for long hours, thanks to its adjustable mesh-lined shoulder straps and padded back. Excellent addition to this backpack is its reinforced zip closures and a hard-media player compartment. The Kitchen Sink backpack is a magnificent combination of style, toughness and function meant for every man. Any extra gear that doesn't fit inside can hand off the exterior loops. Love backpacks? Check out our review of the most popular external frame backpacks for our top picks.
Key Features:
69% nylon, 31% polyester
Abrasion-resistant
Water-resistant
Fits 17″ laptops
Multiple compartments and pockets
Bottom shoe pocket
Specification:
Brand

Oakley

Model

Kitchen Sink

Weight

4 Pounds
Earth Pak Waterproof Backpack
The Earth Pak Waterproof Backpack is made for the outdoors. This waterproof backpack features a single reinforced strip, a roll-top closure, and the main compartment that can hold up to 35L worth of items. An additional feature of this backpack is its side-cinching straps which also make it the perfect backpack for anglers and folks who love boating and kayaking.
Included with every purchase is a submersible phone case that can be useful in unpredictable weather conditions where your phone stands the chance of becoming wet. Phones measuring up to 6.5 inches diagonally will fit into this case without any issue. In front of this backpack sits a large and functional pocket, placed appropriately to give you easy access to all your small essentials like a wallet and keys. This durable backpack is completely waterproof and the interior of the bag also has a pocket for the safe storage of items. Don't forget to also check our guide to the best-selling backpacking backpacks.
Key Features:
100% waterproof construction
Ipx8 waterproof phone case
Padded back support
Sternum buckle
Stylish Backpack For Men Buying Guide
Why Trust Us
At GearHungry, we've put years into honing our product testing skills as athletes and everyday users. We take pride in our ability to find what features really matter and provide comprehensive testing to ensure we only recommend the best products for you. Each of these tested durable backpacks went through testing in a huge variety of weather conditions, they traveled and were used for a variety of purposes.
Who This Is For
This guide is for men and women who need a new everyday backpack or a trendy backpack to keep up with ever-changing fashion trends or just to change up their routine and look. There are lots of cool backpacks for guys and gals that aren't only focused on looks but offer a host of features that make them exceptionally functional too.
How We Picked
Selecting the best backpacks for men and women started with tried and true favorites from our testing team. From there we looked at best sellers and top-rated stylish men's backpacks. We wanted to ensure we had products and features to suit every need and we know that everyone's definition of a stylish bag is a little bit different!
How We Tested
Each of the tested packs on this list was tested commuting to and from my local climbing gym as a work bag and as a gym bag. These bags went on trips to Seattle and Bend, to coffee shops, and more. I treated each of them as everyday backpacks to get a feel for their performance in multiple scenarios. All of these bags saw sunny days and Portland-typical drizzly days and total downpours.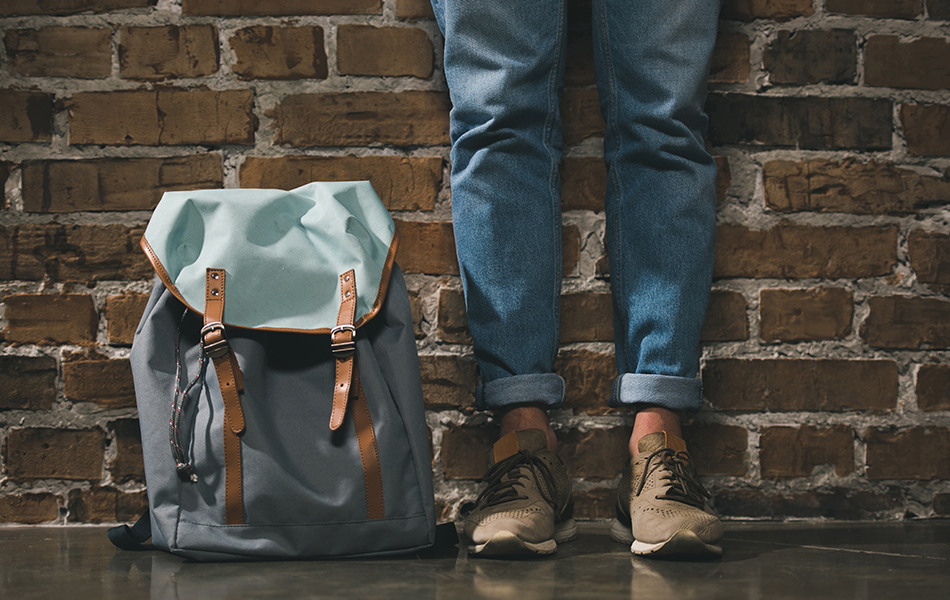 Features To Look For In Stylish Backpacks For Men
Purpose - When selecting a new everyday backpack, it's important to identify where your backpack will be headed and what its primary use is. Is this a gym bag? Are you going to use it for work or school? Understanding your bag's primary purpose can help you select the features you need. A school or work bag may need a dedicated laptop pocket and a gym bag may need a spot for smelly gym clothes or a towel. A commuting bag should have padded straps for easy carrying and a travel backpack should feature a luggage strap and compression straps.
Material - We have a huge range of materials on this list from canvas to nylon, to polyester and leather. Some materials like leather offer a changing look and some water resistance but they can be heavy. Other materials may be more lightweight or offer more variety in pockets or features. Choose the right material for yourself based on your needs and personal style.
Size - Backpacks for men can range from a few mere liters in very small options, up to 30-liter packs for more serious gear and equipment. The most common backpack sizes for everyday use though are 16-liters to 22-liters.
Stylish Backpack For Men FAQ
Q: What makes a good everyday backpack for men?
A: High-quality backpacks are a combo of functionality and style. If you're buying a backpack for everyday use, we highly recommend focusing on models that both have enough storage space for your needs and either complement or blend your personal everyday style. If you're unsure about the color and style, black and brown backpacks go with pretty much everything.
A good everyday backpack should also be durable as well as offer some waterproofing if you live in a particularly rainy area.
Q: Is a backpack appropriate for work?
A: As long as your backpack is clean and professional-looking, it is absolutely appropriate for work. Backpacks offer much more space than most messenger bags and briefcases, not to mention, they're more comfortable to carry as they distribute the weight of your bag to both shoulders. Speaking of comfort, if you often struggle with shoulder pain, we highly recommend picking a backpack with wide and padded straps to prevent them from digging into your shoulders.
If you're looking for something really sleek and stylish for work or perhaps for an interview, you can't go wrong with a leather backpack.
Sources:
Bad Backs And Backpacks - Harvard Health
Sign Up Now
GET THE VERY BEST OF GEARHUNGRY STRAIGHT TO YOUR INBOX