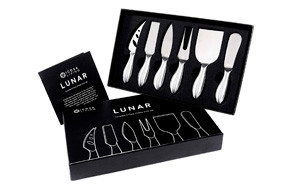 Lunar Premium Stainless Steel Cheese Knife Set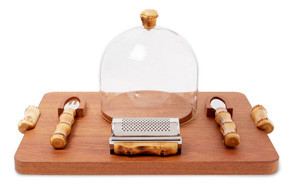 Lorenzi Milano Cheese Knife Set, by Mr. Porter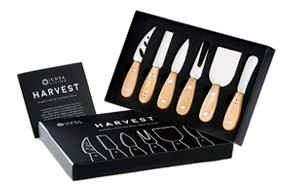 Harvest Cheese Knife Set, by Icosa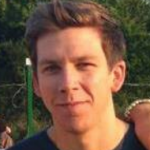 It's time to go from advanced to gourmet. You're a cheese connoisseur, a lover of aged romano, crisp parmesan, guda; we're getting hungry just writing about it. Different cheeses require different knives depending on their hardness, but getting those knives separately often results in a cosmetically unappealing mixed set, and varying degrees of dependability. We've chosen the best cheese knife sets to master your kitchen, entertain with finesse, and premier in the China cabinet with flair.
The Best Cheese Knife Set
Cheese Knife Set Buying Guide & FAQs
The best cheese knife set is the one that suits your needs. However, it never hurts to be prepared. We've seen our selection of cheese board sets, but now it's time to dig deeper and find out what makes them so superior to the standard market rabble. From choosing the right cheese knife block, down to board types, it's all here.
Features to Look for in Cheese Knife Sets
Knife Types - We'll break down the specific knife types you should be on the lookout for further in this guide. This primarily needs to work for your preferred cheeses (after all, it is your set), but having additional knives for other types of cheese is never a bad thing.
Quality - This heavily relies on material, coating, finish and the brand. Quality is the first indicator of how long your knife set is going to last. These are an investment in your home, in your kitchen, and should always last for decades or more with proper care.
Materials - We like seeing porcelain and stainless steel; things that can be sharpened, refined, brought back to its full glory when time and use ull the blade. Pay attention to coating and plating; you want a full-bodied cheese knife that will stand the test of time.
Design - Design throws aesthetics out the window. How well it operates, how easy it is to use, if unnecessary amounts of materials are used, etc. You want a smooth, easy-to-use cheese knife set so you can appear like the boss you are when you're entertaining your friends.
Board - Not all sets come with boards, but if they do, you want to look for wood or marble. You can get glass boards, ceramics, a ton of different materials, but those tend to lose their luster after a few dozen uses. Porcelain shows scratches, glass is hard to get crystal clear clean, and so on.

Cheese Knife Set FAQs
Q: What Are the Types of Knives Every Cheese Knife Set Should Include?
A: Your cheese knife set needs a few of the essentials. We've outlined the first six knives that you're going to need, and why.
Fork-Tipped Spear: This is your ultimate knife for cutting into firm cheese. The slit in the center prevents that cheese from sticking to the tines.
Hard Cheese Knife: Required to cut into hard cheeses without crumbling or damaging them. Works well to create even slices.
Flat Spatula Knife: Used for partial presentation points, partial function, the flat spatula knife is your go-to item for cutting away excess rind. This can also be used to
Rind Cutter: Specifically used to cut away the rind on multiple cheese types. Not ideally used for serving.
Spade: Used for cutting into hard and firm cheeses.
Soft Cheese Knife: Curved to cut into and spread soft cheeses with ease.
These are, of course, the most common and necessary knives for a versatile cheese knife set. The best cheese knife set is the one that suits your needs, but in our opinion, it also needs to be versatile for when your guests bring other types of cheeses over during a function. Nobody has ever regretted being prepared for the unexpected.
Q: Why do Some Knife Blades Have Holes?
A: A proper cheese knife set needs a soft cheese knife to collect and spread soft cheeses, but a cheese knife with slats or holes throughout the blade helps to prevent friction when cutting. Since you're using these exclusively for cheese, you might be wondering, "What friction is going to build?".
That was the original goal for vegetable and steak knives, but transcended over to cheese knives for the dual purpose. Holes in the blade help prevent cheese from sticking, and if you're working with a medium-firm cheese, that aspect helps prevent it from morphing or crumbling the cheese. It creates a better cut, and of course, the masterful aesthetics don't hurt either.
Q: How Can I Sharpen my Cheese Knives at Home?
A: First, you have to understand what material your blade is made out of. For a stainless steel knife, you can use a knife sharpener to get the job done quickly. Just ensure that the blade/stone in your sharpener is able to sharpen whatever grade stainless steel you're using (most steel cheese knives are made of 18/8 grade steel, which can be sharpened by most automatic knife sharpeners).
If your cheese board and knife set came with porcelain or another, more malleable type of blade, then you'll be fine with more automatic sharpeners. However, you'll preserve the coating or finish on those blades better with a manual cutlery sharpener.

Q: What is the Best Way to Clean my Cheese Knife Set?
A: Your cheese cutter set is designed to look glorious when not in use, and perform when the time comes. However, if you've gone with our preferred type (stainless steel cheese knife set), you're going to run into some hefty cleanup. Soft cheeses stick to your blades and are fairly easy to clean off, while harder cheeses leave streaks on your set, and require a bit more work to properly get off.
The last thing you want is to pop these knives back in the block, and find that your entire cheese knife block had traces of cheese on them. That's going to result in mold and an even worse cleanup process. Don't soak your knives; run them under constantly running hot water, using the soft side of a sponge to wipe away excess cheese.
Before putting them away, (and this goes for all material types), you're going to want to air dry your knives. Before placing them back in the block or in their respective gift-style box, inspect them under some direct light. You can use the hood range of your stove for this. For an added precaution, run a dry rag over them before returning them to their proper place. Avoid harsh chemicals, keep these pristine.