The Best Ka-Bar Knives for Tactical, EDC, and Outdoor Use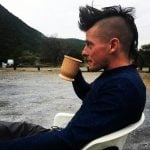 This product guide was written by Sam Anderson
Last Updated
June 4, 2021
Sam Anderson
Sam Anderson has followed a passion for well-told stories and nature's beauty from university classrooms to mountain adventures. After earning a bachelor's degree in literature, he leaned into a life fueled by road tripping, rock climbing, coffee and beer, and renegade camping. He has worked as a chainsaw operator, house carpenter, and window cleaner, at one point running his own window cleaning business. He has finally settled with his girlfriend and small zoo in the western American desert, trading his tool belt for a keyboard.
GearHungry may earn a small commission from affiliate links in this article.
Learn more
Ka-Bar: no other knife name gives true Americans more inspiration or strikes more fear in the hearts of its enemies. Truly, the best Ka-Bar knives both intimidate and perform. Famous since the World War II era, the knives have become tactical and hunting legends. Stallone's John Rambo carried an outlandish bowie design (Google it) — and although Ka-Bar did not make it, the influence was obvious.
In all seriousness, Ka-Bar's exceptional reputation is based on its proven utility and performance in actual combat. Its signature model, the Mark 2 Combat Knife, entered military use in 1942. By the end of the War, the Mark 2 had become standard issue for the Marine Corps. In the years that followed, the Ka-Bar saw extensive duty with Marine, Army, and Navy units in Korea and Vietnam. Its clip point blade, steel crossguard, and robust leather grip made it appealing for both combat and utility.
A military legend in full, Ka-Bar has more recently found success in the outdoor, tactical, and bushcraft fields. We sought out the best Ka-Bar knives to execute a range of specific user needs. Our review showed exactly what you'd expect: workmanlike performance and heavy-duty craftsmanship. Read on to learn all about the best Ka-Bar knives.
The Best Ka-Bar Knife
Ka-Bar Becker BK18 Harpoon Knife
Becker's BK18 Harpoon checked some interesting boxes during my review. At 6.9 oz. (10.6 with the sheath), it's pretty light compared to its competitors. But the deep-bellied blade seemed sturdy enough for heavy-duty tasks and did not fail despite my best efforts to break it. It had its flaws but it was unequivocally tough.
The first thing I thought about the BK18 Harpoon was something along the lines of "this is a hell of a knife." It is a substantial piece of steel, and the plastic sheath is stout and broad, even considering the knife's size. The knife is 9 ⅜" long; the full tang blade covers 4 ½" of that length. The blade is big in all dimensions: it has a deep belly and it's 4mm thick.
Testing was hit and miss. The knife was satisfactorily sharp out of the box. It sliced soft tomatoes without squishing them and made a decently clean cut in paper. And it was very strong. At one point, I got curious whether I could break it, so I stuck it between two gate doors and pried. I found it bent pretty readily but sprung back straight as an arrow. Even when I really leaned into it, I couldn't snap or bend it. As well, I was confident in the sheath, which gave plenty of lashing options.
That was the end of the good. The 1095 Cro-Van blade, though flexible and durable, didn't hold its edge particularly well. It also corroded pretty quickly on the exposed edge. Beyond that, I wasn't crazy about the knife's feel. Some people say Celkon handles feel cheap, and I'll corroborate that. The texture always felt like it would sweat easily, and more importantly, it was very lightweight. This was a problem because it swung the knife's balance toward the blade significantly.
Overall, you'd be hard-pressed to find a better workhorse than the Ka-Bar Becker BK18 Harpoon. The 1095 Cro-Van blade was tough, and the bead-blasted coating helped prevent rust (though the edge did corrode). Its deep belly should help it with most heavy-duty tasks. But it did dull quickly and leave me wanting better balance and overall in-hand feel. Read the in-depth review here.
Key Features:
Bead blasted blade
Deep belly
Celcon handle
Heavy plastic sheath
Specification:
Brand

Ka-Bar

Model

BK18

Weight

6.9 oz. (knife), 10.6 oz. (knife and sheath)

Overall Length

9 ⅜ in

Blade Length

4 ½ in

Blade Material

1095 Cro-Van, bead blasted

Handle Material

Celcon

Grind

Flat
Tough
Suitable for heavy tasks
Somewhat unbalanced
Cheap handle feel
Corrosion-prone edge
Ka-Bar USMC Serrated Edge Knife
The USMC Serrated Edge Ka-Bar combat knife is the classic that many admire and all know. The original Mark 2 Combat Knife had the same shape and most of the same stats. This variant's black powder-coated blade and serrated edge make it ideal for survival situations.
A badass 7" blade anchors the unit. Such a big blade can be used to perform a range of bushcraft functions like chopping, slicing, splitting wood, or skinning. Made with 1095 Cro-Van, it should be next to unbreakable. And even when it gets dull, you can still saw with the serrations.
Each feature can be interpreted through the lens of a survival situation. The clip point helps give the tip a balance of sharpness and durability. It's narrow enough for delicate carving or picking, but substantial enough that it shouldn't chip or break during a stab. The signature steel cross guard keeps your hand from slipping up to the blade under any conditions. And the thick leather handle wrap delivers a sure grip.
Word to the wise: get the leather sheath. On the internet, Ka-Bar's plastic sheaths are somewhat notorious for iffy quality control; they don't always fit perfectly. Opt for the leather sheath to make sure your survival knife is secure.
Key Features:
Classic Ka-Bar shape and design
7" clip point powder coated blade
Serrations at blade base
Tang stamped USMC
Specification:
Brand

Ka-Bar

Model

1252

Weight

11.2 oz.

Overall Length

11.875 in

Blade Length

7 in

Blade Material

1095 Cro-Van, black powder coat

Handle Material

Wrapped leather

Grind

Flat
Recognizable (iconic?)
Durable
Opt for leather sheath; plastic variant can be iffy
Big; nearly 12" total length
Ka-Bar TDI Pocket Strike Knife
The TDI Pocket Strike may not look like a traditional Ka-Bar, but its lean, mean profile constitutes a tactical advantage. A flat plastic sheath helps the knife conceal inside your pants; the ring loop helps users deploy it quickly. The ergonomic handle features a moderate finger groove for the first finger.
What else can you say? The TDI Pocket Strike just looks like a fighting knife. Its stout, 3.2" clip point blade looks aggressive and unbreakable. A generous bolster helps keep the user's hand safely clear of the action on the edge. And its minimalist handle helps create an overall downturned shape, with a sharp thumb rise and a finger groove for leverage.
John Benner of the Tactical Defense Institute designed the knife for Ka-Bar with concealment in mind. The plastic sheath is flat and tapered to maximize discreet pocket carry. When it's time to draw, a generous ring loop at the butt helps users find and grab it easily. It's a bit long for concealed carry at 7.75", but its length should make it comfortable to use.
The AUS-8A blade is full tang with a hollow grind. AUS-8A steel is known for being razor-sharp and relatively easy to resharpen. That's important for any knife you might use in hairy conditions. The hollow grind exaggerates the effect of the sharp edge and cuts weight. This tactical knife weighs 6.4 oz.
For tactical use and concealed carry, the low-profile Ka-Bar TDI Pocket Strike should excel. It's a bit long for concealment, but if you have deep enough pockets, it should make up for it in reliability during dangerous situations.
Key Features:
Downturned shape
Flat plastic sheath for concealment
AUS-8A full tang blade
Specification:
Brand

Ka-Bar

Model

2491

Weight

6.4 oz.

Overall Length

7.75 in

Blade Length

3.2 in

Blade Material

AUS-8A

Handle Material

Nylon/fiberglass

Grind

Hollow
Flat design for concealment
Ergonomic handle with thumb rise and finger groove
Ring loop
A bit long for concealed carry
Ka-Bar Dozier Folding Hunter Knife
The first time I pictured a Ka-Bar folding knife, nothing came to mind. In fact, I wasn't aware they existed. But I'm glad they do because the lightweight Dozier looks like a winner. Zytel handle scales support an AUS-8A black-coated blade. Various colors are available.
The Dozier Folding Hunter is far and away from my favorite Ka-Bar knife for EDC. If I didn't already have so many pocket knives, I'd be interested to try them out. I like the simple construction and blade shape, and I love the lightweight. At 1.5 oz., you'll never know the Dozier is there until you need it. But a reversible pocket clip keeps it right where you want it. It's a moderate 4 ¼" long when folded — not so small it'll get lost but not too big for a pocket. (Turns out mini Ka-Bar knives do exist).
The knife has a lock about midway up the handle. A thumb stud on the blade facilitates one-handed opening. The simple 3" drop point blade's moderately deep belly helps its utility for everyday tasks.
A possible drawback is that the hollow grind AUS-8A blade may require a fair amount of maintenance. AUS-8A is known for its sharpness, not its edge retention. And a hollow grind means less material on the secondary grind, so a higher possibility of bending or breaking.
But when it's sharp, the blade should glide through EDC tasks. With a variety of color choices, a low price point, and an easy carry capacity, the Ka-Bar Dozier Folding Hunter is a no-brainer.
Key Features:
Zytel handles
7.25" total length; 4.25" when folded
Handle lock and thumb stud
Reversible pocket clip
Specification:
Brand

Ka-Bar

Model

4062FG

Weight

1.5 oz.

Overall Length

7.25 in (4.25 in folded)

Blade Length

3 in

Blade Material

AUS-8A, black coated

Handle Material

Zytel

Grind

Hollow
Lightweight
Capable of EDC tasks
The blade may require frequent maintenance
Ka-Bar Becker Short Drop Point Knife
Interested in an all-purpose Ka-Bar camping knife? Check out the Becker Short Drop Point Knife. With a robust but simple 4 ⅜" drop point blade, it's equipped for a variety of backcountry tasks. The Ultramid handle is contoured for comfort. And a MOLLE compatible sheath adds to the utility.
The simple fixed-blade knife should work just as well for chopping vegetables as splitting log rounds. Its 1095 Cro-Van blade probably won't wow users for sharpness, but it promises to be tough over the long haul. If you want it to be a sharpener, well, sharpen it. You're camping; what else are you gonna do while you drink beer?
In some ways, the Short Becker Drop Point is in the realm of small Ka-Bar knives. At 6.4 oz., it's lighter than many Ka-Bar entries. 9 ¼" long, it's also shorter than some of the biggest Ka-Bars. All this boils down to one quality: easier to carry. And that's important when you're carrying everything you need for the weekend on your back or in your trunk.
For a dependable multipurpose Ka-Bar for camping, we recommend the Short Becker Drop Point. The relatively small Ka-Bar knife should pack well and perform solidly in a variety of tasks.
Key Features:
Drop point 1095 Cro-Van blade
9 ¼" total length
Ultramid handles
MOLLE-compatible sheath
Specification:
Brand

Ka-Bar

Model

KABK16

Weight

6.4 oz.

Overall Length

9 ¼ in

Blade Length

4 ⅜ in

Blade Material

1095 Cro-Van, black coated

Handle Material

Ultramid

Grind

Flat
Probably won't wow many users with any one feature
Ka-Bar USSF Space-Bar Knife
"Ok, is this a joke?" That's what I thought when I saw Ka-Bar's line of Space Force knives. It turns out they're very real, and they might even be the USA's last line of defense in outer space. Cutely designated the SPACE-BAR, the first outer space knife I've ever examined is here.
So why do photos of this knife make it look like something a LEGO scuba diver would carry? It's partially because the knife has a gray powder coating on the blade. The gray color resists outer space radiation, according to our sources. It's also got a sky blue Kraton G handle.
Kraton G is not the name of a legendary alien space pilot from the planet Xczdk-420. According to Google, here's what Kraton G is:
"Kraton G polymers are second-generation styrenic block copolymers with a hydrogenated midblock of styrene-ethylene/butylene-styrene (SEBS) or styrene-ethylene/propylene-styrene (SEPS)."
I'm pretty sure I would have had to go to outer space college in order to learn most of those words. SEBS? SEPS? Try SPACE, alien scum!!!
Other than the out-of-this-world handle material, the Ka-Bar USSF SPACE-BAR is basically a military-style Ka-Bar. The blade is the same 1095 Cro-Van as ever. It's unclear whether the vacuum of space or increased solar radiation degrades the material at an increased rate.
Nevertheless, the 45th President of the United States should be proud of Ka-Bar's salute to his historic commitment to the United States Space Force. For hand-to-hand combat in outer space, there's clearly no alternative to the Ka-Bar USSF SPACE-BAR.
For more top-quality blades, check out our selection of the best diving knives.
Key Features:
USSF stamped tang
Gray powder coated 1095 Cro-Van blade
Sky blue Kraton G handle
Specification:
Brand

Ka-Bar

Model

1313SF

Weight

10.4 oz.

Overall Length

11 ¾ in

Blade Length

7 in

Blade Material

1095 Cro-Van, gray powder coat

Handle Material

Kraton-G

Grind

Flat
Can be used in outer space
May protect a user from hostile aliens
Balance may be affected by zero gravity
Why Trust Us
Where better to use survival and tactical knife than in the great outdoors? Our team not only goes on adventures in nature for sport and play; some of us have full-on lived outside for months on end. One thing's for sure: when you're camping or hiking long-term, you need a quality knife. If it's possible to use the same knife for everything, even better. We've used the good and the bad, and we're here to draw the line of demarcation.
Who This Is For
Ka-Bar builds fixed blade knives for many varieties of outdoor people. Whether you wear the uniform of one of the Armed Services, or just your trusty camping clothes, Ka-Bar tries to make a knife for you. With such a broad targeted audience, paring down Ka-Bar's selection can be difficult. That's where we come in. 
How We Picked
The stability of available Ka-Bar knives is huge. We picked the best Ka-Bar knives by evaluating their use and utility according to situations and features. Want the best Ka-Bar camping knife? You're going to want something that's not too big or heavy, but still durable and suitable for multi-purpose use. We've got you covered.
How We Tested
Reviewing Ka-Bar knives in the field was a matter of evaluating edge retention, durability, and overall ease of use. Weight and bulk were two of my key metrics; Ka-Bars do not have a reputation for being small. Beyond that, I wanted to know how Ka-Bar's steel would resist corrosion and hold an edge. As well, I tested breakability.
Features to Look for in Ka-Bar Knives
Blade Material/Design — Clearly, the main event of any knife is the cutting edge. Blade design, shape, and material, all influence the edge. Ka-Bar got famous for its low-profile clip point blade that worked for both combat and utility. However, different blade shapes accomplish different tasks.
Material choice means a lot; Ka-Bar tends to lean on 1095 Cro-Van for its bigger blades and AUS-8A for its smaller ones. 1095 Cro-Van has a reputation for durability, while AUS-8A sharpens easily and resists corrosion.
Ka-Bar also tends to coat its blades, so watch for that. The coating can be applied to reduce visibility or add corrosion resistance.   
Blade Length — How many inches ya got, brother? Bigger isn't always better; check out Ka-Bar's pocket knives for little blades that do a lot. But sometimes it helps to have a longer blade for an all-around utility like you would want at a campsite. Also, consider carrying utility. If your knife's too big and bulky, you're gonna get tired of carrying it and, most likely, stop.
Blade Grind — There are a lot of knife blade grinds that suit a wide variety of purposes. Each knife in this guide features either a hollow or flat grind. A flat grind is the typical knife grind style: each side of the blade is beveled at an equal straight angle. In a hollow grind, the bevels are concave. Hunting knives often have hollow grinds. Though they have a reputation for dulling more quickly, they also slice well and usually have narrow edges that easily get razor-sharp.
Weight  — Some Ka-Bar knives are pretty heavy. The bigger fixed-blade entries in our lineup all weigh well more than half a pound, which you'll definitely notice on your belt. Some are engineered for lightweight EDC capability. The Ka-Bar Dozier folding knife, for instance, weighs 2.5 oz.
Durability — I personally tested one of the most resilient knives I've used for this article. And remember, Ka-Bar made its reputation in wars on foreign soil. The knife's durability under any conditions is its bread and butter.
Handle Material — Put basically, there are two components to any knife: the blade and the handle. If you don't like the handle, you're not going to like the knife. We'll pay attention to the handle of each knife in the knife's description. The basics are material choice as it relates to weight and balance and texture.
Usage — This guide includes knives intended for tactical use, EDC, camping, and beyond — even knives made for outer space. (I'm not kidding)! Make sure your knife's features line up with your needs. Each individual knife review should help with that. 
Appearance — Damn, there's nothing like a big-ass knife, is there? With its grisly reputation and menacing appearance, a Ka-Bar is an intimidating edge weapon. But you know what? Ka-Bar's folding knives, as well as its smaller ones, can fill discreet roles and attract less attention. It's all about what your situation calls for.
Size — I tend to think about: how big a knife do I actually need? Because there's always a bigger knife. For me, the best-sized knife accomplishes my purposes and is as easy to carry as possible.
Types of Ka-Bar Knives
Fixed Blade  — Any knife constructed like the original Mark 2 Combat Knife: simply a blade (usually full tang) fixed to a handle.
Flipper — Blade folds into the handle. These can have a variety of mechanisms, like a slip joint, assisted or automatic opening.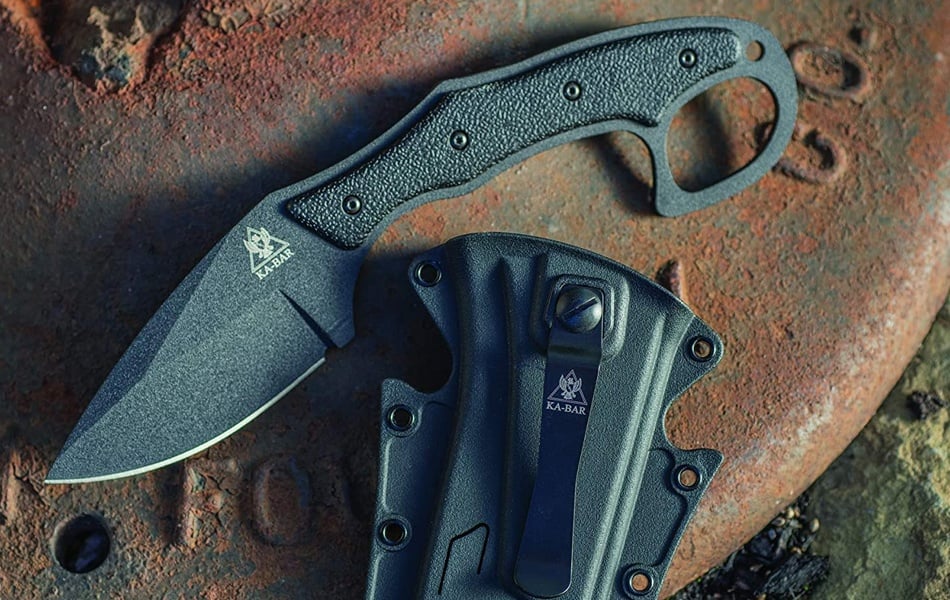 Ka-Bar Knife FAQ
Q: What is a Ka-Bar knife?
A: The knife that put Ka-Bar on the map permanently was the Mark 2 Combat Knife, which it introduced in WWII. Almost immediately, it became meteorically popular. Since then, the Ka-Bar commonly used by the USMC has gained the closest thing to immortality ever achieved by a proprietary knife.
The knife features a black powder-coated clip point blade, a steel crossguard, and a leather-wrapped handle. It earned its reputation through utility and combat performance.
Q: Should I get a straight or serrated edge blade?
A: Serrated edge blades are good for abusing. Why? Because the edge still cuts even when it's dull. But for most applications, and if you're moderately careful about maintaining your steel, a straight edge is best.
Q: Will the blade rust?
A: Ka-Bar gravitates toward two steels: 1095 Cro-Van and AUS-8A. Chromium in 1095 Cro-Van's alloy helps resist corrosion, but there's not very much of it. Therefore, 1095 Cro-Van blades carry a reputation for rusting. Ka-Bar coats a lot of its 1095 Cro-Van blades. Though the manufacturer doesn't say so, I think the coating is a bit of a cheap way to fight corrosion. AUS-8A, on the other hand, resists corrosion quite well.
Q: How do I re-sharpen the knife?
A: I'm gonna say something that's going to drive the knife community into a frothy rage: if you don't really care about your knife's edge, that's perfectly acceptable (it's an object, not your soul). In that case, just use a kitchen knife sharpener.
But if you do care, get a sharpening stone, or more preferably, a series of stones with graduating coarseness. Here's what you do:
Look at the angle of your knife's primary grind (the edge grind). Get familiar with it: it's the angle you want to replicate on the stone.
If you have multiple stones, use them one at a time, starting with coarse and progressing to fine. Hold the knife at one end of the stone. Get ready to pass the entire length of the blade along with the stone as you draw it evenly either toward or away from yourself. Always pass the entire length of the edge along with the stone.
Count your strokes, turn the knife over, and do exactly the same thing on the other side. (Same number of strokes).
Run the knife under some water and wipe it clean. Test the edge.
When it's sharp, you're done! If your stone(s) get dirty or clogged, you can clean them with honing oil, fine-gauge steel wool, and water. Rub in the oil (WD-40 is a reliable substitute, believe it or not), then work the metal shavings out of the pores with the steel wool. Then rinse and let dry.
Q: How should I store a Ka-Bar knife?
A: Clean and dry. Really, that's it — use common sense. Don't store any tools wet or dirty.
Q: Should I register my Ka-Bar knife?
A: Under whose authority? Remember, it's a knife. It's supposed to be simple and useful. Do everything you can to keep it that way. 
Q: Is it legal to carry a Ka-Bar knife?
A: Various municipalities have widely varying laws regarding concealed and open carry of folding and fixed blade knives. Check with your local authorities.
Q: What is the best steel for a knife?
A: Preference is everything. 1095 Cro-Van is legendarily tough, but that's about it. AUS-8A resists corrosion and sharpens easily, but also dulls easily. 440C is a standby for knife steels and a reliable all-around performer, but is susceptible to corrosion. Any of the Cr, or MoV, series of steels from China are value alloys that generally perform well at their price points. S30V is considered one of the best all-around knife steels, with the best balance of edge retention, hardness, and toughness, but it's expensive and generally reserved for premium blades.
Tl;dr: Every knife steel has advantages and disadvantages. It depends on what you need it to do and what you're willing to spend. Personally, I've found I favor CPM 154 for EDC knives due to its edge retention and ease of sharpening. 
Sources:
A Deep Dive Into How Knife Blades Are Made - Popular Science
Ka-Bar - Military Wikia
Sign Up Now
GET THE VERY BEST OF GEARHUNGRY STRAIGHT TO YOUR INBOX