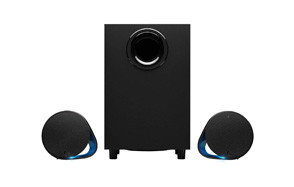 Logitech G560 LIGHTSYNC PC Gaming Speakers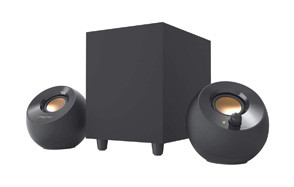 Creative Pebble Plus 2.1 USB-Powered Gaming Speakers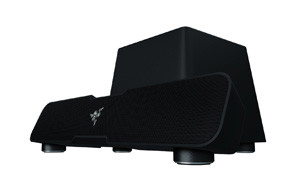 Razer Leviathan Sound Bar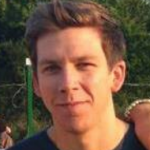 Gaming is all about sight and sound. It's all about getting a great combination of realistic visuals and audio that you can feel in your bones. One somehow just doesn't seem to go without the other. There are literally thousands of speakers available in the market. Some are pretty good, and others produce the sound that is so bad, silence would be preferable.
With the popularity of gaming growing with each new concept, the manufacturers of equipment for gaming has become a serious business. With each new device comes a whole new breed of accessories, and speakers have become the must-have accessory. The only dilemma is choosing the best gaming speakers to complete your setup.
There are many fantastic gaming speakers to choose from and the features are what most gamers look for. Some speakers have been designed for PC's only, others are adaptable to almost any device you can think of. Then the other thing to consider is whether you want to use your speakers exclusively for gaming, or are you looking for multipurpose speakers that allow you to watch your favorite movies in cinematic sound or listen to your carefully selected tunes.
If you're looking for the perfect set of gaming speakers to complete your gaming area, check out our list of the best gaming speakers. Some are exclusively sound only, while others boost your gaming with an awesome light show.
The Best Gaming Speaker
Gaming Speaker Buying Guide
Now that you've had a look at our compilation of the best gaming speakers, you're either ready to go shopping, or you're more confused than ever. Try to decide which features are important to you. Do you want a subwoofer so you get great bass? Do you want gaming speakers that can be used with other devices? You may decide on Bluetooth connectivity if you are planning on using the speakers with multiple devices so that you don't need to keep plugging and unplugging the cables and carrying them around the house every time you want to switch devices.
Another factor in choosing the best gaming speakers is the size of your gaming area or room. There's no point in getting high powered speakers for a small room, and definitely not a good idea if you live in an apartment building with thin walls. If you do most of your gaming on your PC, you'll also need to make sure the speakers you buy are compatible with your PC.
Once you've made a list of your desired features and check the specifications to make sure your new speakers will work with your devices, the last thing to consider is your budget. Fortunately, our list also takes differing budgets into consideration so you will be sure to find gaming speakers that will cater to your gaming requirements, without burning a hole in your wallet.
Have fun gaming.