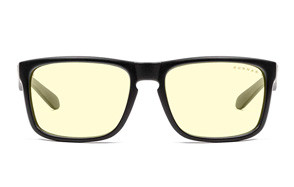 Gunnar Optiks Onyx Gaming Glasses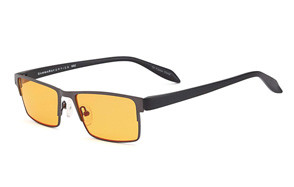 Gamma Ray Blue Light Blocking Computer Glasses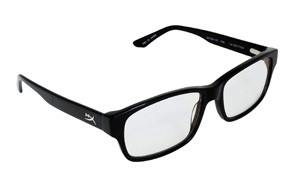 HyperX Gaming Eyewear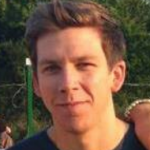 It's how you take your gaming to the next level, how you stand above the rest of the competition. You're a hardcore gamer; that's why you're here. Competitive, speedruns, marathons, whatever else gets thrown your way, you're in it to win it. We've selected the best gaming glasses from the top down, giving you a full line of protection against harmful light, and a filter to help you get in the zone.
The Best Gaming Glasses
Gaming Glasses Buying Guide and FAQ
Everything you've ever wanted to know about blue light, why gaming glasses are so necessary, and all the little bits that fall through the cracks in between. These are all about enhancing your gaming experience through decreased eye fatigue, a better perception of sharpo graphics, and conserving your eyes for future years of intense sessions.

How We Chose Our Selection of Gaming Glasses
Frame Material - Gaming glasses are generally less expensive than a pair of good quality sunglasses, and for that, they make these very flexible. Whether made of polycarbonate, acetate or other plastic-like materials, these are exactly what you want. There's no real sizing chart here, so this is the next best thing, and fairly common among gaming glasses.
Blue Light Filtering - This is the entire reason you're here, even if you didn't know it yet: blue light is bad for your eyes. We'll go more in-depth on this in a little while, and explain that natural blue light isn't quite so bad, but when it comes to gaming, you want some massive protection.
Lens Color - Tints actually make a bit of a difference. Since gaming glasses are inherently built to filter out blue light, they come in a standard variety of greyish tints that help make that possible. Then, you have amber tinting, which increases the sharpness of graphics, while blocking harmful light.
Comfort - If you purchase anything wearable, comfort is right up there on top. While we compiled this list with function in mind, these companies like Gamma Ray and Gunnar are very detail-oriented, and look to make the most comfortable pairs of gaming glasses available to you. We looked at ear guards, nose guards, the general shape, and flexibility of the frames.
Gaming Glasses FAQ
Q: What Are Gaming Glasses?
A: Gaming glasses primarily help with eye strain, fatigue, and prevent vision problems that commonly occur with elevated exposure to blue light. The best blue light glasses on the top of our list are designed to reflect blue light, keep you comfortable, and allow you to spend a longer time at the screen. Gaming isn't a thirty-minute thing; once you get in it, a half-hour is only going to be two or three competitive matches, or half of a tutorial. You've busted your ass all week, and now, you want to relax and veg out in front of the console or PC. We're right there with you, which is why you need ample protection from eye strain and damage.
Q: How do Gaming Glasses Work?
A: It all comes down to the lenses. If the entire pair is comfortable, that's great, but it doesn't impede upon their function. Different hues and colorations (more intricately described at wavelengths) travel through direct light sources, each with their own effects. The most notorious light in recent years, is blue light, which has been shown to put massive strain on your eyes
Manufacturers use specific compounds when they craft the lenses, which help to reflect blue light, and in some cases, sort of dull the bright intensity of other lights, while zoning-in on shar definition. The games look a little more HD, have a tint, but also don't put that strain on your eyes. You can literally see blue light being reflected off the exterior of the lens, and being directed elsewhere.
Q: Can Gaming Glasses Improve my Gaming Ability?
A: Depending on the tint and how much your eye strain used to bother you, you'll notice a small improvement. If you look at our second pick, those are MLG rated due to the amber tint in the lens, giving you an enhanced definition to your graphics. It's not just the graphics on the screen, but rather the lack of general "fuzziness" in the air surrounding your screen. It sharpens certain pigments, so you're able to view everything a lot more clearly.
That amber hue around your game may distract you at first, which is totally understandable. For most of us, after a single continuous hour of use, you won't be able to game without these. When it comes to eye strain, the blue light (which we'll go in-depth on in a moment) is going to make it worse, which is why you need the best blue light glasses to negate those harmful effects. If you've ever had to stop, pull back and blink repeatedly, all due to this fuzzy feeling, you're straining your eyes, and the best gaming glasses could be a huge help to you.
Q: Do I Need Gaming Glasses While Gaming?
A: Nine out of ten gents are going to need them. If you're a hardcore gamer (and we surmise that you are, based on the fact that you're reading this right now), you've already felt the strain on your eyes from long gaming sessions, and heard about gaming glasses before. There's one rule of thumb to keep in mind: if your eyes aren't feeling the strain, you don't really need to do anything about it.
While blue light is still entering your eyes, everyone is built differently. If you don't need them, there's no need to put a handicap on your gaming sessions. If you're only getting to play once or twice a week for two to three hours at a time, you probably don't need gaming glasses. However, if you're hitting the competitive circuit every night, the best blue light glasses on the market are going to be a necessity.
Q: How Much Does Blue Light Affect Me?
A: On average, blue light exposure can damage your eyes anywhere from 19% to 22% faster than age alone. This is based on numerous studies over the last ten years, particularly since the rise of the smartphone, and increased screen time for children and adults.
Blue light is simply part of the wavelength spectrum, and it's unavoidable to be exposed to it. Many sites state that blue light is basically the dark side of technology, but in reality, natural blue light does have some benefits, so long as you're not overdoing it. This pertains solely to natural sunlight.
Since we're here to discuss LED and LCD blue light, concentrated amounts from your television screen are bad for you. After about forty-five minutes to two hours, you'll start experiencing eye fatigue, even if you're not aware of it yet. Your eyes are using all finite energy possible to maintain your focus, even though they're being put under stress.
Think of a 2 X 4, and you know for a fact you can put fifty pounds on it without breaking it. Now, put fifty-five pounds on it, and watch as it begins to buckle. It's the same basic principle with your eyes: just because it can handle it, doesn't mean it has positive long-term effects.
The last point we want to make about blue light is this: over exposure is bad, and blocking this specific light out from your screen time allow you to actually rest more easily at night, and mitigate eye strain and fatigue. Whether you work at a desk all day, game, or you're on your smartphone excessively, these blue light filtering glasses will give your eyes a break.

Q: Can I Wear These Over my Standard Glasses?
A: Some pairs are specifically designed for this, so as long as they fit comfortably and don't interfere with your headset or playing capabilities, you're good to go. Since these don't have magnification (unless you order specific prescription blue blocker lenses), you're not really messing with your eyeglass prescription, so you can just apply these whenever.
That being said, these are not a replacement for your glasses while you're gaming. They'll help you out, but for the sake of being able to see what you're doing, replacing your prescription lenses with these is only going to hurt your KDR and lower your all-around performance in whatever genre you play.
Q: My Keyboard is Backlit: Does That Count as Blue Light?
A: If it's multicolored, then yes. A lot of gaming keyboards come in stark blue, and if you sit too close, they can shine that light right underneath your eyewear, hitting you right in the pupil. If you have a backlit keyboard, it's adding another dimension of eye strain from your peripherals, meaning you'll need more protection from light. Full-sized glasses will help, but pushing yourself a little farther away from your gaming desk, and distancing your LED gaming mouse will also help.
Sources:
Blue Light: It's Both Bad and Good For You, All About Vision
How Blue LEDs Affect Sleep, Live Science
Should You Be Worried About Blue Light?, American Academy of Ophthalmology