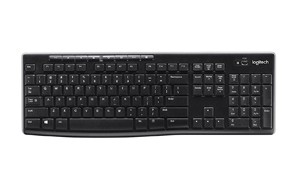 Logitech MK270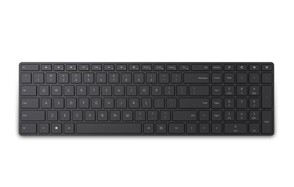 Microsoft Designer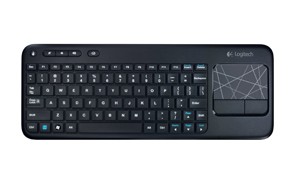 Logitech Wireless Touch
Admit it—you hate typing on that chiclet-style laptop keyboard. We don't blame you. A whopping 80% of computers nowadays area laptops. We're always on the go, always moving around—shouldn't our equipment do the same? Your wireless keyboard is an extension of your business, of how you conduct yourself online, and in your work. You need a versatile, easy-to-pack keyboard that's not going to bother you with second-rate battery lifespans.
Our Top Picks For The Best Wireless Keyboards
Buyers Guide
Whether you're a high-roller, looking at a low budget, or you're just in need of a cheap wireless keyboard, you need to know what you're looking for, and how to spot the good models from the bad. With a trained eye, you'll be able to pick the perfect wireless keyboard for you every single time.

Switches - Many consider them to be just as important as the keys themselves. Essentially, they are the keys foundation. If you go with a mechanical keyboard, you'll get a longer life on your switches (and yours keys,) and you'll be able utilize a stronger warranty if something should happen. Your mechanical keyboard switches can have as much as 20X the warranty (sixty-million keystrokes instead of three-million keystroke for membrane switches).
Design - We're all familiar with the QWERTY layout, but it's more than just how the keys are arranged. If you use your keyboard full-time, whether you're a gamer, writer, or you have to use it for business, you want a comfortable, ergonomic design that's not going to cramp up your hands. Look for the layout of the keys, as well as the physical build.
Portability - Wireless keyboard for the travelling businessman? Weight, size, and portability are all important factors. Be sure to pay attention to product weight (not just shipping weight,) and how versatile it is. If you need to get in a few emails at the breakfast bar at the hotel, you don't want to haul out an oversized keyboard. If you're like many laptop users, the built-in keyboard simply isn't for you. Pay attention to the dimensions as well.
Note: Wireless keyboards without a numpad are significantly smaller and more portable.
Wireless Keyboard and Mouse - For any keyboard wireless functionality is essential. Even if you've always been more of a USB keyboard kind of consumer, the benefits of a wireless keyboard and mouse outweigh the need for a clunky USB keyboard. When you get a wireless keyboard and mouse combo, you don't have to bother searching for a pairing mouse and holding up all those USB slots. Why should you? Use one receiver for your wireless keyboard and mouse and you won't have a tangle of wires all over the places.
Unique Features - Many different manufacturers set their products apart with customizable keys, or specific media playback keys. Whether it's solar-powered, backlit, or a wireless keyboard with touchpad, you'll be shown the one unique feature that sets their product apart from others. This is referred to as their USP, or Unique Sales Point. Depending on the usefulness of these USPs, you may change your decision on which keyboard you're going to purchase.
Q: How Does A Wireless Keyboard Work?
A: Through the radio receiver that's built into the keyboard itself, or the Bluetooth transmitter, and the USB plugin stub, these two devices connect and transfer information. Your computer recognizes your device as if it were plugged in by a physical cord.
Q: How To Connect A Wireless Keyboard (PC & Mac)
A: PC - Most models will have plug and plan,  which will give you a pop-up in the bottom right corner of your start bar, right near the clock. When you click on this, it will show you how the process is going. In most cases the keyboard will connect automatically after 10-15 seconds (for the first go).
If that doesn't work, you have a second option: open Microsoft's Mouse and Keyboard Center by searching or it in your start bar. If your wireless keyboard is Bluetooth-enabled, and not a standard radio receiver, there will be different steps in the setup wizard, which will connect your device for you.
Mac - Apple has been utilizing Bluetooth technology since their very first wireless device, so it's a lot more straightforward. Whether it's a wireless keyboard for iPad or your desktop Mac, you'll be able to use Apple's built-in Bluetooth connectivity feature via the Bluetooth Preferences menu. Your Mac will scan for devices, and while your wireless keyboard is in Discoverable Mode, your Mac will locate and pair your device. For earlier Apple wireless devices, check out this guide from Apple on how to connect.
History Of The Wireless Keyboard
Since Logitech's invention of the first wireless keyboard, there have been many companies utilizing radio receiver technology and the ever-popular Bluetooth technology. The general public, across multiple countries, started the transition from typewriter to keyboard in the late 80's, early 90's, and with this came a greater need to innovate.
To understand the history of the wireless keyboard, one also needs to understand the history of keyboards and typewriters as a whole. Everything from the popular QWERTY layout we still utilize today, right on down to the type of switches beneath your keys, are all influenced by prior technology and advancements in computer keyboard systems since their inception.

Down To The Last Key
Fully-armed and equipped to precisely hunt down your next wireless keyboard, we send you off into the world Arming yourself with the knowledge in this guide and through the products on this list, you'll be an authority on wireless keyboards. Time to get typing.