Bose Solo 5 TV Soundbar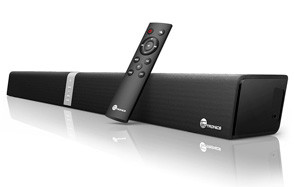 TaoTronics SoundBar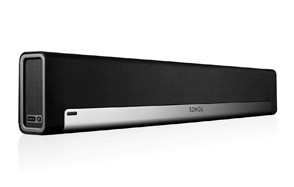 Sonos PLAYBAR TV Soundbar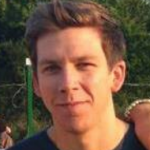 Audio speakers are one of those technologies that are always being improved. They are made to be smaller, sleeker, louder, clearer, you name it. It sometimes feels like the toothbrush industry – how many more improvements can they make to the toothbrush? Surely, that's a product that is as good as it can be?
Anyway, speakers actually can be improved. Gone are the days where you have to have two huge tower speakers and a massive subwoofer taking up half of your lounge. Now, they can fit all that power into something much smaller and more usable – the soundbar.
These long and thin speakers came around in the noughties when audio companies were trying to keep up with the flat screen technology of the TV world. Soundbars are designed to fit underneath your TV screen or monitor and deliver cinema-quality sound without the need for an extension on your house.
But now every company makes them, so where do you start? Well, we've done the groundwork and found the 10 best soundbars on the market today. All you need to do is pick your favorite.
The Best Soundbar
Soundbar Buying Guide and FAQs
In this section, we've answered all the questions you could have about buying a soundbar.
Features To Look For In Sound Bars
Sound Quality – This is absolutely paramount when you're buying a soundbar. After all, this is the main reason for buying one. Soundbars are designed for use with TVs or computers, which means that the sound requirements are slightly different to that of a normal speaker. Often, speakers designed for music have heavy bass frequencies, which makes the music sound rich. But with soundbars, they need to have very clear middle and high-range frequencies, so you can hear what people are saying. We have, of course, talked about the sound quality in this review, but the best way of testing the speakers is actually trying them.
Connectivity – Gone are the days of having a million wires down the back of your TV. Now you can connect everything wirelessly. Or, at least, you should be able to. When you're buying a soundbar, you should check that it can be connected wirelessly and via Bluetooth. Some Bluetooth sound bars can be connected by a wire as well. This is a handy feature, in case your Bluetooth isn't working for some reason.
Ease-of-Use – Tech used to be complicated. Now though, tech companies are focusing on making their products as easy to use as possible. So, you shouldn't have to settle for a soundbar that comes with complicated instructions or strange inputs. All of the soundbars we have featured are easy to set up and easy to use, but if you are still unsure, you can check the reviews online – you can always trust customers to be honest online.
Extra Speakers – This really depends on what you are buying your soundbar for. If you want your soundbar to work for both TV and music, then it is really useful to have extra speakers, especially extra subwoofers. This will give it a more full-range sound that is ultimately more versatile.
Extra Features - It's always good to look out for extra features in products like this. A dedicated remote control is always a good feature because it allows you to control your soundbar without having to log into a device or get up out of your chair. You should also look out for included wall-mounts. This means you can put it above your TV and keep it out of the way – perfect for if your TV is already wall-mounts.

Soundbars vs Home Theatre
Soundbars
If you want to upgrade the sound of your TV, soundbars are often the most versatile and affordable option. They provide high-quality audio, without the need for lots of expensive speakers. Most people argue that you won't get the same sound quality from a soundbar as you would from a home theatre system, but it depends on which soundbar you choose. Also, you can often pair soundbars up with extra speakers, so if you decide to upgrade your system, you can.
Home Theatre
These consist of multiple speakers placed around the room. This gives you a better surround sound and can make you feel like the sound is coming from all directions. However, they are often more expensive and take up more room.
Soundbar FAQs
Q: What Is A Sound Bar?
A: A soundbar is a long, bar-shaped device that contains multiple small speakers. They are placed either below or above a TV or monitor to provide an improved sound quality than the devices original speakers. They can also be connected via Bluetooth to smartphones, tablets, and laptops to be used as a speaker to play music.
Q: Why Do I Need A Sound Bar?
A: If you want to improve the sound of your TV, a soundbar is the best option. They give you a high-quality, full-range sound, without the need for buying a whole home cinema sound system.

Q: What Size Sound Bar Should I Buy?
A: This isn't necessarily the most important factor when buying a soundbar. A larger soundbar will normally hold more speakers and deliver a better sound, but this isn't always the case. You should measure where you are going to put your sound bar and choose one that fits the space.
Q: Do I Need A Separate Subwoofer?
A: You don't necessarily need a separate subwoofer. Most soundbars feature full-range speakers that will provide enough bass. Plus, some come with built-in subwoofers. If you are looking for a soundbar with deep bass capabilities, then an extra subwoofer could come in handy.
Q: How To Integrate A Sound Bar Into An Existing System?
A: This depends on the system you are already operating. If your system can pair with other devices, it should be easy. If not, you might not be able to integrate a soundbar. Soundbars are designed to provide a full-range sound and not act as a center speaker for a surround sound system. Therefore, it might be a better option to buy a surround sound system. Alternatively, some soundbars – like the Sonos PLAYBAR TV Soundbar – can be paired with multiple other speakers, making them perfect for this situation.
Q: Where Should I Place My Sound Bar?
A: Soundbars are designed to provide a full-range sound, so they should be placed centrally to your TV. This means placing them below the TV or having them wall-mounted just above the TV.
Q: What Is A Good Price Range For Sound Bars?
A: Like with all audio equipment, you get what you pay for. You can pick up soundbars for less than $100, that will improve the quality of your TV's audio. On the other end of the scale, you can pay nearly $700 for the Sonos soundbar. If you are looking for a basic, high-quality soundbar you should expect to pay between $70 and $200.