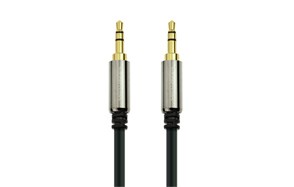 Mediabridge Cable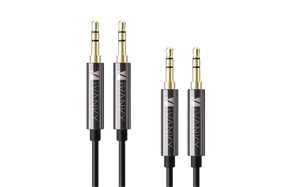 Ivanky Cable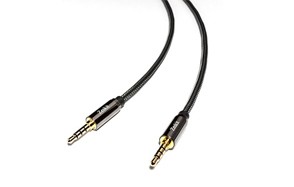 Zeskit 4 Premium
The humble aux cable has been sending analog signals to various types of speakers/headphones for years and is still the most common type of audio connection. While the imminent death of the aux cable has been predicted for some time now due to the rise of USB connections, it continues to thrive and has undergone constant refinement, to the point where some of today's best aux cables produce an audio product that's virtually indistinguishable from direct digital/USB transfer. In this guide and review we're going to bring the spotlight to bear on what we consider to be the 10 best aux cables out there.
Our Top Picks For The Best Aux Cable
See More Reviews

With some of the clearest audio we've ever heard come down an aux cable to a set of headphones, this Emomo Premium 3.5mm aux cable is practically in a league by itself. Everything about it from the end jacks to the end product is first rate with no audible noise and connections that stay firmly seated through thick and thin.
The Emomo 3.5mm premium cable gives analog a good name. It's affordable, reliable, produces crystal clear audio and doesn't fall apart after a half dozen uses. The build quality is first rate and the ends always seat nice and firm. Whether you're using it in your car, your home or at work the Emomo Premium 3.5 aux cable is just what the audio doctor ordered.
Specification:
Brand

EMEMO

Model

Ememoblack

Weight

0.16 ounces
High quality materials and thoughtful fabrication from input to input
Will provide crisp sound regardless of the source device
Will enhance the audio experience of any compatible device
If you lend it out you may have a hard time getting it back
See More Reviews

Cone, or C-one, is known for the high quality of their cables and this premium nylon male to male cable is no exception. It's nice and flexible the way you want an aux cable to be and the core is 100% copper so you know your audio signal is in good hands as it makes its way to the headphones or speakers.
This universal aux cable performs its duty admirably regardless of the location or device you're using. The overall quality of this cable is truly impressive and it's nice to have an aux cable that doesn't emerge from the backpack, purse or carryon bag in a brittle knot. If a dependable, affordable aux cable that will enhance your listening pleasure interests you, you should be interested in this cable.
Specification:
Brand

Cone

Model

C-nac01b01001

Weight

0.64 ounces
The carbon nylon braiding helps provide a 10,000 bend lifespan
Audio transfer is crisp and noise free regardless of the device
Great for home, car or office use or for listening to music while you're jogging or biking
Oxygen free, high quality copper means minimal signal degradation
The nylon sheathing may fray slightly over time
See More Reviews

Thoughtfully engineered from jack to jack the Mediabridge 3.5mm aux cable has everything you want to see in a high quality cable including 24K gold plated plugs, dual shielding and polished metal connectors at both ends. The cable itself produced no discernable noise regardless of the aux port we plugged into.
For less than $10 you get a well-engineered, well-built aux cable that will work beautifully with any compatible device. The quality of the audio (which is what it's all about after all) is outstanding and your connections are nice and snug time after time.
Specification:
Brand

Mediabridge

Model

MPC-35-4

Weight

0.64 ounces
Bring a high quality audio experience to whatever device you're using
The jacks sit tight and the gold plating ensures a nice smooth transfer from cable to speaker/headphone/whatever
Available in a variety of lengths from 2 feet to 12 feet
The gold plating isn't going to last a lifetime especially if you plug/unplug a lot
See More Reviews

The build quality of this Vojo car aux cable is as impressive as the audio quality you'll enjoy. With a 60 day money back guarantee coupled with a 24 month replacement guaranteed and lifetime support the Vojo car aux cable essentially carries no risk. How many things can you say that about? The best part though is the quality of the sound you'll hear coming through that pure copper cable.
Specification:
Brand

VOJO

Model

ITRIM-MICRO-G

Weight

1.6 ounces
Coiled cable can be stretched to 2 times its relaxed length
Is compatible with a wide range of devices from iPods to car audio
100% copper wire ensures a virtually loss free transmission from jack to jack
One of the best warranties in the business
The coiled cable is not for everyone
Zeskit 4 Aux Cable Premium
See More Reviews

It's not often that something as inanimate and everyday as an aux cable will catch our eye but this one certainly did. This Zeskit aux cable costs about the same as a beer in a decent bar so expectations need to be kept somewhat in check. That said the sound quality is typically excellent with no discernable noise and dependable performance time and again. And the build quality, materials and design are all top notch for the price point.
Specification:
Brand

Zeskit

Model

AU102

Weight

0.32 ounces
The glossy anodized aluminum housing at each end is the perfect visual foil to the gold plated jacks
The nylon sheath around the cable is braided to make it easier to grasp and more pleasant to look at
Step down connectors ensure a nice tight fit
Customer service is sometimes lacking
See More Reviews

Emomo hits it out of the park again with this 3.5mm aux cable. Like most Emomo cables this 3.5mm stereo audio cable does its job without a lot of fanfare. You buy it, you plug it in, you enjoy great quality audio. Also like other Emomo cables both the design and build quality are excellent for such a reasonably priced aux cable. The only limit on the quality of audio will be that imposed by the device itself.
Specification:
Brand

EMEMO

Model

LYSB00JJVPUE2-ELECTRNCS

Weight

1 pounds
As is typical with Emomo materials and engineering are top notch
A clean, minimalist style that fits with many of today's sleek handsets
Built to exacting tolerances so your cable is always firmly seated in the target device
27 gauge copper wire ensures noise free transference.
The gold plating on the jacks tends to wear off pretty quick
See More Reviews

This Vojo aux cord is marketed as a car friendly cord but really it will work with any compatible device. We love the red and black color scheme, the coiled aux cord, the nice snug fit of the jacks and the built in mic so we can answer calls while keeping both hands firmly on the wheel. But we mostly love the crystal clear audio produced by this Vojo aux cable and would recommend it without hesitation.
Specification:
Brand

VOJO

Model

ITRIM-MICRO-G

Weight

1.6 ounces
The cable uncoils to about 6 feet
The step down design makes it easier to attach to the bulkiest smartphone case
The red not only looks great it also helps you locate the cable quickly and easily
24 carat gold plated jacks
Built in microphone keeps your hands free for other things
A few bucks more than some other cables
See More Reviews

The name SecurOmax suggests this audio cable is ready for just about anything and it is. All in all an outstanding value. The cable is dependable and the quality of the audio first rate and free of hiss and other noises. With solid, oxygen free copper at its core and gold-plated jacks to ensure clean, clear transference to the speakers or headset, you'll enjoy excellent audio quality.
Specification:
Brand

SecurOMax

Model

SMAUX2PK

Weight

1.6 ounces
Works with even the thickest most obstruction prone smartphone cases
Use it with your smartphone, laptop, tablet, PC, headphones or in your car
Double shielding for lowest possible signal-to-noise ratio
Lifetime replacement warranty from manufacturer
Housings have been known to come loose from time to time
See More Reviews

There's probably no better value in a high quality aux cable than this Empation 3.5mm braided nylon cable. You're not going to get a better bang for your buck in an aux cable then you'll get with this Empation braided nylon 3.5mm audio cable. It does the job you expect it to do time and again and the audio that comes through is routinely static free and right up there with anything from a USB connection.
Specification:
Brand

Empation

Model

LYSB01N7X0OOQ-ELECTRNCS

Weight

0.64 ounces
Braided nylon sheath is comfortable, durable and attractive
Compatible with a wide range of devices from the latest smartphones to mp3 players, stereos, Blackberrys and PCs
The 100% oxygen free copper cable eliminates hissing and static
Comes with a full 1 year warranty
It's hard to find anything negative to say about this cable
See More Reviews

Rounding out our top 10 best aux cables is the iVanky 3.5mm premium auxiliary cable. This is as close as you're likely to find to a sure thing. Between the high quality materials, smart engineering, first class job of fabrication and the no questions asked return policy you simply can't lose with this iVanky aux cable.
Specification:
Brand

ivanky

Model

IVANKY-AC-01

Weight

1.6 ounces
Ultra slim casings for a more sleek appearance and less bulk if you're carrying the aux cord in your pocket
Cable is soft and flexible and resistant to tangles and knots
iVanky unconditional lifetime no-questions-asked warranty
Connection between insulation and jack is subject to failing if you yank the cable to remove it
Buyers Guide
What aux cable lasts the longest? - Many people tend to remove the cable from the port by grabbing the cable and yanking. Do this enough and any aux cable will suffer a breakdown.
How much does it cost to install an aux cord for the car? - It's actually pretty easy to do it yourself. But if you're not so inclined you can find someone to do it for less than $100.
How does an aux cable work? - Not to oversimplify but an aux cable takes an analog signal from a playback device and transmits that signal to a set of speakers or headphones.
What do you need an aux cable for? - While USB connections are slowly becoming the standard there are any number of devices in common use that still call for an aux cable. For the moment the auxiliary cable provides you with more compatibility options.
What devices have a port for an aux cable? - Nearly every device currently made that plays audio files will have a port for an auxiliary cable. That includes everything from PCs to tablets to smartphones.
How to connect an aux cable to speaker? - Simply look for the aux port on whatever device you're using and plug the male end of the aux cable into that port.
Things To Consider When Buying An Auxiliary Cable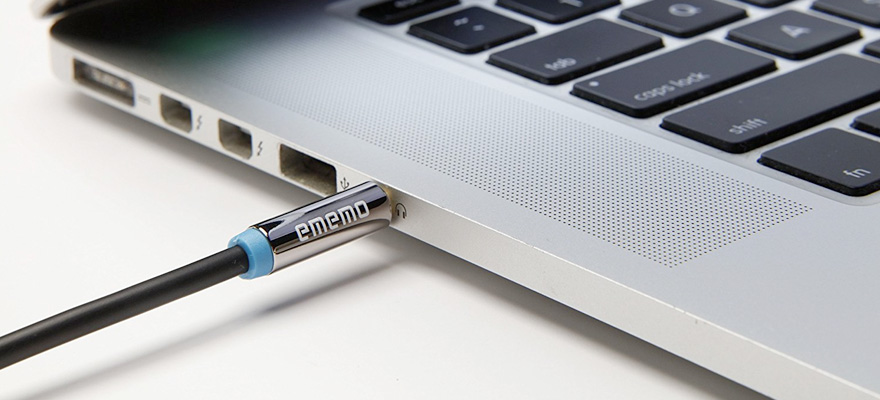 As the aux cable is fairly simple, non-mechanical, straightforward technology there aren't a lot of things you need to mull over before buying one. Still there are a few things you'll want to keep in mind, such as:
Price – If something seems too good to be true it probably is. A really cheap aux cable might just cost a couple of bucks but it will likely have aluminum jacks and fake rubber sheathing that can melt in the summer heat. Super cheap cables often have ill-fitting jacks as well.
Copper – To get clean, clear audio you want your auxiliary cable to be made of 100% oxygen free copper and the jacks to be plated in 24 carat gold. Anything less and you're asking for a generous helping of background noise and hissing.
Brand Names – Brand names often have excellent customer support for your aux cable, whereas generic cables don't. Brand names also have a reputation to live up to which is not the case for the generic cable you pick up at the convenience store.
Conclusion
We hope you found this information useful and that it helps you make an informed decision when it comes time to buy a new aux cable. Don't forget to stop by often for all new product reviews and guides.