Best AUX Cables in 2022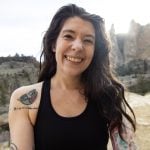 This product guide was written by Tuesday Kirby Kahl
Last Updated
March 25, 2018
Tuesday Kirby Kahl
Tuesday Kirby Kahl is a contributor at Gear Hungry. Her fierce love for the outdoors fuels everything she does. Her professional pursuits include writing, creating art, and photography. These professional passions allow her the time to live life outside as a rock climber, skier, runner, backpacker, paddle boarder, swimmer, and explorer. When Kirby is indoors, she enjoys tea, whisky, old films, cooking, and baking. Her product testing and feedback have shaped the design of everything from climbing shoes to candles.
GearHungry may earn a small commission from affiliate links in this article.
Learn more
The humble aux cable has been sending analog signals to various types of speakers/headphones for years and is still the most common type of audio connection. While the imminent death of the aux cable has been predicted for some time now due to the rise of USB connections, it continues to thrive and has undergone constant refinement, to the point where some of today's best aux cables produce an audio product that's virtually indistinguishable from direct digital/USB transfer. In this guide and review we're going to bring the spotlight to bear on what we consider to be the 10 best aux cables out there.
The Best Aux Cable
Anker 3.5mm Premium Auxiliary Audio Cable
Our best choice for this review is this 4 feet long AUX cable with a reinforced Aramid-fiber means peerless durability. It is no surprise that this Anker 3.5mm Premium Auxiliary Audio Cable is from a global leader in charging and audio connectors – Anker. A blend of innovation and quality has proven Anker to be a trusted brand over the years. This product comes in black color, and it is made from quality Polyvinyl chloride material. With this audio cable, you get incredible sound output from across all universal compatible devices. It is durable and can last up to a remarkable 10,000 bends.
Added to enhance its durability is a gold coating on both of its 3.5mm connectors, to give consummate conduction and strength to the connectors. It has a sleek design which makes it easily mobile to be used with all devices, stereos, and speakers with 3.5mm audio jacks. Be it in your car, your headset or with your mobile phone and other music players this cable will work fine. Its output is nothing but a premium sound quality. It is a plug and play cable and requires no added software to use. This Anker 3.5mm AUX cable is simply a perfect complement for all music lovers. You may also be interested in some of the best Thunderbolt 3 cables from our list, so check them out.
Key Features:
Durable and long-lasting
Compatible with many audio devices
Gold plated 3.5mm audio jack connectors
Corrosion-resistant
Specification:
Brand

Anker

Model

VC0S2_AK-848061074208

Weight

1.28 ounces
AmazonBasics 3.5 mm Male to Male Stereo Audio Aux Cable
Are you a music lover? Do you read audiobooks? Or you want to stay connected to your audio files all day. Sometimes driving to and from work can get annoying when stuck in traffic for long. How about bringing some life into your car by connecting your phone to your car's stereo to enjoy your favorite music? With this AmazonBasics 3.5 mm Aux Cable, you can do this and many more on the go.
How to use? Just connect one end of this cable to a 3.5mm jack on your iPhone – compatible with up to iPhone 6s+, iPod, Android phone, mp3 player or tablet. Then connect the other end to the AUX-in port of your headphone, speakers, car stereo, or any audio output device, and you are good to go. It has gold plated plugs on either end for trusted performance. This also makes it able to resist corrosion throughout its use. It also has a dual shielding and offers utmost compatibility all devices. This allows your device to be plugged in and charged alongside this AUX cable. Overall, the AmazonBasics Aux cable is beautiful and has a small design at both ends, providing a narrow shaft to connect through phone and iPad cases easily. Our guide to the best fast charging cables features more handy products like this; check them out.
Key Features:
Wide compatibility
Audio output is in stereo format
Product of a trusted brand
Gold plated ends give consistent performance
Specification:
Brand

AmazonBasics

Model

AZ350001B

Weight

0.48 ounces
If you're on the lookout for a dependable auxiliary cable and have device compatibility as your most significant consideration, then the Syncwire Auxiliary Cable is one to consider. At 3.3 feet, this cable is the most portable on our list and perfect for playing audio in a car.  The Syncwire also has universal compatibility and can work with any device with a 3.5mm aux port.
The Syncwire cable is not left out of the 24k gold-plated connector trend. Its gold-plated jack ensures reliability, reduces noise, and eliminates signal loss.  It also ensures that the sound quality of the cable is always top-notch. The cable features a precise connection technology that always ensures perfect connection and superb stereo sound experience.
The dual shielding on the cable adds an extra layer of protection to prevent interference and static. The cable is encased in polished aluminum that greatly enhances sound quality, and its enameled copper wires transmit sounds from your music player to your car stereo or speaker flawlessly.
It also features an ultra-durable design with a bulletproof filler and nylon braided jacket that allows for more than 15000 in and out motions and keeps the cable tangle-free. The Syncwire aux cable can withstand 15000 cycles of 90-degree bend, and you won't have to worry about knots and kinks or loss of performance.
This aux cable is suitable for use with Apple products, headphones, Hi-Fi, car stereo, tablet, smartphones, laptops, and other audio devices. However, it's not compatible with Life Proof cases, Sony MDR, Bose QC25, Skullcandy Hesh, Beats Solo, Beats Studio, Beats Executive Serious, and Otter Box cases.
If you are enthusiastic about sound, this cord will provide a feast for your ears. The Syncwire aux is a reliable and sturdy cable that is easy to carry around. It comes highly recommended with a three-year warranty from the manufacturer.
Key Features:
3.3-feet (1 meter)
24K gold-plated connectors
Nylon braid
15,000 bend lifespan
Aluminum alloy shell
Specification:
Brand

Syncwire

Model

SW-SC017

Weight

0.64 ounces
Thoughtfully engineered from jack to jack the Mediabridge 3.5mm aux cable has everything you want to see in a high quality cable including 24K gold plated plugs, dual shielding and polished metal connectors at both ends. The cable itself produced no discernable noise regardless of the aux port we plugged into.
For less than $10 you get a well-engineered, well-built aux cable that will work beautifully with any compatible device. The quality of the audio (which is what it's all about after all) is outstanding and your connections are nice and snug time after time. Find more great products like this by checking out our guide to the best USB C cables.
Key Features:
Gold plated plugs provide consistent sound quality
Corrosion-resistant
4 feet long
Compatible with all standard 3.5mm audio ports
Specification:
Brand

Mediabridge

Model

MPC-35-4

Weight

0.64 ounces
Bring a high quality audio experience to whatever device you're using
The jacks sit tight and the gold plating ensures a nice smooth transfer from cable to speaker/headphone/whatever
Available in a variety of lengths from 2 feet to 12 feet
The gold plating isn't going to last a lifetime especially if you plug/unplug a lot
Rounding out our top 10 best aux cables is the iVanky 3.5mm premium auxiliary cable. This is as close as you're likely to find to a sure thing. Between the high quality materials, smart engineering, first class job of fabrication and the no questions asked return policy you simply can't lose with this iVanky aux cable.
Key Features:
An updated version of the May 2019 release
Provides extra cable protection
Designed with highly durable materials
Comes in 2 packs
Specification:
Brand

ivanky

Model

IVANKY-AC-01

Weight

1.6 ounces
Ultra slim casings for a more sleek appearance and less bulk if you're carrying the aux cord in your pocket
Cable is soft and flexible and resistant to tangles and knots
iVanky unconditional lifetime no-questions-asked warranty
Connection between insulation and jack is subject to failing if you yank the cable to remove it
KabelDirekt Pro Series 6 feet 3.5mm Audio Aux Cord
Do you want a never-ending music experience? KabelDirekt has you covered with its KabelDirekt 6 feet Audio Aux Cord. It is designed with the flexibility to provide ease of use across a wide range of devices. Connect your smartphone, tablet, mp3 player, car stereo, laptop, and any other audio 3.5mm playing device. It provides a straightforward connection mechanism which allows you to set up and enjoy real good sound on the go.
Typically, AUX audio jacks do not remain in the port of the connected devices for an extended period. Instead, the rational use of an AUX cable will iterate from phone to headset connection, phone to car stereo connection or music player to output speaker connection among others. Due to this, the constant inserting and removal of the jack end to and from the different devices may easily cause the jack connectors to wear off and malfunction. But the good news is that this isn't the case with this KabelDirekt audio Aux cord. Longevity was factored into its design. Each end is built with a full and compact metal connector which makes it able to withstand the countless number of plug-ins and plug-outs. Enjoy the elegance of its 24 karat gold plated jack ends.
Key Features:
Compatible with a wide range of 3.5mm ports
Produces quality sound
Easy plug and play use
Durable and long-lasting
Specification:
Brand

KabelDirekt

Model

278

Weight

1.6 ounces
Amazon Brand: Linkerpard Aux Cable
This 2m (6.6-feet) aux cable from Linkerpard offers impressive sound-quality in a tough package. Like all of the best aux cables, it has 24K gold-plated jacks, which reduce signal loss and allow you to insert and pull-out the cable more times before it needs replacing. The wire itself is protected by a TPE jacket and a premium nylon-braided jacket. This makes the cable much tougher than your standard aux cable and also stops it from getting tangled up. We were also impressed with the sound quality provided by this cable. We couldn't detect any signal noise or reduction in bass-response when compared with other aux cables. 
Key Features:
6.6-feet (2 meters) 
24K gold-plated jacks 
TPE jacket
Nylon-braided jacket 
Specification:
Brand

Linkerpard

Model

KG-CB-EN-0003

Weight

1.41 ounces
Zeskit 4 Aux Cable Premium
It's not often that something as inanimate and everyday as an aux cable will catch our eye but this one certainly did. This Zeskit aux cable costs about the same as a beer in a decent bar so expectations need to be kept somewhat in check. That said the sound quality is typically excellent with no discernable noise and dependable performance time and again. And the build quality, materials and design are all top notch for the price point. Be sure to also check out our list of the best HDMI cables for more great items like this.
The glossy anodized aluminum housing at each end is the perfect visual foil to the gold plated jacks
The nylon sheath around the cable is braided to make it easier to grasp and more pleasant to look at
Step down connectors ensure a nice tight fit
Customer service is sometimes lacking
CableCreation Auxiliary Cable
If you are in the market for a sturdy, basic, and affordable aux to aux cable, look no further than the CableCreation Auxiliary Cable. The cord retails at a giveaway price and works amazingly to connect your 3.5mm devices. This versatile auxiliary cable comes with universal compatibility. It's suitable for Apple products, Samsung Galaxy smartphones and tablets, Google Nexus smartphones and tablets, Nokia Lumia products, and most Android phones.
The CableCreation Auxiliary Cable is well designed with a classy feel to it. It comes with a high-end metal casing, 24k gold plated connectors, and dual shielding to minimize signal loss, prevent corrosion, and ensure longevity. This aux cable also features a tangle-free design, so you don't keep having to untangle your cord if you use it often.
One pretty cool feature that comes with this aux is the ease of connection. You can easily connect it to your phone without taking off your phone case. This is important because a lot of aux cables tend to be too big to fit into tight spaces, so they need an extra push to get them fit right. The CableCreation aux is sturdy, with a 10000+ bend lifespan that allows you to fold and stash it without worrying about its longevity. If you're planning a trip and you need an accessory to keep your devices charged, this is a great option for you.
The cable has a cool black and white design that goes with any gear. An added advantage is the 2-year warranty by the manufacturer, so if your cable packs up, you can easily get a replacement. One downside is that the cord does not work well with headphones. However, it is a decent cable that will fulfill basic needs.
Key Features:
Tangle-free design
Black and white finishing
Cotton-braided cable for durability
10000+ bend lifespan
Universal compatibility
2-year manufacturer's warranty
Specification:
Brand

CableCreation

Model

CC0298

Weight

0.64 ounces
The Dukabel Auxiliary cable is quite stunning, thanks in no small part to its 24k gold-plated contacts and triple shielding jacket. It is one of the more tasteful audio cables in the market, but we didn't add it on our list because of its looks alone. This 3.5mm aux cord is durable with a pure metal casing, a sturdy nylon-braided cover, and an oxygen-free copper core. You also get the satisfaction of high-definition sound quality when you connect electronic devices like your pc, phone, tablet, and more.
Like the CableCreation cord, the Dukabel aux is universally compatible. You can use them on devices like portable speakers, smartphones, laptops, tablets, mp3 players, car radios, and others. As long as the device has a 3.5mm port, you can connect this baby. It's sold in three different lengths of 4, 8, and 16 feet, depending on preference.
The cord is designed for a perfect fit and has a step-down ring feature. This step-down ring on the jack allows the plug to be fully seated. You can easily connect your devices even with bulky protection cases, which is a practical and useful feature for smartphones.
The Dukabel aux is sold with a 12-month warranty and a 100% money-back guarantee.
Key Features:
24K gold-plated contacts
High definition sound quality
Universal compatibility
Pure metal casing
Available in 4 feet, 8 feet, and 16 feet
12-month manufacturer's warranty
Specification:
Brand

DuKabel

Model

6543887899

Weight

0.16 ounces
This SHD Auxiliary Cable was designed to cater to more demanding users, and it is one of the best auxiliary cables available today. The product comes in a variety of lengths ranging from 3 feet to 30 feet, and it can connect several 3.5mm devices. You can use the SHD cable with your PC, tablets, smartphones, car stereo, TVs, amplifier, home stereo, and others. This cable also has a 99.99% oxygen-free copper conductor that maintains excellent sound quality, as well as a tangle-free design that eliminates the frustration that comes with untangled cords.
One of the most lauded attributes of the SHDAuxiliary Cable, however, is the great sound quality it delivers when you connect it to your devices. This cable was created exclusively for music creation and production. It features a step-down design that works without removing your phone or tablet case. Besides its step down ability, other features propped into this cable include a tin copper braiding and metal casing for preventing signal interruptions and ensuring high-quality sound. One drawback to this aux cable is that it's not universal and may not work with some devices.
Key Features:
Compatible with audio devices with 3.5mm port
High-end metal casing with 24k gold plated connectors
99.9% oxygen-free copper conductor for high-quality sound
Dual shielding and tin-plated copper braiding to prevent signal interruption
One-year warranty
Specification:
Brand

SHD

Model

LYSB06WGP9LVC-ELECTRNCS

Weight

2.4 ounces
Oldboytech Auxiliary Cable
The Oldboytech Auxiliary Headphone combines durability, superb sound, and universal compatibility in a small, yet quality package. The 3.5mm audio cable is compatible with all digital devices with a 3.5mm port, including smartphones, headphones, tablets, laptops, mp3 players, speakers, and more. The cable comes as a male-to-male stereo audio cable, and it transmits audio in stereo format with 24k gold-plated contacts that ensure a clean sound. With the gold plated design, you get zero distortion and no static.
The Oldboytech Auxiliary Cable has a durable double-braided nylon exterior that prevents the cable from tangling. The ladder design adds to the durability of the cable, promising a 15000+ bend lifespan. This means you can bend or fold it at any angle without worrying about knots, kinks, or damage to the cable.
A slim connector and secure fit design allow you to plug the cable into a smartphone even with the phone case on—a nifty addition to the most premium cables. Premium sound quality is also assured, thanks in no small part to the presence of a pure silver wire core and polished metal molding.
The Oldboytech cable has many great qualities, but its longevity is one of the most crucial. The cable lasts for a very long time without fraying or poor performance. A huge bonus that comes with this product is that you get two in a pack, so if you lose one cable, you have a backup. Overall, this is a dependable, high-quality aux cable that is great value for its price.
However, this cable is not compatible with some Sony devices and Beats Solo, Solo 2, Solo 3.
Key Features:
24k gold plated jack
Crystal clear audio
Slim with a secure fit design
Braided and sleek exterior
Two-pack headphones
Lifetime warranty
Specification:
Brand

Oldboytech

Model

10766568

Weight

0.8 ounces
FosPower Stereo Auxiliary Cable
The quality of the FosPower Stereo Auxiliary Cable is apparent even from a distance. This is a one-of-a-kind auxiliary cable that works great and is quite affordable. The FosPower Stereo Auxiliary Cable features a PVC jacket that protects it from damage. It also has copper-braided shielding and an aluminum foil shielding, both of which make the cable incredibly flexible and significantly reduces EMI/RFI interference. The tin-plated copper core reduces oxidation and lengthens the wire's life, while a foam insulator in the cable helps to prevent signal loss.
The FosPower cable is especially great for car auxiliary ports, although the device must use the 3.5mm format. It allows you to connect your iPhone, iPod, or audio streaming devices, MP3 player, smartphone, tablet, or an audio device with a 3.5mm port to your office or home audio system.
This is another cable with impeccable sound. The sound quality is where the FosPower cable shines. It delivers on flawless, clear sound with absolutely no interference or static background. Its 24k gold-plated connectors resist corrosion and reduce tarnish, and the cable also features beveled plugs.
The beveled step-down design of the plugs allows the cable to be fully seated on a device even when it is covered with a bulky protective case. The brand support is above average, but the product comes with a limited lifetime warranty. Overall, the FosPower aux cable is a good buy and excellent value for money.
Key Features:
3.5mm male to male connectors
24k gold plated jack to reduce tarnish and corrosion
Tin plated copper core
Limited lifetime warranty
Specification:
Brand

FosPower

Model

FOSCBL-10006

Weight

5.6 ounces
AUX Cable Buyers Guide
What aux cable lasts the longest? - Many people tend to remove the cable from the port by grabbing the cable and yanking. Do this enough and any aux cable will suffer a breakdown.
How much does it cost to install an aux cord for the car? - It's actually pretty easy to do it yourself. But if you're not so inclined you can find someone to do it for less than $100.
How does an aux cable work? - Not to oversimplify but an aux cable takes an analog signal from a playback device and transmits that signal to a set of speakers or headphones.
What do you need an aux cable for? - While USB connections are slowly becoming the standard there are any number of devices in common use that still call for an aux cable. For the moment the auxiliary cable provides you with more compatibility options.
What devices have a port for an aux cable? - Nearly every device currently made that plays audio files will have a port for an auxiliary cable. That includes everything from PCs to tablets to smartphones.
How to connect an aux cable to speaker? - Simply look for the aux port on whatever device you're using and plug the male end of the aux cable into that port.
Things To Consider When Buying An Auxiliary Cable
As the aux cable is fairly simple, non-mechanical, straightforward technology there aren't a lot of things you need to mull over before buying one. Still there are a few things you'll want to keep in mind, such as:
Price – If something seems too good to be true it probably is. A really cheap aux cable might just cost a couple of bucks but it will likely have aluminum jacks and fake rubber sheathing that can melt in the summer heat. Super cheap cables often have ill-fitting jacks as well.
Copper – To get clean, clear audio you want your auxiliary cable to be made of 100% oxygen free copper and the jacks to be plated in 24 carat gold. Anything less and you're asking for a generous helping of background noise and hissing.
Brand Names – Brand names often have excellent customer support for your aux cable or lightning cable, whereas generic cables don't. Brand names also have a reputation to live up to which is not the case for the generic cable you pick up at the convenience store.
Conclusion
We hope you found this information useful and that it helps you make an informed decision when it comes time to buy a new aux cable. Don't forget to stop by often for all new product reviews and guides.
Sign Up Now
GET THE VERY BEST OF GEARHUNGRY STRAIGHT TO YOUR INBOX