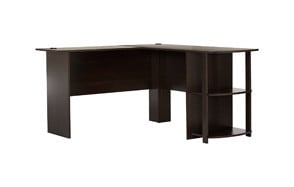 Ameriwood Home Dakota L-Shaped Desk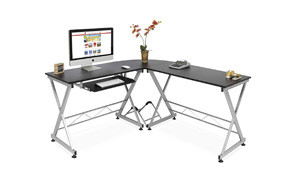 Best Choice Products Wood L-Shaped Desk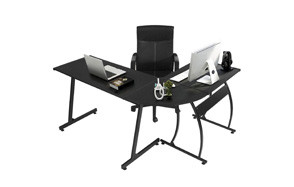 GreenForest Corner Computer L-Shaped Desk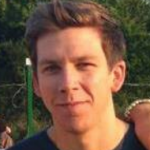 Home working is on the rise – over eight million people in the US currently earn their living without leaving the house. That's around 5% of the population and all the signs show that it is set to increase.
But a home office space is not just for full-time workers; having a good home desk set up is an essential for most of us, whether it is for work, PC play, study or gaming.  And sometimes a small single desk just won't cut it. If this sounds like you then an L-shaped desk could well be the way to go.
If space is tight or you want to reconfigure your home office to make the most of the space you already have, then an L-shaped or corner desk is the perfect solution. As the name perfectly describes, you essentially get a double-space desk on the perpendicular so it can be tucked away into a corner. An L-shaped desk can then provide you with an extra surface area for multiple monitors, laptops or games console, as well creating enough space for your gadgets and paperwork – and all are within arm's reach. Neat.
But not all L-shaped desks are made equal, and there are a range of styles and desk functions so it's important to know what you want out of your new corner desk before you hand over your payment card. When looking for an L-shaped desk, there are a number of features to consider such as size, material used and additional storage. A hardwood corner desk is going to be more expensive than MDF, but it is also going to be more durable and so longer lasting. You also need to consider what the main use of your L-shaped desk will be, whether that is home working or video gaming and choose the desk that is configured to your needs. And finally, look for any additional features such as shelves, feet rests and kit stands to get the best spec for your new L-shaped workstation.
To help you get on board with the new desk shape of home working, we've taken a look at some of the best L-shaped desks currently out there. OK, let's get down to business….
The Best L-Shaped Desk