Nerd Thump: Best Bookshelf Speakers in 2022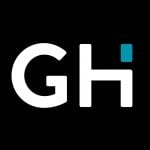 This product guide was written by GearHungry Staff
Last Updated
June 11, 2021
GearHungry Staff
GearHungry Staff posts are a compilation of work by various members of our editorial team. We update old articles regularly to provide you the most current information. You can learn more about our staff
here
.
GearHungry may earn a small commission from affiliate links in this article.
Learn more
Traditionally speaking, bookshelf speakers are smaller scale speakers that still provide great sound while not taking up a ton of space. I mean, they fit on your bookshelf. But today, with new technologies emerging, the category has gotten murky.
Ten years ago, shopping for bookshelf speakers was super easy. You'd drive down to your local electronics superstore, fire up some canned music that a product guy thought would showcase the speaker's depth, and click through some buttons to compare the models in the little listening room.  Every speaker in the lineup was a passive speaker connected to an amplifier with a traditional speaker wire.
Today, the category contains multitudes. From smart speakers like Alexa, Google, and Apple's HomePod to WiFi and Bluetooth speakers, the choices are overwhelming. And the vast majority of bookshelf speakers are purchased online without ever hearing them in person. We'll do our best to provide you with a few clues to get you close to the right pair. Whether you're listening to Beethoven or Metallica. For this review, we're going to focus on traditional speaker pairs that can be wired to an amplifier but may also have some additional connectivity options. Still not sure? Scroll past the product reviews for a little more clarity.
The Best Bookshelf Speaker Review
Klipsch R-15PM Powered Monitor Bookshelf Speaker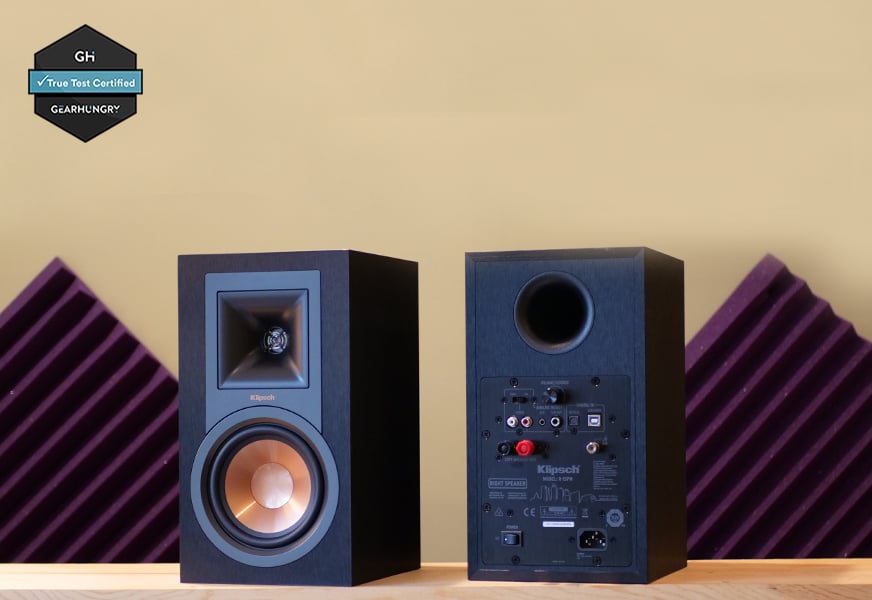 Klipsch has been making speakers since the 40s and over the years have really dialed in their signature sound, which is due in part to the distinguishing spun copper woofers. But what makes these particular speakers stand out from the rest in this review is the plethora of connection options. The R15-PMs can be connected through USB, ⅛" aux, standard RCA (line-in or phono), Bluetooth, and even optical.
This model falls in the middle of the Klipsch bookshelf range and sounds just like a Klipsch speaker should. Crisp, clear, articulate, and bright. There's plenty of bass if you need it but compared to other speakers, you definitely notice how technically accurate they are. That said, the crispness can also come off as a little harsh. I can listen to other models at louder volumes without getting fatigued where these are a little bright for my tastes. They really thrive with techno or other staccato or technical music styles where accuracy is key.
Key Features:
USB digital audio from a PC or Mac
Full featured IR remote
62Hz to 24kHz frequency response range
8-ohm impedance
RCA phono-level inputs
Specification:
Brand

Klipsch

Model

R-15PM

Weight

10.3 pounds
Perfect fit for at-home DJ-ing
IMG woofer is magnetically shielded
Low-noise amplifiers maximize the performance
A broad range of input options
Volume levels could do better
Defaults to a sleep mode after a few minutes of playing
Edifier R1700BT Bluetooth Bookshelf Speakers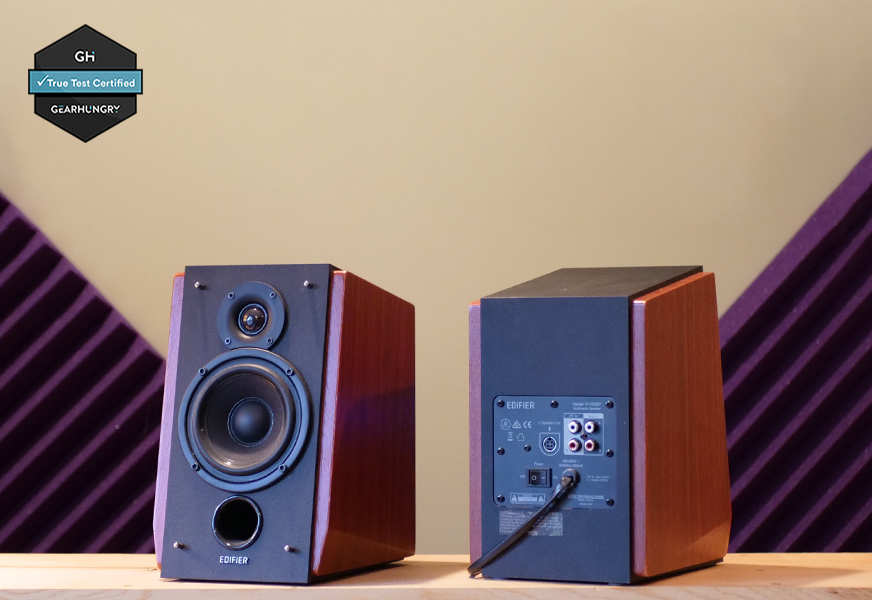 Edifier isn't a household name like some of the bigger manufacturers, but they've been quietly making some killer speakers for the past couple of decades. In full disclosure, I owned these speakers prior to conducting the review which made me partially biased and also gave me more time to learn the subtleties and nuances compared to the rest.  I was specifically looking for a pair of great-sounding speakers to connect to my computer but also be able to connect to Bluetooth if needed. Plenty of speakers fit that bill, but in my tight budget range this was my final decision based on a ton of research and I was pleasantly surprised.
The R1700BTs are not a top-end audiophile speaker. That said, they are beautiful, sound fantastic, and have plenty of connection options. They're well-powered and are way too loud to play at full volume in my office. The 4" bass driver kicks out plenty of low-end and the 19mm silk dome tweeter is super crisp. If you listen to these next to higher-end speakers you'll notice a gap in the mid-range and the sound is a bit compressed. The master speaker comes with separate controls for both bass and treble but I run them straight through. You'll be hard-pressed to find a better speaker with these features in this price range, and if you have a few more dollars, the Edifier brand has a massive range worth checking out.
Key Features:
MDF wood finish 
19mm dome tweeter 
Four-inch bass driver
Two aux inputs 
Digital Signal Processing (DSP) 
Dynamic Range Control (DRC)
Bluetooth connectivity 
Remote control 
Specification:
Brand

Edifier

Model

R1700BT

Weight

14.52 pounds
Classic aesthetic 
Crisp highs and deep lows 
Wireless connectivity 
Bluetooth is intermittent 
Poor customer service 
Polk Audio T15 100 Watt Home Theater Bookshelf Speakers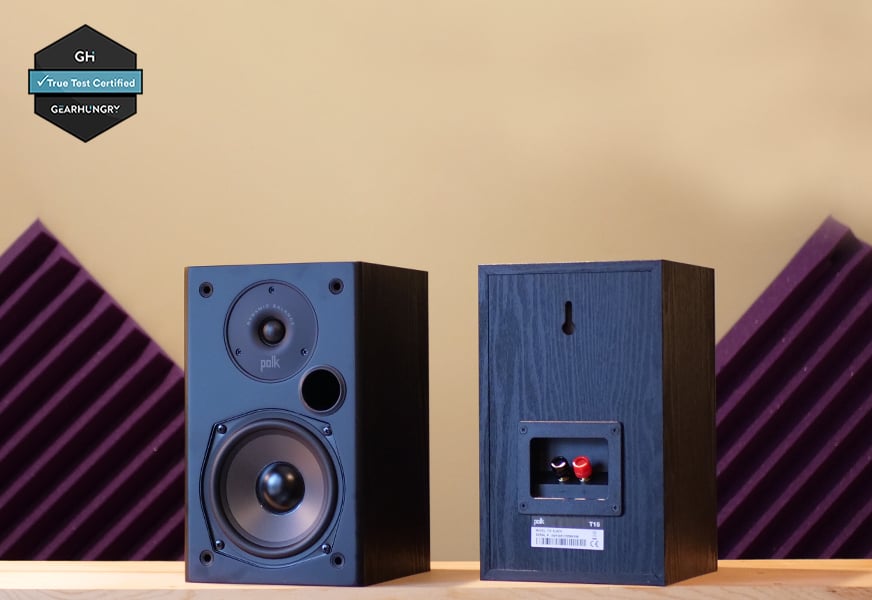 It's rare to find a speaker as good as the Polk Audio T15 for less than $100. In fact, it's pretty much impossible. So, if you're looking for high-end sound quality at an affordable price, you can pretty much stop reading now. Just click the buy button. Just in case you do want more detail: the speakers are equipped with 0.75" tweeters and 5.25" Dynamic Balance Drivers, which provide a well-balanced sound with highs that cut through and a warm bass that fills the room. In our test, the T15's sounded as good if not better than speakers twice the price. It's worth noting that these are traditional passive speakers and require an amplifier, unlike a handful of speakers in this review. And for more top-quality devices like this, check out our guide to the best Bose speakers.
Key Features:
0.75" tweeter 
5.25" Dynamic Balance Driver
Sold as a pair 
200 watts 
Specification:
Brand

Polk

Model

T15

Weight

8.25 pounds
Amazing low price 
Good looking speaker 
Decent-quality audio 
 Not supported by all amps
Audioengine A5+ Premium Powered Bookshelf Speaker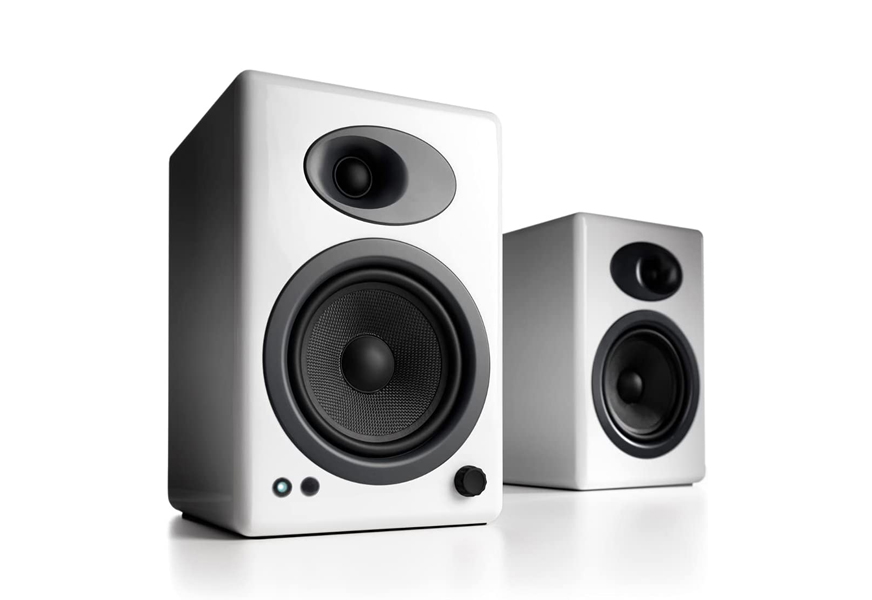 If you are looking for compact speakers that pack a big sound, then you cannot go wrong with the classy A5+. Be warned, however, these premium features come with a premium price. But if budget is no issue, then there is absolutely no reason why we wouldn't recommend this high-performance sound system that is capable of filling large halls with crystal clear and accurate sounds.
Available in an assortment of colors including solid bamboo, black, and crisp white, Audioengine's A5+ will add an aura of elegance to any room. The sleek appeal is further complemented by custom Kevlar woofers and silk tweeters that emanate a smooth sound. Simply connect your Smartphone, computer, TV, or any other audio component to the speakers and you will be rewarded with a rich audiophile-quality response. Our handy guide to the best soundbars features more great products like this.
Key Features:
Built-in power amplifiers
50 watt per channel RMS
Compatible with most devices
1/8″ and RCA inputs
Improved thermal management
Specification:
Brand

Audioengine

Model

A5PLUSW

Weight

25 pounds
Extremely compatible with most devices
No network setup, no app downloads, no hassle
The Speakers are beautifully designed with attention to detail
Prone to overheating after extensive use
May need a subwoofer
PreSonus Eris Multimedia Reference Monitor Bookshelf Speakers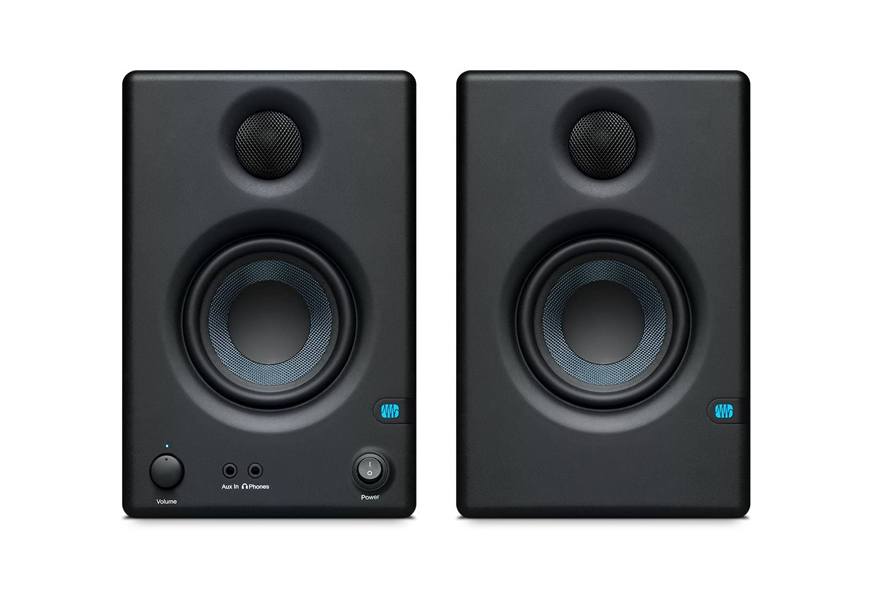 There's no beating around the bush with PreSonus's Eris multimedia monitors. Instead, these powered bookshelf speakers get straight to the point with both design and performance. 3.5-inches in size, these studio monitors are a great choice if you're after a plethora of unique features at a reasonable price. Noteworthy attributes include low-mass silk-dome tweeters, responsive Class AB amplification, and professional acoustic adjustment controls.
Engineered using industrial materials, this monitor set is as hardy as it gets. Now, let's take a look at its versatility.  ThisPreSonusmodel is not only a studio monitor, but the speakers can also be used for gaming, home-studio recording, watching a movie, or for some serious entertaining. One final factor that sets the Eris studio monitors almost miles apart from similarly priced models is its notable ability to create accurate mixes.  If you love music, check out our guide to the best portable turntables.
Key Features:
Kevlar low-frequency transducer
Crossover Frequency:2.8 kHz
Front-panel jacks and controls
50W (25W/side) class AB power amp
Small but loud
Specification:
Brand

PreSonus

Model

E 3.5

Weight

11.9 pounds
Very versatile
Great value for money
Perfect for making and listening to mixes
Customer service is lacking
Some consumers have reported blown fuses
Edifier R1280T Powered Bookshelf Speaker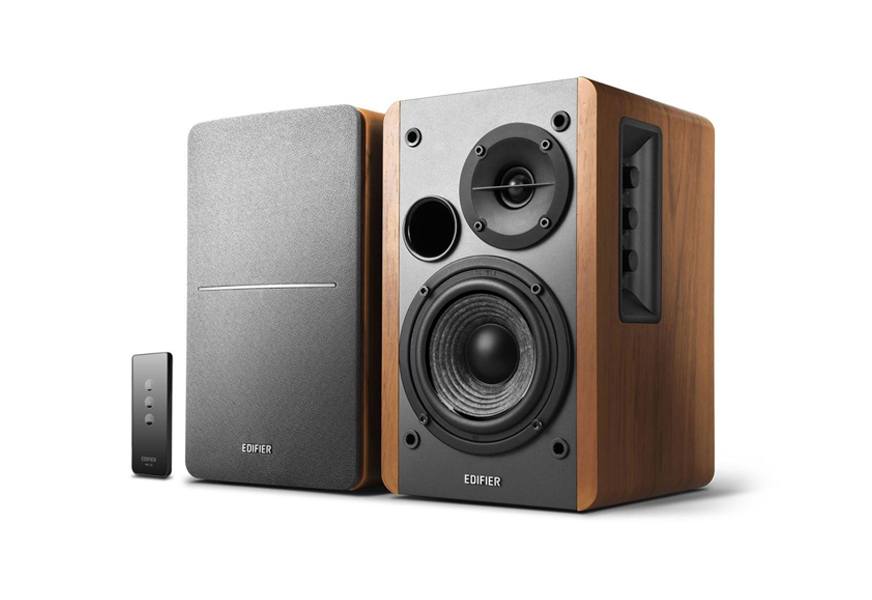 If you're after a retro look that boasts modern sound quality, then Edifier's R1280ts aim to please! This pair of adequately powered home speakers make the cut for being our "best choice" for a number of reasons. Firstly, they will look great in any room. The smooth teak-colored wood paneling will work with most décor themes and could possibly even be the center of attention. Secondly, quality features are almost endless. With dual RCA inputs, a universal power supply, and a 4-inch bass driver with a calibrated and flared bass reflex port – you're guaranteed the ultimate sound performance. And the price is on point, considering what you get for it.
If you are looking for a robust bookshelf speaker that can connect to a PC, laptop, tablet, phone, or record player, then you will be pleased with the performance of this Edifer model. In fact, the R1380T is an extremely popular option for those who are looking to pair their turntables with a complementing audio system. Be sure to also check out our list of the best gaming speakers for more great items like this.
Key Features:
Speakers connect via wire/cables
Built-in tone control
Adjust treble and bass from -6 to +6 dB
Remote included
Delivers a precise booming midrange
Specification:
Brand

Edifier

Model

R1280T

Weight

10.8 pounds
A sturdy and solid design
Balanced response across the range
Decent power
Sub-par accessories
Sub bass might be lacking for pop and rock genres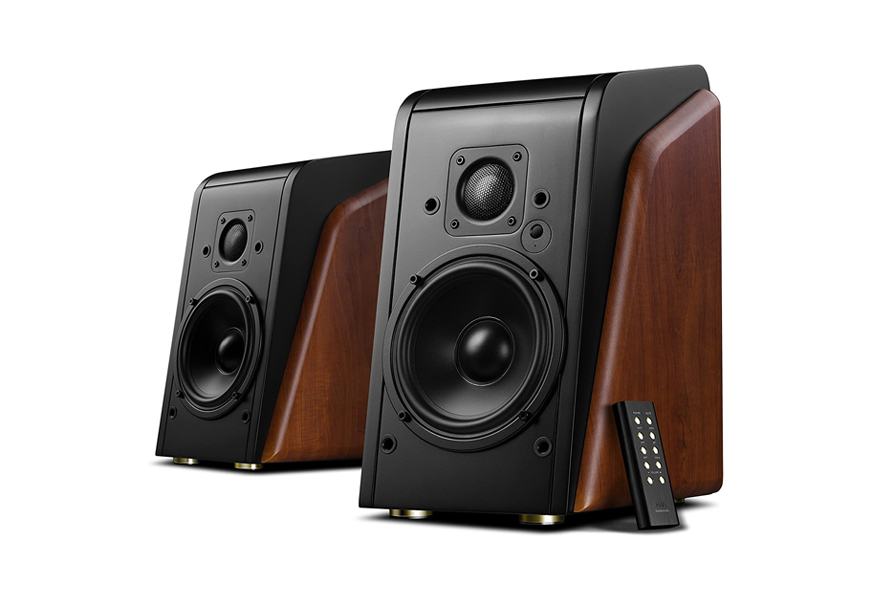 The M200MKIIs are the perfect choice if you want to upgrade from tiny desktop speakers to something more substantial. With these wireless speakers, you'll certainly get more than you bargained for. Sporting a unique and interesting design, these monitors will sit smugly on your shelves as they showcase their sloped wooden cabinets and boast a crisp and clear sound that's sure to please the keenest of audiophiles.
Perfectly capable of seamlessly connecting to Smart devices, desktops, TVs, and Turntables, these Swans offer a full-frequency sound at a great value. Featuring a 1" silk dome natural fiber tweeter that produces a treble with accurate flat frequency response and a 5.25" woofer, the M200MKIIs guarantee a punchy bass that extends all the way down to 56Hz with a vented port. Don't forget to also check our guide to the best smart speakers.
Key Features:
Bluetooth compatible
Compatible with IOS, Android, MacOS or Windows
Includes Line 1 and Line 2
LAN connectivity for lower signal loss
Rated Impedance: 5Ω
Specification:
Brand

Swan Speakers

Model

M200MKII WIFI

Weight

30.4 pounds
Beautiful cherrywood-finished panels
Decent driver size
The sound is detail and dynamic
Excellent quality knobs
Gamers might prefer more thunderous speakers
KEF LS50 Wireless Powered Music System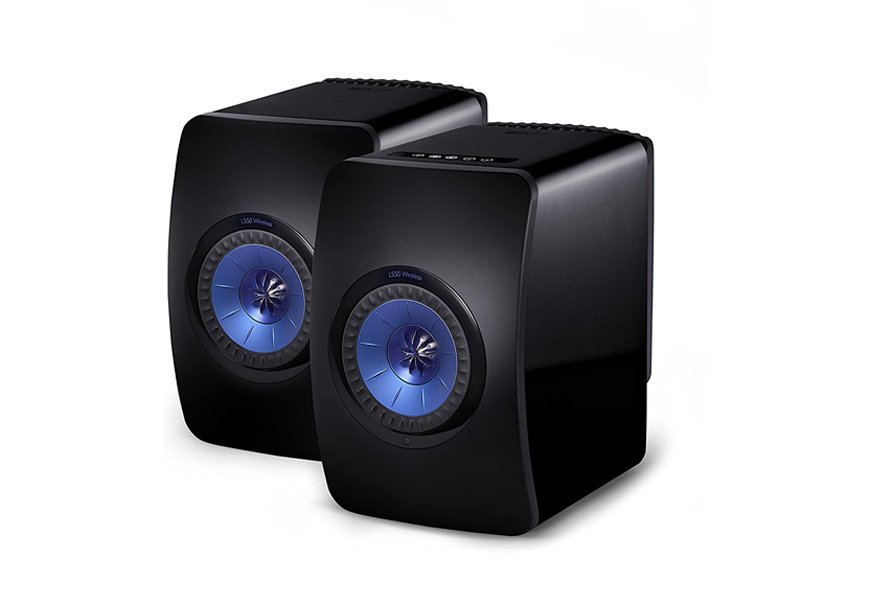 Moving higher – way higher – up on the performance ladder, these small wireless loudspeakers might be superbly compact in size but their capabilities surpass more affordable brands. There's no denying that the LS50s are probably the best on the market. The question is, can you meet the premium price?
Using a 5.25″ Uni-Q driver that's capable of reaching down to 40Hz, combined with a built-in 192Khz/24bit DAC and 230W amplifier, the sound that emanates from the KEFs is superbly full-bodied and balanced. It also gives out a beautiful midrange and a very satisfying base. To call this model a completely wireless system is a bit misleading, however, since each speaker still needs to be connected to an AC wall plug via a power cable. And then there are the LAN cables linking the speakers to each other. All-in-all, this is still an extremely versatile A-grade sound system that's suitable for professional studious, but just as home in your living room. Don't forget to also check our guide to the best shower speakers.
Key Features:
Minimalistic design
Available in an assortment of colors
Wi-Fi connectivity or Bluetooth 4.0
Power Input: 100 – 240VAC 50/60Hz
Wireless controls featured on the iOS or Android app
Specification:
Brand

KEF

Model

LS50AGREY

Weight

22 pounds
Fantastic sound and build quality
Easy setup and home integration
A-grade sound quality
Extremely expensive
Not a completely wireless solution
Why Trust Us
GearHungry is a leader in product testing and reviews with thousands of products tested and reviewed every year. The author of this article is a professional musician with multiple studio albums and hundreds of live performances over the past 30 years. He is an audiophile and understands the subtleties and nuances of speaker design, form factor, frequencies, sound reflection and absorption.
Who This is For
This review is for general home consumers who are audio enthusiasts and looking to enhance their home listening experience or upgrade their current setup. We intentionally don't get overly technical and describe the products in terms that typical consumers can understand.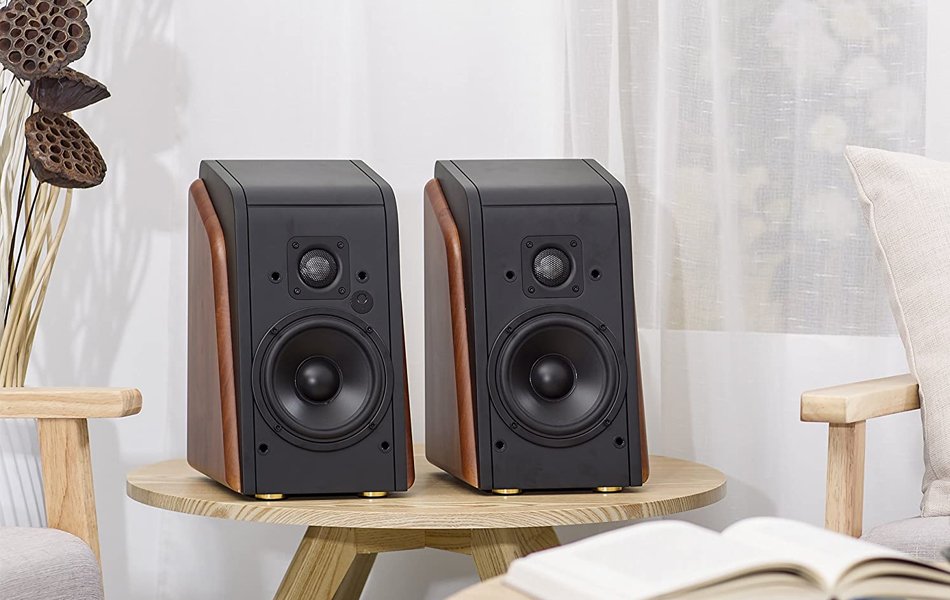 How We Picked
There are many bookshelf speaker options in the $2,000+ range but we focused on affordable, accessible, great sounding pairs that will last for years. We specifically chose a variety of speakers to suit multiple connection types to give buyers options between passive, active, wireless and bluetooth models.
How We Tested
In the test for best bookshelf speakers we used a controlled listening room environment with sound damping and a listening distance of 5-10' with speakers placed 5' apart. The speakers we're connected to a 100w powered amplifier and routed to a switcher to quickly toggle through the various speaker pairs. We listened to everything from classical and electronica to heavy metal and hip-hop to see how the speakers handled the various styles. Speaker preference is very personal as some listeners prefer heavy bass while others are looking for a more balanced sound. We did our best to outline these specifics in the above reviews.
Features to Look for in Bookshelf Speakers
Sound quality – Sound quality is a personal decision. What sounds great to some might be depicted as "so-so" by others. While all of our listed models have made the cut because of their excellent sound quality, the end results can vary considerably. What's important is that the music you love to listen to should sound natural to your ears, it should have a balanced tone quality, and it should be easy to enjoy for long periods without fatigue.
Wired–Wired speakers tend to offer the most dependable A-grade sound when compared to wireless options. But while they do boast quality features, they lack the convenience of wireless monitors. Again, it all comes down to personal preference. If you're only concerned about sound quality, then wired is the way to go. If you need your speakers to be more versatile, then a wireless option might be the best solution.
Wireless – Wireless speakers connect to music players, Smartphones, computers, and even TV sets via a WiFi, Bluetooth or a Multiroom connection. While wireless technology might not be as streamlined as wired connectivity, there are certain perks. For instance, you can listen to music from any device without depending on cables. Wireless speakers also look neater and they can conveniently run on batteries if necessary.
Passive/Active –  Speakers feature built-in power amplifiers and just need a power source (or battery) to run. Passive speakers, on the other hand, require an externally powered amplifier to operate. Active speakers are great for home use and are certainly more convenient. For studio-quality sound solutions, then passive speakers are more of an adequate solution.
Impedance – Most bookshelf speakers are rated either 6-ohms or 8-ohms. Any sound monitor's impedance rating that's measured at 4-ohms is typically going to be a premium-grade audiophile speaker that's been paired with a quality amplifier suitable for professional studio use. If you're just looking for speakers that are ideal for your average home use, then 6/8-ohms will do just fine.
Wattage - If you crave high volume, enjoy hosting wilds parties or have a huge room, then the more watts - the merrier! With this being said, most people find 50 watts to be more than enough, especially for home use. A very important factor to keep in mind, however, is that the amp you use should not put out more power than your speakers can handle, this could destroy them indefinitely or at the very least, create a wonky sound.
Connections – Apart from choosing the best connectivity options suitable to your requirements, you might also want to consider how many input and output jacks each model features. If you have many devices that need to connect to your speakers via a cable, then the more connection ports there are, the better.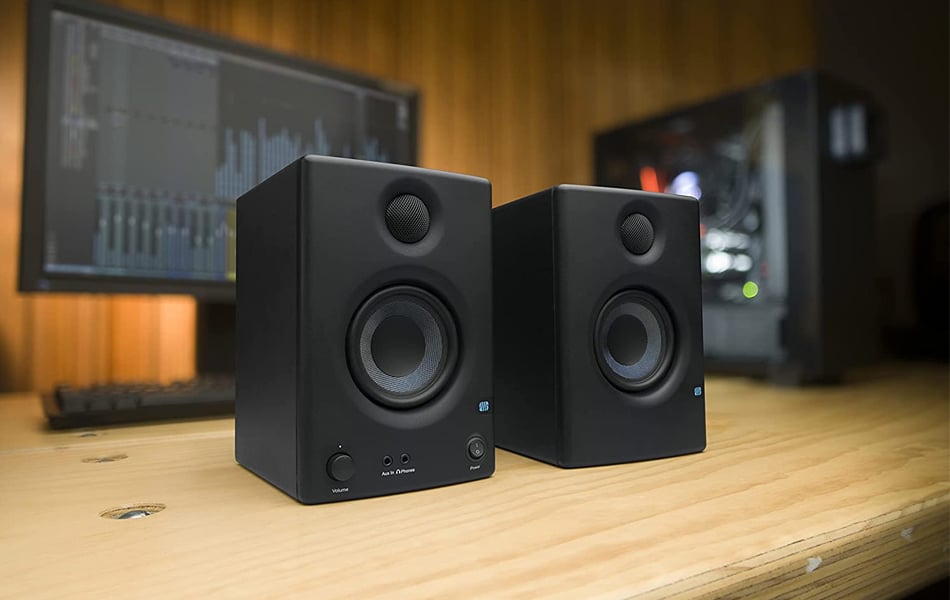 Bookshelf Speaker FAQ
Q: What are bookshelf speakers?
A: A bookshelf speaker is a small-medium sized speaker that has been compactly designed to fit most shelves or raised surfaces. Despite their mini-features, some brands still have the same sound and performance quality as larger speakers. Bookshelf speakers are mostly used for home-use and can connect to your music player via a cable and/or wirelessly.
Sources:
Powered Bookshelf Speaker - Popular Reviews
Sign Up Now
GET THE VERY BEST OF GEARHUNGRY STRAIGHT TO YOUR INBOX