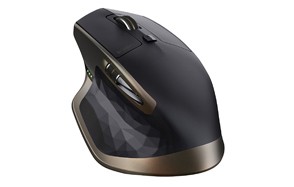 Logitech MX Master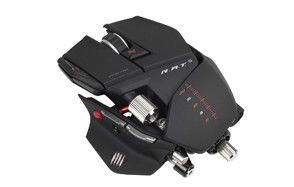 Mad Catz R.A.T.9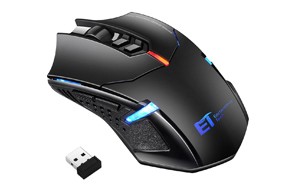 Habor Wireless
While the impending death of the computer mouse has been forecast since the turn of the century the little bugger lives on. Sure, those who had little to no business owning a PC to begin with have embraced the smartphone and its touch screen, but those with a more robust computing agenda continue to keep mouse manufacturers in business. This holds especially true for gamers, who make demands of the computer mouse never envisioned by Douglas Engelbart when he demonstrated the first mouse prototype in 1968. With the spirit of progress in mind we present our choices for best wireless gaming mouse of 2018.
Our Top Picks For The Best Wireless Gaming Mouses
Logitech G900 Wireless Gaming Mouse (Chaos Spectrum)
See More Reviews

The Logitech G900 wireless mouse rids you of the scourge of lag time by virtue of its 1ms report rate. This mouse has performance on the brain as evidenced by its 2.4 GHz wireless connection and its svelte 107 gram weight. The optical sensor in play here is considered by some to be the best in the industry and delivers incredible accuracy when you're in the heat of the digital battle.
If the worst thing you can say about a mouse is that it's not a cheap gaming mouse and that it weighs 107 grams then there isn't really much to complain about. And that's certainly the case here. The G900 is a world class wireless mouse that will help you on your quest to attain the gaming mountaintop.
Specification:
Brand

Logitech

Model

910-004558

Weight

3.84 ounces
The G900 is fully customizable from lights to dpi to whether you use it as a leftie or rightie.
Action is remarkably smooth and fast, clicks are spot on and lag-free.
Battery life on the G900 is excellent, delivering 30 hours per charge.
The G900 is going to take a bite out of your bank account but it's worth it.
107 grams might be a wee bit heavier than ultimate gamers are used to.
E-Blue Mazer II – Wireless Gaming Mouse
See More Reviews

The Mazer II E-Blue mouse is the newest upgrade of the company's well-known Type-R gaming mouse. This new model sports a refined design ethos and faster, more accurate performance than ever before. With 2.4GHz wireless transmission up to 30 feet from source and a useful lifespan up to 5 million clicks you'll be gaming 'til kingdom come.
The fact that Mazer designs and builds for a right hand only world is not something to be commended but there's no doubt their E-Blue right handed mouse is a technological thing of beauty. We banged away for hours with nary a misstep and the response was spot on throughout.
Specification:
Brand

E-Blue

Model

EMS601BKAA-NF

Weight

11.2 ounces
The 3000 frames per second tracking rate leaves no room for errors.
Extremely comfortable even when engaged for hours in the heat of digital battle.
Adjustable on the fly dpi is smooth as silk.
Side button placement is questionable.
The mouse may ride a bit low for some gamers.
Razer Lancehead Wireless Gaming Mouse
See More Reviews

The Razer Lancehead is sleek and stylish but more important than that it works like nobody's business. The mouse is a joy to hold even for long hours and that's a function of great engineering. The rubber grips are generously sized and more comfortable than on some of their previous mouses. Programming the mouse is very simple using Synapse including setting up the all-important lighting scheme, and the mouse pad calibration capability is nice to have if you're into that sort of thing.
The Razer Lancehead Professional is comfortable, dependable, fast, accurate and you'll get a 24 hours of gaming out of a single battery charge. It also acknowledges the existence of our left handed friends and the dual on-board and cloud storage capability is a nice touch. If performance is what drives you, you need to have the Razer Lancehead on your short list when it comes to a new mouse.
Specification:
Brand

Razer

Model

RZ01-02120100-R3U1

Weight

4 ounces
Looks as good as it feels with fully and easily programmable lighting scheme.
Maximum polling rate of 1000 Hz and minimum of 125 Hz.
Fully ambidextrous for lefties as well as righties.
If you're into transformer-like design cues you'll be disappointed. A minor 'con' to be sure.
Nobody is going to categorize this mouse as 'affordable.'
See More Reviews

Logitech sometimes refers to this as their 'flagship' mouse and while it's a joy to use and undoubtedly an impressive piece of gaming kit we would argue the company's G900 is a slightly better mouse in several respects. That said however you can't really lose with the MX Master (unless of course you're left handed).
While this might not be our choice for the absolute best Logitech mouse, it's not far from their best gaming mouse that's for sure. And that's saying something. From the precise and uber-adaptable Darkfield laser sensor to the ability to switch seamlessly between 3 different machines to the lightning fast recharge capability and attractive price there's a lot to like.
Specification:
Brand

Logitech

Model

910-004337

Weight

5.1 ounces
Logitech obviously put a lot of time and effort into the design of this mouse and it shows.
The Darkfield laser sensor fears no surface and that includes glass.
Charge it for the whole day in about 4 minutes using the USB cable.
The side scroll feature takes some getting used to as does any type of unique tech feature.
Some of our reviewers noted that it felt a little bulky. You may disagree.
See More Reviews

The Razer Naga Epic Chroma is as solid a wireless gaming mouse as you're likely to find anywhere with a unique look and some unique features to boot. We can start with the 19 button feature array down the thumb side and of course the ability to program the lighting scheme to insane levels of individuality. It should also be noted that the Naga Epic can be used in both wireless and wired mode.
The Naga Epic Chroma is hard to beat as an MMO mouse and represents a very real upgrade from previous models. If you're a World of Warcraft warrior this could well be the mouse for you. On the other hand if Assassin's Creed is more your speed you may want to stick with something with fewer bells and whistles.
Specification:
Brand

Razer

Model

RZ01-01230100-R3U1

Weight

12.2 ounces
Razer Synapse 2.0 software which makes programming the array of buttons fairly easy.
Players have full control over colors and brightness whether using wired or wireless mode.
The Naga Epic performs well with MMOs. Perhaps as well as any mouse on the market.
19 buttons pretty much gives new definition to the word "overkill".
For titles like Titanfall or Heart of the Swarm you'll likely find the preponderance of buttons to be a hindrance.
Tecknet Professional Ergonomic
See More Reviews

The TeckNet Pro Wireless M003 mouse provides ultra-smooth tracking on almost any surface including glass. Plug and play simplicity means there's no setup hassles or headscratching programming to go through. You'll also be able to pair your mouse with the Nano receiver should you lose your standard connection for any reason.
This cheap gaming mouse will have you looking at your $150 mouse and wondering what made you think you needed to spend so much to get first-class performance. From 5 fully adjustable on the fly dpi settings to co-linking capabilities to keep you in the game and the ability to perform to a high level of precision on any gaming surface, this wireless gaming mouse hits all the right buttons.
Specification:
Brand

Tecknet

Model

841744

Weight

3.04 ounces
The aforementioned co-linking ability lets you stay up and at it should you lose your connection.
The TruWave tracking does indeed provide precise tracking even on glossy surfaces.
The shape of the mouse is extremely easy on the hand even after hours of use.
The company claims you'll get up to 24 months of life from the battery but you'd do well to take that with a grain of salt.
The design, while comfortable, looks like a piece of Megatron that fell off in battle.
See More Reviews

If you're a fan of the Tumbler you're going to love the look and feel of the Mad Catz R.A.T.9 Gaming Mouse. The R.A.T.9 features a startling 1ms response time so you can effectively kiss lagging goodbye. The lightweight aluminum chassis is tough as nails yet light on its feet (you might even say if 'floats like a butterfly and stings like a bee'). There's no more excuses when it comes to the R.A.T.9. If you felt in the past that your mouse response times were holding you back, those days are over.
If you've felt held back in the past by your wireless gaming mouse the R.A.T.9 is here to answer your performance prayers. While its tough lightweight design is a big plus with us those who may want something a tad heavier are able to quickly and discreetly adjust the balance using the 5 tiny weights that come with the mouse.
Specification:
Brand

Mad Catz

Model

MCB4370900B2/02/1

Weight

1.69 pounds
True next-gen 2.4GHz wireless technology lets you set your gaming potential free.
The 'Twin Eye' laser sensor is one of the best we've seen.
Dual Lithium-ion batteries allow you to do a hot swap if one should fail.
At well over $150 this will probably be out of some gamers' reach.
4 dpi settings don't exactly have us dancing in the streets.
Razer Ouroboros Elite Ambidextrous
See More Reviews

The Razer Ouroboros Elite Ambidextrous Wireless Gaming Mouse is one of the best true ambidextrous gaming mouses on the market today. It's also one of the best overall values out there which is how it wound up on our 10 best list to begin with.
If you are a left-handed gamer this may be the perfect mouse for you. It gives you most of the features of the top mice on this list without you having to pull a Jimi Hendrix and play your instrument upside down. It's comfortable, fast as light, and the ability to pop in a simple AA battery to keep going is a big plus.
Specification:
Brand

Razer

Model

RZ01-00770300-R331

Weight

6.4 ounces
1ms response means that all those infuriating lag experiences of the past are just that.
The dedicated dpi clutch trigger allows you precise control of the dpi on a second to second basis. The Razer Synapse programming enables full customization throughout.
NiMH rechargeable battery or you can simply pop an AA battery in and play for up to 12 hours.
Battery life regardless of which type you're using is not great.
The dedicated dpi clutch trigger can be a bit capricious at times, though nothing major.
See More Reviews

From the on the fly dpi adjustability to the 250 hours of battery life and 20 million click lifespan, the Logitech G602 may be the best overall value in the company's arsenal. True wireless gaming with virtually lag-free performance is the order of the day here with response times of 2ms and true 2.4GHz wireless performance up to 10 meters.
While this is a right-hand only mouse it has too much going for it. You'll enjoy all the features and benefits laid out above as well as the ability to switch between Endurance and Performance modes or adjust your dpi settings all at the touch of a button. 2ms response times means goodbye lag-free performance.
Specification:
Brand

Logitech

Model

910-003820

Weight

15.2 ounces
11 fully customizable controls for optimal versatility and performance.
20 million click lifespan means the only limit on this mouse is changing technology, not use.
Up to 250 hours of battery life sets the standard for a wireless mouse.
Right hand mouse design leaves lefties out in the cold.
The 11 programmable buttons may be 5 or 6 too many for practical use.
250 hours of battery life is something that may or may not happen.
See More Reviews

There's no need to drop a c-note on a wireless mouse when you can have the Habor Wireless Optical for about the price of a pizza. While it's not truly ambidextrous, its overall design lends itself to use by righties or lefties with little loss of functionality for lefties. Power saving mode kicks in after 8 minutes of inactivity.
No doubt we had to stretch a bit to find negative things to say about the Habor Optical Wireless Gaming Mouse. It's that good. Both amateur and professional alike are bound to find plenty of things to like here. From the comfortable, if uninspired, design to the 2.4GHz performance and the ability to track effectively on any surface. More than just a good cheap gaming mouse.
Specification:
Brand

Habor

Model

5149739

Weight

2.88 ounces
Comfortable, ergonomic design enables hours of use without fatigue.
Incredibly versatile. Will track perfectly on any surface including glass.
Ability to opt out of the lighting scheme should you want.
The mouse scroll wheel feels like something of an afterthought.
While the Habor is light, some feel it might be a bit too light.
Buyers Guide
Q: Are Wireless Mouses Good For Gaming?
A: While there was a time in the not-too-distant past that anyone arguing a wireless gaming mouse could keep up with a wired mouse would be laughed at, those days have gone the way of the lag. Today's wireless mouse is every bit the equal of its wired counterpart and provides you a much higher degree of overall flexibility.

Q: Wireless Gaming Mouse That's Around $35 Or $40?
A: Our last two choices listed above are $40 or less. Either one will provide you most of the features of a wireless mouse that's 2, 3 even 4 times the price. If you are looking for one under $40 to fulfill your wireless gaming needs you'd do well to consider either of those.
Q: What Are Some Good Wireless Bluetooth Brands?
A: Without a doubt Logitech leads the way in this category. Although Samsung and Microsoft also make fine Bluetooth mouse products.
Things To Consider When Buying A Wireless Gaming Mouse
Response Time - One of the great advances that has enabled the wireless mouse to largely supplant the traditional wired mouse is the incredible increase in speed. If you're tired of your gaming experience lagging behind your input look for a wireless mouse with a response time of no less than 2ms and preferably one with a 1ms response rate. You'll want your new wireless mouse to accommodate 2.4GHz connectivity at 10 meters. This will ensure you're always in the game.
DPI Adjustability - The ability to adjust your resolution on the fly provides the ability to customize the appearance of the environment when details need to be inspected or considered. Look for a mouse that provides you at least 5 different dpi settings that can be adjusted without having to stop what you're doing.
Weight - A lot of gamers spend hours in front of the screen. Over this time a heavy mouse can begin to wear down even the most robust forearms. Look for one that's lightweight unless you want your performance to suffer late in the game.
Battery Life - You'll want to get at least 24 hours out of a single charge with a rechargeable battery. It's also nice if your mouse will accept alkaline backups just in case you miscalculated and the Lithium-ion battery dies in mid performance.
Price - You can spend several hundred dollars on the top gaming mouse. But unless you operate at the very pinnacle of the sport why on earth would you when you can get an excellent 2.4GHz mouse with 2ms response rates for under $20?
Conclusion
The wireless gaming mouse has finally caught up with and in many ways overtaken the wired mouse. With 2.4GHz wireless performance and a dizzying array of programmability options there's nothing you can't do today with a digital mouse. Keep the above factors in mind when searching for your new digital mouse and you're sure to find a mouse that suits your needs and budget to a T.

We hope you enjoyed this overview of the 10 best wireless mouse models and be sure to check back for more informative review pieces being uploaded regularly.