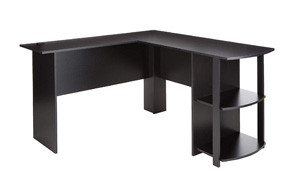 Ameriwood Home Dakota L-Shaped Desk with Bookshelves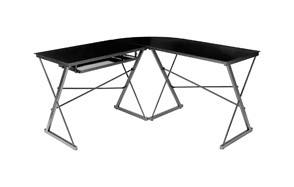 AmazonBasics Three Piece Glass Gaming Desk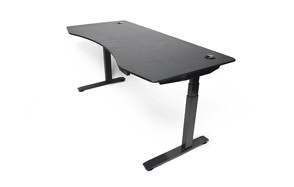 ApexDesk Elite Series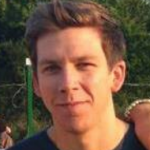 Gaming desks bring out all the things you wish you had when you were a kid, and MMORPGs were your jam. Whether it's console, PC or VR, you need your designated space. This beautiful lineup of fifteen gaming desks gives you a little bit of everything, from drink holders to designated monitor displays, adjustable heights, and cable conduits. We wish we had these when we were kids, but like a fine wine, gaming gets better with age. These desks will reignite your inner MLG player, so get ready. Check out our best gaming desk guide below.
The Best Gaming Desk
Gaming Desk Buying Guide and FAQ
Gaming has become more of a lifestyle than a past time, whether it is happening in front of a TV or on a PC. Rather than enjoying upfront and suffering the consequences later, gamers have the choice of employing the use of a gaming desk. Having an array of desks out on the market is an issue, on one hand, on the other, there is the issue of choosing the most suitable one. In order to aid that decision, here is some much-needed guidance.

Features To Look For When Buying A Gaming Desk
Size and Shape - It must be noted that these desks come in a range of shapes and sizes, there is no particular template. Gamers who have little space to work with may want to opt for something along the lines of a wall-mounted foldaway desk. Even an L-shaped desk could prove to be useful in such a scenario.
Aesthetic Appeal - Some may think of this as a shallow thing to look out for, but it is among one of the most important features to look out for. Fitting the overall decor of the room it's placed in is a crucial aspect. Additionally, being pleased with the way the desk looks makes it easier to get a whole lot done while seated at it.
Storage and Organization - Gaming equipment can be quite a lot and it tends to get messy. The best kind of desk is one that offers up ample features that are dedicated to keeping everything neat. Some of them come fitted with drawers, cord and cable holders, smart device holders and a whole lot more dedicated to storage and organization. Altogether, keeping the clutter to a minimum is the aim.
Usability - Any gamer will testify to the fact that they spend quite a lot of time at their gaming desks, for this reason, gaming desks are supposed to be made to be used quite often. Based on this alone, they should be equipped with features that make them comfortable for long-term use. In a nutshell, the design of the desk should be able to guard against body pains and strains alike.
Types Of Gaming Desks
L-Shaped Gaming Desk - Just as the name so graciously points out, this type of desk comes in the shape of the letter L. This makes it quite suitable to be kept in the corner of any given room. Their unique shape makes it so that they offer up a whole lot of table room while leaving ample space for users in the middle. The one down-side of this kind of desk is that most of them are bulky and equally difficult to put together.
Standard Desks - This is the most popular version of the gaming desk out on the market. Its easy accessibility can be owed to the fact that most of them are cheap and are multi-functional. The general design features a stand as well as a countertop, otherwise, there is no additional visual appeal with this particular model.
Sitting/Standing Desks - In terms of design and aesthetics, this is quite similar to a standard desk. The main difference here is the fact that it happens to be expansive and adjustable. Thanks to this handy feature, they have the ability to be adjusted to either a sitting or standing position. This on its own is a great convenience.
U-Shaped Desk - Once again, this is a desk that is named after the shape it takes on. It happens to come in a U-shape and is a great pick for gamers who make use of multiple monitors. This is because it offers up enough room for users to easily access every end of the desk. Just like the L-shaped option, this is a very bulky desk and it takes time to assemble.

Gaming Desk FAQ
Q: Is a gaming desk needed?
A: Yes, gaming desks do not only improve body posture, but they go a long way to keep all the equipment is neatly organized. All in all, this increases productivity.
Q: Do gaming desks increase gameplay ability?
A: They do so very effectively by freeing up enough tabletop space to ensure that gamers can focus on the game at hand. It additionally offers up the right angles and views to users so that they can make use of the increased mobility they have.
Q: What material should a gaming desk be?
A: Typically, gaming desks are made from a range of materials, each of them great in their own way. The glass options though classy and aesthetically pleasing are expensive and fragile. Wood is ever dependent yet still pricey. A cheaper alternative is MDF, but it soaks and swells and eventually loses its shape. In this case, it is a buyer's choice.