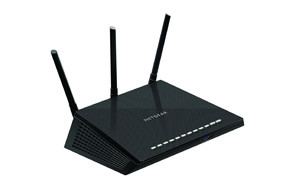 NETGEAR R6700 Nighthawk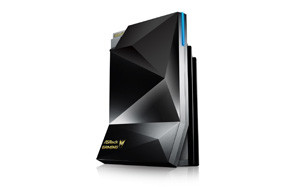 AsRock G10 AC2600 Gigabit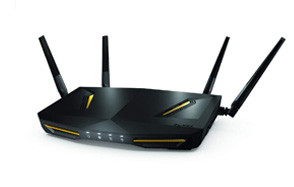 Zyxel Armor Z2 AC2600 MU-MIMO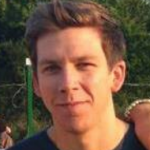 If you love online gaming then you need the most reliable, steady and fastest connection available. Without it, you will be left whimpering into your keyboard as other players victory dance around you, (or worse) mocking your poor aim and disastrous lag. If this is something that happens far too frequently to you, maybe its time for an upgrade, check out our choices of the best gaming routers and level up your fortunes like never before.
The Best Gaming Router
Gaming Router Buying Guide
How We Chose Our Selection of Gaming Routers
There are four different things that we looked at when selecting the best gaming routers for you. We believe that these are the deciding factors for anyone looking to buy a new router and maximize their gaming potential.
Brand - Picking brands that are well known, respected and continuously deliver excellent results is a great place to start when selecting a gaming router. There are a few great router brands that all offer similar services. When it comes to the best routers for gaming, it might come down to a matter of requirement and preference. It is impossible to pick the absolute best brand, but choosing a decent range of different brands that all offer top quality products gives you the best idea of what is most suitable for you.
Latest WiFi Standards - Like all kinds of technology, WiFi and what is acceptable and expected in a router is always evolving. Before selecting what we believe are the best gaming routers we did a lot of research regarding the latest WiFi standards to ensure that we found only the state-of-the-art routers for you. Without these standards, your gaming WiFi router might fall behind and soon become obsolete when compared with newer, cooler, stronger models.
Reviews - Reviews are excellent for understanding how good a product was and we looked for products that were given at least 3 and half stars. You'll notice that all of the products in our list are well above this and contain tens to hundreds of reviews. With products as popular as gaming routers, you know that reviewers are people that really know their stuff and many of them have tried and tested an array of different products looking for the perfect router.
Price - The matter of price also concerns what kind of situation you are in for needing a gaming router. If you live in a house where everyone is gaming during every free second, like in a gaming-mad household (mom, dad, kids, pets, ghosts, etc) then splurging on an expensive but entirely dependable router is justified.
If you live alone, or a home where you are the solitary gamer, then a less-expensive router that can still guarantee the results you need is the best choice. If you don't need to spend a lot of money on the best router, then don't.

Features To Look For In A Gaming Router
When you are trying to decide on good routers for gaming, there are several features that must be considered if you are to find one that will do everything you need it to (and sometimes more).
Max Speed - The max speed is crucial for informing you how much data is being transferred every second. This will let you know how fast the connection is, how quickly you can download new games, and how smoothly images and sounds appear across your screen. The higher the speed, the faster the connection, and the more comfortable the experience. Simple, right?
Yeah mostly, but be aware that WiFi is always marketed using theoretical speeds, so just because it says it will hit 600 Mbps, doesn't mean it actually will. Be sure to do your comparison research and find the actual speed before spending big bucks on a supposedly lightning fast router.
Range - The range of the router determines how far the signal can reach. With wireless connections, the further away you are from the router, the worse the connection will be. Gaming routers boast as much as 5000 square feet of range, but there are things such as walls, doors, ceilings and other connected devices that can get in the way.
With a wired ethernet connection, the range is not something you need to worry about, as you will have a direct line to the router (and it is unlikely you'd be too far away when wired-up anyway)
Software - The kind of software that is present in the router must be considered when selecting the right router for you. This will make life much, much easier for its operation and hopefully give you fewer headaches when all you want to do is unwind and game at the end of a stressful day.
The best routers come with automatic update software that keeps them top of the range, as well as offering firewall protection to keep your files and data safe for malicious third parties. Some routers will offer different kinds of software, such as a GPN or the ability to connect to similar routers to maximize signal. It is all about what you need.
MU-MIMO - This stands for Multi-User, Multiple Input, Multiple Output (but you can just pronounce it moomeemo which, if nothing else, is just fun to say). This means that more than one device can be connected to the device without worrying about too much bandwidth being throttled. In places where there are a lot of devices, this is crucial for ensuring a reliable and stable connection, no matter how many people might be using it.
With gaming routers, this is useful for guaranteeing a connection that does not randomly drop in and out, potentially ruining hours upon hours of hard work, or stealing you from the map just as you were about to pull the trigger on the winning kill.
Beamforming - In the past, a network router would spread the signal out in all directions and whichever device latched onto it would get the signal. While this worked most of the time, and gave each device an even share of bandwidth, which is nice, but what if the signal identified a device and delivered a stronger signal above all others?
This is what beamforming is. It is a recent development in many new 802.11ac routers and is excellent for gaming routers. With beamforming, you can set your console or gaming PC as the priority device and reap that sweet, sweet signal before anyone else gets their hands on it.
Types of Gaming Routers
Tri-Band - As the name suggests, tri-band provides you with 3 bands to maximize speed and satisfaction. On top of the 2.4GHz and the 5GHZ found in dual-band, tri-band offers an additional 5GHz band to deliver the performance you could never have imagined.
Dual-Band - A dual router offers an adequate connection that is fine for the average home. It goes further than the single-band 2.4GHz frequency by including a 5GHz band that allows for more signal satisfaction.
Single-Band - You might notice that 2.4GHz single-band routers are absent from our list. They are now mere relics of computing and serve little purpose other than a reminder of how far we have come.
The advantages of using a Gaming Router
There are many advantages of using a gaming router in place of a standard everyday router provided by your ISP. The biggest and most obvious advantage is that they transform your gaming capabilities (in terms of connectivity, speed, and overall experience) from frustration to elation.
Some routers will also seek out your console or gaming device as a priority connection and consign other devices to dealing with lesser (but still really impressive) speeds, as you jump in your gaming chair, strap on your gaming headphones and game the night away. But we're afraid they can't do anything about your K/D ratio, that is up to you.
The sheer power of these routers also allows for multiple people to connect their many, many devices without worrying about suffering slow internet speeds. If you live in in a place full of people on at least one device throughout the day, a gaming router can save frustration, even if you are not using it for gaming.
Router Setting Tips
It's no good having an excellent router if you do not optimize it for peak performance. If you are new to all this techy stuff and are not sure how to get the most from your router, here are some tips that will make a world of difference.
Upgrade when possible
Get rid of wireless interference around the router
Separate applications that use lots of bandwidth
Find the ideal location
Set up auto-restart
Improve your wireless security
Optimize your router and the adapter settings
Gaming Router FAQ
Q: What is a Gaming Router?
A: A gaming router is a device that is designed primarily for the purpose of gaming on consoles, handheld devices or PC. As game developers have put a greater emphasis on online gaming in the past decade or so, the need for a class of more powerful, and more reliable internet wireless router, or one that can be connected via ethernet cable, has been required.
But why can't I just use my regular old router that came with my internet package? You ask. It might seem like gaming routers are a mere marketing ploy to get desperate gamers to splash their cash on devices they don't really need, but this is far from the truth. A gaming router can do so much more than a mere home internet router.
They provide speeds that the casual internet browser does not even know are possible. With the fast-paced environment of online gaming servers, the faster the router, the better the experience. It will be able to withstand high definition graphics without lagging (the gamers' greatest nemesis) and provide endless hours of entertainment.
Some gaming routers will now recognize and prioritize games consoles over all other devices, ensuring that the gamer gets the best slice of bandwidth pie, and allow him to pwn (or are we saying rek(t) now?) n00bz (again, do the kids say something different?) freely, for hours on end.
Q: Who should buy a Gaming Router?
A: Primarily, the people who should buy a gaming router are gamers. But not just any type of gamers. If you are a traditionalist who loves their single player games full of great stories, gripping gameplay and beautiful graphics, then you don't really have any need for a gaming router, as you won't be doing any online gaming at all.
However, if you love the thrill of battle, if you love the trash talking hilarity of game lobbies, and if lag makes your skin crawl, blood boil and is responsible for the controller-shaped dents all along your bedroom wall, then a gaming router is the answer to all your problems.
While these routers are designed and marketed to hardcore gamers, it doesn't mean that you necessarily need to be playing games every free minute you have. They also work perfectly in houses and apartments where there are a lot of people using a lot of devices. A gaming router will be more powerful than a standard set, so even if you rarely game, they might just come in handy.
Q: Dual-Band or Tri-Band?
A: This will depend on how many people are going to be using the router. Dual-band will be enough for the average household, but if you really want to take your gaming to the unrivaled next level, then find a tri-band router and laugh at the dual-band peasants with their measly, single 5GHz frequency.
Q: Do I Need a Router with MU-MIMO Technology?
A: Not necessarily. Whether or not you need a router with MU-MIMO technology will depend on how many people are connected to your router. If you live alone, then the need for a router with MU-MIMO technology is not really necessary, as you may only need to connect one device (like your console) to the router to play games effectively.
That being said, if you want to have all of your devices hooked up to the internet without worrying about drops in connection, poor speeds and lag, then an MU-MIMO-enabled router is needed. Even if you are the only one using the router, being able to connect your computer, console, smartphone, tablet, home assistant and more, then multi-user technology is a must.
Even more necessary is when you live somewhere with lots of people. If you have a lot of devices, they likely will, too. To prevent downtime and poor speeds, investing in an MU-MIMO technology router is well worth it.
Q: How many computers or devices can be connected wirelessly to a router at the same time?
A: WiFi routers are designed to accommodate as many as 250 different devices wirelessly. But let's be realistic here, having that many devices connected to one router would mean that the speeds and bandwidth would be dragged back to the stone age. Okay, maybe not that far, but you understand.
Anyone who lived through the early days of an internet connection will remember the sweet, psychotic sound of the dial-up tone. If 250 devices were connected to your router, these are the kind of speeds you would be getting, not ideal for the high-speeds required by online gamers.
So while there is the potential for a lot of devices to connect to the router, it is not advised, unless you are planning some kind of anger-repression training where you look to overcome slow internet speeds through tranquility and calm meditation. Stick to a low number of connections, and enjoy the speeds without feeling that vein about to pop in your temple.
Sources