Best Fall Decor For Home in 2022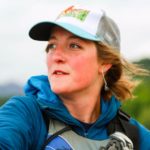 This product guide was written by Josette Deschambeault
Last Updated
October 14, 2020
Josette Deschambeault
Josette is a professional outdoor guide who lives and works in Southeast Alaska, Colorado, and Maine. When she's not rafting, hiking, skiing, or camping with her dog, she writes and edits for multiple outdoor and lifestyle publications.
GearHungry may earn a small commission from affiliate links in this article.
Learn more
The air has turned crisp. It's time to wear slippers in the morning and a sweater in the evening.
We've begun to enjoy the magic of the leaves changing colors and pumpkins on display, but what can we do to bring those magical colors, smells, and styles into our homes? Fall decor is no joke; there are too many beautiful plaids, pumpkins, and maple leaves to leave out of your home. There is outdoor fall decor to consider — how do you find outdoor autumn decorations that can withstand Mother Nature's changing weather? Then there is a world of indoor fall decor, from harvest-themed table runners to fall-scented potpourri. If your home is starting to see the leaves' changing, or you're thick in the middle of the pumpkin harvest season, there's no reason not to decorate your space with the best autumnal bounty.
We took the time to find the best fall season trinkets, decorations, and home decor to make this autumn your best yet. Check out our cozy selection of fall home goods, our ode to the maple leaf that will have you dreaming of syrup, our favorite beautiful and inspirational autumn signs, and all of the pumpkin props you would ever need. Our autumn decor ideas will make you fall head-over-heels for fall.
The Best Fall Decor for Home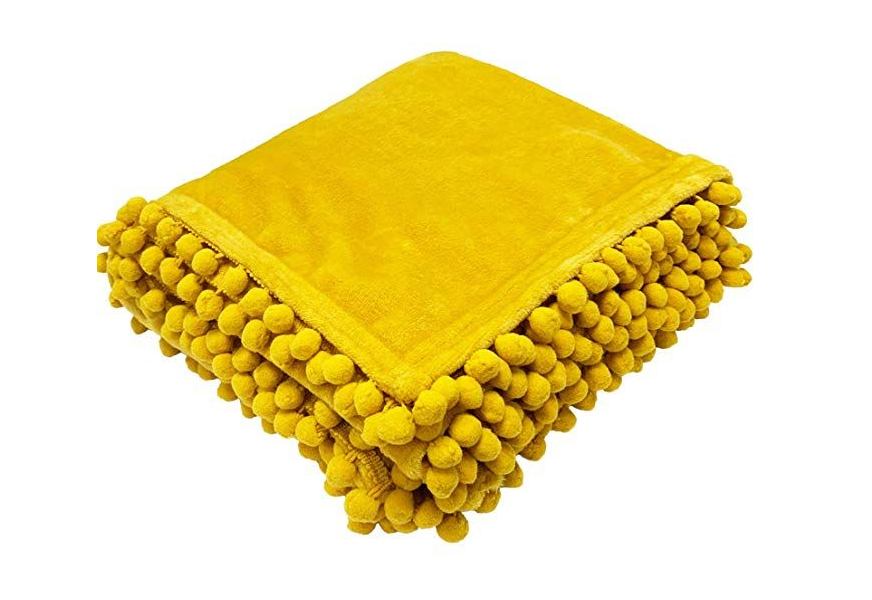 Our favorite item for fall? A cozy flannel throw blanket to snuggle up with a good book and a hot mug of cider. These LOMAO Flannel Blankets are just that — comfortable, soft, and best of all, available in more than a dozen colors (and sizes) to fit any room in your house. The pompom fringes add a bit of pizzaz, while the reversible sides — one flat and flannel-like, the other plush and fuzzy — will keep your cozy no matter the weather.
Key Features:
100% microber polyester
Cozy yet lightweight, breathable material
51" x 63"
Machine wash cold
Specification:
Brand

LOMAO

Model

8541806401

Weight

10.4 Ounces
Winlyn Artificial White Pumpkins Set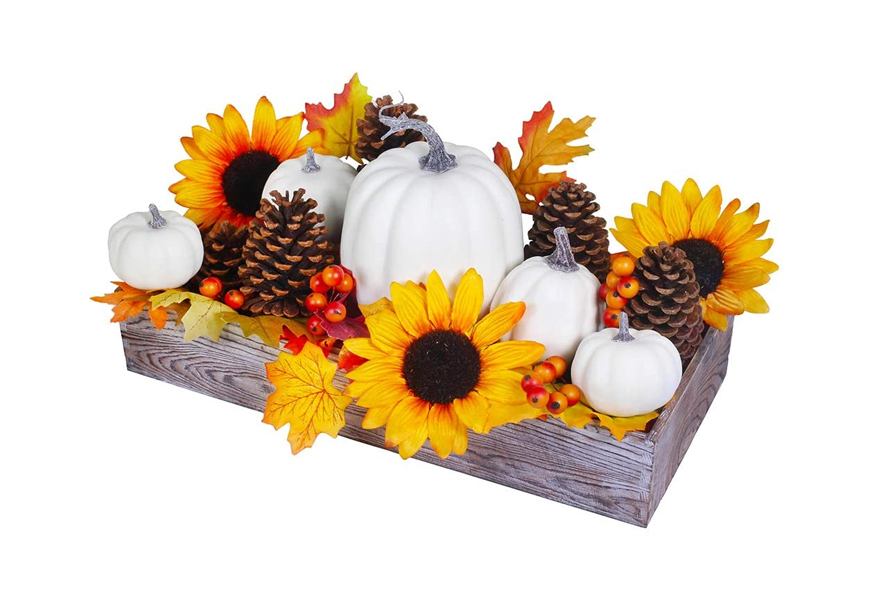 Your fall decorations are covered this year. For less than $30, you'll get five modern white pumpkins, three silk sunflowers, five berry stems, five medium pinecones, and sixty beautifully colored maple and oak leaves. This autumnal Winlyn Artificial White Pumpkins Set gives you enough variety to make a seasonal centerpiece, mantle display, outdoor welcome decoration, and more, without gathering the items yourself!
Key Features:
15.2 ounces total
5 Assorted white pumpkins
3 Silk sunflower heads
5 Artificial berry picks
60 Silk maple leaves oak leaves
5 Medium pine cones
Specification:
Brand

Winlyn

Weight

15.2 Ounces
Comenzar Flickering Birch Candles
Bring ambiance to your table with these gorgeous flameless Comenzar Flickering Birch Candles Fall Decor For Home. Each candle runs on AAA batteries that will provide up to 150 hours of flickering fall ambiance. These are perfect for decorating any space without the risk of burning hazards that normal candles provide. This means you can even place them in the center of your autumn displays for even more beauty! Each pack comes with three birch candles stacked in four, five, and six-inch heights. Different settings will automatically turn off your candles in two, four, six, or eight hours and automatically turn back on every 24 hours. There's even a remote control to set your mood or turn off the lights.
Key Features:
4", 5", and 6" Birch Candles (3.25" diameter)
Set of 3 candles
Flameless, battery-operated
Uses 3 AAA batteries per candle
150 hours of light
Remote control
Specification:
Brand

Comenzar

Model

BLC-B456

Weight

12.8 Ounces
There's a way to make sure your seasonal decor doesn't flood your attic with extra junk — get pillow covers for your year-round sofa pillows! These Anickal Pillow Covers Fall Decor For Home include a vintage harvest truck, an autumnal harvest scene, a "Happy Fall Y'all," and a "Pumpkin Spice & Everything Nice" cover. Available in two pillow sizes, these pillow covers slip over your current pillows and zip close for easy washing and removal when wintertime rears its head. Add the feel of fall to your living room or den with these easy decorating hacks.
Key Features:
Cotton linen material
18" x 18" or 20" x 20"
Hidden zipper closure
Pillow covers only
Set of 4
Specification:
Brand

Anickal

Weight

12 Ounces
Luditek Lighted Thanksgiving Fall Decor For Home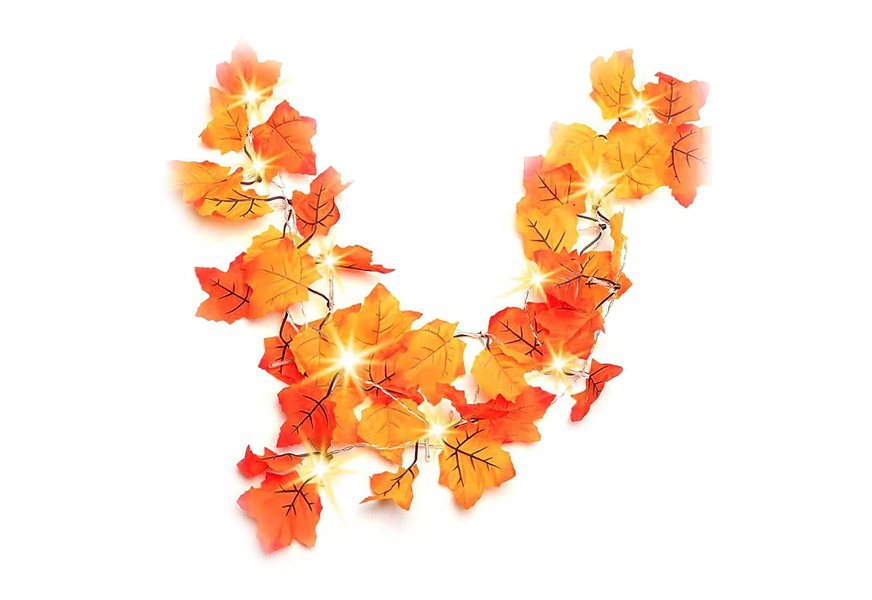 Set the ambiance of autumn with an elegant LED-lit maple leaf garland, a la a charming New England inn. This Luditek Lighted Thanksgiving Fall Decor For Home set of 20 lights strung among gold and orange silk leaves reaches 8.2 feet long, perfect for staircases, mantles, or above your door. It's not restricted by outlets, either; the whole strand is powered by two AA rechargeable batteries that will keep the lights on for dozens of hours. If you want the perfect fall wedding centerpiece, loop this Thanksgiving decor around a vase and wow your guests!
Key Features:
8.2' long
20 LED lights
Battery powered
Yellow and orange silk maple leaves
Specification:
Brand

Luditek

Model

GT035

Weight

3.2 Ounces
Greenbrier Fall Hanging Wooden Welcome Signs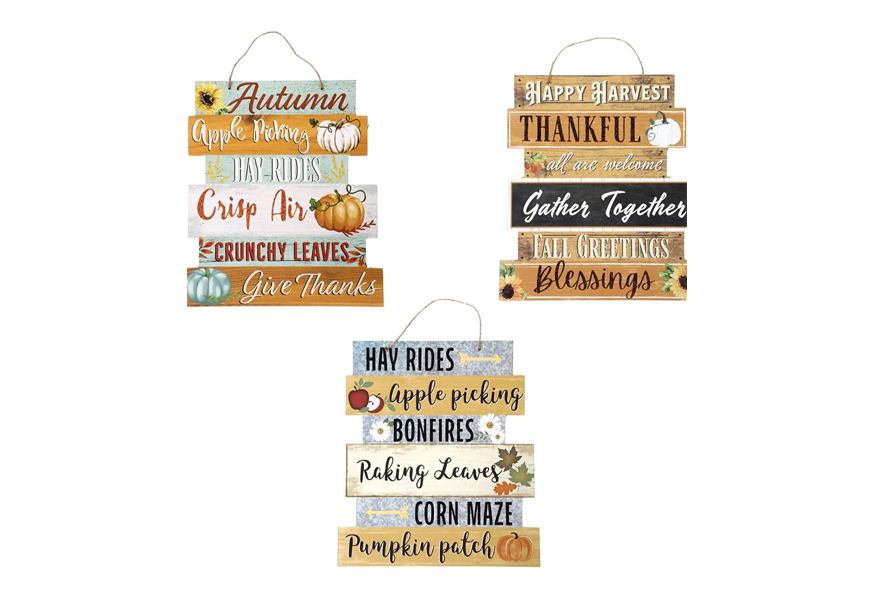 If you're more of a "hang it on the door and be done" kind of seasonal decorator, or you simply want to add to your fall collection, we have the perfect wooden signs for you. This Greenbrier Fall Hanging Wooden Welcome Signs two-pack comes a Thanksgiving Blessings and a Harvest Blessings sign with season-specific phrases. Both signs use an attached piece of twine to hang your signs in a farmhouse fashion. These stacked phrases will bring quippy fun to your walls and remind you that it's the season for apple cider, sweaters, and crunchy leaves.
Key Features:
2 pack
Thanksgiving & Harvest Blessings
11" x 0.5" x 10"
4 ounces each
Specification:
Brand

Greenbrier

Weight

8 Ounces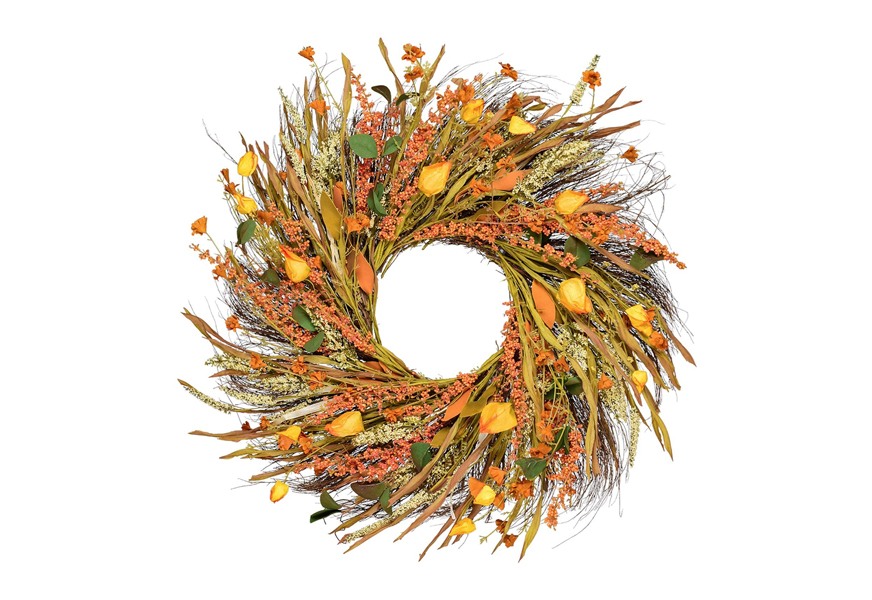 Bring harvest into your home with this lush fall harvest DearHouse Grain Wreath Fall. The hearty grain spikes, golden maple leaves, and ripened berry clusters create a gorgeous wall, or door decoration reminiscent of the bountiful harvest gathered each day. Measuring almost two feet in diameter, this wreath will become a focal point wherever you hang it. Plus, the branches are adjustable, so you can design the wreath just how you like. Get it for yourself or give it to somebody as a nice housewarming gift.
Key Features:
22" diameter with a 9" diameter center
Handmade
Adjustable branches
Wheat, maple leaves, and berries
Great door decor
Specification:
Brand

DearHouse

Weight

1.2 Pounds
SheeChung Mason Jar Bathroom Accessories Set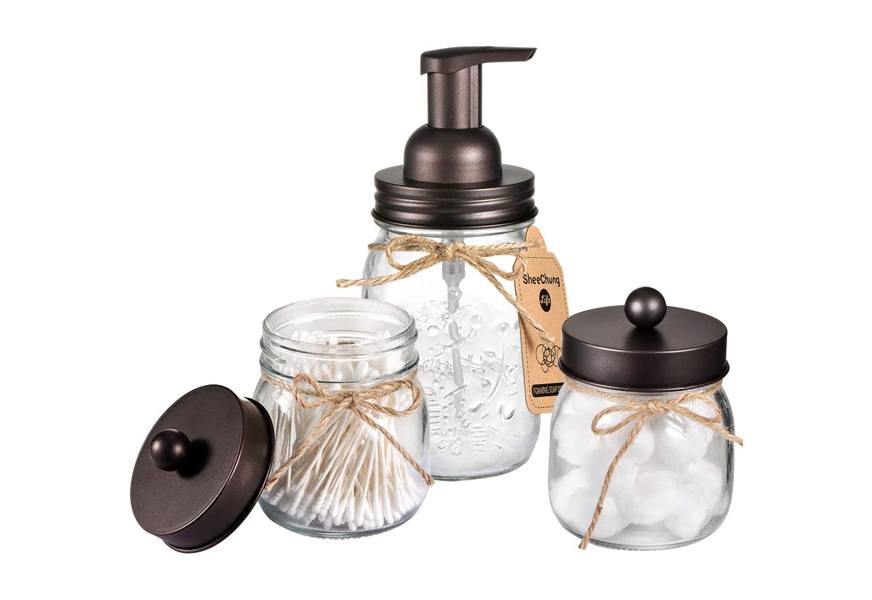 SheeChung Mason Jar Bathroom Accessories Set might not be autumn-specific, but they're wonderfully farmhouse chic nonetheless! Add a little shabby chic to your bathroom with this Mason jar storage set. The stainless steel lids won't rust, so you can keep them right by the sink without worries. The soap dispenser includes a foaming dispenser lid to keep your hands squeaky clean. Use the two smaller jars for Q-tips, cotton balls, rubber bands, tooth flossers, and more.
Key Features:
Foaming hand soap dispenser pump
2 Decorative storage holders
Rust-proof stainless steel lids
Gladd Mason jars (1 large, 2 small)
Specification:
Brand

SheeChung

Model

8541785134

Weight

2.29 Pounds
KIBAGA Farmhouse Inspirational Seasonal Signs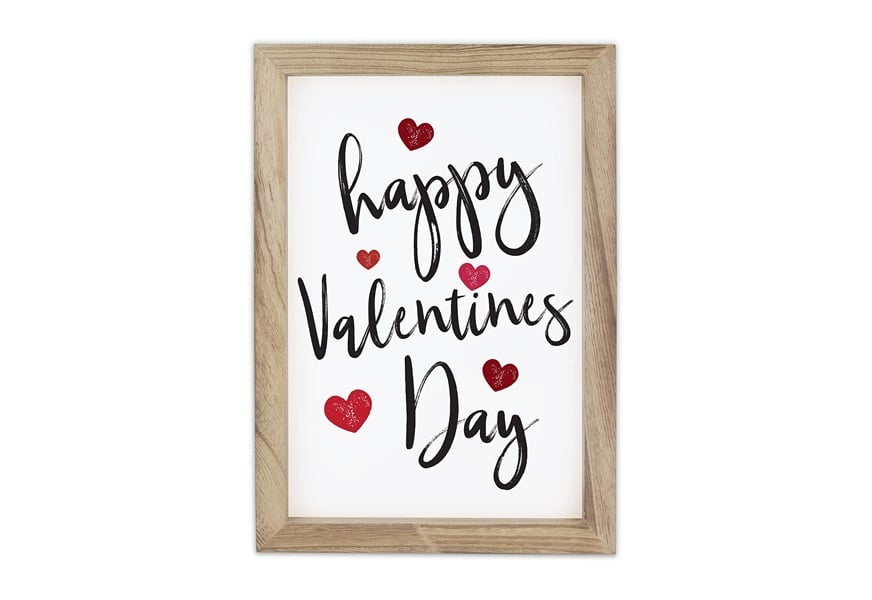 KIBAGA Farmhouse Inspirational Seasonal Signs is the seasonal decor that lasts all year round. One large (11 inches by 16 inches) rustic wooden frame holds the three double-sided pages of wonderful seasonal prints, like the autumn leaves surrounding a calligraphy "Hello Fall." The other offerings include designs for spring, summer, Christmas, and two uplifting scripted prints. Place them on your walls, on a console table, or over the mantle for a sweet reminder of the time of year. There's no better value than a decoration that can be used year-round, yet still reflect the heart of the season.
Key Features:
11"x16"
Rustic wood frame
No glass
Six seasonal designs in 3 reversible inserts
Specification:
Brand

KIBAGA

Weight

1.42 Pounds
DomeStar Artificial Pumpkins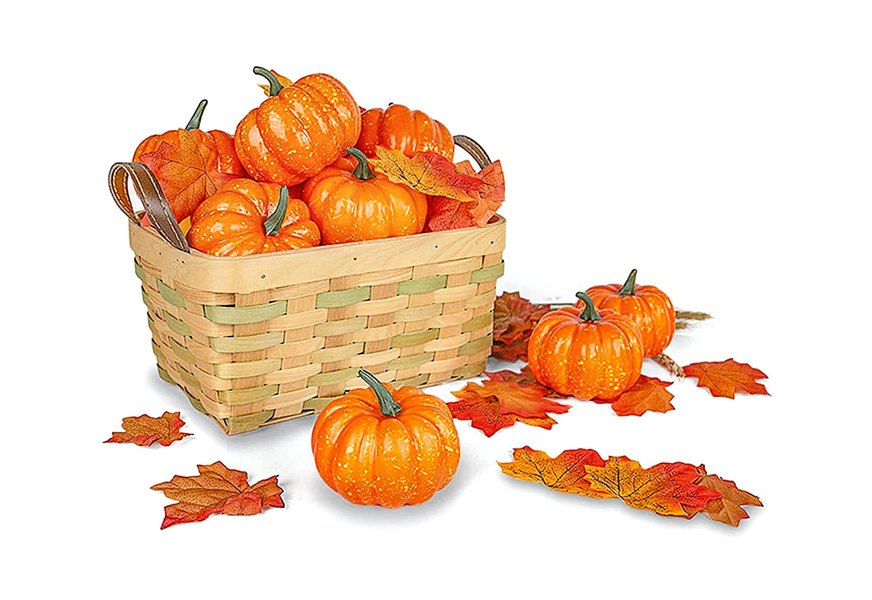 Decorate these adorable fake pumpkins just once, but enjoy them for years to come. The 12 high-quality foam DomeStar Artificial Pumpkins are designed to be placed indoors or outdoors, and can easily be colored or painted for a jack-o-lantern feel. The silk maple leaves add to the harvest decor to complete your perfect fall display. Pile these pumpkins in a harvest basket and sprinkle with the amber leaves, attach them to a light strand, or line them up on your front porch. Keep the fun in fall with decorative pumpkins that will last a lifetime.
Feel free to use them as Halloween decor, too.
Key Features:
12 Foam pumpkins
Hold up in indoor or outdoor environments
30 Silk maple leaves
100% money back guarantee
Specification:
Brand

DomeStar

Model

8541836880

Weight

8.9 Ounces
Ukeler Buffalo Check Plaid Rugs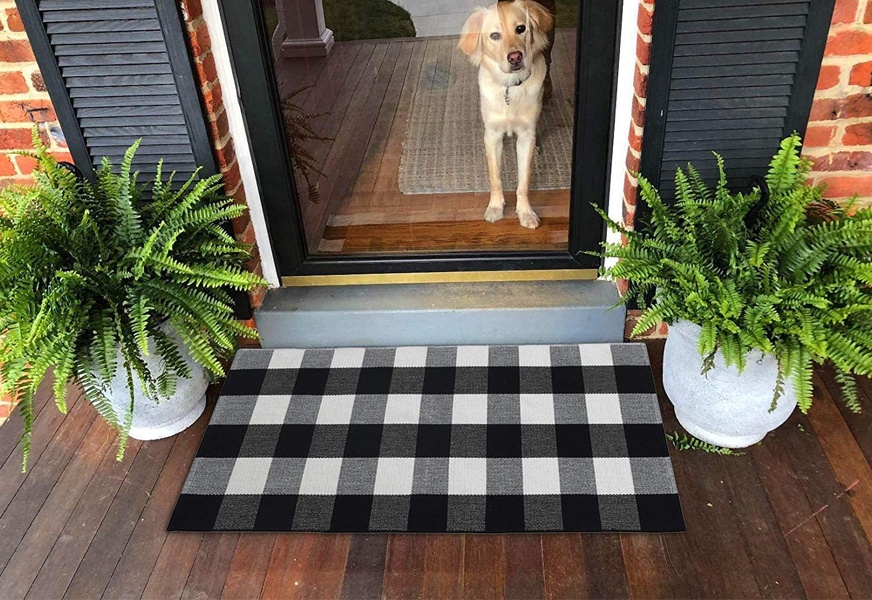 With fall comes flannel, and what's better than a plaid rug to match your rain boots? These Ukeler Buffalo Check Plaid Rugs are made from quality cotton and polyester for comfort, absorbency, and style. There are several rectangular size options, and four plaid options, as well: blue and white, black and white, grey and white, and red and black. Layer these rugs under your heavy-duty welcome mats for a fun splash of color and comfort.
Key Features:
Cotton and polyester
Comfortable and absorbant
Buffalo check plaid
24"×51"
Specification:
Brand

Ukeler

Weight

2.05 Pounds
Designer Burlap Table Runner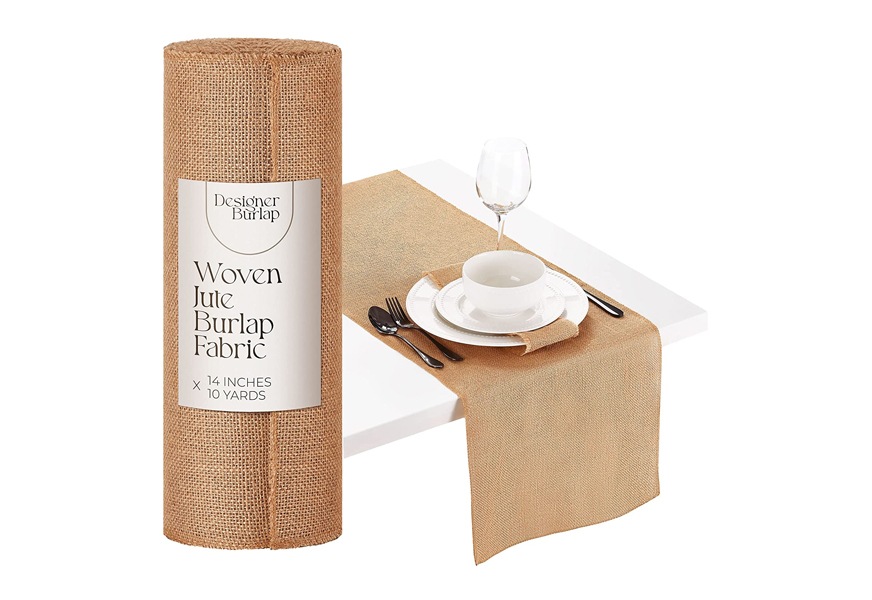 More shabby chic farmhouse decor for your dining room table! This Designer Burlap Table Runner is softer and better woven than the burlap ribbon you're used to, with 50 yarns per 10 centimeters compared to the average 30 yarns per 10 centimeters. The stitching is cleaner and more even, too. Roll the entire ribbon along the length of your table, crisscross a pattern over an end table, or paint your own banner! Looking for an inexpensive table runner for your fall wedding? Look no further. These burlap table runners can be used year-round as a nod to simple yet elegant country roots.
Key Features:
14" x 10 yards
50 yars per 10 centimeters
Golden brown
Softer than traditional burlap
Specification:
Brand

Designer Burlap

Weight

2.03 Pounds
Camlinbo Lace Maple Leaf Table Runner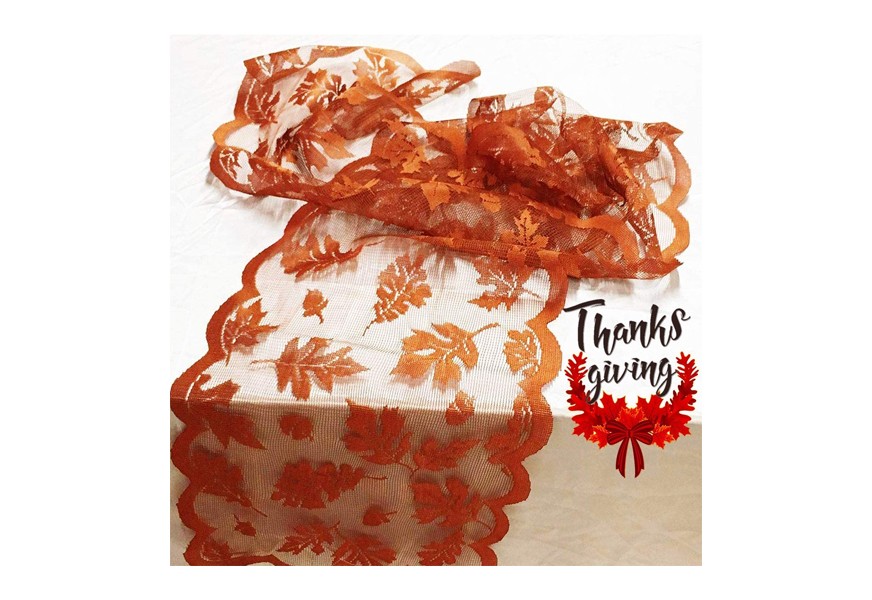 Add a lace table runner to your table, and your dinner party instantly steps up a notch. Add a lace knit table runner with intricate maple leaf and acorn patterns, and your fall supper will be the talk of the season. Or, choose the orange pumpkin vine design to make a harvest statement at your Friendsgiving meal. Lay this Camlinbo Lace Maple Leaf Table Runner 72-inch long table runner over a coordinated tablecloth or by itself for a center-stage statement piece.
Key Features:
Knitted lace
Maple leaf and acorn pattern
Pumpkin and vines pattern
13" x 72"
Specification:
Brand

Camlinbo

Model

HA-50

Weight

1.41 Ounces
Oriental Cherry Checkered Pumpkin Fall Welcome Flag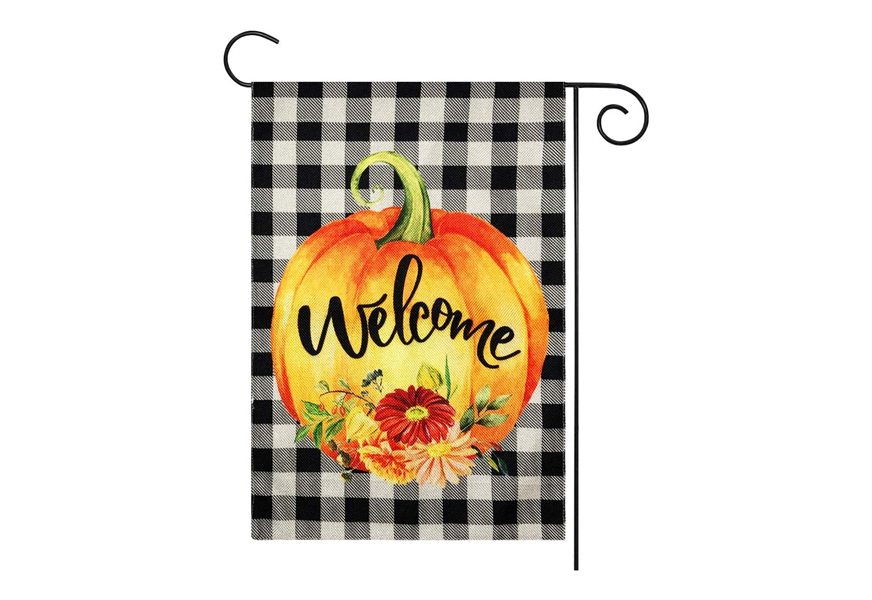 Welcome in your friends and family with a cheerful checkered pumpkin flag! This double-sided ORIENTAL CHERRY Checkered Pumpkin Fall Welcome Flag is printed on buffalo checked plaid burlap that's proven to be weather- and fade-resistant. This means you can fly this flag year after year, no matter what Mother Nature brings each fall. This flag does not come with a stand but includes a two-inch wide sleeve to slip over any flag pole. This flag will add a pop of seasonal cheer and community welcome for years to come.
Key Features:
Double sided
Buffalo checked plaid burlap
Weather and fade-resistant
12.6" x 18.5"
2" Flag stand sleeve
Specification:
Brand

ORIENTAL CHERRY

Weight

1.58 Ounces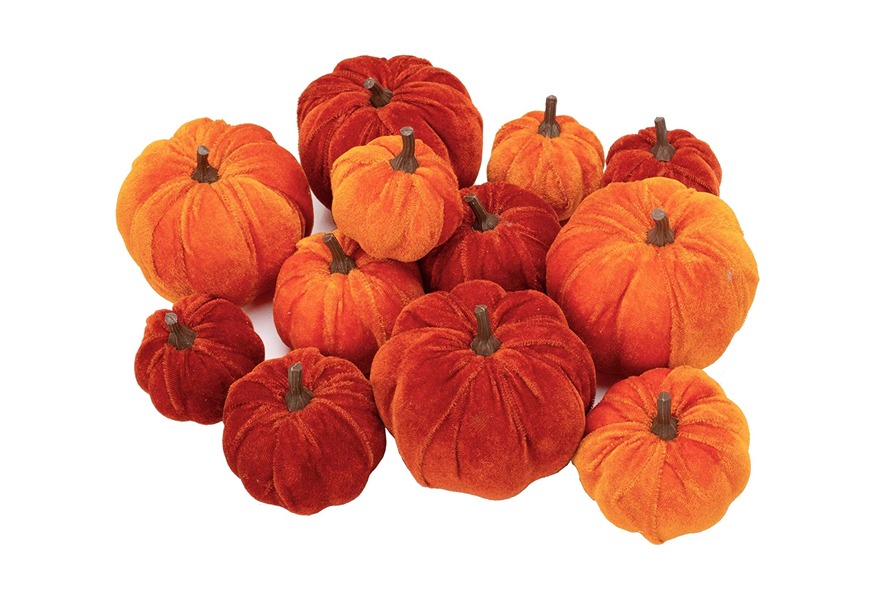 If you're looking for retro-chic fall decor, these adorable mini VGIA Velvet Pumpkins will make any display 100 times better. Six pumpkins are a light orange, while the other six are dark orange, bringing variety to the color palette. Each is made with a non-toxic foam plastic covered in soft velvet, and measures 2.5-inches wide and 2-inches tall. Set them up on your mantle, around your table, or pile them up in your window for a perfect fall display. There are also white velvet pumpkin options, should your gourds take a turn for the spooky.
Key Features:
Non-toxic foam plastic covered in velvet
2.5" wide, 2" tall
Light orange and dark orange
Specification:
Brand

VGIA

Weight

4.8 Ounces
Camlinbo Maple Leaves Fireplace Scarf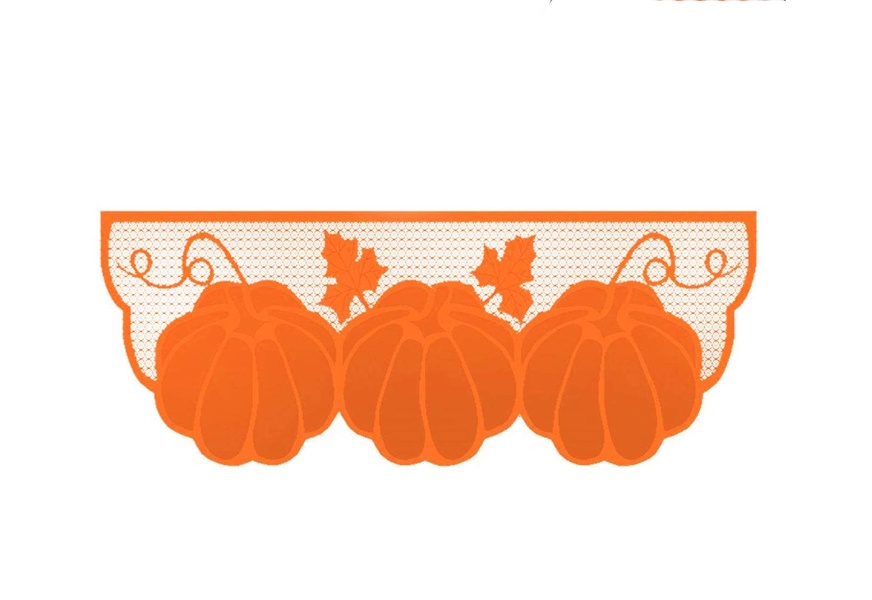 Make your fireplace feel festive with a fall-themed mantle scarf! This pumpkin design brings harvest vibes into any room in your home, while the second pumpkin design features "Gives Thanks" in beautiful calligraphy. If you don't have a mantle (or you don't want to hang it over your live fire), hang these beautiful pumpkin designs in your windows, over your door, or across an end table or desk. This Camlinbo Maple Leaves Fireplace Scarf measure 20-inches wide and 60-inches long, which will fit most fireplace mantles. It's made from 100% polyester to be both stain and crease-resistant. However, you can machine wash or use a low-setting iron if need be.
Key Features:
20" x 60"
Lace knit
100% polyester
Stain resistant
Anti-crease
Specification:
Brand

Camlinbo

Weight

2.57 Ounces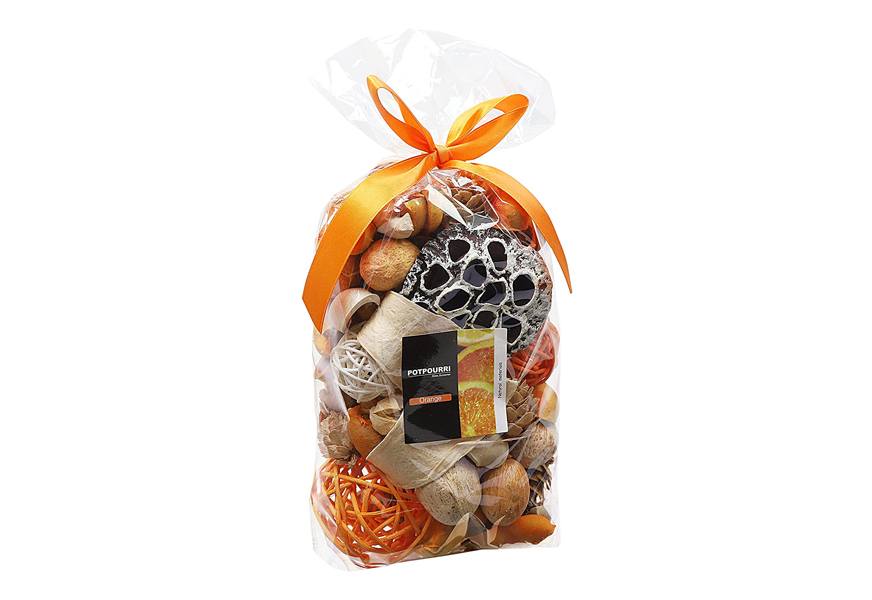 Part of what makes fall so special are the smells associated with it. This Qingbei Rina Potpourri mixture includes handmade amra pods, mahogany petals, star flowers, pine cones, nut shells, and rattan "yarn" balls. The aroma comes off as orange and lemon and provides a clear scent for crisp mornings and chilly evenings. This nine-ounce bag will keep your home smelling sweet for weeks on end, just like some of the adorable incense from our list!
Key Features:
9 ounces
Yellow and orange
Orange and lemon aroma
Pet friendly
Great multi-sensual display
Specification:
Brand

Qingbei Rina

Weight

9.9 Ounces
GMAOPHY 360 Pcs Fall Leaves Window Decals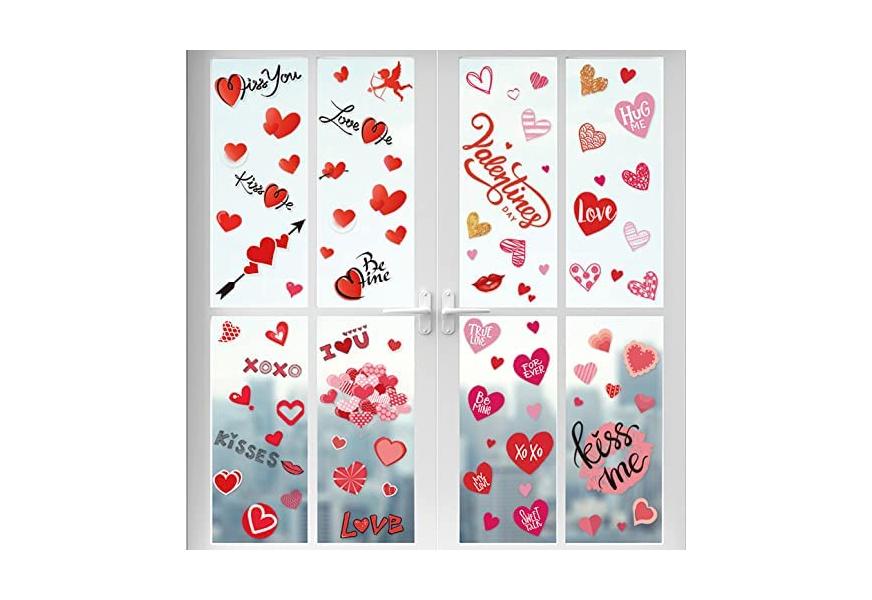 Is there any better window decoration than falling leaves cascading down the glass? We didn't think so. This high-quality PVC GMAOPHY 360 Pcs Fall Leaves Window Decals don't use super glue or other adhesives — they just naturally cling to smooth surfaces! You will be able to easily remove and place your leaf decals in whatever pattern you wish to create. Since they're PVC, these decals won't fade from sunlight, either. Eight sheets of decals hold a total of 360 leaves and acorns, so you can cover as many surfaces in your house as you want! Make a harvest display on your fridge, an outline on your windows, or cover the bathroom mirror with fun fall designs.
Key Features:
Made from high-quality PVC
No glue, won't fade
Easy to remove
8 sheets
17" x 13"
360 total decals
1"-5" wide decals
Clings to any smooth surface
Specification:
Brand

GMAOPHY

Weight

11.2 Ounces
Greenbrier International Pumpkin Fall Hanging Sign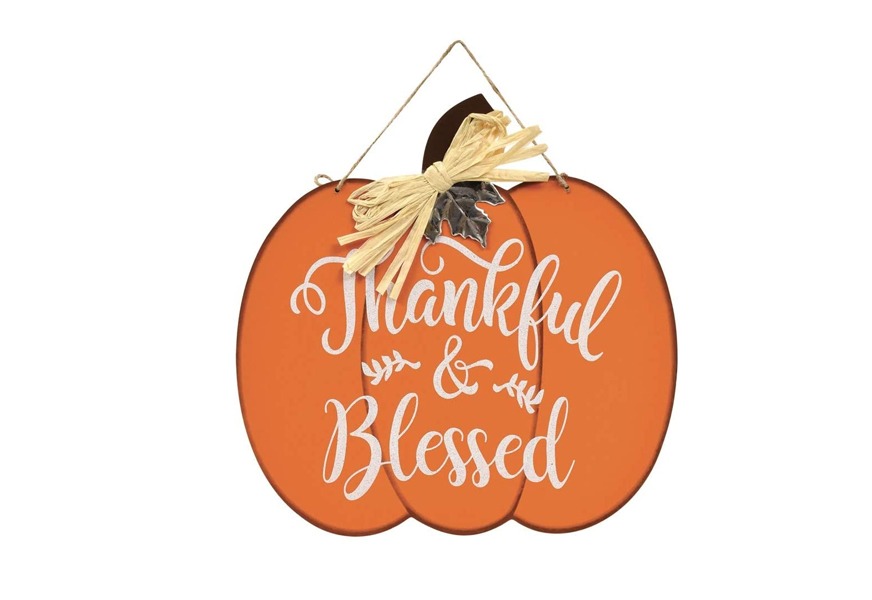 Simple yet beautiful, who wouldn't love this sign hanging on their front door or in their kitchen? The Greenbrier International Pumpkin Fall Decor For Home background measure about one square foot, so it will easily fit anywhere around your home. Looking for a great fall-time gift for teachers or friends? This is it. The beautiful calligraphy spells out "Thankful & Blessed" as a sweet reminder of the season.
Key Features:
12" x 12"
"Thankful & Blessed" Calligraphy
String to hang sign
Rattan bow
Specification:
Brand

Greenbrier International

Weight

4.8 Ounces
Whaline Happy Fall Pumpkin Burlap Banner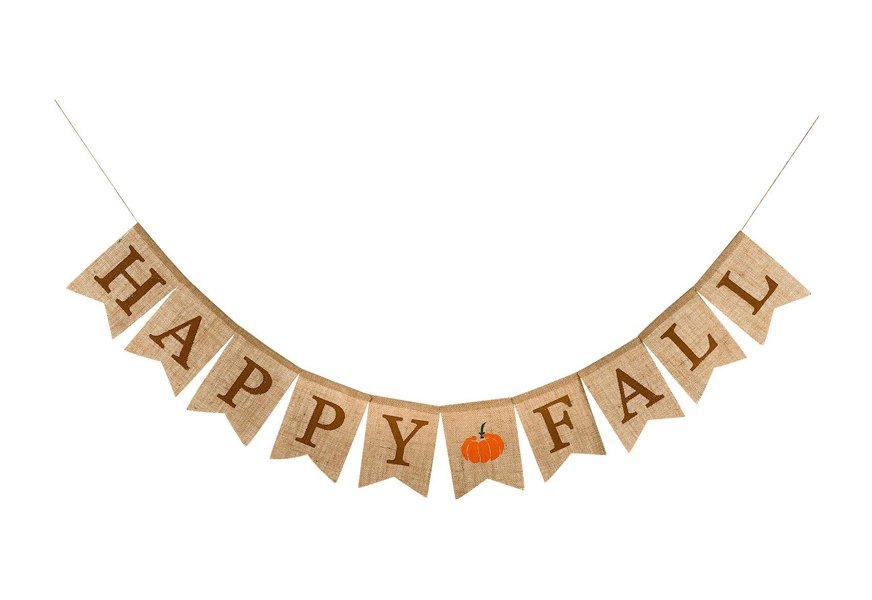 To set the season in stride, string up this Whaline Happy Fall Pumpkin Burlap Banner. Each bunting flag includes a printed letter (or adorable pumpkin) on a natural burlap flaglet, and they're all strung together for easy decorating upon arrival. The entire burlap garland measures six and a half feet, which will easily fit on a wall, over your mantle, or across an entryway. This farmhouse chic decoration will add a touch of flair to your fall decorations.
Key Features:
Each banner is 6.9" x 5.1"
78.7" in total length
Natural burlap
String included
Specification:
Brand

Whaline

Weight

3.2 Ounces
Sign Up Now
GET THE VERY BEST OF GEARHUNGRY STRAIGHT TO YOUR INBOX