Best Halloween Decor in 2022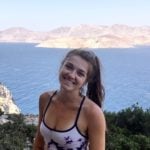 This product guide was written by Chloe Matthews
Last Updated
October 19, 2020
Chloe Matthews
Based in Austin, Texas, and bred in the Midwest, Chloe joins our team with a background in Health and Human Physiology, team management, and a wealth of customer service knowledge. After years of personal writing and journaling, her enthusiasm for the outdoors, travel, and continued learning has brought her to a professional journalism career. Chloe is an avid rock climber, currently enjoying the Texas limestone bluffs, and a passionate, lifelong runner. When she's not seeking sunshine outdoors, you can find her reading history books, volunteering at running events, or working on her latest automotive project.
GearHungry may earn a small commission from affiliate links in this article.
Learn more
Blow your neighborhood out of the cemetery this year with the Best Halloween Decor. Every year your neighbors pull something spooky out of their decoration stores, but this year is your year. Don't miss out on the latest outdoor Halloween decor. We've done some digging for the best Halloween decor ideas; go a step further, mix and match items to bring a full scary scene to life in your front yard or home!
The Best Halloween Decor
HOZZQ DIY Decorative Scary Bats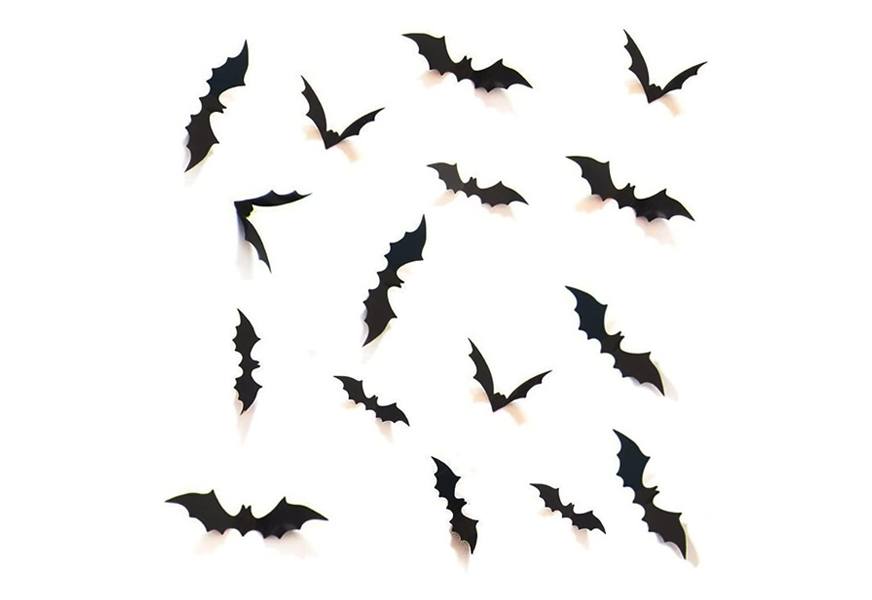 Any Batman fans in the crowd? Or school teachers or apartment dwellers? The HOZZQ DIY Decorative Scary Bats come in as our best choice. The versatile decorations are DIY, and you can fold the wings into different 3D angles and stick them to your walls. They are perfect for quick decorations around your classroom door, quick party decorations, or to add a little spooky Halloween decoration around in your apartment hallway in the absence of a porch.
The set comes with 28 pieces and adhesive for sticking the decorative bats to your walls. Four different sizes make up a set with eight 30 by 7.5 cm, eight 20 by 5 cm, eight 12 by 3 cm, and four 8 by 2c m. The adhesive will stick to any smooth surface that has been wiped clean of dust.
Dazonge Trick Or Treat & It's October Witches Halloween Signs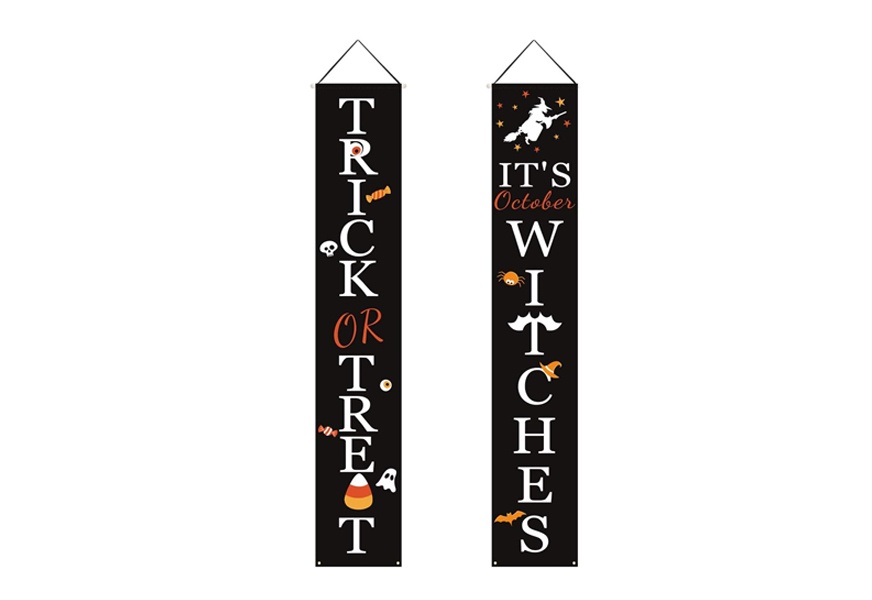 If your front door has two tall windows on either side, these Dazonge Trick Or Treat & It's October Witches Halloween Signs are ideal decor for your porch or deck. The banners are 70 inches tall — shy of 6 feet — and come with a sturdy hanging ribbon attached to a wooden rod the banner hangs on. Grommets at the bottom offer an option to tie the banners, so they don't wildly swing in the Autumn breeze.
The decorative "Trick or Treat" and "It's October Witches" phrases surrounded by ghosts, spiders, bats, and flying witches are thick polyester fabric, weather-resistant, and machine washable to last more than one season.
AerWo Black Lace Spiderweb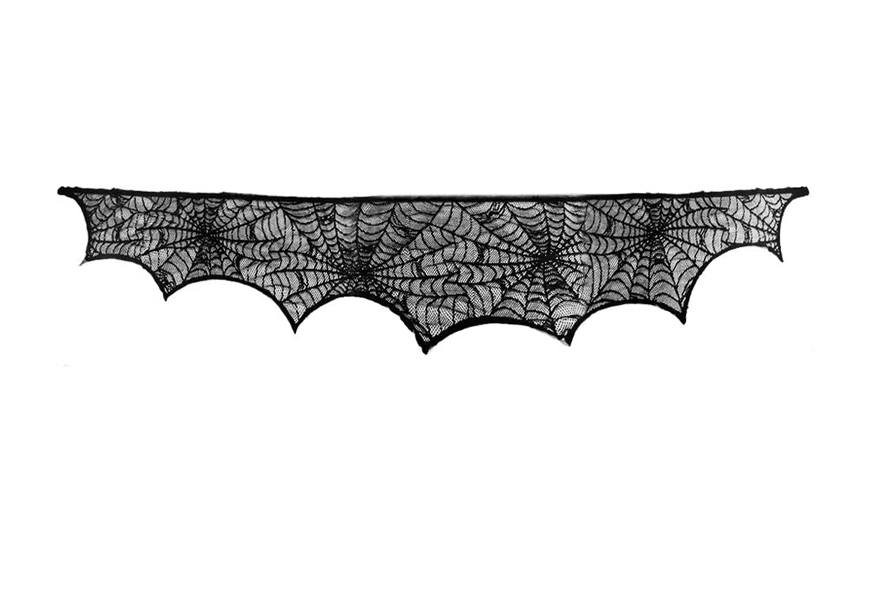 Decorate your electric fireplace mantle or adorn your bed frame or favorite hutch with this fun AerWo Black Lace Spiderweb, adding some spooky warmth to your home. The mantle scarf measures 18 by 96 inches and would contrast with orange pumpkins and candles holding it in place.
Try out a new setup with the spiderweb scarf each year. The decoration is 100% polyester and machine-washable if necessary.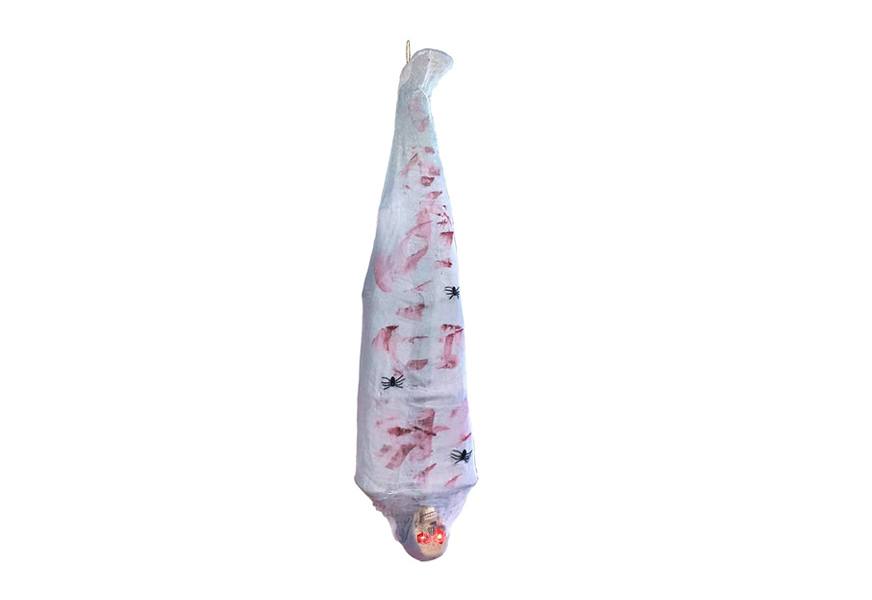 Creep out your neighbors with a MAOYUE Cocoon Corpse. A 6-foot hanging corpse with glowing red LED eyes inside a skull head, sounds effects, spiders, and bloodstains will surely give your neighbors and trick or treaters a fright. The corpse can 'hear' any sounds nearby and sense any approaching trick or treaters and release a screech, and the eyes will glow red.
The voice sensor needs three AA rechargeable batteries and hides inside the corpse to avoid hints about how the corpse knows the visitor is there. The triple-layered silk mesh corpse folds down for easy storage for another scary corpse situation next year.
RY King Flameless Candles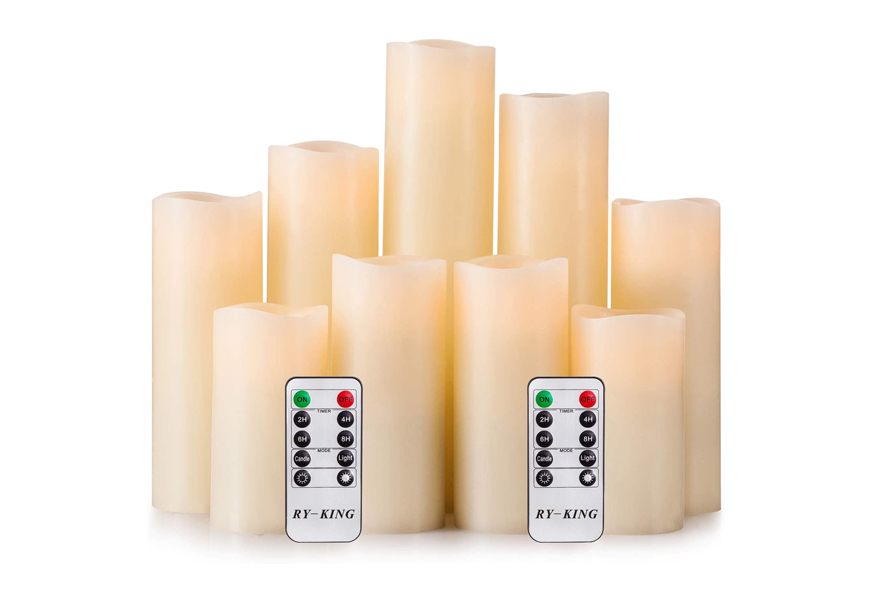 Pair the RY King Flameless Candles with the black lace spiderweb or cocoon corpse to create a spooky ambiance. The set of candles includes two 4-inch, two 5-inch, two 6-inch, one 7-inch, one 8-inch, and one 9-inch candle; the whole set is enough to create cute Halloween decor.
They are real wax, but the flames are LED battery-powered flickering candles controlled by a 10-key remote control. You can apply a timer to the candles, so they come on at the same time each day and stay on for 2, 4, 6, or 8 hours. Two AA batteries are necessary for each candle. They're perfect for Halloween when plenty of kids are running around, and other decorations could pose a fire hazard.
Moon Boat Halloween Ghost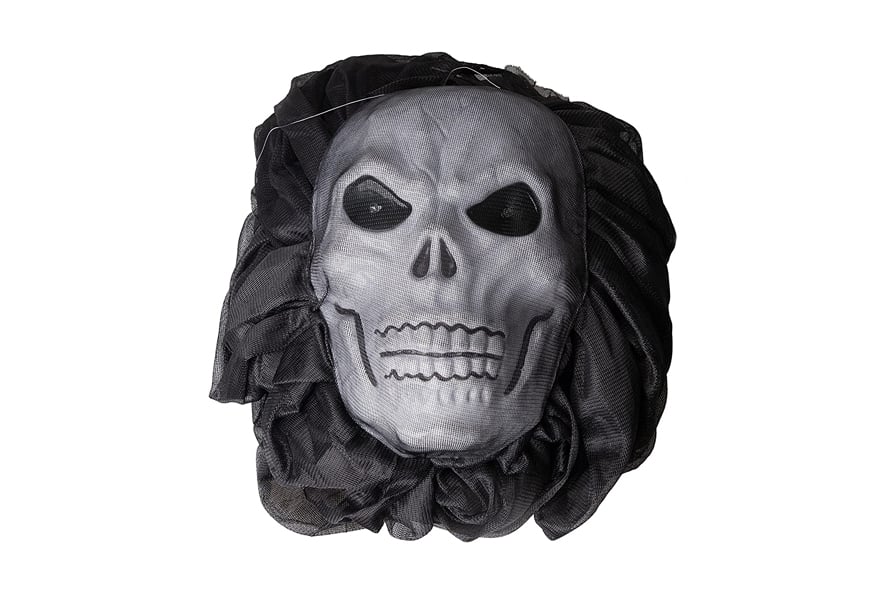 If you have a large blank area amongst other outdoor Halloween decor, the Moon Boat Halloween Ghost is a cheap option that can cover up to a 13.94-foot space under a tall tree or on a large porch.
The ghost is a black, light polyester gauze material with a built-in white PVC plastic, creepy skull face. The ghost comes pre-assembled and fixes to a tree, porch, or wherever it fits with fish thread.
Nobie Vivid Haunted Doorbell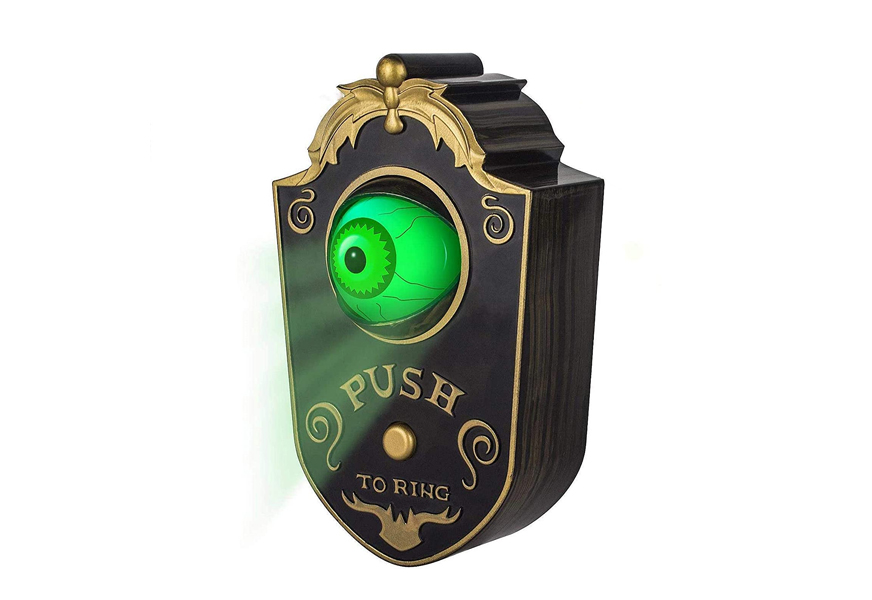 Prank your treat or treaters with this cute Halloween themed doorbell. But the Nobie Vivid Haunted Doorbell isn't so cute once your visitors ring the bell. Press the button, and a green glowing opens, moves around, and makes scary sounds.
It has a mounting hole on the back or has a hook for easy installation. It needs three AAA batteries.
Amscan Boo Halloween Wall Decor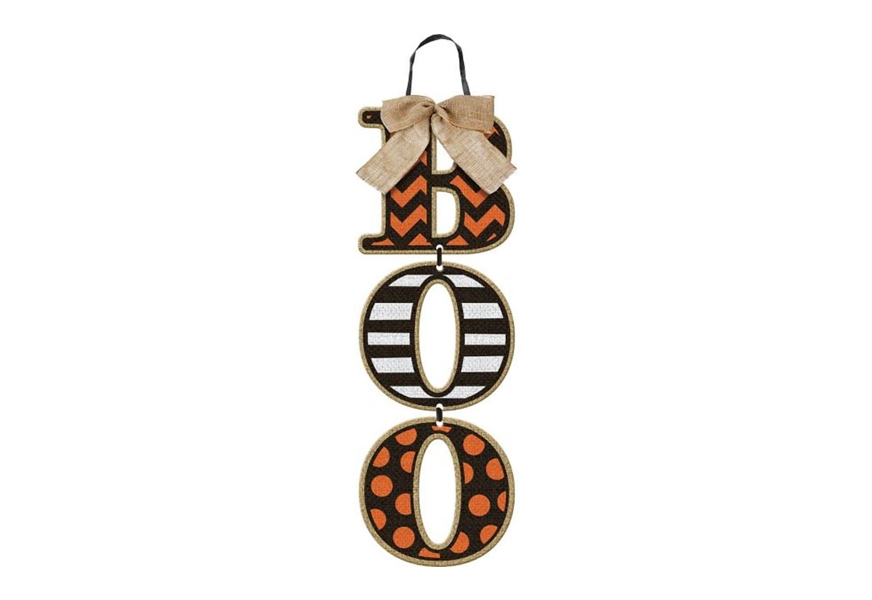 This Amscan "Boo" Halloween Wall Decor is a cute fall decor for home without the traditional scary props. The lettered hanger measures 18 by 6.25 inches and is easy to hang with the black ribbon, and the burlap bow adds a unique fall touch. The letters are the typical orange and black in chevron, striped, and polka dot for some cute Halloween decor.
Pawliss Extra Large Outdoor Halloween Decorations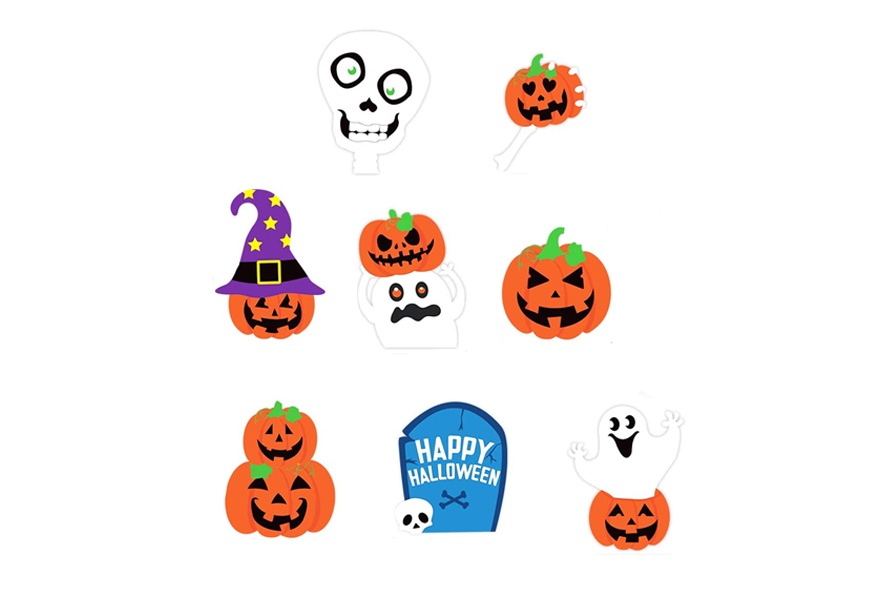 Cover your yard with Pawliss Extra Large Outdoor Halloween Decorations. The corrugated plastic cardboard signs are extra-large, measuring about 3 inches larger than other signs. There's eight in a pack with designs varying from pumpkins to ghosts holding pumpkins, wizard hat pumpkins, and headstones. All have vibrant colors. Hang them with easy using the two hanging cutouts on the backside. The weather-proof prints won't deteriorate in the fall weather.
TMCCE Halloween Party Decorations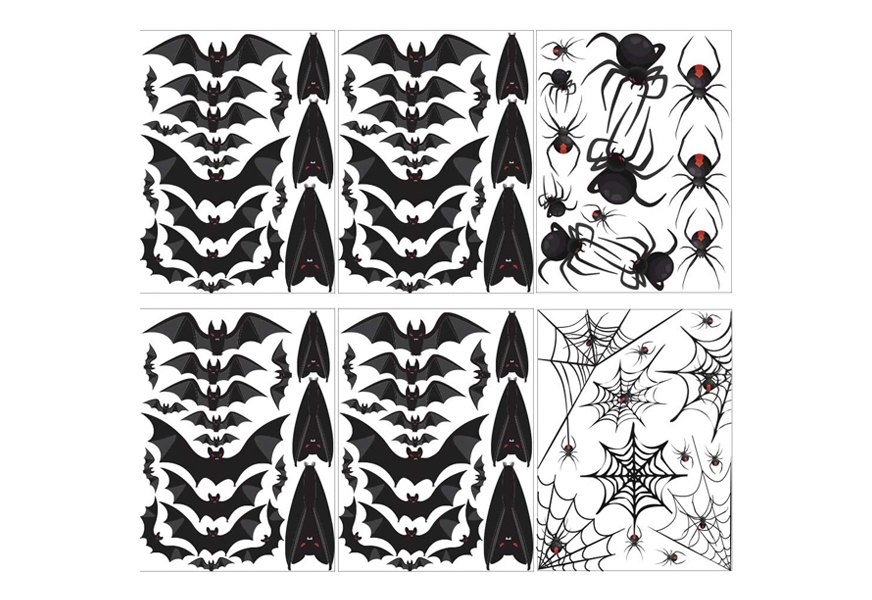 Add spooky bats and spiders to places your guests won't expect during your next Halloween party. The 107-piece TMCCE Halloween Party Decorations set of various bats, spiders, and spider web decal stickers that adhere to wood, tiles, mirrors, tables — pretty much any smooth, clean surface — so you can sneak some decorations on the bathroom mirrors or your glass screen door. With six sheets total, four with bats and two with spiders, varying in size from 2.5 to 8 inches, you'll have plenty of options to spruce up your home for the party.
JOYIN Hanging Skeleton Ghost Halloween Decorations
If you like the Cocoon Corpse idea but want more than one for some extra creepy tree hangers, the JOYIN Hanging Skeleton Ghost Halloween Decorations is a great option. The set of three — one 35-inch ghost skeleton and two 25-inch hanging reapers — have different accent colors and slightly different faces.
The arms are malleable, so you can arrange them how you'd like. The set is slightly smaller than the cocooned corpse, so really frighten your neighbor by hanging them in your house windows!
FUNPENY Halloween Decorative Cushion Covers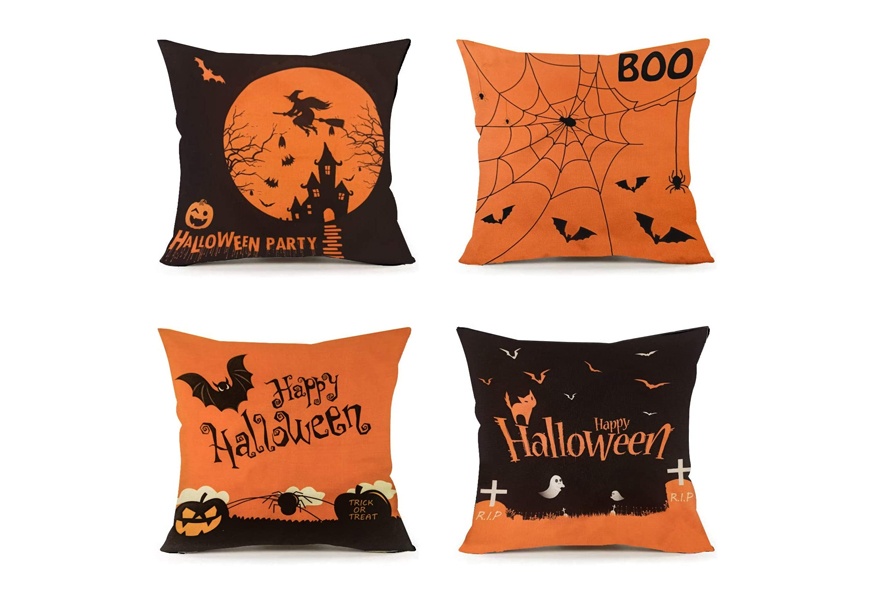 Again, if you're not big on decorating your whole front yard, there are more subtle decorative options like these FUNPENY Halloween Decorative Cushion Covers. Ideal for couches or porch furniture. The black and orange cushion covers adorned with witch's shadows, jack-o-lanterns, bats and spider webs, and fun messages like 'Happy Halloween' and 'Boo.'
The covers are soft, high-quality linen. They are machine washable; throw them in the wash at the end of Halloween season and pack them away clean for next year. A metal zipper offers a secure fit around a standard 18 by 18-inch pillow.
Eurus Home Halloween Pumpkin String Lights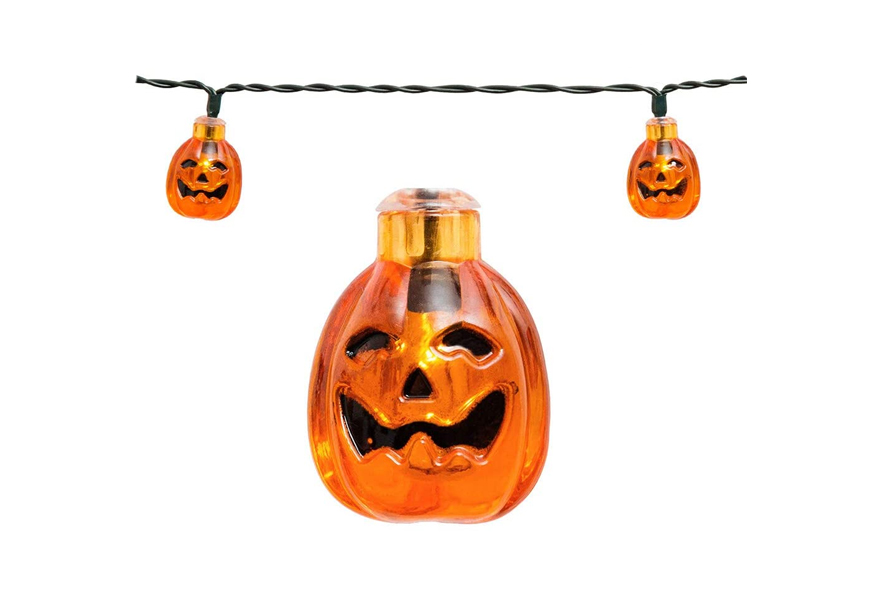 Light up your porch or yard with the Eurus Home Halloween Pumpkin String Lights. Eight different modes allow you to choose from flashing, slow fading, twinkling, steady, and a few combinations to set the mood.
The string of pumpkins is 20 feet long with 30 solar-powered LED pumpkins. The lights convert solar energy into DC, and when the sun sets, photoreceptors pick up on the darkness, and the pumpkins come alive. These lights are waterproof with an IP65 rating for use throughout the fall.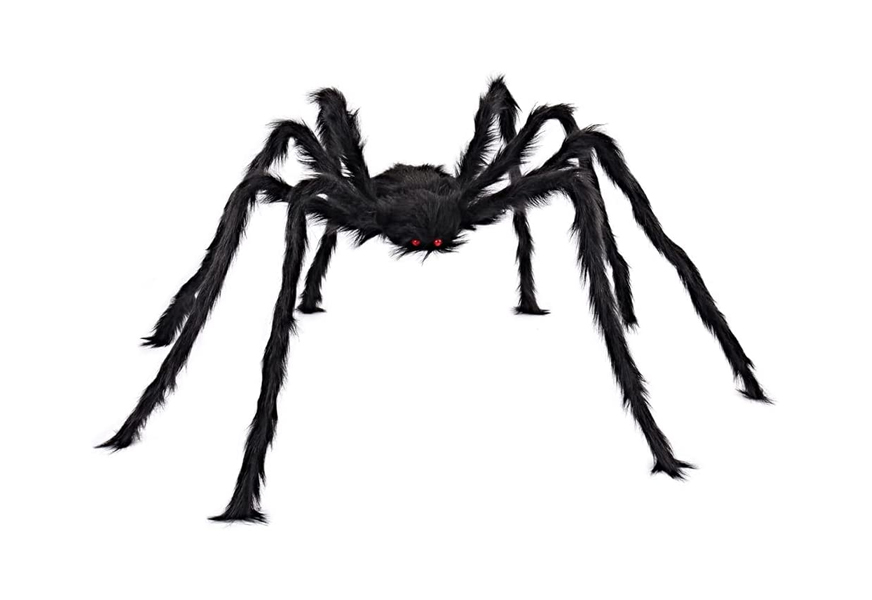 With JOYIN Hairy Spider, chase trick or treaters out of your yard. Grab a couple of these 5-foot hairy spiders with beady red eyes to hide behind trees or the graveyard tombstones. The legs can bend, so place them wherever you'd like. Grab some of the fake spider web to stretch over your porch and tangle these bad boys in for a creepy crawler vibe.
Partyprops Halloween Lamp Shade Cover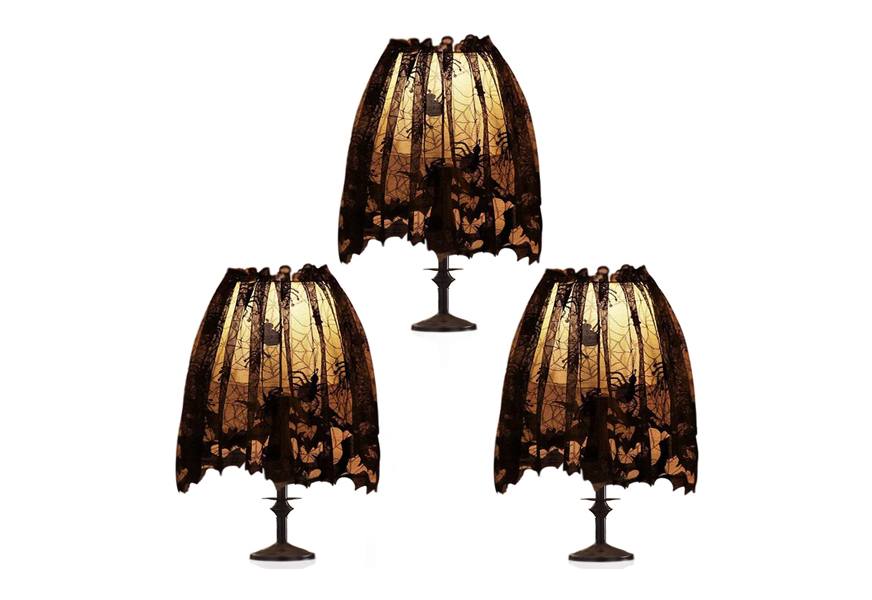 Add to home decor you already own with the Partyprops Halloween Lamp Shade Covers. The black lace shade covers are durable, lightweight polyester that is machine washable. The pattern of the lace is spider webs with small spiders with bats lining the bottom border.
It's a three-piece set, each shade cover measuring 20 by 60 inches with a 50-inch rope to tie around the top of your lamps. The black lace cover can also adorn fireplace mantle, door frames, or fashioned into a small spooky tutu for costume day at school.
Moonboat Fake Spiderweb Cobweb
Recreate the Forbidden Forest nerve-wracking scene from Harry Potter and the Chamber of Secrets in your yard with the Moonboat Fake Spiderweb Cobweb and the 120 included mini spiders. Turn it up a notch and grab a couple of the JOYIN hairy spiders; the scene will come to life.
The 1,000 square feet of cobweb is enough to cover your porch, and the mini spiders stick in the cobwebs easily. It is a soft material that stretches easily but holds fast against the wind and will surely catch some wannabe wizards.
Sign Up Now
GET THE VERY BEST OF GEARHUNGRY STRAIGHT TO YOUR INBOX