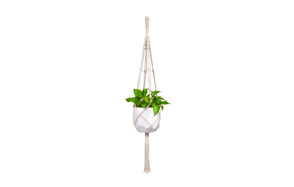 Mkono Macrame Hanging Planter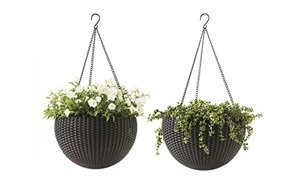 Keter 221486 Hanging Planter Set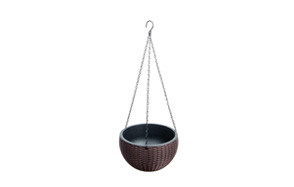 Foraineam 10.2 Inches Round Basket Hanging Planter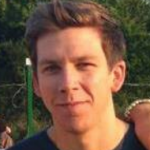 Home décor is one aspect of housekeeping that is continually changing. In most instances, replacing your succulents and throw pillows can get annoying when you start running out of theme options. Luckily, there is one element used in decorating that never goes out of style – which is the hanging planter. These decorative planters are designed to suspend freely from your wall or ceiling, displaying a wide variety of cacti, succulents, herbs and other small flowers of your choice. The best part of owning these planters is that they're mighty affordable and cause no dent in your budget. If you want to add a touch of greenery to your home décor to enhance its outlook, you have come to the right place. In this article, we discuss some of the best hanging planters on the market today and offer selection tips to potential buyers.
The Best Hanging Planter
Best Hanging Planter Buying Guide
How We Chose Our Selection Of The Best Hanging Planters
We all love it when our homes look their best, with the décor boldly representing our personalities in several ways. In many homes today, greenery is being introduced to offer a more organic feel and also to improve the indoor air quality. To ensure that the plants kept indoors have a special place to exist and also blend in effortlessly with the already designed décor, hanging planters are introduced. Selecting the best of these units can be extremely difficult, thanks to the wide variety available. Our team of experts came up with a list of recommendations after grueling research and countless sessions of observation. Below, we discuss the significant features that influenced their decisions.
Price - The primary factor guiding their selection was price. We realize that all our readers have different budgets; thus, providing them with products of the same rate would not be the best response. To solve this issue, our team searched for products that feature a wide range of prices, which will offer many options to everyone who comes across this article. There is a product for everyone, no matter your budget.
Reviews - Another helpful feature that made our selection simple was the study of reviews. We looked online for all customer feedback comments about our selected products to be sure of their functionality and durability. The reports we found on various online review platforms where the best hanging planters were discussed.

Features To Look For In Hanging Planters
If you're searching for the ideal hanging planter for your home, there are some factors we encourage you to consider, to ensure that you make the best choice and an excellent investment. There are so many brands and models in existence, and you may feel drowned in the options available. With this buying guide by your side, you're assured of some foreknowledge which equips you will all the information you will need.
Size - The size of hanging planter you go for will depend mainly on the type of plants you will be keeping as well as where the planter will be placed. It is imperative that you decide the kinds of plants you will display, and this will offer you a better perspective on the size of the planter to invest in.
Material - The material used in constructing a planter can determine how durable or functional it will be., there are platters made from macramé, resin, plastic, and many other materials. The type of material used will determine where your hanging planter can be used; thus, you must know where you want to hang your unit before making a purchase.
Design - The design of a planter adds up to the existing décor within a room. To ensure that your planter blends in with your décor, be sure to look up available colors and textures, and match them with what is already existing within your home. The design may be classic, modern, or contemporary, and this can transform your space into a thing of beauty.