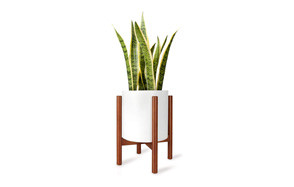 Mkono Mid Century 10" Wood Plant Stand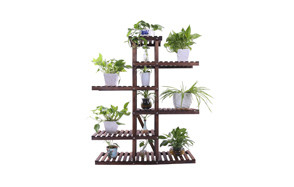 Ufine Carbonized Wood 6 Tier Plant Stand Shelf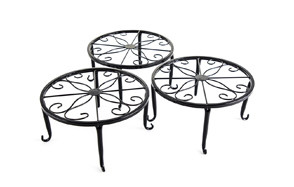 Metal 3 in 1 Potted Plant Floor Stand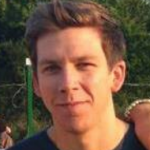 In case you didn't get the memo and have let your subscription to Beautiful Homes and Gardens lapse, houseplants are back in fashion in a big way! You could say that the Cactus is having its moment in the spotlight! We may not all be blessed with green fingers. We've personally killed off our fair share of potted plants or two, but the look of these stylish new plant stands has got us thinking about brushing off our landscaping skills! You would be hard pressed to enter any elegant home, hotel, restaurant or bar these days without spotting some designer foliage scattered around to add to the ambiance. A renewed love of plants as of course lead to the resurgence of planters in all kinds of shapes and sizes and materials too. Gone are the days of a traditional terracotta pot, the best plant stands for indoor and out are frequently pinned to inspo boards on the likes of Pinterest and can come in ceramics, woods, metals and be traditional, modern or retro inspired. Besides just looking great, plants are also scientifically proven mood enhancers as well as literally clearing the air and contributing to a better home environment. Hell, some people choose to talk to their plants and why not, you might get more sense and attention out of them than your other half! So if you are ready to update your space and give it a bit of the greenhouse treatment, stick around as we review some of the best and most interesting plant stands on the market that will put your succulent back into the spotlight.
The Best Plant Stand
Plant Stand Buying Guide
A simple search on Pinterest these days will return a wide range of choice and options when it comes to plant stands. Gone are the days of Terracotta pots.  Visit any gardening center or a homewares store, and you will be met by a wide choice of plant stands large and small, fashioned from various different materials in all kinds of shapes and sizes. If you love plants, then you are spoilt for choice these days with stands that can be used indoor and outdoor, all around your home and garden with some even having the versatile option to maneuverer around on wheels. Plant stands make it easier to water and maintain your plants as well as displaying them to their full advantage. Stands also offer the additional benefit of protecting your floors and surface from damage too.

How We Chose Our Selection of Outdoor & Indoor Plant Stands
When we are compiling our comprehensive guides on the best product recommendations in any category, Outdoor and Indoor Plant Stands included, we evaluate and research as many different brands and models as we can, taking particular notice of customer feedback both positive and negative. Previous customers are a great source of information as they will generally feel compelled to leave a review, especially if they've had a negative experience more often than a positive one! So in selecting your product line-up, we evaluate feedback and ensure that we have a fully representative choice of products from leading as well as some lesser known brands. Our product recommendations need to offer value for money, as opposed to being at a fixed budget and come with a host of useful features and benefits that you would expect from a Plant Stand. Quality, Value, Choice and Peer Reviews are the basis of our selections.
Features To Look For In The Best Outdoor Plant Stands
There are plenty of key features to consider before you go ahead and purchase your new plant stand from the design and style you prefer to the setting you intend to place you plant stand in and the ease of assembly that you are looking for.
Suitability for Indoor and Outdoor situations - Do you want the flexibility to be able to display your stand inside as well as outside? Is it going in your home, the garden, a balcony or a patio? Depending on where you want to position your plant stand will determine the materials you select. Metals and Concrete are more durable and weather-hardy if you intend keeping a planter outdoors.
Weight and Portability - How and where are you going to station your plant stand? Wheels might be a useful additional feature if you intend moving it around your home.
Easy of assembly - Some units will require an element of assembly whereas others quickly and easily just click together without the need for any tools.
Design and decorative elements - What kind of style will best suit your home - are you looking to achieve a modern, minimalist, retro, classic, urban, elegant or traditional vibe.

Types of Plant Stands
If you love gardening, then plant stands really are a must for maintaining all kinds of different plants. Looking after your plants correctly, whether you have them indoors or outdoors can be problematic, especially if you're not exactly green fingered. Besides their obvious decorative advantages, plant stands also have a much more practical purpose, allowing for the care and watering of your plants in a convenient raised position from the ground. This assists your plants to grow taller and healthier as they catch the suns rays or flow over the sides of the planter which can look particularly attractive in a hanging style basket.
Plant stands can be made from almost any material as long as they are able to support the weight of your potted plants. We selected a few multi-tiered plant stands in our product review and these make a great option if you have several plants that you want to arrange and display together or have limited space or footprint that you'd like to fill. From wooden designs which look like small tables to intricately constructed wrought iron metal stands, there are lots of different types of plant stands. If you are looking to purchase something for both indoors and outdoors then, of course, the kind of material you go for is important as it needs to be durable and hardy enough to withstand winter weather conditions.
When it comes to wood, you will find that teak and cedar are regularly used because they can withstand water without staining.
Metal is an excellent option if you are looking to support more substantial weight from your potted plant selection. Wrought iron is a popular metal used in the design of plant stands because it creates that lovely weathered look that will nicely match almost any garden decor. Concrete is also a popular choice nowadays because it is incredibly durable to all kinds of weather conditions and also creates a very minimalist and urban look which is especially prevalent in the world of home and garden decor right now.
Let's look at three types of plant stands which we're calling Standard, Corner, and Pedestal. There are far more options than this of course, and within these categories, you will find innovative solutions like tiered stands, racks, shelving, staircases as well as the perennially popular hanging baskets and arch displays.

Standard - Your standard types of plant stands can come in literally all shapes and sizes. Metal designs can add a lovely decorative touch, or you might prefer a more traditional oval or round design with sturdy, supportive legs or perhaps a tiered shelving unit that has multiple levels and has four or more pins to stabilize it. Some designs will also allow for the display of plants at different levels and heights with each stand being of the same design but differing in their overall height so that they can be either separated and arranged individually or nestled together to create an attractive centerpiece.
Corner - Plant stands which conveniently fit into the corner of a room are becoming increasingly popular as they offer a practical use of space. Normally designed for indoor use, they can be tucked into the corner of a room to create visual interest without being overly obtrusive. They can be taller in stature too because the surrounding walls can take some of the burden of the weight. You might find these designs made from metal or wood and some may have the added option of securing them against a wall with screws or fasteners. In this instance, these types of corner stands will require slightly more assembly than your standard plant stand.
Pedestal - The pedestal style plant stand is highly popular for use on patios and terraces. Depending upon the size and surface area of the pedestal as well as the material used, you should be able to put any type and size of a plant on your pedestal stand. They're popular in larger spaces like foyers and communal areas, and whereas they can be found in wood designs, they're more commonly constructed from iron, steel, concrete, and stone.