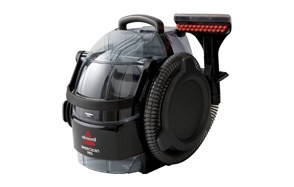 Bissell SpotClean Pro Portable Upholstery Cleaner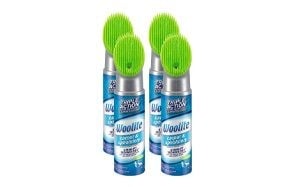 Woolite Carpet And Upholstery Cleaner Stain Remover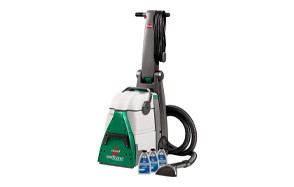 Bissell Big Green Professional Upholstery Cleaner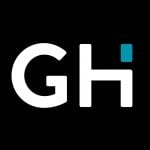 There's something special about sinking into a new sofa, driving home in a nice-smelling car, or shuffling across the fluffy carpet. But upholstery doesn't stay clean forever. Whether you spill coffee on your car seat, your pet has an accident on the rug, or your furniture gets dingy over time. Eventually, you'll be searching for the best cleaner for upholstery.
Finding the right upholstery cleaner can get overwhelming, though. You might wonder what features you should look for in an upholstery cleaner. And with so many on the market, what are the best brands and models of upholstery cleaners? Whether you're looking for an upright carpet cleaner, a portable cleaning machine, or a simple spray to spot clean your upholstery, we got you covered with the best upholstery cleaners.
The Best Upholstery Cleaner
Upholstery Cleaner Buying Guide
Features To Look For In Upholstery Cleaners
You have a couple of different options when it comes to types of upholstery cleaners. You can go with a portable cleaner, an upright cleaner, or a spray or foam cleaner. In addition to your upholstery or carpet cleaning machine, you will need a liquid upholstery cleaner, either water-based or solvent-based (depending on the type of upholstery), which removes stains and spots. If you're just spot-cleaning and not washing an entire carpet or sofa, then you may find a spray or a foam that you can use for targeted spot cleaning. If you are cleaning a large area of upholstery, you will want a detergent that you can use with an upholstery cleaning machine.
Cleaning performance - Some cleaning machines are slightly larger and meant primarily for carpet, but have hoses for upholstery as well. Others are smaller and mainly intended to clean upholstery, but can be used to spot-clean carpet and car interiors. Both will likely have hoses with special upholstery cleaner tools, such as a brush attached to it. Many of these machines rely on hot water to clean your upholstery and carpet.
Easy to use - If you do decide to invest in an upholstery cleaning machine, you will choose between two main options. An upright upholstery cleaning machine is more efficient for cleaning large carpets but may be bulky to use when spot-cleaning with a hose attachment. Alternatively, you can go with a portable cleaner, which is easier to use on furniture, stairs, and cars, but it is not ideal to use when cleaning an entire carpet. Portable cleaners tend to be smaller and easier to store as well.
Lightweight - Another thing to consider is the weight of your machine. If you are carrying it up and downstairs, you may want to prioritize finding a lightweight device. If weight is not an issue, you can focus on other features.
Effectiveness - For your new cleaning machine to be effective, you will need to use the proper cleaning solution. Not every cleaner for upholstery is suitable for every type of fabric. Your upholstery should indicate the type of cleaning product you will want to use. The tag on the handle should reveal what kind of cleaning its capable of:
W means "wet," and you can use water and water-based cleaning products, as well as steam-cleaning.
S indicates "solvent," and you should only use solvent-based cleaning agents; water can damage this type of upholstery.
WS means "wet and solvent," which means you can use both water-based and solvent-based cleaning products.
An X stands for "no cleaning," and this upholstery should only be cleaned by a professional, although you can vacuum or brush it.
No matter the code, it is always best to test your cleaning method in a hidden section of the fabric to make sure it doesn't cause any damage or discoloration before cleaning the rest of the upholstery.