Best Mattress Cleaners In 2022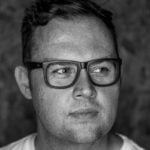 This product guide was written by Chris Worden
Last Updated
August 31, 2020
Chris Worden
Born and raised in Idaho, Chris's sensibilities are a small town, while his life experiences are anything but. He's had the chance to travel the globe with a camera in hand documenting action sports and cultural movements for over 15 years. His love of motorcycles, photography, adventure, and the outdoors has lent itself to a career telling stories and he wouldn't trade that for anything. Chris now resides in a small ski town in central Idaho and when he's not grinding away at his day job, he's feverishly penning articles at night about the products and playgrounds he loves.
GearHungry may earn a small commission from affiliate links in this article.
Learn more
One of the oft-forgotten parts about owning a mattress is cleaning it. Having a good mattress cleaner is nearly as important as having a good mattress. Many people believe that cleaning their sheets is good enough to keep their bedding clean, but that is not the case. Dead skin cells, mold, and pet hair are some of the things that can build up in a mattress over time.
Whether you go with the best steam cleaners for mattresses or the best mattress stain cleaners, you will want to take the time to clean your mattress. With so many mattress cleaners out there, we did our best to narrow it down to the most effective ones out there. Here are the best mattress cleaners to get you off to a fresh night's sleep.
The Best Mattress Cleaner
Bissell SpotClean Professional Portable Mattress Cleaner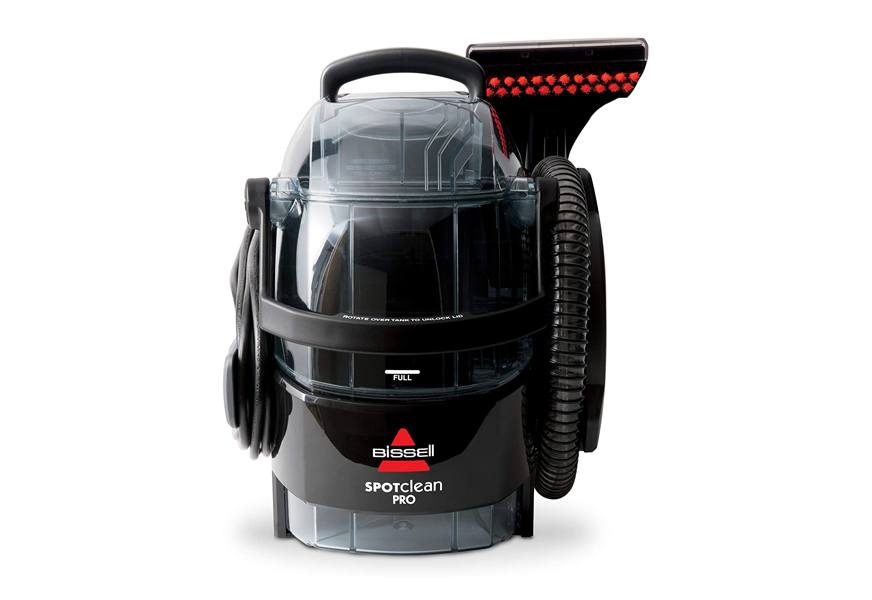 The Bissell SpotClean Professional Portable Mattress Cleaner is a powerful spot and stain cleaner and will remove any aggressive stains on your mattress. And when you're not using it for beds, you can also use this versatile cleaner for carpets, stairs, car interiors, and much more. You'll no longer have to leave it to the professionals for a deep clean as, for not too much money, you can now do it yourself. This Bissell mattress and carpet cleaner also comes with a cleaning solution that helps protect against future stains. Also included is a stair tool, a tough stain tool, and a trial-size bottle of Pro Max Clean.
Key Features:
Powerful portable spot and stain cleaner
Suitable for mattresses, carpets, upholstery and more
Provides a deep clean with professional results
Remove stubborn pet stains, embedded dirt and more
Minimize future stains with stain protect
Includes tools for stairs, tough stains, etc.
Specification:
Brand

Bissell

Model

3624

Weight

16.37 Pounds
Long-lasting
Portable and easy to use
Great for cleaning up after pets
The hose can wear out quickly
Will make a circle if held on one area too long
Bissell Multi-Purpose Portable Mattress Cleaner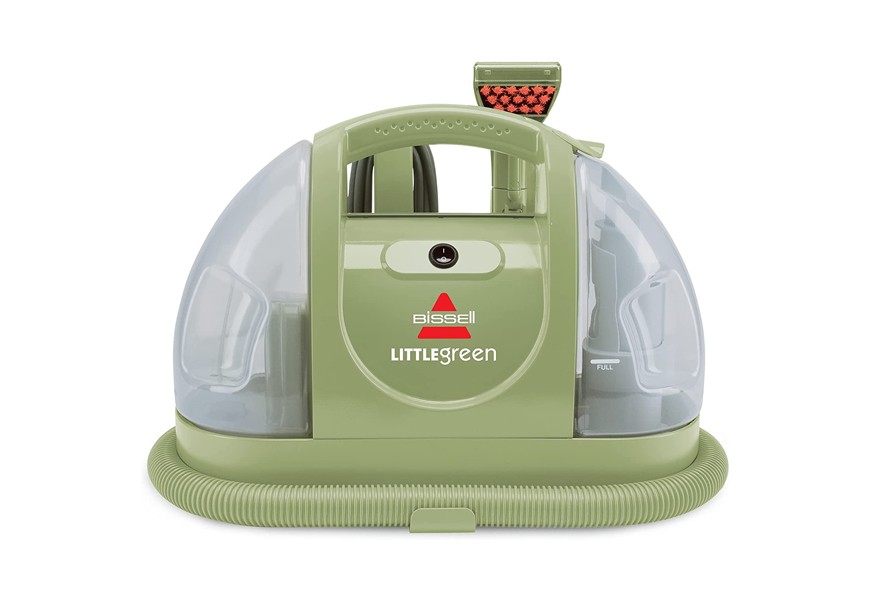 The Bissell Multi-Purpose Portable Mattress Cleaner is a bit less expensive than the SpotClean Professional but still very effective. It uses the combination of strong suction and a powerful chemical to pick up tough stains and other spots on your mattress. And with all Bissell products, if you purchase this cleaner, they will donate some of the proceeds to help homeless animals.
This mattress and upholstery cleaner is small and nimble so it can fit in tight and large spaces. It also comes in two different colors, green and purple. It has a removable water tank that holds up to 48 ounces of water. Also, there is a hydro rinse tool attachment to help clean the hose after each time you use it. And if you have any stubborn stains, it has a three-inch tough stain tool.
Key Features:
Remove deep-down dirt, spots, and stains
Easy to carry lightweight design
Designed to clean mattresses & upholstery with ease
Removable water tank
Hydro rinse tool attachment
Easy to use, clean & store
Specification:
Brand

Bissell

Model

1400B

Weight

9.65 Pounds
Good suction
Great for pet accidents
May not last a long time if not taken care of
Bissell SpotClean ProHeat Portable Mattress Cleaner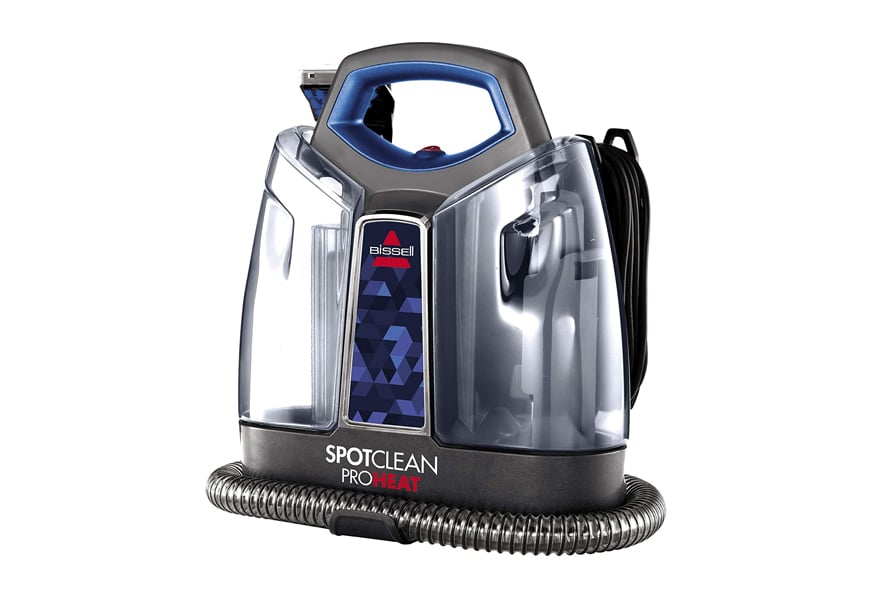 Bissell offers some of the best cleaners on the market, and the SpotClean ProHeat Portable Mattress Cleaner is no exception. It's portable for easy use, transportation, and storage. It uses heatwave technology to maintain water temperature. There is also a three-inch tough stain tool for stairs, mattresses, and other hard to reach surfaces. The deep reach tool helps remove hard-to-get stains and spots. It also has a self-cleaning tool, so you can easily clean and maintain your cleaner. Lastly, there is a removable 37-ounce water tank that is easy to refill and empty.
Key Features:
Permanently removes tough spots & stains
Compact design for easy storage
Cleans multiple surfaces
Heatwave Technology maintains consistent water temperature
Deep reach tool removes embedded dirt
HydroRinse Self-Cleaning Hose Tool
Specification:
Brand

Bissell

Model

2694

Weight

11.88 Pounds
Easy to assemble
Lightweight
Picks up dirt well
May not completely remove tough stains
Short hose
Rocco & Roxie Supply Professional Mattress Cleaner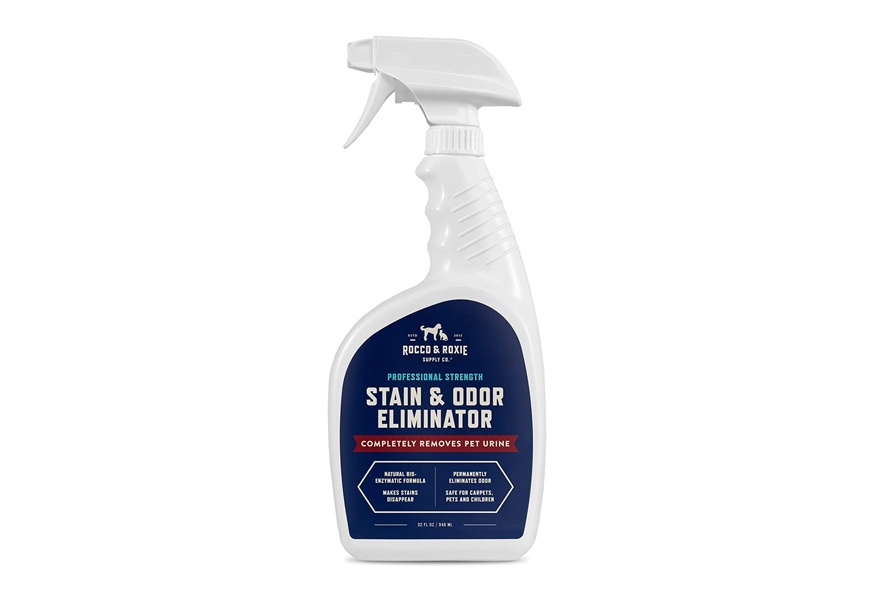 The Rocco & Roxie Professional Mattress Cleaner is a strong cleaner spray. Unlike the previous three cleaners, this one is just a chemical spray and not an entire mattress steam cleaner. It's available in a 32-ounce spray bottle or a gallon bottle. You can eliminate odors, stains, residue, and more by simply spraying and wiping. In addition to getting rid of the stain, any accompanying smell will vanish as well.
This spray uses enzyme-activated cleaning for the best results. It is also chlorine-free and certified to be safe for pets and children, so you don't have to worry about any harmful side-effects. Use this odor and stain remover on mattresses, carpets, furniture, and so much more. Pair it with a steam cleaner for even better results.
Key Features:
Professional strength stain and odor eliminator
Enzyme-powered pet odor and stain remover
Safe to use around pets and children
Use on mattresses, carpets, floors, furniture & more
No hazardous propellants
Chlorine-free and color safe
Specification:
Brand

Rocco & Roxie Supply Co

Model

fsec

Weight

32 Ounces
Great at removing pet stains and odors
Works on many surfaces
Bissell SpotClean Pet Pro Portable Mattress Cleaner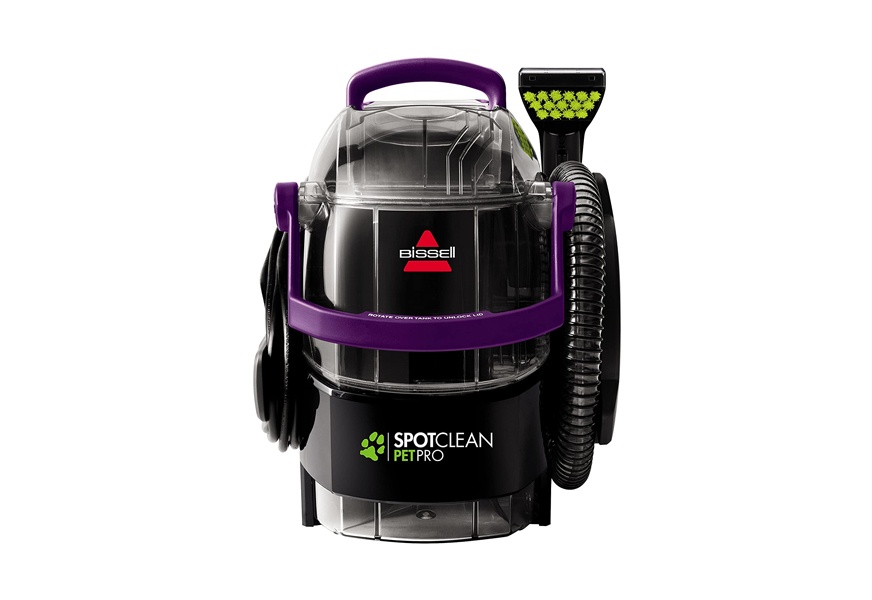 This SpotClean Pet Pro Portable Mattress Cleaner is another trusted Bissell steam cleaning product with which you can't go wrong. On Amazon, you can buy the cleaning machine alone, or you can get bundle deals with the cleaner solutions included. Like with all Bissell purchases, a part of the proceeds goes to help homeless animals.
This cleaner works on mattresses, carpets, automobile interiors, and much more. You use the cleaning solution, along with strong suction and scrubbing action of the machine, for a cleaner mattress. It can pick up stains and spots and remove odors. Also, it can pick up deeply-ingrained dirt. With all of the tools and other features, when finished, you get the cleanliness of a professional-style clean for a lesser price.
Key Features:
Powerful portable spot and stain cleaner
Superior suction & scrubbing action
Remove stubborn pet stains, embedded dirt & more
Deep cleaning with professional results
Permanently removes tough pet stains
Stain trapper tool catches pet messes
Specification:
Brand

Bissell

Model

2458

Weight

13.2 Pounds
Great for pet stains
Good value for the price
Soap included works well
McCulloch Heavy-Duty Steam Cleaner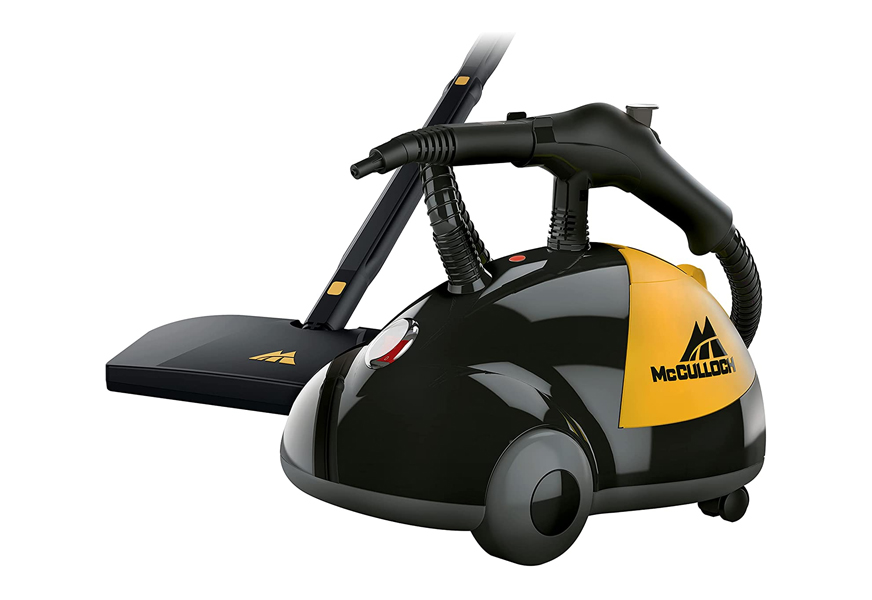 The McCulloch Heavy-Duty Steam Cleaner has 18 accessories, an extra-long power cord, and is chemical-free. For an affordable price, you get a high-quality steam cleaner that doesn't use any harsh chemicals, but it still provides an exceptional clean. Instead, this cleaner uses hot, pressurized steam to eliminate dirt, stains, odors, and more. It can clean countertops, carpets, mattresses, and much more.
It features one of the larger water tanks out there. The 48-ounce tank heats up in only eight minutes. Once heated, the tank can work for up to 45 minutes of continuous steaming. The 18 accessories make cleaning your mattress and other areas of your home a breeze. With the steam, you can kill up to 99.9% of bacteria and germs for a clean and safe mattress — if you are looking for bed bug cleaners, this one has steam hot enough to kill bed bugs.
Key Features:
Cleans chemical-free
48-ounce water tank
Produces up to 45 minutes of steam
15.7-foot power cord
A steam pressure of 43 PSI
Specification:
Brand

McCulloch

Model

MC1275

Weight

12 Pounds
Can clean many surfaces
Chemical-free cleaning
Not easy to refill the water tank
McCulloch Canister Steam Mattress Cleaner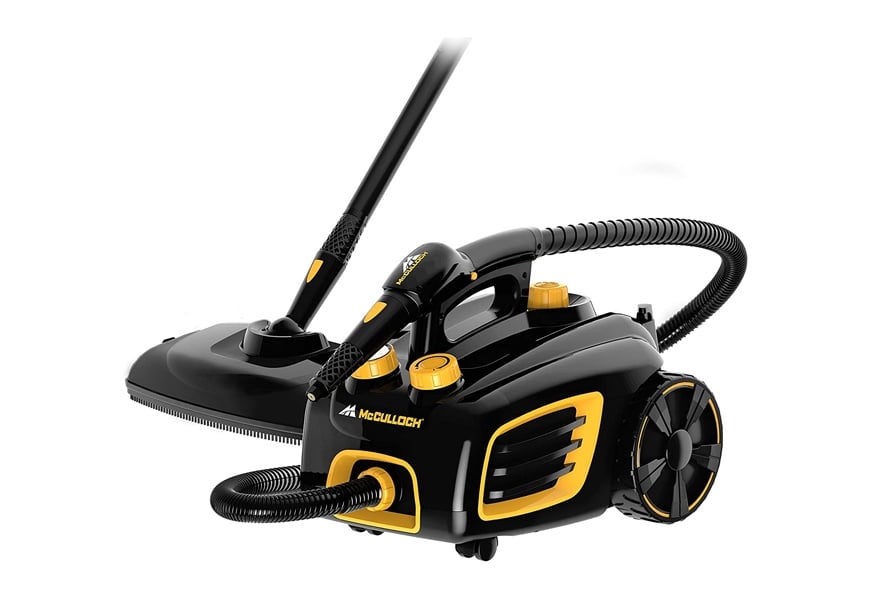 Like most of the best mattress cleaners, McCulloch Canister Steam Mattress Cleaner is chemical-free and only uses hot water to clean. It can get rid of stains, grease, dark spots, and much more. The steam cleaner claims to be able to kill up to 99.9% of germs. Also, there are 20 accessories included — you get a floor mop, brushes, and more.
With this steam cleaner, you should be able to give your mattresses the best clean possible. It comes with a 48-ounce water tank for long cleaning duration. It takes only 12 minutes to heat up and can last for 90 minutes of steam cleaning. The 18-foot power cord and a 10-foot hose give you more reach than with other steam cleaners.
For more quality cleaning products for your home, check out these top stick vacuum cleaners and pick your favorite.
Key Features:
Cleans using steam and not chemicals
Kills 99.9% of bacteria and germs
20 different accessories
48-ounce water tank
Extra-long power cord and hose
Specification:
Brand

McCulloch

Model

MC1375

Weight

10.78 Pounds
Simple to use
Chemical-free
Accessories are lower quality
No low-water warning
Hoover Spotless Portable Carpet & Upholstery Spot Cleaner
The Hoover Spotless Portable Carpet and Upholstery Spot Cleaner is one of the less expensive steam cleaners but still offers a quality clean. You can also order the machine with the cleaning chemicals for added convenience. The device has a self-clean technology as it flushes the hose after each use to remove any bacteria, dirt, and other substances that may get stuck.
There is also an antimicrobial tool that helps protect against mold and other dirt collecting on the cleaner. Another unique feature is the dual water tank system — this keeps the dirty and clean water separate, making emptying and refilling the tanks simple. Removing stains on your memory foam mattress should be a breeze with this cleaner. Thanks to its small size, it is easy to fit in tight spaces and simple to transport and store whenever you're not using it.
Key Features:
Self-cleaning technology
Has a multipurpose tool
Two tanks
Lightweight and easy to move and store
Offers deep cleans
Specification:
Brand

Hoover

Model

FH11300PC

Weight

9 Pounds
Great suction
Lightweight
Does not leak
The hose may kink easily
Difficult to fill solution tank
Woolite Carpet And Upholstery Cleaner Stain Remover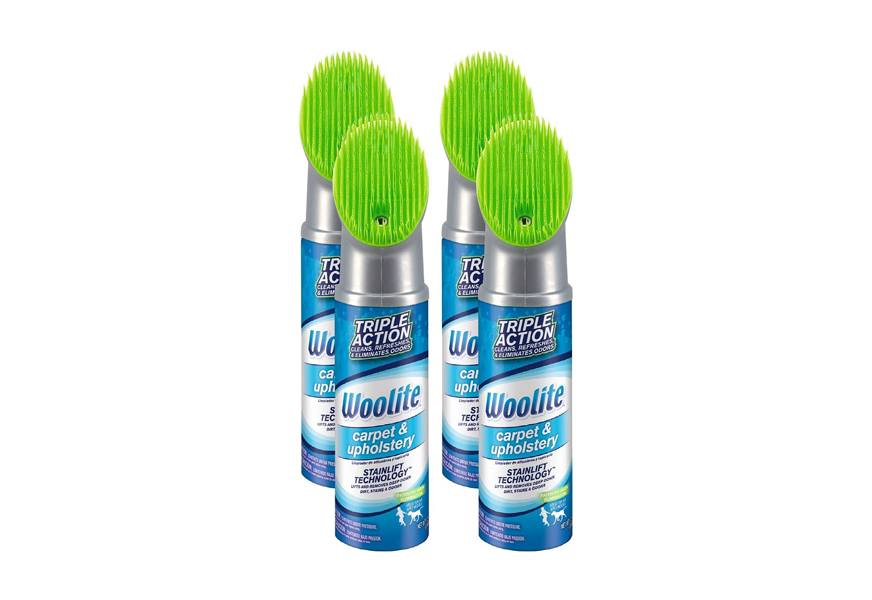 The Woolite Carpet And Upholstery Cleaner Stain Remover is the second non-steam cleaning product on this list. This four-pack of cleaners comes with scrub brushes on the top and uses the chemical to remove stains, dirt, and more on mattresses, rugs, and other surfaces. In addition to cleaning, it eliminates odors, prevents future stains, and refreshes the surface.
Plus, with the removal of the stains is the accompanying smell. The attached brush is safe for the fabric and other surfaces, so you can comfortably use this on your mattress and get excellent results.
If you are also looking for more solutions that can eliminate even the toughest stains without causing damage to the surface, check out our selection of the best all purpose cleaning sprays.
Key Features:
Cleans and eliminates odors
Able to lift stains
Attached scrub brush
The brush is safe for fabric
Neutralizes strong odors
Specification:
Brand

Woolite

Model

83524

Weight

1 Pound
Scent smells good
Cleans up well after kids and pets
Might not work well on tough stains
Mattress Cleaner Buying Guide & FAQ
Features to Look for in Mattress Cleaners
When purchasing a mattress cleaner, there are a few things you should look out for.
Cleaning Performance – This is perhaps one of the most important aspects of any mattress cleaner. Picking up dirt is very important, but there are other things that a good cleaner should be able to do. You will want a cleaner that can remove spots, attack stains, and clean up any pet accidents. Another thing to look for in cleaning performance is whether it also eliminates odors. While removing the dirt and stain is good, you won't be happy if the odor persists.
Easy to Use – Most steam cleaners are fairly easy to set up and use. The best ones will be simple to use - you should be able to easily fill the tank with water or chemicals, turn it on, and start using it. Anything more than that could be more complicated than you need. Cleaning a mattress is not as extensive of a project as cleaning carpets, so you can opt for a simple more portable cleaner.
Lightweight – Weight is another thing to consider. You will want to look for a cleaner that is fairly lightweight, between 5 and 15 pounds. The best ones will be lightweight and easy to move around.
Effectiveness – How effective the mattress cleaner is in getting rid of stains and odors is important. Not only should it clean up messes, but also it should remove smells and kill bacteria.
Types of Mattress Cleaners
There are a few different types of mattress cleaners. The two main types are steam-cleaners and cleaning solutions.
Mattress Cleaner Machines – The more popular option, these handheld steam cleaners can be used to clean mattresses, stairs, carpets, auto interiors, and much more. For these cleaners, you'll usually need to fill the liquid compartment with water and/or a cleaning solution. Then you'll power it up and use steam to apply pressure and clean the desired areas.
Mattress Cleaner Solutions – The best mattress cleaning solutions are a less expensive alternative to investing in a powered steam cleaner. These are usually strong cleaning chemicals that you can use on mattresses. To use, you'll apply some to a towel or rag and scrub. Some bottles include an attached brush.
Mattress Cleaner FAQ
Q: What is a mattress cleaner?
A: A mattress cleaner is designed to deep clean your mattress. The best mattress cleaning machines work together with a mix of cleaning chemicals to clean a mattress. For the steam cleaner, you load the chemical or water and allow the steam to focus on an area and clean any spots and remove odors. There are also mattress cleaners that are just cleaning solutions and not the full machine.
Q: Why do you need a mattress cleaner?
A: There are many reasons why you need a mattress cleaner. Most importantly, mattress steam cleaners keep your mattress clean and remove any odors that may bother you while sleeping. Also, mattress cleaners can be used to remove any stains, spots, or dirt that has accumulated over the years. Even though sheets cover most mattresses, mattresses can still get dirty and need cleaning.
Q:  How do you deep clean a mattress?
A: To deep clean a mattress, you first remove any sheets and bedding. Next, you'll vacuum it to remove any exterior dirt and debris. Then you'll either scrub with a cleaning chemical or use a steam cleaner to focus on getting rid of stains and odors. Once that is done, you can vacuum the mattress again and put your freshly-washed sheets back on your now clean mattress.
Q: What causes yellow stains on mattresses?
A: Yellow stains on mattresses are usually caused by sweat. Between sweat and general use over time, mattresses tend to turn yellow in color. Cleaning your mattress regularly and properly can help remove those yellow stains.
Sign Up Now
GET THE VERY BEST OF GEARHUNGRY STRAIGHT TO YOUR INBOX