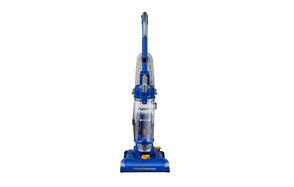 Eureka NEU182A PowerSpeed Upright Vacuum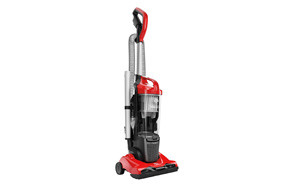 Dirt Devil Endura Reach Upright Vacuum Cleaner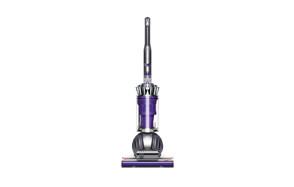 Dyson Ball Animal 2 Upright Cleaner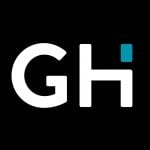 Upright vacuum cleaners are the best things since, well, vacuum cleaners. Ask anyone you know, and they'll tell you how great it is to have a machine that makes cleaning up less of a dreary chore.
With vacuum cleaners, a significant snag was the inability to get into some tricky corners of your home. For some people, the solution to this was to have multiple vacuums for different situations. However, thanks to the efforts of certain innovators, we have devices that provide excellent multitasking properties.
However, it's been a while since the first vacuum cleaners were manufactured, and now the market is swarming with many upright vacuums and a couple of wannabes. So, deciding which one is best to spend your money on may be a bit of a chore, and that's taking you right back where you started. However, here's a list of the best upright vacuums on the market right now.
The Best Upright Vacuum
Upright Vacuum Buying Guide & FAQ
How We Chose Our Selection of The Best Upright Vacuums
The Width of Cleaning Path - An upright vacuum cleaner that comes with a full cleaning path will make it much easier for you to cover an entire floor in fewer passes. However, the problem with this so that it will make it more difficult to maneuver around any piece of furniture or get into tight spaces.
A good upright vacuum cleaner (such as the ones featured here) usually comes with around 15 inches of cleaning paths. Also, good upright vacuum cleaners come with cords and hoses (generally higher than 25 feet), s that you won't have to get it plugged into various outlets as you move to complete the cleaning of an area.
Weight - Weight is another specification that we looked into as we made our choice. We understand that at some point in time, you will need to lift your vacuum cleaner (even if it's only when you want to have the vacuum cleaner put inside a compartment for safekeeping. With a lightweight cleaner, this becomes incredibly easy.
HEPA Filter - The HEPA filter is a high-efficiency particulate air filter that can help with users that have asthma or any other respiratory issue (including allergies). Basically, a HEPA filter takes almost all of the air particles and debris that would have been otherwise expelled from your vacuum cleaner.
Noise Features - One of the most significant cases against vacuum cleaners in general (regardless of what category they are) is the noise they generate during use. However, manufacturers have been able to develop innovative technologies to ensure that they emanate a little less noise. We definitely put that into consideration when choosing our favorite picks as well. So with these, you don't necessarily have to suffer through cleaning your house and having the whole place sound like an industrial oil rig.

Things To Consider Before Buying Upright Vacuums
Cleaning Needs - Cleaning jobs are usually divided between the residential and commercial options, and each has its own needs. The requirements that you have will dictate a lot about the features that you will need to think about in an upright vacuum cleaner.
Features - Every upright vacuum cleaner comes with a specific list of features that will help it to perform its job efficiently. Most of the time, features are what differentiate the products offered by one manufacturer from the products that you get with another maker. Of course, some elements are much more essential than others; some are important, while others tend to be nothing but baggage from manufacturers who try every trick in the book to lure customers into purchasing the products. So, considering all of these, it is vital that you maintain a cursory look at what you're purchasing before you do.
Noise Levels - Noise levels might seem trivial at face value, but they are crucial when it comes to determining whether an appliance will be useful in cleaning. You will need a tool that can operate without giving off too much noise, especially if your cleaning will be taking place in a commercial location with people working around you. With people listening to their favorite songs or watching videos that are important to them, the last thing that you all need is a vacuum cleaner that comes in and shadows all of the sounds with the flick of a switch. So, get an upright vacuum cleaner that produces less noise. It will help save you a great deal of stress.
Vacuum Bags - There are different types of vacuum cleaner bags. Some are built to provide adequate protection from dust and other allergens, while others are HEPA vacuum bags. A number of these bags provide effective dust and dirt protection. However, if what you are looking for is optimal performance, then it is recommended that you replace your vacuum cleaner bags bi-monthly. Again, this will depend mainly on how often you use the vacuum cleaner itself.
Efficiency Dust Bags - Efficiency dust bags are little inclusions that help to clean tiny debris particles. They also help to maintain the cleanliness of your vacuum cleaner drum. You can quickly dispose of the dust bags, and they are relatively cheap as well.
Types of Cleaning Solutions - Cleaning solutions are features that are used to help get rid of stubborn stains and dirt from the surface of hard floor and carpets.
Cleaning solutions are primarily used for getting rid of stains and dirt from the surfaces of floors and carpets. Solutions are especially suitable for areas where commuting is high, because they act as essential complements for the cleaning and suction abilities of the vacuum cleaners.
Depending on the surface that you want to clean and what your specific needs are, some solutions can help you in general. Some will quickly get rid of stains, while some are adept at neutralizing the action of allergens and eliminating odors. So, if you are unable to get a multipurpose cleaning solution, then you might end up having to pair cleaning solution to get the job done.
Suction Power Control - The amount of suction power that your upright vacuum cleaner provides will go a long way in determining how effective it will be when it comes to cleaning your home in the long run. However, it is also vital that you consider the ability to control his suction power as well. If you don't have proper control over a vacuum cleaner's suction power, then your ability to clean surfaces like upholstery, carpets, and rugs would be limited a great deal.
Accessories - In today's world, there are quite a lot of accessories on the market made to help vacuum cleaners become much more efficient in operation. As stated some of the features as appliances that you get are entirely useless and will do absolutely nothing to improve your user experience. Still, here are some of the tools and appliances that you can keep in mind:
Brush Agitator - Most times, you will find the brush agitator of a vacuum cleaner under the machine. It's used to dislodge dirt, dust, and debris from the ground or the carpet. It also ensures that the airflow can lift the light particles easily. Different cleaners have different brush agitators. Some models of brush agitators come with a switch that turns them on and off so that you can quickly clean the surface of the bare floor. Simply put, the purpose of the agitator is made it more convenient to clean floors.
The Self-propelled Feature - The self-propelled feature is a simple addition that makes use of both transmission and drive systems to aid you as you pull and push the vacuum cleaner about the place. It reduces the amount of effort required when moving the vacuum cleaner around. However, a caveat of this is that it is possible for the feature to add to the weight of the vacuum cleaner as well. This can make the movement more difficult, especially in cases where you will need to do a lot of lifting on the vacuum cleaner. Still, if the area where you will be cleaning is flat and bare- and you won't need to do any lifting- you will get a lot of benefits from this self-propelled feature.

Types Of Upright Vacuums

When it comes to upright vacuum cleaners, the significant difference that you need to consider is whether the filter is bagless or if it uses a dust bag. The choice here will rest entirely on preference, but you'll find yourself better served with a vacuum cleaner that includes a dust bag if you are concerned about the quality of your indoor air or you have family members that have asthma, allergies, or some respiratory issue.
In truth, there is nothing wrong with the bagless vacuum cleaner. The best ones can do a proper job when it comes to cleaning. The only problem with them is that the trouble you have to scale through to maintain them. Maintaining bagless cleaners offer involves a lot of dust which could be a problem for most individuals.
In addition to this, you also have to consider the fact that a lot of bagless upright hoovers use filters that require washing or brushing off to get rid of trapped particles from the system. If not done correctly, you risk releasing all the dust particles back into your home.
Then, you should also consider that the entire vacuum cleaner system plays host to dirt at some point in time. Thanks to the inherent characteristic of the bagless design, it is almost impossible for you to seal off a bagless vacuum to ensure that there is no leakage of any dirty air through the non-filtered openings. Add that to the difficulty encountered in creating an air-tight seal in a dustbin that will make dirt collection easy.
Upright Vacuum FAQ
Q: What is an upright vacuum cleaner?
A: An upright vacuum cleaner is one of the most popular types of vacuum cleaners on the market right now. As opposed to being wide (as it usually the case with a lot of other hoover vacuum cleaners), upright vacuum cleaners favor height instead. A lot of upright vacuum cleaners come with practical features for tackling dirt in some of the dirtiest corners.