Best All Purpose Cleaner Sprays In 2022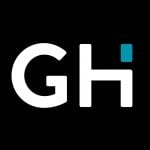 This product guide was written by GearHungry Staff
Last Updated
March 20, 2020
GearHungry Staff
GearHungry Staff posts are a compilation of work by various members of our editorial team. We update old articles regularly to provide you the most current information. You can learn more about our staff
here
.
GearHungry may earn a small commission from affiliate links in this article.
Learn more
Sometimes, we come across tough stains around our homes and feel instantly discouraged because of the belief that nothing can get rid of them. Next, we cook up homemade cleaners in hope that they'll be the solution to combat such stains, but end up right at the same point. If you've been down this road before, you'll get it. Nevertheless, you can breathe because we're here to help. We've put together a list of our very best all-purpose cleaning sprays that will eliminate even the toughest stains without causing damage to the surface. So, sit back and relax and let us take some weight off your shoulders.
The Best All Purpose Cleaner Spray
Better Life Natural All-Purpose Cleaner Spray
There's one thing we know for sure when it comes to the Better Life Natural All-Purpose Cleaner, and it's that you're going to thank us later for recommending this amazing surface cleaning spray. The Better Life cleaner is the true definition of an all-purpose cleaning spray, and when we say all-purpose, we mean it. This product can be used on tiles, stone, granite, countertops, bathrooms and toilets, appliances, floors, tables, boats, cars, toys, baseboards and even on wood. The best part is that you don't have to worry about it stripping off the finishing of the wood. So, pretty much any stained surface can be tackled with this cleaner. All you really need to do is spray the surface using the convenient nozzle, wipe with a clean cloth and watch in amazement as you see those very tough greases and grime stains disappear before your very eyes. It's a wonder to behold.
As if that wasn't impressive enough, this product is completely environmentally friendly and totally safe to use around pets and kids. You see; this cleaning spray was created by two dads who wanted to show the world that safety does not need to be compromised for performance. So, they ensured that the product they developed was free from all toxic ingredients. This is why the Better Life cleaning spray does not contain any alcohol, parabens, ethers, dyes, petroleum solvent, sodium lauryl, synthetic fragrances or ethoxylates.
Even more impressive is the fact that this product has been packaged by incorporating solar energy as well as recyclable materials. As such, once you're done with it, your mind can rest easy knowing that the packaging can be reused and reutilized rather than being simply disposed of. Taking the hard work out of your cleaning routine, this Better Life product comes in a pack of two, and can easily last you and your household over two months. Both spray bottles contain 32 ounces of cleaning liquid, and also feature a nice and relaxing clary sage and citrus fragrance that you'll absolutely love. You may also be interested in some of the best trash bags from our list, so check them out.
Key Features:
Cleans glass and other surfaces effectively
Super strong and made with safe materials
Environmentally friendly and cruelty-free
Leaves no scent that disturbs the nose
Specification:
Brand

Better Life

Model

2409C

Weight

4 Pounds
Packaging is made from recyclable material
Can be used to clean any wall to surface
Powerful on grime and grease stains
Only comes in a pack of two cleaners
Does not work as a disinfectant
Some may not be fans of the scent
Mrs. Meyer's Clean Day All-Purpose Cleaner Spray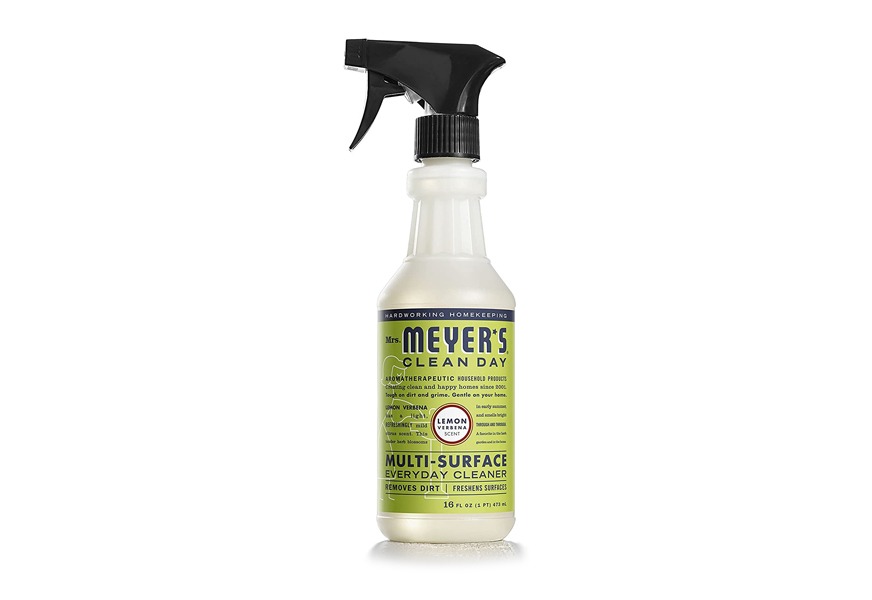 With the Mrs. Meyer's Clean Day Multi-Surface Everyday Cleaner, you can wave goodbye to grease, gunk and grime stains on your surfaces. That's right; you never have to struggle with getting rid of the tough stains around your house because this cleaning spray has come to the rescue. This unique cleaning spray is especially inspired by nature's very own trees, flowers and plants, taking on these elements of nature and combining their essences to create a cleaner that is safe for you, your kids, pets and of course, the environment. It features a lemon verbena scent that brings about a mild yet refreshing citrusy fragrance that leaves your home smelling light and bright like an early summer's day.
More than just a sweet-smelling cleaning product, this all-purpose spray comprises a range of ingredients that deliver a tough yet gentle effect on many surfaces while eliminating the difficult stains. What's more, it does all this while preserving the quality and finishing of said surfaces.
And with a special combination of garden-inspired scents, essential oils and multi-purpose cleaning ingredients derived from plants, Mrs. Meyer's spray completely tackles all your kitchen, bathroom, and household messes.
No doubt, the cleaning power of this product is basically limitless and it's an absolutely great product to be used on nonporous surfaces such as finished wood, tiles, floors, walls, countertops, porcelain, bathroom fixtures, sealed natural and synthetic stone and so much more. Further, it leaves your surfaces clean while combating foul odors with its refreshing scent. 
Even better, this multi-purpose cleaner is completely cruelty-free and it has not been tested on animals. It comes well packaged in a single cleaning spray bottle that contains 16 oz of cleaning liquid and features a reliable and easy to use spray nozzle. Finally, it is super inexpensive and doesn't require you to break the bank, plus a single bottle can last you and your home for about a whole month. Be sure to also check out our guide to the best disposable gloves for more useful products like this.
Key Features:
Features an amazing smell that lingers after use
Is made with plant-based material
Environmentally safe and useful for all surfaces
Removes dirt, grease, and grime with relative ease
Specification:
Brand

Mrs. Meyer's Clean Day

Model

808124124417

Weight

1 Pounds
Comes with a nice and refreshing citrus fragrance
Features cruelty-free ingredients and packaging
Easily and quickly eliminates tough stains on surfaces
Only comes in a pack of one cleaner
Can not be used to clean nonporous surfaces
Contains only 16fl oz of cleaning agents
Earth Friendly Products ECOS Orange Plus Cleaner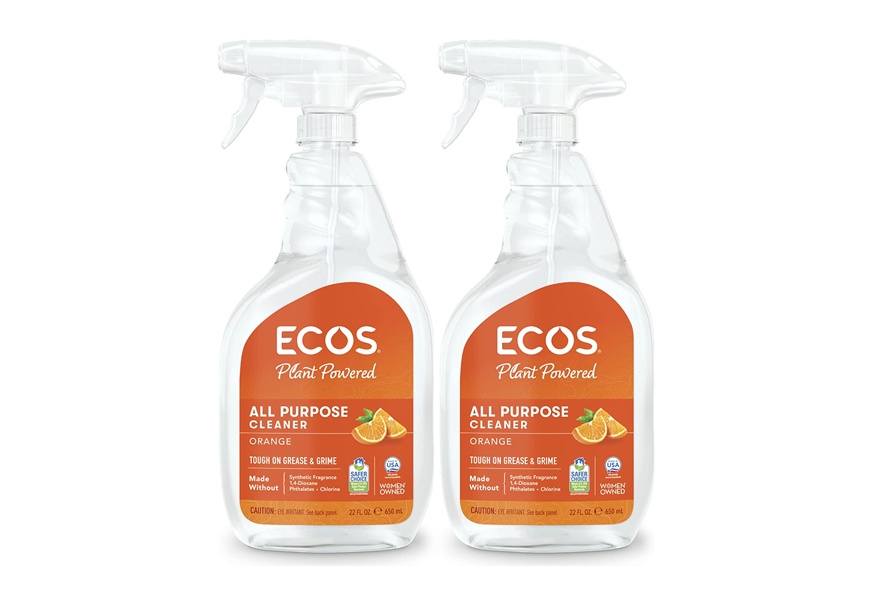 Powerful, environment-friendly, amazing fragrance. This is a cross-section of some of the great features that make the Earth Friendly Products ECOS Orange Plus Cleaner one of the best all-purpose cleaning sprays in the market. This product comes with a signature citrusy orange smell that you're sure to fall in love with. Much more tactical than just a scent, the natural power of citrus has been especially utilized to quickly and effectively penetrate tough dirt stains. Because of the known cleaning power of citrus, the Earth Friendly cleaning spray effortlessly lifts tough dirt, grime, grease and oil, crayon, pencil and ink marks, adhesive lipstick, gum, and tree sap marks as well as residue from all your surfaces. It further leaves them sparkling clean and of course, smelling great.
Even more remarkable is the fact that this cleaner can be used as a highly efficient and effective oven and grill cleaner, so if cleaning out any of these areas has been a source of stress for you due to hard to tackle grease stains, then you can rest easy knowing that this cleaning spray is able to do more than half the work for you. More so, this cleaner is free from any harmful toxins such as petrochemicals, bleach, ammonia, alcohol, phosphates and other harmful chemicals, as such that it is totally safe to use around the house and even around animals and kids.
In fact, since it's cleaning power has been derived solely from plants, you know that it's safe for the environment. Furthermore, this all-powerful multi-purpose cleaning formula can be used on pretty much any surface that you can think of including hardwood, painted surfaces, linoleum, porcelain, stainless steel, sealed stone, chrome and finished wood. Use it to fight stains in your bathroom, kitchen, floors, countertops, cars, boats, tables, chairs and many more. Ideal for everyday use, this cleaner is bound to be a staple in your home. Our guide to the best dishwasher pods features more reliable products to help you keep your home clean.
Key Features:
Great for everyday use
Useful for all sorts of surfaces
Made with non-toxic materials, cruelty-free
Capable of handling heavy-duty tasks with ease
Specification:
Brand

Earth Friendly Products

Weight

1.67 Pounds
Comes with a refreshingly mild orange scent
Can be used on just about any surface you can think of
Plant-derived ingredients free from toxins
Only comes in a single pack of one
Does not effectively work as a disinfectant spray
May not be completely suitable for removing some stains like tar
Puracy Natural All Purpose Cleaner
Crowned the best all-purpose cleaner by the New York Times, this multipurpose cleaning spray already has a great reputation that precedes it. If that's not convincing enough for you, then we're here to make you believers. So, we'll get into the nitty-gritty details about the Puracy Natural All Purpose Cleaner. This cleaning formula spray is, just as its name implies, pure. You can rest assured that this cleaning spray is all-natural and free from any toxins or unnatural ingredients. The Puracy Natural cleaner further does not contain any alcohol, harsh chemicals or fumes, and so it is completely safe to use around the household, even with kids and pets present.
What's more, its effective cleaning formula has been specially derived from plant-powered ingredients that have led to the development of a streak-free solution. And when we say this cleaner is all-purpose, we absolutely mean it. This spray can be used to clean just about any surface ranging from wood to ceramics, stone to tiles, walls to floors, tables and chairs, kitchen counters and interestingly enough, even car and boat surfaces. That's right, this cleaner can do it all. No stain is tough enough to withstand the cleaning power of the Puracy cleaner, and all you need to do is simply squeeze the spray nozzle on the surface and wipe clean with a microfibre cloth.
The cleaning formula easily breaks down within a month and its bottle is 100 percent recyclable, it is equally single stream accepted. Once the formula is finished, you can even replace it with the Puracy cleaning pouches that save more than 90 percent in plastic, water, and energy. All in all, this cleaning formula equally comes in a pack of two 25 fl oz sprays and features a very lovely green tea and lime scent that will leave your home smelling great. Finally, it comes well packaged, with a sophisticated appearance that you'll be sure to appreciate. For more quality products to help you maintain the cleanliness of your home, check out our selection of the best upright vacuums.
Key Features:
Comes in a pack of two 25 fl oz cleaning sprays
Features a refreshing green tea and lime fragrance
Is safe to use around kids as well as pets
Contains no harmful ingredients or toxins like parabens
Specification:
Brand

Puracy

Model

PMSC25-2

Weight

1.56 Pounds
Comes with a nice and sweet green tea and lime scent
Made with ingredients sourced from natural plants
Works as an effective cleaner on all surfaces
Only comes in a pack of two cleaners
Can not effectively disinfect your surfaces from germs
Comes with a spray nozzle that will likely malfunction
Method All Purpose Cleaner Spray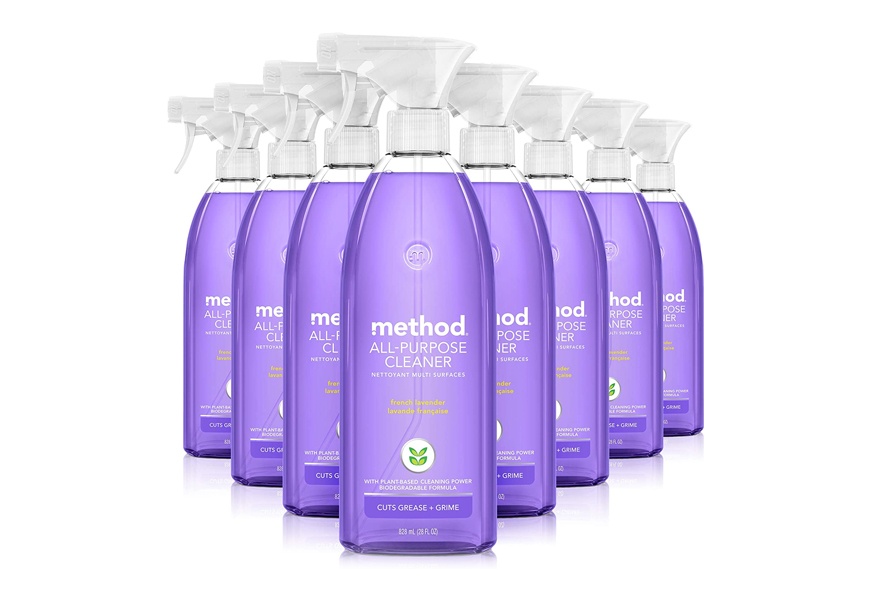 It's safe to say that dealing with tough stains around the house can be a real pain. Most of us are familiar with the constant scrubbing and washing, hoping that this time the stain will go away. Unfortunately, this often ends with disappointing results. If this scenario is all too familiar, then what you need is the Method All Purpose Cleaner. This multi-purpose cleaner is an absolute lifesaver, trust us. It comes in the form of a convenient spray and consists of a very powerful list of ingredients that are sure to combat even the toughest grime or grease stains.
One of the most amazing things about this cleaning spray is the fact that all its ingredients are non-toxic and biodegradable. So, not only is this product good for the environment, but it is also completely safe to use around the household. In fact, this cleaning product is so safe that it can even be used around your pet's. You can effectively clean up their messes without having to stress about it triggering any adverse effects whatsoever.
More so, making use of some of the most cutting edge green technology has allowed for the strength of non-toxic cleaning ingredients here to be effectively harnessed. As a result, it delivers a high quality, surface-specific cleaning performance. Furthermore, it comes in a refreshing lime and sea salt fragrance, which is sure to leave your space smelling nothing short of inviting. It's equally suitable to be used on tiles, stone, wood, glass, and counters. As such, this product can be incorporated into your cleaning routine for overall stellar results.
All in all, this is a great product that is guaranteed to leave your floors, kitchen, bathroom, countertops and even tables and chairs looking sparkling clean and smelling absolutely fragrant. It is safe for you, the environment as well as your pets and further comes in a pack of eight 28 ounce sprays, so you hardly have to worry about running out for about six months. It truly doesn't get any better than that. A very useful product to have around the house, just like some of these oven cleaners from our list.
Key Features:
Easy nozzle to increase convenience
Useful for a variety of surfaces
Safe to use and made with non-toxic materials
Lovely scent that leaves a lingering freshness
Specification:
Brand

Method

Model

3936835

Weight

2 Pounds
Is available in a large pack of eight
Delightful lime and sea salt scent
Consists of non-toxic cleaning ingredients
Does not work as a disinfectant
May not be suitable to use on stainless steel
Spray nozzle may be likely to malfunction
J.R. Watkins All Purpose Cleaner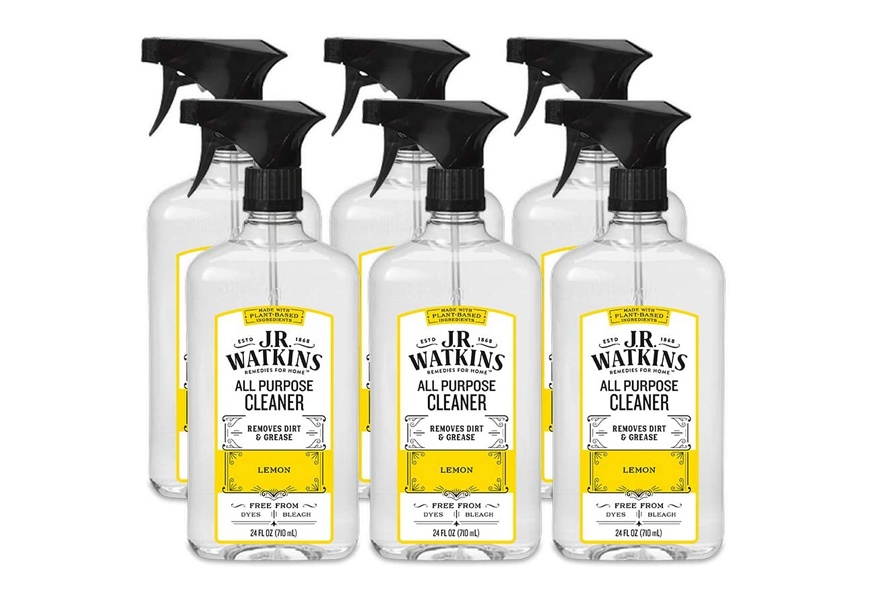 With the J.R. Watkins All Purpose Cleaner, no stain is too tough to clean. It's simply a miracle worker. This cleaning spray is effective when it comes to combating difficult stains that regular cleaning sprays won't be able to remove. Incorporating a delightfully sweet lemony scent, this cleaning spray is bound to leave your home smelling refreshing. Also, since lemon is the main ingredient here, it delivers deep and all-powerful cleaning that practically restores your surfaces to their original condition.
Further, it is strong enough to combat tough stains yet gentle enough to ensure that your surfaces are not left damaged, which is why you'll be sure to love it. What's more, it can be used on just about all surfaces ranging from tiles to wood to stone and even ceramic. Altogether, each and every time you use it to clean, you'll be left feeling totally satisfied. So, you can wave goodbye to strenuous cleaning sessions because this all-purpose cleaning spray basically cuts your work in half.
Another noteworthy feature is the strong all-purpose cleaning agents that are guaranteed to remove any grease, grime, lipstick, dirt stains on just about any surface in your home. This is mainly because it's made with only the highest quality ingredients, with most of them sourced from nature itself. Because of this, it is free from toxins such as alcohol, dyes, bleach, formaldehyde, phosphates, parabens and phthalates, so it is super safe for the environment.
Not only is this product safe for the environment but it is also safe for you and your family. So much that you don't have to panic if it comes in contact with your skin. It's more or less all-natural and as such, cannot have any adverse effect whatsoever. It is equally safe to use around your kids as well as your pets and has not been tested on animals and so, it is cruelty-free. Furthermore, the bottle it is packaged in is 100 percent recyclable and can be reused rather than disposed of to help the environment. You may also be interested in some of the best yoga mat cleaning sprays from our list, so take a moment to check them out.
Key Features:
Pack of six offers great value
Useful for all sorts of surfaces
Great citrus scent that lingers
Ergonomic design that's easy to use
Specification:
Brand

J.R. Watkins

Model

26782

Weight

10.15 Pounds
Comes in a convenient pack of 6 cleaning sprays
Is free from toxins, alcohol, dye, and parabens
Features a nicely refreshing lemony scent
Spray nozzle has the possibility to malfunction
Does not work effectively as a disinfectant spray
Price tends to be on the relatively expensive side
Sign Up Now
GET THE VERY BEST OF GEARHUNGRY STRAIGHT TO YOUR INBOX