Best Canister Vacuums in 2022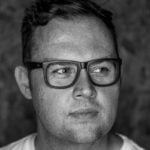 This product guide was written by Chris Worden
Last Updated
July 2, 2020
Chris Worden
Born and raised in Idaho, Chris's sensibilities are a small town, while his life experiences are anything but. He's had the chance to travel the globe with a camera in hand documenting action sports and cultural movements for over 15 years. His love of motorcycles, photography, adventure, and the outdoors has lent itself to a career telling stories and he wouldn't trade that for anything. Chris now resides in a small ski town in central Idaho and when he's not grinding away at his day job, he's feverishly penning articles at night about the products and playgrounds he loves.
GearHungry may earn a small commission from affiliate links in this article.
Learn more
It's that time of the year again: kids are spending the longer days outside, your dog is getting weekly swims, and it's wreaking havoc on your clean home!
Whether you are neck-deep in the clean club or savor a clean space, the best way to keep your home clean this summer is by vacuuming up all the dust, dirt, and grime.
We know how tedious and boring sweeping and dusting can be and how tricky it is to get into odd angles. We have whipped up a list of the Best Canister Vacuum Cleaners for sale to make this chore a breeze!
The Best Canister Vacuum
Eureka The Mighty Mite 3670G Canister Vacuum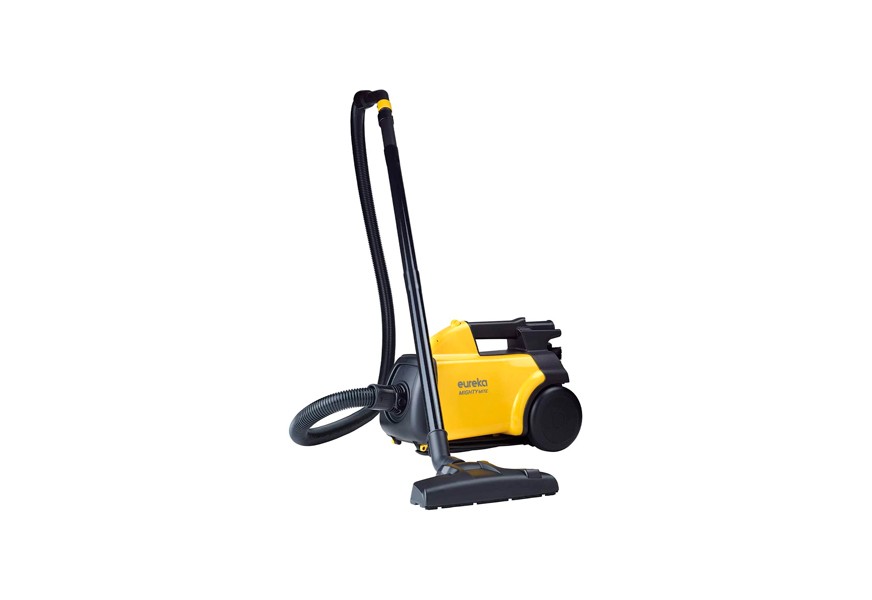 Starting with our best choice, this fantastic, lightweight Canister Vacuum Cleaner is the ultimate domestic appliance that will turn your house vacuuming routine around. With a capacity of 2.5 liters, The Mighty Mite 3670G by Eureka is the perfect appliance for fast, complete cleaning. It comes equipped with a set of tools to help you take care of carpets, upholstery, and your car.
This powerful device has a sleek design, weighs nine pounds for easy portability, and has a 20-foot power cord with quick release. The 12 amp motor makes powerful suction for tough carpets and challenging to reach angles.
This Canister Vacuum comes with two extension wands and a crevice tool, the upholstery nozzle, and the carpet/bare floor nozzle, for curtain cleaning and eliminating cobwebs from high ceilings. It is equipped with powerful brush rolls to allow deep cleaning, a blower port for garage and outdoors cleaning, and includes a triple filtration bag system. You may be interested in some of the best stick vacuum cleaners from our list, so check them out.
Key Features:
Easy-empty 2.5 liter capacity dust bag
12-amp motor
Convenient handle
20ft power cord with fast release
Comes with all accessories and tools
Specification:
Brand

Eureka

Model

3670G

Weight

11.6 Pounds
Bissell Zing Bagless Canister Vacuum
This bagless vacuum cleaner is compact and lightweight, allowing you to carry it around your home effortlessly. It features cyclonic technology that makes it effective on bare floors and upholstery. It comes with the Easy Empty Dirt Cup, a bottom-tank, to empty without a mess. The Zing Bagless Canister Vacuum by Bissell comes with a 15-foot power cord, with an automatic rewind function.
With the flip of a switch, change the cleaning setting from floors to carpets. The reusable, washable Post Motor filter will catch fine dust and the smallest particles. It includes a service tool, a dusting brush, and a multi-surface floor tool.
Purchasing this product, you will be contributing to saving the lives of animals. Bissell is a proud supporter of the BISSELL Pet Foundation and its mission to help protect homeless pets. When you choose a Bissell product, you are preventing homelessness and contributing to saving an animal's life. For more quality products like this, check out our selection of the best commercial vacuum cleaners.
Key Features:
Easy-empty bagless dirt cup
Comes with a crevice tool, dusting brush, and multi-surface floor tool
15ft power cord with an automatic cord rewind feature
Weights under 8 pounds and comes with a convenient handle
Specification:
Brand

Bissell

Model

2156A

Weight

10.23 Pounds
Miele Pure Suction Canister Vacuum Cleaner
The third Vacuum Cleaner we picked is a little gem by Miele. The AirClean System ensures maximum filtration with the Miele Filter Bag, Air Clean exhaust filter, and the motor protection filter, setting it apart from other choices. This innovative system purifies the air of your home, and the self-sealing collar ensures no dust escapes.
Miele Canister Vacuum Cleaner is powerful but silent and has an adjustable suction system with six different settings. It is lightweight and ideal for both hard floors and low-pile carpet with a footswitch that allows you to switch to other with ease.
This vacuum cleaner has a dusting brush, an upholstery tool, and a crevice tool designed to clean hard-to-reach surfaces. It comes with caster wheels for effortless mobility and a 29.5-foot long electrical cord. Specially constructed to be comfortable, its ergonomic, stainless steel telescopic suction wand will help you easily reach higher surfaces.
You can purchase this appliance with a 7-year manufacturer warranty on the motor and casing, and 1-year manufacturer warranty on parts and labor. If you are a pet owner, you might be interested in some of the top vacuums for pet hair, so check them out.
Key Features:
6 different suction power settings on the rotatory dial
Comes with a Pure Suction Combination Floorhead, dusting brush, upholstery tool, and crevice tool
Miele AirClean System comprises of a genuine Miele FilterBag, motor protection filter, and AirClean exhaust filter
Long power cord and stainless steel wand allow a cleaning radius of 29.5ft
Specification:
Brand

Miele

Model

41BAN045USA

Weight

16.17 Pounds
Dyson Big Ball Multi Floor Canister Vacuum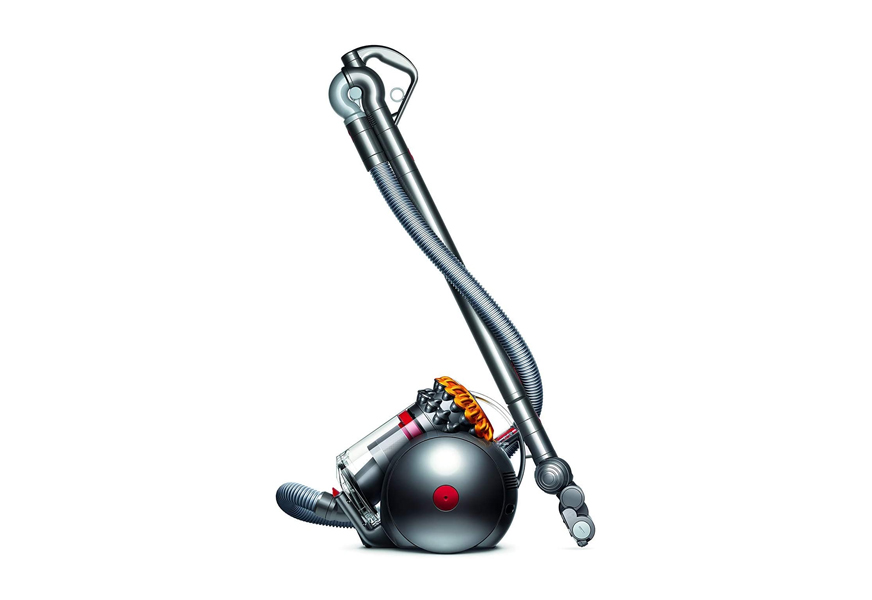 Our premium pick in this selection of Best Canister Vacuum Cleaners is the Big Ball Multi Floor Canister Vacuum by Dyson. Its ball technology core components allow the vacuum to turn on the spot and follow you around with zero effort whatsoever. This self-standing, ball canister vacuum picks itself up when toppled over. Equipped with a hygienic dirt ejector that pushes out trapped dust and dirt makes it simple for you to empty and clean it. It comes with a carbon fiber turbine head that helps pick up stubborn dirt.
A 5-year Warranty for parts and labor gives you the peace of mind you need when purchasing this vacuum cleaner. Our guide to the best upright vacuums features more unique products like this, so check them out.
Key Features:
Large capacity bagless bin of 0.47 gallons includes hygienic dirt ejector system
Carbon filter turbine head removes fine dust and ground-in dirt
Filtration system improves air quality and removes allergens
Ball technology allows you to turn on the spot and will self-right if knocked over
Specification:
Brand

Dyson

Model

214887-01

Weight

17.64 Pounds
Eureka NEN110A WhirlWind Bagless Canister Vacuum
If you're looking for an affordable canister vacuum cleaner, few can beat the Eureka NEN110A. It provides powerful suction, an easy-to-empty dust container, and a lightweight design that makes it easy to move around. One of the most important features for us is the way it switches between carpets and hard floors. Just click the button on top of the floor tool and you can vacuum every inch of your house. Then, for those hard-to-reach areas, just attach the 2-in-1 crevice tool (which doubles up as a dusting brush). 
For less frequent emptying, the dust container has a large capacity of 2.5 liters. You don't need to spend extra on bags or filters, just rinse the filter under the tap as and when is needed. Despite this large dust container, the whole unit weighs just eight pounds. That means you can easily carry it around one-handed, without breaking your back.
Key Features:
2.5L dust container 
Lightweight design 
2-in-1 crevice tool 
Cyclone filtration system 
16ft cord 
Multi-surface cleaning 
Specification:
Brand

Eureka

Model

NEN110A

Weight

8.29 Pounds
Bissell Deluxe Canister Vacuum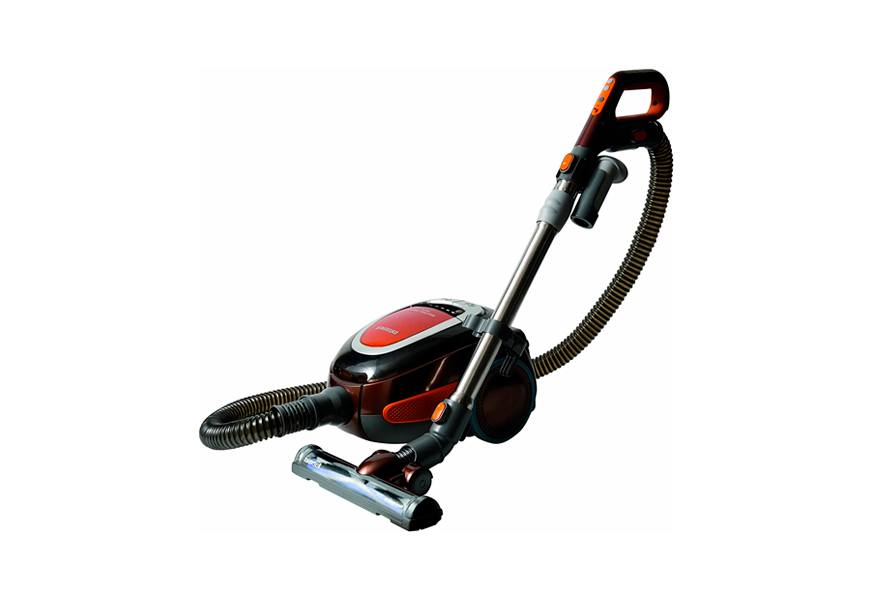 Another gem by Bissell, the Deluxe Canister Vacuum is a powerful appliance to help you clean with ease while protecting your floor surfaces. This specialized lightweight tool can clean delicate surfaces at any height with its power. It comes with soft, gentle bristles for hard floors while still cleaning up all the dirt and debris piled up in the house.
This functional vacuum has digital controls to help you control the vacuum's power. It has rubber wheels and an Easy Empty dirt tank for no-mess cleaning with its bottom opening. The tank has a 1-liter capacity. For quick and easy storage, there's automatic cord rewind. Its lightweight and compact design make it perfect for carrying around and storing away once done with the cleaning. Be sure also to check out our selection of the best wet/dry vacuums for more useful products like this.
Key Features:
Specialized hard floor performance for powerful but delicate cleaning of all surfaces
Easy Empty Tank System with a 1-liter capacity
Extended telescopic wand reach to cover all surfaces, high and low
Non- marking wheels
Digital Control and adjustable suction
Automatic retractable cord
Specification:
Brand

Bissell

Model

1161

Weight

9.1 Pounds
Atrix AHC-1 Turbo Red Canister Vacuum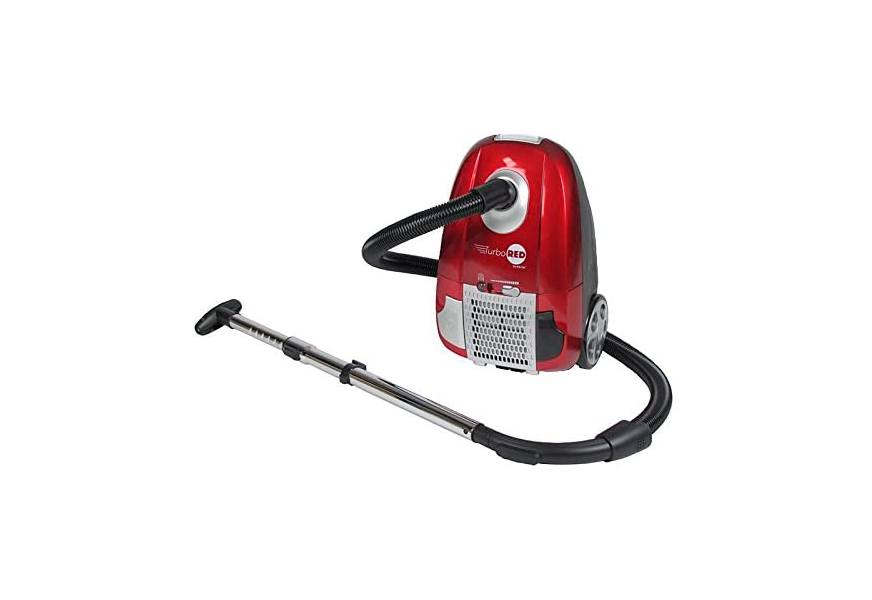 This Canister Vacuum cleaner is perfect for powerful and spotless cleaning. Its lightweight construction and compact design for quick storing make it excellent for home or office use. Pack it up in no time and take it from one place to the other.
With its three variable speed suction, the AHC-1 Turbo Red Canister Vacuum by Atrix has 1400 watts to clean various surfaces. You can clean hardwood floors to curtains and upholstery by adapting your speed to the surface of choice. This small but strong vacuum comes with a set of attachments to enhance its versatility. You'll receive a six-foot hose, a floor tool, an air-driven turbo brush for both carpets and floors, a round dust brush, an upholstery nozzle, a crevice nozzle to get to the tightest corners and an accessory holder to keep them all in place. The included telescopic wand adapts to 17 different heights for perfect maneuverability when cleaning high and low.
This useful canister vacuum cleaner comes with two six-quarter HEPA bags and a HEPA exhaust filter with three filtration stages for proper air purification in your home or office. For more portable options, check out our guide to the best handheld vacuums.
Key Features:
HEPA and ULPA patented filters for air purification
Multiple attachments allow in-depth cleaning of various surfaces
The telescopic wand has 17 different heights for comfortable cleaning
Two 6 quart HEPA bags included
3 variable suction speeds to adapt to the surfaces you are cleaning
3 stages of HEPA filtration
Specification:
Brand

Atrix

Model

AHC-1

Weight

10.9 Pounds
Ovente Bagless Canister Cyclonic Vacuum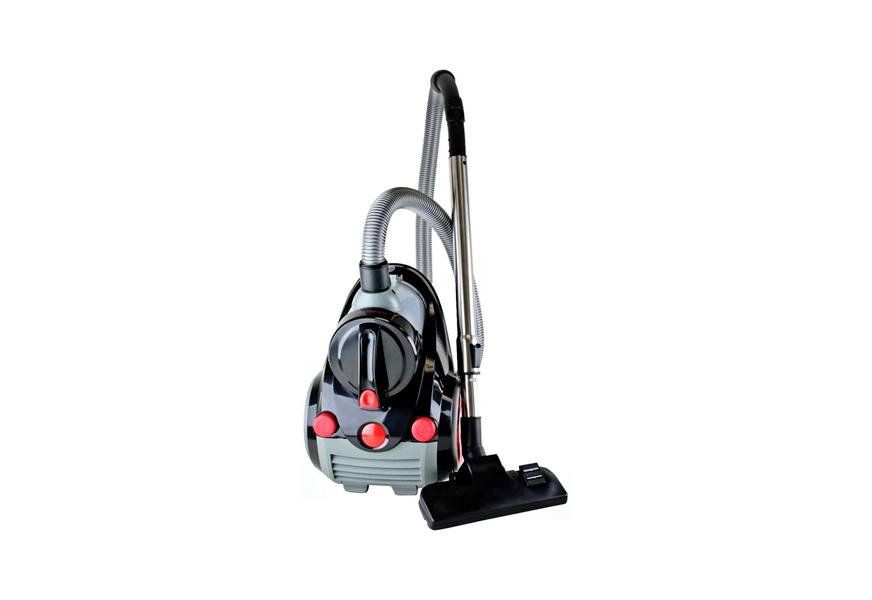 If you are looking for a canister vacuum cleaner to do the job quickly and efficiently, look no further. The Bagless Canister Cyclonic Vacuum by Ovente is a 1200 watts cyclonic vacuum decked with an advanced multilayer filtration system that will blow you away! It can deep clean a variety of surfaces using nonstop suction for the toughest dirt, and it will remove airborne particles as tiny as 0.3 micrometers.
This powerful tool comes with an extensive choice of premium attachments to ease the cleaning process. The accessories include a floor brush (for floors, carpets, and mats), a crevice nozzle/bristle brush for hard to reach corners, a sturdy metal telescopic wand to reach higher and hidden spots and a sofa/pet brush to help you clean up after your pet. 
This canister vacuum cleaner has a 360° swivel hose and a retractable power cord to make maneuvering it child's play. It is a bagless appliance, making maintenance hassle-free. With a translucent dust compartment and an LED alert light, you'll know when it's time to empty the canister. When you finish, wash it and place it back in position for an easy start next time.
The purchase includes a one year warranty. If you are also looking for a perfect option for your car, check out our guide to the best car vacuum cleaner and pick your favorite.
Key Features:
360°swivel hose for easy maneuvering
Multiple, premium attachments for in-depth cleaning of various surfaces
1200 watts power
Bagless, translucent dust compartment
LED alert for full compartment
HEPA filtration system
Specification:
Brand

Ovente

Model

ST2010

Weight

12 Pounds
Sanitaire Mighty Mite Canister Vacuum
The Mighty Mite Canister Vacuum by Sanitaire is a compact and versatile tool, efficient on both bare floors and carpets. It is perfect for reaching higher ceilings, chandeliers, and more.
This canister vacuum is powered by 1400 watts and has a 2.6-quart dust capacity. It uses a disposable dust bag, a 20-foot cord length, and a seven-foot hose. A set of tools comes with this item, including a dusting brush, an upholstery nozzle, a rug/floor combo nozzle, a crevice nozzle, a telescopic cleaning wand, a suction hose and a tool caddy to store them. The allergy filtration system makes air-purifying quick and painless. You get a two-year warranty with this purchase, giving you peace of mind. For the fans of smart home, we have prepared our selection of the best robotic vacuum cleaners, so check them out.
Key Features:
Standard filtration for air purification
Multi-use canister that works on bare floors, upholstery, and ceilings 
20″ power cord
7′ hose
Disposable dust bag with a 2.6 dry quart capacity
On-board set of accessories
Specification:
Brand

Sanitaire

Model

S3681D

Weight

11.5 Pounds
Canister Vacuum Buying Guide & FAQ
Features To Look For In Canister Vacuums
When browsing for your perfect canister vacuum, there are things you want to research like wattage, size, and whether it has bags or not.
A higher wattage does not mean a better performing appliance. The effectiveness depends on the suction, airflow, and what kind of accessories you are using.
When considering canister vacuums, they will be bulkier than a standing vacuum. Pay attention to the weight and dimensions to ensure your choice is manageable in your home.
You will want to consider going bagless or not. A bagless product will save you money but will need more filter replacements during their lifetime, and require frequent cleaning. If you are allergic to dust or mites, a bagless model can cause a reaction when cleaning
Canister vacuums have a separate motor unit that you can count to be less noisy. They typically range between 60-65 decibels in comparison to the upright models at 75 decibels.
Maintenance your appliance will need is important. How often will you have to change the bags or clean the filters and dust bag is information you'll want to check before purchasing.
Check out what accessories come with the unit and compare with cleaning jobs you will be attacking.
Canister Vacuum FAQ
Q: What is a canister vacuum?
A: A canister vacuum is an appliance with a separate body and motor from the suction hose, allowing you to clean more surfaces, high or low, and easily clean the hidden corners of your house.
This type of vacuum cleaner is lighter and comes with retractable cords, which makes it maneuverable and easily transported compared to an upright model.
Q: What canister vacuum has the best suction?
A: You'll find that Dyson and Miele's vacuums have the best suction according to reviews.
Q: What is better, an upright vacuum or a canister vacuum?
A: It depends on your particular needs. Canister vacuums are more manageable, comfortable to carry, and great for corners and high spots, as well as upholstery, and are more powerful and quiet. But they are harder to store with two separate pieces. They tend to force the user into a bent-over position, which might not be ideal for long chores.
Sign Up Now
GET THE VERY BEST OF GEARHUNGRY STRAIGHT TO YOUR INBOX