Best Carpet Cleaner Solutions In 2022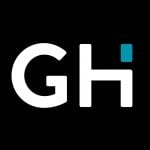 This product guide was written by GearHungry Staff
GearHungry Staff
GearHungry Staff posts are a compilation of work by various members of our editorial team. We update old articles regularly to provide you the most current information. You can learn more about our staff
here
.
GearHungry may earn a small commission from affiliate links in this article.
Learn more
Everyone loves a smooth, clean blanket. This means that even a small blemish on it can haunt you for a long time. We all know how it feels – you keep looking at that one stain on the carpet, and it always reminds you that the carpet's beauty isn't at 100 percent.
Here, we'll be looking through some of the carpet cleaning solutions that have made a name for themselves for being effective.
The Best Carpet Cleaner Solution
Bissell 78H63 Deep Clean Pro Carpet Cleaner Solution
The Bissell 78H63 Deep Clean Pro 4X is a veteran in the industry. The product has been around for a while. The best part is that a reputable company produces it. The manufacturers tout it as being their best product for tough and rough-in stains. Plus, it comes with materials to get out any odor that dirty stains leave behind.
Besides taking out any tough stains and underlying odors with ease, you'll also love the fact that the Bissell 78H63 Pro 4X won't have any effect on your upholstery or furniture. So, if you spill some food or something else on your couch, rest assured that the product will simply clean it off and leave no stain or mark whatsoever.
If you're looking for a concentration of the new and the old, then you should give this product a try. A lot of customers have pointed out the fact that it's free of any synthetic materials, dyes or phosphates. This means that it's safe for the environment and won't cause any reactions to your skin. As long as you follow the instructions, you should have no worries with applying it in the presence of pets and children too. You may also be interested in some of the best all purpose cleaner sprays from our list, so check them out.
Key Features:
Powerful formula for tough, ground-in dirt & stains
Removes nasty odors
Safe on carpet, area rugs & upholstery
Great for heavily soiled areas & stubborn stains
Contains no heavy metals, phosphates or dyes
Safe to use around kids and pets when used as directed
Specification:
Brand

Bissell

Model

78H63

Weight

3.5 Pounds
Works on both stains and smells
Great for use around kids and pets
Eco-friendly
The product has an after smell that might be offensive
Hoover Oxy Deep Carpet Cleaner Solution
The Hoover Oxy Deep Cleaning Carpet Shampoo comes next on the list of best carpet cleaning solutions. The product is fast-acting and effective, thus ensuring that you're able to clean your living room carpet and move on to other areas in your house. The product's fast-acting formula works on all kinds of surfaces, materials, and stains – from juice and coffee spills on a day when you're rushing to work to the pasta that your kids spill on the carpets and even those pesky ketchup stains that you get when you're downing a bowl of chips. You will have no trouble with getting it all out of your carpet in one full sweep with this bad boy.
Hoover has lauded the product, and its oxy cleaning technology, which they claim is capable of taking out dirt and other colored stains from your carpets efficiently. The cleaner will work on every smudge of the stain, thus ensuring that you won't need to clean the carpet again and again.
If you want to get the best out of this carpet cleaner, however, you might want to pair it with Hoover's in-house stain remover. While this carpet cleaner works well without the stain remover, there's nothing wrong in getting that one-two punch that only products from the same manufacturers can provide.
Then, the entire thing is rounded off with a fresh ocean breeze scent that replaces the scent of the carpet stains. Instead of a rancid, synthetic smell covering your entire living space, you're greeted with a soothing and pleasing aroma that's invigorating. You may also like some of these amazing carpet powders, so take a moment to check them out.
Key Features:
Attacks and breaks down tough stains
Oxy Technology Permanently removes dirt & stains
For use on carpet, upholstery and car interiors
For use with deep cleaning machines
Ocean Breeze Scent for a fresher home
Specification:
Brand

Hoover

Model

AH30950

Weight

3.13 Pounds
Replaces stain's scent with a more soothing one
Great for use around kids
Cleans stains quickly and thoroughly
Works best with the manufacturer's cleaning machine
Doesn't dry quickly
Rug Doctor Industrial Deep Carpet Cleaner Solution
Rug Door has built itself to become a force to be reckoned with in the home cleaning space. From their cleaning machines to the detergents, this company appears to have its hand in different endeavors. The Rug Doctor Carpet Cleaning Solution is one of the firm's most ingenious products. Carpet cleaner solutions should clean deep stains and other materials that spill onto the carpet. The Rug Doctor Cleaning Solution, however, goes a step further – it also takes care of urine, mildew, mold, and other natural stains and irritants.
So, if you suffer from respiratory issues like asthma and others and you want to ensure that your house is free of any mildew or mold—this is one product to keep in handy. Of course, it also takes care of the primary stains (grease, dirt, spills, mud, etc.) without breaking a sweat too.
The manufacturers also praised their extra concentrated components, which are guaranteed to clean the entire carpentry without causing any form of damage to the material itself. Whether you're using the product in your house or you're a janitor, and you need something to effectively clean your office location, this product will work wonders for you.
Like other manufacturers, Rug Door also recommends that you use the Rug Doctor Industrial Deep Carpet Cleaning Solution with one of its other cleaning products – notably, the Rug Doctor Mighty Pro X3 or Rug Doctor Deep Carpet Cleaner.
Key Features:
Extra concentrated carpet solution
Deep cleans and brightens carpet
Eliminates foul odors caused by mold, mildew, and more
Removes soils, oil, grease, grime, and other stains
Powerful solution won't damage carpet fibers
Use in any deep carpet cleaning machine
Specification:
Brand

Rug Doctor

Model

04221

Weight

8 Pounds
Works to clean dirt fast 
Great for both small and large spaces
Cleans natural irritants
Stuart Pet Supply Professional Strength Deep Clean 3X Carpet Cleaner Solution
You might need some help to pronounce this one, but don't let that take scare you. To begin with, the Stuart Pet Supply Carpet Cleaner Solution comes with an encapsulating action that surrounds the stain and prevents it from coming back to your carpet. The manufacturers call this is the solution you will need to permanently get stains off your carpet. Since customers haven't complained about its effectiveness, it is safe to say that they did an excellent job there.
You can pair this carpet cleaner with several cleaning machines, regardless of the manufacturer. This versatility will help for sure, given that a lot of people won't have the luxury of checking to see whether it works with a specific machine or not.
The manufacturers have also taken the initiative to clear out any terrible after smell that the product might have. Instead, they replaced it with a fresh linen scent that your nostrils will thank you for when you apply the cleaner.
The carpet cleaner also works for pet urine, so if you've got a dog that's not potty trained and you will like to protect yourself from the stench of his pee, this solution will fix your trouble. For more amazing products to help you keep your carpets clean, check out our selection of the best commercial carpet cleaners.
Key Features:
Concentrated Encapsulating Carpet Shampoo
Permanently removes dirt and odors
Removes pet and other stains
For use in all carpet cleaning machines
Releases a fresh linen scent
Specification:
Brand

Stuart Pet Supply Co.

Weight

8.6 Pounds
Takes care of stains and pet urine
Versatile with machines
Doesn't leave a chemical after smell
Users complained about its inefficiency with pet stains
Arm & Hammer Deep Clean Plus Chemical Carpet Cleaner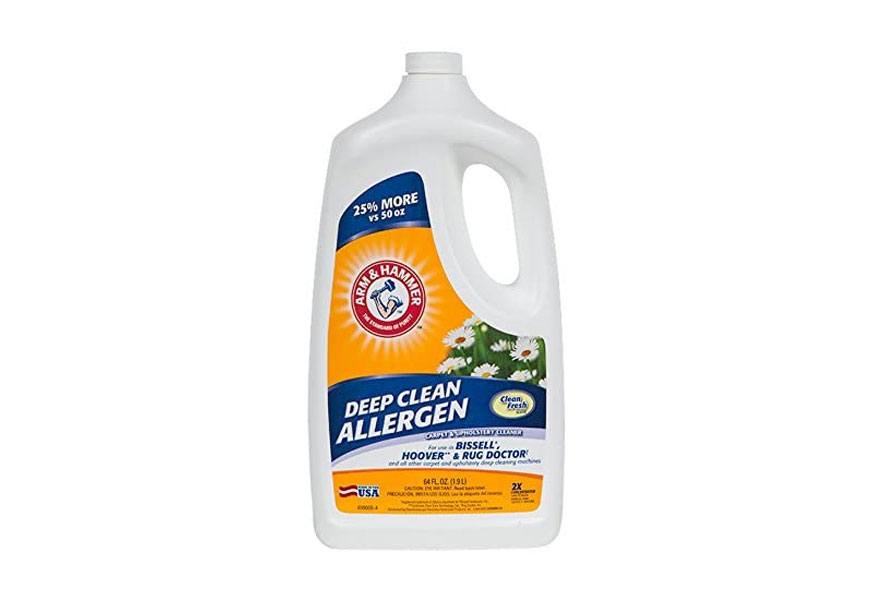 The older generation might know more about Arm & Hammer than the Millenials. The brand has been around for quite a while, and their longevity speaks to the quality of their products. Still, we included their product in our list of best carpet cleaner solutions because of their longevity. With the Arm & Hammer Deep Clean Plus Chemical Carpet Cleaner, we found a carpet cleaner that's truly able to give the best a run for their money.
The manufacturers also promoted this unit as a product that works especially for high-traffic areas of the home. So, if you've got a stain on your living room, toilet, and kitchen carpets, feel free to pop open a bottle of this bad boy and watch as those stains bow before the power of Zod.
The product works rather well for your upholstery. That versatility is one of the major reasons why it makes it on to our list. If you have a stain on your furniture or some other home appliance (except electronics and electricals, of course), the Arm & Hammer Deep Clean Plus Chemical Carpet Cleaner is always ready at your service.
The product also neutralizes odors. Customers have complained about its smell, although the manufacturers did add the Arm & Hammer Baking Soda to cushion the unpleasant odor.
Key Features:
Deep cleaning operation
Works with Hoover and Rug Doctor machines too
Arm & Hammer Baking Soda
Specification:
Brand

Arm & Hammer

Model

69900B

Weight

4.3 Pounds
Takes our smells and stains
Works with upholstery
Dries fast
Its smell neutralizer doesn't work in all cases
Puracy Professional Carpet Cleaner Machine Detergent
Here's a brand that you don't see every day. Puracy is a brand that specializes in selling household essentials and products. The company is based in Texas, and they claim that all their products are natural and free of any synthetic ingredients. This stain remover mixes a strong stain remover with a citrus-based deodorizer to provide that elegant mix of stain and odor eliminator.
You can also use the product on all surfaces, regardless of whether they're carpets or not. As long as you can clean and wash the surface, then the Puracy Professional Carpet Cleaner Machine Detergent is a perfect choice for you. This cleaning solution from Puracy works by loosening the stains from your carpet fibers, thus allowing you to clean it off in one fell sweep. The manufacturers also assure users that they will be able to use the product with all major carpet cleaning machines.
The product is safe for use in residential areas. You can even use it around children and pets without worrying about any reactions. If you value effectiveness and versatility, then there's no reason why you shouldn't be comfortable going with this product right here. You may also be interested in some of the best carpet tapes from our list, so take a moment to check them out.
Key Features:
Loosens stains for easy cleaning
Works with all carpet cleaning machines
Natural ingredients
Specification:
Brand

Puracy

Model

PCS25

Weight

1.56 Pounds
No synthetic materials
No reactions with the skin
Versatile
Not as strong as a lot of other carpet cleaning solutions 
ZPEZUHTC128 – Zep Commercial High Traffic Carpet Cleaner
One of the hallmarks of the best carpet cleaning solutions is the ability to take care of areas that get the highest levels of traffic in the house. With that in mind, you can rest assured that you've got a capable hand in the ZPEZUHTC128 – Zep Commercial High Traffic Carpet Cleaner. The product was manufactured by Zep, an American provider of cleaning solutions for retail and commercial purposes. The firm has been in the market for over 80 years now, and they know their onions.
On the ZPEZUHTC128 – Zep, however, perhaps the most significant benefit is its ability to take care of high-traffic parts of the house. The product loosens dust and stain materials seamlessly, thus helping you to easily clean the entire carpet without stress. The product also comes with enzyme action, which Zep claims will be able to take out any terrible smells that the stain leaves behind. The product dries fast, and it mixes well with water. You'll also love the fact that it can take out discoloration from carpet materials.
The product doesn't work well with all carpet cleaner machines. Several customers have pointed out that it didn't work as promised for them, so you might need to consult the manufacturer's website for more information.
Customers have also complained that it leaves a residue, so be ready to do some light cleaning after applying it. For more excellent products like this, check out our selection of the best steam carpet cleaners.
Key Features:
Enzyme action
Quick-drying
Deep action cleaner
Specification:
Brand

Zep Commercial

Model

ZUHTC128

Weight

8.5 Pounds
Dries fast
Works for high-traffic areas
Takes out odors too
Leaves a residue
Doesn't work with every machine
If there's any other brand that would have had two entries on our list of best cleaning solutions, then it would have to be BISSELL. With the BISSELL Spot & Stain, the popular brand appears to have struck gold again. The product removes both odors and stains with mercurial accuracy, thus making it perfect for any surface you want to clean and see shine once more. As expected, the product also works well with upholstery, so you will be getting an encompassing cleaning solution that works for just about anything.
The standout feature of this carpet cleaning solution, however, is the formulation with renewal scent and Febreze Spring. This one-two punch of great smell and effective cleaning doesn't put much of a strain on your pocket, although it's a tad pricier than many products on our list. Still, considering what you're getting, you should agree that it's more than enough of a bargain. Note that it contains no heavy metals or dyes, so it's great for people with allergies and can even be used with pets and kids around.
Key Features:
Formulated with Febreze Spring
Quick action
The deep-acting stain removal process
Specification:
Brand

Bissell

Model

7149

Weight

2.15 Pounds
Great with pets and kids around
Smells great
Ideal for people with allergies
Customers have questioned its cleaning efficiency
Sign Up Now
GET THE VERY BEST OF GEARHUNGRY STRAIGHT TO YOUR INBOX