Best Tillers In 2022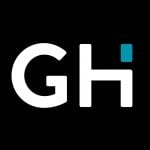 This product guide was written by GearHungry Staff
Last Updated
May 12, 2020
GearHungry Staff
GearHungry Staff posts are a compilation of work by various members of our editorial team. We update old articles regularly to provide you the most current information. You can learn more about our staff
here
.
GearHungry may earn a small commission from affiliate links in this article.
Learn more
Spring is one of the best seasons of the year and if you have a garden, you know there is a lot of work that needs to be done getting the garden beds ready for planting. One such task is tilling the soil. This is the process of digging and aerating the soil to make it easy to plant and grow things like flowers, vegetables, herbs, and some fruits.
Tilling has been a task traditionally done with a variety of gardening tools such as shovels, picks, and hoes. However, this can be a difficult task when the ground is particularly hard. A patch of earth that has not had anything planted in it for a while or, if you live in a climate with harsh winters, the soil will be quite compact and hard when it comes time to plant again. Digging and tilling will soften the soil, making it nice and loose which will make planting easier. The loose soil also gives the plant's roots room to move. If you're tired of backbreaking work just to achieve a decent garden bed, get yourself a tiller. The best tillers will make your soil light and airy so you can enjoy a bumper harvest for whatever you plan on growing this season.
The Best Tiller
Sun Joe TJ603E 16-Inch 12-Amp Electric Tiller and Cultivator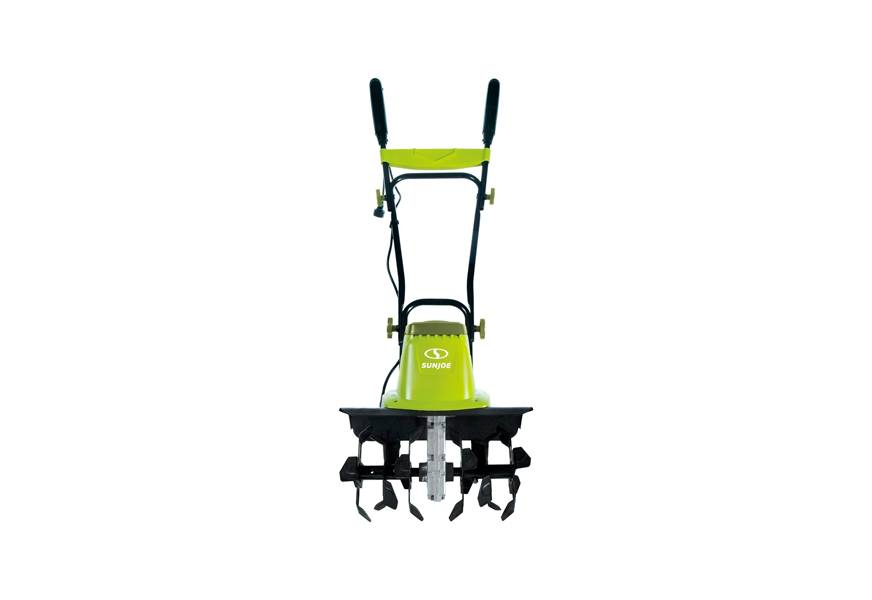 Gardening should be one of those activities we enjoy doing, not a chore we dread doing. With the Sun Joe Electric Tiller and Cultivator, you can let the tiller do the hard work of preparing and cultivating the soil so you can enjoy the relaxing aspect of planting your favorite vegetables, herbs, or flowers. This tiller has a powerful 12-amp motor that can turn over and aerate an area that is 16 inches wide and 8 inches deep in mere seconds. It does this with 6 durable steel angled tines and with a 3-position wheel adjustment you can cultivate a large area of your yard without the back-breaking labor. The handle of this tiller folds so you can easily store or transport the tiller and staring is effortless. For an easy to use, low maintenance tiller, Sun Joe has come up with a definite winner. If you like this type of tools, make sure to check out our list of the best electric weed wackers as well.
Key Features:
Powerful 12-amp motor
Cultivates up to 16" wide x 8" deep
Folding handle for storage
3-position wheel adjustment
6 durable steel angled tines
Effortless starting and low maintenance
Specification:
Brand

Sun Joe

Model

TJ603E

Weight

27.1 Pounds
Earthwise TC70020 20-Volt 7.5-Inch Cordless Electric Tiller Cultivator
Power through tedious yard work like never before with this Earthwise 20-Volt 7.5-Inch Cordless Electric Tiller Cultivator. This is a cordless electric rototiller cultivator that is perfect for turning the soil in small gardens and flower beds. The soft ergonomic grip gives you comfortable working and it is super easy to operate and store away in your garden shed when the work is done. This electric tiller for garden work is powered by a 20-volt 2Ah lithium-ion battery eliminating the hassle of cords and cables. If you like cordless products, check out these awesome cordless lawn mowers.
Key Features:
Cordless electric rototiller cultivator
20-volt 2Ah lithium-ion battery power
4 adjustable steel tines
Effortless and comfortable operation
Easy storage
Ideal for turning soil in small areas
Specification:
Brand

Earthwise

Model

TC70020

Weight

9 Pounds
Corona LG 3624 Soil Tiller
If you want a simple hand power tiller, you can go wrong with the Corona LG Soil Ripper. This one has long steel tines to get the job done fast and is amazing at turning and aerating the soil and yet with the ComfortGel handles, you'll avoid feeling fatigued even after gardening for a few hours. The all-metal footplate can easily withstand high load-bearing pressure and the Quick Release Plunger has been designed to efficiently put out dirt and mud making tilling super easy. This hand tiller is tough enough for even highly compacted soils so you can have a great looking garden this spring. Don't forget to check out these quality top mattocks as well.
Key Features:
Suitable for tuning and aerating soil
Durable and heat-treated carbon steel tines
ComfortGel handle
Quick-release plunger
High-load bearing all-metal footplate
Self-sharpening steel tines
Specification:
Brand

Corona

Model

LG 3624

Weight

6.25 Pounds
Fiskars 40 to 60-Inch Telescoping Rotary Tiller
Hand tillers make the work of preparing garden beds relatively easy and the Fiskars 40 to 60-Inch Telescoping Rotary Cultivator is a great tiller for loosening soil, removing weeds, and aerating soil. This one has six rust-proof aluminum cultivating wheels that allow you to power through the task and get your garden ready for planting. The telescopic handle eliminates the need to bend or kneel which is perfect for everyone, including active seniors. It also has a removable center wheel for cultivating around seedling rows, giving you neat rows and a garden that is thriving and visually pleasing. Here are some practical pitchforks you might also need for your garden.
Key Features:
Loosens and aerates soil and removes weeds
Six rust-proof aluminum cultivating wheels
Adjustable telescopic handle
Removable center wheel
Lifetime warranty
Lightweight and durable FiberComp head
Specification:
Brand

Fiskars

Model

98966935

Weight

2.4 Pounds
Corona GT 3070 Extendable Handle Tiller & Cultivator
Tilling soil by hand has never been easier when you tend the soil with a Corona GT 3070 Extendable Handle Cultivator. This one has a strong, lightweight aluminum handle that is adjustable from 18 inches to 32 inches for extra reach. This means you can adjust it to the perfect height for each user so they can till the soil without any back strain. The head is fully heat-treated for enhanced durability and the chip-resistant carbon dioxide coating eliminates the likelihood of rust and corrosion. Discover some more handy gardening tools in our guide on the best garden forks.
Key Features:
Strong, lightweight aluminum handle
Adjustable from 18 inch to 32 inches for extra reach
Head is fully heat-treated for enhanced durability
Chip-resistant carbon dioxide coating
Comfortable grip and ferrule
Limited lifetime warranty
Specification:
Brand

Corona

Model

GT 3070

Weight

1 Pound
The Yard Butler Twist Tiller is one of the most effective hand tillers you can use in your garden. This is a weeder, cultivator and aerator all in one with a solid steel shaft and an extra-wide high leverage handle that makes it easy to work on all types of garden beds including raised beds. It features unbreakable, sharp-angled claw tines that will make short work of even the most compacted soil and when your garden beds are well tilled and properly aerated, it allows water and other nutrients to flow around the plant roots more efficiently so you'll have the best looking garden on the block. Choose one of the best robotic lawn mowers to achieve the perfect lawn quite effortlessly.
Key Features:
Heavy-duty manual tiller
Weeder, cultivator & aerator in one
A hand tool with solid steel shaft
Extra-wide high leverage handle
Perfect size for raised garden beds
Unbreakable, sharp-angled claw times
Specification:
Brand

Yard Butler

Model

100049491

Weight

4.5 Pounds
Garden Weasel Garden Claw Pro
The Garden Weasel Garden Claw Pro is appropriately named as it can help you cultivate, loosen, aerate and weed soil like a total professional. This tiller is ideal for large areas of your garden but is also great for small flower beds. The multipurpose tines are adjustable so you can change them to suit the type of gardening you are doing and it is easy to use with a simple turn of the comfortable grip handle. Whether you are planting crops or sprucing up your flower beds, all you need is this one great hand tiller. Make sure to check out these garden stools that will make your life so much easier.
Key Features:
Made from durable carbon steel
Cultivate, loosen, aerate, and weed soil
Ideal for large spaces & small gardens
Multipurpose adjustable tines
Easy to use with a simple turn
Comfortable grip handle
Specification:
Brand

Garden Weasel

Model

91334

Weight

2.4 Pounds
Yard Butler Rotary Cultivator
If you can push a hand-powered lawn mower, you can easily till your garden with a Yard Butler Rotary Cultivator. This is one of those tillers that is simple enough to use and can help you till and cultivate hard-packed soil in readiness for planting. It is made from durable powder-coated steel with specially designed bladed wheels that turn through the soil quickly for perfect garden beds. It also has removable blades that are adjustable for precision cultivating. The handle is adjustable from 32 to 52 inches so you can adapt it to your height to make tilling a lot easier.
Key Features:
Made from durable powder-coated steel
Easily till and cultivate hard-packed soil
Specially-designed, bladed wheels
Removable blades adjust for precision cultivating
Adjustable handle adapts to your height
32"-52" inches tall, 8 inches wide
Specification:
Brand

Yard Butler

Model

IRC-3

Weight

0.16 Ounces
Flexrake CLA105 Classic Flower and Vegetable Tiller
When you need to get to the finer points of gardening like weeding and aerating your garden beds to help your plants grow better, this Flexrake Classic Flower and Vegetable Tiller is the perfect garden hand tool. This one has been made with quality craftsmanship with beautiful details. It has been heat-treated for strength and durability with a non-slip grip and hand-finished details. If you prefer to do your gardening with traditional garden tools, this one is for you, just like these garden trowels.
Key Features:
Classic flower and vegetable tiller
Quality craftsmanship and beautiful details
Heat-treated for strength
Oak hand turned handles
Non-slip grip & hand finished
Specification:
Brand

Flexrake

Model

100053743

Weight

14.1 Ounces
BLACK+DECKER LGC120 20-Volt Lithium-Ion Cordless Garden Cultivator/Tiller
BLACK+DECKER is name you know and can trust when it comes to power tools and this Cordless Garden Cultivator and Tiller is one you can trust to help you get your garden in tip-top shape. The tiller is powered by a 20-volt MAX lithium-ion battery that can cultivate up to 325 square feet of your garden with every charge. The lightweight upright design is easy on your back and the counter-oscillating tines have been designed to prevent weeds from becoming tangled. If you like this product, you will also love these lawn dethatchers.
Key Features:
Powerful transmission with dual tines
Powered by 20-volt MAX lithium-ion battery
Lightweight upright design
Cultivates up to 325 square feet per charge
Counter-oscillating tines prevent tangling weeds
2-year limited warranty
Specification:
Brand

BLACK+DECKER

Model

LGC120

Weight

11.73 Pounds
Tiller Buying Guide & FAQ
Features To Look For In Tillers
Handheld or Long Handled – Most tillers are either handheld models or long-handled. The one you choose may depend on the type of gardening you are engaged in and your muscular-skeletal health. Handheld tillers are ideal for maintaining a garden as you can use them for aerating the soil around your plants and removing the weeds. These handheld tillers are also perfect when you are working on raised flower beds.
Long-handled tillers are more suited for grunt work where the soiled has become hard or compacted. This is usually the case after a long, cold winter when the soil has remained dormant after the inactivity of autumn and winter. The long-handled tillers are also a better choice for those with issues in their backs and knees. The long handles make it easier to complete the tilling and cultivating while standing.
Material – Tilling hard, compacted soil can be a difficult task and if you've ever tried to do this with a flimsy tool, you'll know how ineffective they can be. The materials used in the production of tillers need to be made of solid metals that can withstand being forced into hard ground to till and cultivate the soil. In some tillers with tines, these also need to be solidly made with strong, durable metals. When it comes to motorized tillers, the motor needs to be quite strong with equally strong blades or tines. While there are plenty of inexpensive options available, it will actually be cheaper, in the long run, to get yourself a tiller made of high-quality materials as a reassurance that your tiller will last you for many years.
Handle Grip – While gardening is a relatively tame task, you can still be injured if you can't hold on to your tools properly. Whether you are working with hand-powered tillers or motorized ones, a good grip is essential for your safety and for getting the job without hindrance. Look for handles with a good rubber grip that feels comfortable in your hands and that allows you to move the tiller with ease.
Handle Length – A short handle length is ideal for small garden beds or for garden maintenance like aerating the soil or removing weeds. It's not really effective when you need to work on larger gardens as it would simply take too long with a short handle.  Long-handled tillers are more effective at tilling and cultivating larger garden beds and are the preferred tillers for those with back and knee problems. The longer handles allow you to complete your gardening without bending or kneeling. Some handles are even telescopic so you can adjust them to adapt to your height.
Shape – There are many different shapes of tillers. There are straight tines that can easily penetrate through hard soil to be tilled and aerated but you can also find curved or clawed tines that can be twisted into the soil which is useful for loosening and aerating the soil. Some tillers have blades or wheels. With or without tines, these make the work of tilling the soil quite easy.
Size – The size of the tiller you choose will depend on the size of your garden. There is no need to invest in a large tiller if you only have a few garden or flower beds. Fortunately, there is a perfect sized tiller for every garden so choose one appropriately sized for your horticultural needs. A small handheld tiller will be sufficient for a few flower beds, while for crop gardens it may be worthwhile to get a larger tiller or even a power tiller.
Types Of Tillers
There are basically two types of tillers and they are power tillers and hand tillers.
Hand tillers are simple enough to use. They feature a long grip handle that sits across the top of the tool and this allows you to grip the handle and twist the tiller into the soil. The smaller tillers are also easy to use and simply require you to stab into the soil to loosen it up and make it easier for water and nutrients to move around the roots of your plants. Some hand tillers work on blades or wheels that roll over the soil, churning and aerating at the same time.
Power tillers work on the same principle as hand tillers, but they make use of a motor to not only get the job of tilling done much faster but also facilitate tilling larger areas. Most tillers work on a push or pull method in which the base of the tiller rolls over the soil during operation.
Tiller FAQ
Q: What are tillers?
A: Tillers are simply gardening tools that are designed break down hard, compacted soil into soft, loose soil that makes planting seeds or seedlings easier. Tillers are often mistaken for cultivators. The main difference between a tiller and a cultivator is the function they perform with the soil. A tiller is more powerful and is used to break and loosen hard-packed soil while a cultivator is used to do the finer task of aerating the dirt into finer soil that makes planting easier.
Q: What is the best tiller for clay soil?
A: If you've ever worked with clay soil you know it is a different type of soil to work with. Clay soil is often more compacted than other soils and is quite sticky and difficult to work with. It resembles tightly compacted mud and comprises of minerals, dirt, and moisture. Trying to till clay soil by hand is considerably difficult as the clay seems to stick to the tiller's tines or blades. A rototiller is usually more effective at tilling clay soil as it rolls over the dirt, breaking it up in the process. Fortney, rototillers are available in hand-powered and motorized versions so you can choose the one best suited to your needs and the size of your garden.
Q: How does a tiller work?
A: A tiller works by breaking up hard, compacted dirt and loosening it up into smaller particles to facilitate soil aeration. This not only allows for water and nutrients to flow more easily around your plants, but it can also be a method of minimizing the number of weeds growing in your garden, crop, and flower beds.
Q: What are the benefits of using a tiller?
Tilling the soil has a number of benefits in the world of horticulture. By using a tiller in your garden, you can prepare the soil by breaking it up into smaller pieces, aerate the soil and even use a tiller to thoroughly mix manure and other fertilizers in with the soil. By tilling or turning the soil once or twice a year, you can decrease the number of insects and weeds in your garden beds which will be beneficial to your plants. Soil that is tilled or aerated is also more beneficial to your plants. When the soil is hard-packed, your plants' roots will have a hard time expanding and reaching out to absorb water and nutrients from the soil. This will drastically stunt the growth of your plants. By working the soil, you will keep your garden beds well aerated and oxidized, which your plants will love and they'll have a better chance of thriving.
As the weather warms, you'll feel your green thumb activating and when it does, it's time to get out into your garden and get those beds ready for planting. Use a tiller to loosen the dirt without unnecessary strain to your back and make those garden beds are a comfortable place to rest your plants.
Sign Up Now
GET THE VERY BEST OF GEARHUNGRY STRAIGHT TO YOUR INBOX