Get Shredded: The Best Leaf Shredders In 2022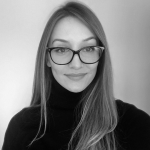 This product guide was written by Jovana Dosenovic
Last Updated
August 23, 2022
Jovana Dosenovic
Jovana is a writer and copy editor living with her lazy calico cat and thousands of (mostly unread) books. She has worked as a copywriter, fact-checker, QA analyst, and librarian, but this has been her favorite gig so far. A bit of a bookworm since she was tiny, she loves nothing more than curling up with a giant cup of coffee or tea and a good book. When not hunched over a keyboard or book, Jovana enjoys going on long walks, short hikes, and occasional camping trips. She also has an unfinished novel she'd like to publish one day. No, really.
GearHungry may earn a small commission from affiliate links in this article.
Learn more
Anyone who's done their fair share of yard work knows how much hassle collecting leaves can be. They are deceivingly bulky and can quickly take up more space in and around the garden than expected. If you want to keep your yard clear all year, we highly recommend exploring the world of best leaf shredders.
Capable of decreasing huge, messy leaf piles to small and useful mounds of mulch that you can use to fertilize your lawn in an environmentally friendly way, leaf mulchers or leaf shredders are perfect for keeping your yard neat and your garden healthy.
To help you find the best leaf mulcher for your needs, we researched dozens of different models, evaluating each one's efficacy, capacity, safety features, and ease of use. The electric leaf mulchers and gas-powered leaf mulchers below are some of the best ones on the market and will help you clean up the fallen leaves and create great compost for your garden. So, grab your gardening gloves, get the kids to grab you a drink, and let's start shredding.
The Best Leaf Shredder
Worx 13 Amp Electric Leaf Shredder
Our top pick for the best leaf shredder in the stand-alone category is the Worx 13 Amp Electric Leaf Mulcher which offers a mighty 53 gallons of shredding and mulching per minute, making it one of the most efficient units we've selected. With a mulching ratio of 11:1, this corded leaf mulcher reduces 11 bags of dried leaves to a single bag of small shreds.
It's super easy to put together, with fast, tool-free assembly, which also means it is easy to store once winter rolls around. The collection bag fits perfectly underneath to catch your mulched leaves, making it easy to move them from the yard to wherever you want to put them. Many customers have commented that it makes for great fertilizer, so if you've not explored that option yet, keep it in mind. However, the bladeless trimmer feels a little too flimsy for some, particularly folks who also like to shred twigs and branches. You can purchase alternatives online, though, so if there's enough about this electric leaf mulcher that you love, this minor problem shouldn't affect you too much.
If you are looking for more awesome products for your garden, check out our guide to the best hedge trimmers.
Key Features:
13 amp motor mulches up to 53 gallons of leaves per minute
Leaf to mulch ratio of 11:1
Oversized switch for easy start and shut off
Quick and convenient tool-free assembly and disassembly
Safe to use featuring safe string trimmer lines
Dust reduction thanks to clean air cooling system
Specification:
Brand

Worx

Model

WG430

Weight

24.3 Pounds
Powerful enough to cut through wet leaves and grass clippings
Quick, tool-free assembly
Ultra compact for easy storage
Plastic cutting strings are a little flimsy
GreatCircleUSA 7HP Gas Powered Heavy Duty Leaf Shredder
When it comes to the best gas-powered models, this heavy-duty unit from Great Circle USA takes the crown. It's the ideal choice for gardeners and folks with large backyards or extensive lawns as it can tackle volume cleaning up at speed. From dead leaves to branches covering your land, this 3-in-1 wood chipper shredder machine can easily handle all your chipping, shredding, and mulching needs. It features a top hopper and a side chute so that you can efficiently tackle all kinds of cleaning-up jobs around the garden. The large-capacity top hopper is great for volume shredding. It has a mulch reduction capacity of 15:1, which makes excellent recyclable compost to sustain a natural outdoors ecosystem. The side chute features a 3-inch diameter cone ideal for smaller branches and tree limbs, keeping you safe while saving time and energy. The third vacuum style option enables you to load leaves via the vacuum inlet for convenient mulching without raking by hand. Simply attach a side loading bag to capture and collect wood chips and mulch cleanly.
The final point is regarding that sturdy and reliable gas-powered motor. It's fitted with a 7 HP 212 cc recoil engine that features a forced-air cooling system, a safe fuel shut-off function, and a low oil sensor that shuts down the engine if it detects that it's running too low for safe operation. It runs on a minimum of 87+ octane gasoline and has a maximum capacity of 0.7 gallons. Yes, it's pricy, but it will mulch leaves, chip twigs and tree branches, and shred brush with ease.
Key Features:
Mulching ratio of 15:1
3-inch max wood diameter chipping capacity
Powered by a 7HP/212ccc gas engine with powerful recoil
Top hopper for volume chipping and side chute for small branches
Versatile and multi-functional chipper/shredder/mulcher
Specification:
Brand

GreatCircleUSA

Model

LCE01

Weight

132.3 Pounds
Multifunctional 3-in-1 design for leaves, branches, and brush
Quite powerful, and the 3-inch diameter is just right for bigger branches
Easy to start and handle
Well-built and easy to maintain
Some reviewers report that assembly instructions are vague
The reusable collection bag is a bit fussy so it doesn't always stay in place
Sun Joe CJ603E 15-Amp Silent Wood Chipper/Shredder
Silent running yet powerful enough to turn leaves, branches, and twigs into eco-friendly mulch that can be used as compost, the Sun Joe's CJ603E Wood Chipper/Shredder is one of the best leaf mulcher models on the market. This model has one of the best leaf to mulch ratios we've reviewed at a highly impressive 21:1. The robust and reliable 15-amp motor also works quickly and efficiently to chip and shred even slightly thicker branches up to 1.73-inches in diameter.
This Sun Joe leaf shredder is compact, portable, and comes fitted with 7-inch wheels, so it's easy to transport. It's lightweight yet robust, and you should have no problem maneuvering it around your backyard. The slimline design also makes it convenient to store away when not in use: simply store it in your garden shed or garage when winter rolls around. It's also very low maintenance and requires minimal cleaning, and you can just wipe it down with a damp cloth when it picks up any dirt. While the motor may be powerful, essential safety features are incorporated into the design, including a locking knob that prevents the motor from being operated when the hopper is open. The built-in safety stop automatically engages so you can clean up your yard and enrich your garden with confidence and ease.
Key Features:
Mulching ratio of 21:1
Fitted with a powerful 15-amp motor that can tackle branches up to 1.73-inch thick
Compact design featuring 7-inch wheels for easy portability
Electric operated for zero carb emissions and cleaner air
Equipped with important safety features, including a stopping mechanism
Specification:
Brand

Sun Joe

Model

CJ603E

Weight

38.6 Pounds
Efficient with an excellent mulching ratio
Easy to use and move around the yard
Compact design, easy to store
Not suitable for damp leaves
Known to clog, but thankfully it's simple to unclog
Sun Joe 13 Amp Leaf Mulcher/Shredder
The Sun Joe 13 Amp Leaf Mulcher/Shredder comes with an easy-to-control dial, which helps you alternate between damp or dry garden waste. This feature is crucial for preventing blockages and any potential damage that could occur, so good on Sun Joe. The fun doesn't stop there, though. You can also mulch up to 55 gallons of leaves per minute at an astounding 8000 RPM. Also included is Smart Shred technology, which, combined with an advanced motor cooling system, ensures safety, and we love safety.
You must keep an eye on the waste bag, though, as it has a habit of shifting out on the place, dumping freshly mulched leaves all over the floor. As long as you're vigilant, you'll find there's almost too much to love about this stand-alone leaf mulcher, including its budget-friendly price. We're also fans of its compact design: with removable legs, you can nest the motor housing inside the hopper for easy storage.
To keep your lawn perfect, check out these reliable riding lawn mowers from our list.
Key Features:
Mulching ratio of 16:1
Features a powerful 13 amp motor generating up to 8000 RPM
Lightweight and durable construction
Ability to process 55 gallons of leaves per minute
Durable dust reducing air cooling system
20 replacement cutting lines included
Specification:
Brand

Sun Joe

Model

SDJ616

Weight

13.4 Pounds
Reduces yard waste up to 1/16th of the original size
Handles both dry and wet garden waste
Eco-friendly electric operation
The waste bag doesn't stay in place for the duration
Not suitable for thicker twigs or branches
Flowtron LE-900 Leaf-Eater Mulcher/Shredder
Despite sounding like a terrible reboot of a dying Sci-Fi franchise, the Flowtron LE-900 is probably more successful than any desperate cash grab released in recent years (looking at you, Transformers). It has many cool features, including shredding adjustment settings ranging from coarse to fine and easy-angle positioning. With a two-step process, you can shred leaves and then mulch them for fast cleanup and maximum waste reduction. The unit is also lightweight and portable, so you'll have no trouble dragging it around the yard or storing it when the weather turns.
You can't throw just anything in there, though, as this leaf mulcher is only effective with leaves and needles as opposed to larger garden waste like branches, thicker twigs, etc. That being said, when used properly, it's quick, efficient, and even fun to use. This is the best leaf mulcher for you if you're looking for an efficient unit with a high mulching ratio.
It also makes a perfect gift for gardeners in your life.
Key Features:
Coarse to fine shredding; mulching ratio 30:1
Universal motor with overload protection
Can be positioned at any angle for easy loading
Two-step process both shreds and mulches leaves
36 cutting lines included
Specification:
Brand

Flowtron

Model

LE900

Weight

17 Pounds
Fast, straightforward assembly right out of the box
Fast-operating for efficient shredding and mulching
Lightweight and easily portable design
Only effective with leaves and needles, not other garden waste
Earthwise 15 Amp Garden Electric Chipper
The Earthwise 15 Amp Garden Electric Chipper/Shredder comes with its own 10.5-gallon collection bin for your and the planet's benefit and boasts the ability to shred branches, leaves, and twigs up to 2 inches thick. This is combined with a safe, secure leaf chute instead of more shallow and open designs. Instead of shredding string, you get heavy-duty steel blades (although there aren't any replacements) which you can sharpen when they don't work as efficiently as they once did.
This electric leaf shredder greatly minimizes yard work, and includes a security circuit breaker to prevent overheating, which is ideal for anyone who can't help but add more leaves, and more leaves, and even more leaves. However, while effective, the chute and blade design can lead to some clogging issues when clearing damp leaves, which can be a challenge to solve considering the setup. To overcome this, some reviewers recommend having a plunger on hand. It's not an ideal solution, but if it works, it's not stupid either. Overall though, this is one of the best leaf mulchers in this category and price range.
Find more great products for your garden by checking out our guide to the most effective weeding tools.
Key Features:
Capable of shredding branches, leaves, and twigs up to 1.75-inch thick
Steel blades for more efficient, reliable shredding
15-amp motor, up to 4500RPM
Leaf chute and tamper tool keep your hands free and safe
10.5 gallon (40 liters) collection bin
Specification:
Brand

Earthwise

Model

GS70015

Weight

31 Pounds
Shreds a variety of garden waste, including branches up to 1.75 inch thick
Comes with its own large collection bag
Circuit breaker reset prevents overworking
Possible clogging issues, so make sure you have a plunger handy
Sun Joe CJ601E Electric Wood Chipper/Shredder
Looking for an affordable, light, compact, and efficient leaf mulcher? Check out Sun Joe's CJ601E Electric Wood Chipper/Shredder as it's small, can handle anything from leaves to twigs to small branches, and comes with the right price tag. This one features a 14 amp motor, which can help reduce your yard waste up to 1/16th its original size. Perfect for mulching leaves and using them in your nutrient-rich compost pile!
The Sun Joe CJ601E model also has plenty of safety features, including a hopper locking knob to prevent the motor from running when opened and a reset button in case you overload the chipper. We're also big fans of its portable and compact design: with 6-inch wheels, you can easily store it in your garden shed and take it out as needed. However, like most leaf mulchers, this model is prone to clogging from time to time. Thankfully, unclogging it is pretty simple: just unplug it and unscrew the red knob to get to the clog. Light, portable, and easy to use, this electric mulcher is worth every penny.
Key Features:
Handles leaves, twigs, and branches up to 1.5 inches thick
14 amp motor, up to 4,3000 RMP
6-inch wheels for easy portability
Reduction ratio 16:1
Safety locking knob
Specification:
Brand

Sun Joe

Model

CJ601E

Weight

25.4 Pounds
Light, compact and portable
Great value leaf mulcher
Handles leaves, small branches and pine cones
Blades do dull fairly quickly, so regular sharpening is a must
Why Trust Us
To give you the best leaf mulchers and shredders, we spent a little over a week researching the market, looking into brands, comparing the best-sellers, and reading both positive and negative leaf shredder reviews. While the selection process was slow and tricky, we're certain we came away with top-quality units that are not only efficient and safe but also reasonably priced.
Who This Is For
This guide is for anyone tired of stuffing leaf piles into bags. Whether you're looking for an affordable electric leaf shredder that doesn't make much noise or a powerful gas leaf mulcher for home and professional use, we've got you and your yard covered.
How We Picked
When selecting our roundup of the best leaf mulchers for this guide, we looked at compact, safe, easy-to-use, and efficient models with high mulching ratios. While we included both electric and gas-powered leaf mulcher models, our main focus was on light and portable electric units.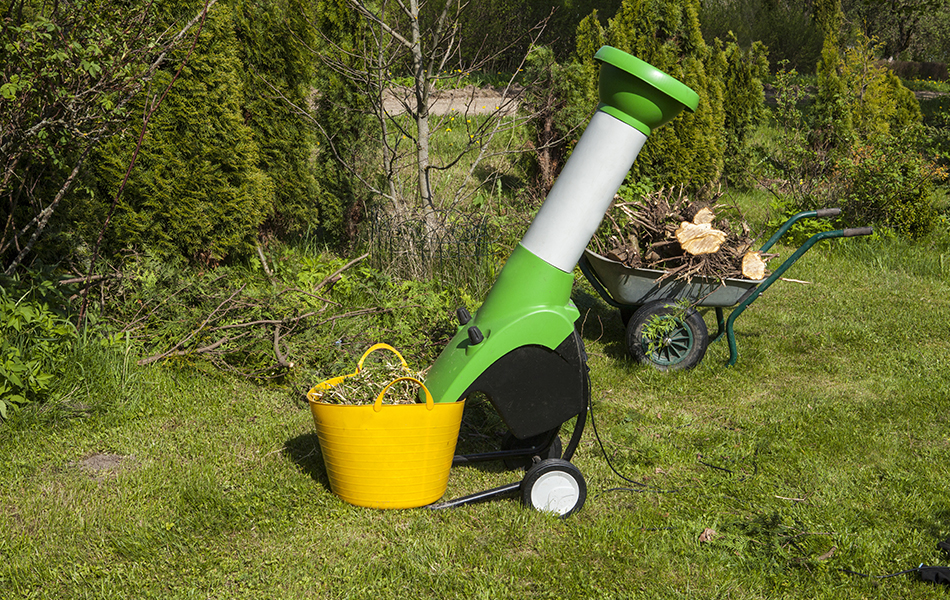 Features To Look For In Leaf Shredders
Before you make that order final, make sure you've found a leaf shredder that's best suited to your needs. We know it's tempting to go straight for the option with the best features, or the one that will take the most leaves, or whichever shredder costs the least, but this doesn't mean it's the right product for you. Consider the size of your yard, the amount of work the shredder will undertake, your storage options, potential noise complaints, and whether it will harm the environment.
Power - Everyone loves a tool packed full of power, and these leaf shredders have heaps of them, ideal for any leaf shredding, crushing, cutting, or mulching job you can throw at them. Ranging from 13 to 15 Amps, these babies have enough power to shred your leaves, your neighbors' leaves, and even the leaves of someone you've not even met yet.
This power dictates how quickly you can get the job done, and so if you're working in a commercial environment, you need something that can shred as many leaves as possible in the shortest amount of time. More casual shredders may not need this same power, but the temptation may be too much to resist.
More powerful motors will also avoid blockage, which could be a problem if you try to pack too many leaves in at once. Of course, the more powerful a shredder, the more expensive it is (typically). You know your situation better than we do, so make this decision according to your shredding needs.
Capacity - The capacity of your machine should depend on the size of the job you need to complete. Smaller yards with fewer trees and leaves won't require as large of capacity as you'd need if you were tackling an estate or public park.
Large capacity shredders come with substantially sized bins to deposit leaves into, but most of our readers may not need to consider anything above 10 gallons. If you want to go all out and have the option to shred every leaf you've ever found in one go, then, by all means, go for it.
Noise - Electric leaf shredders aren't as loud as their gas-powered counterparts, but that doesn't mean they still don't make some noise. In fact, it'll be a challenge for you to find a shredder you could describe as 'whisper quiet' as they're still shredding leaves, cracking twigs, and munching away.
It's important to keep this in mind when purchasing a leaf shredder, as too much noise could disturb the neighbors and cause them to file complaints against you, especially if you would like to do your shredding on a Saturday morning. While you won't find a silent shredder, you can still look for the quietest one if potential noise pollution is a problem.
Functions - If your shredder shreds and does nothing else, that's great, you've got what you've paid for, but it's even better if it has a variety of other cool and useful features, too. This can include mulching, cutting, collecting, and chipping.
While these extra features aren't essential for all, they can come in handy for more substantial clearing jobs. And if you work in this industry, they can make your job much more straightforward. Similarly, if you have a lot of yard space, a lot of leaves, and a lot of garden waste to dispose of, they can also ease the stress of garden clutter. To make things even easier, you can also look for a leaf vacuum shredder that does even more of the hard work for you. Often, these additional functions cost little more than standalone shredders, anyway, and whatever you do spend extra will be recouped with speed, efficiency, and happy yards all year-round.
Portability and storage - You won't be able to use your shredder throughout the year, as once winter comes there won't be much point after the initial leaf clearing. When your shredder is taking a break during the colder months, you must have ample storage space to prevent it from sitting out over Christmas and New Year and potentially getting damaged by adverse weather. You can take apart most leaf shredders to make storage easier, which is great news if you're short on space.
You should also consider how portable your shredder is, as this will impact how easy it will be to transport it around the yard. We all know leaves aren't that heavy by themselves, but they can be surprisingly dense in a bunched pile. You don't want to be the person who carries their leaves from one end of the yard to the other several times a day because you lack the foresight to invest in a suitably lightweight option, do you? The best thing to do is to look for a product with durable, heavy-duty wheels, as these can withstand years (maybe decades) of use.
Environmental impact - Naturally, electric shredders are more environmentally friendly than gas-powered shredders, so you're already doing your bit for the planet by investing in an electric unit over a gas-powered one. This responsibility doesn't stop there though, and while you are using electricity, this can still impact both the world around you and your own utility bills, especially if you pick a more powerful shredder.
Shredders with built-in mulching technology can help you further contribute to a better environment, and you can add mulched leaves to your compost bin (or a separate mulch bin) and use it as fertilizer to encourage plant and grass growth. These machines will also often come with reusable collection bags, further promoting sustainability and encouraging users to be more responsible for the environment.
Safety - We know safety is not exactly fun to talk about, but we have to, and we could never forgive ourselves if something were to happen to you because we didn't make it clear how to safely operate a leaf shredder. It's not just for you or our benefit either, but also for your kids, who - in classic child fashion - are a curious breed, eager to flick and fiddle with buttons and switches, stick their hands in dangerous places, and generally do everything they can to maim themselves all in the name of fun.
Generally speaking, you want your shredder to be as safe as it can be. Luckily, the best leaf mulchers and shredders go above and beyond to ensure nothing but safety for you and everyone who may come into contact with it. These safety features include automatic shut-off should the unit overload from clogged feeding chutes, and reset buttons which can be lifesavers should something go wrong.
Many shredders also come with a filter that prevents dust from escaping and stops you from inhaling tiny little leaf particles, which, while not dangerous may not be the best thing for you.
Replacement parts - Any product that comes with replacement parts is immediately a win, and depending on the construction of your leaf shredder, you may be gifted free replacement parts with your purchase (yay!). These parts won't be as exciting as new motors, alternative power cords, or brand-new casings, but they're very useful: shredding strings. Yeah, not super-exciting, but they will come in handy when (not if) your original strings fray or break, hindering their effectiveness and making your shredding job much more of a challenge. However, some customers believe the original strings aren't sufficient and search out alternative options. This is simple enough and can improve your shredding capabilities.
Not all leaf shredders use these strings, though, and if you purchase one that uses metal blades or plastic blades instead, see if the products offer free replacements or spares upon purchase. If not, this could sway you towards a product offering replacements, all for your benefit.
Ease of use and assembly - We all want something that's easy to use and easy to assemble. Some awesome features that make shredding even easier include moveable chutes, which allow you to throw leaves in from any angle, adjustable shredding settings, and automatic leaf disposal.
As for assembly, most leaf shredders can be put together as easily as they can be taken apart, making storage during the off-season more convenient.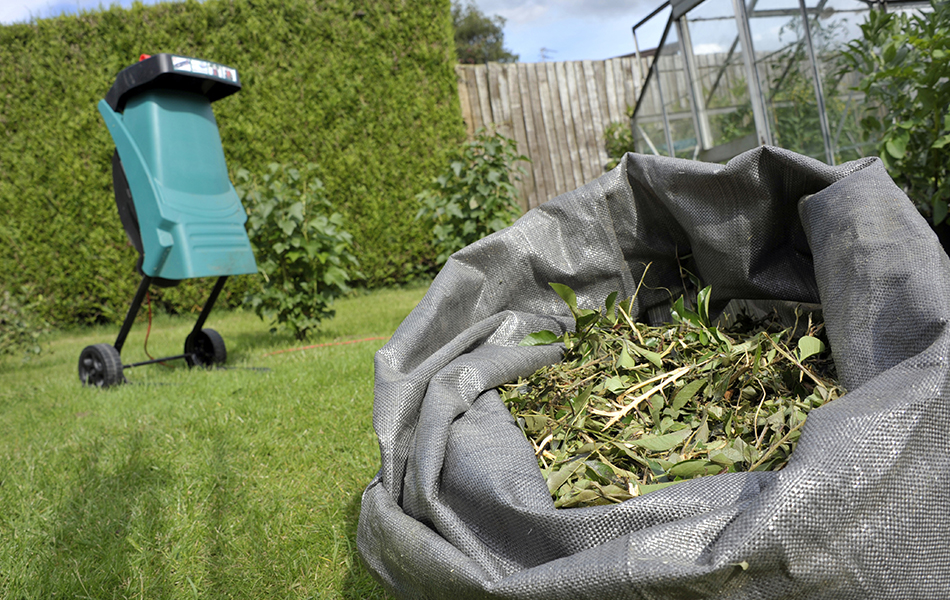 Types Of Leaf Shredder
Corded electric leaf mulchers - Corded or electric leaf shredders are equipped with motors that are rated in amps, ranging anywhere from 8 amps to 15 amps. As you'd expect, the larger this number, the more powerful the electric leaf mulcher. Since they run on electricity, there's no fuel to mix, making them safer to use and more eco-friendly than their gas-powered counterparts. If you're looking for a quiet machine, so you don't disturb your neighbors, you want an electric leaf mulcher or shredder.
The main downside of corded shredders is the fact that they're, well, corded. You're physically limited to the extension cord length, so when shopping for a corded shredder, it's best to look for models with long extension cords.
Gas-powered shredders - Gas shredders measure engine power in cubic centimeters (cc). Similar to electric models, the higher this number, the more powerful the shredder. Gas-powered leaf mulchers are incredibly powerful, making them the ideal choice for professional landscapers as well as folks with large properties with lots of trees. Since they're gas-powered, you won't be limited by the length of the cord, and you also don't have to worry about battery replacements.
On the other hand, you do have to deal with fuel mixing and storing flammable gas. These models are also very loud and more expensive to run.
Cordless battery-powered shredders - Battery-powered electric leaf mulchers run on rechargeable lithium-ion batteries, so there's no oil mixing to worry about, nor is there an extension cord that could limit you. Lightweight and portable, cordless electric leaf mulcher units are usually handheld, so they're easy to maneuver, making them the perfect choice for beginners.
The downside, of course, is battery life. The average run time is 15 to 40 minutes, depending on the battery. If you have a large yard with many trees and are looking for a battery-powered tool, we recommend getting a model with a 40volt battery.
Handheld vs. stand-alone leaf mulchers - Leaf shredders are available as handheld and stand-alone devices, and both versions have their pros and cons.
Handheld leaf mulchers are usually lightweight and easy to maneuver and transport, making them ideal for large yards. Some handheld models offer both blower vacuum and mulcher capabilities, allowing you to blow leaves into manageable piles for easier vacuum collection. On the other hand, these devices don't have as much capacity as standalone mulchers, plus some models are too heavy for long cleaning sessions.
Stand-alone units are bigger and typically heavier than their handheld counterparts, which is a plus because they have more capacity. They are stationary and can be placed anywhere in the yard, but are typically placed right in the center. Since you don't carry them, you don't have to worry about their weight, but you must frequently walk to and from the shredder when cleaning the yard.
Leaf Shredder FAQ
Q: What's the difference between a leaf blower and a leaf shredder?
A: A leaf blower propels air out of a nozzle to move leaves and grass cuttings into manageable piles that you can then shred and mulch with a leaf shredder/mulcher. If you're wondering which one you need for your yard, the answer is both: a leaf blower will help you clean up your garden waste and debris in no time, while a shredder will help get rid of those piles and create mulch for your garden.
Q: Do leaf shredders work on pine needles?
A: Most leaf shredders work well on a variety of yard debris, including leaves, twigs, small branches, and yes, pine needles and even pine cones. They are ideal for creating mulch which you can then use around trees and shrubs to help prevent weeds, protect plants from frost, and slow moisture evaporation.
Q: Are mulched leaves good for compost?
A: Yes, leaf mulch is great for compost! As long as you shred your leaf pile (ideally shortly after the leaves have fallen from the trees) and mix it with a green source of nitrogen, it will make for excellent natural compost.
Q: Why do we need to dry the leaves before shredding?
A: You don't necessarily need to wait for the leaves to dry before you shred them, but it is recommended you do just that with most units. This is because shredding works best and fastest when leaves are dry, crisp, and brittle. Damp or green leaves and grass clippings can clog the blades of some electric leaf mulchers.
Sources:
Put Fall Leaves to Work - Gardener's Supply
Using Autumn's Bounty - Planet Natural
Sign Up Now
GET THE VERY BEST OF GEARHUNGRY STRAIGHT TO YOUR INBOX