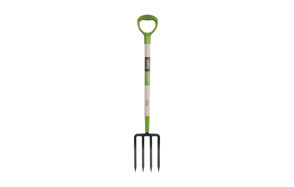 The Ames Companies, Inc Garden Fork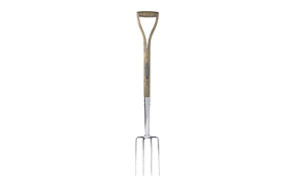 Spear & Jackson R720 Stainless Steel Garden Fork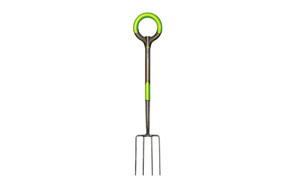 Radius Garden 203 PRO Ergonomic Garden Fork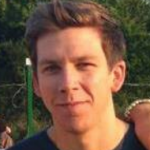 It's always good to get out in the garden, whether you're a professional, a seasoned hobbyist or an amateur; having a decent garden fork is sure to make your life easier.
If you're planning on turning up the allotment or potting some new plants, you've probably found yourself here in search of the best garden fork for your money. We get it, it might not be the most exciting topic in the world for you, so we'll keep it short and sweet as we take a look at the best picks on the market right now so you can spend less time reading garden fork reviews and more time making the most of your garden.
If your garden is home to flower beds or a vegetable patch, a garden fork is an essential tool. Although, not all garden forks are the same, in fact, there are many types to take your pick from. For most gardeners, a digging fork or border fork will usually do the job, so we're taking a look at the best picks right now so you can get started.
The Best Garden Fork
Garden Fork Buying Guide & FAQ
The size of the garden fork you require is dependent on the space you're gardening, so it's important to consider that before you make your purchase. When it comes to the style of a fork, it seems that a D-shape handle crafted from a wooden shaft is preferable when for both comfort and performance. It's definitely worth parting with a little extra cash to get a fork that comes complete with weatherproofing and stainless-steel prongs so that it lasts for a long time.
If you're just getting started with your gardening hobby and you're a little unsure of the features to look for in a garden fork, we're going to give you a helping hand so that you can find the right tool for the job. But first, we're covering all bases and letting you into the secret on how exactly we came up with our selection of the best options on the market right now.

How We Chose Our Selection Of The Best Garden Forks
First and foremost, we looked at what various different gardening brands had on offer so that we could narrow down our search. As you can see, Spear & Jackson were a clear front runner in our search for the top picks. Next, we took price into consideration, we understand that some people see gardening as a necessity opposed to a hobby, so it was important to include options at multiple price points to suit all budgets. Last, but certainly not least, we carefully considered the feedback and reviews on our choices to ensure that they perform as they should. When it came to performance, key considerations included ease of use, durability and comfort. Which leads us onto our next point…
Features To Look For In Garden Forks
Type of fork - There are many types of forks on offer in the market right now, it can be easy to get a little overwhelmed with the choices. To keep it simple, most gardeners, no matter their ability will be more interested in two types of forks. 'Border forks' and 'digging forks'. In a nutshell, border forks typically have a narrower head making them better suited to more confined spaces, whereas digging forks are much bigger, so they are best suited to larger plots.
Length  - For most gardeners, a shaft that is around 28-30 inches it an ideal length so that you can dig in comfort unless of course, you're buying a hand fork. If you're taller than average, you should opt for a longer handle to avoid straining your back, this is particularly important if you spend a significant amount of time gardening each week.
Weight  - If you're digging a large space of soil, it can become somewhat of a workout. So, you want to make your life easier, which is why we'd recommend opting for a fork that ways between 3-4 pounds. A fork of this weight will be durable enough to serve you for a long time without weighing you down whilst you're hard at work. If you're tempted to go for a fork that is significantly lighter than 3-pounds, you should bear in mind that it may not last as long as the options we've featured in our review.

Handle  - Typically, you can get two shapes of handles. A D-shape and a T-shape. It can often be down to personal preference, but a D shape fork tends to be more favourable when it comes to comfort. If you're potting a few plants, you probably won't be too phased by the shape of a handle, but if you're digging for long periods of time, the handle can make a whole lot of difference, even if you're wearing gloves.
Materials  - Generally, the majority of garden forks on offer will be made up of a combination of wood and stainless steel. The handle and shaft are often wooden, with the tines stainless steel. Stainless-steel forks are particularly good if you have clay soil, with the added benefit that they are less prone to rust and will not corrode as easily as some other metals might. That being said, a little care can go a long way no matter what type of steel your fork is crafted from.
Weatherproofing  - Just like most garden appliances and tools, your garden fork will be prone to some wear and tear over time, particularly if they're stored in an outside space. It's worth opting for a fork that is weatherproofed so that you fork won't show any noticeable damage early on. Of course, gardening tools won't remain pristine forever, but for an extra few dollars, it's worth doing what you can to preserve them.
Garden Fork FAQ
Q: How do I take care of my garden fork to keep it in a good condition?
A: In order to keep your garden fork in tip-top condition so it will give you years of use, it's important that you clean it regularly. Granted, it's not the world's most exciting task, but if the soil is left on the shaft and tines, your fork will be more prone to rust and rot. In order to clean your fork properly, you should use a wire brush with some warm water, ensuring you leave the fork to dry after cleaning before putting it away.
If your garden fork has an oak handle and shaft, you'll want to take care of it so it can have pride of place in your shed. Twice a year, you should take the time to sand it down with medium grit sandpaper before rubbing generous amounts of linseed oil onto the wood. Linseed oil is a great natural alternative to create a waterproof barrier to protect the wood on your garden tools.
If the wooden handle on your fork becomes warn over the years, you might consider replacing it. This is usually relatively easy, with a replacement part being fitted with just a couple of screws.

Q: How should I store my garden fork?
A: In an ideal world, you'll have a secure outside space to safely store all of your garden tools, if this isn't the case, you should try to ensure your fork is kept out of the way of rain to avoid rot and rust.
To preserve the metal tines from rust, some gardeners will keep a bucket of sand mixed with a little linseed oil in their shed. As long as your fork is stored in a cool, dry place rusting shouldn't be too much of an issue.
Q: How long can I expect my garden fork to last for?
A: We have no doubt that some gardeners will still be using tools that date back decades, and with the right care, there's no reason that your new purchase won't serve as much use to you. A number of manufacturers offer a 10-year warranty so you can shop with the peace of mind that your purchase will last a long time. Furthermore, with the right care and upkeep, you can increase your forks lifespan significantly.
Whether you're a garden enthusiast or you're just getting started, it will make your life easier if you take the time to consider which garden fork is best for you. Beyond price and brand, you need to consider the space in which you'll be gardening so you can first choose the right type of fork. To summarise, a border fork is best for confined spaces, whereas a digging fork is better suited to open spaces such as allotments. Garden forks are an investment that will likely serve you for years to come providing that you take care of them properly, but luckily for you, our guide has covered everything you need to know to get the most from your hard-earned dollar. Happy Gardening.