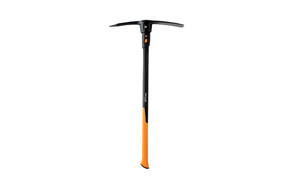 Fiskars Garden IsoCore 5 lb Pick Mattock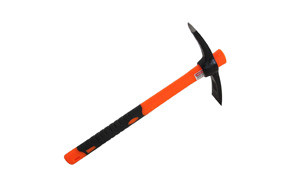 TABOR TOOLS J62A Pick Mattock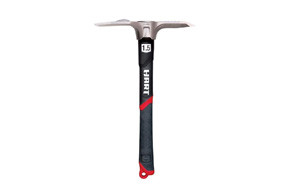 HART 1.5 Lb. Mini Mattock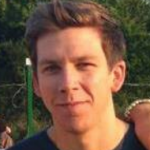 When you think of a simple, yet nearly indispensable hand tool for a variety of landscaping or yard work, the venerable mattock has to be near the top of your list. Its history dates back thousands of years to the Bronze Age, and this pickaxe-like tool has not only stood the test time but has existed as if it were locked in a time loop. Its basic design has never changed. Well known as a tool you can dig or chop with, the best mattocks have the same appearance: A long or short handle mated to a durable, mostly steel head which features an intimidating combination of a cutter at one end, and an axe blade at the other.
Depending on where you live, and what your specific needs are, there are four types of mattocks to be aware of: A pronged mattock has a cutter at one end of the head, and long, curved prongs at the other; Pointed mattocks feature a wide, wedge shaped head and performs the same kinds of tasks as a garden spade; A Pick mattock has an axe like blade on one end of the head; and short handled mattocks can be used with one hand or for smaller tasks which require close-in work.
The Best Mattock
Tips To Follow When Using A Mattock
Two people will have differing opinions when it comes to safely using a pick mattock. What is "common sense" to one person may never occur to someone else, so it is always best to proceed with caution. A mattock with a steel blade and a heavy wooden or fiberglass handle is not a toy. It should always be handled with care, for your well-being and the safety of anyone nearby. Here are some tips to remember when using this kind of tool.
If possible, wear appropriate safety equipment, such as gloves and safety goggles.
Take a moment to examine the mattock before you use it. If the blade is chipped or the head or handle is loose, it is advisable to get a new one or use another tool.
Your immediate work area should be clear of bystanders, co-workers, or animals by a radius of at least three times the length of the handle.
If you are using the mattock to excavate in a built-up or populated area, call the local utility company to have them mark the presence of underground water, electrical, or cable television lines.
Watch out for other obstructions, like low-hanging branches, gutters, roof eves, or power lines.
When using a mattock, you should not wear loose clothing, jewelry, or anything else that will entangle with the handle or blade.
When carrying the mattock, it should be held at the side of your body, with the head facing the ground.
No matter how heavy or sharp the mattock blade is, this type of tool is not to be used to cut or shred tires, inner tubes, or other rubber-based products. The blade will simply bounce off the intended target, or ricochet backward and endanger you or anyone else nearby.
When not in use, a mattock should be hung up on a peg board or otherwise stored in a secure, weather resistant location. Any tool made of steel will eventually rust or decay.
If you are cutting at hard earth or rocks with a mattock, do so in measured swings and remove debris in between blade strikes.