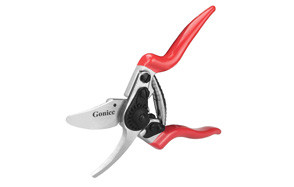 Gonicc Professional Sharp Bypass Pruning Shears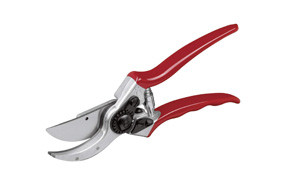 Felco F-2 Classic Manual Hand Pruner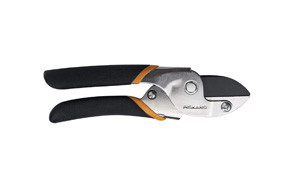 Fiskars Power-Lever Anvil Pruner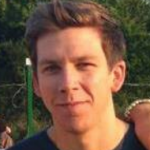 Pruning shears (or secateurs for those in-the-know) are an essential tool for any green-fingered maestro. They make the upkeep of the garden much more comfortable compared to merely hacking and whacking away with your blunt craft scissors, and ensure your garden remains as picturesque as the front cover of a Good Gardening Collector's Edition magazine, complete with full landscaped flower bed centerpiece. The best gardens demand the best pruning shears, and while it might not be pruning season for many of you (us included), it's never too early to think about how you'll maintain, trim, and care for your backyard sanctuary once Spring, well, springs.
Sure you don't need your gardening gloves just yet, and there's no need to drag the lawn mower out of hibernation for a few more weeks, but perfect gardens require careful, considered and, some would say almost obsessive planning. Don't act like you've got anything better to do, and besides, you'll thank us when pruning season arrives and you are, for a change, completely and utterly prepared.
The Best Pruning Shears
Pruning Shears Buying Guide
How We Chose Our Selection of The Best Pruning Shears
Brand - Recognizable brands are what everybody typically goes for. They don't want to waste their precious time searching high and low and around the corner for diamonds in the rough, so they rely on what marketing, sales figures, and reviews tell them is number one.

There's nothing wrong with that, and there's a reason top brands become as successful as they do: they back it up with awesome products. We know this; you know this, everybody knows this, so we looked for the most identifiable brands of pruning shears with the highest, most lauded reputations.
For the sake of product diversity, we sought to find as wide a range of brands as possible, so if you have any issues with a certain brand - like how they wronged you in the past or something - there's at least another option for you.
Reviews - During our research we checked out hundreds, maybe thousands of pruning shears reviews which besides giving us a fascinating insight into how the mind of the average pruner works, allowed us to make educated and informed decisions on what makes great pruning shears.
These reviews showed us what's good, what's bad, what's alright but could be improved, and let us in on some secrets and tricks of the trade we'd never have realized. These helped us make fair, unbiased selections and ensured we brought the best of the bunch right to your screen.
Price - Pruning shears aren't expensive, not even the absolute best pruning shears are likely to put anyone out of pocket, but that doesn't mean there's still not a need to find a wide price range. Some people only need pruning shears to keep their garden looking nice for when the relatives come over, and will otherwise leave their branches and bushes to heave and swell for the rest of the year.
Others though love their gardening, and why wouldn't they? It's an awesome way to keep active, even if you feel you're not moving around all that much, and it can help relax you, keep your mind of all the horrors of the world, and clear your mind. There's a chance some of you love pruning and gardening more than you do your own children.
With this in mind, we selected products that both novices and experienced pruners can get their hands on. If you're looking for a cheap entry-level set, we've got them. If you know your way around a garden and want the best of the best we've got those, too.
Quality - If you're caring for your garden, then you expect the best quality from your pruning shears. With high-quality, durable, and rust-resistant steel, the best pruning shears make the whole production so much more straightforward. Instead of struggling against stubborn sap, poor grip, and uncomfortable design, high-quality shears guarantee you'll be able to keep your garden looking fresh and blooming every time.
This high quality also ensures you can rely on your shears time after time. Low-quality products are prone to breakage, clogging, and general discomfort, meaning one of your favorite activities is ruined too quickly for you. We didn't want to give you that grief, so we made sure we found shears that only provide good, no, great quality.

Features To Look For In Pruning Shears
Comfort - Anyone who's done a bit of gardening in their time knows it's much more demanding than the average, careless slob might assume. Working with your hands for long periods of time, poor (sometimes nonexistent) ergonomics will hurt after a while, and you'll be left with a garden that looks like some mysterious force abducted you halfway through.
The shears must fit comfortably in your hand, neither being too big nor too small and can manage the strength of your pruning hand. You should also consider the opening width to reduce hand strain and have handles which won't dig into your skin if you encounter a particularly tough branch.
Blade - The blade of the pruning shears is where the money is. All pruning shears come complete with a sharp blade to cut through those tricky branches like they're the sheets of paper they were always destined to become.
What really matters though is how long they remain sharp. Higher quality shears come with more robust, long-lasting blades, which could sway your opinion if you're still on the fence about whether to go for value or quality. Better blades will also be more resistant to rust and corrosion. It may also suit you to find shears which come with non-stick coating, which will prevent sap from sticking to the blade and clogging up the mechanics. Instead, the sap will slide off like it was never even there.
Look for high tempered steel or carbon steel for the best results, and if you find shears which have high tempered carbon steel, you're onto a winner.
Safety Lock - Anything with blades requires safety for you, for your perpetually curious kids, and for the blades themselves. Even if you and your family are the most careful people in the world, it's still wise to invest in pruners which have a useful and potentially finger-saving lock to ensure there's as little damage to you and the shears, you know, just in case.
Adjustment - For unlimited control over every branch in your garden, shears with an adjustable pivot allow for more precision when cutting. Some pruners come with dual adjustment mechanisms where you can change both the open position and the blade tension.
If you're tackling both tough, thick branches, and smaller branches with less hassle, this adjustment is a great solution and saves you purchasing two different pruners. Adjustable pruners also give you the chance to be more delicate, switching effortlessly between branches of varying thicknesses.
Size and Weight - Sort of related to comfort but important enough to warrant its own little section, the size and weight is essential for finding the right shears to suit you. You want to find lightweight shears which will allow you to reach up high - as is a common requirement in pruning - and not feel exhausted after finishing just one plant.
This fatigue can affect your concentration, which causes safety issues, and it can hinder productivity, meaning you may not get your pruning completed in time. It's also a surefire way to make you hate pruning, and neither us nor you want that to happen. Nope, not at all.
Overall, you should find a pair of cutting shears which complement your own strength. Look for products which have been constructed with lightweight materials such as aluminum and fiberglass instead of weightier options like wood.

Cutting Mechanism - If you used pruning shears once, way back before you hit puberty, and only because your dad told you it was time you started earning your allowance, you may be surprised to see how much they've evolved from the cheap, laborious models they once were. Top quality pruning shears now come with special cutting mechanisms which makes pruning all day long easier than ever before.
Using gears, they help you obtain and maintain greater leverage over branches and ensures you can move through your garden with speeds never seen before in the pruning game.
Depending on how you plan to use your shears, you may not need such leverage, especially if you shear frequently, as the new nubs will be softer and easier to shear with standard, non-mechanized shears.
Ease of Use - We all want a product that's easy to use, and any shears with shock absorbing bumpers will make this a reality. With online ordering, you can't try before you buy, but you can check out existing reviews and gauge how easy it will be for you when they finally arrive.
Cutting Diameter - The pruning shears we've selected have cutting diameters which range from three-quarters of an inch to a whole inch with diameters of five-eighths of an inch in between. This range covers the standard expectation of cutting diameter and is wide enough to help you tackle the thickest branches in your garden.
You don't need to go out into your garden and measure each branch to make your decision, you probably know a general size already, so if you're unsure, remember the wider the diameter the more branches you can trim away with ease.
Replacement Parts - If you've splashed all of your cash on your new shears - much to the chagrin of a long-maligned partner who's still wondering when this little adventure will end - it would totally suck if you had to throw it away the moment something breaks. This could be the blade, the adjustment dial, the handles, but thankfully not your interest in being the pruning machine you were destined to be.
To stop you feeling like your pruning career has come to a depressingly abrupt end, you can look into finding replacement parts for the shears you're planning on buying before you even click on Confirm Order. This will ease any shock and horror if and when a part breaks, and means you can keep on pruning for many springs to come.
Source:
What to Prune When - Better Homes & Gardens