The Best Lawn Dethatchers Of 2022 For A Healthy, Happy Lawn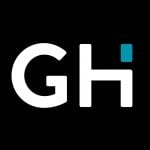 This product guide was written by GearHungry Staff
Last Updated
July 27, 2022
GearHungry Staff
GearHungry Staff posts are a compilation of work by various members of our editorial team. We update old articles regularly to provide you the most current information. You can learn more about our staff
here
.
GearHungry may earn a small commission from affiliate links in this article.
Learn more
To understand the need for a lawn dethatcher, it helps to know exactly what thatch is. In short, thatch is a thick layer of organic material that collects between the soil and the grass we see. While a small layer of thatch is fine and may actually be beneficial for a healthy lawn, an excessively thick layer of thatch can seriously affect the normal growth of your grass. For example, too much thatch can prevent water and sunlight from getting to the roots. A thick layer of thatch also creates a breeding ground for pests and disease.
Before you decide to re-turf your entire yard, consider investing in a lawn dethatcher. This handy machine cuts through the thatch and pulls it to the surface for easy removal. The best lawn dethatchers effectively remove enough thatch to give your lawn a fighting chance to grow strong and healthy. We've found some really good ones so you can give your lawn a bit of breathing space so it can grow stronger and healthier.
The Best Lawn Dethatcher
Greenworks 14-Inch 10 Amp Electric Lawn Dethatcher
Early summer to late fall are ideal times to dethatch your lawn, and the Greenworks dethatcher is the perfect tool for this job. This 14-inch corded electric dethatcher features a powerful 10 Amp motor that can lift not only the thatch but also dead grass and other debris. It brings it to the surface so you can easily remove it, leaving your lawn grass more room to grow.
The best thing about an electric dethatcher is that you can get to work without inhaling fumes. The 18 stainless steel tines are quite robust and do a great job cutting and lifting the thatch. For convenience, this one has a push-button start, and there is a three-position height adjustment that you can customize, depending on the density of the thatch on your lawn. Overall, this is one of the best lawn dethatcher models not only in this price range but overall on the market at the moment.
When you're done with the dethatching, grab a lawn edger and finish the job.
Key Features:
Mid-sized 10 amp electric motor
14-inch wide dethatching path
Fully adjustable dethatching depth
Corrosion-resistant stainless steel tines
Folds down for easy storage
Lightweight and compact
4-year limited manufacturer's warranty
Specification:
Brand

Greenworks

Model

27022

Weight

25.9 Pounds
Light enough to push around a good-sized lawn without wearing you out
Includes a full set of replacement tines
It's super easy to adjust the depth at which the tines dig
Smooth operation and less noise
Instructions can be a bit confusing
Some of the plastic components are a little flimsy
Sun Joe TJ603E 16 inch 12 Amp Electric Tiller & Cultivator
Sometimes the thatch on your lawn can become so thick that the ground underneath it loses its ability to absorb water effectively. When this happens, you need to aerate the lawn to allow water and nutrients to reach the root system. The Sun Joe 16-inch Electric Tiller and Cultivator is one of those gardening tools that you can use for dethatching the lawn as well as other gardening chores.
This dethatcher for lawn and garden has a powerful 12 amp motor and six steel angled tines that power through dense thatch and compacted soil. For your comfort and convenience, it has an instant start button and a safety switch, and the wheels can be adjusted to 3 different positions depending on the thickness of the thatch. For a thriving, healthy lawn, this is the best dethatcher and aerator combo. Once you get your lawn lush and thriving, take a look at our guide to the best robot lawn mowers and keep your lawn looking great all year round.
Key Features:
Combination grass dethatcher and aerator
6 steel angled tines
3-position wheel adjustment
Instant start & safety switch
Powerful 12 amp motor
Specification:
Brand

Sun Joe

Model

TJ603E

Weight

27.1 Pounds
Pulls up large amounts of thatch quickly and without much effort
Light enough to pull across a good-sized lawn
Easy to use and folds for storage
Sun Joe AJ801E 12 Amp 12.6 Electric Dethatcher and Scarifier
With a powerful 12 amp electric motor and a 13-inch wide dethatching path, the Sun Joe AJ801E electric dethatcher is the ideal tool for bringing life back to your lawn. If you have a good-sized lawn that's seen better days, dethatching will bring your lawn back to a healthier state. This electric dethatcher also features a scarifier that cuts through the grass roots promoting better growth to give you lusher lawns.
Depending on the density of your lawn and the thatch beneath the surface, this Sun Joe dethatcher can be adjusted to 5 different height positions, and the spring steel tines increase thatch pick up for an intense dethatching. To make your chore just that little bit easier, this model also features a removable 8-gallon collection bag so you can take the removed thatch to the compost pile with ease. Yard maintenance needn't be tiring, so take a look at our guide to the top riding lawn mowers for our top picks. Equipped with a great lawn dethatcher and a riding lawn mower, you're guaranteed to have the best-looking yard on the block!
Key Features:
13-inch wide dethatching path
Includes scarifier for difficult thatch and matted roots
12 amp electric motor
5 position depth control
Spring steel tines
2-year manufacturer's warranty
Specification:
Brand

Sun Joe

Model

AJ801E

Weight

23 Pounds
It's easy to push around small to mid-sized lawns
The 12 amp motor doesn't shy away from thick thatch
Starts up quickly and doesn't need to be rested on larger lawns
The 5 position depth control lets you choose how much thatch to remove
The debris guard on the back tends to cause thatch to build up behind it
Earthwise LSW70021 21 Yard Sweeper
Not everyone likes electric-powered gardening tools, and that includes electric dethatchers. The Earthwise Yard Sweeper is powered by the user and is the best cordless dethatcher for those looking for an eco-friendly, low-tech tool. This push dethatcher is easy to use, and with an extra wide 21-inch dethatcher width, you can get your yard clean a lot faster. While this is more of a yard cleaner and sweeper, the spinning rake-like action can remove the upper thatch layer, so if you use this push dethatcher regularly, you can easily control the matted layers of thatch and keep them at manageable levels.
To make yard work even easier, this is the ideal lawn dethatcher for those who don't have a fondness for raking. This lawn sweeper glides over the lawn surface, collecting grass clippings, small twigs, and unwanted thatch and collecting it all in the grass catcher for easy removal. If you want to get into gardening, our guide to the most popular garden shovels will help you find another low-tech tool for your garden shed collection.
Key Features:
Leaf sweeper with a spinning rake
Lightweight and easy to use
Fully adjustable height
Passes over rocks and stones
Grass catcher for easy removal
Specification:
Brand

Earthwise

Model

LSW70021

Weight

13 Pounds
Ideal for maintaining thatch levels and cleaning lawn surfaces
Really light and easy to push around over big lawns
Quiet operation and the most economical to run
Will pick up most of the thatch on the first pass
Not good for picking up larger debris
This one won't get into deeper thatch
Brinly DT-40BH Tow-Behind Dethatcher
If you already have a riding mower, the Brinly Tow Behind Dethatcher is an awesome piece of lawn dethatching equipment. All you need to do with this dethatcher model is hook it up to the back of your ride-on mower or tractor using the universal hitch, and you're ready to go. This one features 20 flexible spring steel tines, a heavy-duty steel frame, and robust wheels that can handle dethatching on most terrains.
There are three different modes of dethatching you can do with this top-rated dethatcher. You can use it to transport, dethatch and scarify your lawns, and while it may not pick up a ton of thick thatch, it does a very good job. This tow behind dethatcher has two rows of independently flexing tines that remove thatch and open the root system to water. The model is somewhat old school, but not much stops it from being the best pull-behind dethatcher on the market.
Key Features:
Manual style dethatcher 
Three different settings (transport, dethatch, scarify) 
Heavy-duty steel frame and spring steel tines 
Simple assembly & universal hook-up
40-inch working width
Specification:
Brand

Brinly

Model

DT-40BH

Weight

7.33 Pounds
Hooks up to most tractors and riding motors
Durable, heavy-duty design
Lifts thatch up and out of the grass
Challenging to assemble
Doesn't go deep enough to pull up dead grass
VonHaus 2-in-1 Electric Lawn Dethatcher, Scarifier & Aerator
The best dethatcher machine is one that gives you versatility, and that's exactly what you get with this dethatcher model from VonHaus. This is a cordless dethatcher and aerator that dethatches your lawn, scarifies, and aerates the soil giving you nothing but a beautiful, healthy lawn. This one features a 12.5 amp motor with a generous 15-inch working width and five working depths so you can tackle even the thick thatch beneath the surface of the grass. This makes it ideal for use with mid-sized lawns, and with a thermal cut-out and 2-stage safety start, this one is also safer to use.
You can easily clear your yard of grass clippings and debris as this one also comes with a 45-quart collection bag, so you can take your clippings and extracted thatch to the compost pile or into a garbage bag for easy disposal. The handle folds down, so when your dethatching is done, the machine is easy to store in the garage or outdoor shed.
Key Features:
2-in-1 dethatcher and aerator
12.5 Amp motor
15″ working width & 5 adjustable heights
Foldable handle for easy storage
45 qt. collection bag
Specification:
Brand

VonHaus

Weight

32.5 Pounds
Versatile corded electric dethatcher & aerator
Compact with folding handles for easy storage
Lightweight and easy to maneuver
Fast and powerful
This model is more of a power rake than an aerator
Why Trust Us
Because here, at Gear Hungry, we know our tools and gear, and that includes the best lawn dethatchers. A well-maintained lawn is a thing of beauty and those in our team who have lawns want to keep them looking their best. Aside from relying on good recommendations from our team members, we also conducted hours of research, comparing the best-sellers and evaluating each model on ergonomics, the durability of tines, and more.
Who This Is For
Our team put together this guide for homeowners or landscapers who are serious about yard maintenance. Excessive thatch is not only unsightly but can also prevent the lawn from thriving. If you're looking for a practical and efficient gardening tool to keep your lawn nicely dethatched, you will find it in this guide.
How We Picked
When choosing the best lawn dethatchers for this guide, we looked at the ones that were well-made, easy to use and, most importantly, did the job they were intended to do. Some people already have a range of gardening tools so we also wanted to look at lawn dethatchers that can be attached and used as accessories.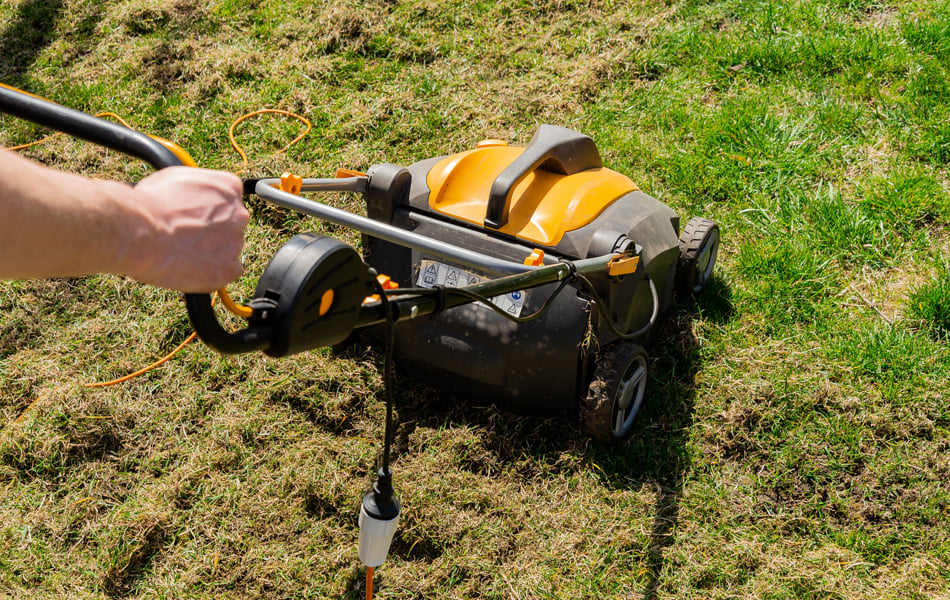 Features To Look For In Lawn Dethatchers
Electric vs. manual - Most lawn dethatchers are either electrically powered or manually operated.
Electric - Electric-powered lawn dethatchers are reasonably lightweight and are pushed back and forth across the lawn in much the same way you would push a stand-up lawn mower. Electric-powered dethatchers get high marks for not producing noxious fumes like gas-powered lawn maintenance devices do. The motors on these devices (the best ones anyway) are well made and should stand up to repeated uses. But, unlike a lawn mower that you'll be using every couple of weeks during the warm weather, you may only use an electric grass dethatcher once or twice a year. You should definitely look at dethatching your lawn in the early fall, but also in the spring to prevent thatch from forming and becoming difficult to deal with. It depends largely on the type of grass you have. Kentucky bluegrass for instance is a known thatch producer, whereas tall fescue grass produces very little thatch.
Manual - Most manual (non-motorized) dethatchers are pulled along behind a riding lawn mower or they can be hitched to the back of a tractor. Their steel tines reach down into the lawn and pull up the thatch as you go. This can be an enormous time and labor saver since you can take care of mowing and thatching in one fell swoop. However, if you don't have a sit-down mower, a manual dethatcher or a tow-behind model is not going to do you a lot of good. Still, you can use a push dethatcher which is more of a dethatching power rake.
Cord length - Most electric power dethatchers have short cords that typically don't extend more than a couple of feet away from the device. The solution is as easy as connecting your lawn dethatcher using an extension cord. Keep in mind though that the longer the extension cord, the more you are subject to Ohm's Law. Ohm's Law states that the voltage is equal to the current x resistance. Resistance in wires increases over long distances. But this can be somewhat offset by the increased diameter of the cord. Essentially, if you have a long thin extension cord you can expect the voltage to drop significantly by the time the power reaches your electric lawn dethatcher. This will affect the performance of the device. If you do have a lot of ground to cover, invest in a heavy-duty extension cord and you will be able to extend your reach.
Power - The power of the motor on your electric lawn dethatcher is another important consideration. In most cases, dethatcher motors run from 8 to about 15 amps. Since we're pretty much conditioned to think the more powerful an electric motor, the better electric motor, you might be tempted to choose the 15 amp motor. With lawn dethatchers though the "stronger equals better" equation doesn't necessarily apply. This is because of the way a dethatcher works. Rather than wanting a big muscular dethatcher to get in there and scour the lawn of nasty thatch, it's often better if the dethatcher works at a less punishing pace. Too much force might actually do damage to the roots of your lawn. So it's recommended you look for a motor that falls into the middle of the power spectrum.
Collection bag - This may not be a deal killer when you first start looking at lawn dethatcher models but if the one you choose doesn't have a collection bag you'll be in for a long day of raking up the thatch after you loosen it up. While this may not be a problem for small to medium-sized yards, if you have a large yard, you'll have a whole lot of raking to do if your dethatcher doesn't have a collection bag.
Tines - While the motor gets most of the credit, it's really the tines on a lawn dethatcher that do the grunt work. The tines are basically metal fingers that reach down into the depths of the lawn, grab hold of the accumulated thatch and pull it to the surface. Without robust and effective tines, dethatching simply cannot occur. Tines are available in a variety of lengths and widths and are also fashioned from different materials. In addition, the wider the dethatcher the greater the number of tines will be in play. It's recommended you always look for stainless steel tines as they will resist corroding and they will be robust enough to deal with the resistance the thatch is likely to produce.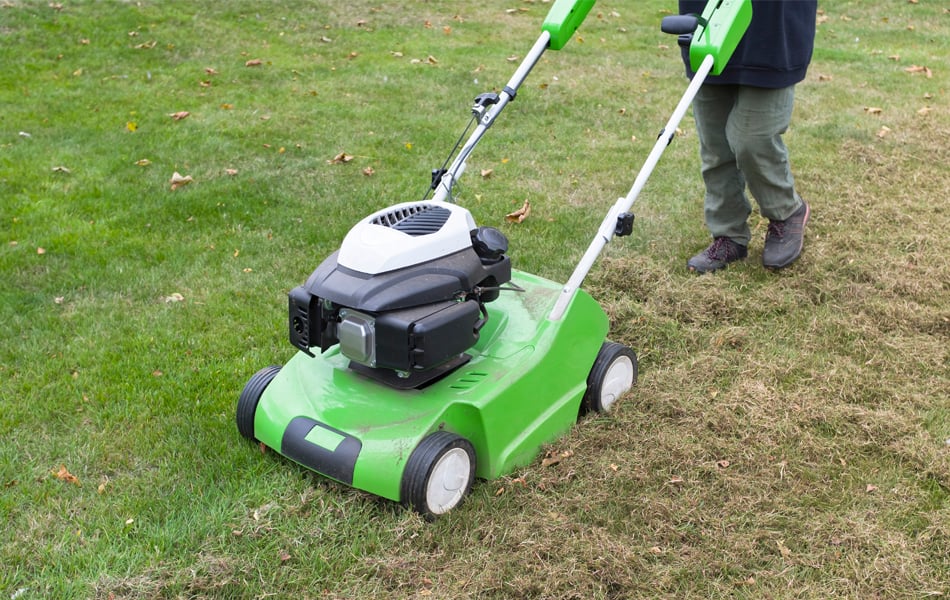 Lawn Dethatcher FAQ
Q: What is lawn thatch?
A: Each time you mow the lawn some of the cut grass is left behind. Some of this may be grass seeds as well as other organic matter. Thatch usually consists of grass clippings as well as living and dead grass particles. If allowed to get thick enough, this thatch layer begins to cut off water, sun and nutrients to the lawn. The result is that your lawn begins to take on a brownish complexion because it's being starved by the thatch. Not only that, but insects move in and take up residence in the nice safe thatch. They then spread out and attack the lawn while spreading diseases that further undermine the condition of the grass. In time the thatch will become so thick that it may even interfere with the ability of the mower to do its job.
Q: Can thatch formation be stopped?
A: Thatch formation is inevitable since it's impossible to retrieve 100% of the cuttings every time you mow the lawn. And it's equally impossible to prevent dirt, dead leaves, and other debris from being carried into your yard by the wind and settling into the lawn. While you can't prevent thatch formation, you can manage it but removing as much of the cuttings as possible after mowing and using a dethatcher for lawns at least twice a year.
Also, go easy on the fertilizer. In most cases, the grass clippings left behind will break down and feed the soil so that nutrients can be absorbed by the roots which is often enough fertilizer. Adding more artificially may initially result in a thicker lawn, but when sunlight, nutrients, and water can't penetrate to get to the soil, you'll end up with more thatch than grass.
Q: Do you really need a grass dethatcher?
A: It really depends on the type of lawn you have. Interestingly, some of the more "high-end" lawns also need the most maintenance while some of the garden variety lawns are also low maintenance. That being said, all lawns should ideally be dethatched at least once or twice a year. If for no other reason than to thin out the grass, aerate the soil, and give water and nutrients the ability to get into the soil and feed the root system.
Keep in mind too that in most cases, the longer you wait to remove the thatch the more difficult the process will be. It may get to the point that you'll need to both dethatch and aerate the soil to get lush growth happening again.
Q: When should I dethatch my lawn?
A: The best time to dethatch the lawn is during periods of active growth. In most cases, you won't need to do this during the colder months, but you may want to avoid dethatching over the hot summer months too, when the ground is hard and dry. The best time for dethatching lawns is in the early spring or early fall when the ground is moist and relatively soft.
But once again, when and how often you should dethatch your lawn also depends on the type of lawn you have. Thatch buildup is a relatively slow process in some lawns so you may only need to dethatch once a year or even once every couple of years. For other types of lawns, you may need to bring out the lawn dethatcher twice a year.
Sources:
What Is Thatch? - Center For Agriculture, Food, And The Environment
Managing Thatch In Home Lawns - University of Missouri Extension
When Is The Best Time To Dethatch Your Lawn? - Homes & Gardens
Sign Up Now
GET THE VERY BEST OF GEARHUNGRY STRAIGHT TO YOUR INBOX