Best Leaf Bags in 2022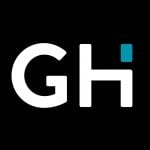 This product guide was written by GearHungry Staff
Last Updated
April 28, 2020
GearHungry Staff
GearHungry Staff posts are a compilation of work by various members of our editorial team. We update old articles regularly to provide you the most current information. You can learn more about our staff
here
.
GearHungry may earn a small commission from affiliate links in this article.
Learn more
Whether you are gardening, collecting yard waste, or need a laundry bag, having a sturdy and lightweight bag is essential for keeping collection and disposal stress-free. This is where leaf bags come in. They are multipurpose and fit the criteria for performing many of these chores with better coordination and minimal effort. Seeing as we recognize the importance of leaf bags, we took a look at several products out on the market right now and picked out ten of the best bags we think would be a great purchase. Take a look.
The Best Leaf Bag
Fiskars Kangaroo Collapsible Container Leaf Bag
Out of the ten best leaf bags we have on our list, Fiskars Kangaroo Collapsible Container Gardening Bag is our undisputed best choice. Best believe there are plenty of reasons why we think that. Beyond the fact the product is made by a company that has been in existence since 1649, for a simple bag, it has several innovative features that make it our best choice.
With a weight of two pounds, the Fiskars Kangaroo Gardening Bag is very light and is made using polyester material with a soft bottom. Having a soft base might mean you cannot drag it along the floor. But that is a negligible flaw because combined with its lightweight are sturdy handles that make the Fiskars leaf bag comfortable and easy to carry.
Whether you need it for gardening or laundry, large leaf bags are often the best kind to buy, and this bag fits that category. It has a listed capacity of 30 gallons. But usage suggests it can hold even more than that, possibly up to 44 gallons. Ease of use is another category where the Fiskars Kangaroo Collapsible Gardening Bag excels. It has an internal spring that pops up when it is time to use it. This simple but efficient feature elevates the quality of this product among its competitors.
In terms of durability, short of reckless usage, you can use the Fiskars bag for quite some time. That is thanks to the tear and mildew resistant vinyl-coated polyester, that keeps this lawn and leaf bag durable. Lastly, thanks to its creative design, this bag can be folded into 3 inches. So, you don't have to worry about it taking up your space when it is not in use. For more great products for your lawn and garden, check out our selection of the best backpack leaf blowers.
Key Features:
Sturdy handle for easy transportation
30-gallon capacity for convenient storage
Useful for leaves, clothes, and even toys
Specification:
Brand

Fiskars

Model

394050-1004

Weight

2.05 Pounds
Easy to Carry
Fit for multiple purposes
Trustworthy brand
Has a soft bottom
No lid and no zipper
Has thin material
GardenMate Professional Reusable Leaf Bags
Although, the best option on our list, the biggest flaw of the Fiskars bag is its soft bottom. If you are looking to do some hardcore gardening, it might not be the best option for you in the long term. This is where GardenMate's 3-Pack Reusable Garden Waste Bags thrive. They are heavy duty bags capable of handling tougher and rougher terrain.
The bags are made of polypropylene woven fabric with water-repellent PE coating. All of that is just a technical way of saying it is very durable. But durability is not the only reason to consider this product. Sturdy bags often mean heavy bags, but not in this case. All three bags combined weigh 13.8 ounces, and they can each handle up to 120 pounds of weight with each bag handling up to 72 gallons.
Aesthetically, they might not be the best-looking bags. Still, they are reusable, making them one of the most environmentally friendly options in the market. A bending leaf bag can be frustrating when you are gardening, but that is not a problem for the GardenMate Waste Bags. The bags have a plastic hoop at the upper edge that keeps them upright and open.
They are also multipurpose, so you can expect to use them all year round. During the lawn mowing season, they are large enough to be your lawn bag, and in the autumn, when you need to clear out some leaves, they are fit for purpose. Since they come in threes, you can always use one of them as a laundry bag or a collection bag for toys or any of your storage needs. Our guide to the best leaf shredders features more amazing products for your garden, so check them out.
Key Features:
100% money-back guarantee if you are unsatisfied
Useful for yard waste and recyclable materials
Specification:
Brand

GardenMate

Weight

2.35 Pounds
Environmentally friendly
Comes in threes and fit for multiple uses
Lightweight but has a large capacity
Not very good looking
Susceptible to long term sun exposure
Bottom handles might not be durable
WORX Landscaping Collapsible Leaf Bag
Whether you are looking for a garden waste bag or a yard bag, one thing you need is a bag large enough for you to work at a stretch, and durable enough to last years. Those are just two of the qualities that the WORX Landscaping Collapsible Yard Waste Bag excels at. And despite weighing two pounds, it can handle up to 26 gallons of waste, thanks to its lightweight but durable canvas material.
Ease of use is one other quality where this WORX product excels. It comes with a wide mouth, about 18 inches in diameter, for easy filling as well as sturdy handles at the top and the bottom, for picking up or emptying the bag comfortably.
Once you are done with yard or garden work, you can collapse the WORX Landscaping waste bag into two inches of space, and fasten it into place with a closing clasp. The latter is an ingenious design that prevents the bag from accidentally springing back up.
This WORX waste bag is an obvious choice if you already have a long line up of WORX products. If not, it is still a great addition to your collection of gardening tools.
Key Features:
Impressive 26-gallon capacity for your fallen leaves
Sturdy side handles for easy transportation
Wide mouth for easy access
30-day money-back guarantee
Specification:
Brand

WORX

Model

WA0030

Weight

2 Pounds
High capacity bag
Durable and strong material
High-quality ease of use
No hard bottom
Has no lid
Has trouble staying up
Glorytec 2-Pack Garden Leaf Bag
In terms of material and design, this Glorytec product is very similar to the GardenMate 3-Pack. However, it still finds a way to stand out on its own. One of those ways is the individual size of the bags. Each Glorytec Garden Leaf Bag has a maximum capacity of 132 gallons, a volume that puts it ahead of many of the best leaf bags so far. What's more, the size is ideal for those who do a lot of work and need something to save them from multiple trips.
However, despite its gigantic size, it is quite sturdy, and you can expect to get a lot of mileage out of it. The bag itself is made using PP woven fabric; as such, you'll benefit from a durable material that is tear and water-resistant and can handle a lot of time in the sun. Additionally, the bottom of large leaf bags is usually high on the list of weaknesses and this Glorytec product counters that with a double bottom layer that provides extra support.
Furthermore, when it comes to usage, these garden leaf bags come with four handles, two each at the top and the bottom. The upper edge of the bag also has a plastic hoop sewn into it, ensuring that it stays open while it is in use. When you are done, its collapsible feature allows you to pack it away in a tiny space until you need it.
Finally, the versatility of the Glorytec 2-Pack Garden Leaf Bag is a strong point. Whether its garden work, lawn work, or you need to pack some clothes, its material and design are capable of handling it all. You may also like some of the best leaf blowers from our list, so be sure to check them out.
Key Features:
132 gallons capacity
Four stitched-on handles
Double bottom layer
Universal use
Specification:
Brand

Glorytec

Model

20×24(inches)

Weight

2.73 Pounds
Offers plenty of room
Reusable and easy to clean
Resistant to weather elements
The material might be too thin
Might be too big for casual use
Plastic Hoop could be sturdier
Hortem Reusable Trash Can and Yard Waste Bag
There is only so much innovation and creativity you can infuse into a leaf bag. Waste bags should be simple to use and durable. But sometimes, a company comes along and incorporates an overlooked feature into the design. The Hortem Yard Waste Bag has one of those, and that is why it is one of the best leaf bags on the market today.
Additionally, there are drainage holes at the bottom, preventing water from pooling at the base of the bag. And although it doesn't have a real lid, it does come designed with drawstrings at the top to prevent the contents of the bag from falling out on windy days. Certainly, they seem like small additions, but they elevate this bag above several of its competitors.
Beyond those, it has all your standard features in a good leaf bag. Its construction features a durable Oxford canvas fabric, reinforced with heavy-duty steel. The material is equally UV resistant and is highly durable.
The Hortem reusable waste bag is also a pop-up bag. Thanks to a patented spring design, it can go from 2 inches in collapsed mode to 28 inches at full height in a second. However, it is not as big as the Glorytec product and can only hold up to 30 gallons of content. Nevertheless, its sturdy material and design mean it is just as versatile and can be your garden waste bag, lawn and leaf bag, laundry bag, or a place to keep your drinks cold. With minimal maintenance needs, this is most definitely one of the best leaf bags you can buy. For more amazing garden tools, check out our guide to the best leaf rakes.
Key Features:
Patented spring design
Collapsible
Drainage holes
Oxford canvas fabric
Specification:
Brand

Hortem

Weight

2 Pounds
Quality construction
Multifunctional
Beautiful design
Has three-leaf bag holders
Doesn't have a hard bottom
Might not be suitable for long term sun exposure
Fern and Foliage Non-Reusable Garden Bags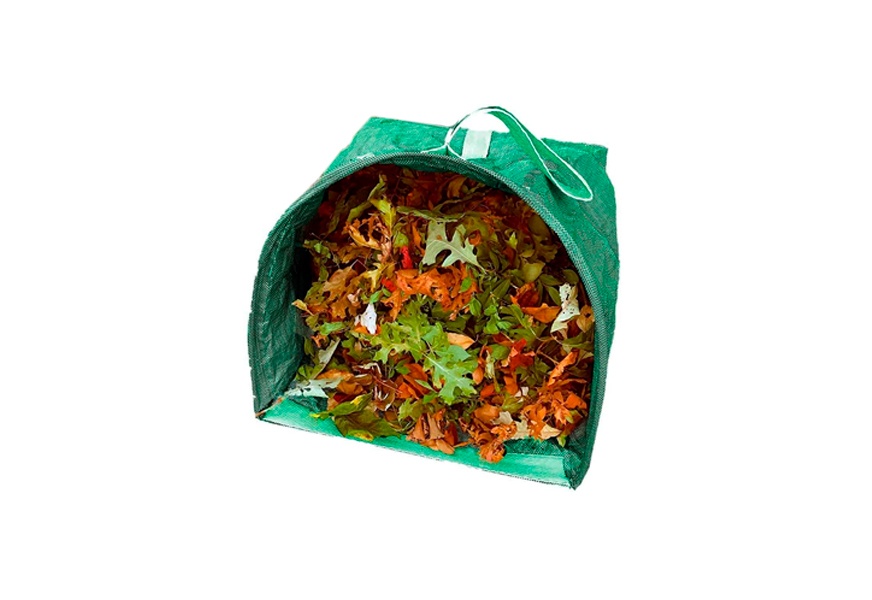 What if you had a leaf bag that you could also use as a dustpan? That was the thought behind this Fern and Foliage product, and it is a great idea. If you want to streamline the cleaning process, then this Fern and Foliage Lawn and Leaf Garden Bags might just be what you need.
This product is designed to look like a dustpan, so you can sweep or rake your lawn dirt directly into it, cutting off the middle man that is a regular dustpan. Beyond that, it shares a lot of qualities that define some of the best leaf bags on the market today.
Firstly, it is made with polypropylene woven fabric, and has water and tear repellent coating. Additionally, it also has a reinforced leaf bag holder that allows you to hold the bag open while you rake into it.
If you are wondering whether this bag can handle your large garden cleanups, don't. It offers a 53-gallon capacity, and each bag comes in two's. So, you will have plenty of space to pack your grass clippings, leaves, or yard waste. Furthermore, the bag is also lightweight (1.44 pounds), and it can be folded into a flat shape for storage when it is not in use. No doubt, the dustpan-shaped design might split opinions, but one thing is sure – you will get your money's worth. For more useful products like this, check out our guide to the best pitchforks.
Key Features:
Dustpan-shaped design
Water and tear resistant
53-gallon capacity
Reinforced handle
Specification:
Brand

Fern and Foliage

Model

111

Weight

1.44 Pounds
Foldable for easy storage
Durable and reusable
Versatile
Might collapse. No plastic hoop
Might be too small
Has limited handles
TerraKing Standard Leaf Bag
Finally, if you need a much larger bag than any we have picked out, particularly if you use a mower, then consider the TerraKing Standard Leaf Bag. This standard size version has a 54 cubic feet capacity, drastically improving the leaf collection abilities of your mower. Best believe that this is not going to be a multiple-time purchase as this product has an abrasion-resistant polyester blended woven fabric designed to be water and tear-resistant. This material not only ensures its durability, but it also traps dust and makes it easy to maintain.
Efficiency is the necessity that drove the creation of this product, and it doesn't fail in that regard. It has a maximum opening of 120 inches, large enough to cover a mower with 2-bag collection systems. And if you want an even larger opening, this TerraKing product also comes in XL, a 150-inch opening bag capable of handling 3-bag collection systems.
Additionally, the TerraKing Standard Leaf Bag is also quite easy to use. It has a corded locking closure system with a drawstring closure design that securely locks the leaf bag into place, improving your productivity. When you need to empty the bag, it is also just as easy to use. Just remove the bag from the mower by loosening the locking closure and dispose of the leaves.
However, unlike the other leaf bags on this list, it is not as versatile. But that shouldn't be a problem, as it is a niche product designed for a specific need and in that regard, it performs very well. Be sure to also check out our guide to the best lawn mowers for more great products for your garden.
Key Features:
54 cubic feet
Abrasion-resistant polyester woven fabric
Corded locking closure system
High compatibility
Specification:
Brand

TerraKing

Model

ST95000

Weight

3.4 Pounds
Excellent for very high capacity collection
Extremely easy to use
Durable material
No leaf bag holder
Comparatively more expensive
Possibly loose seam
Sign Up Now
GET THE VERY BEST OF GEARHUNGRY STRAIGHT TO YOUR INBOX