Reclaim Your Weekends: The Best Robot Lawn Mowers Of 2022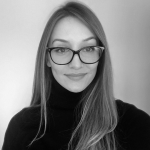 This product guide was written by Jovana Dosenovic
Last Updated
September 1, 2022
Jovana Dosenovic
Jovana is a writer and copy editor living with her lazy calico cat and thousands of (mostly unread) books. She has worked as a copywriter, fact-checker, QA analyst, and librarian, but this has been her favorite gig so far. A bit of a bookworm since she was tiny, she loves nothing more than curling up with a giant cup of coffee or tea and a good book. When not hunched over a keyboard or book, Jovana enjoys going on long walks, short hikes, and occasional camping trips. She also has an unfinished novel she'd like to publish one day. No, really.
GearHungry may earn a small commission from affiliate links in this article.
Learn more
Looking for a hassle-free alternative to noisy gas and electric lawn mowers? Let us introduce you to the world of robotic lawn mowers that can keep your grass in tip-top shape – quietly and all on their own.
The best robot lawn mowers behave similarly to robot vacuums: they trundle in randomized patterns within the set up boundaries, use sensors to avoid obstacles (flower beds included), and allow you to schedule and monitor their work via accompanying apps. But instead of cleaning up dirt and pet hair, robot mowers take care of your yard by gently trimming your grass.
Available for yards of all shapes and sizes, robotic mowers can easily maintain half an acre or more on most types of terrain, often including uneven, rougher terrain. Most robot mowers are also easy to program and since they work automatically, they will give you more precious free time on the weekends so you can pursue more enjoyable activities like hiking with your family, going fishing, or soaking up some sunshine.
However, how efficiently and intelligently robotic lawn mowers perform the job varies from one model to another. Cheaper mowers will usually have shorter battery life and take longer to recharge, and will be designed for small lawns only. Other robot mowers will be suitable for large lawns, and may have rain sensors, anti-theft sensors, accompanying apps for remote control, and more. Ultimately, you want to pick a model that fits not only your budget but also your needs, including the size of your lawn.
The Best Robot Lawn Mower
WORX Landroid M 20V Robotic Lawn Mower
The WORX Landroid M 20V Robotic Lawn Mower is simply put, one of the best models on the market. It's really easy to set up with convenient steps laid out for you to get it up and running, and once you do this, there is no turning back. This super-smart robot lawnmower can learn about your lawn and will, after some time, suggest optimal schedules based on the size of your yard.
The WORX Landroid lawn mower can cut up to ¼ of an acre, and has 5 mowing height adjustments: from 1.9-inches to 3.5-inches. If you are unsatisfied with the recommended mowing schedule set out by the mower, you can create your custom mowing schedule with the help of the simple-to-use mobile app. Not only that, the app allows you to control the robot mower to do your bidding remotely. Beyond that, it also comes with a cut-to-edge feature that enables the device to cut closer to your lawn's border, which, in turn, leaves you with very little work to do once the mower is done with the yard. Robot lawnmowers aren't cheap, which is why the security feature on the WORX WR140 Landroid M is so appealing. It contains a 'find my Landroid' module that alerts you as to when the machine is leaving its designated area in cases of theft.
Key Features:
For yards up to 0.25 acres
Cutting height range from 1.5 to 3.5 inches
Powered by a 20V 4.0Ah Power Share Battery
Variable cutting height 2 – 3.5 inches
Rotating disk with 3 blades
Noise level 63 dB
Inclines up to 20 degrees
'Find my Landroid' security feature
Rain sensor 
Specification:
Brand

BrandWORX

Model

WR147

Weight

49.3 Pounds
Easy to set up and control
Cuts close to lawn border 
With GPS and Wi-Fi so easy to locate and control
Compatible with all Worx 20v and 40v tools
Can sometimes get stuck so make sure you remove obstacles
One of the pricier models in this guide
Husqvarna Automower 115H Robotic Lawn Mower
The Husqvarna Automower 115H Robotic Lawn Mower is best suited for small to medium-sized lawns up to 0.4 acres. This model brings with it a quality that cannot be found in just any lawnmower. It comes with a variety of useful features, including remote start, built-in theft protection, automatic charging, and more. Plus, it works quietly, making it suitable for night work, and it doesn't emit any fumes that can be classed as dangerous. Besides, you are in total control of the robot lawn mower with the power of the app, which lets you tweak the cutter's schedule easily.
It also comes with Bluetooth connectivity, which can work from a range of about 100ft giving you the freedom to control your mower from anywhere in the house. On top of this, the mower's movements are guided by invisible boundary wires that make sure it doesn't go beyond the designated area, and as mentioned, when the battery is low, the mower heads back to the station for recharging. The manufacturer tacked a two-year guarantee for residential use on this machine, making it less of a risk to purchase for your home.
Don't forget to also check out our list of the top lawn dethatchers.
Key Features:
For yards up to 0.4 acres
Adjustable cutting height from 2 to 3.6 inches
Inclines up to 17 degrees
3 remote start points
Weather-resilient
Anti-theft protection
Noise level 50-60 dB
Connect@Home app
Specification:
Brand

Husqvarna

Model

967951105

Weight

20.7 Pounds
Can be used remotely
One of the quietest models around
Can handle slopes up to 30%
Works in the rain
Known to get stuck occasionally, so not ideal for steeper hills
Quite pricy for a basic (but still great) robot mower
GARDENA 15001-41 SILENO City Robotic Lawn Mower
A great remote lawn mower should not only keep your grass perfectly trimmed, it should eliminate all the work for you by shredding the grass so finely as it mows, that instead of raking up the grass clippings, you can let the tiny bits of grass fall to the ground to give your lawn the best type of natural fertilizer that will make the new growth so much lusher. That's exactly what Gardena 15001-41 Sileno City Robotic Lawn Mower does. Quiet, easy to use, and with a mulching function, this robot mower will keep your yard healthy, lavishly green, and neatly trimmed.
Designed for smaller lawns up to 2,700 square feet, this is a budget-friendly model that can easily cope with slopes of up to 35 percent. It comes with an easy-to-install boundary wire so your mower will know exactly which area needs its attention. Like most robotic mowers, this unit is emission-free as it runs on a lithium-ion battery which has a decent life: up to 65 minutes between charges and it charges 75 minutes. When the battery starts to lose its power, the mower automatically goes back to its charging station until the rechargeable battery pack is fully charged and ready to get to work again. The Gardena Sileno City also has Bluetooth connectivity for easy control and scheduling. The only minus, at least for some folks? It cuts the grass pretty low even on a high setting.
If you need to clear the leaves before you turn on the mower, check out our guide to the best leaf blowers.
Key Features:
For yards up to 2700 sq. ft.
Cutting height of 0.7 to 2 inches
Bluetooth connectivity
Rain sensor
Anti-theft feature
Noise level 57 dB
Specification:
Brand

GARDENA

Model

15001-41

Weight

16.09 Pounds
Reasonably priced with solid features
Quiet operation and easy to use
Works on most terrains and in most weather conditions
Cuts grass low even on high setting
No GPS tracking
Husqvarna Automower 430X Robotic Lawn Mower
The Husqvarna 430X Robotic Lawn Mower is the Rolls Royce of automated lawn mowers. One thing that stands out with this mower is that it comes with a GPS navigator that takes the guesswork out of lawn maintenance, particularly if your yard is on the larger size or if your property is not fenced. All you have to do is program your property's boundary into the mower and let it get to work. This GPS navigation feature also makes it quite simple to let family or friends borrow your mower or if you move house sometime in the future.
Another aspect of this Husqvarna robotic mower that we like is that it can automatically detect your lawn's growth rate and adjust its height to ensure all your lawn areas are mowed uniformly. You can also connect this mower to your smartphone for ease of operation, freeing up your weekends for fun and relaxation instead of tedious yard work. The mower also has anti-theft protection, safety, collision and rain sensors, small LED headlights, and a total of 145 minutes of cutting time per charge (which takes an hour). Hands down, one of the best robot lawn mowers for medium size lawns as well as larger lawns.
Be sure to also check out our list of reel mowers for more great items like this. 
Key Features:
Working area range 0.8 acre (34,000 sqft)
Cutting height 2 – 3.6 inches
Mowing time per charge 145 min
Sound level Measured: 57 dB(A)
Built-in theft protection
GPS assisted navigation
Compatible with Amazon Alexa and Google Home
Manages slopes up to 45%
Noise operation 50 – 60 dB
Safety, collision, and rain sensors
Specification:
Brand

Husqvarna

Model

430XH

Weight

32.4 Pounds
Easily handles larger lawns
Excellent battery life
Manages rough terrain
Packed with awesome features
Expensive
Does not do a perimeter cut along the fence line
Husqvarna Automower 315X Robotic Lawn Mower
This is another great Husqvarna Robotic Mower for mid-sized lawns of about a third of an acre. This model can handle inclines of about 40% and will zip into and out of narrow pathways with complete ease. Just because you don't have an enormous expanse of a yard, doesn't mean you need to spend your precious free time doing constant yard work. And what do you do on rainy days? The grass still needs to be cut! With this auto mower, your grass will still get its regular mowing because the machine will continue working in any weather. Once you set your program to your desired mowing schedule, you can sit back and relax knowing your yard will always have that perfect manicured look.
Not only is the Automower 315X a great mower, but it also comes with anti-theft technology rendering it useless to a would-be thief thanks to a very audible alarm and theft detection PIN code. It's also safe around your pets and little ones because the lift sensor automatically stops the blades if the mower is lifted or knocked over. With a three-blade cutting system and GPS-assisted navigation, this little mean machine will keep your lawn perfectly trimmed all on its own. To change the cutting height (8 to 2.4 inches), you just lower or raise the cutting deck. While this model doesn't have a rain sensor, it's able to work in the rain as long as you remove wet grass clippings.
Don't forget to also check our guide to the best riding lawn mowers for more great items like this.
Key Features:
Great for mid-sized lawns up to 1/3 acre
Mowing time per charge 70 min
Works in any weather
Theft detection PIN code and alarm
Lift sensor stops blades if the mower is lifted
Manages slopes up to 40%
3 remote start points
Compatible with Google Home and Alexa
Specification:
Brand

Husqvarna

Model

AUTOMOWER® 315X

Weight

20.9 Pounds
Packed with features, including GPS, Bluetooth, and more
Efficient, quiet, and easy to run
Ideal for mid-size lawns, including rougher terrain
Voice control
Steep price
No rain sensor
Robomow RX20 Robot Lawn Mower
The Robomow RX20 is one of the best-loved robot lawn mowers for small yards. It's the mid-range option in Robomow's RX range, which means it doesn't have all of the same premium features as the really high-end models, but we still think it's one of the best options on the market. With a 7-inch cutting width and a total of about 2 hours of cutting time per charge, this model is best suited to small-sized gardens with complex shapes. Thanks to its smart navigation system and small cutting width, it can fit down narrow paths, negotiate tree stumps, and much more. You'll find that in this environment the Robomow RX20 actually outperforms the competition. It's designed for yards up to 2,180 sq. ft. but it inclines up to 8.5 degrees, so it's not ideal for rougher terrains.
One of the things we love about the Robomow RX20 is that it's Alexa-enabled. It can join your smart home ecosystem, allowing you to program it by voice commands alone. Or, you can control the mower using the smartphone app or web app. The setup process is quick and painless. All you have to do is peg wire around the perimeters of your mowing area and set a weekly mowing schedule. It's also got a built-in rain sensor, reduced noise level, and safety system. If you're just stepping into the world of robotic lawn mowers, the Robomow RX20 is the ideal first robot lawnmower.
Key Features:
For yards up to 2,180 sq. ft. (1/20 acre)
Inclines up to 8.5 degrees
Seven-inch cutting width 
Mowing height range 0.5 – 1.75 inches
Alexa-enabled 
Smartphone and web app
Integrated rain sensor
Specification:
Brand

Robomow

Model

RX20

Weight

27.9 Pounds
Ideal for small lawns, including gardens with narrow paths
Affordable price point
Easy to set up and control
The battery life is sufficient only for a small yard
Not suitable for anything other than flat terrain
Robot Lawn Mower Buying Guide
Why Trust Us
Here at GearHungry, we either rigorously test products for days or months, or we research them thoroughly and exhaustively, but usually our guides are a result of both comprehensive testing and online research. For this guide to the best robot lawn mowers, we spent exactly two weeks researching the market, comparing the best sellers, and reading verified customer reviews. We made sure to include only reputable brands but also a variety of models to suit a variety of lawn sizes.
Who This Is For
This guide is for anyone looking for the best robot lawn mower for their yard. Whether you have a tiny lawn and are just starting to think about getting a robot mower to save you some precious time on weekends, or you already have experience with many robotic lawn mowers and are looking for the latest and greatest model for your garden, this guide has a robot mower for everyone.
How We Picked
We selected the best robot lawn mowers by analyzing and comparing their "smart" features, run and charging times, maximum cutting areas, and prices. And, since you, unfortunately, cannot just place a robot mower in the middle of your yard and expect it to get to work (with most mowers, you not only need a docking station within reach of an outside power source, but you also need to lay a boundary wire around the area you want the mower to mow), we paid special attention to how easy (or tricky) setting up the robotic mowers is.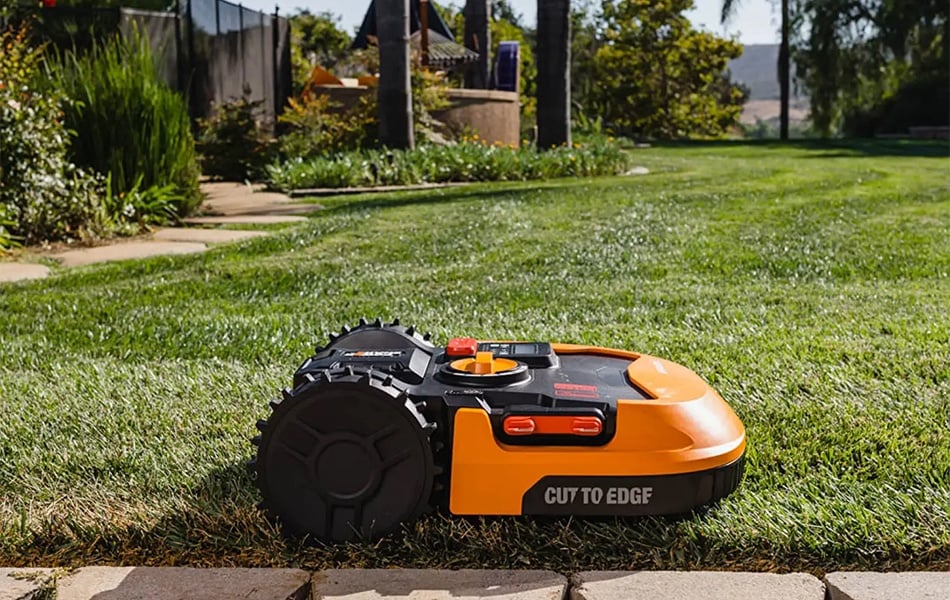 Features To Look For In Robot Lawn Mowers
Ease-of-use - The initial setup of your battery-powered lawn mower may take a bit of time because you will either need to install a boundary or perimeter wire, or configure your property's boundary into the mower's GPS navigation. But once you do this, you really want to be able to sit back and relax with minimal effort required on your part.
We chose models that require a little bit of work in setting up when you first bring them home but are then easy to program and control. While the installation process can be tedious and time-consuming (depending on the size and complexity of your yard), all models come with written instructions, and some brands also offer online video tutorials. Once you install your mower though, all you need to do from time to time is check on it and keep its cutting deck clean. Of course, you'll also need to change its blades occasionally.
Quality of cut - This is the whole purpose of purchasing any lawn mower but in particular with robot lawn mowers, you want a model that shreds the grass cuttings into fine particles that stay on the ground and act as a natural fertilizer that will promote a lusher, greener lawn. You definitely don't want to have to run after your mower to rake up the cuttings. Furthermore, you want a uniform cut of your lawn to look impeccable all the time. Look for models that allow you to easily adjust the cutting height.
Slope - Okay, so your automatic lawn mower will not climb mountains, but if you live on a larger property, chances are you don't have a completely flat yard. While most automatic mowers can handle slight inclines or slopes, it's still a good idea to check if a lawn mower you want can handle any slope or incline you have on your property to make sure it will do the job right for your whole yard.
Smart perimeter control - Depending on the brand and model of robotic lawn mower you choose to buy, your mower will either have GPS so you will be able to program the mower to only mow the lawn within the boundary of your yard, or your mower will come with a perimeter sensitive wire that you will place around your yard and secure with pegs or staples. Either way, you can be sure that your mower will not be crossing into your neighbor's territory.
Safety - Kids are naturally curious, and it only takes a second of distraction to miss seeing them getting into all sorts of trouble. Animals, too, may want to attack this foreign intruder running around the yard. While it's always best to keep the kids and pets away from any type of mower, the best robot lawn mower should have a safety feature that automatically stops the blades from spinning the moment the mower is picked up or flipped over.
Price - It's always natural to want to save money, but at the end of the day, you do get what you pay for. The old-fashioned mower is much cheaper, but it involves you pushing it to get the mowing done. Robot mowers are set-it-and-forget-it type of devices, they're also significantly quieter and more eco-friendly. The cost of your robotic lawn mower will depend on the size of your yard, the type of grass you have, and the features you want or need. Of course, your budget is also an important consideration too. It's simple economics to decide what you are prepared to pay and also get as many of the features you want.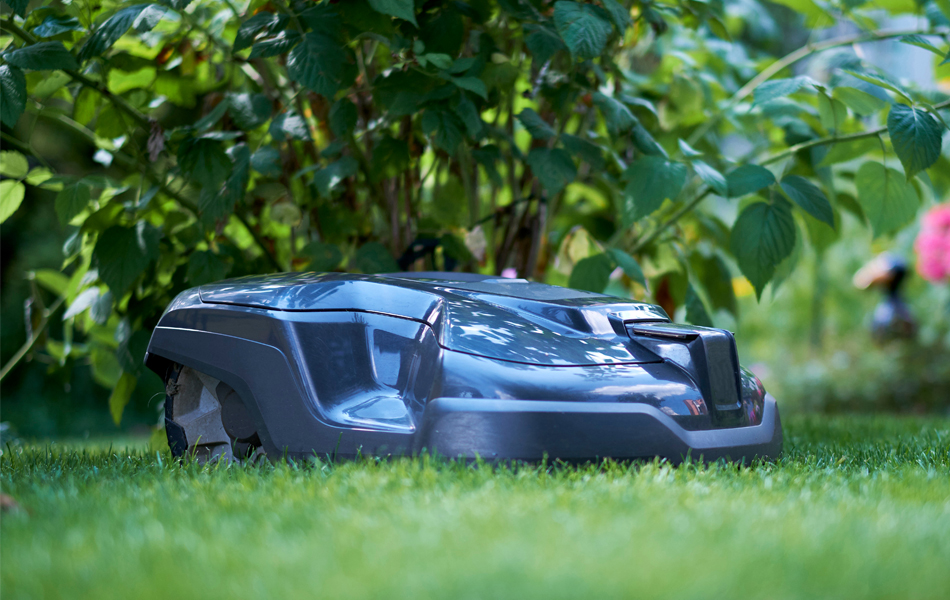 Robot Lawn Mower FAQ
Q: What is a robot lawn mower?
A: The simplest way to describe a robot lawn mower is that it is an autonomous robot that runs on rechargeable batteries that can mow your lawn on its own. All it takes is a little bit of programming, and the robotic lawn mower will automatically and periodically do the rest of the hard work for you.
Q: How often should I use a robotic lawn mower?
A: How often you use your robotic lawn mower will depend on many factors. The first one is the type of grass you have and the height you prefer your grass to be. Keep in mind that some types of grass grow faster than others, and all grasses will most definitely grow a little faster over the warmer months of the year. You can program a schedule into your mower, and it will automatically set out to work accordingly, but many mowers also come with an override feature so you can get it working if your grass needs an earlier mowing. Some manufacturers recommend allowing your mower to do its job everyday as this will keep your grass at a consistent height making it easier to maintain and looking pristine every day of the week.
Q: Can I use a robot lawn mower while it rains?
A: Some robot mowers work perfectly well in all weather conditions, including rain. This is a must-have feature if you live in an area known for its frequent showers. Fortunately, even if your mower isn't compatible for wet weather mowing, it should still come with a sensor that will send it back to its base when it detects rain. The convenience of this is that either way, you don't necessarily need to sit around at home to keep an eye on your mower.
Q: Do I need to buy any accessories for my robotic mower?
A: Some makes and models of robotic mowers come with everything you need to set up and install your mower and get it working immediately. Other mowers require some accessories to be purchased such as the perimeter wire and staples. Check the specifications to see what accessories will be necessary to purchase before you decide which mower you want to buy.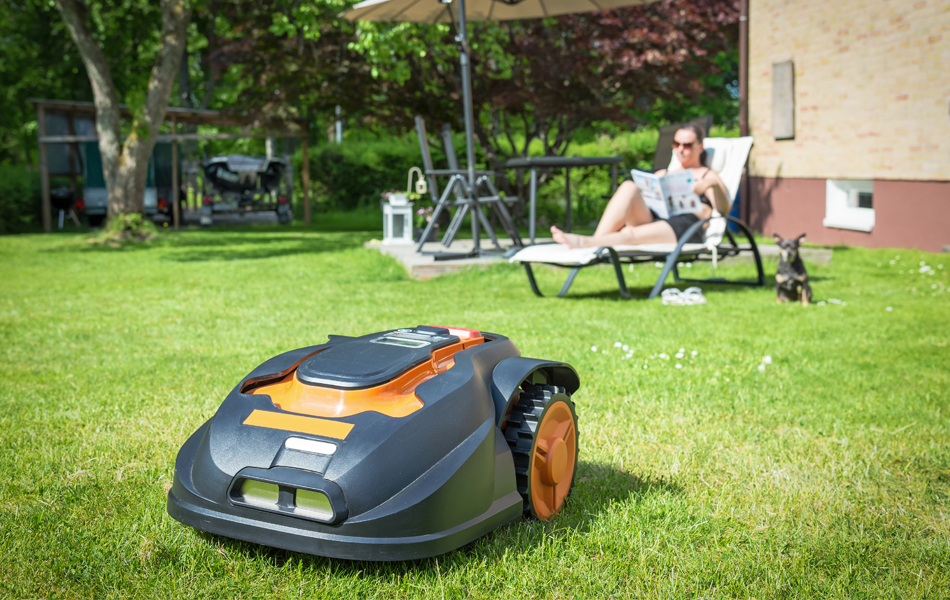 Q: Can I control robot lawn mower remotely?
A: Smart technology is everywhere these days. We can operate and control so many of our modern conveniences using our smartphones like the heating in our homes or opening garage doors before we get home. Some brands and models of robotic mowers also take advantage of this technology so you can control your mower remotely with the use of your smartphone. This can be a particularly useful feature if you are at work, on vacation, or simply not at home while your mower is in operation.
Q: How long do robotic lawn mower batteries last?
A: Once the robotic lawn mower batteries are fully charged they should be able to mow your lawn for anything from 40 to 90 minutes. Some models may even have a longer mowing time. This, of course, depends on the mower you have, the type of grass you have, and how level your grounds are. In terms of the life expectancy of the batteries, they average about 2 years. The factors that determine the battery's life are the size and type of yard you have, frequency of use, and the type of mower you own.
Q: Does a robot recognise obstacles and objects on the lawn?
A: Most of the newer robot mowers have sensors that recognize or detect obstacles and objects on the lawn including flower beds and will, in most cases, simply go around them. However, some smaller objects, like small branches or fruit from trees, etc., may not be detected and the mower will simply mow over them. While this is not a problem for the mower, if you have harder objects like branches or pine cones that frequently fall on your lawn, it's a good idea to rake them up and remove them before the mower is in motion. Again, it's not such a big problem for the mower, but it could result in you needing to change the blades with a little more frequency.
Q: If I don't have a fence, how will a robotic lawn mower know where the borders of my yard are?
A: Depending on the make and model of your mower, it will either come with GPS technology that will be programmed into your mower so it "knows" when to stop at your property's boundary or, your mower will come with a perimeter wire you need to lay around the are you want to mow which will send a signal to your mower to not go any further. If you decide to share your robot mower with a neighbor or family member, keep in mind that you will need to change the coordinates if you have a mower with GPS, but it's a lot more complicated and inconvenient if your mower uses a perimeter wire to control its movement.
Sources:
Smart Lawn Mowers: Everything You Need to Know - Residential Tech Today
What Are Robotic Lawn Mowers And Why Do We Love Them? - Terren Landscapes
Sign Up Now
GET THE VERY BEST OF GEARHUNGRY STRAIGHT TO YOUR INBOX