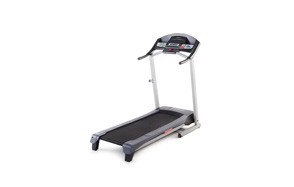 Weslo Cadence G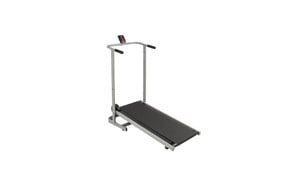 Best Choice Products Portable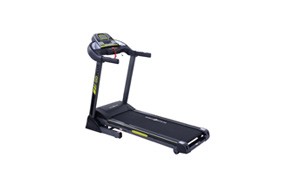 Goplus 2.5HP
So you've decided it's time to get back into shape but you don't have the time or inclination to slog your way down to the fitness club several times a week. Nor do you want the expense or the experience of mounting fitness equipment someone with questionable hygiene practices just dismounted. No, you want to lose that spare tire right in the comfort of your own home and to do so you've decided to look at folding treadmills as a possible solution. But you don't really know much of anything about folding treadmills.
Fear not, our product review team has heard your call and is on the case. In this review guide we're going to turn our critical eye upon the folding treadmills landscape and highlight the pros and cons of those we consider to be the best. Keep in mind that any opinions expressed here are strictly those of our experts.
Our Picks For The Best Folding Treadmills
Goplus 2.5HP Folding Treadmill
See More Reviews

See More Reviews


The 2.5 horsepower motor powering this GoPlus folding treadmill is enough to deliver you to the promised land of flat stomachs and improved cardiovascular health. Not only is the motor the most powerful of the folding treadmills represented here it's also one of the quietest and most reliable.
The GoPlus 2.5 HP folding treadmill is probably as close to being the gold standard of folding treadmills as anything else currently on the market. It's solid as a rock with plenty of power, a wide tread, strong handles and it folds up nice and tight to slide under your bed when you're done. There are cheaper folding treadmills out there but if you're serious about getting in shape you should consider making the financial stretch and getting this.
All the power you need to get the most from your workouts.
Treadmill can handle up to 286 lbs.
Generous 18" x 50" running belt can accommodate the tallest runner.
Choose anywhere from 1 to 11 mph.
Choose anywhere from 1 to 11 mph.
Ancheer S8100 Folding Treadmill
See More Reviews

Everything else has an app so it was just a matter of time before folding treadmills got one. In this case though it's more than a gimmick as the Ancheer App provides you real-time personal trainer assessments of your progress. Go through your motions on the treadmill then find out how whether you're making progress or need to tweak some things.
The unit's Bluetooth connects to something called "G-Fit". G-Fit analyses your height, weight and heart rate to create a training regime for you. Beyond the nifty high tech aspects though this treadmill is comfortable, attractive, has an easy to read LED readout, is wide, durable and folds up easier than you think. An outstanding home treadmill.
Bluetooth connection sends data from your session to a trainer who assesses it.
Auto-lubrication means the unit is practically maintenance free.
Belt is textured to prevent slips and slides on your running machine.
The heart rate monitor is based on your pulse though 99% of the time pulse and heart rate are the same.
GoPlus 1100W Folding Treadmill
See More Reviews

The second of 2 GoPlus Folding Treadmills is notable not for the enormity of its power or the stunning array of features but for its common sense design, superior build quality and surprising affordability. It's a less bulky cousin to the 2.5 HP model profiled above but once you start running on it you may not notice the difference.
Put this next to the GoPlus 2.5 horsepower model and you'll see the difference straight off. Run on one then run on the other and the difference is not so obvious, other than top speed.
Can easily handle up to 220 lbs.
Speed ranges from .5 mph to 6.5 mph.
Rated to 1100W of power.
Folds down to 24" in height.
Doesn't have the style of other folding treadmills but will melt away the pounds just as effectively.
See More Reviews

See More Reviews



The Weslo Cadence G 5.9 Treadmill is another outstanding treadmill with 2 position incline and proprietary cushioning to lessen stress on your feet through the stride. The treadmill comes with 6 professionally designed workouts programmed in so you can access the one that's right for you.
Weslo Cadence folding treadmills are sometimes called entry level folding treadmills but this one provides a range of exercise possibilities to satisfy just about everyone. The treadmill folds away easily but because it's one of those folding treadmills that fold up vertically rather than horizontally you'll need to clear space in the closet for it. Still, it's a great value that will have that spare tire melting away in short order.
Specification:
Brand

Weslo

Model

WLTL29609

Weight

130.1 pounds
Easy enough for anyone to assemble.
2 incline levels to ramp up the difficulty.
Folds up easily (and we mean 'up') with the removal of a single pin.
2.25 horsepower impulse motor.
Narrow belt leaves little room for missteps.
3 month warranty is underwhelming.
Best Choice Products Portable
See More Reviews

The Best Choice Portable Folding treadmill is one of the few real entry level folding treadmills on our list and designed to give the beginner a taste of life on the treadmill without breaking their bank. There's no motor here, just your legs, your will and the force of gravity.
The construction on this manual powered treadmill is excellent but that doesn't mean it's ready for football linebackers. It's intended for the average person with an average build and an average interest in getting in better shape and it fulfills its mission perfectly well. Low tech all the way but by the time you hop off you'll know you've had a workout.
Specification:
Brand

Best Choice Products

Model

SKY1821

Weight

44 pounds
Won't impact your energy bill like electric folding treadmills.
Super easy to assemble and fold down for storage.
LCD displays powered by 2 AA batteries.
A great way to determine if the treadmill is for you.
There's no way to adjust the incline which is pretty steep and may intimidate beginners.
Not for truly heavy set individuals.
Sunny Health & Fitness SF-T7603
See More Reviews

The Sunny Health & Fitness Electric Powered treadmill will be the centerpiece of your home gym or the single apparatus that helps you improve your cardiovascular health and lose unwanted pounds. The 2.2 horsepower motor provides plenty of power and if you want or need to put it away after your workout it folds down nice and tidy.
The Sunny Health & Fitness Folding Treadmill costs more than an entry level treadmill but it's worth it. From the wide tread to the powerful 2.2 horsepower motor to the pulse sensors in the handles and the Soft Drop folding system this is one of those folding treadmills designed to make your experience effective and hassle free.
Specification:
Brand

Sunny Health & Fitness

Model

SF-T7603

Weight

103 pounds
Start, stop, speed and pulse are all controlled from or monitored from the control panel.
9 preset workouts built in so there's always one for your level.
16" wide tread allows you to veer outside the lines without paying a price.
Weight limit of 220 pounds should accommodate most people.
A bit noisier than some other folding treadmills.
See More Reviews

With this 3rd GoPlus entry you may think we've got a thing for this company but actually we just call 'em like we see 'em and GoPlus makes some excellent folding treadmills. This treadmill is a high tech wonder that will grind it out at between .5 and 8 mph so you can start easy and work your way up.
Like other GoPlus folding treadmills the 1000W can carry up to 265 lbs safely. It also has a shock absorbent tread, plays all your favorite tunes and can be switched easily between motor and manual. Now if it just folded up so we could roll it into the closet when we're done. Oh wait! It does that too! The electronic display is also super clear and easy to read and the handles take your pulse.
If the motor driven tread is getting too much switch to manual mode and work at your own pace.
Supports MP3s so you can listen to your favorite tunes while working out.
Nice wide tread is uber forgiving of missteps.
There's no incline option.
See More Reviews

If you are uncertain whether you want to invest in one of today's folding treadmills or if you just want to stay active by doing an intermediate level workout a few times a week you owe it to yourself to consider the Confidence Power Plus folding electric treadmill.
A nice little treadmill for those who want to get some exercise without having to go running or joining a health club. Its simple appearance belies durable construction and the 600W motor should be more than enough for beginners or intermediates. Also, folds down to practically nothing for super convenient storage.
Specification:
Brand

Confidence Fitness

Model

NHCFT-1120

Weight

56 pounds
LED screen displays speed, time, distance covered and calories burnt.
600W motor can handle up to 250 lbs.
Folds down easily for convenient storage under the bed.
14" tread.
While it's rated to 250 lbs we'd hesitate to put that much weight on it.
See More Reviews

See More Reviews



The Merax JK1603 folding treadmill is a step up from entry level folding treadmills and will allow you to take your level of fitness to new heights. Its robust electric motor can handle up to 220 pounds and the LCD displays keep you up to date on speed, heart rate, distance and more.
This is an outstanding mid-level treadmill that will be the perfect centerpiece of your home gym. It's durable, powerful, ergonomically mindful, has just enough bells and whistles and won't break the bank. If you've decided it's time to ramp up your workout or you're already familiar with folding treadmills this is the treadmill for you.
Specification:
Brand

Merax

Model

JK1603

Weight

Approx. 70 lbs
Generously sized tread has extra cushioning to reduce the stress of impact on your legs.
Motor is one of the quietest of these folding treadmills and includes emergency stop capability.
Easy to fold up and store when not in use.
Slight incline just to make things interesting.
Set up might require some help.
Folding Treadmills Buyer Questions
There's nothing like being able to get in shape right in the confines of your own home and folding treadmills are the perfect way to do so. But most people contemplating folding treadmills don't know much about them and that's understandable. Here are a few of the most common questions regarding folding treadmills.
Q: What's The Best Brand Of Treadmill?
A: While trying to determine the "best" folding treadmills could be problematic in this case it's actually fairly easy; at least for our product review panel. For them GoPlus represents the apex of the treadmill artform. You'll undoubtedly pay more for their products but the question isn't "which is cheapest", it's "which is best".
Q: What Folding Treadmills Can Be Made The Smallest?
A: Of the folding treadmills on our list the one that folds up the smallest is the Confidence Power Plus treadmill. This is largely a function of the fact that it is also the one with the fewest bells and whistles. As such it folds down nice and small and can be slide under just about any bed or put into the back of any decent sized closet without getting in the way.
Q: How Do I Fold My Treadmill?
A: Some folding treadmills fold toward the floor and others fold up for storage in the closet. While each manufacturer has different mechanisms for their folding treadmills they are almost all very straightforward and self-explanatory. Simply consult the accompanying instructional booklet on the treadmill you decide to buy. It will provide you comprehensive instructions on folding your treadmill.
Q: What Folding Treadmills Are Best For A Home Gym?
A: It depends. If you're just embarking on an exercise program to get in shape after years of relative inactivity you'll want to start with a beginner treadmill like the Confidence Power Plus. If however, you're in pretty good shape and want to build a home gym so you can get in even better shape you'll want something more serious. Lastly, we can't ignore the role price plays in such decisions. The folding treadmills represented here are all considered "affordable" even though they range in price from about $100 to nearly $600. In addition there are professional grade folding treadmills out there that retail for a couple of thousand dollars so keep cost in mind.

Things To Look For When Buying Folding Treadmills
Folding treadmills today range from super simple to flat out high tech. But they're all designed to do one thing: provide you a stationary track to exercise on. Regardless of whether you're a treadmill vet or a newbie there are a few things you'll want to consider when you're shopping for a folding treadmill:
Cost – We just touched on the issue of cost above but it bears repeating. It's probably not wise to dump $1,000 or more on folding treadmills if you've never used one before. Instead get an entry level treadmill and see how it goes. You might think that if you buy a high end treadmill and change your mind you'll have no problem selling it. That may be true but you're also likely to take a pretty big hit.
Usability – You'll want to consider how easy a particular treadmill is to use. Some folding treadmills are incredibly simple while other folding treadmills have all kinds of bells and whistles as well as a slew of preset workouts you can access through the control panel. Which you choose will depend on your relationship with technology to a large degree but both types of folding treadmills can deliver an excellent workout.
Stability – A lot of folks don't think about stability but they should. While most folding treadmills have a wide footprint and are really stable they're not immune to tipping over if things become unbalanced. Lighter, narrower folding treadmills are easier to tip while wider, heavier ones are more difficult. If you're a big guy or gal you'll want a wider, heavier treadmill just to be safe.
Setup and breakdown (Foldability) – You'll also want to consider how easy it is to set up and break down the treadmill. You don't want to hurt yourself trying to get healthy so make sure any folding treadmills you're considering are ones you can easily handle yourself.
Portability – You may need to store your treadmill some distance from where you plan to use it in which case you'll want to be sure you can move it around by yourself without any problems. If the treadmill folds down and all you need to do is slide it under the bed this may not be a biggie. But if you actually have to tilt the treadmill back on its wheels and push it some distance you'll want to look at folding treadmills that are light enough for you to handle.
Weight limit – Just because folding treadmills are rated to 220 pounds doesn't mean you should buy one if you weigh 218 pounds. Always over-purchase to a small degree. If you weigh 218 pounds get a treadmill rated to 250 pounds just to be safe.
Warranty – Many folding treadmills today are well built and reliable but so are most cars. Still, you wouldn't buy a car without a proper warranty and you shouldn't buy a treadmill without one either. 1 year is okay. 2 is better and 5 years on parts and workmanship is even better. 90 day warranties are pretty much worthless.

Conclusion
A folding treadmill can help transform you from a couch potato into a paragon of cardiovascular health. Just remember: pick one that's appropriate to your current level of health, select one you can move about easily, don't pick a small one if you're a big boy or girl and don't pay through the nose for one if you've never used one before.