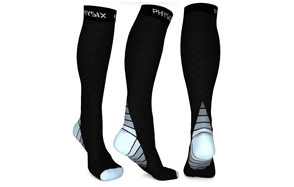 Physix Gear Sport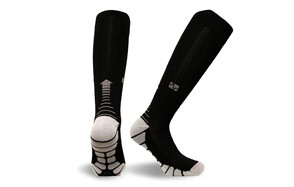 Vitalsox Italy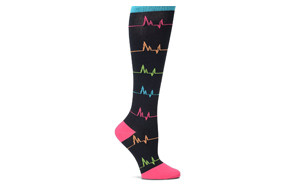 Compression Trouser Sock Ekg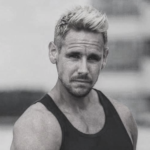 Compression socks are designed to provide additional support to your legs while increasing blood circulation. This is crucial for people who spend long hours sitting or standing at their job. Writers, administrative assistants, nurses, waitresses and more often find at the end of their shift that their lower legs and feet have become swollen. This is because blood settles toward the lower parts of the body and pools in the feet and lower legs. This may seem like no big deal to some but it is actually dangerous if it is not addressed. Over time individuals can and do develop serious circulatory problems such as phlebitis, edema and deep vein thrombosis (DVT). Elevating the legs can sometimes provide temporary relief but what nurse or waiter has time to put their feet up for hours while at work?
The answer to this problem is compression socks. This type of specialized sock provides pressure on the veins and the lower legs and feet forcing the blood through narrower channels. This provides less opportunity for blood to collect and as a result proper circulation is restored.
In this review of the 10 best compression socks we're going to take a look at the top brands out there, review others that we feel are also top 10 products and highlight those that we feel provide the best overall value. As usual our choices reflect the consensus opinion of our product review experts.
The Best Compression Sock
Compression Socks Buying Guide and FAQs
Below are the most commonly asked questions regarding compression socks.
Q: Do I Need Them?
A: Do you spend all day sitting in front of a computer at work? Are you a nurse, construction worker, athlete, emergency room doctor or someone else who is on their feet most of the time when they're at work? Now look down. Are your feet, ankles and/or lower legs swollen? If you answered yes to any of these questions chances are good that you would benefit from wearing high quality compression socks. Even if you don't answer 'yes' to the above questions but you are facing the prospect of a long international flight you can benefit from compression socks for flying. Swollen feet are no laughing matter. They can affect nearly every aspect of your life and lead to serious complications. Compression socks represent the ultimate example of "an ounce of prevention being worth a pound of cure." Don't take chances with your health.
Q: When Should You Use Them? 
A: If you work in any of the fields we've discussed in this guide you're better off starting to wear compression socks before problems arise. Why wait until your feet are swollen like balloons and you feel tired and lethargic before taking action? If you've just been hired for an office, construction or hospital job make them part of your outfit and rest easy knowing you're preventing potentially serious health problems.
If you are already experiencing DVT or edema or plantar fasciitis it's not too late to start wearing compression socks to prevent your condition from getting any worse. While prevention is always the preferred course of action it's never too late to take positive action in the interest of your long-term health and well-being.
Benefits
The benefits of compression socks are many and if you've previously suffered from swollen feet you'll notice many of them on day 1. Whereas before you may have experienced a gradual tightening of your shoes as the day wore on that should end. If you previously felt lethargic due to your swollen feet you should now have far more energy. If you've previously had tingling in your feet due to swelling that should come to an end as well. The benefits for athletes include faster recovery after long runs or hikes, more effective performances regardless of your sport and a greater sense of vitality and alertness as well.
Things To Consider When Buying Compression Socks
Buying compression socks to ward off problems with edema, DVT and more is a wise decision for those who spend long hours sitting or standing. Below we've compiled a short list of things you'll want to consider before buying this type of sock.
The fit – While there are those who advocate taking elaborate measurements of your calf muscles, ankles and feet this is typically overkill. Just keep in mind that most manufacturers produce their socks in 4 or 5 different sizes that coincide with shoes sizes. The most important thing is not to get compression socks that are loose as this will negate the beneficial effects of wearing the socks in the first place. If for some reason you wind up with socks that are too large or too small don't worry. Simply go up or down in size with your next pair until you find the proper fit.
Get the right level compression – You don't need to buy super-expensive medical compression socks. If you have swelling, varicose veins, DVT or other conditions just make sure your compression socks are 30-40mmHg. If you need help battling a less severe form of vein dysfunction 20-30mmHg should be sufficient and if you just want support for your legs during the long days at work 15-20mmHg should be enough to do the trick.
Pick a style that dovetails with your wardrobe – There are myriad styles of compression socks out there so there's no reason to have to wear a pair that clash with your outfit. From bright colors and lively patterns to more classic blacks and browns with minimal patterning there's something for every taste. Pick up several pairs so you're never at a loss to have an appropriate pair to wear, regardless of our outfit.
Consider the length – You'll also want to consider whether you need thigh-highs, knee highs (by far the most popular), stockings/hose that extend to your waist like pants or even footless compression socks. If you're considering footless socks consult with your doctor first. They may not be appropriate for your particular health condition.
Read lots of reviews – While we would be delighted if you simply took our word on everything we nonetheless understand the value of getting as many viewpoints as possible. So spend some time reading reviews online before making your final decision.
Where can I buy compression socks? – Some websites out there sell what they're calling compression socks but are actually just average, run of the mill socks that won't help you. If it seems like the price is just too low (2 pairs for a dollar etc) don't buy it. Remember these are therapeutic footwear that take time and effort for companies to make. There's simply no way to offer compression socks for the same price as cheap standard socks. When it comes to where to buy compression socks just be careful.

Conclusion
Compression socks are modern marvels which, for less than you pay for Internet every month, can help stave off potentially life threatening health conditions. To say that they're a good value is the understatement of the century. Don't gamble with your health by seeing how long you can endure swollen feet without developing serious problems. If you live and work on your feet or at a desk, do yourself a favor and pick up some of the above featured compression socks. If you are a running fanatic, a pair of running socks may benefit you.  You won't regret it.