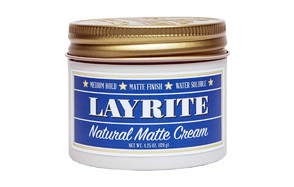 Layrite Natural Matte Cream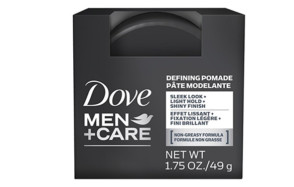 Dove Men + Care Defining Pomade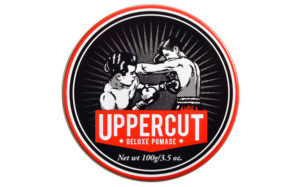 Uppercut Deluxe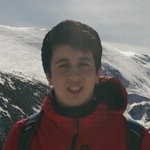 A pomade is a water-based, wax-like substance that is used by both men and women to style their hair. The word derives from the French "pommade" which loosely translated means "ointment". It's been around in one form or another since Roman times although it wasn't until about 300 years ago that the pomade began to enjoy widespread acceptance. In all likelihood, your father, or maybe grandfather, used a pomade when they were young only they didn't call it that, they called it "Brylcreem" (a brand that survives to this day in various forms). During the late 60's Brylcreem went out of fashion as longer, more natural hairstyles prevailed. But recent years have seen a renewed interest in pomades, along with other previously out of favor products like moustache wax. Below we'll shine a spotlight on our 10 choices for best pomade for men.
The Best Pomade For Men
Pomades For Men Buyers Guide and FAQs
Guys unfamiliar with pomades will want to know more about them before actually purchasing one. As such we've collected some of the most common questions out there about this particular grooming product.
Q: What Is Pomade?
A: As we said at the beginning the pomade has existed in one form or another for thousands of years. These days it's basically a way to style your hair without having to resort to mousse or gels that could irritate your scalp and/or create a hairdo that seems like it's carved from granite. In that sense it differs from gels or mousse that can leave your hair feeling like it will break off if you touch it the wrong way and can often cause reactions on the scalp that can range from mild to severe. Water-based pomades typically wash out of your hair completely without having to use any special soaps or detergents.
Q: Which Hairstyles Are Pomades Intended For?
A: The men's contemporary classic, the pompadour, the quiff, the ducktail and more are all men's hairstyles that benefit from the versatility of the pomade. As you can probably tell from that list it's particularly effective on combed hairdos that utilize short to mid-length hair. When it comes to our longer haired brothers it does a great job on some of the looser hairstyles and beards; those designed to exude a more carefree mindset. Some would call these hairstyles 'bed head' or 'messy and long' but whatever you call them a good pomade will help you pull them off.
Q: How Do I Use Pomade?
A: It's important to use the right amount as using too much typically won't add any extra hold but simple make your hair feel weighed down and make washing it out more difficult. If you need more hold just select a strong hold pomade that's rated 4 or 5 for hold rather than 1 or 2. That said the typical method for application is:
First, as we stated, select the degree of hold you want.
Then determine how much sheen you want. Typically if you work in an office environment you don't want a high shine pomade. Whereas a matt finish can make you look smart, sharp and professional a slick, shiny do may be interpreted as a flashy display of individuality; the kind the corporate world likes to discourage.
Wash your hair and towel dry it to the point where it's damp but no longer wet. This is the best time to apply the pomade because your hair is more malleable than if it's completely dry. You can certainly apply it if your hair is dry but you're likely to achieve a closer approximation of the style you are after if you apply it when your hair is still a bit damp.
When it comes to how much is right for your hair you're going to have to engage in a bit of trial and error. If your hair is short start with a small dollop. If your hair is longer try about enough to fill a teaspoon. If the pomade has a firm consistency rub it between your palms to loosen it up before running it through your hair.
Use your comb (or your fingers if you're after that 'just out of bed' look) to shape your hair as desired. If you feel you need a bit more work it in and re-comb. Remember, if the issue is the degree of hold you'll want a stronger pomade not more of a weaker one.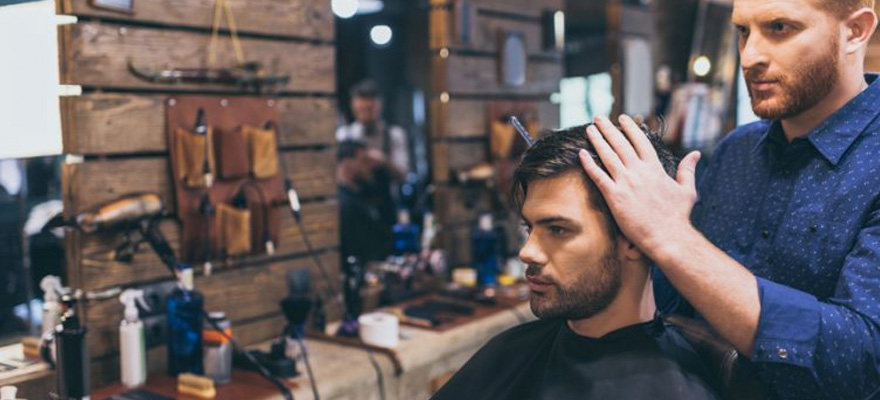 Q: How Do You Wash Out Pomade?
A: A water-based pomade like most of the ones reviewed above washes out easily using your regular or hair growth shampoo. The oil based pomade is another story altogether and you may need to resort to things like dishwashing liquid (which is completely harmless and designed to cut grease) in order to remove it completely. Remember that if you don't remove it completely it's your pillowcases and sheets that will suffer along with your scalp as subsequent layers of grease build up on top of one another.
Conclusion
The pomade – like beard oil – has found favor with a new generation of men. This can be attributed to its ability to provide several effective degrees of hold without damaging your hair or irritating your scalp the way mousse or men's hair gel can. It's also affordable, easy to use and easy to remove which makes it one of the best men's hair products a guy can have in their style arsenal.
We hope you found the above information on the best pomade for men helpful and that it assists you in making an informed decision when it comes to choosing the right product for your hair. Don't forget to stop back regularly for more product reviews and buyer's guides from Gearhungry.