Suds for Buds: The Best Soaps for Men in 2022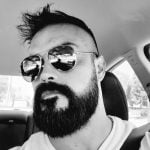 This product guide was written by Billy Brown
Last Updated
June 2, 2021
Billy Brown
Billy Brown has a problem sitting still. His constant search for the next challenge has him doing everything from running ultramarathons and climbing 14er's to gaining 40 pounds to compete in powerlifting, breaking several state records and growing a killer beard in the process. With over a decade of writing under his belt, his work, covering action sports, gear, and beer, can be found in a variety of publications. He lives with his wife and their two cats in Sacramento, California.
GearHungry may earn a small commission from affiliate links in this article.
Learn more
Few things are as refreshing as taking a nice, hot shower after a long day of work. Same goes for that invigorating wake-up shower when you get out of bed. While cleaning up with a bar of soap can just be another step on your way to the office in the morning, using the right soap can turn a daily chore into a 10-minute trip to the spa. While many may think that soaps, scrubs, and body washes are more of a feminine pursuit, there's not a damn thing wrong with being clean and smelling good.
So, we took a look around for the best soaps on the market, called in a few, and scrubbed the hell out of ourselves in search of the best bath soaps for men. We found a host of different materials, exfoliants (aka scratchy bits), and a wealth of awesome scents that'll help get you started on your way, whether that day entails chopping down a tree or sitting at your computer writing about…soap.
Take a look at our list of the best soaps for men, written by the best-smelling writers in the world. If you have any favorites that we left out, feel free to let us know on our social channels.
The Best Soap For Men
Viking Revolution Activated Charcoal Body and Face Soap for Men
If you're looking for one bar of soap that will clean up your body and face (and beard, if you have one), the Activated Charcoal Body and Face Soap for Men from Viking Revolution is the way to go. Even though the name suggests that it's just rendered boar fat served out of a horned helmet, this soap's ingredients and scent are purely high-end.
Made with Dead Sea mud and black activated charcoal, this soap builds an amazing, slick lather that makes for a speedy shower experience. The fresh eucalyptus and peppermint scent smells fresh and masculine, while the 100% organic ingredients mean you'll know exactly what you're putting on your skin.
During testing, I had a stack of bars cluttering up the shelf in my shower, but the Viking Revolution was the one that I always defaulted to, thanks to its super smooth feel, rapid suds, and subtle, pleasing scent. Read the in-depth review here.
Key Features:
Eucalyptus and peppermint scent
100% natural and organic
Black activated charcoal
Dead sea mud
Excellent lather
Helps reduce blackheads
Specification:
Brand

Viking Revolution

Model

Activated Charcoal Soap
Fulton & Roark Palmetto Bar Soap for Men
If you've got the cash to throw down and you want the best-smelling soap on the market, the Palmetto Bar Soap from Fulton & Roark is a must-buy. This exfoliating triple-milled bar soap is loaded with a blend of Brazilian pepper, cedarwood, and magnolia notes for a bright, masculine scent that's noticeable for hours after showering.
One of the best scented soaps for me, the fragrance isn't overpowering in any way, it's like a gentle reminder throughout the day that you take care of yourself.
At around 20 bucks, it's pricier than a lot of soap bars on the market, but the 8.8-ounce size is actually pretty hefty. After a few months of daily use, the bar has barely decreased in size, thanks to its triple milled formulation. The bar lathers well and the mild exfoliant makes for solid scrubbing, but that scent is what really makes the soap stand out.
When I tested this soap, my significant other would constantly take random whiffs of me and tell me how good I smelled. This stuff basically eliminates any need for cologne.
But if you want to make sure the party keeps going all day, Fulton & Roark offers a line of solid colognes as well.
Key Features:
Amazing Brazilian pepper, cedarwood, and magnolia scent blend
Olive oil, grapeseed oil, shea butter, and cocoa butter moisturizers
Easy on skin
Mild exfoliant
Excellent lather
Lasts for months
Specification:
Brand

Fulton & Roark

Model

Triple-Milled Palmetto Bar Soap
Bossman 4-in-1 Bar Soap for Men
If your skin is on the dry side, the Men's Bar Soap 4-in-1 from Bossman might be the best soap on the market for you. The soap is infused with coconut oil, shea butter, and palm oil to keep your skin moisturized and clean, and the aggressive chunks of exfoliant will pry off any lingering dry or dead skin. The result will leave you as smooth, clean, and ready to face the day.
The scent is a mix of geranium, lavender, vanilla, rosemary, and patchouli, which at first, might seem like an odd mix. It sounds like you're going to come out of the shower smelling like potpourri. But the mix is a subtle, fresh, and unique scent that smells unlike any other soap we tested. And thankfully, the patchouli is just a hint, so you're not going to go to the office smelling like you hit up a smoke shop on your way to work.
And if you're a huge fan of exfoliants, you're going to love this soap. I found that scrubbing too hard with this bar made me emerge from the shower covered in red lines, looking like I got into a fight with an alley cat. But I smelled like I'd just been in a fight with a male model, so it evened out.
Key Features:
Acts as shampoo, conditioner, beard/face wash, body wash
Infused with coconut oil, shea butter, and palm oil
Geranium, lavender, vanilla, rosemary, and patchouli blend
Aggressive exfoliant
Excellent lather
Specification:
Brand

Bossman

Model

4-in-1 Bar Soap
MARLOWE. No. 102 Soap for Men
We love Marlowe.'s No. 102 soap for its soft feel and just the right amount of exfoliant. The exfoliating bits in this bar of soap are just the right mix of gentle and abrasive. It's rough enough to scrape off any dead skin, but not so rough that it'll make you feel like you've got road rash when you're done scrubbing.
It moisturizes and nourishes via Marlowe.'s proprietary M Blend of ingredients, which include passionflower fruit extract for skin restoration, green tea extract for skin cell repair, and willow bark extract to minimize inflammation.
It does all this without any harmful chemicals like parabens and phthalates, and they are cruelty-free, so you can rest easy knowing that this soap isn't tested on animals, so the soap also makes you feel good before you even use the bar.
And for every soap that Marlowe. sells, they'll donate a bar to a place around the world to people who are at risk for hygiene-related illnesses in partnership with Clean the World. Don't forget to also browse our selection of the top hand soaps on the market.
Key Features:
Contains green tea, willow bark, passionflower, and deep-sea algae extracts
Gentle scent
Easy on skin
Mild exfoliant
Excellent lather
No harsh chemicals
Made in USA
Specification:
Brand

Marlowe.

Model

No. 102 Men's Body Scrub Soap
Dr. Squatch Spearmint Basil Natural Soap for Men
Known for its chemical-free formula, Dr. Squatch's Spearmint Basic Scrub Natural Soap is one of the best natural soaps for men. This cold-processed soap is handmade and infused with subtle exfoliants to provide solid scrubbing action, and its natural ingredients will work well for people with sensitive skin.
Since it's made specifically with men in mind, Dr. Squatch makes it a point to avoid flowery scents, instead opting for a fresh, spearmint, and basil smell that will leave you feeling fresh and confident enough to do anything from kick a bear in the fruits to telling your boss that he can edit the damn code himself if he's got such a problem with it (we don't recommend either activity).
Each bar is handmade in small batches and comes with a satisfaction guarantee. If you're not happy with the bar for any reason, they'll give you your money back. But the way this bar smells and feels, we doubt that you'll send it back.
Key Features:
All organic ingredients
Rich scent
Easy on skin
Mild exfoliant
Excellent lather
No harsh chemicals
Made in USA
Specification:
Brand

Dr. Squatch

Model

Spearmint Basil Natural Bar Soap
O Naturals 6-Piece Black Bar Soap Collection
Can't decide on just one soap? O Naturals has you covered with this handy six-pack. These six 4-ounce bars contain unique scents and properties, so you can stock up on a year's worth of soap with one click. Each one is different: the African Black Soap is ideal for its skin repair and toning, the Dead Sea Mud & Green Clay Bar is highly moisturizing, and the Black Coffee Scrub Bar will scrub off all your dead skin. Gross, right? Yeah, that's why you want to scrub it off.
In addition, the 6-pack includes a Dead Sea Mud & Salt Bar, a Black Tea & Tea Tree Soap, and a Charcoal Soap as well. Each bar is made with all-natural ingredients, is paraben and sulfate-free, and is not tested on animals, so you can enjoy them guilt-free.
At less than 20 bucks for the six-pack, these soaps will cost less than most of the average soap bars you'll find at the grocery store, and since they're triple-milled, each one will last a good long time. For more grooming essentials, check out our list of the best serums for men.
Key Features:
Excellent price
Variety of scents
All-natural ingredients
Good for all skin types
Excellent lather
Triple-milled
Specification:
Brand

O Naturals

Model

Black Bar Soap Collection
Duke Cannon Big Ass Brick of Soap For Men
Inspired by the rough-cut brick of soap they'd give G.I.'s during the Korean War, Duke Cannon's Big Ass Brick of Soap does not mess around. This no-nonsense lump of soap is tested by active-duty soldiers in Bravo Company to make sure that it lives up to Duke Cannon's high standards. Basically, this bar or soap will get you clean without leaving you smelling you like someone who can't take a punch.
The Bergamot (it's the flavor behind Earl Grey tea) and black pepper smells clean and fresh, and steel-cut oat grains provide grip and some extra scrubbing power.
Duke Cannon also donates a portion of its sales to benefit veteran causes, so every time you buy a bar, you're giving back to the men and women who serve our country.
And at 10 ounces, you could stuff it in a tube sock and use it as a club if someone tries to mug you. So, there's that. For more amazing skincare products for men, check out face moisturizers everyone is buying right now.
Key Features:
Huge brick of soap
Steel-cut grains for grip and exfoliation
Bergamot and black pepper scent
Triple-milled
Cruelty-free
Made in the USA
Specification:
Brand

Duke Cannon

Model

Big Ass Brick of Soap
EO Products Everyone Soap for Men
If soap bars aren't your jam, check out this liquid some from EO Products. The Everyone Soap for Men can function as a shampoo, body wash and shaving soap, so you don't have to clutter up your shower with a bunch of different products to get the job done.
The essential oil blends of cedar, lavender, and orange provide a floral, yet masculine scent and the plant extracts include aloe vera, calendula, chamomile, and white tea extracts to soothe your skin. 
And just in case that wasn't enough, the soap is supplemented with vitamins B5 and E to keep your skin soft and supple.
EO Products Soap for Men is 100% cruelty-free and is never tested on any animals. It's also paraben and polysorbate-free, so it won't irritate sensitive skin.
Key Features:
Shampoo, body wash, and shaving soap
Cedar, lavender, orange scent bland
Aloe vera, chamomile, white tea extracts
Pump action liquid
Cruelty-free
Specification:
Brand

EO Products

Model

Everyone Soap for Every Man 3-in-1
How We Tested & Why You Can Trust Us
To give you an in-depth look at each soap on this list, I researched the best products online, recalled what I've liked about soaps that I've used in the past, and called in a few bars to test and evaluate pieces that were new to me.
I spent a few weeks with each bar to see how effective the soaps were over long-term use, as well as to get an idea of how long the bars might last. I rounded out my first-person impressions with user reviews online to make sure we were looking at the top-rated soaps for men.
Who This Is For
This article is intended for people who are looking to find the best soaps for body, face, and hair. The soaps on this list range in price, size, scent, and ingredients.
How I Picked
I tried to find soaps that would appeal to all kinds of users in a wide range of applications for users with differing priorities, as well as ones that would fit different budgets.
I looked at scent, exfoliation, durability, and price, among a few other factors and categorized them according to what priorities readers may be looking for in a good soap for men.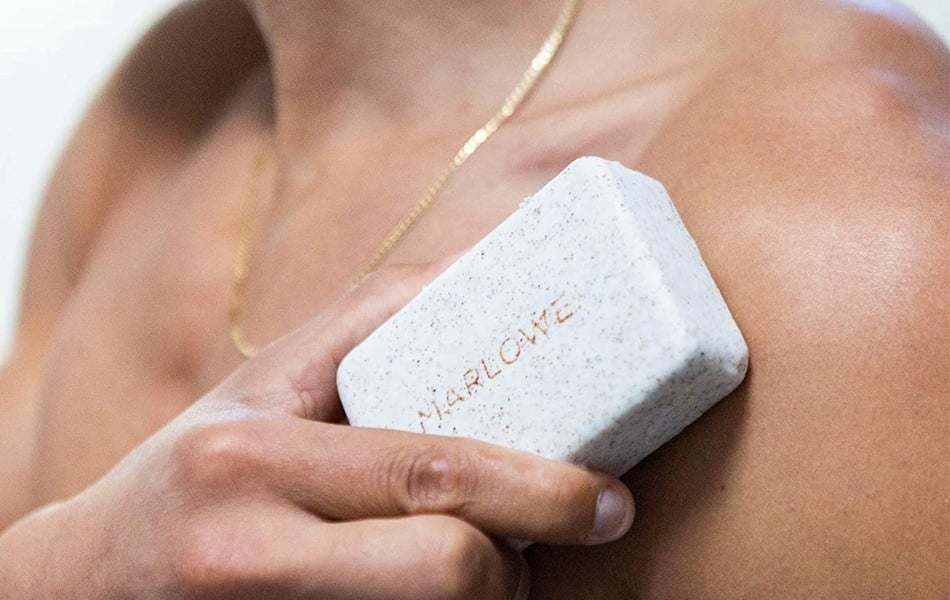 Features to Look for in Soaps
When it comes to personal grooming products, a lot of it comes down to personal preferences.
Some folks have dry or sensitive skin, others can't stand certain scents, and others want a good exfoliant to scrape away all the grime. So, let's break down what you should be looking for, and avoiding, when you buy soap.
Ingredients — For the most part, finding a soap with natural ingredients is the best way to keep your skin fresh without risking any irritants. Look for natural oils and moisturizers like cocoa or shea butter and aloe vera.
Scent — If you're like me, you're going to want something fragrant, but not floral, but otherwise, this comes down to personal preference. If you really want some of the best smelling soaps for men, look for scents like cedarwood or bourbon.
Texture/Grippiness — A lot of the best soaps will have some form of exfoliation to help you scrape off dirt and dead skin, leaving your body feeling and looking fresh. Look for soap with scrubs like ground-up walnut shells, oats, or even coffee grounds to help scrape your skin clean.
As a bonus, this acts as a grip to make sure you don't drop the soap.
Extras — Some of the top body soaps for men will come with a few extras, like their own soap dish or an attached rope to make sure you keep a hang on your soap while you wash up.
Also, consider a loofah. Yeah, a loofah. They're great for making suds with liquid soap and no, they don't make you any less of a man.
Price — You should be able to find most soaps for under $10, but some of the best bar soaps for men can go up to the $20 range and above. Pick your bourgeois level and buy accordingly.
Cruelty-Free —At this point, there are so many awesome soaps for men at great price points that don't test on animals that you don't have an excuse to buy an animal-tested product. Look for soaps that are cruelty-free or we'll sic Cujo on your ass.
Skin Type — For many people, certain soaps can leave you itchy or dry. If you have an issue with some soaps, it could be worth a visit to a dermatologist to make sure you know what kind of soap works for you. Or you can just try a bunch of soaps and figure out which ones you dig. Here's a look at a four common skin types:
Normal — Lucky you, you probably don't have to worry about buying a soap. You don't find any soaps that dry your skin or clog your pores, so go nuts.
Dry — You ever notice that your elbows, knees, and feet are always cracked? Or do you know what the phrase "ashy skin" means? Yeah, you've got the dry skin, buddy. Look for mens soap for dry skin, which is usually infused with cocoa butter, shea butter, or other moisturizers.
Sensitive — Do you always feel like you've got a sunburn or do most soaps leave you feeling irritated? You may want to find a pH balance soap for men, which leaves your skin at a healthy pH of 5.4-5.9.
Oily — Does your skin get oily and slick a few hours after you shower? Does paper stick to your face when you fall asleep on your desk, and is it translucent when you pull it off? It happened to my roommate in college, and it wasn't pretty. If this is you, a moisturizing soap for men isn't necessary.
Look for a soap that goes deep and removes below-the-surface oil to leave your skin feeling cleaner, longer.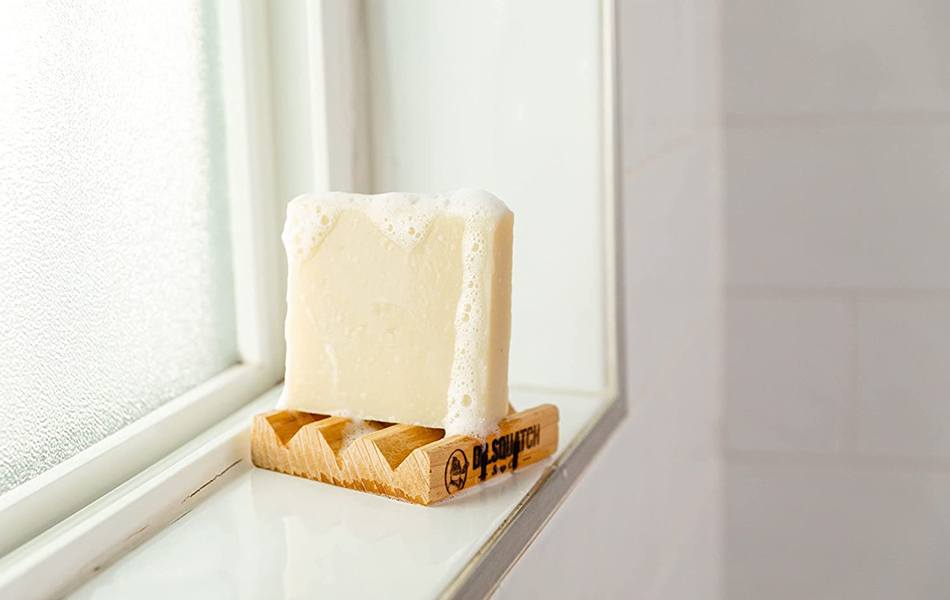 Soap for Men FAQ
Q: How are soaps made?
A: Soaps are usually made by combining animal or vegetable oil with water and lye. If you've seen Fight Club, Tyler Durden provides a concise summary of how early soap was made. These ingredients can be combined with scents, exfoliants, and moisturizers to create unique soaps to suit the needs of every potential user.
Q: How do soaps kill germs?
A: Actually, most soaps don't kill germs. They lift dirt, oil, and germs from your skin, which you then rinse off with clean water.
Q: Are soaps acidic or basic?
A: Soaps are the result of a weak acid and a strong base that create an alkali salt. Since alkali salt is basic on the pH scale, soap is basic in nature.
Q: Are soaps bad for you?
A: While chemical soaps can harm your skin, most natural soaps will only leave them cleaner. Natural soaps are also ideal for people with sensitive skin.
If you're concerned about how a soap will affect you, spend the extra time to find a soap that has all-natural ingredients.
Q: Can soaps cause rashes?
A: If you're allergic to any of the ingredients, yes. But some soaps can dry your skin out, leaving you with rash-like redness and itchiness.
If your soap is leaving you high and dry (and itchy), swap it out with a different soap immediately.
Q: Can soaps cause acne?
A: Facial soaps for men as a whole don't cause acne, but the wrong soap can irritate your skin or clog your pores, making acne worse.
However, good soaps for men will remove surface oils and clean your face without irritation or clogging.
Q: Can soaps expire?
A: Most soaps will expire after two to three years, but if it still lathers, it should still work. Some soaps may expire sooner if the essential oils or fragrances get moldy or rancid.
Obviously, if your soap is moldy or smells rancid, it's time to get a new bar.
Sources:
How Is Soap Made? – Soap Guild
What The Heck Is Bergamot? – Farmers' Almanac
Sign Up Now
GET THE VERY BEST OF GEARHUNGRY STRAIGHT TO YOUR INBOX