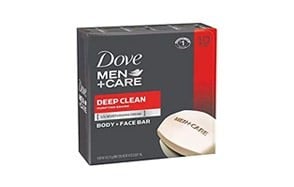 Dove Men+Care Body And Face Soap For Men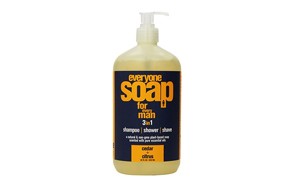 Eo Products Everyone Soap for Men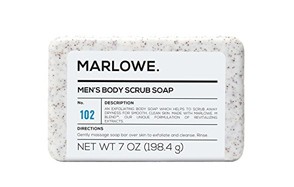 MARLOWE. No. 102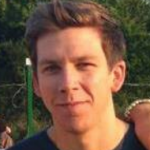 Before the big step of the industry in terms of hygiene products, manufacturers and distributors actually didn't pay much attention to producing products for men's use. They firmly believed that women are mostly the ones who are constantly in need of self pampering and personal care nourishments as men are known to have a lack of interest and time when it comes to these things. Even though it may not seem like it, men also have the necessity to get the treatment and important nutrients that their skin requires, and it might be even harder to fulfil because, at that time, the market doesn't offer that many products for men's use, and if there is, it's still not good enough so men resort on using feminine products.
A big thanks to the growth of range of hygiene products; skin nourishment products like soap, lotion, shampoo, and etc. for men are now widely available.
This article aims to provide you a list of the top 10 best soap bar for men that you can check out. Whether you're looking for the best soap for dry skin for men, the best exfoliating soap bar, or another description of the best of the best, we've got you covered.
The Best Soaps For Men
Soaps For Men Buyers Guide
Whether or not you use liquid soap at the sink, you probably remember a day and age when we didn't really have that, when bar soap reigned supreme. Since everybody is obsessed with germs and they spend time Googling "How many germs are on a public door handle," people don't really buy bar soap anymore. If you're a manly man who needs to maintain a high level of performance all day, get a deeper clean for better skin, you're in the market for bar soap.

Things To Consider When Purchasing Bar Soap
When it comes to personal grooming products, it gets touchy. Some people have sensitive skin, some can't stand certain aromas, so let's break down what you should be looking for in your bar soap and debunk a little bit of misinformation at the same time.
Ingredients - This comes into play more than anything else. If you're buying low-quality ingredients, you're probably wasting money. If you're buying soap with a bunch of fillers, it's not doing its job. The ingredients that go into soap also matter for a few of our other steps up ahead. Look for excellent products that benefit your skin, like coconut oil or beeswax (if you can find it).
Skin Type - If you're like some of us, certain soaps just set off your skin and make you itchy. You should be up-to-date with visits to your dermatologist to make sure everything's on point, and know what to avoid. These are the five main skin types, and odds are, you probably fall into one of them.
Normal - You lucky duckling—you probably don't have anything to worry about when buying a new bar of soap. You don't have to cop out early due to sensitivity, and you're not going to clog up your pores with the wrong type of soap. Go be all you can be.
Dry - Ever heard the word "ashy" thrown around, or notice that your elbows, knees, and the balls of your feet are always cracked? Yeah. You've got dry skin, buddy. This is when you want to look for products that contain glycerin, which we'll get into in just a moment.
Oily - You wash it away, but in 4-6 hours, your skin already feels oily again. Getting a soap that goes deep and removes below-the-surface oil is your best measure against this, and it'll leave your skin feeling smooth and dry (in a good way).
Combination - You've got a little bit of everything going on, and it's rough for you to find what to purchase, and what to avoid. When this is the case, you'll want to make an appointment with your dermatologist to see what's setting off your skin, and what you can have. This one is a wildcard, and we wish you the best of luck.
Sensitive - For some of us, it feels like we have constant windburn or something. Everything from the weather to your hair being brushed the wrong way can irritate your skin, so you'll need a soap that cradles you instead of one that betrays you.
Production Type
There are three main ways that bar soap gets made, and it makes a huge difference on your final decision. Here's what to look for, and what it means.
Conventional - This soap smells awesome, but it's also filled with fragrances and, most of the time, has more detergent in it than actual soap. In most cases, if you have normal skin, you'll be fine to use conventional soap. However, there's a few benefits to the other two types on this list.
Handmade - You'll heard the term "milled" if you go into the market looking for one of these. These soaps are softer to the touch, because conventional bar soap is extra hardened to make you feel like you're getting a better value. Handmade soaps often contain minerals and essential oils, making them way better for your skin.
Artisanal - These are basically the vegan version of soap—it's all good for you, it's awesome, but they're hard to find (and generally a bit more pricey). These are made with butter, oils, food-grade ingredients and organic-only compounds. You can't get better for your skin.
Glycerin
This is ultra important when you're picking a soap, especially for men. This is the ingredient that moisturizes your skin well after the shower is over, and if you're among the hairier variety of dude, you'll notice that your skin dries out or gets extra oily in key regions, especially your forearms. Think of glycerin as a balance to the scale.
Performance
How much do you sweat? Do you work out, do you work for 12 hours a day? Step one is taking a look at your needs, at how often you sweat, and determining how much protection you need during the day. There's usually two different gauges to this scale: "I'm fine," or "Holy crap, I need high-performance soap. Stat."
Price
A major contributing factor to anything you'll ever buy—depending on which production value and type you go with, you could be looking to spend a wee bit more than you're used to. These aren't dollar grab-and-go buckets at Wal Mart; these soaps do their job.
Soap Vs. Body Wash
There's pros and cons to both. Way back when, around the fallout of bar soap, body wash rose to power like a new world order. However, bar soap has a few one-ups on liquid body wash, so let's take a quick look at the main benefits and the drawbacks.
Point For Bar Soap: It's going to last you longer; you can' accidentally squeeze out extra soap, but you can (and most people often do) use way too much body wash.
Point For Body Wash: If you're travelling, you don't want to pay five and ten bucks for travel-sized soaps at the hotel shop (it's highway robbery!). Instead, you want to bring your own with you, and this is where bar soap doesn't hit its mark. You're not going to pack up your personal shower soap with you, but a small bottle of body wash can be used again and again. How weird would it be having a slightly-used bar of soap in a Ziploc in your luggage?
Point For Bar Soap: As we'll get into in a minute, bar soap can be perfectly sanitary, and body wash can actually muck up your in-shower products. If you use a wash cloth or a loofa, body wash gets jammed in there after taking dirt and oil from your body. The result? A bacteria-ridden wasteland in your grooming product.
Point For Body Wash: If you're 100% going for cost here, body wash is highly popular, and highly competitive. Just about every company makes body wash, but not every company makes bar soap. That saturates the market, and makes them less costly to you.
Q: How To Use A Bar of Soap
A: Let's start with this little tidbit that always made sense to me. If you were going to wash your car, where would you start spraying the hose? You'd work from the top down, because cleaning the doors is only so effective when more dirt is going to rain down on it. The same applies to personal hygiene.
Hop in the shower and start by taking care of your hair first and foremost. When that's done, you're going to wash your hands thoroughly with your bar soap.
But you said we're starting from the top down.
Yes, we are. Let's keep the analogies going, because they're awesome. Are you going to wash the car with dirty water? Hell no. When you use your hands to scrub your body, you don't want to start with a dirty base. Clean your hands, and let's continue.
Now it's time to get that money-maker all clean. When you clean your face, you have more areas to avoid than you have to clean, so it gets a bit tricky. Wet your face, and lather up your palms with a good amount of soap. Just like you see in all those Neutrogena commercials on TV, you're going to use your fingertips to lather gentle circles in your cheeks, along your forehead, and everywhere else. This exfoliates the skin and gets all that trapped dirt out into the open, and washing down the drain.
Shoulders on down your chest, making sure to spend extra time under your arms and along the sides of your torso. Many men forget the latter. From there, continue down. We're going to leave it at "Continue down" because, by this point, you should know how to handle the Bermuda triangle on your body.

Q: Is Bar Soap Unsanitary?
A: Negative: bar soap got a bad reputation for being unsanitary when liquid body wash came out, but it couldn't be further from the truth. The thought is that bacteria nestles on your bar soap and then, you apply it to your open pores in the shower. Not to be a buzzkill to those who believe that, but it's soap, right? What's the bacteria going to do, get clean?
In all seriousness, bar soap is perfectly sanitary. Before it exits the shower, it gets rinsed off, and put into your clean hands to its resting place. While it has been laboratory-proven that more bacteria rests on bar soap than you would find on the outside of your bottle of body wash, the levels aren't anything that you're not already interacting with on a daily basis, and wash away. This is simply an answer to a question; don't let the myth that bar soap can get you sick take place in your final decision.
Conclusion
There you have the top 10 best soap for men! Hopefully, this article gave you enough information to get you to know about the products that made into this list. Feel free to check them out and expand your skincare discovery!