While it's blatantly obvious that men don't allocate as much time and interest to beauty and personal care products as women do, there are still some lines that men won't cross when it comes to personal hygiene. For instance, we all have a favorite deodorant that we use on a daily basis. Whether it's a choice made by preference or habit, how do you know if it's the right one for you? Throughout this review/buying guide, we're going to cover some of the best deodorant brands and some of the things that you can do to add a bit more freshness when it comes to sweat and bad odors. Whether you're looking for the best spray, the best stick or the best roll on deodorant, we hope we'll cover everything.
In the following section, we're going to take a look at the 10 best men's deodorants in an unbiased way, talking about their scents, best use, price and resistance. Let's get to it!
Our Top Picks For The Best Men's Deodorants
Men's Deodorant Buying Guide
Now that we've provided you with a lot of different options, let's focus on how to choose the right one for you. Throughout this section of the review, we'll be focusing on the pros and cons of each type of product.
First of all, think about comfort.
If you're unlucky and have more irritable skin, don't cheap out on the extra bucks and focus on a more natural option, as they're made using less chemical ingredients (or none at all) that will provide plenty of protection while not causing harm and discomfort. Seeing as this is a product that you'll be using on a daily basis (hopefully), give extra importance to the label and eliminate any chemicals that would have a negative impact on your health.
Secondly, think about scent
If you're the type of guy that uses perfume or cologne, or just don't like foreign fragrances in your environment, maybe go with an odorless option. If not, then give a little thought to the fragrance that you're looking for – you don't want to spend money on something that you're going to throw away.
Antiperspirant, deodorant, or both?
 This is a more confusing issue. Some products are meant to fight odor, some are meant to fight sweat, but some prevent both. Think about what your main problem is and buy something tailored to solve that specific problem. If you're sweating a lot, buy an antiperspirant. If you don't sweat that much but smell is your problem, buy a scented deodorant. If you find yourself unlucky enough to be affected by both these issues, then go for the scented antiperspirant – it'll take care of both.
It's important to mention that there's a difference between odorless unscented products. Unscented deodorants usually have masked fragrances to fight the bad smells that your body produces.
In addition to this mini buyers guide, let's take a look at what YOU can do to further minimize the "damage" that sweat has on your confidence and image.
Five Useful Tips To Help Control Your Body Odor
First of all – showers. Shower daily and make sure that you use appropriate soaps and shower gels (preferably antibacterial). After you shower, make sure that you are completely dry before getting dressed, as wet armpits can stimulate sweat production (ironically).
Secondly – diet. There are a lot of foods that will have a negative impact on your body odor. Eat plenty of fruits and vegetables, especially foods that contain a lot of water (grapefruit, watermelon etc.) and avoid spicy foods, onions, garlic and especially smoking if you emit a strong smell.
The third thing you could do is supplements – bad smell can indicate a problem with your body. Consider visiting a doctor or a local pharmacy to learn more about what supplements will have a positive impact on your body odor and make sure that you follow the instructions to achieve the best and safest results.
The fourth thing that you could do is to take a look at your wardrobe. Plastic fabrics don't give your skin a lot of room to breathe. Go with lighter, thinner fabrics so that your body gets the proper amount of air circulation. They're also going to keep you cooler.
Lastly, there are more "radical" steps that you can take. Massage yourself with scented oils and creams so that you add even more potency to the formulas and other measures that you're already using. If that doesn't work, witch hazel inhibits the growth of bacteria on your body, so you can rub it in key areas on your body.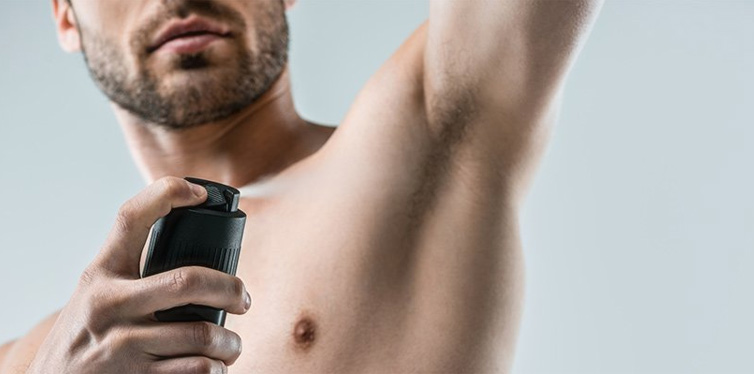 Conclusion
Let's try and sum up what we've discussed. From all of the products that we've presented, each one acts in a similar way, but there are plenty of nuances to consider before settling on just one. Before mentioning those, please note that they're all great products, tested to be safe and approved by all health authorities. That being said, some of them still might have a negative effect on your body, so READ THE LABEL and cease use if you notice any side effects.
Determine what your issues are (body odor, sweat or both) and choose a deodorant or antiperspirant that will solve those issues. If you have strong moral concerns about animals or genetically-modified organisms, then pick something that is in line with your personal beliefs, there are plenty of natural, non-GMO options.
If you still don't achieve desired results, make sure that you have a healthy diet and follow proper cleaning techniques. Stay hydrated and consult a physician if you think that the odor is masking a more serious problem.
Stay fresh!