Treat Your Pits: The Best Deodorants For Men Of 2022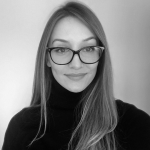 This product guide was written by Jovana Dosenovic
Last Updated
September 29, 2021
Jovana Dosenovic
Jovana is a writer and copy editor living with her lazy calico cat and thousands of (mostly unread) books. She has worked as a copywriter, fact-checker, QA analyst, and librarian, but this has been her favorite gig so far. A bit of a bookworm since she was tiny, she loves nothing more than curling up with a giant cup of coffee or tea and a good book. When not hunched over a keyboard or book, Jovana enjoys going on long walks, short hikes, and occasional camping trips. She also has an unfinished novel she'd like to publish one day. No, really.
GearHungry may earn a small commission from affiliate links in this article.
Learn more
While it's blatantly obvious that men don't allocate as much time and interest to beauty and personal care products as women do, there are still some lines that men won't cross when it comes to personal hygiene. Case in point: practically every man, whether he has the simplest or most complex daily grooming routine, cares about keeping his body odor in check.
But the thing is, not all deodorants are created equal; while some use aluminum to reduce how much you sweat (antiperspirants), others are made from all-natural ingredients that help mask your odor. Regardless of the type, the best deodorants for men should a) be effective and keep you smelling fresh throughout the day, b) not irritate your skin, and c) ideally last a few good months with daily use. As for finding such a product… well, that can be a bit tricky. Sure, the market is jam-packed with men's deodorant brands, but surprisingly few actually tick all the boxes.
To help you avoid endless trial and error, we've rounded up some of the best antiperspirants and deodorants for men that money can buy. From extra-effective antiperspirant sticks that help keep the sweat and odor at bay the entire day, to ultra-smooth-gliding all-natural roll-ons that help complement your natural scent, to refreshing aerosols that leave zero stains behind, we've covered them all. Whichever one you choose, your pits will thank you.
The Best Men's Deodorant
Helmm Refillable Deodorant For Men
It's on the pricier side, but Helmm Deoderant should be at the top of anyone's deodorant list. Helmm offers great scents and skin-friendly deodorants that don't skimp on the protection. During testing, the deodorants worked throughout entire days, even keeping our tester smelling fresh after grueling CrossFit workouts. We don't recommend going multiple days without reapplying, however. During extended tested, we found that the effectiveness wanes after about 36 hours. Besides, you should be putting on deodorant every day anyway.
Helmm comes with a permanent deodorant case that takes refills, which uses less plastic than traditional use-and-toss deodorants. You can even set a schedule to have refills sent to your door, so you'll never run out. Don't forget to also check out our list of the best body washes for men.
Key Features:
Refillable, eco-friendly deodorant
Made with natural ingredients
No aluminum, parabens, or artificial additives
A range of subtle, luxurious, and distinctive scents
Old Spice High Endurance Whitewater Deodorant For Men
Old Spice needs no introduction so we'll cut to the chase: if you're looking for a well-performing, budget-friendly deodorant that will keep you great-smelling throughout the entire day, look no further. Fresh and masculine but with notes of sweetness (that ladies seem to love, by the way), this is a classic scent that you really can't go wrong with.
While aluminum-free, the formula does a surprisingly good job at keeping the moisture away, so it's great for training as well. In fact, this deodorant has performed so consistently well throughout our tester's many gym workouts that it has become his new favorite. Overall, this is typical Old Spice quality – smells great, lasts long. Nothing more to say.
Key Features:
Goes on clear to protect clothes against stains
Provides powerful 24-hour protection against odors
A fresh, masculine scent with subtle sweet notes
Easy to apply stick design, travel-friendly
Specification:
Brand

Old Spice

Model

252-7521

Weight

50 ml
Degree Men UltraClear Antiperspirant Black+White Deodorant For Men
If you tend to sweat a lot throughout the day and are looking for something that smells great and keeps both BO and sweat at bay for hours, look no further than this top rated men's deodorant. The Degree Men UltraClear Antiperspirant Black+White Deodorant For Men features a modern, masculine scent that is woody yet fresh with notes of amber. It also provides day-long protection against unwanted odor and fights that uncomfortable pit dampness we all hate.
This invisible solid goes a long way thanks to its Motion Sense technology that works with, not against your body. Basically, the more you move, the harder it works to provide protection. Unique microcapsules that sit on top of the skin are broken down with friction, releasing a fresh burst of scent. The stick is super easy to apply too as it glides effortlessly and goes on clear, delivering advanced protection not just for your underarms but for your clothing too. A top contender for the best men's antiperspirant deodorant. For more personal care products, browse our selection of the top solid colognes for men.
Key Features:
Stick with aluminum for maximum anti-sweat protection
Innovative Motion Sense heat and motion-activated technology
Day-long protection with up to 48-hours effectiveness
Actively protects clothes against stains and marks
Masculine scent with woody notes and amber base
Specification:
Brand

Degree Men

Model

SG_B072J2ZBPY_US

Weight

1.4 pounds
Dove Men+Care Clean Comfort Spray Deodorant For Men
If you like your antiperspirants in aerosol form, you'll love this deodorant for men from Dove. With a fresh and crisp scent but zero alcohol, the Dove Men+Care Clean Comfort Spray Deodorant For Men is tough on sweat and odor but gentle on the skin.
Featuring aluminum for excellent protection against perspiration, and Triple Moisturizing technology that helps protect your underarms against irritation, this is perhaps the strongest deodorant for men in spray form. It offers advanced 48-hour protection and active defense against wetness and unwanted odors. And as mentioned, the scent is refreshing and revitalizing so perfect for throwing into your gym bag for when you want to quickly freshen up post-workout.
Key Features:
Spray with aluminum for excellent  protection
Provides 48-hour sweat and odor protection
Contains active moisturizing and caring technology
With clean, refreshing and crisp scent
No alcohol, suitable for sensitive skin
Specification:
Brand

Dove

Model

Dove-MenCleanComfortSprayDeodorant-6Pack

Weight

1.08 pounds
Tom's of Maine 24-Hour Long Lasting Natural Deodorant For Men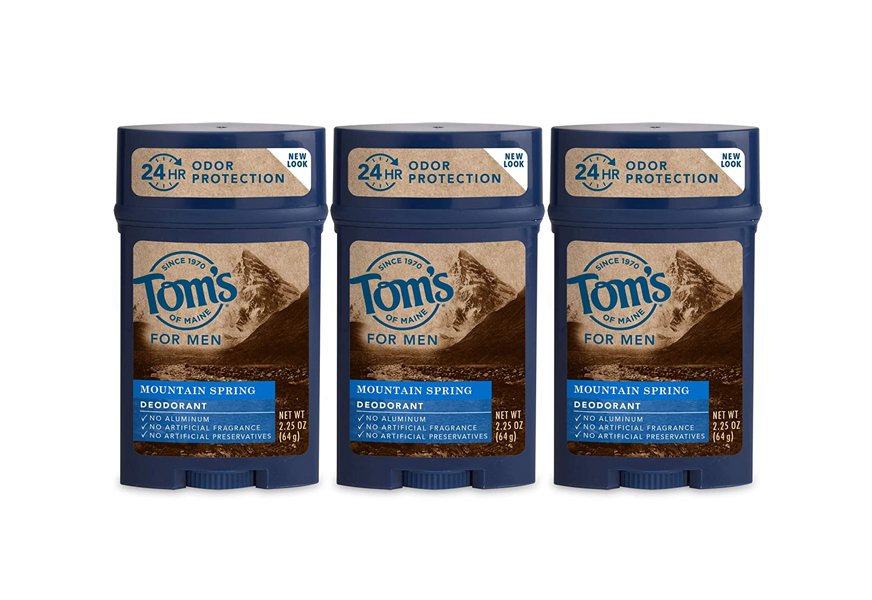 If you're looking for an effective natural deodorant for men that doesn't break the bank, take a look at this three-pack offer from Tom's of Maine. Their non-aluminum deodorant stick glides on effortlessly without leaving any marks or sticky residue and contains a fresh and invigorating 'outdoor' scent.
The Tom's of Maine 24-Hour Long Lasting Natural Deodorant For Men is true to its name – without aluminum and artificial fragrances, but packed with naturally derived ingredients, including aloe vera, glycerin and sunflower seed oil, this stick protects your pits – the natural way. Produced to the highest levels of social and environmental practices, Tom's of Maine deodorant is a great choice if you're passionate about the planet and picky when it comes to the ingredients you use on your skin. Naturally (no pun intended), since this is an aluminum-free stick it won't prevent perspiration, but thanks to its mountain spring scent it should keep you fresh for hours.
Key Features:
Aluminum-free formula for natural deodorizing protection
Refreshing Mountain Spring scent
A blend of natural odor-fighting ingredients
Delivers safe, long-lasting 24-hour protection
Not tested on animals
Specification:
Brand

Tom's of Maine

Model

SG_B016K8KDBQ_US

Weight

8.8 ounces
Schmidt's Natural Deodorant For Men and Women
Another natural deodorant, this time manufactured by the world-renowned people from Schmidt. With odor-neutralizing baking soda, plus a host of fantastic natural ingredients, including coconut oil, shea butter, and essential oils, this is one great-smelling natural deodorant for men – and women.
With a subtle warm, woodsy scent, the Schmidt's Natural Deodorant offers all-day protection that both men and women are guaranteed to appreciate as it's anything but overpowering. Equally important, it won't stain your clothes but should help keep your pits fresh and dry throughout the day. The stick comes in 5 different fragrances (plus an odorless formula), so you're guaranteed to find one that you like. Some of the fragrances include lime and bergamot, cedarwood and juniper (our favorite), lavender and sage and more. If you're looking for a natural, vegan deodorant that's actually good for your skin, this is the one to have in your Dopp kit.
Key Features:
With odor-neutralizing baking soda
Plant-based ingredients, including essential oils
Warm, woodsy and unisex scent
Provides 24-hour odor protection
Vegan, not tested on animals
Specification:
Brand

Schmidt's

Model

019962085314

Weight

3..5 oz
Dove Men+Care Extra Fresh Antiperspirant Deodorant Stick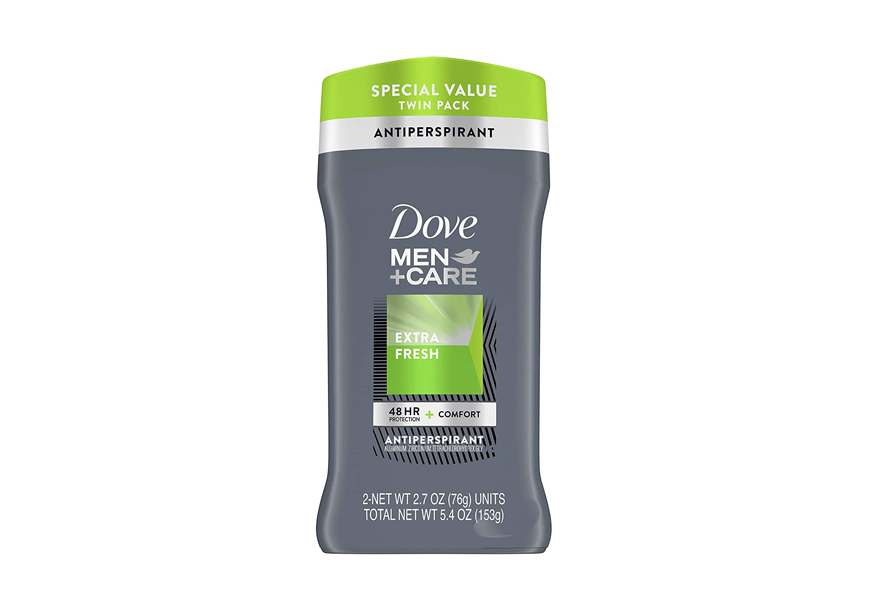 If you're looking for a no-frills antiperspirant for men with a simple fresh scent, check out Dove Men+Care Extra Fresh stick. Made with both moisturizing and anti-perspiration ingredients, including sunflower oil, vitamin E and aluminum, the Extra Fresh formula helps keep your underarms both hydrated and dry.
The formula is free from alcohol and dermatologically tested so it's suitable for all skin types, including sensitive skin prone to irritation. This said, while the label boasts a whopping 48-hour sweat and odor protection, empirically speaking, this is more in the realm of about 24 hours, especially if you're very active during the day. Still pretty great, especially since the fresh, invigorating scent lasts through the day.
Key Features:
Antiperspirant stick with aluminum
Provides 24-48-hour protection against sweat
Fresh, invigorating scent lasts all day
Moisturizing ingredients hydrate the skin
Alcohol-free, dermatologically tested formula
Specification:
Brand

Dove

Model

10079400066722

Weight

5.4 oz
Mountaineer Brand All Natural Deodorant
If your pits are not fans of standard aluminum deodorants and you want something uber-natural that not only helps keep odor at bay but also nourishes your skin, we highly recommend this fantastic all-natural deodorant for men from Mountaineer Brand.
While the arrowroot powder and baking soda combo help absorb moisture and sweat, neem oil and tea tree oil help fight bacteria, keeping your underarms fresh and dry for hours. As a bonus, coconut oil, shea butter and vitamin E help moisturize and nourish your skin, while cedarwood, fir needle and eucalyptus provide that fresh, outdoorsy scent. Not a fan of the Timber scent? No problem, the Mountaineer Brand also offers Lime and Sage, and Peppermint, Clary Sage & Patchouli scents, plus there's the Unscented stick for folks looking for moisture-absorbing properties only. The only con? The consistency is sometimes too waxy and can clump up if used too much. For more quality grooming products, check out these amazing shaving soaps for men.
Key Features:
All-natural formulation with essential oils
Arrowroot powder and baking soda absorb moisture
Shea butter, coconut oil and vitamin E nourish the skin
Zero artificial additives and fragrances
Specification:
Brand

Mountaineer Brand

Weight

3.25 oz
Nasanta Magnesium Deodorant
The Nasanta Magnesium Deodorant is an odorless aluminum-free deodorant that, as the name suggests, is magnesium-enriched to minimize odors caused by excessive sweating. Bonus? Being that it contains magnesium, it's great for nerve and muscle function, as well as energy production. 
Free from all artificial additives – parabens and fragrances included – and tested for sensitive skin, this hypoallergenic roll-on is the best option for folks struggling with sensitive skin and allergies. In fact, the super-safe formula won't harm your body or clothes as it glides on smoothly and absorbs quickly. Seriously one of the best natural formulas around. That being said, it is about double the price of a standard deodorant, so it's clearly not for everyone. 
Key Features:
Magnesium-enriched, neutralizes odors
Free from aluminum, parabens and fragrances
No baking soda or alcohol
Absorbs quickly, doesn't stain
Tested for sensitive skin
Specification:
Brand

Nansanta

Model

MDR80M

Weight

2.7 oz
Gillette Clear Gel Cool Wave
Gillette is an industry leader when it comes to grooming products for men, so it's no surprise their antiperspirant sticks are some of the most popular deodorants out there. With Scent XTend technology, this clear-gel stick provides excellent and long-lasting protection against both excessive perspiration and odors caused by it.
The Gillette Clear Gel Cool Wave deodorant has a clean, crisp scent that will keep you and your pits fresh and great-smelling all day, including on the days when you train hard. The triple-protection formula (has odor blockers, acts as a clear, dry shield, and lasts all day) is designed for highly active men, as well as those who tend to sweat excessively.  Since this is a gel formula, it's pretty easy to use and apply as long as you don't use too much – and it's worth mentioning that unless you're careful, the container tends to dispense too much product. Other than that, a fantastic gel antiperspirant. You might also like our selection of aftershaves, so be sure to check them out.
Key Features:
Clear gel antiperspirant for long-lasting protection
Cool, crisp and clean scent lasts all day
Triple protection, designed for training
Goes on clear and stays clear
Specification:
Brand

Gillette

Model

4740009995

Weight

7.06 oz
Baxter Of California Citrus and Herbal-Musk Deodorant
The Baxter Of California Deodorant for Men is a botanically-based, aluminum-free deodorant that tackles the odor while conditioning the skin. While on the pricy end of the scale, we chose this product as one of our favorites due to its smell: this is one of, if not the best smelling deodorant for men.
Featuring tea tree oil, witch hazel and chamomile as key ingredients, this clear gel stick has a very unique, pleasant herbal scent that lingers for hours after application. The formula is also very smooth and applies beautifully, leaving the skin nicely conditioned. It's also alcohol and aluminum-free, so as far as natural ingredients go, this fares pretty well. Bear in mind though that this is not an antiperspirant so it won't combat excessive sweating.
Key Features:
Botanically-based, aluminum-free stick
Clear gel formula glides on smoothly
Features tea tree oil and witch hazel
Unique herbal scent that lasts for hours
Specification:
Brand

Baxter of California

Model

838364008017

Weight

2.65 oz
MenScience Androceuticals Advanced Deodorant
If you worry about sweat and body odor but still want to use a safer, more natural product, this might be the best deodorant for sweat you can find under these circumstances. The MenScience Androceuticals Advanced Deodorant is a premium stick that offers plenty of odor and sweat protection, but of course, it comes at a rather steep price. Odorless and transparent, it's a great choice if you're having issues with an aluminum formula but still need the potency that it offers. In fact, this is such a great natural deodorant that it should handle folks with an active lifestyle easily as it provides long-lasting odor protection.
Granted, there are cheaper options that you could opt for, but this is a really good alternative to conventional, highly scented pomades as it offers some of the best care and protection on the market – yet it's fragrance-free. Probably the best stick deodorant in the odorless arena.
Key Features:
Plant-based deodorant
Fragrance-free, neutralizes odors
With Tea Tree and Microzeolites
Free from aluminum, parabens and dyes
Great for sensitive skin and active lifestyle
Specification:
Brand

MenScience

Model

12031

Weight

2.06 oz
Super Natural Goods Natural Aluminum-Free Deodorant Stick
Designed by an American family and intended for use by all of your family, this Super Natural Goods Natural Aluminum-Free Deodorant Stick really does work. While it's crafted without the use of aluminum, parabens, phthalates, or any other artificial chemicals, it does include premium organic ingredients that offer natural odor protection.
Blending wholesome ingredients like coconut oil, vitamin E, and avocado butter, it naturally nourishes the delicate underarm skin, while keeping it odor-free for hours thanks to baking soda. No synthetic fragrances are used; instead, Underarmed combines the subtle scent of real lavender and eucalyptus. It's a 100% natural formulation that can keep you feeling and smelling fresh all day long. However, a word of caution – if you have extremely sensitive skin, you might want to look elsewhere because this formulation – precisely because it's natural – is quite potent and can be irritating for some.
Key Features:
Made with natural, organic ingredients
Contains essential oils and baking soda
Free from aluminum and other artificial chemicals
Minty lavender and eucalyptus scent
Cruelty-free
Specification:
Brand

Super Natural Goods

Model

709951412022

Weight

2.63 oz
In search of something clean and safe that smells fantastic? Check out Native's range of natural deodorants, and our favorite Citrus & Herbal Musk stick. Masculine and refreshing, this scent (as well as most of Native's scents) is the perfect option for gentlemen looking for an aluminum-free deodorant that actually works.
Aside from the natural goodies such as shea butter and coconut oil, Native deodorants also contain probiotics that help fight body odor by feeding the good bacteria (similar to how some people eat yogurt or take probiotics for gut health). Needless to say, it's cruelty-free, as well as free from aluminum, parabens and talc. Best of all, it really does last all day. For some more grooming essentials, check out these quality serums for men.
Key Features:
Made with natural ingredients
Contains probiotics to fight odor
Provides 16 to 24-hour protection
Subtle, fresh, and masculine scent
Cruelty-free
Specification:
Brand

Native

Model

812154030082

Weight

2.65 oz
Degree Men Original Antiperspirant Deodorant
Degree Men Original Antiperspirant Deodorant is one of the best-reviewed products on our list. If you don't want to waste time and money on trying and testing different deodorants and just want something you know it's going to work, this is definitely one of the best men's deodorants on the market.
The reason it's so popular? Well, there are a few. First off, it's competitively priced. You can get a pack of six 2.7-ounce sticks for about $16 (at the time of writing). That kind of value is guaranteed to get people on board. The other main reason is that it keeps you dry and great-smelling for 48 hours. And this is true no matter your lifestyle – extreme sports, working out, or just sitting at the desk – this antiperspirant will keep odor and wetness at bay.
Key Features:
Antiperspirant with 48-hour odor and sweat protection
Fresh, clean and non-overpowering scent
Contains aluminum for long-lasting protection
The solid formula goes on smoothly and is stain-free
Specification:
Brand

Degree

Model

10079400265408

Weight

1.01 pounds
Why Trust Us
We understand that every guy has different needs when it comes to sweat and BO control. That's why we went through dozens of different deodorants and antiperspirants to find the best of the best. The products you see in this guide come highly recommended by our editors and testers, as well as hundreds of satisfied consumers online.
Who This Is For
If you care about keeping BO in check in any way, shape or form, this guide is for you. Whether you're looking for the best men's deodorant for training that will keep excessive sweat and odor in check, or the most natural formula that you can feel good about putting on your skin every day, we've got you back – and pits.
How We Picked
In choosing the best deodorants for men for this article, we tried to accommodate varying lifestyles, preferences and budgets. We included both deodorants and antiperspirants on the list, as well as scented and non-scented options so everyone's needs are covered. The products you see as our top picks are some of the highest-rated deodorants on the market, and we also included deodorants our editors and testers liked the best.
How We Tested
The best way to test how a deodorant performs is to wear it for a few days, including on gym days. Some of the products we tested are ideal for grueling workout sessions as they help keep sweat and BO in check no matter what: these were typically aluminum-containing antiperspirants, but there were a few natural products that helped prevent wetness really well (e.g. Helmm). Other products we tested are perfect for not-that-active days when you just want to smell good as they help mask your natural scent but do not prevent perspiration: these were typically all-natural deodorants.
Features To Look For In Men's Deodorant
Now that we've provided you with a lot of different options, let's focus on how to choose the right one for you. Throughout this section of the review, we'll be focusing on the pros and cons of each type of product.
First of all, think about comfort.
If you're unlucky and have more irritable skin, don't cheap out on the extra bucks and focus on a more natural option, as they're usually (although not always) made using less harsh ingredients that will provide plenty of protection while not causing harm and discomfort. Seeing as this is a product that you'll be using on a daily basis (hopefully), give extra importance to the label and eliminate any chemicals that would have a negative impact on your health. Bear in mind, though, that if you have very sensitive skin, you may want to steer clear of essential oils in deodorants.
Secondly, think about scent
If you're the type of guy that uses perfume or men's cologne, or just don't like foreign fragrances in your environment, maybe go with an odorless option. If not, then give a little thought to the fragrance that you're looking for – you don't want to spend money on something that you're going to throw away.
Gel Deodorant vs. Stick Deodorant
We tend to take things like deodorant for granted. But there's a good chance your grandparents remember a time when no one (or almost no one) wore them. The modern deo, in fact, can trace its origins to the mid-1940s. That's when a roll-on deodorant that would become known by the brand name "Ban" first hit the market and began garnering serious attention. Today men's deodorants are a multi-billion dollar global business. For a time aerosols were incredibly popular, accounting for more than 80% of all sales in the mid to late-1970s. However, two regulatory events put an effective end to that. First was the 1977 FDA ruling that banned some of the active ingredients in aerosols and the second was the 1990s EPA ruling that limited the use of CFCs due to their nasty habit of eating the ozone layer. As a result, aerosols have given way to gels and sticks. But which one of those is actually the better method of applying? Let's look at the upside and downside of each.
Advantages of gel - Gels haven't been around very long but in their short life they have gained significant market share. That's because gels have a couple of very real advantages over sticks that make them a clear winner for many people. First off, gels don't leave white stains on your clothes like sticks often do. Also, because the gel is clear no one is able to tell you are wearing anything should you be wearing a sleeveless garment. Gels also tend to be virtually undetectable even when you are really hot. Whereas sticks can sometimes feel like you have a heavy, wet sponge in your underarm.
Disadvantages of gel - There are many who have used both forms of deodorant who swear that gels simply do not provide the same level of protection as sticks. It's difficult to determine if this is in fact the case or if it's just a kind of urban hygiene myth (more on deodorant myths below). Still, the belief is widespread enough that it warrants attention, so it's something you may want to consider when trying to choose between gels and sticks. The other potential con is not really debatable. And that is the tendency of some (not all) gels to become a bit sticky and/or slimy when you sweat a lot. This phenomenon no doubt causes some to conclude that gels don't protect as well. Although the sliminess is not really related to protection.
Advantages of stick - Stick deo's have held their own against the gel onslaught for a couple of reasons. First is simply habit. It's difficult to get people who are sold on something to change their ways. People are creatures of habit and if someone has been staying cool and dry for years using stick deodorants you're going to have a hard time selling them on gels. The other reason for the continued popularity of sticks is the tendency, described above, for some gels (not all) to become slimy when you really start to sweat buckets. Sticks by contrast may feel heavy when you're really hot but it won't ever feel like you've got a jellyfish in your underarm.
Disadvantages of stick - While stick won't make you feel like you have sea creatures in your armpits they're far from perfect. One of the biggest complaints against them is their tendency to accumulate on your clothes, eventually turning the armpits of your colored t-shirts and other garments white and stiff as cardboard. Stick deo also has a habit of flaking and/or crumbling when a person sweats and many people complain of irritation in their armpits from stick deodorant that's turned crusty. If you see someone itching their pits there's a good chance they use a stick.
As you can see. there is no clear-cut choice when it comes to gel vs stick. It really comes down to a matter of personal preference. And while many first-time users these days choose gels over sticks the fact is stick deodorant is still incredibly popular and isn't going anywhere anytime soon.
Five Useful Tips To Help Control Your Body Odor
First of all – showers. Shower daily and make sure that you use appropriate soaps and shower gels. After you shower, make sure that you are completely dry before getting dressed, as wet armpits can stimulate sweat production (ironically).
Secondly – diet. There are a lot of foods that will have a negative impact on your body odor. Eat plenty of fruits and vegetables, especially foods that contain a lot of water (grapefruit, pineapple, watermelon etc.) and avoid spicy foods, onions, garlic and especially smoking if you emit a strong smell.
The third thing you could try is supplements – a bad smell can indicate a problem with your body. Consider visiting a doctor or a local pharmacy to learn more about what supplements will have a positive impact on your body odor and make sure that you follow the instructions to achieve the best and safest results. You may want to check out zinc and magnesium supplements.
The fourth thing that you could do is to take a look at your wardrobe. Plastic fabrics don't give your skin a lot of room to breathe. Go with lighter, thinner fabrics so that your body gets the proper amount of air circulation. They're also going to keep you cooler.
Lastly, there are more "radical" steps that you can take. Massage yourself with scented oils and creams so that you add even more potency to the formulas and other measures that you're already using. If that doesn't work, witch hazel inhibits the growth of bacteria on your body, so you can rub it in key areas, underarms included.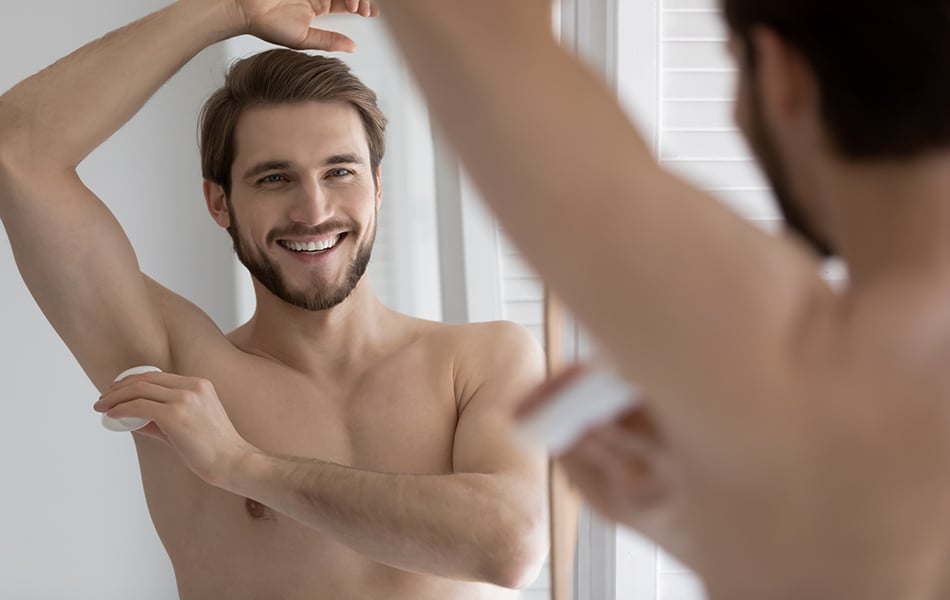 Deodorant For Men FAQ
Q: Antiperspirant, deodorant, or both?
A: This is a more confusing issue. Some products are meant to fight odor, some are meant to fight sweat, but some prevent both. Think about what your main problem is and buy something tailored to solve that specific issue. If you're sweating a lot, buy an antiperspirant. If you don't sweat that much but the smell is your problem, buy a scented deodorant. If you are affected by both these issues, as most people are, then go for the scented antiperspirant – it'll take care of both.
Q: Are men's deodorants bad for you or is it just a myth?
A: Because most people alive today can't remember a time before deodorant, they don't have any real perspective on just how much they have improved the quality of life for everyone. In the days prior to deodorants, most people smelled like swamps during hot weather and days when they've been active. Suffice to say, it was an unpleasant fact of life. Anyone who doubts how unpleasant it was for most people need only look at how quickly deodorants became a daily hygiene staple once they hit the market (Bookworm? Check out Perfume: The Story of a Murderer).
But then a funny thing happened. On their way to becoming omnipresent, an assortment of health concerns and outright myths became attached to deodorants; primarily because of their ingredients. Concerns and myths that have only become more persistent with the passage of time. Let's take a look at some of these ingredient-related concerns and myths and see if we can separate fact from fiction.
True or False? Aluminum in antiperspirant causes cancer - If true this would be an extremely serious problem. The fact is, however, that researchers have yet to make a clear connection between the aluminum particles used in some antiperspirants and cancer. Since many breast cancers originate in the area near the armpit, some health advocates have warned that deodorants and their aluminum particles could be the cause. However, the venerable American Cancer Society itself has weighed in on the issue and stated there is no convincing evidence of a like between cancer and best deodorant use. Unless compelling evidence to the contrary emerges that should allay any fears. Verdict: False
True or False? Aluminum in deodorants causes Alzheimer's disease - Alzheimer's is a devastating illness whose exact cause is still not known. Some 2 decades ago, however, scientists studying the brains of Alzheimer's patients noticed a strange thing. Most appeared to have elevated levels of aluminum in their brains. Scientists and medical professionals were buoyed by the notion that they had perhaps found the cause of Alzheimer's, while people who used deodorants for men and ate antacids became concerned they might be consigning themselves to a grizzly fate. A rash of studies then took a closer look at the aluminum/Alzheimer's hypothesis with the vast majority determining that the aluminum found in Alzheimer's patients was actually no worse than is found in most people and that it likely got there through normal environmental contact. One 1990 study, however, did suggest a possible link. But that study was largely dismissed because surrogates filled out the questionnaires rather than the actual Alzheimer's patients. As such, most scientists today believe there is no convincing evidence of an aluminum/Alzheimer's link. So, we're going to wrap this up with the following words from the American Alzheimer's Association: "Almost all scientists today focus on other areas of [Alzheimer's] research, and few experts believe that everyday sources of aluminum pose any threat." Verdict: False
True or False? Parabens cause cancer - In 2004 a study was published that found parabens in breast cancer tissue. Many in the health community and beyond took this to mean that there was a causal relationship between the two. In fact, no causal relationship has since been shown between parabens and cancer though studies continue. The mere suggestion that there might be a connection, however, was enough for most cosmetics and toiletry manufacturers to eliminate parabens from their product lines. So it's easy to find a paraben-free deodorant if you are concerned they may represent some form of health hazard. Verdict: False
True or False? Antiperspirants can cause kidney disease or kidney failure - Because some antiperspirants contain aluminum particles and because aluminum particles have been shown to have a negative effect on some people with greatly diminished kidney function, the FDA requires a warning on deodorants that contain aluminum. This warning typically goes something like this "Ask your doctor before using this product if you have kidney disease". As is the case with such warnings their intention is often misconstrued. The warning isn't there to alert people that aluminum in deodorants causes kidney disease or kidney failure. It's there to warn people who already suffer from severe kidney dysfunction that the aluminum in the mixture may aggravate the condition. Then again it may not. The National Kidney Foundation goes so far as to say that in order to represent a risk you'd have to actually eat significant amounts of deodorant on a daily basis. Verdict: False
True or False? Triclosan is hazardous to your health - Many men's deodorants contain the antibacterial ingredient triclosan. This antibacterial agent has come under fire in recent years mostly because the FDA has stated it is concerned that triclosan may contribute to the development of super germs that resist antibiotics and that it may have some harmful effect on the immune system of animals. However, while the FDA warned against triclosan in things like antiperspirants, nothing was done to ban the substance from being used in cookware, clothes and toys. Which suggests they are not too terribly concerned about triclosan. Still, as with parabens, some deodorant manufacturers have begun to remove triclosan from their deodorant out of an abundance of caution. Verdict: The jury is out
True or False? Talc causes cancer - Talcum powder has been a bathroom staple for decades but in recent years there have been some suggestions that talc could actually cause ovarian cancer. Although actual hard evidence of a link does not exist, several lawsuits have been winding their way through the courts emphatically stating that it does. For instance: the family of one woman was recently awarded $72 million in damages because the jury believed the cancer that killed her was the result of using talc for years. Still, a guilty verdict is not the same as scientific evidence. Verdict: The jury is out
True or False? Propylene glycol causes kidney and liver damage - The origins of this particular belief are hard to track down but there are nonetheless a small number of people who are convinced it is true. As a rebuttal, we're going to go with the FDA categorization of this compound that states it is "generally recognized as safe". FDA are not known for being reckless and more often than not err on the side of caution. If they say it is safe, that should be good enough for most people. Propylene glycol is actually known to be easily processed by the liver into nontoxic metabolites and PG, with its 4-hour half-life, does not accumulate in the system. Verdict: False
True or False? DEA/TEA causes cancer - Diethanolamine (DEA) and Triethanolamine (TEA) are used to adjust pH levels in some deodorants and to form the base of various cleansers. In 1988 a study purported to find that these compounds caused cancer in laboratory animals. No link was established between DEA/TEA and cancer in humans however. Even though these ingredients are rarely found these days, they can still be found in other personal hygiene products. As such, FDA has been studying them almost continuously since the 1988 report was published. Their stated belief as of this writing is that these substances pose no immediate threat to human health. Verdict: False
Without in any way minimizing people's legitimate health concerns you can see most of the tales about alleged health hazards resulting from deodorant use are not grounded in evidence. Most in fact grew out of a single study years ago or a simple misinterpretation of an FDA label warning or a misunderstanding of what this compound or that actually does when it enters the system. In fact, many of these compounds are not present in sufficient quantities to even enter the system at all. They simply evaporate over time on the surface of your skin.
All that said the jury is still out on talc and triclosan. That doesn't mean there is any evidence of a direct health hazard, but instead it reflects the reality that certain concerns swirling around those compounds have not been authoritatively debunked. As such, it's wise to keep your eyes and ears open to any information regarding those ingredients and if you have any trepidation, to just steer clear of them for the time being.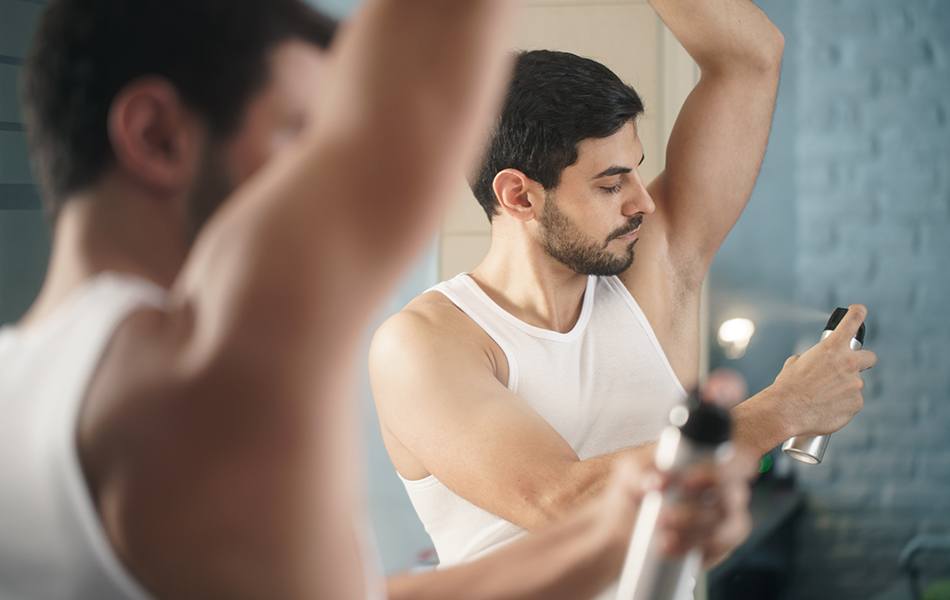 Q: How often do you apply deodorant?
A: Most people apply deodorant after they shower. As such, if they shower every day they wind up applying every day. And if they shower every 2 days, they apply every 2 days. But is this tendency or practice of applying after every shower the right way to go about it and is every day too much? The answer to the second question is that applying deo every day likely is not a problem, although it is a good idea to wash away yesterday's deodorant before applying a new layer. So the after-shower hypothesis would seem to hold water, so to speak. However, a number of dermatologists have recently chimed in with their considered opinion that applying it in the morning is a bad idea. A better idea, they claim, is to apply deo at night before you go to sleep. This, they say, gives the product a chance to 'set' as it were and creates a more formidable block against sweat and/or odor. In fact, there are a few antiperspirants on the market today that advise on their label that you apply them before bedtime. With deodorants, however, the labels are still silent on the issue.
Q: Is it safe to use deodorant after shaving?
A: While there is no evidence to suggest it represents a threat, some folks are concerned about applying deodorant to their underarms immediately after shaving there. This goes for both deodorants and antiperspirants as well. Perhaps this concern is spawned from the fact that after shaving, the skin can be dry and irritated, and applying any sort of cosmetic or hygienic product to rough and perhaps lightly cut skin is going to result in an uncomfortable stinging sensation. This stinging sensation, while quite normal, may raise red flags with some people who interpret it as a signal from the body that it is somehow dangerous. It's understandable that someone may think that but in reality, the stinging doesn't mean anything other than your skin is a bit raw. Others suggest that applying to raw skin with perhaps a number of tiny cuts on it only helps any potentially dangerous ingredients infiltrate the bloodstream. The fact is however that there is zero conclusive evidence that any of the ingredients in today's deodorants poses any risk to the body. Therefore, applying deodorant after shaving is a personal choice. If you are unconvinced, then wait an hour or two after shaving before applying your deodorant as this will give any microscopic cuts time to heal.
Q: How do I avoid deodorant stains and marks?
A: Gels typically don't create any stains or unpleasant garment-ruining marks on your shirts. They go on wet, dry clear, and stay that way all day. Sure, they can feel a bit murky if you really go work up a sweat but they still leave your clothes pretty much unaffected. Sticks on the other hand are an entirely different animal. Sticks go on, well, sticky. You can see the deodorant sitting on your skin and if you're wearing a sleeveless t-shirt and raise your arms everyone gets a shot of your nice white underarm. That white flaky stuff doesn't just sit there either. It has a disagreeable habit of absorbing into whatever fabric it comes in contact with. The result? Crusty white stains on your garments.
Fear not, however, because using stick deodorant doesn't necessarily have to spell the end of your favorite shirts. Here are some of the most effective ways to prevent that from happening.
Wear a white T-shirt. Yes, the white T-shirt will still be on the receiving end of the deodorant buildup but no one will be able to tell and it will create an effective barrier between the deodorant and the shirt you're trying to protect.
Hold your arms above your head for a few minutes after applying and give it a chance to dry out and set up.
Don't overdo it! Many people lather deodorant on like it was the icing on a birthday cake. Take it easy. A swipe or two at most, let it dry, then put on your shirt.
Try and use a deodorant with a low aluminum content. Or better yet, one that contains no aluminum. This by itself will go a long way toward saving your shirts.
Find a detergent that's designed to address the problem of deodorant buildup. There are not a lot of them but there are some. Most are spray-on pre-wash treatments that loosen the buildup.
Avoid ironing the armpit of any shirt that is exhibiting deodorant buildup and stains. This will only aggravate the situation. Also, tumble drying a shirt with a stain is likely to fix that stain in place permanently.
Switch to gels. The best, most effective way of protecting your clothes from marks is to simply switch to a gel deo. Is it a cop-out? Sure. But it works.
Q: Should you wear deodorant to bed?
A: In the past such a suggestion might have caused the raising of many an eyebrow. After all, deodorant was part of the morning routine. It went on after your shower and that was that. As we mentioned earlier however many dermatologists today are adamant that deodorant and antiperspirant works much more effectively when it is applied right before bed time. And just to drive the point home there are several antiperspirants on the market today that state on their labels that the product should be applied before going to sleep. This all being said, there are no should and shouldn'ts when it comes to proper deodorant application - just apply it when it suits you best.
Sources:
Is Deodorant Harmful for Your Health? - Penn Medicine
Alzheimer's & Memory Loss Myths - Alzheimer's Association
Sign Up Now
GET THE VERY BEST OF GEARHUNGRY STRAIGHT TO YOUR INBOX