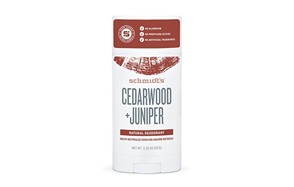 Schmidt's Deodorant Stick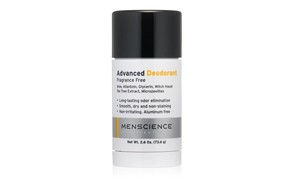 MenScience Androceuticals Advanced Deodorant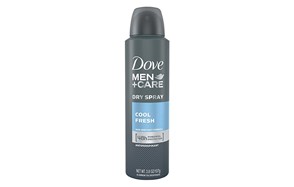 Dove Men+Care Dry Spray Antiperspirant Deodorant
While it's blatantly obvious that men don't allocate as much time and interest to beauty and personal care products as women do, there are still some lines that men won't cross when it comes to personal hygiene. For instance, we all have a favorite deodorant that we use on a daily basis. Whether it's a choice made by preference or habit, how do you know if it's the right one for you? Throughout this review/buying guide, we're going to cover some of the best deodorant brands and some of the things that you can do to add a bit more freshness when it comes to sweat and bad odors. Whether you're looking for the best spray, the best stick or the best roll on deodorant, we hope we'll cover everything.
In the following section, we're going to take a look at the 10 best men's deodorants in an unbiased way, talking about their scents, best use, price and resistance. Let's get to it!
Our Top Picks For The Best Men's Deodorants
Dove Men+Care Antiperspirant Deodorant Stick
See More Reviews

Our first pick on the list is the Dove Men Care Extra Fresh deodorant stick. This product is a testament to the saying "Less is more". What we've always appreciated in Dove products is their simplicity. Once I've realized that I wasn't 16 anymore, I've started to find the very energetic names that most companies used for their products a bit silly. Dove doesn't hype up their products with names like "Mountain lightning" or stuff like that (you get the picture) while the scent of Extra Fresh is very pleasant, but subtle. The fact that's it's an antiperspirant means that it will prevent sweat production. It's smooth to the skin and it doesn't leave any unaesthetic marks on your clothes. Dove uses a moisturizing formula in most of their products, and the Dove Men Care Antiperspirant, Extra Fresh, does offer a bit of moisturizing to your armpits, preventing irritation and dryness.
The sweat and odor protection lasts for at least 24 hours, this being an empirical observation from personal daily use. As for the 48 protection, advertised on the label, can't really have an opinion on it, but it does seem likely that it lasts a bit more than 24h. The package is nice and the price is very fair. This is, undeoubtedly, a very good deodorant.
Specification:
Brand

Dove

Model

10079400066722

Weight

8.8 ounces
Mountaineer Brand All Natural Deodorant
See More Reviews

The reason we've chosen the Mountaineer Brand All Natural Deodorant is, as the name implies, the all natural part. Seeing as political correctness is a rising trend and a lot of people are raising morality questions in the hygiene and beauty product industry, it's important when a brand manufactures an all-natural product, especially when no animal testing is involved. That being said, this comes in three different variants: Lime and Sage, Timber and Unscented. The lime and sage deodorant offers a pleasant, powerful and fresh scent, the Timber (Cedarwood & Fir Needle) will give off a nice, pleasant, subtle smell while the unscented version is, well, unscented. Even better, this product is made in the USA, so quality is guaranteed and it's approved by all of the relevant authorities.
One of the best men's antiperspirant choices the Mountaineer All Natural Deodorant will keep your skin safe, as it's made using a very safe formula, so you won't have any problems with rashes or dryness.
Specification:
Brand

Mountaineer Brand

Model

738283638343

Weight

0.64 ounces
Schmidt's Deodorant Stick
See More Reviews

Another natural deodorant, this time manufactured by the world-renowned people from Schmidt. The reason we chose this as our 3rd pick is the quality of the formula, how well it delivers when comparing the results to the claims made by the manufacturer and the overall customer satisfaction. Another deodorant with subtle yet effective results, the Schmidt's Deodorant Stick offers proper care to the user while avoiding issues such as stains or extra sensitive skin. The natural formula is safe and the natural fragrance has a refreshing and comforting effect. This deodorant comes in six different fragrances (although odorless is included, so I guess five), so you're bound to find one that you like. Some of the fragrances are lime and bergamot, cedarwood and juniper (our favorite), lavender and sage and so on.
The subtlety of the fragrance and the quality formula make the Schmidt's Deodorant Stick make it one of the best picks on the natural deodorant for men list. Be sure to try one for yourself to see what we mean, especially if you have sensitive skin.
The first three choices for the review have been more or less in the same price range. Let's start looking at more expensive products and see how different are they from what we've seen so far.
Specification:
Brand

Schmidt's Deodorant

Model

019962085314

Weight

3.52 ounces
Primal Pit Paste All Natural Lavender Deodorant
See More Reviews

The Primal Pit Paste All Natural Lavender Deodorant is another product that raises some ethical questions. Namely, it's advertised as a non-GMO product. This means that the natural elements found in the formula don't come from genetically modified organisms, which can be seen in a 25% price increase. If you feel strongly about that and want to boycott manufacturers that stray from this all-natural path, feel free to pick this as your deodorant. Although lavender might not be the manliest of scents, it's still a pretty nice fragrance and might turn some heads. That being said, there's no reason to believe that the small quantities of GMOs used in other products represent a health hazard, as they're all approved by all relevant authorities and won't bring any harm to users. As previously stated, this decision is based on ethics.
It still offers all of the protection from sweat that other deodorants will provide. The "paste", as they've dubbed their formula, is composed out of non-aluminum baking soda, organic coconut oil, essential oils for the fragrance, non-GMO Vitamin E, organic arrowroot powder and more. One drawback is the fact that you will have to use your body heat to "melt" the paste before applying and you'll have to wait for the skin to absorb it before allowing it to come in contact with your clothes.
Specification:
Brand

Primal Pit Paste

Model

818328020071

Weight

3.2 ounces
Nasanta Magnesium Deodorant
See More Reviews

The Nasanta Magnesium Deodorant is an odorless, natural, aluminum-free deodorant that's going to offer users plenty of protection from odor. This product has made it on our natural deodorant for men list because of the quality formula, the fact that it's odorless and it doesn't offer any alternatives, so you know for a fact that these people are set on delivering a quality product for just one niche, and the fact that it's approved by the Triathlon multisport magazine, and these guys know a thing or two about sweat. No animals have been harm in the production process, as this doesn't contain any animal-based ingredients and the company doesn't test on critters. It doesn't use any colorants, no GMOs, allows natural perspiration, free of palm oil, talc, triclosan and propylene. It doesn't stain and it allows your body to undergo its natural perspiration process, so maybe don't use it if you're a heavy sweater.
If you have troubles with allergies than this is the best choice that you could make (or one of the best) as it's hypoallergenic and non-irritant. The very safe formula won't harm your body or clothes.
That being said, it is about double the price of a normal deodorant, so keep that in mind when searching the market for products, as this might not be such a great deal if you're not looking for something THIS specific. There are plenty cheaper options, even odorless and natural.
Specification:
Brand

nasanta

Model

MDR80M

Weight

4 ounces
Gillette Endurance Antiperspirant
See More Reviews

Taking a break from all of the natural alternatives, it's time to take a look at a more mainstream product. Gillette is an industry leader when it comes to men grooming and personal care products, but I'm sure their reputation precedes them. The Endurance is a great product, especially if you're looking for a men's deodorant for excessive sweating, as it's gel-based and will inhibit the sweat production of your body where applied. The gel formula is clear and won't stain your clothes. It's very easy to use and apply, so you can just use it immediately after a shower of before leaving, just don't use too much – it can make you feel a bit uncomfortable as it's gel. It offers protection for up to two days and it has a very nice, fresh scent to it.
That being said, price-wise, this is around half of the price of regular deodorants and four times cheaper than the more expensive, natural alternatives. It does use aluminum and other chemicals in its formula, it's not hypoallergenic and odorless, so keep these things in mind before purchasing. Make sure you read the label if you've suffered from sensitivities in the past. Other than that, this is a good deodorant.
Specification:
Brand

Gillette

Model

NA

Weight

11.2 ounces
AXE White Label Antiperspirant Deodorant
See More Reviews

AXE is another industry giant. From its clicker and eccentric TV commercials to its signature spray-on deodorants and masculine scents, every man has owned an AXE product. The AXE White Label Antiperspirant Deodorant Stick for Men is one of the strongest antiperspirant products on the market. The formula makes for a firm, slippery deodorant bar, white in color, that will leave a thin layer of protection when applied, so you won't feel any sticky sensation associated with gel or roll on deodorants. You won't have to worry about yellow stains or other factors that might have a harmful impact on your clothes, as AXE has designed this formula to be as harmless as possible to you or your garments.
It has a very nice, confidence-inducing fragrance, associated to all AXE products, and it's very cheap. That being said, it's not to be used on irritated skin and it might cause rashes in certain users, so make sure that you will discontinue its use if you witness any side-effects, but this is the case with many grooming products. It doesn't use a natural formula, so if you're on the market for something organic, then make sure you buy something we've already established as being a natural product.
Specification:
Brand

AXE

Model

10079400433876

Weight

3.2 ounces
Baxter Of California Citrus and Herbal-Musk Deodorant
See More Reviews

Mostly, men forget that when it comes to grooming and care products, especially deodorants, there are luxurious options. This is where Baxter of California come in with their Citrus and Herbal-Musk Deodorant. This is a premium product, so it delivers beautiful odor and sweat protection while offering you a fresh and nice scent, to give you fellows that extra boost of confidence that we all like. One of the reasons that we've featured this product on our list is the smell. This is one of if not the best smelling deodorant for men. Baxter of California has used tea tree oil, witch hazel and chamomile as their key ingredients for the formula, which gives this entry a very nice, herbal and fresh fragrance. The formula is also very smooth and won't cause any issues, such as rashes or dryness of the skin. It's also alcohol and aluminum free, so as far as natural ingredients go, this fares pretty well.
The deodorant itself is pretty expensive (as far as deodorants go), but if you're uncomfortable with buying expensive personal care products, what a lot of people do is just buying one and reserve it for special occasions, when you can actually benefit from an extra boost of confidence so that everything just lines up right for you.
Specification:
Brand

Baxter of California

Model

140393141215

Weight

0.8 ounces
MenScience Androceuticals Advanced Deodorant
See More Reviews

If you worry about sweat but still want to use a safer, more natural product, this might be the best deodorant for sweat you can find under these circumstances. The MenScience Androceuticals Advanced Deodorant is a premium product that offers plenty of odor and sweat protection, but for a steep price. Odorless and transparent, it's a great choice if you're having issues with an aluminum formula but still need the potency that it offers. It will even handle people with an active lifestyle, providing all-day protection.
Now, there are more cheaper options that you could opt for, but this is a really good alternative to conventional personal care products, as it offers the best care on the market.
Specification:
Brand

MenScience Androceuticals

Model

12031

Weight

5.4 ounces
Dove Men+Care Dry Spray Antiperspirant Deodorant
See More Reviews

It's time to take a look at a classic – a spray deodorant. Roll-on and deosticks are arguably better at offering protection, but this is not the case. The whole Dove Men+Care line of personal care products is compiled out of high quality products and formulas. Even though it does contain 20.2% Aluminum Chlorohydrate, this is clinically tested and proven to be safe, with thousands of testimonies to back this up. The moisturizing technology helps prevent irritation and dryness, while still offering plenty of protection from unwanted odors and sweat. This body spray for men is a very affordable (dirt cheap) option to stay fresh all day.
As you'll see further in the review, there are added benefits to using a body spray over a stick. It's easier to apply a spray to the desired area and it dries faster. If you stay clear of any fabric, it won't stain, provided the product is made using quality ingredients, and Dove Men+Care Dry Spray is such a product.
Specification:
Brand

Dove

Model

10079400528046

Weight

4.8 ounces
Men's Deodorant Buying Guide
Now that we've provided you with a lot of different options, let's focus on how to choose the right one for you. Throughout this section of the review, we'll be focusing on the pros and cons of each type of product.
First of all, think about comfort.
If you're unlucky and have more irritable skin, don't cheap out on the extra bucks and focus on a more natural option, as they're made using less chemical ingredients (or none at all) that will provide plenty of protection while not causing harm and discomfort. Seeing as this is a product that you'll be using on a daily basis (hopefully), give extra importance to the label and eliminate any chemicals that would have a negative impact on your health.
Secondly, think about scent
If you're the type of guy that uses perfume or men's cologne, or just don't like foreign fragrances in your environment, maybe go with an odorless option. If not, then give a little thought to the fragrance that you're looking for – you don't want to spend money on something that you're going to throw away.
Q: Antiperspirant, deodorant, or both?
A: This is a more confusing issue. Some products are meant to fight odor, some are meant to fight sweat, but some prevent both. Think about what your main problem is and buy something tailored to solve that specific problem. If you're sweating a lot, buy an antiperspirant. If you don't sweat that much but smell is your problem, buy a scented deodorant. If you find yourself unlucky enough to be affected by both these issues, then go for the scented antiperspirant – it'll take care of both.
It's important to mention that there's a difference between odorless unscented products. Unscented deodorants usually have masked fragrances to fight the bad smells that your body produces.
In addition to this mini buyers guide, let's take a look at what YOU can do to further minimize the "damage" that sweat has on your confidence and image.
Five Useful Tips To Help Control Your Body Odor
First of all – showers. Shower daily and make sure that you use appropriate soaps and shower gels (preferably antibacterial). After you shower, make sure that you are completely dry before getting dressed, as wet armpits can stimulate sweat production (ironically).
Secondly – diet. There are a lot of foods that will have a negative impact on your body odor. Eat plenty of fruits and vegetables, especially foods that contain a lot of water (grapefruit, watermelon etc.) and avoid spicy foods, onions, garlic and especially smoking if you emit a strong smell.
The third thing you could do is supplements – bad smell can indicate a problem with your body. Consider visiting a doctor or a local pharmacy to learn more about what supplements will have a positive impact on your body odor and make sure that you follow the instructions to achieve the best and safest results.
The fourth thing that you could do is to take a look at your wardrobe. Plastic fabrics don't give your skin a lot of room to breathe. Go with lighter, thinner fabrics so that your body gets the proper amount of air circulation. They're also going to keep you cooler.
Lastly, there are more "radical" steps that you can take. Massage yourself with scented oils and creams so that you add even more potency to the formulas and other measures that you're already using. If that doesn't work, witch hazel inhibits the growth of bacteria on your body, so you can rub it in key areas on your body.

Conclusion
Let's try and sum up what we've discussed. From all of the products that we've presented, each one acts in a similar way, but there are plenty of nuances to consider before settling on just one. Before mentioning those, please note that they're all great products, tested to be safe and approved by all health authorities. That being said, some of them still might have a negative effect on your body, so READ THE LABEL and cease use if you notice any side effects.
Determine what your issues are (body odor, sweat or both) and choose a deodorant or antiperspirant that will solve those issues. If you have strong moral concerns about animals or genetically-modified organisms, then pick something that is in line with your personal beliefs, there are plenty of natural, non-GMO options.
If you still don't achieve desired results, make sure that you have a healthy diet and follow proper cleaning techniques. Stay hydrated and consult a physician if you think that the odor is masking a more serious problem.
Stay fresh!