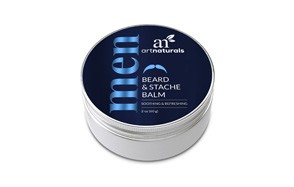 ArtNaturals Mustache and Beard Balm
Fisticuffs Gentlemen's Blend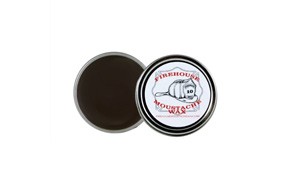 Firehouse Moustache Wax
The moustache first gained widespread popularity and acceptance in the West during the late 19th century when British soldiers, returning from tours of duty in India, brought the style back to England with them. The trend quickly crossed the pond where it infiltrated all levels of American society. Several presidents succumbed to the trend including Chester A. Arthur, Grover Cleveland, Teddy Roosevelt and William Taft. However, by the 1920s the moustache had become passé and didn't see a true renaissance until the 1970s. By the 80s however, it had waned once again and remained out of vogue until recently when all manner of facial hair made a startling comeback. If left unkempt, however, facial hair has a tendency to walk on the wild side and so in order to avoid the scourge of rouge moustaches, enterprising types came up with a beard and moustache wax. Today it's used by men from all walks of life who want the hair on their face to be a visual asset and to feel as good as it looks. In this review and guide then we're going to shine an arclight on what we feel to be the best moustache waxes on the market today.
Our Top Picks – The Best Moustache Waxes
See More Reviews

The unassuming package belies the overall effectiveness of Clubman Moustache Wax. It works in easily without leaving any greasy residue and lasts from sunup to sundown.
Moustache care the way it should be. Clubman keeps it simple and gets it right with this easy to apply, easy to wash out all day facial hair care product. No pretensions of woodland dominance or questionable scents added that are going to rub the significant other the wrong way. Just a great product that's easy to apply (with the included brush) for a great price.
Specification:
Brand

Clubman

Model

070066017069

Weight

6.4 ounces
Provides a soft natural feel to your 'stache while holding its shape.
The handy applicator brush and comb is, well, handy.
Washes out easily leaving no artificial scents behind in your moustache.
The tube dispenser is not our personal favorite for this type of product although it has its fans.
Does have a light scent of its own.
Brooklyn Botany Balm (Moustache Wax)
See More Reviews

Brooklyn Botany's Beard and Moustache Balm is designed to bring unruly beards to heel and it does a pretty effective job. The all-natural ingredients help prevent and reduce irritated skin beneath the beard and provide an all-day hold that will allow you to look and feel your best.
Brooklyn Botany Beard Balm is intent on providing your skin with the nourishing moisturizers it needs to thrive beneath your moustache. It also includes deodorizers and conditioners the keep your moustache smelling fresh (and that's important since it's right under your nose) and feeling soft and supple. It also provides subtle but effective hold that will last all day without feeling like concrete.
Specification:
Brand

Brooklyn Botany

Model

748690999883

Weight

0.6 ounces
Plenty of moisturizers including jojoba oil and Moroccan argan oil to keep your 'stache and your face feeling great.
Provides a light, pleasing scent so your beard always smells fresh and clean.
Helps repair dry split ends while promoting healthy hair growth.
Texture can take some getting used to.
Sometimes a challenge to work through thick hair.
BlackBeard's Pride Moustache Wax
See More Reviews

Blackbeard's Pride is this moustache balm stick that works wonders in keeping your moustache from irritating your skin while giving it plenty of shape and a soft but full-bodied feel. Should you suffer from any common skin ailments like psoriasis or eczema, Blackbeard's is for you.
Guys with sensitive skin or who suffer from psoriasis or eczema often have a hard time maintaining facial hair without also experiencing problems in the underlying skin. This product is specifically formulated to provide those guys with a solution that allows them to wear their moustache with confidence. But beyond its compatibility with sensitive skin it also works like a charm.
Specification:
Brand

BlackBeard's Pride

Model

784672595537

Weight

0.64 ounces
Specially formulated to be easy on sensitive skin. Won't trigger or exacerbate psoriasis or eczema outbreaks.
Thickens the beard via a combination of beeswax, shea butter and various all natural oils.
100% satisfaction guaranteed refund if you are not completely satisfied.
Can feel just a bit waxy at times.
No artificial scents but it does have a light scent of its own so be aware.
See More Reviews

Firehouse Moustache Wax is designed to provide a nice firm hold so that those with thinner facial hair aren't excluded from the fun of shaping their 'stache.
There is no doubt Firehouse Moustache Wax will provide your thin moustache with the underpinning it needs to hold the shape you want all day long. You'll feel it at times but there's no getting around that. Yet by and large your experience should be a positive one and you'll finally be able to achieve that sculpted moustache you've always wanted.
Specification:
Brand

Firehouse Moustache

Weight

8 ounces
A long overdue product for the scores of guys whose facial hair is not an impenetrable forest.
Does a great job allowing a thinner 'stache to hold its ground over the course of the day.
No need to slather it on. Just a bit will do.
You don't get a firm hold on a thin moustache without sacrificing a bit of suppleness.
Could do without the 'wacky tacky' in the name.
Fisticuffs Gentlemen's Blend
See More Reviews

Another moustache wax intended to provide your facial hair with supreme hold throughout the day. Great for guys with thinner facial hair or those who are just really into moustache sculpting.
If you are into the manly art of moustache shaping, Fisticuffs Strong Hold Moustache Wax should be on your list of 'must have' moustache products. There's no mistaking the extra hold you'll get from Fisticuffs Strong Hold and the good news is that it doesn't take a palm full of it to achieve the desired result. Contains a laundry list of oils to soften the skin and protect the hair and the retro tin is pretty cool too.
Specification:
Brand

Fisticuffs

Model

638346309749

Weight

1.76 ounces
If you're entering a moustache sculpting contest you'll want to consider Fisticuffs.
Just a little goes a long way.
Will hold its own even during the dog days of summer.
May not be ideal for curly haired dudes.
Can sometimes generate a slightly greasy feel.
Mustache Wax & Beard Wax By Leven Rose
See More Reviews

In the days of old castor oil had a variety of medicinal uses. Today it's back as an essential ingredient in Leven Rose 100% Natural Moustache Wax. This moustache care product is intended for those who are into shaping their 'stache and also includes beeswax and shea butter to facilitate that process.
A truly high quality moustache wax that does what it says it will do without a lot of effort on your part. If you're a handlebar guy or are into any other type of 'stache sculpting Leven Rose moustache wax is a sound choice. Also does a good job of equalizing the quality of your moustache hair, bringing those troublesome rogue hairs into line.
Specification:
Brand

Leven Rose

Weight

3.2 ounces
Provides excellent support for your 'stache sculpting efforts.
Paraben and pesticide free with zero artificial ingredients or additives.
Softens up those tough, unruly moustache hairsand brings them into line.
100% money back guarantee.
Like other brands of moustache wax there's no artificial fragrance, but it does have its own.
Mountaineer Brand Natural
See More Reviews

All natural Mountaineer Brand Moustache Wax is formulated to provide your 'stache with a soft, appealing look while also providing support for your non-aggressive shaping efforts through the use of beeswax.
If you're about to enter the "handlebar of the century" contest you'll want to use something with more robust hold. However, if you just want your moustache wax to make your 'stache look great, be gentle on the underlying skin and not add strange colors to your facial hair then this is the moustache wax for you. As long as you like the scent of cloves.
Specification:
Brand

Mountaineer Brand

Model

738283637995

Weight

0.6 ounces
Don't look for artificial scents or additives because Mountaineer never uses them.
Light on oils that could make your moustache feel greasy.
Neutral tint doesn't add unnatural looking color to your moustache.
The all-natural scent of cloves and oranges is not going to be for everyone.
Hold dissipates pretty quickly.
Beardbrand Tea Tree Mustache Wax
See More Reviews

Those looking for moustache wax with moderate hold that's free of beeswax and other ingredients intended to provide stiffness will want to give Beardbrand Tea Tree Moustache Wax a try. Beardbrand uses lanolin instead of beeswax to provide a soft appealing countenance.
While we're not a fan of the dispenser (it's a matter of taste really) the moustache wax itself does a great job making your moustache look its natural best. It provides your 'stache with a light, clean feel that never calls attention to itself and the lack of beeswax means any greasy overtones are kept to a minimum. Again though, if you have sensitive skin beware the lanolin.
Specification:
Brand

Beardbrand

Model

330203

Weight

0.32 ounces
Easy to apply once it's sufficiently warmed up.
For those who want a more natural look for their moustache.
Attractive price point.
The inclusion of lanolin means those with psoriasis or eczema will want to take a pass.
All we can say about the packaging is "curious".
ArtNaturals Mustache and Beard Balm
See More Reviews

ArtNaturals Beard and Moustache Balm contains jojoba and grapeseed oil, sweet orange and other all natural ingredients that help strengthen your facial hair to prevent split ends and breakage. It also does a good job providing all day hold.
All in all this moustache wax is a great value because it makes your moustache look orderly without looking stiff, it's gentle on the underlying skin and might actually help prevent "beardruff" (or is that "stachedruff"?) and it doesn't add color to your 'stache that doesn't belong there. To top it all off it's available at an extremely reasonable price point.
Specification:
Brand

ArtNaturals

Model

ANVA-0202-VE

Weight

0.8 ounces
Good for taming difficult facial hair.
Prevents the skin beneath the moustache from becoming dry and flaky.
Provides moderate hold without compromising a natural look.
Can sometimes produce a slightly greasy residue.
The all-natural scent is not to everyone's liking.
See More Reviews

Rounding out our best moustache wax list is this high quality entry from Woodsman. In spite of the company's silly "bearded bastard" marketing schtick this moustache wax actually does an excellent job of providing moderate hold and improving the appearance and feel of your moustache.
Questionable marketing ideas aside, Woodsman Moustache Wax is a high quality product that will make your moustache feel soft and natural, look clean and shiny and hold whatever simple shape you wish to adapt. It washes out easy, doesn't leave any unpleasant odors behind and is easy to reapply when you feel the urge.
Specification:
Brand

The Bearded Bastard

Model

700686332968

Weight

0.3 ounces
Makes your moustache feel light and clean while also providing decent all-day hold.
No petroleum jelly means it's less likely you'll experience a greasy feel.
The real cedar wood label on the tin is a nice touch.
Succeeds in spite of the bearded bastard marketing hook.
Those with sensitive skin will want to pass due to the inclusion of lanolin.
Buyers Questions
Oftentimes men are interested in the idea of using moustache wax both to achieve a more pleasing appearance and to address irritated skin that can sometime accompany facial hair. Still, they have questions such as the following:

Q: How Much Moustache Wax Should You Use?
A: Typically you don't want to use more than a fingernail size dollop of moustache wax. Any more and you run the risk of turning your moustache
into a grease pit, any less and you are unlikely to achieve the hold you're after.
Q: How Often Should You Apply Moustache Wax?
A: Ideally you should not have to apply it more than once a day. However, some cheap brands of facial hair wax have a tendency to evaporate pretty quickly so you may have to wind up reapplying it before you go out on your big date. There are a few brands of moustache wax that claim you only need to apply them a few times a week. You'd be well advised to take that with a grain of salt.
Q: What Style Is Best For Moustache Wax?
A: The moustache wax you use will depend on the style you're after, not the other way around. If you want a shape that's going to make Victorians roll over in their graves you'll want a moustache wax with plenty of hold. If you're just after a consistent shape without and frills any moustache wax that offers moderate hold will do.
Q: How Do I Use Moustache Wax?
A: Take a small dollop from the tin or squeeze it from the tube onto your fingers. Rub it between your fingers to warm it up and make it loose. Then work it gently but thoroughly into your moustache making sure to penetrate down to the skin.
Q: What's The Best Moustache Wax?
A: While any moustache wax on our list will do you right you can't lose by choosing one of our first two entrants. Each one has proven itself to be effective, low impact and affordable.
Things To Look For When Buying Moustache Wax
Once you have decided to give moustache wax a try you'll need to know how to identify a quality moustache wax and how to determine which is the right one for you. Here are some things you'll want to look for/keep in mind while shopping for a moustache wax.
Ingredients – Are you a fan of all natural products or does the notion of a few synthetic additives not really bother you? Also, do you suffer from psoriasis, eczema or simply have sensitive skin? Typically if you're after a moustache wax that provides aggressive hold you'll need one that contains either beeswax or petroleum jelly or both. Beeswax is natural. Petroleum jelly is a synthetic product. Some waxes substitute lanolin, another "natural" product. But lanolin can be trouble if you have eczema, psoriasis or other skin conditions. Read the ingredients carefully.
Scent – This is another potential bone of contention because while many a moustache wax claims to be fragrance free, what they really mean is that no artificial fragrance has been added. It's almost impossible to create a product like moustache wax without it having some kind of scent. So be careful and read what various reviews say about a particular moustache wax before buying.
Color – Sometimes a guy buys a moustache wax, works it into his 'stache and realizes something is a bit off. What's happened is that the wax added a bit of color to his facial hair and now the color of the moustache doesn't match his hair color. If you want to be sure your moustache retains
its natural color select a moustache wax with neutral tinting.
Type of Wax – Traditional facial hair wax is more likely than contemporary waxes to contain synthetic additives. These recipes date back more than a century so you might expect them to be more 'natural'. But people of the Victorian era believed in "progress" and took it for granted that anything new was "progressive" and therefore good. That included new synthetic materials like petroleum jelly. Today we're much more aware of the dangers posed by synthetic materials and so a more modern product is actually more likely to eschew synthetic ingredients. Oh the irony!
Price – While there likely isn't a moustache wax on the market that's going to break your bank there can be a significant difference in price between the lowest cost waxes and the high end waxes. If this is your first foray into moustache care we'd advise you try one of our last 2 selections. They'll do a great job and be really easy on your wallet at the same time.
Conclusion
Moustache wax has found a home in the early 21st century as facial hair has once more come into vogue after a pretty long hibernation. If you want to ensure your new moustache always looks and feels great, try any moustache wax on the above list and enjoy your new profile to the fullest. We hope you found this information useful and be sure to check back regularly for new product review guides from gearhungry.com.