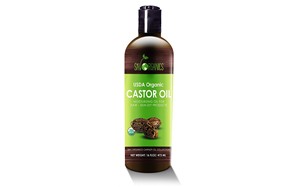 Organic Castor Oil By Sky Organics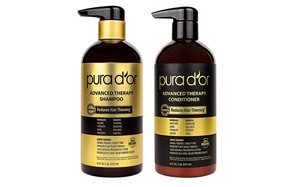 PURA D'OR Advanced Therapy System Shampoo & Conditioner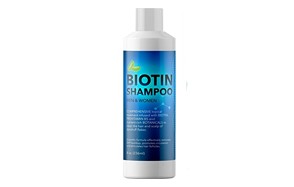 Biotin Shampoo for Hair Growth B-Complex Formula for Hair Loss
If you're worrying about your thinning hair and encroaching baldness, you're not alone. Most men examine the mirror frequently for signs that their hair is no longer the crowning glory that it once was, and the first signs of hair loss sends many of us into a frenzy of panic.
Sometimes, your lifestyle is causing your hair loss problem, however if you need to strengthen your hair and promote more growth, hair oil could be the solution. Here, we look at some of the best products that can help to resolve your issues.
Our Top Picks Of The Best Hair Oil For Men
Jack Black Epic Moisture MP 10 Nourishing Hair Oil
See More Reviews

If you're looking for a hair oil that won't make your scalp greasy but can also be used to make your beard look fantastic too, Jack Black Epic Moisture MP 10 Nourishing Oil could be the ideal solution.
Multi-functional and lightweight, this hair oil offers a host of benefits to the hair and skin thanks to its rapidly penetrating blend of ten different natural oils which infuses into the hair and skin. Packed with essential nutrients, fatty acids and potent antioxidants, this hair oil creates and improved and healthier look for the body and facial skin.
The concentrated formula soothes the skin while relieving dryness, flakiness and irritation. It also offers anti-aging benefits, firming the skin, and reinforcing the natural defences of the skin. Redness is soothed, and suppleness and elasticity is restored.
It can be used as a styling, finishing or conditioning tool for the hair, reducing and smoothing frizz. It can also be used as a pre-shaving preparation to moisturize the facial skin, or left on as a grooming aid and conditioner for the facial hair, so both your hair and beard can look fantastic.
Free from alcohol, colourants and parabens, this hair oil contains only ingredients that are certified to be organic, and it is also an ethical choice since it is vegan-friendly and cruelty free. Safe for use on sensitive skin, this hair oil is tested by a dermatologist for complete peace of mind.
This product contains:
Moringa seed oil for firming and anti-aging
Marula seed oil to calm redness
Watermelon seed oil, to nourish and restore
Plum seed oil to protect and hydrate
Baobab seed oil to repair and rejuvenate the skin
Olive fruit oil to sooth irritation and moisturize
Grape seed oil to calm redness
Jojoba oil heals and moisturizes
Rice bran oil to protect the skin with antioxidant properties
Specification:
Brand

Jack Black

Model

4053

Weight

0.8 ounces
Organic Castor Hair Oil By Sky Organics
See More Reviews

This hair oil offers many benefits for the hair and skin thanks to its richness in fatty acids and vitamins. Promoting effective hair growth while hydrating and nourishing the skin, this is a 100% organic and natural product which is made to the best possible standards with real castor oil that has been sourced from artisanal farmers in India.
Suitable for use on all skin and hair types, this hair oil is chemical free as well as free from all artificial additives, and it will not cause irritations or allergies. A cold-pressed oil, this product is made with no chemical substances or heat so that all of its healing properties can be retained.
The result is a natural oil which produces excellent results thanks to the rapid absorption of nutrients. So when natural ingredients are just as important as your good looks, this is the product for you.
Specification:
Brand

Sky Organics

Model

CASTOR16

Weight

12.6 ounces
PURA D'OR Advanced Therapy System Shampoo & Conditioner
See More Reviews

If you're worrying that your hair is becoming prematurely thin, or, God forbid, falling out this clinically proven formula is for you. It reduces breakage and thinning of hair while increasing shine, strength, volume, lustre, thickness and moisture. It will decrease dullness, frizz, dryness and hair fall with its earth friendly formula which contains 80% organic ingredients.
Its plant-based formula is made in a 100% solar powered facility with a 100% natural preservative system. Infused with vitamins, this is sulphate and paraben free, hypoallergenic formula which has been tested by dermatologists.
Made to an exclusive formula, this product contains 17 different key active ingredients including pumpkins seed oil and nettle and black cumin seed oil to nourish the hair follicles, encourage strength and revitalise thinning hair so your luscious locks can get back to their original splendour in no time!
Specification:
Brand

PURA D'OR

Weight

2.4 pounds
Biotin Shampoo for Hair Growth B-Complex Formula for Hair Loss
See More Reviews

Designed to protect against hair loss, this is another great choice for guys who see baldness appearing on the horizon. Containing biotin, coconut oil, zinc and provitamin B5, this nutrient-rich formula removes build up of DHT to clean the hair and scalp from all scales and dandruff for no more tell-tale white flakes!
Promoting healthy circulation while stimulating the hair follicles, this hair formula encourages healthier hair growth for thicker and shinier hair that the ladies will love. Biotin slows down your hair loss, while making your hair fuller and thicker and the B complex nourishes the entire hair follicle for more body and more rejuvenated hair.
You can also be confident that all of the ingredients used in this product are natural, including 11 oils and herbs like green tea extract, rosemary extract, evening primrose oil, argan oil, phytokeratin and mulberry root extract to balance and clean the scalp. Regardless of whether your hair is fine, thick, curly or straight, this formula will work for you.
If you're the kind of guy who cares about the ingredients that go into your products, you'll also be pleased to note that this is a hypoallergenic, sulphate and paraben-free non-GMO shampoo which is all backed up by a manufacturer's guarantee.
Specification:
Brand

Maple Holistics

Weight

8 ounces
ArtNaturals Moroccan Argan Oil Hair Loss Shampoo & Conditioner Set
See More Reviews

Argan oil is all the rage at the moment when it comes to quality hair care products, and ArtNaturals have incorporated it into this shampoo and conditioner set which is designed to reduce hair loss and promote hair regrowth. Completely free from sulphates, it uses only organic ingredients for healthier hair and scalp.
By using both the shampoo and conditioner in this set, you can double your hair's regrowth power every time you shower. Argan oil in the shampoo regenerates your hair, while the caffeine and botanical extracts stimulate the scalp, and when it comes to the conditioner, the aloe vera, algae, kelp extracts and green tea soothe and heal.
Specification:
Brand

ArtNaturals

Model

ANHA-1647

Weight

2.5 pounds
See More Reviews

Designed especially for the needs of men, you can rely on Badger Men's Hair Oil to give you a manly grooming experience. This daily conditioner nourishes dry scalps and dry hair thanks to its essential fatty acids and richness in vitamins F, E, D and A.
Enhancing your hair's natural manageability and shine, this hair oil restores lustre and promotes elasticity while its cooling menthol makes your scalp feel refreshed and energized.
Specification:
Brand

Badger

Weight

5.6 ounces
Organic Hair Growth Oils for Hair Thickening by Hair Thickness Maximizer
See More Reviews

All organic and natural, this hair growth oil will make your hair look thicker and fuller by nourishing the scalp and hair follicles. If you're worried about hair loss, you can depend on this hair oil to strengthen and protect your hair thanks to its proprietary blend of ingredients.
Jamaican black castor oil is combined with argan oil, jojoba, cayenne extract, refined rosehip, alfalfa extract, pomegranate extract, rosehip extract, tea tree, peppermint, lemongrass, ginkgo biloba and spearmint – all ingredients that are known to stimulate the scalp and help protect your hair's natural strength.
If you have weak or thinning hair, a receding hairline or are worried about baldness, this is the hair oil for you.
Specification:
Brand

Hair Thickness Maximizer

Weight

2.9 ounces
Natural Growth Hair Oil with Caffeine
See More Reviews

This effective blend of pure and natural ingredients includes caffeine, castor oil, biotin and rosemary oil to reduce your hair loss problem and strengthen your thinning hair. If you're worried about your bald spots, this is the product for you since it stimulates new hair growth.
Known to support natural keratin to produce stronger and smoother hair, this hair oil helps to repair damage including split ends, and as it isn't too heavy it won't weigh your hair down or make it look greasy.
Specification:
Brand

Essy

Weight

3.2 ounces
Beard Farmer – Growther XT Beard Oil
See More Reviews

Looking for a way to grow your beard more quickly than ever? Beard Farmer's Growther XT Beard Oil could be the ideal solution. Using all-natural oils to stimulate your beard hair, this conditioning topical oil is a top ranked beard product which will condition and moisturise your facial hair and skin while giving you're a longer-looking beard.
For a richer texture and more manageability, this product contains 18 rare essential plant oils and it promises that you'll notice results immediately.
Specification:
Brand

Beard Farmer

Weight

2.4 ounces
Buying Guide & FAQ
Natural oils are a great way to add shine and moisture to the hair while nourishing the scalp and reducing the flaky, dry skin that causes dandruff. When you use natural hair oils, you'll enjoy healthier and faster hair growth without needing to use any dangerous chemicals that could actually worsen your hair loss problem.
Some of the different natural hair oils available include:
Almond – almond oil is full of healthy ingredients that will help your hair including vitamin E, magnesium, phospholipids and omega 3 fatty acids. This hair oil with strengthen and nourish your hair to treat damage and hair loss.
Olive – you might be more used to using olive oil when you're cooking, however it works really well to promote hair growth and moisturise your hair. It can also combat bacteria for smoother, softer hair.
Avocado – another ingredient that might be more commonly found in salads, avocado oil is also very nourishing and will promote a healthy scalp and hair follicle. Full of protein, amino acids, healthy fats and vitamin B6, E, D and A, this hair oil will help to repair damage and prevent frizz and future breakage.
Jojoba – while jojoba oil isn't really an oil, rather a liquified form of wax, it is naturally high in vitamin D, E and A and can be used on any type of hair. It repairs damage and promotes healthy hair growth.
Coconut – this powerful oil doesn't just smell great, it's high in nutrients like vitamin E that will make your hair shiny, thick, and healthy with strong roots. Coconut oil also contains capric and lauric acids, both of which have antimicrobial powers so you won't have to worry about itchiness, infections and dandruff.

Q: How does hair oil help my hair?
A: Hair oil offers numerous benefits for your hair including:
Natural goodness – the vitamins and natural nutrients in hair oil nourishes the hair and scalp effectively
Revitalises the hair tissues – as hair oil penetrates through the skin, it revitalises the tissues more effectively than shampoos and conditioners
Massage – when you apply hair oil, you massage the scalp and this increases blood circulation while spreading the oil evenly to send the nutrients straight to the roots
Combats hair fall – hair oils aid regrowth and fight hair loss
Taming frizz – if your hair is naturally frizzy or hard to control, hair oil can nourish it while making it more manageable
Q: How Do You Apply Hair Oil?
A: It can be difficult to know how to apply hair oil properly so as not to make your scalp and hair look greasy and unappealing. If your scalp is already overactive, hair oil may not be a good idea, however if you've got dry hair, it could be the perfect solution to your hair loss and damage problems.
First, choose the right oil to suit your hair type and to treat the problem that you're experiencing. Once you've made your choice, comb your hair through to make sure it isn't tangled as otherwise you'll end up getting very messy. Some people think you need to apply oil to clean hair, while others say to wait a couple of days – you may need to experiment to see which works best for you.
Protect your clothes and furniture from mess, since oil can get everywhere. Spread some paper towels or old towels around and keep a tissue to hand so you can clean up any mess.
Put a small amount (1 tsp) of hair oil into your hand and rub both hands together so the oil spreads. Keep most of the oil on your fingertips and this is how you'll apply it. Use your fingertips to work the oil into the scalp. Massage in the oil, stimulating your scalp at the same time. Ensure you've covered the whole scalp as well as behind the ears and just above your neck.
Split your hair into two sections down the centre of the scalp. Treat all of your hair down its length. Never use more than a single teaspoon of hair oil at once as otherwise it'll be too messy. Run your hands through your hair, again remembering to cover the back. Work your way all the way through one section of hair, remembering to pay attention to the hair on the back of your head.
Apply oil once per day if you have dry hair but avoid applying the oil to you scalp on a daily basis. Instead, focus on the hair tips. It's often easier to use a spray bottle to produce a fine mist so your hair won't look too flat or greasy.
Q: Does Hair Oil Make Hair Greasy?
A: If you use hair oil properly, it shouldn't make your hair look greasy. The key is not to apply too much at once, especially if you're using it on a daily basis. It also depends on your hair type. If you already have greasy hair, hair oil isn't going to help matters, but if you're hair is naturally dry, you shouldn't have a problem.
For most people, as long as you avoid applying excessive amounts of oil to your hair's roots, you won't find oiliness a problem. Remember to start at the end of your hair and work upwards until you produce the result you're looking for.

Q: Can Hair Oil Help Hair Growth?
A: Although all types of natural hair oils have varying characteristics, most of the commonly used hair care oils can promote hair growth – good news if you're worried about your hair loss! Natural oils contain plenty of amino acids, fatty acids, minerals and vitamins which balance and nourish the scalp for healthy growth.
For example, argan oil is very beneficial thanks to its omega 3 fatty acid and vitamin E content which speeds hair growth, while almond oil has plenty of vitamins E, B and A to soothe and calm the scalp's skin and magnesium to increase growth.
Rosemary oil can also help since it boosts blood circulation around the scalp while helping problems like dandruff thanks to its antibacterial qualities, and macadamia oil contains linoleic and oleic acids which prevent hair loss and boost hair strength. As for coconut oil, its moisturising and protective lauric acid, iron and vitamin K and E content increases blood circulation to the scalp also helping to boost hair growth.
Apart from the natural benefits that all types of natural hair oil can bring your hair, the massage techniques used to apply these products to the scalp also helps to encourage healthier hair growth since massage is known to boost circulation and stimulate the hair follicles.
Overall, if you're worrying about your thinning hair problem, hair oil could be the perfect solution for you, restoring your attractive, thick, full head of hair to its former glory in no time at all!