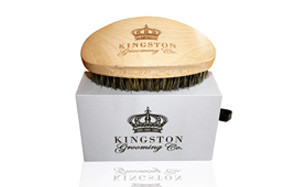 Kingston Grooming Beard Brush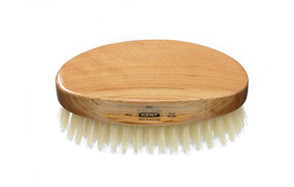 Kent Oval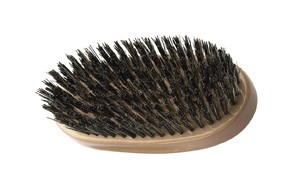 Diane Palm Brush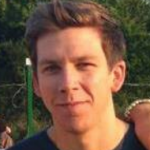 There is just no excuse for a haggard looking beard. Just like the hair on your head is your crowning glory, the hair on your chin requires tender love and care as well to look its best and frame your face properly. Whether you are just keeping a slight growth or going full on for a bushy mane, your beard needs to look sleek and well maintained. Unless you want to hide a family of gerbils in your unkempt facial hair, a beard brush is the way to go.
Now we know what you are thinking; why can't I just use any old ordinary brush? It is because cheap flimsy combs and brushes will not only result in scruffy and unruly hair but will also cause irreparable damage. This is why investing in a dedicated beard comb for your facial hair is worth it and once you use it, it will become a staple in your grooming kit for sure!
Because hair is as unique and identifiable as fingerprints, different beard brushes are designed for different beard textures and requirements. We have rounded up the best beard brushes so you can find the perfect brush for beards.
The Best Beard Brush For Men
Kingston Grooming Beard Brush
See More Reviews

See More Reviews



Kingston Grooming's Natural Wooden Dual Boar Hair Bristle Beard Brush is premium quality. Made up of the highest grade of Boar hair which contain no traces of nylon or fillers, you will never need or feel good with another brush for your beard again. The handle is made from beechwood, and the bristles are reinforced firmly so there is absolutely no fall out.
The curved design of the brush is comfortable to hold and ensures maximum contact against the face. The brush size itself is impressive at 5 x 2.75 x 1.5 inches, so you won't have to go over the beard over and over. The bristles itself are neither hard nor too soft, they are just right.
Specification:
Brand

Kingston Grooming Company

Weight

3.04 ounces
See More Reviews

See More Reviews



The Kent Oval Cherrywood Military Brush, although a super fine beard brush, stands as an odd one out as compared to the rest of their line. Instead of using black bristles standard to Kent, this brush comes with remarkable white bristles, embedded into a handle made of Cherrywood for a truly unique appearance which makes the brush on the whole stand out from other grooming tools. It also works as a fashion statement, emitting sophistication.
We would like to reiterate just how well this brush performs; its size is shorter than standard military brushes, but this works as a plus point for Kent as the MC4 Cherrywood can fit easily into travelling bags, allowing you to groom your beard on the go without occupying too much space in your bag. On the other hand, be mindful about the fact that unruly beards will require some time to work through, using this beard, and there may be a possibility of some issues with grip. Other than that the bristles itself are designed to graze but not dig into the skin, with firm but soft strands which not only feel good against sensitive skin, but are also surprisingly gentle on beards that require some strategic pulling through.
Specification:
Brand

Kent

Model

MC4

Weight

3.04 ounces
See More Reviews



The Boar Bristle Hair brush as its name suggests, creates shiny and healthy locks on both the head and the face, preventing hair from breaking, multiplying split ends or messing up hair that is already unmanageable. In context of this review, the Boar Bristle hair brush works well on coarser, thicker facial hair structures of men but is also useable by both women and kids, and for synthetic hairs like wigs or hair pieces. Additionally, if you feel the need to run a brush through your hair after flat ironing them straight or blow drying, this brush will do the trick without messing up the hairstyle.
The bristles on this brush are a mix of nylon pins and 100% pure boar made bristles, making this brush great for detangling knots in the hair and spreading beard oil evenly simultaneously. No hair texture is troublesome- be it delicate wavy hair or a wild afro, this brush works as an inexpensive hair treatment and work its magic. The brush also works well pre and post-styling and on both wet or dry hair. This is truly an all-rounder brush for all purposes and hair types.
Specification:
Brand

Beauty by Earth

Weight

4 ounces
See More Reviews
See More Reviews



If you are looking for the best beard and comb brush set, consider this pocket friendly brush and comb set for men which will fit snugly in your bag pouch or in the pocket of your jeans so you can look your best anytime and anywhere. The wooden comb and the board bristle beard brush stimulates production of oil naturally in your hair by massaging it as it detangles. Dirt is also removed, keeping the hair on your face and follicles clean and healthy. The wooden comb is anti-static, meaning that it will not cause any waves in your beard, and detangles it easily whether it is dry or wet.
The materials used in the making of this Beard Brush And Comb Set are eco-friendly, due to the use of durable and long lasting bamboo. Plastic is neither used nor wasted, and if ever you dispose of the brush, it will not contribute to environmental degradation. This brush and comb set makes a fantastic gift idea for the men in your life and in case it is not satisfactory, it can be returned for a full refund.
Specification:
Brand

Grow A Beard

Weight

2.4 ounces
Jack Dean Military Style Brush
See More Reviews

See More Reviews



The military style brush by Jack Dean is a modernized version of the brush type, without the engraved typography and the polished wood. Featuring a mixture of nylon bristles and boar bristles; tangled tresses will be taken care of in a jiffy. Even if you just want to massage oil into your hair and spread it evenly throughout your hair strands, this brush will take care of it.
This is an excellent entry-level beard brush if you are new to the beard game and want a brush that will basically take care of everything for you, and that too without making a dent in your wallet. The brush is suitable for most hair textures and no matter which style your hair grows in, although we do think that a dedicated hair brush for your hair type will be needed to upgrade to once your beard starts growing bigger. The mixed bristles are firm enough to make their way through the basic hairline, but as your whiskers grow bigger and bushier, this brush may be too soft to do any real maintenance other than gently stroking and massaging the mane. However, those with thin or really fine hair will continue to do just fine with this hair brush, as anything stiffer than this may be damaging.
Specification:
Brand

Jack Dean

Model

M-5010

Weight

1.6 ounces
See More Reviews

See More Reviews




Made up from 100 percent genuine bristles from a Black Wild Boar, this brush ensures the very best results whether it is styling your hair, shaping it, giving it direction, taming it, or simply grooming it on a daily basis. There are no filler or extra synthetic bristles on this brush and there is no chance of the small stiff particles coming off as you brush your beard. Sensitive skin will also be glad to feel no irritation from using this. The size and firmness of the brush is versatile, suitable for hair of short, medium and long lengths, making it look its best.
Smooth Viking Brush is essentially dual action- smoothening out flyaway hair and styling it in place for a look that will make it seem like you have just come out of a salon. The wooden paddle of the brush is comfortable to hold and easy to grip; its ergonomic design molds into the palm of the hand snugly. It is handmade from real wood which works its way through the hair and stimulates the skin under. Natural oil distribution is ensured by this professional hairbrush, restoring luster into hair that otherwise may be prone to look lifeless.
Specification:
Brand

Smooth Viking Beard Care

Weight

2.4 ounces
See More Reviews

See More Reviews



No hair job is too difficult to hand by the Palm brush by Diane. Offering unparalleled hair penetration, it is always up for a challenge. This essentially is the best tool out there for taming the unruliest of thick beards, with tangles, snares and snags being taken care of with the stiff bristles in no time.
The Diane Palm Brush use 100% authentic boar bristles that are reinforced to provide resistance and rigidity during penetration of the beard. The design of the bristles are such that the sides are smoother and softer which is to be used for fragile areas like the groove under the nose. We have to tell you, this brush isn't for short beards. It means business. It isn't supposed to massage the skin gently and assuring you that the world is all sunshine and rainbows. This is a no-nonsense hair brush ready to tackle the knots that come with a thick beard. Furthermore, this isn't supposed to be used roughly and vigorously as it is already too strong and neither should this be used on a daily basis. This is probably the reason why it comes with an inexpensive price tag but hey, who's complaining? The varnished handle made of dark wood is aesthetically appealing and the military-style ergonomic design gives a balanced grip on the brush.
Specification:
Brand

Diane

Model

D8157

Weight

2.56 ounces
See More Reviews



R.S. Stein's military style brush is a standard no frills brush. The amount of bristles on the brush are significantly higher than the average brush, and cover and conquer more surface area and penetration of beards. We recommend using this brush on damp hair or hair that has a dab of oil run through it in case it is too dry. The design of the paddle is rectangular which is more comfortable to grip than a round brush, resulting in efficient hair grooming.
Specification:
Brand

R.S.Stein

Weight

4 ounces
See More Reviews



The beard brush produced and sold by Gentlemen's Tools is another boar hair brush made from 100% authentic boar hair and a genuine wooden backing. Perhaps the word handle is incorrect to use here as this beard brush appears to be more like a clothes brush except the bristles are fitted into a wooden backing. Those of you are pro-green and environmentally conscious, the wood used for the construction of this brush is eco-friendly bamboo.
Gentlemen's Tools No1 beard brush is small and therefore easier to hold as it fits comfortably into the palm of the hand due to its special design. It is also concave along the edges for better secure and grip. The bristles on the brush are quite stiff but this does not mean that they are hard or will cause hair to pull out during the penetration of long beards. On the contrary, the brush somehow works even better with this design and your face feels smooth and relaxed after getting worked on by this tool. In case of use of wax or beard oil, the Gentlemen's Tools brush will spread the oil throughout the beard evenly and not concentrate it in any one segment.
Specification:
Brand

Gentlemen's Tools

Weight

4.8 ounces
See More Reviews

See More Reviews



The Torino Pro Boar Bristle brush has an interesting 360 degrees curved design which fits against the shape of your head or jawline. Hair is brushed and waves are created in less time, faster and better. The premium high quality soft bristles made from boar hair will revamp your hair care routine and make you forget all about your old brushes. The Torino Pro will lay down the waves with minimal effort and simultaneously stimulate the scalp. The boar hair bristles are 100% real and Torino takes it quality assurance very seriously. Every brush that is produced is carefully made and goes through a strict quality check. However, if for whatever reason you are unsatisfied with your beard brush, you may return it with a full cash back guarantee.
Specification:
Brand

TORINO PRO

Weight

4.8 ounces
Beard Brushes Buying Guide and FAQs
Somewhere in the last ten years, beards became beloved. Not just accepted—there are CEOs with beard again, our favorite artists, and it's a talk piece at a job interview. Everybody loves beards again, but we'll let you in on a little secret—nobody likes an unkept beard. Sure, you can go off-the-grid with your beard style, but you want to keep it brushed, keep it looking classy. These brushes are designed to help you do that.

Q: How To Choose A Beard Brush?
A: There's a few key components that go into it, and it's very dependent on your personal style and your preferences, so let's dive in:
Material / Handle - The material of the handle and body might not seem like it matters now, but it's going to either work for you or betray you in the future. Cheap plastic components surrounding the bristles aren't going to stand up to the constant tension and stress from brushing your beard, and other expensive bits (like ox horn, and no, that's not a joke), are posh and pricy, but offer half the resistance that the world's favorite material does—wood.
Bristles: Natural or Synthetic? - There's two different bristle materials to consider, and they come into play when you want an authentic, manly brush. You can break them down by how tough they are on your hair. For instance, most natural brushes are firm and tough on your beard (with the exception of a few), and synthetic usually don't do the job.
One major benefit to a natural hair bristle beard brush is the ability for the hair to carry sebum oil, which is probably the best thing on Earth for your beard. It gives you natural-looking, softer beard hair, which makes you a God.
Size - Are we going for full-on Gandalf here, or more like a Sean Connery beard? The size (and thus, the impact area) of your beard brush matter a great deal. You don't want to spend all day standing there at the mirror, brushing your beard, (or maybe you do, but it takes a long time when you want it to look perfect), but your beard brush size could just be wasting time. Look at the size of the brush and determine if it's right for you.
Stiffness - Not having stiff bristles is a mistake. If you go with natural hair that's too soft, it's not going to do its job. You need firm bristles (look for the term "first cut" for stronger brushes) to untangle, clean, and maintain your beard. You get little snares and tangles all throughout the day—your brush should be able to handle those, especially when you're running out the door in the morning, and sleep kind of kicked your beard's ass.
Price - The one factor that impacts every single sale of every item on Earth—how much are you willing to spend on a good beard brush? There's a bunch of great options, but most of the time, even if we don't want it to, it comes down to what our wallets are going to allow. Taking price into account is going to minimize the pros to your brush—you'll be more likely to get stuck with a plastic brush handle, synthetic bristles, and that kind of stinks. You get what you pay for.
Q: How Do I Use A Beard Brush?
A: New to the big and bushy beard scene? There's a bit of a rhythm you want to get into regarding your beard brush. Getting the right groove with this is going to keep your beard clean, and looking pretty awesome. You ready?
Cleaning Your Beard (Dry)
Number one rule of beard club: don't you dare brush your beard when it's wet. You're going to snag hairs, rip them out, and on top of that, you're in the perfect position to completely ruin your natural bristle brush. Only brush your hair when it's dry. That being said, begin at the root and gently stride down to the base of your beard. Your beard gets a lot of junk in it during the day, so cleaning it out before hitting step two is crucial.
Apply Conditioning Product
Starting from the sideburn area and working down to your chin, and then down the length of your beard is the best way to apply your conditioning product, but unless you clean your beard first, you're just spreading filth—you need to spread your conditioning product evenly before hitting the final step to getting a badass beard.
Apply Wax to Shape
Beard wax was big with barbershop quartets, and it's big again thanks to the return of the beard. This is where you spread the conditioning product thoroughly, and then dip into your beard wax. You can safely use your brush to spread beard wax (just don't submerge it into the wax). The best part about this is your ability to shape your beard by the end of it. Get the perfect linear look you've been wanting.
Q: How Should I Clean My Beard Brush?
A: If you have a synthetic bristle brush on a plastic handle, well, you can basically do anything to it and it doesn't matter. However, when you go for a beard brush with resonance, you want to be careful. Wood and bamboo handles require dry cleaning, the natural hair requires a tougher approach: use a dry cloth with some coconut oil (great to preserve the hair on the brush) and clean the entirety of the brush. Gently use tweezers (don't actually pinch them shut) to run along the base of the brush, freeing up any hairs that have been trapped, and gently bringing them out.
Q: Why Is A Beard Brush Good For My Beard?
A: Scientifically, it makes you 250% more awesome. In reality, it's all about softening the hairs of your beard (they get wiry when left unchecked) and evenly distributing your conditioning product and wax throughout. You don't want to have an unkept beard, and when you don't use a proper beard brush to gently untangle and manage your beard, you're going to see it looking very mountain man-styled before long. If you endgame is a long, flowy beard, not having a beard brush is like not waxing your Ferrari.
Beard Brush vs. Beard Comb
This is where people are often confused. We know what a comb is, we know what a hair brush is, but people rarely think about the difference when it comes to your beard. They tend to think it's just a tool, but they're different.
A beard brush will…
Distribute your conditioner, wax, and clean your beard, but you can't use it when your beard is wet.
A beard comb will…
Be best right out of the shower so your beard can air out and dry, but it doesn't do the same job. It's not going to leave your beard softer, and the untangling effects only last a short while.

Conclusion
This concludes our list of best beard brushes for men. Narrowing down the selections and finally selecting a brush that suits your needs best depends on the type of hair that grows on your face and hair and the look that you are trying to achieve. The bristle firmness and strength will differ according to how thick or fine your hair texture is. Once you have got that figured out, be assured that these brushes are sure to please and come with great manufacturer policies.