Lather Up! The Best Body Washes For Men In 2022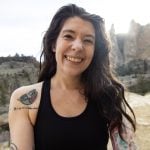 This product guide was written by Tuesday Kirby Kahl
Last Updated
March 30, 2022
Tuesday Kirby Kahl
Tuesday Kirby Kahl is a contributor at Gear Hungry. Her fierce love for the outdoors fuels everything she does. Her professional pursuits include writing, creating art, and photography. These professional passions allow her the time to live life outside as a rock climber, skier, runner, backpacker, paddle boarder, swimmer, and explorer. When Kirby is indoors, she enjoys tea, whisky, old films, cooking, and baking. Her product testing and feedback have shaped the design of everything from climbing shoes to candles.
GearHungry may earn a small commission from affiliate links in this article.
Learn more
The best body washes for men are formulated to thoroughly cleanse the skin and keep it fresh and great-smelling throughout a hard day of work, without drying it out too much and leaving you ashy or flaky. Some cleansers can also help prevent acne and blemishes, others still can fight irritation, dry patches and uneven skin tone. While some men can get away with using their girlfriend's body wash, the fact of the matter is that men's skin is different than women's – typically thicker and oiler, it requires a formula that's specifically designed for men.
But with hundreds, if not thousands of body washes available on the market, how does one find the right formula for his body? For one, it's a good idea to pay attention to the ingredients. We recommend formulas with soothing and moisturizing ingredients such as shea butter, glycerin, and ceramides among others, especially for men with dry and sensitive skin. And while some folks prefer to avoid "chemical" ingredients like sodium lauryl sulfate (SLS) and parabens, it's good to know that there's nothing wrong with them per se; nevertheless, there are plenty of "natural" alternatives to choose from if that's what you prefer. Lastly, the scent. We like formulas with fresh, masculine scents, but if you use an expensive cologne and perfume and don't want to mix fragrances, there are lots of unscented body wash formulas available.
So, without further ado, here are some of the best body soaps and washes for men that will leave your skin clean, fresh and healthy – no matter your skin type or concern.
The Best Body Wash For Men
Harry's Body Wash is one of the best body washes for men, as it's loaded with skin-nourishing ingredients that leave your skin soft and moisturized. My favorite scent is Grove, the citrus notes are gentle but uplifting and warming nutmeg provides warmth to round out the notes. The scent stays on your body for quite a while, even through heavy activity like rock climbing. Both my partner and I loved using this wash and even with very different skin, it served us both well and neither of us smelled horrible after long days of climbing in the California desert or work days back in Portland.
The rich lather is nourishing and quite foamy, allowing a little bit of product to go a long way, especially if you use a loofah. Neither the Grove nor Woodlands smells are too masculine, so if you're sharing your shower, you can both use the same product.
Key Features:
16 ounces
Invigorating citrus scent
Sulfate and paraben-free
Rich, foamy leather
Specification:
Brand

Harry's

Model

9050034101

Weight

16 Ounces
NIVEA Men Deep Active Clean Body Wash
The NIVEA Men Deep Active Clean Body Wash is an old-school formula specifically designed to thoroughly cleanse the skin. This body cleanser stands out because of its unique charcoal infusion, which helps to draw excess dirt, oil, and sweat out of your skin after a long day. This product works well to deeply clean your body and unclog clogged pores, without drying out your skin completely. As for the scent, it's fresh and clean, and Nivea promises it will last up to eight hours after use, leaving you feeling and smelling nice and clean for longer.
This all-over body wash is good for all skin types but really shines with oily skin that needs the extra help from the activated charcoal that will help remove excess oil and give you a thorough cleanse. It also stands as the most affordable item on our list, a huge pro. This was is dermatologically tested too, meaning it is safe for sensitive skin. Take a look at our top selection of the best bubble baths on the market, as well.
Key Features:
Three pack, 16.9 fl. oz. bottle
Formulated with natural charcoal
Leaves a fresh, long-lasting scent
Deep cleans without drying
Specification:
Brand

Nivea Men

Model

SG_B01329XE2Q_US

Weight

3.7 Pounds
JACK BLACK – All-Over Wash
Reduce the clutter in your shower with this single bottle of the JACK BLACK – All-Over Wash. This gentle cleanser is infused with plenty of moisturizing ingredients like jojoba oil and shea butter, which helps to retain moisture hydrate the skin. But the obvious best feature of this particular product is that is it all-in-one, meaning it can be used for hair, face, and body.
If you're a fan of minimalist routines, you'll love this cleanser as you can keep your hair moisturized, your face oil-free, and your body thoroughly cleansed with one product. While we strongly recommend having products more carefully selected for your hair, skin and face, we definitely understand that utility wins sometimes. As a bonus, the formula is suitable for all skin and hair types. Overall, it offers a great lather and a subtle yet pleasant fresh scent for even the most sensitive skin. If you want a separate product for your face, here are some amazing facials cleansers for men you might also like.
Key Features:
10 oz bottle
Jojoba and shea butter infused
Multi-purpose formula
Subtle, botanical scent
Specification:
Brand

JACK BLACK

Model

9108

Weight

2.06 Pounds
Old Spice Men's Body Wash Swagger Scent
The Old Spice Men's Body Wash is a classic option you've probably had in your shower at one point. While there may be more sophisticated cleansers out there, this one is tried and true and we know there are plenty of classic Old Spice men out there who think this is the best men's body wash. This formula doesn't contain any flashy ingredients – just plain ol' cleansing ingredients like Sodium Laureth and Lauryl Sulfate, and fragrance to clean your skin and leave you smelling fresh.
While some may find the scent of Old Spice overwhelming, it does its job well and stays put for eight whole hours, enough time for you to go from morning routine through work or school without worrying about unpleasant body odor surprising you or those around you. It's a classic for a reason, just like any of these amazing solid colognes.
Key Features:
16 fl. oz. bottle
Refreshing, clean scent
Lathers really well
8-hour lasting scent
Specification:
Brand

Old Spice

Model

SG_B01N5UO63Z_US

Weight

6 Pounds
Brickell Men's Invigorating Mint Body Wash
For a natural option, the Brickell Men's Invigorating Mint Body Wash for Men is infused with rich organic ingredients to take your average shower to a whole new level. This body wash contains both jojoba and glycerin, which work to hydrate and moisturize your skin while acting as a gentle body cleanser. Other ingredients worth mentioning include aloe vera, pro-vitamin B5, lavender and vitamin E. This body wash also has a fresh mint scent that lasts hours after use. Mint essential oils are invigorating, making this product perfect for your morning routine. Don't care for mint? Don't worry, there are other scents available.
The best part about this body wash is that it is 100% natural and also vegan which means there is no animal testing involved; smoother skin while caring for the planet. Customers seem to really love this product – although on the expensive side, it is well worth it as a little goes a long way.
Key Features:
16 oz bottle
Contains jojoba and glycerin
Deep cleans and moisturizes
97% natural, 83% organic
Specification:
Brand

Brickell Men's Products

Model

BW134

Weight

1 Pounds
Daily Remedy Tea Tree Body Wash
This Natural Tea Tree Body Wash is the second all-natural option on our list, free from harsh detergents and packed with soothing ingredients. This cleanser and its naturally derived ingredients are geared towards defending the body from fungus and bacteria while maintaining your skin's natural oils. Tea tree oil battles fungus, odor and athlete's foot and is safe for all skin types, especially men's skin, but works especially well with oily and acne-prone skin as it helps fight acne-causing bacteria. We also like various moisturizing and nourishing ingredients in this formula, such as coconut oil, olive oil, and cocoa butter.
This body cleanser can also be used by both men and women as its gentle scent is neither overpowering nor unnaturally strong. It also lathers nicely but rinses off quickly and easily. Hands down, one of the best body washes on the market for irritated skin. Make sure to also browse our selection of the top face moisturizers for men.
Key Features:
12 oz bottle
Contains tea tree oil
Anti-fungal and anti-bacterial properties
Packed with nourishing ingredients
Specification:
Brand

FineVine

Weight

1.8 Pounds
Cremo Blue Cedar & Cypress Body Wash
This Cremo product promises a refreshing, brisk woodsy scent. Each time you use a bottle of the Cremo Blue Cedar & Cypress Body Wash, you'll experience gentle skin cleansing coupled with a complex, masculine scent that invigorates the senses. The Cremo wash is infused with the powerful scent of blue cedarwood, cypress and citrus zest, offering woodsy and refreshing notes. This product is also rich in lather, leaves your skin moisturized and is lightweight. Amongst all its qualities, the best thing is its natural components that work to keep your skin balanced throughout all seasons; it even works well in summer when heavy washes can leave your skin feeling heavy and unable to breathe.
With each purchase, you receive two 16 oz bottles, an excellent value. We love the rich lather, and the mild yet soothing and long-lasting scent that's appropriate for all seasons. Cremo has done all it can to elevate your shower experience with this new body wash.
Key Features:
16 oz. bottle, 2 pack
Brisk, woodsy scent
Moisturizing qualities
Rich-lathering formula
Specification:
Brand

Cremo

Model

10858098007923

Weight

2 Pounds
Oleavine's TheraTree Soap is a medicated wash for the body. The primary ingredient is Tea Tree oil extract, a powerful anti-fungal ingredient that offers deep cleansing for the whole body. It is designed to be used on the body, face, back, and feet, with the tree tea oil acting as an antiseptic that keeps bacteria at bay and stops it from creating odor, fungus and jock itch.
Other than fighting bacteria, this men's soap is loaded with herbal carrier oils that help moisturize and nourish the skin. Oleavine does not test its products on animals and does not make use of any animal obtained ingredients, making this a great cruelty-free option. A word of caution though – this is a fairly strong formula, so you may want to patch test first if you have sensitive skin.
Key Features:
12 ounces
Loaded with tea tree oil
Great for odor and oily skin
Suitable for body, face, and feet
Specification:
Brand

Oleavine

Model

Theratree

Weight

13.44 Ounces
Dove Men + Care Body Wash
Dove is one of the most popular and longest-running care brands, catering to skincare needs by providing gentle and effective products. This Dove Men+Care body wash is specifically designed for the coarse and rough skin of a man and is clinically proven to combat d better than regular soaps.
A favorite among dermatologists, Dove has implemented a micro-moisture system that cleans thoroughly, moisturizes and revitalizes skin without leaving any greasy residue behind. The moisturizing properties of the product prevent dry, flaky skin. The fragrance is fresh and not overpowering, which is great for men who don't want a strong scent lingering on their skin. If you are seeking the best moisturizing body wash, Dove is your best bet. Be sure to combine it with some of the top anti-aging products from our list.
Key Features:
23.5 ounces
Clinically proven to fight dry skin
Gentle scent
Pump on bottle
Specification:
Brand

Dove

Model

10011111394817

Weight

1.46 Pounds
ManCave Cedarwood Body Wash
If you have sensitive skin that is prone to breakouts at the use of irritants, then ManCave's Cedarwood Shower Gel- with its anti-inflammatory ingredients and properties, will be a life-saver. Non-comedogenic, smooth and accommodating to all skin types, ManCave's Shower Gel cleanses while preventing skin reactions and minor ailments.
This wash also combats the effects of a harsh environment or changing seasons, with black pepper oil as one of the key ingredients for soothing and preventing skin issues. The presence of oil doesn't prevent the product from getting rid of grime thoroughly, while preserving the layer of natural oil present on the skin so that the environmental impurities are unable to penetrate the skin and cause damage. We like the woodsy and long-lasting scent, but keep in mind that since this formula is SLS-free, it doesn't produce much suds.
Key Features:
6.76 ounces
Anti-inflammatory ingredients
Preserves your skin's natural oils
Woodsy, earthy Cedarwood and Black Pepper Scent
Specification:
Brand

MANCAVE

Model

MC1004A

Weight

6.35 Ounces
Every Man Jack Body Wash & Showe Gel
Relatively new to the grooming game, Every Man Jack has garnered a positive reputation over a short period, producing a plethora of all-natural hygiene products. They don't rely on harsh chemicals and look to naturally derived ingredients instead. The Every Man Jack Body Wash and Shower Gel contains beneficial essential oils like clary sage oil and rosemary oil that work their way into the skin, rejuvenating it and keeping it healthy. Pores are not clogged due to the non-comedogenic properties of the oils and this body cleanser is great for men with sensitive skin thanks to its gentle ingredients.
A little goes a long way with this product that thanks to the coconut derived surfactants, foams moderately well. It will help to gently remove dead skin cells when paired with a loofa, which we always recommend you do with SLS-free formulas. The scent is very mild and masculine – pleasant yet faint. The ingredients are natural and the formula is cruelty-free which is a commendable move towards a safer environment. Make sure to use a quality body lotion afterward.
Key Features:
16.9 ounces
Earthy cedarwood scent
Contains essential oils
SLS and paraben free
Specification:
Brand

Every Man Jack

Model

91295

Weight

1.05 lbs
ArtNaturals Tea Tree Body Wash
Pure and gentle, your sensitive skin will be grateful for this Tea Tree body wash by ArtNaturals. In addition to tea tree oil which has anti-fungal properties this amazing body wash contains refreshing peppermint, oregano and eucalyptus oils which make showering absolutely delightful. This formula will soothe tired muscles and should make for a great part of your morning or evening routine.
ArtNaturals' Tea Tree Body Wash thoroughly cleanses without relying on harsh chemicals and is safe for using on the body, hands and feet. Men with an active lifestyle will have their skin pampered without needing a lot of products. Due to its anti-fungal and healing properties, athletes, labor workers and gymgoers should keep this staple product in their grooming kits. This body wash also lathers up nicely into a fragrant frothy lather for a luxurious and invigorated shower experience.
Key Features:
12 Ounces
Contains tee trea oil
Paraben-free, cruelty-free
Refreshing scent
Specification:
Brand

Art Naturals

Model

ANWA-1201-VE

Weight

14.08 Ounces
Why Trust Us
Having worked in the skincare world for several years, I've learned a thing or two about body washes and other skincare products. I make a lot of my own products but am always excited to try new things and help others find what works for them.
Who This Is For
This guide is for any man (or human really) who is looking for the best men's body wash to add to their skin care collection. All of these are mid-range price points and offer a variety of scents, but heavy on the tea tree and cedarwood side.
How We Picked
Selecting the best body washes for men was a collection of personal experience, asking the men around me about their favorites, consulting our testing team and last but not least, reading hundreds of men's body wash reviews.
How We Tested
Testing men's body washes is relatively straightforward - we washed our bodies. We tried these in the shower and the bath and I even recruited some friends and my partner to give me their feedback for a well-rounded testing crew.
Features To Look For In Body Washes
Ingredients - Ingredients matter. Tea tree is great for athletes and acts as an anti-fungal, while many butters and oils act as moisturizers, but at varying levels. Shea and cocoa butter may be too heavy for some skin types but jojoba oil may not be heavy enough for others. Aloe vera and argan oil are excellent for sensitive skin. Ultimately, it's all about finding the right ingredients for your skin. Additionally, sulfates and parabens can be hard on irritated and dry skin so if your skin is sensitive, you may want to avoid those ingredients.
Size - How much of each product you need varies. If you like to buy in bulk and not worry for a while, a larger body cleanser might be in order. But generally speaking, the size of a body wash shouldn't stop y0u from buying it, as you can always buy in bulk.
Scent - Scent is all personal preference. Do you like woodsy scents? Minty? Citrus? Everyone prefers something a little different. The main notes you find in body washes for men are cedarwood, sandalwood, citrus, and mint but many variations exist. It might take a sniff test or two to find your favorite.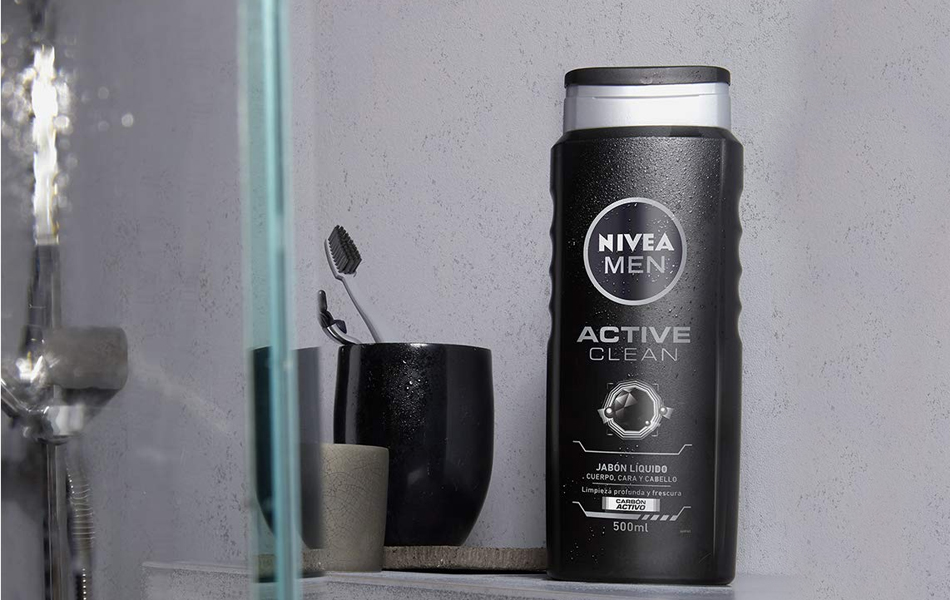 Different Types Of Body Wash
This comes down to the ingredients used. Most people make the common mistake of "it's a body wash, so it'll do its job no matter what." That couldn't be farther from the truth. We all have different skin types (which we'll get into in a moment), so there is no one-size-fits-all solution. But to us, there are two main types of body wash that branch off into subgenres, if you will: all-natural and "non-natural" or "chemical".
When you go with a natural, minimalist body wash that doesn't contain unnecessary ingredients, your skin is likely to react better, especially if it's sensitive. Less harsh chemicals for the environment, less harsh chemicals being absorbed by your skin. When you have dry patches or eczema, these are usually the way to go if you want to avoid blotchy, red skin or an itchy feeling that just won't quit.
"Non-natural" products apply to those of you with Godly skin that the rest of us mere mortals envy to no end. For you, it doesn't affect you one way or the other—natural or chemical—it's all the same to your skin. If your skin is not affected by harsher ingredients such as SLS, feel free to use whichever cleanser you and your budget like the best. After all, SLS makes the cleanser lather really well, plus it's great for oily skin, so no need to avoid it unless your skin is sensitive.
Gel wash – While gel wash is thicker and you feel like you get more, you do have to put on a little more to get the full effect. A gel wash is great for those with eczema—if you have dry skin that feels devoid of moisture when you get out of the shower, gel wash can help.
Exfoliating wash – This is the ticket when you have rough or cracked skin. The beautiful thing about body wash is that you can use it virtually anywhere, so if your knees, back, elbows, or anything in between are covered in dry, dead skin cells, you'll be able to abolish them with exfoliating body wash.
Moisturizing wash – This is the ultimate solution for those suffering from dry skin. It may not flake, but it just doesn't look hydrated, and you have this consistent look of being tired or feeling your face stretch tightly whenever you smile. That's where moisturizing wash comes in to bring back the elasticity to your skin, and keep it feeling refreshed.
Skin Types
If you're looking to get the best results from your body wash, it's good to know your skin type and how a cleanser might affect it.
Sensitive – Everything bothers your skin, and you're not alone. A lot of us have sensitive skin, and it doesn't have to get classified as anything like eczema or psoriasis—you can just have skin that reacts badly to anything overly harsh or complex. You know that your skin just doesn't get along with every type of product, so you need to look out for all-natural items, or options with skin-soothing ingredients like aloe vera or calamine.
Dry – This may sound simplistic, but it's not. Your dry skin isn't allowing anything in: moisturizing creams, skincare products, or anything. Body wash can open the flood gates of your pores, allowing healing ingredients to penetrate (and your body wash can do a little bit of healing for you, too), and keeping your skin less prone to encountering issues that dry it out. Think of it like a medicine for your skin, and a shield when you step out of the shower.
Acne – Most of us have some form of acne, even if it's just a little bit on your upper back or beneath your arms. When you hit your mid-thirties, you'll notice it on your face like you're a teenager, too. That's not a good time. Body wash is your first line of defense. Even if you use an exterior product out of the shower, you need a clean slate to work with.
Shelf Life Of Body Wash
Guys will often make one simple mistake: using a body wash after it's expired. It's not a marketing tactic, fellas, it's actually potentially hazardous to your health. If your body wash has an expiration date of six months to one year, it probably contains some all-natural products in there. Even those that don't contain all-natural products still have a shelf life.
When you use expired body wash, you're opening yourself up to possible bacterial infections. Yeah—it's no joking matter. Pay attention to the shelf life of your body wash. The more all-natural ingredients in it, the more likely you are to see a short shelf life.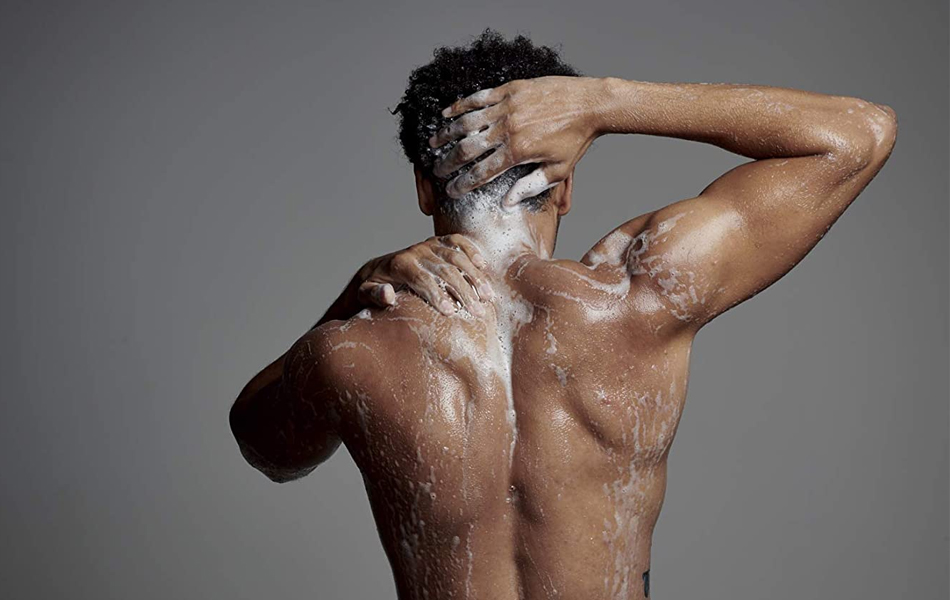 Body Wash FAQ
Q: How to apply body wash?
A: If you're reading this and thinking, "I know how to apply body wash," there's a good chance that you're wrong. Most men end up wasting half of their product by not using it properly. Follow these quick steps to ensure you're not just throwing money down the drain.
1. Fill your palm - Don't pour a mountain into your hand - that's just wasting it. Put a coin-sized dollop on your palm. You don't want to have it run off when you do the next step.
2. Lather properly - If you rub your hands together and a bunch of foam just shoots off from the center of your hands, you're doing it wrong. Keep your hands together until foam starts to come up between your fingers, and that's when you know that you've done it right. Time to apply.
3. Application - You may not want one, but you really should consider getting a tool like a sponge or a loofah. Applying body wash is going to dig deep into your skin, pull out all the dirt and oils, but it's not going to hit every area without a bit of help.
Sponges – Big ole sponges that are intended for bathing are the best for this. The sponge gently scrubs your skin, aiding in getting all of the dirt and compiled oils out of your pores with ease. It gives you more reach over tough areas like your back and behind your neck, where your hands just aren't cutting it. Be sure to keep your sponge clean and let it dry thoroughly because it can hold bacteria.
Loofahs – Much like sponges, loofahs are great to get those hard-to-reach areas nice and clean, especially your back. With loofahs, you want to ensure that they are dried appropriately so they don't harbor bacteria.
Washcloths – With a little less reach than our other options, wash cloths are probably the best tool for properly cleaning your body. Bonus: they don't build bacteria as easily when they dry. Less reach, more powerful scrub.
Q: Is body wash better than bar soap?
A: Not necessarily. Bar soap is more eco-friendly due to the lack of packaging but you can recycle many packages as well. This is all personal preference. A body wash may be able to hydrate your skin better or be used for multiple purposes.
Q: Can you use body wash as shampoo?
A: Yes, but we generally don't recommend it. If you're utilitarian and want a do-it-all product, many body washes also act as shampoo. However, it's best to get something specifically formulated for your hair for the best result.
Sources:
What Is SLS? - Webmd
Parabens In Cosmetics - FDA
Dermatologists Compare Bar Soap And Body Wash, Which Is Better? - Science Times
Sign Up Now
GET THE VERY BEST OF GEARHUNGRY STRAIGHT TO YOUR INBOX