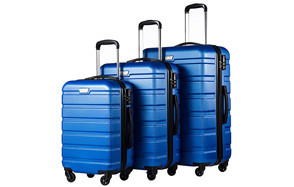 Coolife Luggage 3 Piece Set Suitcase Spinner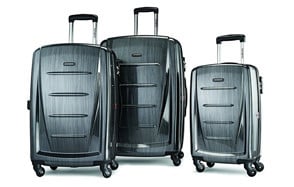 Samsonite Winfield 2 Luggage Set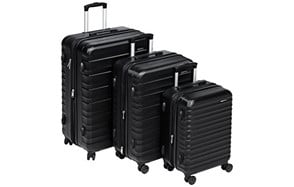 AmazonBasics Hardside Spinner Luggage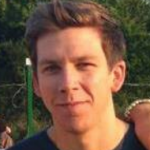 Rugged luggage sets are one trademark of a well-rounded, organized gentleman. If you've ever been the type of guy to throw everything together in a single suitcase and just be done with it, (which we've all regretted later), you can truly appreciate the value of a great luggage set. Being organized on trips, whether for business or pleasure, helps take one aggravation out of travelling. These are the top ten sets to keep you in style, and help keep you organized.
The Best Luggage Set
Luggage Set Buying Guide
What really goes into a great luggage set? It's different for every man. If you're not packing a crazy amount of items, you can do with smaller luggage sets. However, we'll bet that you're travelling for business, and with that, you need the proper luggage. You can't jam everything into one bag and hope for the best - you have watches, suits, dopp kits and more - you can't squish them in, throw them around and hope for the best. These are the main features you need to look for in your luggage sets, and a few frequently asked questions answered to clarify the entire process.

Feature to Look For When Buying a Luggage Set
Do you know what separates your luggage set from a slew of cardboard boxes? Spoiler alert: a lot of things. While they have the same primary function, good luggage sets have a lot of little features that really make it a valuable purchase, such as specific pockets to hold valuables, waterproof areas in case your liquid toiletry items break, and more. These are the top things to look out for when you're on the hunt for prime luggage.
Material: Let's start from the ground up: what it's made of is going to immediately let you know if it's a good purchase or not. For example, our top pick, the Samsonite kit, has a polycarbonate exterior so nothing is going to get in (or out, for that matter) because of a few bumps. You could throw these things down the stairs, and you'll be good to go. Pay attention to the material. If you've got kids and you don't want your luggage to get wrecked, consider staying away from cloth or canvas exteriors.
Weight: We're going in a descending order of importance. The weight of your luggage is absolutely critical, especially when you think about this: every extra ounce impacts your travel price. If your luggage is heavy to begin with, you're attributing that weight to every single bag travel expense. It gets exhausting. Go lightweight when you can.
Versatility: We throw this word around a lot, but what does it really mean when you're talking about luggage? Primarily, wheels. You've gotta have an easy way to move it around, and not have a horrible time trying to access the main pocket, as well. Wheels, extending handles, and a zipper that isn't going to require a bodybuilder to open it. On top of that, it has to contour to your business lifestyle and your vacation lifestyle, so you don't end up needing additional luggage.
Storage Capabilities: Another feature that seems straightforward until you think about it. If you pack your luggage to the brim, then you're looking for maximum storage. Basically, all those little zippered pockets on the inside aren't going to cut it. However, if you have a lot of small items or you travel light, and you want them to be in a secure space within your luggage, you want the storage capabilities of false backings and delicates
Lining: Some are waterproof, some are not - the importance of that fact only comes into play if you're bringing your own toiletry items along for the ride. It's always recommended to keep these in a dopp kit within your bag. Most luggage, including our Samsonite top pick for this list, come with cloth lining, and there's nothing wrong with that.
Warranty: I know what you're thinking. It's luggage, so why do I need a warranty, right? Most luggage sets come with excellen warranties - 10 years on average - and it's all for a good reason. It makes the product look good when it has a long warranty, but it's also crucial for potential returns. Eight years down the road, you lose something out of your suitcase due to a small hole, or the stitching that holds the zipper in place ends up splitting. Time to check on that warranty.
Luggage Set FAQ
Q: What Size Luggage Set Do I Need?
A: We've developed a mini guide within this guide (It's like buying guide Inception in here) for you to figure out what size you're going to need.
Businessman: Travel all the time for business? We're willing to bet that your luggage set will usually contain additional suits, shoes, care items for your attire, a dopp kit, among other things. That being said, you're going to need a bit more space, and if you're travelling for work anyway, they'll usually handle the additional bag costs for you on the airline. You need to stay fresh and look your best, so a minimum of a three-piece set is necessary to ensure you have everything you need, and that nothing gets left behind.
The Leisure Traveller: You get to hit multiple locations on your bucket list and have a fun time. This is especially awesome if you get to work remotely, so you can save space for all your vacation clothing instead of the corporate casual appeal. This depends on a couple of things:
How long is your trip going to be? (7+ days require a three-piece set for books, electronics, clothing, and room for items you pick up from foreign countries.)
How much shopping do you intend to do while you're gone?
Are you going to be doing your laundry on the road? (If not, this requires packing additional clothing.)
Locks: Now, these need to be TSA-approved, so don't jump on just any old lock. If the TSA can't get into your suitcase, that's a huge, huge problem that you just want to avoid. That being said, luggage theft isn't a growing concern, but if you're bringing these items on a short trip, chances are you really like them and you don't want thieves getting ahold of your stuff. Not the most important feature, but one that shouldn't be overlooked as a possibility.
The Weekender: Chances are, your weekend isn't to spend time with your parents - maybe your in-laws, but not your parents. Let's face it, gentlemen: your lady is going to run out of room, and se as much space in your luggage as possible. Avoiding the headache, drama and potential argument is a worthy reason as to why you need at least a three-piece luggage set.
Q: Can Luggage Be "Too Big" for Air Travel?
A: TSA guidelines change on a constant basis, and we don't want to give you incorrect information. You can navigate their website to learn more about updated restrictions. According to their guidelines as of February 19th, 2018, at the time of writing this informative guide, everything on our top ten list is completely appropriately-sized and perfect for bag checking on a plane.
Q: I'm Travelling on a Greyhound, How Much Luggage do I Need?
A: That all depends on how much you want your cost to be. Greyhound busses (as well as any other major bus transit company) often have a small spot for you to bring carry-on that's included in the ticket, but their luggage storage compartments on the exterior of the bus are an additional cost.
More information on their specific policies (again, these change and we don't want to give you incorrect information), but you can check out more on their website's baggage policy information page.
Helpful Life Hack for Your Luggage and Saving Money
Do you know how much it costs to fly with additional luggage? Hell, even travelling with Greyhounds can be more expensive than this simple little trick. It's going to appear obvious, but don't kick yourself for it: mail your luggage to your destination.
Now, that may sound simple, but if you're heading to a hotel near a convention center or workplace event, you'll want to check and make sure that wherever you're staying at will hold packages for you. They may need to ensure that you've already booked a reservation or paid ahead before agreeing to hold your luggage, but most hotels will hold onto it for you.
If you're travelling within your own country and you're aware of your postal procedures, consider renting a P.O. box for a month, bite the bullet of that fee, and see how much it'll cost to mail it out. If you're really going for a budgeted trip here where you want to save as much money as possible for other things, you'll want to consider mailing you luggage out. Check out the USPS calculator and find out if it's going to be cheaper to mail your luggage.
Q: Do You Even Lift?
A: If you're travelling by car, bus, or anywhere domestically that's not on an aircraft (this includes boat trips and cruises), you want to be sure you can actually life your bag. If you're travelling with the Mrs., you're likely going to pull the gentlemanliness tactic and carry hers, as well. It's crucial to ensure that you're not overstuffing your bag, or at the very least, getting one that's out of your lifting capacity.
Hardside versus Softside Luggage
Time for the ultimate showdown. One of the biggest things you may be thinking is, "How do I know if this luggage is perfect for me?" Well, let's categorize the difference between soft luggage, and hardside luggage before you hit that checkout button.
Pros of Hardside Luggage
Waterproof, so minor spills before a flight or when your coffee goes flying in the car, aren't going to bother you.
TSA-approved locks are usually apart of the basic construction of any hardside luggage.
Won't stain for any reason.
Pros of Softside Luggage
Generally more lightweight and provides an easier lift.
Flexible interior; you can overstuff your bag and it will still close (as long as you're not going totally nuts).
Fits into areas more compactly; just like how you stuffed the bag, you can stuff it into a storage area or compartment.

Q: What Is a Nested Set?
A: If you've ever seen a bag fit into another bag, just like Russian dolls, then you've seen a nested set of luggage. These fit within one another to give you ultimate versatility while you're out on the road. If you're big on bringing back souvenirs and other items, you can simply pull out a smaller bag, fill it with trinkets, and come home with a carry-on.
The Final Note
So which luggage type is right for you? We hope this guide opened your eyes to some serious questions you should be asking yourself about your luggage and travel habits. Keep your valuables secure, your attire fresh and ready, and travel expenses to a minimum with the excellent selection we've grabbed for you.