Best Luggage Sets For The Organized Traveller in 2022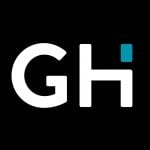 This product guide was written by GearHungry Staff
Last Updated
February 22, 2018
GearHungry Staff
GearHungry Staff posts are a compilation of work by various members of our editorial team. We update old articles regularly to provide you the most current information. You can learn more about our staff
here
.
GearHungry may earn a small commission from affiliate links in this article.
Learn more
Rugged luggage sets are one trademark of a well-rounded, organized gentleman. If you've ever been the type of guy to throw everything together in a single suitcase and just be done with it, (which we've all regretted later), you can truly appreciate the value of a great luggage set. Being organized on trips, whether for business or pleasure, helps take one aggravation out of travelling. These are the top ten sets to keep you in style, and help keep you organized.
The Best Luggage Set
Coolife Luggage 3 Piece Set Suitcase Spinner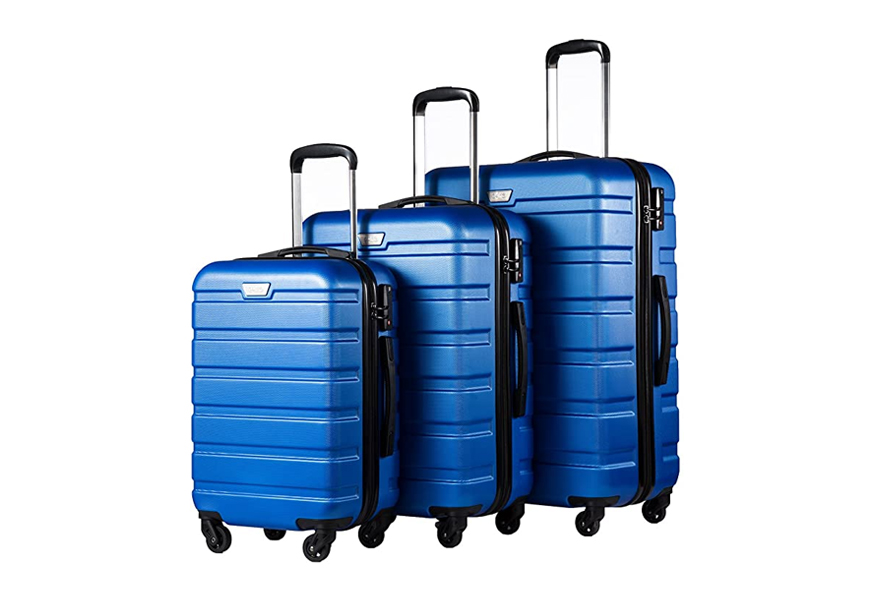 This hip and stylish collection come in the form of a 3 piece set made for the young at heart. Not only does the COOLIFE Luggage 3 Piece Set Suitcase offer up a means of transporting belongings, but it is also an expression of style and suave. This set consists of three handy pieces, the first is 28 inches, closely followed by both the 24-inch and 20-inch piece. The roomy interiors of these suitcases are all lined and fitted with down straps as well as zipper dividers for compartmentalization. The exterior is covered in a hard shell which adds to its overall sturdiness. Privacy is at its core as it offers up an unrivaled secure lock TSA system. Thanks to this feature, users can enjoy both the luxury of sporting a stylish luggage set as well as some much-needed peace of mind.
Key Features:
It has an ABS hard outer shell
Comes with tie down straps and mesh pockets
Fitted with a TSA combination lock
Equipped with 360-degree
Specification:
Brand

Coolife

Model

10441993

Weight

25.6 Pounds
Samsonite Winfield 2 Luggage Set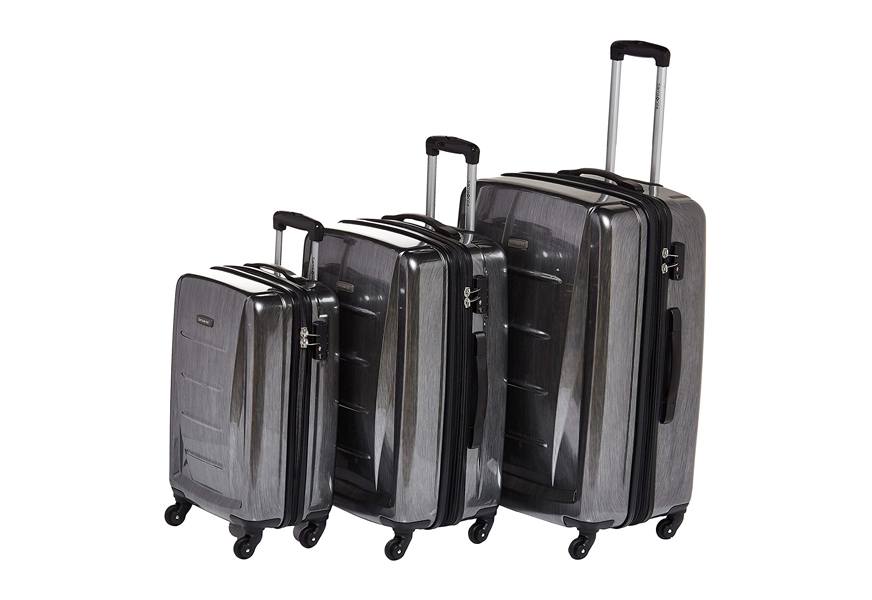 Samsonite crafts some of the best items in the world, and luggage is no exception. This polycarbonate set of luggage has bold style, while giving you ultimate protection from the element (and your kids). Winfield 2 comes with an ingrained TSA-approved lock to keep your valuables away from prying eyes as well.
This three-piece set comes with a zipper closure, while the front and back shells provide complete scuff, scrape, and (mostly) dent damage while you're wheeling it through a crowd of people. With a cloth interior lining, you get a little bit of wiggle room (up to 1.5" on the larger luggage bag in this kit) to store additional items.
Dividers are everything when you're not shoving your bag full of a hundred different things. Keep everything organized with a four-zipper interior organizational system, which is all inclusive in your ten year warranty. The unified brush design is smart, classy, and shows that you mean business.
Key Features:
It is lightweight yet sturdy
Mostly consists of a polycarbonate material
Fitted with cross straps and zippered pockets
Equipped with 360 spinner wheels
Specification:
Brand

Samsonite

Model

56847

Weight

30.1 Pounds
American Tourister Moonlight Expandable Luggage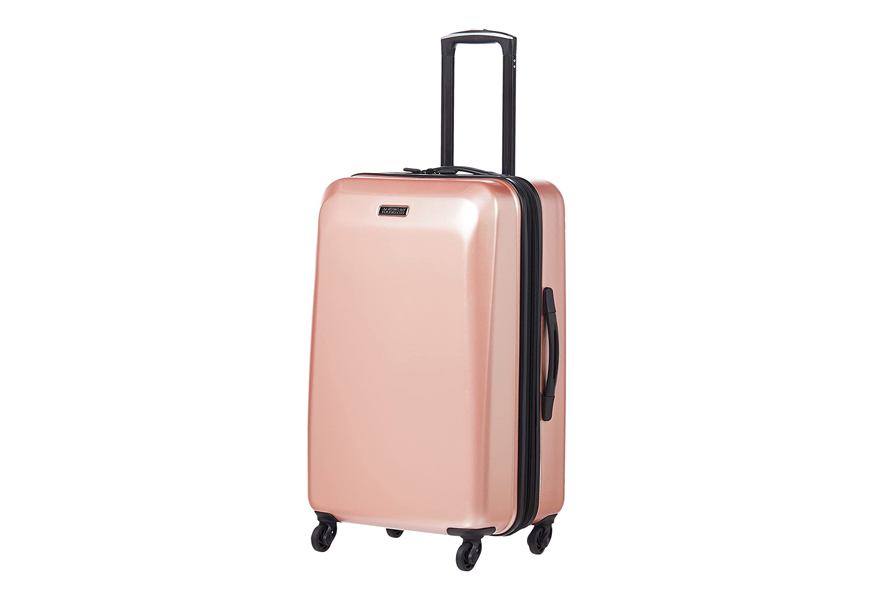 As fun as traveling can be, suitcases draw the shorter end of the stick, that's why this luggage set offers up sturdy construction wrapped up in a stylish design. With the American Tourister Moonlight Expandable Hardside Luggage, baggage handlers have finally met their match. This set of three consists of a 29-inch piece, a 24-inch piece and a convenient 21 inches to be used as a carry-on. Each of these cases conveniently expands in order to make more space for your belongings. In addition to the deep main compartment, it is fitted with a mesh area for easy access as well as compression straps that hold it all in place. Lastly, the 360-degree spinner wheels are as efficient as possible, making it easy to pull each suitcase in any given direction.
Key Features:
It has an expandable storage compartment
Fitted with 360-degree spinner wheels
Equipped with a push button handle
Has compression straps to hold everything in place
Specification:
Brand

American Tourister

Model

92507-4357

Weight

28.8 pounds
Coolife Soft Shell Spinner 3-Piece Kit Luggage Set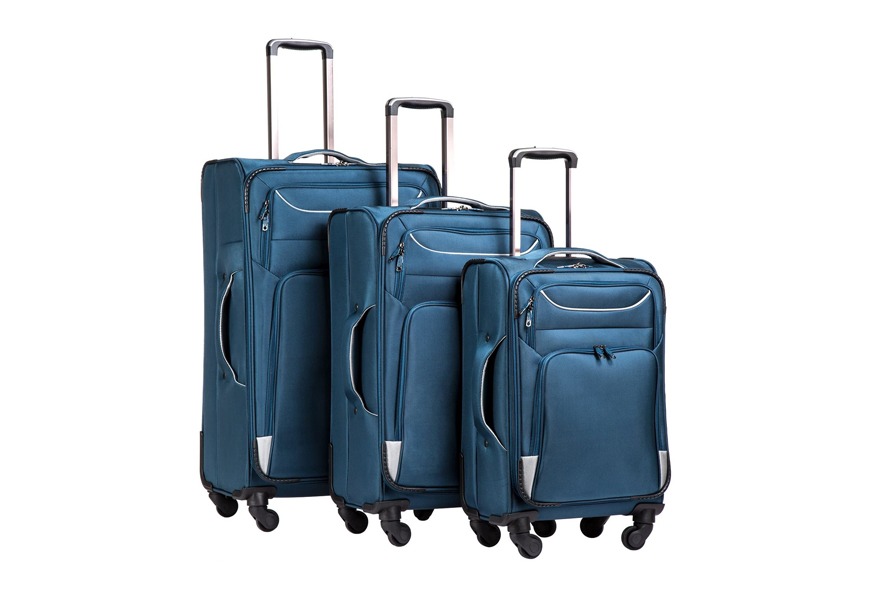 Compact design meets uniform, bright, and excellent style. From your watch down to your shoes, everything has to hold onto your style, compliment you, and be an extension of you personal tastes and preferences. It sounds like a lot of responsibility to put on your luggage, but it's true, and Coolife brings us an excellent design.
Available in six different color palettes (without touching a single penny on the price, regardless of your style selection), and functional in every way, Coolife's ergonomic aluminum handle, carry-on ready size, and quadruple, universal wheels will have you wondering where this has been all your life. You get a two-year full warranty with no limitations, and excellent, sturdy nylon lining to keep your clothing and valuables safe from harm.
This three-piece luggage set is excellent for carry-on, and fits wonderfully in the undercarriage of a bus or in the trunk of your car. Due to the ultra sturdy construction, these do not expand, though they offer you smart organizational storage options that keep your items in their proper places.
Key Features:
Excellent price for a three-piece set
Ultra durable to protect valuables and personal items
Two-year warranty with no limitations
Specification:
Brand

Coolife

Weight

29.7 Pounds
Rockland Two-Piece Luggage Set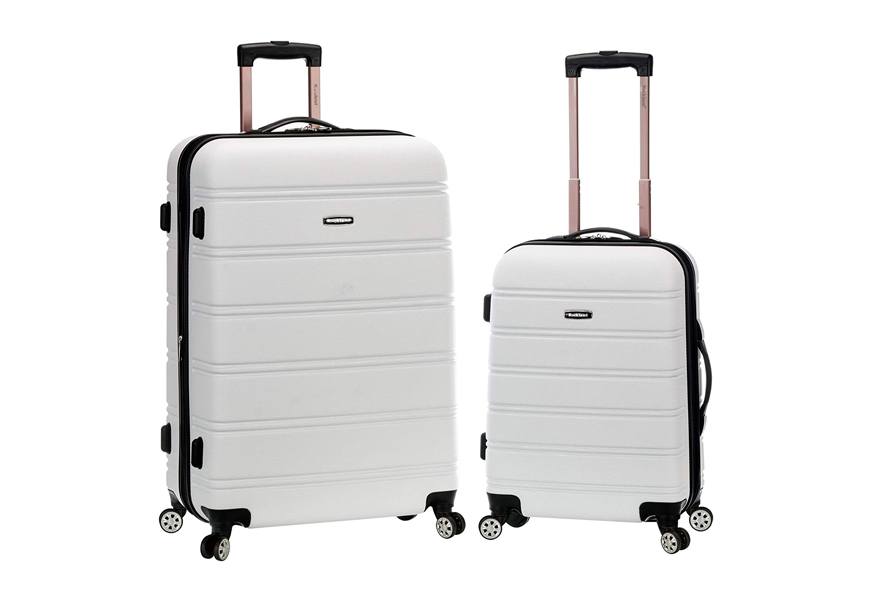 This smart selection is bound to compliment your style in any of their 15+ color options. Rockland builds a durable, expandable set with unidirectional wheels, compact storage, and periscope handles crafted of the best aluminum. Their Two-Piece Luggage Set's exterior is made of 100% ABS plastic, which provides protection up to 221 degrees Fahrenheit, while boasting a lightweight build.
Interior pockets of mesh and elastics are perfect for storing smaller, delicate items such as your phone or phone charger, while keeping them close to the lining. The last thing you want is for your items to knock around while you're in transit. Compact, hidden zippers keep your luggage looking excellent. This kit is perfect for the "Weekender" (see buying guide below) as well as the travelling businessman who's packing light, and comes with Rockland's five year warranty.
Key Features:
Excellent for the lightweight, single traveller
High durability withstands heats of 200F and expands for optimal storage
Unidirectional wheels operate quietly and smoothly
Specification:
Brand

Rockland

Model

F225-WHITE

Weight

18.56 Pounds
AmazonBasics Hardside Spinner Luggage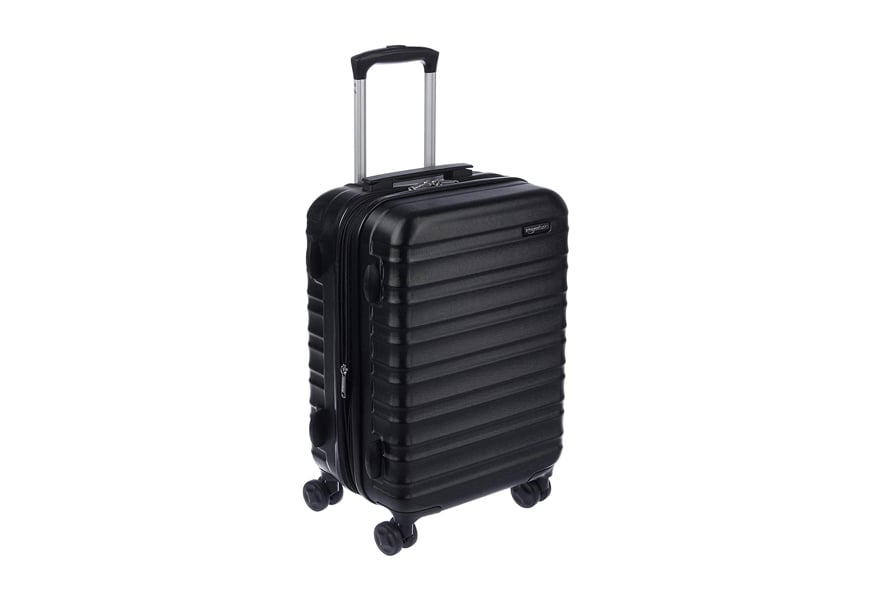 Amazon pays attention to the items that sell, and their renditions of budget-friendly products that users love are always a big hit. If you're a big fan of the way Amazon mimics popular items, you're going to fall in love with this high-quality three-piece set.
In all black, AmazonBasics Hardside Spinner luggage offers unidirectional wheels with a pop-up aluminum handle for easy storage and optimal mobility. Three-piece sizes come in at 20", 24" and 28" respectively, each perfect for their own designated uses. Fully lined and set with an interior divider for storage, this expandable set can extend to 15% of the maximum fill space, while still retaining structural integrity in the hardside material.
With sturdy exterior zippers and three interior zippered pockets for delicates and electronics, you get the perfect balance of function, style, and price. Extra thick ABS makes up the hardside exterior, coupled with your three-year limited warranty.
Key Features:
Expandable up to 15% of maximum size
Hardside material keeps up against spills, stains, and damage
Perfect three-piece size with excellent mobility
Specification:
Brand

AmazonBasics

Model

N989

Weight

33.7 Pounds
Coolife Luggage 3 Piece Set Suitcase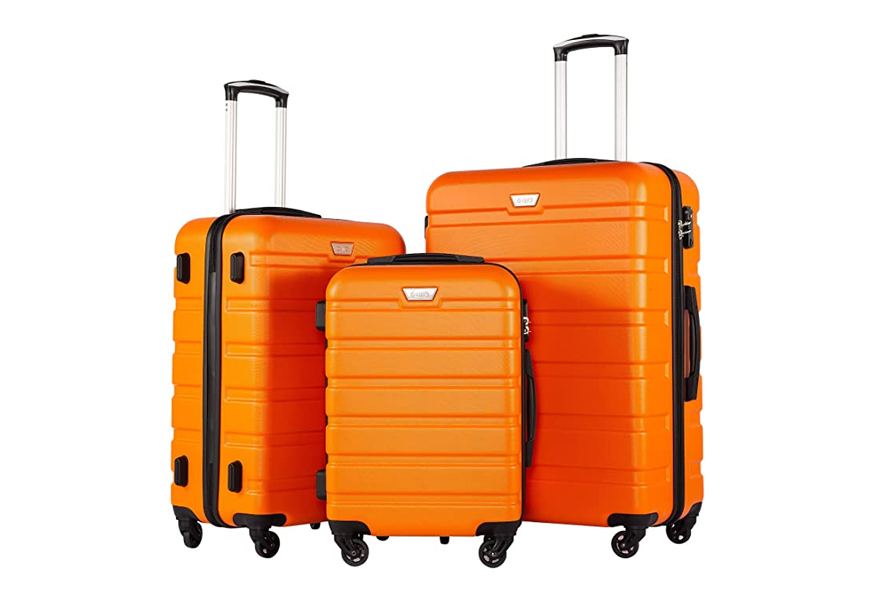 The Coolife Luggage 3 Piece Set Suitcase is another product that can easily fit into the wheelhouse of someone looking to get that svelte and professional aesthetic. The luggage comes in a 3-piece, with the smallest in the set being 20 inches. The medium and largest are 24 inches and 28 inches, respectively. If you're going for a vacation or a business trip, then the luggage has enough features to make your journey a pleasurable one.
This 3-piece luggage is made of scratch-resistant ABS material, which is sure to hold its shape and look for a long time. It's durable and very light, so it's the perfect partner for someone who moves through airports often and has to battle foot traffic at the boarding gate. Think JFK, anyone?
The handle on the Coolife Luggage 3 Piece Set Suitcase is pretty retractable, so the luggage itself is easy to store regardless of where you are. You'll also enjoy the aluminum telescopic material of the handle, which makes it look premium and helps it to stay convenient to hold. The addition of the telescopic design is just yet another sturdy play from the manufacturers.
The spinner wheels on this one are 360-degree maneuverable, and they're also very silent when you drag them. God knows everyone hates it when their tires screech here and there.
There's hardly any dross on this product at all besides the zippers.
Key Features:
Strong and durable
Easy to move around
Tires don't make much noise
Specification:
Brand

Coolife

Weight

21 Pounds
American Tourister AT Pop 3-Piece Suitcase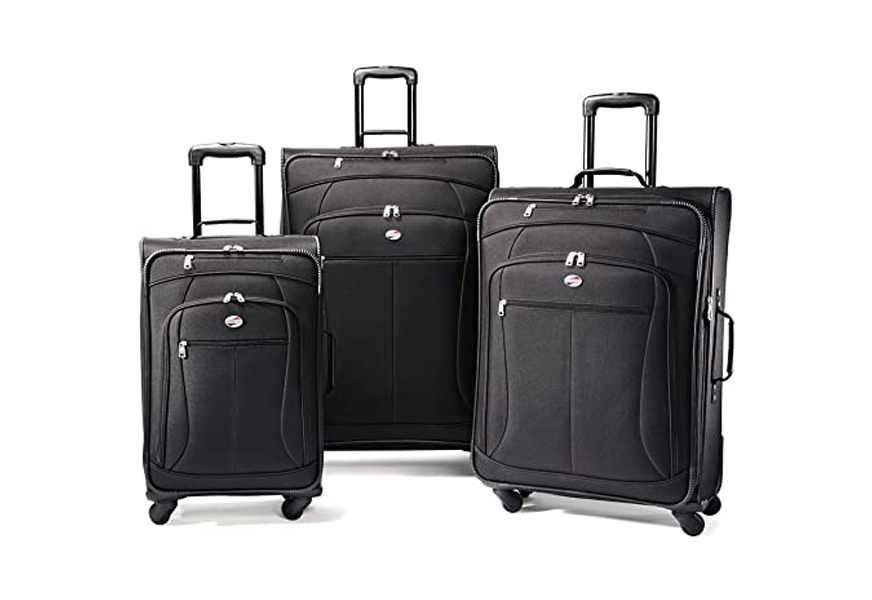 American Tourister is one of the most popular suitcase brands in the United States. The American Tourister AT Pop 3-Piece Suitcase is also one of the brand's most popular products, and with gems like this, it's easy to see how the brand has stayed on top for so long. The suitcase is fitted with just about all of the modern features that you'll expect from bags today. The manufacturers considered ease of use and convenience a great deal while creating the AT Pop 3-piece.
Whatever you need in a travel suitcase, you can have it here. Four spinner wheels grant you easy and convenient movement, and you will also love the telescopic hand that makes it easy for you to drag the suitcase around.
In terms of storage, you're getting premium stuff. There are exterior pockets on all of the suitcases, with both sides sporting ample storage space. There's also a zip-lined mesh pocket on the inside of each suitcase, which provides an opportunity to organize all your stuff easily.
That's not all. This 3-piece has an x-strap on the front side, so you can hold your clothes down and keep them tidy. A zip compartment also provides 2 inches of additional space, should in case you need more of that.
This luggage's got everything you need handy and ready to go. However, customers have also complained about a loose zipper. You might want to be careful with that.
Key Features:
Lots of storage space
Lightweight
Durable material
Specification:
Brand

American Tourister

Model

47597-1596

Weight

32.1 Pounds
Merax Travelhouse Luggage Set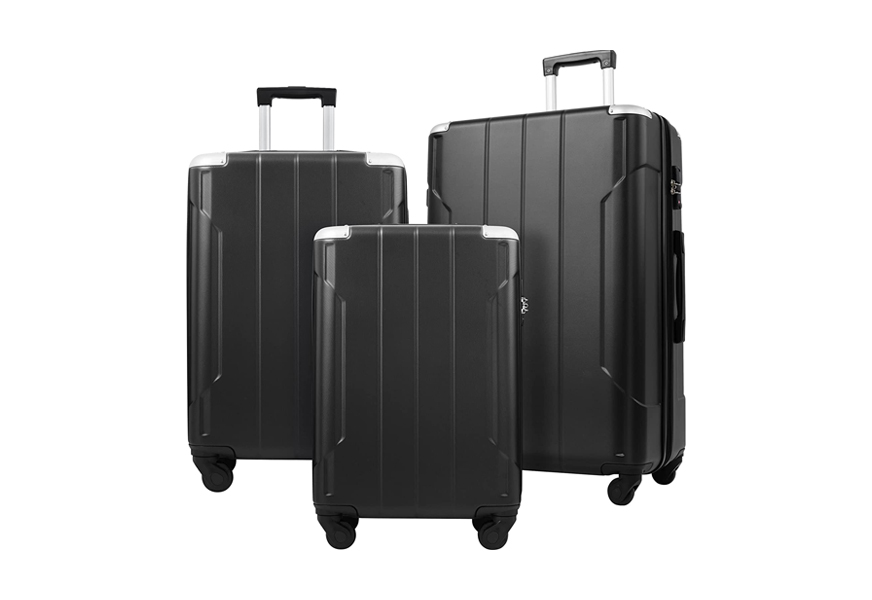 We've got another Merax product on our hands. Please say hello to the Merax Travelhouse Luggage Set. Merax is a household name in this market, with over ten years of operation and a slew of products available. With the Merax Travelhouse Luggage Set, you get a 3-piece suitcase that works seamlessly for day-to-day customers. It's a low-cost option when you compare it to what a lot of other products are going for, but it provides durability and a fashionable look nonetheless.
The design here is just about every other hard-sided luggage. There's a glossy finish that goes with the upright box shape. The product is available in several colors, which offers you options to mix and match. As expected, you get the four spinner wheels, so the slightest touch of a finger is enough to steer it in the right direction for you.
However, many customers have raised the issue of tires durability with this unit. Given that the manufacturers had to cut costs somewhere, it appears they chose the tires first.
In terms of storage, everything checks out. The largest bag has a 119L storage capacity, and you also have expander zips that offer you some more leeway should you need it.
You get the usual telescopic handle, along with its own storage space. It also means that your clothes won't get creased because of an obstructive handle.
Key Features:
Ergonomic handles
Scratch-resistant material
No creasing on your clothes
Specification:
Brand

Merax

Model

PP036705NAA
Merax Travelight Luggage Set
With over seven different options to choose from for style and color palette, as well as an ingrained TSA-approved lock, you get function and flair all in the same package. Merax Travelight set comes complete with a hard shell casing for maximum durability, and a set of unidirectional wheels with quiet operation. Nobody wants to hear the sound of your suitcase travelling down the walkway of an airport terminal – make it silent.
This unit comes with a TSA-approved security lock to keep your valuables safe, while staying within the parameters of the United States flying guidelines. Your three-step periscope handle won't slide open unannounced (we've all had that happen once or twice), which compliments the lightweight ABS plastic and PC exterior.
Key Features:
TSA-approved exterior lock for security from thieves
SIlent operation of unidirectional wheels
Hard shell for durability; dropping it down the escalator won't be an issue
Specification:
Brand

Merax

Weight

25 Pounds
Luggage Set Buying Guide
What really goes into a great luggage set? It's different for every man. If you're not packing a crazy amount of items, you can do with smaller luggage sets. However, we'll bet that you're travelling for business, and with that, you need the proper luggage. You can't jam everything into one bag and hope for the best - you have watches, suits, dopp kits and more - you can't squish them in, throw them around and hope for the best. These are the main features you need to look for in your luggage sets, and a few frequently asked questions answered to clarify the entire process.
Feature to Look For When Buying a Luggage Set
Do you know what separates your luggage set from a slew of cardboard boxes? Spoiler alert: a lot of things. While they have the same primary function, good luggage sets have a lot of little features that really make it a valuable purchase, such as specific pockets to hold valuables, waterproof areas in case your liquid toiletry items break, and more. These are the top things to look out for when you're on the hunt for prime luggage.
Material: Let's start from the ground up: what it's made of is going to immediately let you know if it's a good purchase or not. For example, our top pick, the Samsonite kit, has a polycarbonate exterior so nothing is going to get in (or out, for that matter) because of a few bumps. You could throw these things down the stairs, and you'll be good to go. Pay attention to the material. If you've got kids and you don't want your luggage to get wrecked, consider staying away from cloth or canvas exteriors.
Weight: We're going in a descending order of importance. The weight of your luggage is absolutely critical, especially when you think about this: every extra ounce impacts your travel price. If your luggage is heavy to begin with, you're attributing that weight to every single bag travel expense. It gets exhausting. Go lightweight when you can.
Versatility: We throw this word around a lot, but what does it really mean when you're talking about luggage? Primarily, wheels. You've gotta have an easy way to move it around, and not have a horrible time trying to access the main pocket, as well. Wheels, extending handles, and a zipper that isn't going to require a bodybuilder to open it. On top of that, it has to contour to your business lifestyle and your vacation lifestyle, so you don't end up needing additional luggage.
Storage Capabilities: Another feature that seems straightforward until you think about it. If you pack your luggage to the brim, then you're looking for maximum storage. Basically, all those little zippered pockets on the inside aren't going to cut it. However, if you have a lot of small items or you travel light, and you want them to be in a secure space within your luggage, you want the storage capabilities of false backings and delicates
Lining: Some are waterproof, some are not - the importance of that fact only comes into play if you're bringing your own toiletry items along for the ride. It's always recommended to keep these in a dopp kit within your bag. Most luggage, including our Samsonite top pick for this list, come with cloth lining, and there's nothing wrong with that.
Warranty: I know what you're thinking. It's luggage, so why do I need a warranty, right? Most luggage sets come with excellen warranties - 10 years on average - and it's all for a good reason. It makes the product look good when it has a long warranty, but it's also crucial for potential returns. Eight years down the road, you lose something out of your suitcase due to a small hole, or the stitching that holds the zipper in place ends up splitting. Time to check on that warranty.
Luggage Set FAQ
Q: What Size Luggage Set Do I Need?
A: We've developed a mini guide within this guide (It's like buying guide Inception in here) for you to figure out what size you're going to need.
Businessman: Travel all the time for business? We're willing to bet that your luggage set will usually contain additional suits, shoes, care items for your attire, a dopp kit, among other things. That being said, you're going to need a bit more space, and if you're travelling for work anyway, they'll usually handle the additional bag costs for you on the airline. You need to stay fresh and look your best, so a minimum of a three-piece set is necessary to ensure you have everything you need, and that nothing gets left behind.
The Leisure Traveller: You get to hit multiple locations on your bucket list and have a fun time. This is especially awesome if you get to work remotely, so you can save space for all your vacation clothing instead of the corporate casual appeal. This depends on a couple of things:
How long is your trip going to be? (7+ days require a three-piece set for books, electronics, clothing, and room for items you pick up from foreign countries.)
How much shopping do you intend to do while you're gone?
Are you going to be doing your laundry on the road? (If not, this requires packing additional clothing.)
Locks: Now, these need to be TSA-approved, so don't jump on just any old lock. If the TSA can't get into your suitcase, that's a huge, huge problem that you just want to avoid. That being said, luggage theft isn't a growing concern, but if you're bringing these items on a short trip, chances are you really like them and you don't want thieves getting ahold of your stuff. Not the most important feature, but one that shouldn't be overlooked as a possibility.
The Weekender: Chances are, your weekend isn't to spend time with your parents - maybe your in-laws, but not your parents. Let's face it, gentlemen: your lady is going to run out of room, and se as much space in your luggage as possible. Avoiding the headache, drama and potential argument is a worthy reason as to why you need at least a three-piece luggage set.
Q: Can Luggage Be "Too Big" for Air Travel?
A: TSA guidelines change on a constant basis, and we don't want to give you incorrect information. You can navigate their website to learn more about updated restrictions. According to their guidelines as of February 19th, 2018, at the time of writing this informative guide, everything on our top ten list is completely appropriately-sized and perfect for bag checking on a plane.
Q: I'm Travelling on a Greyhound, How Much Luggage do I Need?
A: That all depends on how much you want your cost to be. Greyhound busses (as well as any other major bus transit company) often have a small spot for you to bring carry-on that's included in the ticket, but their luggage storage compartments on the exterior of the bus are an additional cost.
More information on their specific policies (again, these change and we don't want to give you incorrect information), but you can check out more on their website's baggage policy information page.
Helpful Life Hack for Your Luggage and Saving Money
Do you know how much it costs to fly with additional luggage? Hell, even travelling with Greyhounds can be more expensive than this simple little trick. It's going to appear obvious, but don't kick yourself for it: mail your luggage to your destination.
Now, that may sound simple, but if you're heading to a hotel near a convention center or workplace event, you'll want to check and make sure that wherever you're staying at will hold packages for you. They may need to ensure that you've already booked a reservation or paid ahead before agreeing to hold your luggage, but most hotels will hold onto it for you.
If you're travelling within your own country and you're aware of your postal procedures, consider renting a P.O. box for a month, bite the bullet of that fee, and see how much it'll cost to mail it out. If you're really going for a budgeted trip here where you want to save as much money as possible for other things, you'll want to consider mailing you luggage out. Check out the USPS calculator and find out if it's going to be cheaper to mail your luggage.
Q: Do You Even Lift?
A: If you're travelling by car, bus, or anywhere domestically that's not on an aircraft (this includes boat trips and cruises), you want to be sure you can actually life your bag. If you're travelling with the Mrs., you're likely going to pull the gentlemanliness tactic and carry hers, as well. It's crucial to ensure that you're not overstuffing your bag, or at the very least, getting one that's out of your lifting capacity.
Hardside versus Softside Luggage
Time for the ultimate showdown. One of the biggest things you may be thinking is, "How do I know if this luggage is perfect for me?" Well, let's categorize the difference between soft luggage, and hardside luggage before you hit that checkout button.
Pros of Hardside Luggage
Waterproof, so minor spills before a flight or when your coffee goes flying in the car, aren't going to bother you.
TSA-approved locks are usually apart of the basic construction of any hardside luggage.
Won't stain for any reason.
Pros of Softside Luggage
Generally more lightweight and provides an easier lift.
Flexible interior; you can overstuff your bag and it will still close (as long as you're not going totally nuts).
Fits into areas more compactly; just like how you stuffed the bag, you can stuff it into a storage area or compartment.
Q: What Is a Nested Set?
A: If you've ever seen a bag fit into another bag, just like Russian dolls, then you've seen a nested set of luggage. These fit within one another to give you ultimate versatility while you're out on the road. If you're big on bringing back souvenirs and other items, you can simply pull out a smaller bag, fill it with trinkets, and come home with a carry-on.
The Final Note
So which luggage type is right for you? We hope this guide opened your eyes to some serious questions you should be asking yourself about your luggage and travel habits. Keep your valuables secure, your attire fresh and ready, and travel expenses to a minimum with the excellent selection we've grabbed for you.
Sign Up Now
GET THE VERY BEST OF GEARHUNGRY STRAIGHT TO YOUR INBOX