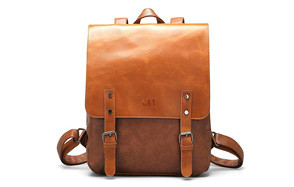 LXY Vegan Leather Backpack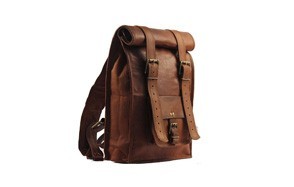 Gbag's Vintage Roll Leather Pack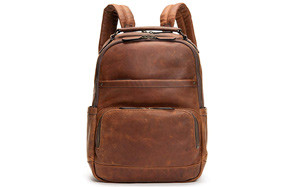 FRYE Logan Leather Backpack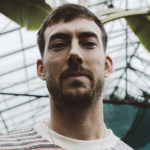 Nothing stands the test of time like leather. Like a fine wine, it usually gets better with age and natural fading, making it one of the best materials to invest your dollars and time into. The standard canvas isn't going to cut it for you; you want something truly extraordinary, something that handles whatever you throw its way. You're after a leather backpack, my friend; we've got the low-down on the top ten on the market, coupled with a thorough overlook of what you should be looking for, and answers to some of your burning questions to find the best leather backpack for you.
The Best Leather Backpack
Leather Backpack Buying Guide and FAQs
With anything leather, you have a few things to consider, from weight to wear, maintenance to usefulness, and so on. Let's break down why leather is such an excellent material, and show you how to care for it.

Q: How we Chose Our Selection of Leather Backpacks
A: Everything we do at Gear Hungry goes through a long and rigorous process. We don't just take the key features into account; we look at everything under the sun. Our criteria to select the best of the best is as follows:
Overall capacity
Durability of the stitching
Thickness of the leather
Empty weight
Specific type of leather
How simple or difficult it is to care for that specific type of leather
Quality of the build
Brand reputation and rate of returns
You can't afford to spend money on, and wait for a product that isn't what you wanted. We can't afford to leave anything up to chance. After personally carrying these around, we've also compiled a list of main attributes to be on the lookout for when you're in the stages of the purchase process.
Features to Look For in a Leather Backpack
Style - Do you admire a specific stitching pattern? Perhaps it's all about the color or finish? Either way, leather has its own timeless style, so melding it with yours is all up to you.
Size - Size impacts empty weight, but it's also going to impact how useful it is. The more leather, the more expensive. The less room, the less viable it is for work.

Weight - How much it weighs empty is going to impact how much it weighs with your belongings in it. Make no mistake, leather is heavy, so you'll see a blend of about 3lb to 6lbs (on average) of the empty weight on most bags.
Color - Leather comes in numerous colors, but the more rich or abnormal the color is (anything that isn't black, brown, or tan), the more costly it's going to be. Dying leather comes at a great expense from a lengthy process, and that will reflect in the cost.
Leather Type - There's calfskin, faux, top grain, split grain, bonded, full grain, bi-cast; the list goes on and on. Depending on which type of leather your bag is made of, it might require different steps to care for it, and will definitely impact the cost.
Capacity - Buying a bag without enough capacity is pretty foolish, but it happens more often than you think. Take a look at the actual dimensions instead of estimating if your items will fit or not. If you're going to use it for work, see how many inches tall the interior is, so you're not left crushing your laptop in the bag just to make it fit.
Q: Why Should I Get a Leather Backpack?
A: Leather is sturdier than just about everything else. We're big fans of materials like paracord and ripstop nylon, but those heavily rely on one principle: cover the weakest link. If you get one tear into an item like that, you can just rip it the rest of the way. With leather, even if you get a hole in it, it's still going to be just as difficult to continue damaging. You'll sometimes see leather items with patches in them, but you never see a nylon backpack with patches. Leather is built to last, even if it endures a few battle scars along the way.
On top of that, leather is also excellent to protect important electronics from damage. When there's only a thin veil between your personal items and the floor of the train, or the pavement of the carport when you're trying to get to the elevator, drops are disastrous. Leather is also naturally waterproof (to some extent), so you won't have to worry about sudden rainfall if you're out on the town. Just pull the flap over the top, and keep on keeping on.
Leather also looks pretty damn epic when it ages. It never looks worn down or worse for wear; it looks vintage. It's a style all its own, and generally regarded as showcasing class. They don't put cloth seats in a Mustang or Camaro anymore, right? It's all leather, because it's an elevated style.
If you want a fabric that can breathe, leather's the go-to. It takes some serious dedication to even try and build up mildew or fungus in a leather bag. Look at your wallet for instance. We're willing to bet that it's made of leather. When was the last time you had it in your pocket all day, and pulled out a debit card with mold on it? Never. Besides, who doesn't love that new leather smell?
Q: Can You Wear a Leather Backpack to Work?
A: Leather backpacks aren't inherently seen as unprofessional. If you're in a nine-to-five, corner office with a view job, you'll be better off bringing a messenger bag or a briefcase (which we also have guides for). Based on what you do, and how much of a hard-ass your boss is, you'll have to make a judgment call. If you have a more relaxed work atmosphere, and you feel like it's a constant blend of corporate and casual, then you should have no problem. Leather bags are great to protect electronics from harm, and a viable option if you have the right workplace environment.
Q: How do I Maintain a Leather Backpack?
A: Leather care is something that's relatively simple, but if you don't pay attention to it, it can be rather catastrophic. Taking care of your leather items requires a good leather cleaner, and a dedicated rag. Let's break down the process.

If this is your first leather item you've ever owned, you'll want a good leather cleaning brush. If you don't already have one, we recommend this one. Apply the specific package recommendations of solution to your brush, without letting it drip down to the bottom of the bristles. It's not going to do any good there.
Gentle brush in vertical straight lines. Since leather backpacks have a lot more areas and intricate stitching, you're going to take your time on this step. Be sure to gently get in between stitching to clean out any built-up grime or debris from items in your bag. Begin with the outside, and if possible, flip the back inside out to clean the interior.
You've cleaned most of the bag, but it's not done yet. Apply the proper amount of product to one of your rags, and begin going across the bag again. With the rag, you're able to go a little harder to get stubborn, stuck-in spills and debris out. By the end of this, you should have a completely cleared-out and clean bag. The pack we recommended has six rags in total, so you should have one that's dedicated to drying the bag, as well.
Either use that additional rag, or the dry part of your current one, and begin going over the bag to remove the cleaner. You don't have to be too abrasive, because it's not going to degrade the bag over time if a little is left inside. Once it's dry, you only have a couple of steps to go.
Apply a leather control cream to maintain your leather through the next few months of wear-and-tear, so it'll be a lot easier to maintain. Applying the amount that the package recommends, you'll then work it into everywhere.
Last, hang your leather up in an area with plenty of air circulation. If possible, put it in a room and create a cross breeze by opening two windows on adjacent walls. This gives the cream time to set in, and protect your bag from future damage.
Sources
10 Advantages of Leather, Attire Club
3 Steps to Properly Care for Your Leather Bag, Buffalo Jackson Trading Co.