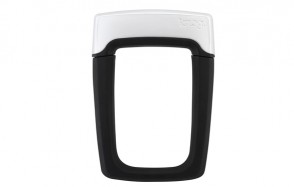 Knog Strongman U-Lock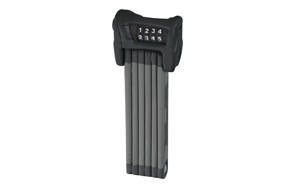 ABUS Chain lock Bordo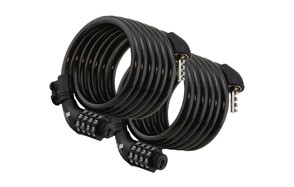 Etronic Security Bike Lock M6
If you're like us, you spent a lot of time picking just the right bike to get you around and it wasn't cheap either. To make sure your new bike stays out of the hands of bicycle thieves you need a lock you can count on. There's a common misconception that just about any old piece of hardware that will attach your bike to a parking meter, light pole or bike rack will do, but in fact an experienced bicycle thief can get through a poorly designed lock in seconds. With that unfortunate fact in mind we present one of our most important 10-best lists to date: the 10 best bike locks of 2018. As always keep in mind that this list represents the consensus opinion of our panel of product review experts.
Best Rated Bike Locks In 2018
See More Reviews

There are 2 simple truths about the OF159 "HD Chain". The first is that it's among the more expensive bike locks on the market at more than $150. And the second is that it's worth every penny if you want to make sure your bike is safe from bike thieving weasels. This 9.5mm hardened, cloth covered, square link chain lock won't buckle under the pressure when a bike thief has targeted your pride and joy. You can sling the HD Chain over your shoulder as you ride or stow it in your backpack. In any case you'll have all the bike lock you need to secure your bike when you reach your destination and can go about your business knowing it will be there when you return.
Specification:
Brand

Oxford

Model

OF159

Weight

8 pounds
The OF159 is available in various lengths so there's one that will suit your needs exactly.
Cloth covering protects your bike's paint job from chipping and scratching.
The key replacement service can be a bike saver if you find yourself in a tight spot.
You may find it a tad heavy to tote about if you ride long distances.
It's going to cost you real money so you need to be sure it's the right lock for you before forking over the cash.
Hiplok Gold Bike Lock/Wearable Chain
See More Reviews

The Hiplok Gold is the company's toughest bike lock system to date. There's no messing around with this piece of security hardware that is as rugged as it is attractive. The 32 inch chain is plenty long to fit around any standard bike rack as well as lamp posts and most other common anchors you'll find in an urban setting.
Specification:
Brand

Hiplok

Model

Item model number: LK5018-P
The thick cloth cover ensures the Hiplock Gold always sits comfortably on your waist.
A nylon strap can be extended from under the cover to provide a proper fit around the waist.
The 10mm thickness will thwart even the most determined thief wielding a bolt cutter.
Can be a bit heavy on long rides.
Because the chain and shackle are designed to pretty close tolerances, locking the whole thing when the chain is pulled tight can be tricky. Not impossible. Just tricky.
Kryptonite 994589 New York Bike Lock
See More Reviews

The Kryptonite M-18WL New York Lock is a serious piece of security technology designed to repel even the most determined bicycle thief. There's a reason they call this the "New York" lock. Because it's been battle tested in that city's most notorious bicycle theft areas and passed with flying colors. The M-18WL New York Lock features an extra-long shackle because there's not always a bike rack when you need one.
Specification:
Brand

Kryptonite

Model

994589

Weight

5.73 pounds
Due to the 260mm shackle length you're never far from a secure anchor.
The LED lit key makes things a lot easier on you when you arrive back at your bike after dark.
The hardened steel shackle is resistant to even the highest grade industrial bolt cutters.
You wouldn't call this a lock 'light' so be prepared to lug around a bit of weight.
Not big enough to secure both front and back wheel without removing the front wheel.
See More Reviews

There's little doubt that the 13mm hardened steel shackle of the Kryptonite Kryptolok Series 2 lock will repel all thieves who aren't sporting a portable welding device. The rest of this Kryptonite lock is just as thoughtfully engineered and tough with one exception: the 4' extension cable, which seems more of an afterthought. The rest of the lock however is rock solid.
Specification:
Brand

Kryptonite

Model

3.59 pounds

Weight

LK41051
The disk cylinder is engineered to be both drill and pick resistant.
13mm thick shackle isn't going to succumb to some weasel with a bolt cutter.
At just under 3 pounds it's not going to be a problem over the course of a long day.
The cable is basically useless against a seasoned bike thief.
The shackle on this lock is not double bolted meaning it might be more susceptible to leveraged attacks than some of the company's more upscale models.
Etronic Security Bike Lock M6
See More Reviews

The Etronic M6 Security Bike Lock with resettable combination locks is the easy, dependable way to secure your bike from even the most determined thieves. The 10mm thick cable is resistant to all but the most robust bolt cutters and the resettable combination lock is impervious to leveraged attacks. The heavy duty cable is a full 6 feet long to ensure you're always able to find a place to lock your bike.
Specification:
Brand

Etronic

Model

M6

Weight

1.2 pounds
2 cables buys more time for the police to arrive and catch the thief.
Easily reset the combination locks if you feel your code has been compromised.
No need to remove your front wheel in order to secure your bike.
While stout, the cables themselves are not a very formidable opponent for an experienced thief.
The two cables can be a fairly heavy load to be toting around.
ABUS Bordo Chain Bike Lock
See More Reviews

The Abus 6100 Folding Lock is available in either 75cm or 90cm lengths so it's easy to secure your bike to a wide variety of potential anchors. The lock itself comes with its own rattle free carrying case and folds up into a very manageable size that every type of bike owner will find relatively easy to transport.
Specification:
Brand

ABUS

Model

Abus

Weight

2.66 pounds
The combination lock on the 6100 can be easily reset should you feel the need to.
The effect of this lock is like making your bike a part of the anchoring item.
Very difficult to compromise this type of lock in any 'traditional' bike theft way.
The fact that you have to physically carry this bike lock is a bit of an inconvenience.
Not always a snap to deploy or remove, which it should be for more than $100.
See More Reviews

The Hiplok Lite v1.0 Wearable Bike Lock is nothing if not convenient. When you're ready to go for a ride just secure the lock around your waist and you're off. Once you arrive just pop the Hiplok off and secure your bike to the desired anchor point. No need to carry the lock in a backpack or attach a carrying mechanism to your bike frame. Your lock is part of your wardrobe.
Specification:
Brand

Hiplok

Model

Hiplok LT1 BW

Weight

2 pounds
Light, easy to transport, looks good and works like a charm.
Hardened steel chain beneath the outer fabric resists bolt cutters.
No need for carrying around keys and no emergency should you lose your key.
Not as robust as other Hiplok models.
Can be a chore to secure the lock as tolerances are very tight between lock and chain.
See More Reviews

If something isn't broke you shouldn't try to fix it and that's the case with the Knog Strongman U-Lock. The Strongman acknowledges the strength and practicality of the U-lock design and doesn't try to re-invent the wheel. What it does instead is refine the wheel and it does so in an interesting and laudable way. The Strongman is incredibly difficult for the typical bolt cutter to crack and yet it's easy as pie to deploy.
Specification:
Brand

Knog

Model

10961

Weight

2.43 pounds
Key mechanism is smooth and the double lock means 2 cuts will be needed to remove it.
13mm hardened steel stands up to the toughest bolt cutter.
Lots of attractive colors so there's sure to be one to match your bike.
This lock is going to set you back a few bucks.
Like it or not keys get lost so you'll need to always carry 2 or risk being locked out.
See More Reviews

The UShake Bike Lock Cable is made for the biker who doesn't ride into bike theft hot spots but still needs to secure their ride against opportunistic thieves. Considering this lock cost less than a large pizza with everything and will likely save your very expensive bike time and again over the course of its life.
Specification:
Brand

UShake

Model

UShake

Weight

11.2 ounces
Personalized combination can be reset as often as necessary with up to 10,000 combinations.
Hardened steel cables will resist all but the most heavy duty bolt cutter.
Comes with a handy mounting bracket.
Need to always remember to tumble the numbers after securing the lock.
Handy mounting bracket isn't compatible with every make of bicycle.
See More Reviews

The Sigtuna team take bike security seriously and put all of their locks through rigorous quality control checks before they're allowed to hit the market. This 16mm hardened steel lock with supplementary cable is no exception. While the cable by itself won't do you much good in high crime areas full of experienced weasels, the U-lock component is rock solid and dependable as other bike locks that cost many times more.
Specification:
Brand

Sigtuna Gear

Model

FBA_Wodan 16mm

Weight

Sigtuna Gear
The double bolted U-lock provides an added protection not normally seen at this price point.
The one button release from the mounting bracket is a nice touch.
The cable can be of some help in ordinary situations. Just don't use it as the primary lock.
The shackle is pretty short so your anchoring options using it are limited.
The cable alone isn't going to scare any determined bike thief away.
Buyer Questions
Which Is The Most Secure Bike Lock?
The Standard U-lock has been around for 30+ years for a good reason. It works in all but the most extreme circumstances. A lock like the Kryptonite M-18WL will even stand up to many of those extreme circumstances. So if you can't make up your mind you can't really lose with a high quality U-lock.

Is It Possible To Break Through A Bike Lock?
There's no such thing as the impenetrable bike lock, but there are plenty that come pretty darn close. That said it's possible to break through a bike lock. The only question is "How hard is it?" A low end bike lock made of low grade steel will be a relative walk in the park for a seasoned bike thief. However, a well-engineered lock made of thick, high grade hardened steel will give even the most experienced weasel fits and has a good chance of preserving your bike.
How Much Is A Good Bike Lock?
That depends on your interpretation of "good." If by good you mean a lock that will stand tall against the most die-hard bike stealing low-life then you'll wind up paying $150. Perhaps even a bit more. If on the other hand you feel that a "good" bike lock is one that will withstand the average quick snatch attempt you can get a very serviceable lock indeed for less than $40.
How To Lock Your Bike?
Most bike locks come with carrying brackets that attach to your bike frame. When you arrive at your destination you remove the lock from the bracket and secure the bike by running the lock through the frame and the rear wheel. You may want to remove the front wheel and add that to the 'stack' by putting the lock through the frame and both wheels simultaneously.
What's The Difference Between A 'U' Bike Lock And A 'D' Bike Lock?
A U-lock is a D-lock and vice versa. What it's called depends on the manufacturer and sometimes the geographical area you're in.
Things To Consider When Purchasing A Bike Lock
A bike lock is an important purchase because nearly 1.5 million bicycles are stolen each year and most because they simply weren't properly secured. Here are some things to consider regarding bike locks.
Type Of Lock – There are 4 major types of bike lock: the cable lock, the chain lock the anchor lock and the U-lock. Which you select will depend to a certain degree on where you'll be using your bicycle. If you live in a small town with low crime you'll be fine with a cable lock. If however, you live in a high crime city center you'll want the best U-lock or chain lock money can buy.
Key Or Combination – A bike lock that opens by key is quick and convenient there's no doubt. There's also no chance you'll forget the combination. However, keys get lost and if you lose yours it can be a major headache. Combination locks on the other hand have no keys to lose but you will need to make sure you never forget your combination.
Weight – Some bike locks can get heavy. If you spend the better part of the day on your bike toting that extra weight around can be an unnecessary drain on your energy. If you only take your bike out occasionally on short hops or to class and back the weight of the lock shouldn't be a problem. Bike messengers though will want the best lightweight bike lock they can find.
Price – How much you spend on a lock will depend at least in part on how much you spent on your bike. If you have a $1700 handmade beauty it's going to attract a lot of unwanted weasel attention so you'll want a top of the line lock to make sure it's always there when you return to it.

Conclusion
The modern bike lock has managed to keep one step ahead of the world's bike thieves through innovative thinking and high quality materials. If you treasure your man-powered ride do it right and get a high quality lock for it. Any of the ones on the above list are sure to do you proud. We hope you found these bike lock reviews helpful and be sure to check back regularly for more product information and reviews.