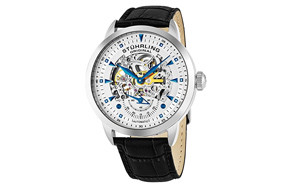 Stuhrling Original Men's Executive Watch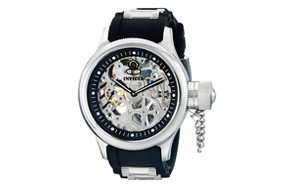 Invicta Russian Diver Watch
Audemars Piguet Millenary Rose Gold Skeleton Watch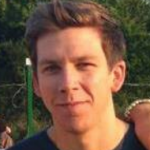 Ever wondered what's going on inside of your watch? With skeleton watches, you don't have to keep guessing—everything is on display. Full disclosure on the working mechanisms behind your watch's tick are up for display, which always give you something wicked to look at. You may have heard these called mechanical watches in the past—these are the pride of watch collectors everywhere, and we've compiled the very best units from around the internet to show off. Take a look inside.
Top Skeleton Watch
Skeleton Watch Buying Guide and FAQ
Q: What is a Skeleton Watch?
A: Your skeleton watch is a view into the fascinating world of clockmaking and gear movement. Skeleton watches are essentially the same as standard watches, except they allow you to see every piece of the movement at work, every little gear and motion in action. They're mesmerizing, fantastic pieces that strike conversations, maintain attention, and showcase that you're not afraid to take risks by baring it all.
Q: Do Skeleton Watches Come With Mechanical Advantages?
A: In short, they do not. Owning a skeleton watch is more about style than it is about anything else. If you put two watches side by side, each with the same amount of gems, Swiss quartz movement, and similar sapphire dial windows, they're mechanically the same watch. It's when you get into brands and other smaller features, such as dive depth and case material/thickness, that you'll run into potential differences in structural integrity. Whether it's a skeleton watch or not, it's all about what's inside.
Q: Are Skeleton Watches More Fragile Than Other Watches?
A: They're no less fragile than any other watch you own, so long as you're looking at the same features. The misconception with skeleton watches is that there's less material separating gear and prohibiting negative movement, when in reality, they're going to operate the same way. Case material, thickness, dial window material, etc., are all pieces of the puzzle. You're only lacking a dial back, which doesn't provide any significant strength in a watch to begin with.

Q: What is the Main Advantage of Owning a Skeleton Watch Over a Traditional Automatic Watch?
A: While you're not going run into this issue very often, your skeleton watch gives you the added benefit of being able to spot what's wrong with your watch. If you're using quartz movement, automatic, or basically anything that doesn't require a lithium-ion battery (which most don't), then when something's wrong with your watch, you can always assume it's mechanical.
Being able to look into the running heart of your watch will also allow you to monitor cleanliness. Even in waterproof watches, time allows moisture to penetrate through various areas, creating buildup, and eventual issues for your watch. Everything is on display - if there's an issue, you can pinpoint what's wrong, and potentially fix it yourself without having to bring it to a  watch repair kiosk.
Q: If I Can Only See Part of the Gears, Is It Still a Skeleton Watch?
A: Certain models, like our #14 pick, Bulova's BVA Automatic, don't give you a 100% internal view of the gears in motion. Instead, they offer teasing views into the inner workings of your elegant skeleton watch, giving mystery and intrigue. There's nothing that appeals to women more than baring (most) of it all, but keeping that certain air of mystery. Every sense of your style is an extension of your personality, taste, and how deep your pockets go - skeleton watches offer the best of every world in those regards.