Best Luggage Locks in 2022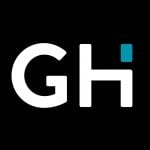 This product guide was written by GearHungry Staff
Last Updated
September 10, 2020
GearHungry Staff
GearHungry Staff posts are a compilation of work by various members of our editorial team. We update old articles regularly to provide you the most current information. You can learn more about our staff
here
.
GearHungry may earn a small commission from affiliate links in this article.
Learn more
The solution to keeping your luggage secure? Utilize luggage locks. High-quality locks are tamperproof and allow only you to access what they're safeguarding. We put together this guide to the best luggage locks on the market so you can enjoy your next trip stress-free.
The Best Luggage Lock
Forge TSA Approved Cable Luggage Lock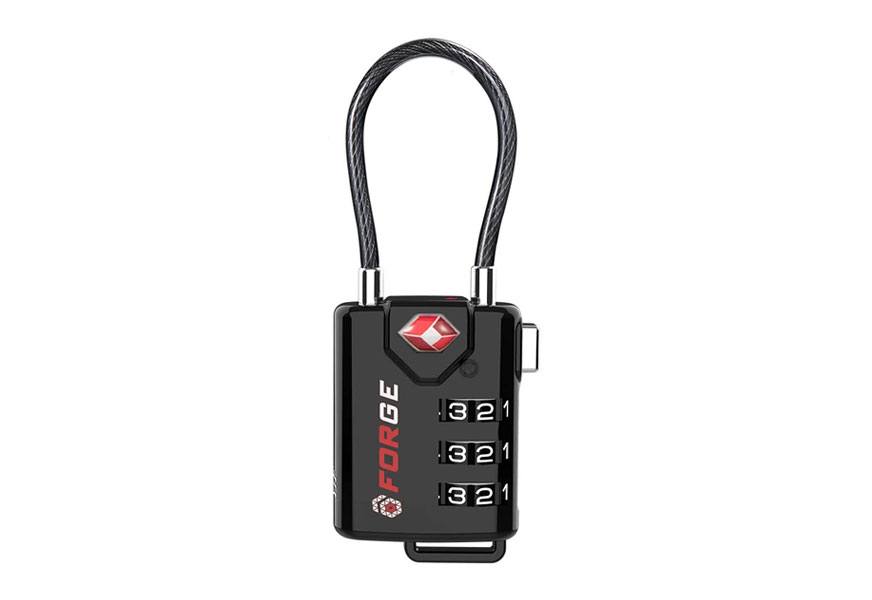 With this 4-pack of Forge TSA Approved Cable Luggage Locks, you can secure separate compartments or multiple bags. These TSA luggage locks feature tightly braided, sheathed steel cables that can easily fit through suitcase zippers. They are TSA-accessible but must be re-locked by the TSA, as well. These locks have an easy-to-set three-digit combination for secure access. They are durable, rustproof, and lightweight.
Here are some of the best trailer locks you may be interested in, as well. Check them out.
Key Features:
Changeable combination with alloy body
Tightly braided and sheathed steel cables
Easy to read white on black dials
Patented easy code changing system
Durable, rustproof & lightweight
Hardened steel locking mechanism
Specification:
Brand

Forge

Model

6.46648E+11

Weight

4.8 Оunces
Easy to set 3 digit combination
Great fit for suitcase zippers
Waster-resistant and freeze proof
May be difficult in extreme temperature changes
Master Lock TSA Approved Luggage Lock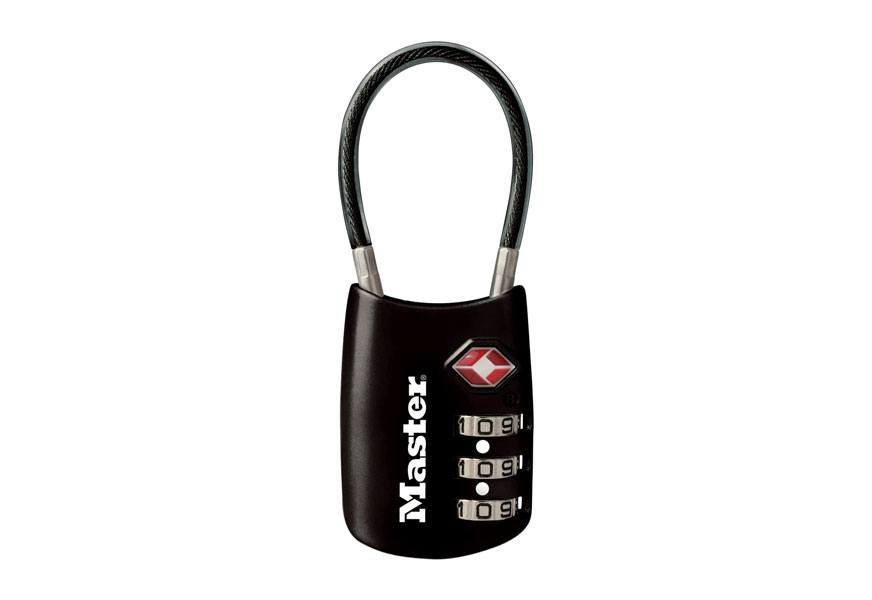 Business or pleasure, you need to keep your bags secure. Luggage locks like the Master Lock TSA Approved Luggage Lock can lock suitcases, bags, and even toolboxes. The combination is easy to change, while the metal body with damage proof vinyl-covered cables give you a seriously tough lock.
Key Features:
TSA-approved luggage lock
Set your own combination
Damage proof vinyl-covered cable
Metal body for extra durability
Suitable for bags, cases, and chests
Specification:
Brand

Master Lock

Model

4688D

Weight

2.89 Оunces
Screeners can inspect & relock luggage without damage
Combination easy to change
TSA-approved
Combinations may be difficult to reset
Lewis N. Clark Travel & Luggage Lock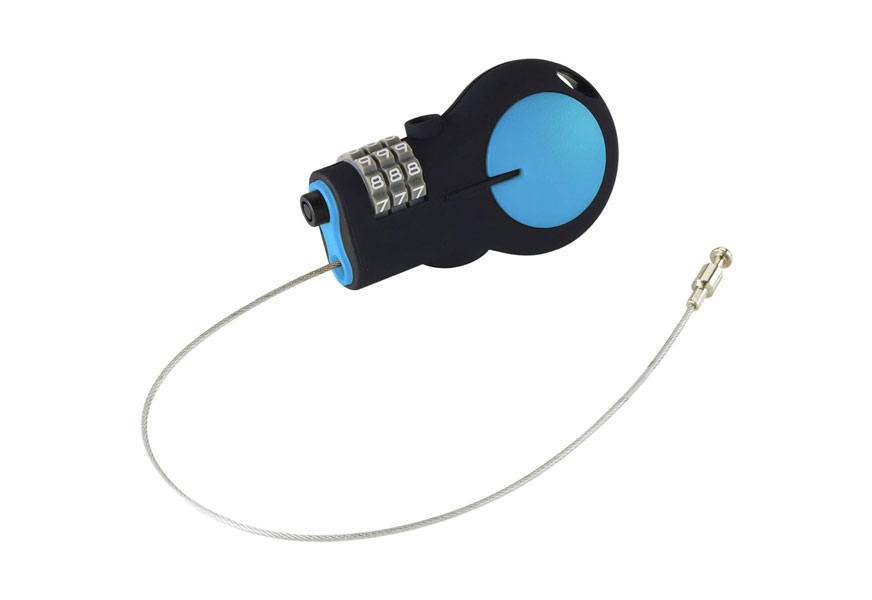 Very few people travel with only one piece of luggage, and it's not always easy to keep an eye on every single piece. That's when a Lewis N. Clark Travel & Luggage Lock can be a traveler's best friend. This TSA-approved padlock features a retractable 30-inch braided steel cable that allows you to secure several items or anchor your luggage to a fixed object. The padlock is a thermoplastic rubber with ABS housing that is durable and rugged enough to withstand considerable abuse. You can reset the combination as needed, too.
For more useful gadgets to keep your baggage safe, check out our selection of the best luggage trackers.
Key Features:
3 dial resettable combination
Durable rugged construction
Thermoplastic rubber with ABS housing
Retractable 30″ braided steel cable
TSA-approved padlock
Specification:
Brand

Lewis N. Clark

Model

LOC88

Weight

1.58 Оunces
Long cable allows securing of multiple items
Can be used as a bike lock
Easy to reset combination
Cable may have too much slack
Master Lock 2-Pack Luggage Lock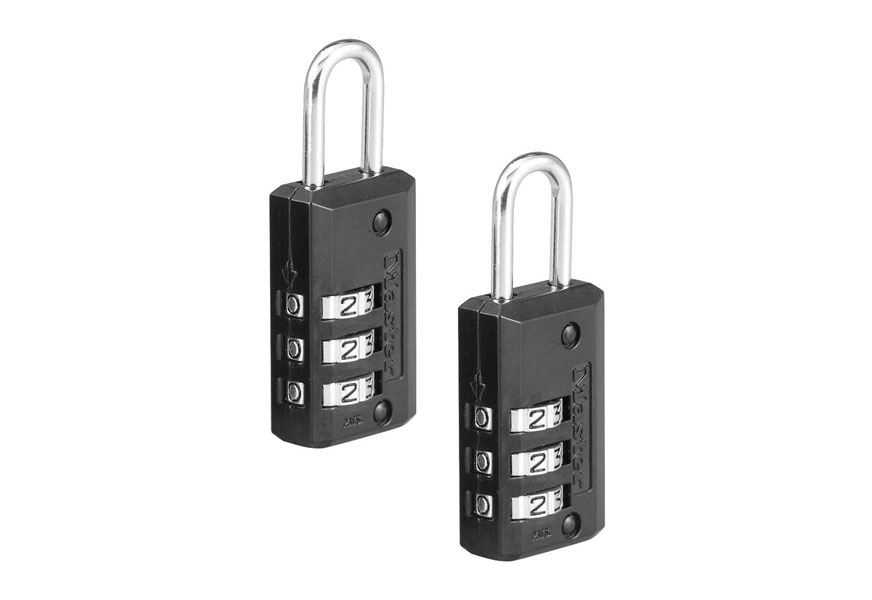 Protect your luggage during your travels with this Master Lock 2-Pack Luggage Lock. These locks feature a durable metal body with shackles that are resistant to cutting and saws. They are ideal for suitcases, travel backpacks, and carry-on luggage, as they are compact yet robust. For keyless convenience, you can set your three-digit combination and reset it as often as needed.
Key Features:
Durable metal body luggage locks
Resistant to cutting & sawing
Ideal for suitcases, backpacks & carryon luggage
Compact yet strong
Specification:
Brand

Master Lock

Model

646T

Weight

3.2 Оunces
Set your own 3-digit combination
Keyless convenience
Setting combination may be tricky
BV TSA Approved Luggage Lock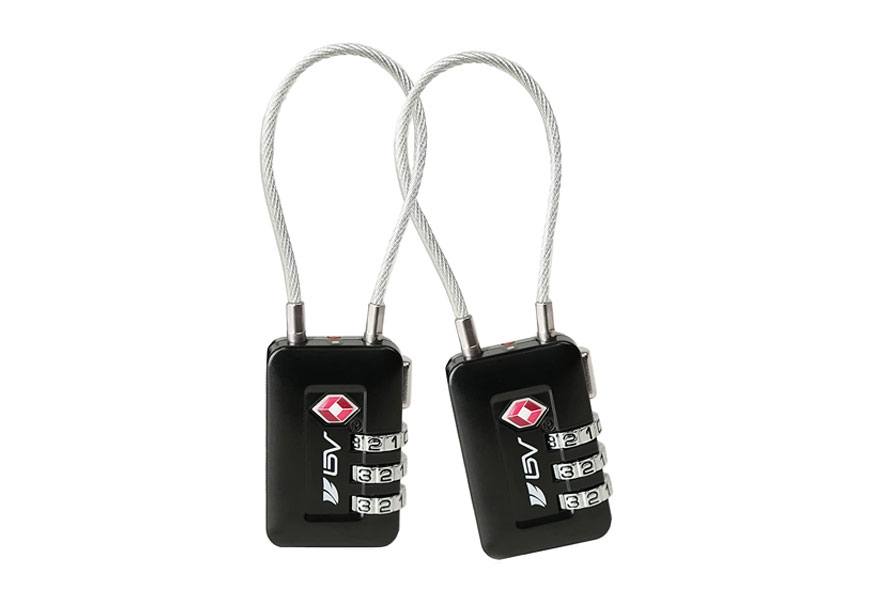 Suitcase locks like this BV TSA Approved Luggage Lock ensure your bags stay locked but still allow TSA personnel to check for safety. An alert indicator lets you know if an inspection of your luggage occurred.
You'll never have to worry about losing your luggage lock keys again as this lock allows you to set your combination and access your luggage without a key. It is strong, durable, and will join suitcase zippers with ease.
To always be sure about your luggage weight, be sure to invest in one of the top luggage scales from our list.
Key Features:
Set-your-own combination lock
TSA-approved
Alert indicator shows when bag has been opened
Suitable for gym lockers, bags, tool chests, etc.
Cable fits through luggage zippers
Strong and durable
Specification:
Brand

BV

Model

BV-TL02-PAIR

Weight

2.82 Оunces
No more lost keys
Can be unlocked & relocked by TSA personnel
Alerts you to bag inspection
Locks are somewhat temperamental
Forge 4-Pack Luggage Lock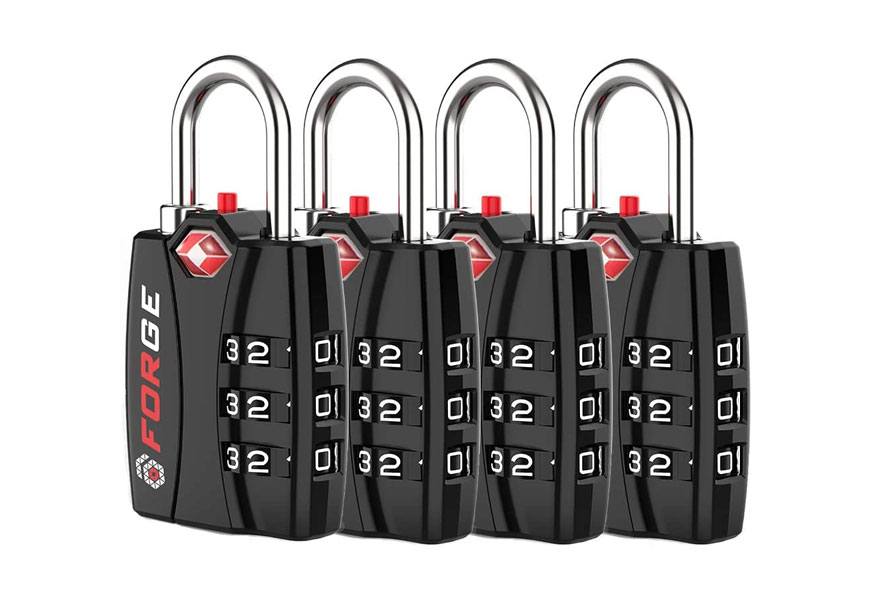 It's never a good experience when you realize that your bags have been opened and rummaged through. With a Forge 4-Pack Luggage Lock, you can immediately see that your bags have been inspected and check to ensure everything is still in its place. This pack of four locks features an alert indicator that's visible at a glance, tipping you off to check the contents of your baggage before you walk away from TSA personnel. These luggage locks are incredibly strong and almost impossible to break so you can keep your possessions safe and secure when you travel.
Key Features:
Alloy body is ideal for travel
Open alert indicator
Hardened steel shackles
Patented internal mechanisms
No hassle combination lock
Durable, rustproof & lightweight
Specification:
Brand

Forge

Model

6.46648E+11

Weight

9.6 Оunces
Easy to read dials
Open alert shows if your bags have been inspected
Combination is not always easy to reset
Anvil TSA Approved Luggage Cable Lock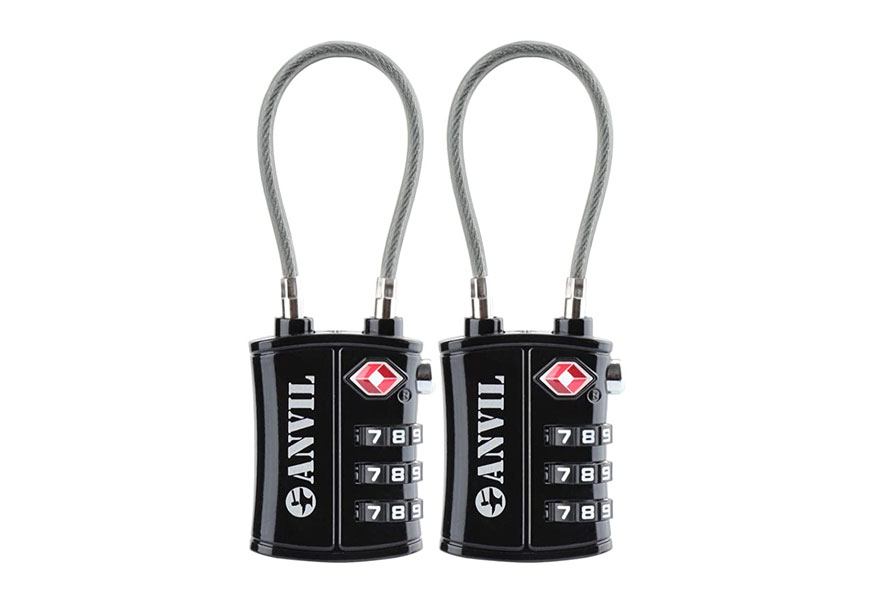 If you are searching for small combination TSA luggage padlocks, these Anvil TSA Approved Luggage Cable Locks are a fantastic way to keep your baggage safe and secure. These combination locks offer security for your luggage in an easy-to-use locking system. The lock features an ultra-durable zinc alloy body with steel cable shackles that are flexible enough to wind through the zippers for extra security. 
Key Features:
Small combination padlock ideal for travel
Designed for security & easy to use
Ultra-durable zinc alloy body
Steel cable shackles
Security with flexible cables
Approved by TSA
Specification:
Brand

Anvil

Weight

6.38 Оunces
Easy to read dials
Easy to set 3-digit combination
Not entirely tamper-proof
Talonport Keyless TSA Approved Luggage Lock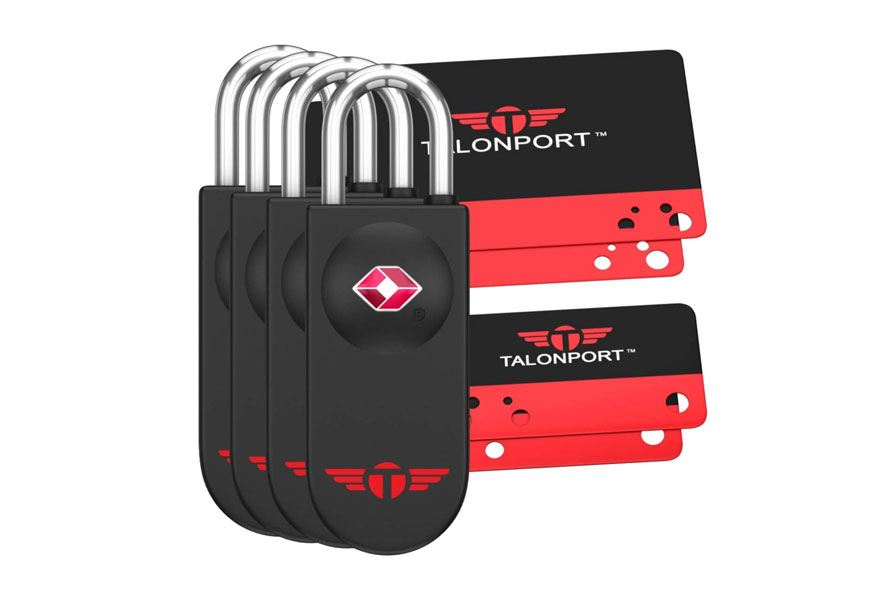 When it comes to luggage locks, keys are lost, and combinations forgotten. With these Talonport Keyless TSA Approved Luggage Locks, missing keys and combinations are a thing of the past. Talonport offers a lifetime never-cut guarantee, as well as replacement cards. The cards can fit nicely in your travel wallet for secure convenience. Rock-solid, durable, and all-metal construction proves tough enough for even the most careless baggage handlers. This luggage lock system is 100% TSA-approved, while the slim design means no locks bulging out from your case and snagging.
Key Features:
Rock-solid durable all-metal construction
No combination to break
Superfast, foolproof design
Perfect for cases, bags & more
100% TSA approved
Specification:
Brand

Talonport

Weight

7.2 Оunces
Lifetime never-cut guarantee
Lifetime replacement cards
Slim design keeps everything neat
Cards can be tricky to use
Fosmon 4-Pack TSA Approved Luggage Lock
It's time to fly the friendly skies without worrying about your luggage. With this Fosmon 4-Pack TSA Approved Luggage Lock, you can secure your bags with a three-digit combination of your choice. The pack includes four locks of different colors — give one to each family member, or assign a different combination to each color. The durable construction and zinc alloy steel cables make them ideal for the frequent traveler.
To keep your bike secured wherever you go, be sure to pick your favorite bike lock from our list.
Key Features:
3 digit combination padlock
Zinc alloy ateel cable
TSA-approved
Sturdy and durable construction
Use on bags, cases & lockers
Limited lifetime warranty
Specification:
Brand

Fosmon

Model

51082HOM

Weight

3 Оunces
Easy to read & set dials
Flexible steel cable fits through most zip-grips
Ideal for the frequent traveler
No more lost keys
Different colors for different combos
Combinations not foolproof
Master Lock 2-Pack Keyed Luggage Lock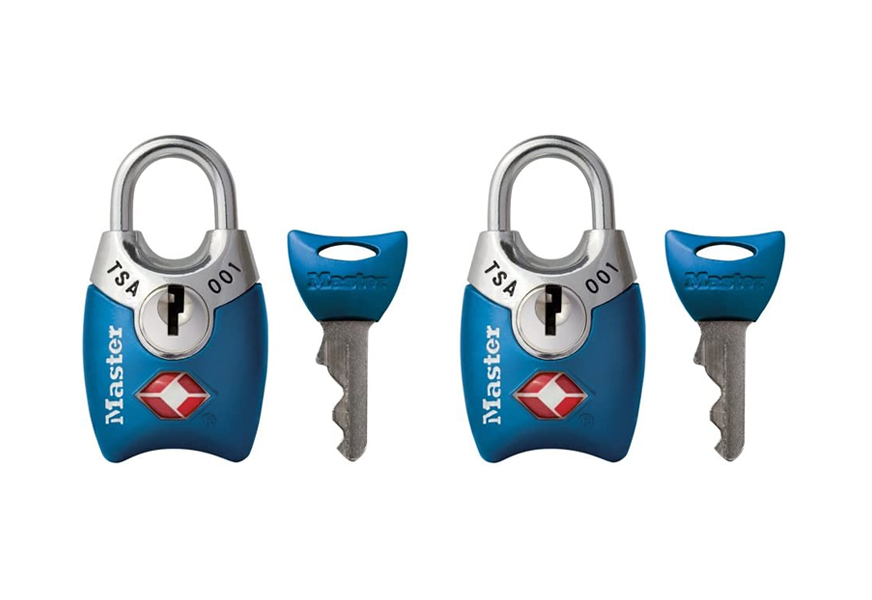 If you like the old-school key and lock, this Master Lock 2-Pack Keyed Luggage Lock gives you the security you need. The lock itself is strong and durable, with a rust-resistant shrouded steel shackle that is tough to crack. Twenty-nine countries recognize this lock, making for easy TSA-approved inspections while keeping you secure in the terminal.
You may also be interested in some of these quality motorcycle locks from our list.
Key Features:
Small lock ideal for smaller luggage
TSA-approved
Durable metal body
Cut-resistant shrouded steel shackle
Recognized in 29 countries as TSA sanctioned
Specification:
Brand

Master Lock

Model

4689T

Weight

3.84 Оunces
2 locks with keys that open both locks
Bright colors for easier bag identification
Easy for TSA personnel inspection
Not intended for outdoor use
Key can be lost
Luggage Lock Buying Guide & FAQ
Features to Look for in Luggage Locks
Material - Avoid breakable materials like plastic in favor of strong material that can withstand the wear and tear of airport baggage claim and public transit. Look for zinc, aluminum alloy, or hardened steel.
Lock Combination - If you're looking for a combination-style lock, opt for one that lets you customize your combination code. Locks that employ preset combinations are notoriously easy to crack.
TSA-Approved - TSA-approved locks allow airport security personnel to unlock passenger luggage for inspection and re-lock it upon inspection completion.
Flexible Cables - Locks designed with flexible cables are more versatile and convenient than traditional fixed-shackle locks. They tend to accommodate a broader range of bag and zipper designs, and can even secure additional bags or items to your luggage.
Durability - If you've ever watched baggage handlers in action, you will often witness bags being unceremoniously tossed around, dropped, and even dragged. All of this activity can be damaging to your luggage and the locks. In the case of frequent travelers, the likelihood of damage increases dramatically. The stronger the metal, the more durable the locks will be. Some even have protective coatings that will guard the lock housing.
Alert Indicator - Most TSA-Approved locks come with an alert indicator or button that pops up when unlocked by TSA personnel. Check your lock indicator before exiting the airport terminal. If the indicator is visible, inspect the contents of your luggage while in full-view of airport staff. Once you leave the terminal, it is a lot harder to prove that unethical tampering of your luggage occurred.
Safety - Securing your luggage is of the utmost importance when you travel, and luggage locks play a vital role in the safety and security of your possessions. An adequately locked case or bag acts as a deterrent to would-be thieves or smugglers.
Types of Luggage Locks
Combination locks - These locks tend to be the most favored by frequent travelers as the traveler can set their code. The best thing about combination locks is that they do not require a key.
Key locks - Key locks are the most traditional locks and resemble padlocks. The keys are specific to the locks they accompany, and will not open any locks from different sets.
Cable locks - Most suitcases need to be locked where the two zipper grips join. The easiest way to do this is with cable locks. Cable locks feature flexible shackles that can be wound through and around the zipper grips. They are also handy to secure items together, depending on the length of the cables.
Retractable cable locks - Longer cable locks are ideal for those with multiple bags as they can all be shackled together for transit. Depending on the length of the cable, you can even secure them to a fixed object. Retractable cable locks allow you to lengthen the cable to meet whatever your needs may be.
Key card locks - For travelers concerned about losing standard lock keys, key card locks are a fantastic alternative. Each is exclusively compatible with one lock and fits neatly in a wallet.
Luggage Lock FAQ
Q: Do I need a luggage lock?
A: A luggage lock acts as a deterrent for would-be petty thieves. In most cases, thieves will not take off with your luggage as the bags are bulky and not easy to run with, but they will try to open your bag and grab what they can.
Q: What is a TSA-approved luggage lock?
A: A TSA-approved luggage lock is simply a lock with the Travel Sentry logo. The Travel Sentry logo indicates to airport security personnel that a bag or case features a TSA-accessible lock. TSA has the authority to check any luggage that comes through their system; if you have a lock that is not TSA-approved, they can legally cut through it. TSA-approved locks can be unlocked and re-locked, which is convenient for both parties.
Q: Are luggage locks safe?
A: It is safer to travel with luggage locks than without them, as they discourage opportunistic thieves and smugglers.
Q: How do you open a luggage lock without a code?
A: Most combination locks will open without a code, but this usually requires depressing a tiny button with the tip of a pin or needle to release the locking mechanism. It's always a good idea to keep a copy of the lock's instructions with you — preferably not too close to the luggage you have locked!
Q: What do I do if my luggage lock is stuck?
A: Luggage locks, like all locks, have internal mechanisms that sometimes jam. If this happens to you, try pushing the lock buttons or pulling on the shackles to see if this loosens the mechanism. You can also try setting each number of your combination slowly until you hear a click and then repeat with the rest of the dials. If all else fails, a hammer or bolt cutters may be the only way to get the lock off.
Sign Up Now
GET THE VERY BEST OF GEARHUNGRY STRAIGHT TO YOUR INBOX