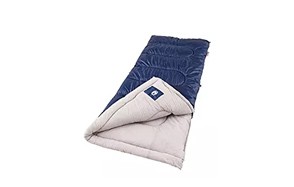 Coleman Brazos Cool Weather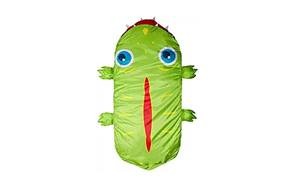 Melissa & Doug Augie Alligator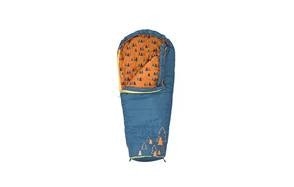 Kelty Big Dipper 30 Degree
When you take the kids with you camping there are a slew of things to consider regarding their safety and comfort. Of course you'll have to keep your eyes and ears open all the time because the outdoors present a unique set of dangers. But just as important you'll need to make sure the kids are warm and comfortable when they sleep and that means making sure you purchase some high quality sleeping bags for kids beforehand. While there are many factors that influence whether your child sleeps well while camping (including whether they're using a pad under the bag, the quality of the tent and the number of others in the tent to name a few) it's the bag that has the biggest say. But just what constitutes a high quality kids sleeping bag?
Below we're going to review what our research has convinced us are the 10 best kids sleeping bags on the market today and then we'll provide some information and tips that should help ensure you get the right bag for your child.
Note: Ratings for kids sleeping bags should be taken with a grain of salt because while most adult bags are rated using the EN System, kids sleeping bags are not. So we're going to include manufacturer's ratings for kids bags but you should only use these ratings to get a ballpark idea what the bag will do.
Our Top Picks Of The Best Kids Sleeping Bag
Coleman Kids 50 Degree Sleeping Bag
See More Reviews

The Kids 50 degree kids sleeping bag is a handsome bag that will make your young one feel comfy and cozy when you put a nice pad under it. Coleman quality is evident throughout and will serve your child well under normal weather conditions. The exterior of the bag glows in the dark so your kids never feel isolated in the great outdoors. With that glow in the dark capability and an overall length of 60" it's a bag for kids less than 10 or 11.
As the name implies the Coleman Kids 50 Kids Sleeping Bag is rated to 50 degrees. The ThermoTech insulation on the bag is effective in the cool weather and the ThermoLock draft tube captures body heat effectively. The zipper features a snag free design that's essential when it comes to kids who often tend to tug on zippers impatiently. The bag comes with a nifty carrying case and rolls up fast and easy. Machine washable to boot. All in all a great little bag.
Specification:
Brand

Coleman

Model

2000025288

Weight

2.43 pounds
Coleman Plum Fun 45 Degree Kids Sleeping Bag
See More Reviews

It can get chilly camping in the mountains even in the middle of summer so it's important to provide the kids with nice warm sleeping bags and the Coleman Plum is always a great choice. The Plum is a junior sleeping bag rated to 45 degrees and features snag free 2 way zippers, ThermoTech insulation, an interior pocket to store miscellaneous items and Roll Control to make it easy to pack it away. It's also 66 inches long so bigger kids will have plenty of room.
The Plum Fun 45 Degree Kids Sleeping Bag is designed for larger kids. That more mature emphasis is reinforced by the more subdued design cues typical of adult bags. That said it's still slightly smaller than an adult bag and features an inner pocket where the kids can store their cell phone as well as a bit more padding beneath the head. Other features include the ability to zip 2 of these kids sleeping bags together and the fact that when it's time to break camp the Plum Fun will roll up nice and tidy due to Coleman's Roll Control system. An excellent bag for young teens.
Specification:
Brand

Coleman

Model

2000019647

Weight

2.8 pounds
Olive Kids Trains, Planes & Trucks Kids Sleeping Bag
See More Reviews

While the Olive Kids Trains, Planes and Trucks Kids Sleeping Bag is 66" long overall it's really designed for the young ones with vibrant graphics and an emphasis on ease of use over rigorous performance. The fabric is naturally flame resistant and no other chemicals or treatments are used on the bag that could cause irritation or allergic reactions. It's a safe, fun, comfortable kids sleeping bag intended for warm weather use and within that context it does a great job.
The makers of the Olive Kids Trains, Planes and Trucks Kids Sleeping Bag are rightly proud of the fact that it's unlikely to cause any sort of irritation or allergic reaction in your child's skin. The bag is also highly fire resistant which is another plus, particularly if there are camping stoves or other open flames about. The inside is soft and comfy and the exterior is covered in an upbeat transportation theme younger kids are going to love. It's a great kids sleeping bag for children under 10 years old, perhaps ideal for 5 or 6 year olds.
Specification:
Brand

Wildkin

Model

17079

Weight

3.74 pounds
Coleman Illumi-Bug 45 Degree
See More Reviews

The Coleman Illumi-Bug 45 Degree Kids Sleeping Bag is a perfect kids sleeping bag for your young lady. It's comfortable, attractive, has a cute bee theme graphic that's repeated up and down the exterior and has a decent sized interior pocket for her cell phone and any other items she needs to store. It's typically well-built to Coleman standards and boasts some of the features the company incorporates into their much more expensive adult bags.
This kids sleeping bag is 66" inches long so it will easily accommodate those up to about 14 or 15. The more refined design makes it one of the perfect girls sleeping bags for your young lady and the ThermoTech insulation will make sure she stays toasty warm even when unseasonable weather sets in. It's a great looking bag, nice and light, and has a generously sized interior pocket for mobile phones, jewelry, gloves or whatever else needs to be stored for the night. Considering how well built and effective this kids sleeping bag is it's available at a remarkably low price, which is just the frosting on the cake.
Specification:
Brand

Coleman

Model

2000018177

Weight

2 pounds
See More Reviews

The Coleman Kids 30 Degree Kids Sleeping Bag is another high quality kids sleeping bag from a company that specializes in such offerings. To keep the kids warm it features the company's ColeTherm hollow fill polyester insulation and the hood surrounding the head can be adjusted nice and close to prevent drafts from leaking in. Put an inflatable mat beneath this junior sleeping bag to help insulate between your child and the cold ground and you have an effective 3 season bag at a super affordable price.
The Coleman Kids 30 Degree Kids Sleeping Bag is ideal for cooler nights and the neutral design makes it well suited to your son or daughter. The mummy profile in use here is well-known to provide optimal heat retention and the adjustable head opening reinforces that function. Snag-free zippers make it easy to get in and out of the bag which is important in the dark and the light weight of the bag means it won't become an anchor if the family is hiking in a ways to the campsite. All in all another good 3 season bag from Coleman.
Specification:
Brand

Coleman

Model

2000019649

Weight

3 pounds
Melissa & Doug Augie Alligator
See More Reviews

For the little buckaroos you can't go wrong with the Melissa & Doug Augie Alligator kids sleeping bag. The cheerful design belies the effectiveness of the bag which will keep your young ones snug as a bug in a rug during the big family camping trip. It's generously proportioned so the kids have lots of room to move around and you may even want to deploy it in the bedroom if your child is typically reluctant to go to bed. Warm, cute and affordable it makes a great birthday gift too.
Melissa and Doug have been designing products for kids for more than 25 years and in that time they've refined their designs, expanded their product line and come up with ever more ingenious ways to engage the imaginations of children while also ensuring their comfort and safety. The Alligator Kids Sleeping Bag is a perfect example. The high quality materials used throughout and the attention to detail provide a safe, warm environment both you and your child can use as a launching pad for family fun.
Specification:
Brand

Melissa & Doug

Model

6208

Weight

2.16 pounds
TETON Sports Celsius Junior
See More Reviews

Teton Sports has many years of experience and expertise creating high quality sleeping bags for adults and they brought every bit of to bear on the making of their Celsius kids sleeping bag. The bag is lightweight, large enough to accommodate kids up to 5' tall, features plenty of quilted insulation that won't bunch up and create cold spots and has a full length baffle that prevents drafts through the zipper.
There's little doubt that if the Celsius kids sleeping bag were a bit larger you'd be borrowing from the kids to take on your own camping or hunting trips. It's that well-made and effective. It's rated to 20 Fahrenheit but if the mercury is dropping that low you're going to want to make sure you also have an effective pad under the bag to prevent heat loss. Beyond that this is an outstanding kids sleeping bag that will keep your young adventurer warm and comfortable so you can rest easy yourself. Comes with a convenient stuff sack and lifetime warranty.
Specification:
Brand

Teton Sports

Model

1051L

Weight

2.65 pounds
Kelty Big Dipper 30 Degree
See More Reviews

With the Kelty Big Dipper 30 Degree Kids sleeping bag we're back in the land of bags designed for younger children. That doesn't mean for a second though that quality has been compromised. On the contrary the Big Dipper is remarkably well built and warm and features the kind of weight to warmth ratio you don't often see in kids sleeping bags. Because the Big Dipper also features an expandable foot section the bag will accommodate anyone from 4 to perhaps 10 or even 12 years of age.
The Kelty Big Dipper kids sleeping bag boasts the mummy bag profile normally associated with adult bags and which is the preferred design when it comes to matters of heat retention. When combined with the company's Cloud Loft Insulation your young one will have no problem staying comfy and cozy even when the weather in the campsite takes an unseasonable turn. That Cloud Loft Insulation is not the most compressible ever created but as we say it does what it's designed to do – provide robust insulation for this kids sleeping bag – and that's the bottom line.
Specification:
Brand

Kelty

Model

35416214SR

Weight

3.06 pounds
Coleman Brazos Cool Weather
See More Reviews

The Coleman Brazos is a classic rectangular kids sleeping bag that's well built, comfortable and warm down to around freezing. It boasts snag-free zippers, quilted construction to prevent insulation from bunching up and compromising heat retention and the company's Roll Control system that provides a fast effective roll every time. It's a pretty long bag that will easily accommodate most teenagers as well as smaller adults and it's machine washable like most of Coleman's kids sleeping bags.
The Coleman Brazos Cool Weather Kids Sleeping Bag is ideal when you're heading out with the family for some spring or autumn camping fun. If you've got college aged kids they'll likely make plenty of use of it as well since the 75" length will accommodate all but the tallest young people. The bag feels as solid as it looks and with a standard pad under it it's as comfortable a 3 season bag as you're likely to find. The fact that it's available at such an incredible low price is a deal clincher as far as we're concerned and you'll likely come to the same conclusion.
Specification:
Brand

Coleman

Model

2000004419

Weight

4 pounds
See More Reviews

The last kids sleeping bag on our list is the second entry from Kelty: this time the Woobie 30 Degree Kids Sleeping Bag. The Woobie, like the company's Big Dipper kids sleeping bag reviewed above, is lofty, comfy, roomy and durable. It's designed for kids up to about 10 years old and is actually quite light at 2 pounds 4 ounces. Kids will be attracted to the colorful design and you'll be pleased with the affordable price.
If you're heading to the campsite with the family you'd do well to take along the Kelty Woobie kids sleeping bag for your 4-10 year old. It's a comfortable bag that's warm enough to protect your child when unseasonable weather blows in. The design is colorful and engaging and the taffeta shell will take years of campsite wear and tear. This kids sleeping bag is available in rose or blue color schemes and stuffs away easily when you're done with it. Your kids will love it.
Specification:
Brand

Kelty

Model

35416914SR

Weight

2.25 pounds
Buyers Guide
Sleeping bags aren't as complex as travel cameras but there are still things people need to know when buying kids sleeping bags. Below are common questions and considerations.
Q: What Kids Sleeping Bag Should I Buy?
A: Which kids sleeping bag you buy will really be up to you although there are a number of factors you should consider before deciding which boys sleeping bags or girls sleeping bags may be best for your child. Here are the main considerations.
Shape - Since kids aren't going to need high performance specialty bags kids sleeping bags fall into two basic design categories: rectangular and mummy. The rectangular bags are most often associated with warm weather camping while the mummy bag is designed for optimal heat retention when the weather gets cool.
Materials - The insulation in kids sleeping bags is generally not as high-tech as you'll find in serious mountaineering bags and it doesn't have to be. Typically, sleeping bag insulation is synthetic, doesn't absorb water and is quilted to prevent it from bunching up over time. The outside of the kids sleeping bag is usually made of taffeta or some other durable material that will stand the rigors of the campsite over a period of years.
Size - You don't want to get a kids sleeping bag that's so big your 5 year old will get lost in it. At the same time you'll want one they can grow into to some extent. A bag that's too big will not only be extra weight you're carrying around for no reason it will also do a less efficient job of retaining heat.
Weight - Chances are that most of the time you're not going to be marching miles into the woods with your 6 year old. Therefore the weight of the bag won't be a major consideration. That said, the typical kids sleeping bag weighs in between 2.5 and 3 pounds with some a bit heavier and other a bit lighter. Again though, if you're driving into the campsite and setting up next to the car the weight of the bag isn't going to matter.
Temperature rating - As we noted at the beginning of this review guide the ratings for kids sleeping bags are a bit questionable so when you read that a bag is rated to 20 degrees take it with a grain of salt and bring extra blankets if you anticipate the temperature dropping that far. It's a classic case of better safe than sorry.
Design/style - Some kids love bright colorful designs, other kids not so much. Keep in mind who the bag is for before committing to a style that may turn a particular child off. It can also be extremely useful if the kids sleeping bag has a built in pillow or at least extra padding in the head area.
Zippers - Because kids tend to be impatient with things like zippers it's crucial that the kids sleeping bag you purchase have snag-free zippers built in. If it doesn't and your child catches the bag material firmly in the zipper it could tear the shell compromising the insulation, make it impossible to close the bag entirely or even render the bag completely useless.
Intended use - Do you take the kids with you every time you venture into the wild? If so you're going to want to put cutesy considerations on the back burner and get a kids sleeping bag or bags that emphasize performance. If, on the other hand, you want a bag your youngster can use primarily for weekend summer camping at the beach or sleepovers performance factors can take a back seat to appearance.
Price - While there are always exceptions to the rule for the most part the majority of kids sleeping bags can be had for less than $100. In fact a fair number of bags of quite high quality can be had for less than $30. But why are kids sleeping bags so affordable when so many adult bags can easily run $300-$500 and even more? Mostly because kids aren't going to be exposing themselves to the kind of extreme environments adult mountaineers will. Mountain climbers need state-of-the-art designs and materials to survive in the world's death zones. Your child by contrast will just need something to keep them warm when things get chilly in the campground.

Q: How Often Should You Replace Your Kids Sleeping Bag?
A: This is a pretty common question with a pretty straightforward answer. The fact is most of the time nature will tell you when it's time to replace the kids sleeping bags. That's because they grow so fast they'll likely be too big for their bag within a couple of years of receiving it. That said, there are other signs you can look for on sleeping bags for kids that will tell you they need replacement like wear and tear on the zipper, loose threads, worn fabric and the like.
Conclusion
Kids sleeping bags run the gamut from little more than glorified blankets to fairly serious 3 season bags that will be able to withstand freezing temperatures. Which junior sleeping bag you buy for your child will depend on the weight you give to the various considerations outlined above.
We hope you find the above reviews and buyer's guide information useful in determining which child's sleeping bag is best for your youngster and be sure to check back on a regular basis for more product reviews from gearhungry.com.