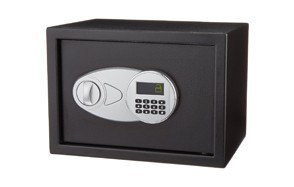 AmazonBasics Security Safe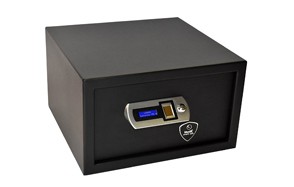 Verifi Smart Safe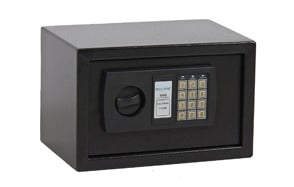 SKY163 0.3CF Electronic Digital Lock
When it comes to securing your valuables you have a few options. You can rent a safe deposit box at the bank, you can dig a hole in the backyard, or you can buy a home safe. Lets eliminate the hole in the ground right off the bat. That leaves 2 viable options; the safe deposit box and the home safe. With the safe deposit box your valuables are tucked away in a vault behind a steel door about 2 feet thick. Safe yes, but that doesn't mean it's the perfect solution. What if you decide you want to wear your $2,000 watch to dinner with the Mrs? Or she wants to wear the diamond pendant you gave her? Or you realize you need an important document that's in the box but the bank is closed? What you really need is a home safe. In this product review guide then we're going to take a look at what we consider to be the best home safes on the market. Let's get started.
Our Top Picks For The Best Home Safe
See More Reviews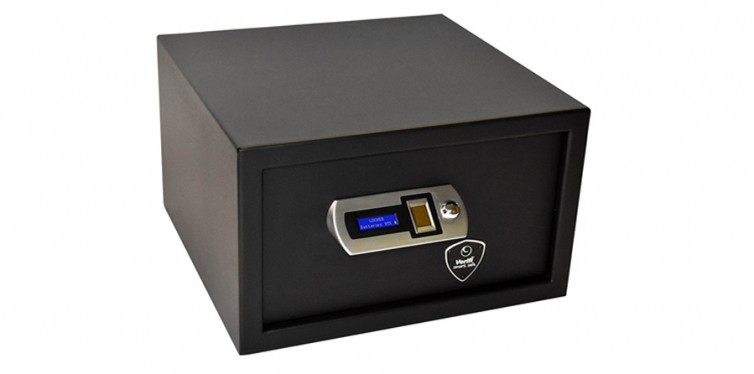 When a safe contains both biometric and keypad access it sometimes means the manufacturer doesn't have a lot of faith in the scanner. That's not the case with this home safe. This is a professional grade fingerprint ID device that won't let you down.
How much you pay for a home safe is entirely up to you but if you want the best you should consider shelling out a bit more and getting the Verifi Smart Biometric Safe. Not only is access controlled by a superior biometric scanner that can hold up to 40 fingerprints at a time, but the safe itself is built like a tank. No weasel with a screwdriver is going to pry this baby open and clean you out.
Specification:
Brand

Verifi

Model

S5000

Weight

22.9 pounds
The scanner is first rate and provides security above and beyond the simple 4 digit code.
All your interactions with this home safe can be conducted via the Smart Safe LCD screen.
Built tough using high grade steel and tamper proof/pry proof hinges.
The scanner occasionally rejects valid fingerprints unless perfectly positioned.
See More Reviews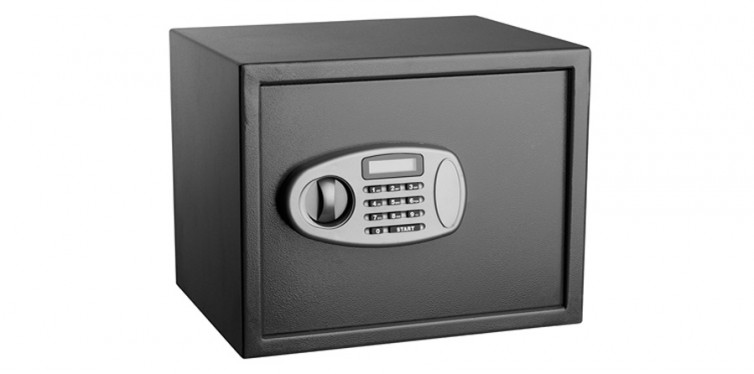 The keypad access code on the Adir home safe is completely customizable and can be changed as often as you like and the LCD display keeps you up to date on battery status as well as telling you if the safe is locked or unlocked.
Unless you're in need of somewhere to store the Hope Diamond, the Adir Home Safe should be plenty of safe for you. Bolt it to the floor and you'll have a safe box for your family treasure that will stand the test of time, stand up to fires and floods and ensure the kids never accidently gain access to your firearms.
Specification:
Brand

Adir Corp.

Model

670-100-02

Weight

26 pounds
Plenty of room inside this home safe for sidearms, important documents and jewelry.
If 1.25 cubic feet is not enough there's a larger version with 2.32 cubic feet.
You won't have to spend your vacation money to get it.
Numbers on number pad are unnecessarily small.
3. AmazonBasics Security Safe
See More Reviews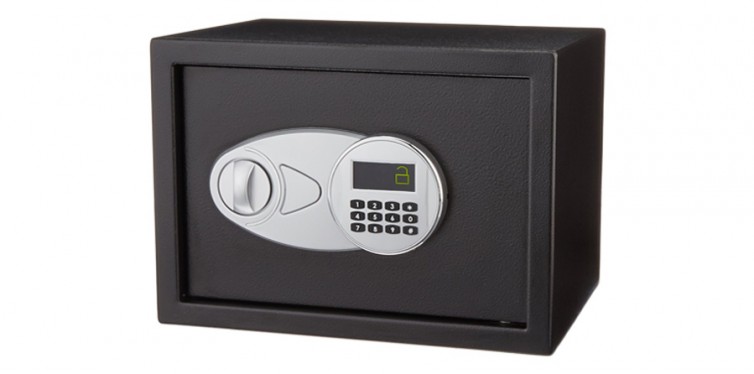 It's not enough that Amazon is changing retail as we know it, but now they're into home security devices like this home safe as well.
An affordable alternative to the high priced home safe, the AmazonBasics Security Safe will keep your treasure out of the hands of intruders while providing you with easy access via the dependable keypad feature. It's not the biggest home safe but its compact size belies its effectiveness.
Specification:
Brand

AmazonBasics

Model

25EI

Weight

16.5 pounds
Ideal for securing important documents, jewelry, expensive cameras, iPads and more.
The interior shelf can be moved or completely removed if you want one open space.
Unlike some safes you can read the keypad numbers without a magnifying glass.
Make sure you bolt it down because it's small enough to be carried away.
4. Ivation Biometric Fingerprint
See More Reviews
The Ivation Biometric Fingerprint Home Safe is a reliable, well-engineered piece of home security that stores up to 32 fingerprints, so if you forget your passcode you always have access.
If you're looking for an affordable and dependable home safe that keeps your things secure and is small enough to tuck away in a corner of the closet this is it. This safe is a compact beast that is much heavier than it looks due to the thickness of the steel and overall build quality. If it has a weakness it's the biometric reader that sometimes gets a bit moody.
Specification:
Brand

Ivation

Weight

19.2 pounds
You won't lose stored fingerprint data if the batteries die.
Crystal clear LCD display keeps you up to date on door status and battery charge.
This home safe is engineered to precise tolerances.
Biometric reader is not as dependable as we would like it to be.
See More Reviews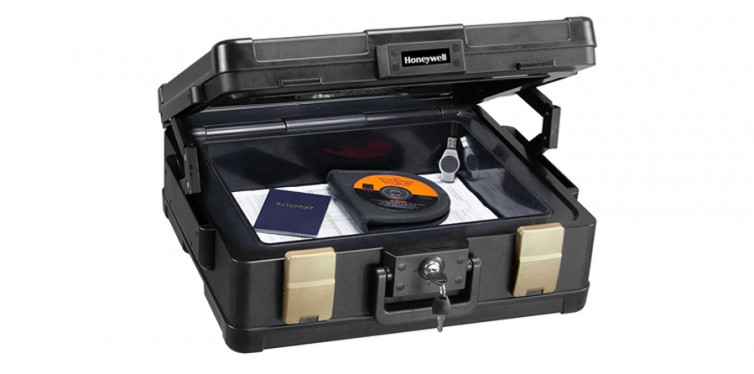 This is a home safe with a twist as it's intended to be mobile while at the same time built to withstand fire and water that can ruin the contents of so many other home safes.
It's not uncommon for busy professionals to have to transport important documents or digital media containing crucial information between one location and another. With the Honeywell Fire and Water Document Home Safe those papers, flash drives, DVDs, XHDs and more will always be safe not just from prying eyes but from water and fire damage as well.
Specification:
Brand

Honeywell Safes & Door Locks

Model

1104

Weight

54.3 pounds
Keep your important paperwork and digital media safe from water and fire damage.
Never worry about security when you have to transport important contracts and files.
The perfect way to transport important items between one safe and another.
It's pretty heavy for a portable home safe so it's not for everyone in that regard.
See More Reviews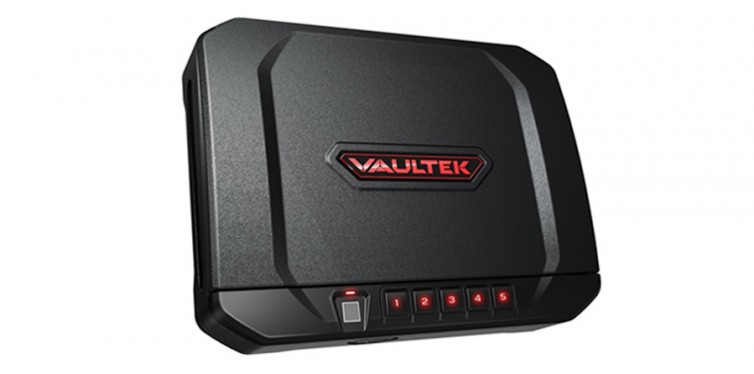 For many people storing their handgun is one of the reasons they need a home safe. For others it's the only reason. Either that or they travel with their firearm and need to have a safe way to get it from point A to point B. For those people there's the Vaultek Biometric Handgun Safe.
If you're someone who needs to travel with their firearm this is the home safe for you. Compact, rugged, incredibly secure and lightweight the Vaultek Biometric Handgun Safe will allow you to confidently transport your handgun to the range, to the job or to just keep it secured from the kids and guests in your house.
Specification:
Brand

Vaultek

Model

VT20i

Weight

9.9 pounds
Can be taken to the range or across country or bolted in place under the nightstand.
The keypad illuminates when you come near so you can see what you're doing.
Tips the scales at a very reasonable 7.2 pounds
The lid can be quite noisy while opening.
See More Reviews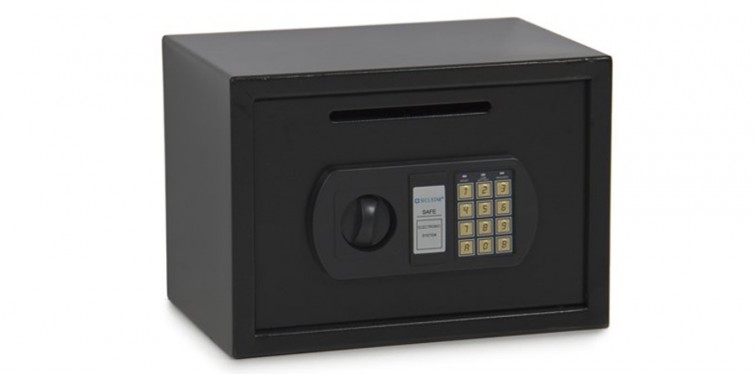 You can spend several times as much on a home safe as you will for this one but do you really need to? Most people have a few important documents and perhaps some jewelry that needs to be secured and that's about it. For them this should be more than enough home safe.
Whether for around the house or around the office, the Best Choice Digital Depository Drop Cash Safe is a common sense security device that will keep those things you need to secure firmly nailed down. With its dual entry capability, its 3/4 inch pin bolt throw system, up to 8 digit programmable PIN and attractive price point it's hard to say no to this home safe.
Specification:
Brand

Best Choice Products

Model

Other Safes-1668

Weight

21.8 pounds
A dependable, affordable means of keeping your valuables safe in the house.
Well-built to resist attempted intrusions and when bolted down it's even more secure.
Actually a lot more safe than one has reason to expect for the price.
Not fireproof or waterproof.
8. SKY163 0.3CF Electronic Digital Lock
See More Reviews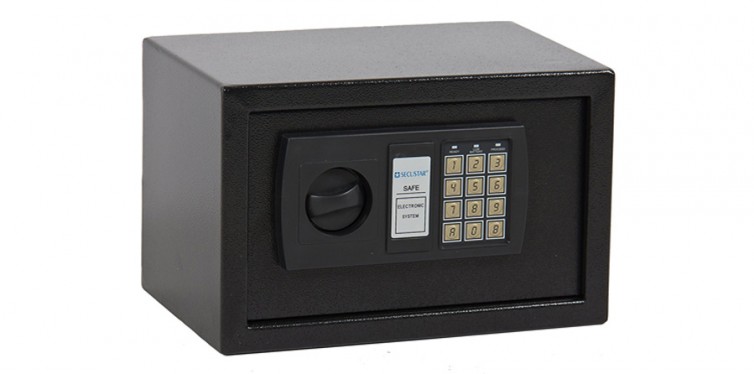 The Best Choice Products Sky163 home safe is a marvel of efficiency that provides you with all the space you need to store jewelry, digital media, cameras and more for a truly affordable price. The unit comes with programmable keypad that accepts up to an 8 digit code.
It's rugged, easy to secure to a flat surface, has two ways of gaining entry and is small enough to hide anywhere. It has a pleasing heft to it that feels like you're holding a pocket sized tank. Overall a great value.
Specification:
Brand

Best Choice Products

Model

SKY163

Weight

13.4 pounds
Store your handgun in the Best Choice Sky163 and sleep well at night.
Use the pre-drilled anchor holes to secure the safe quickly to just about any surface.
Keep more of your hard earned money because the Sky163 is so reasonably priced.
This home safe lets out a loud beep when opened. No way to do so quietly.
9. SentrySafe Security Safe
See More Reviews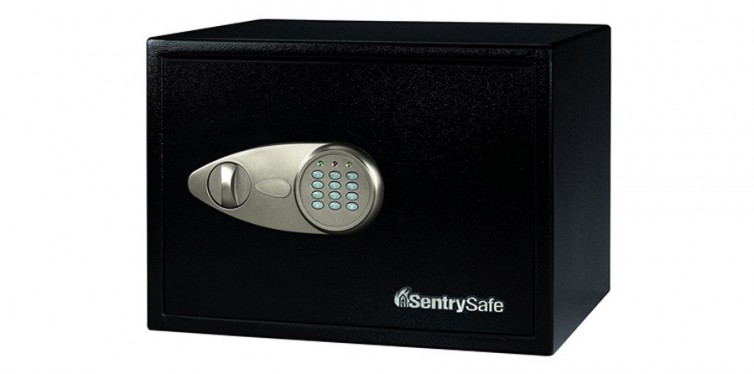 The sleek black profile of the SentrySafe Security home safe belies a toughness beneath the surface that keeps your precious items safely away from the wrong hands. Built to close tolerances the door doesn't leave a thief any place to get leverage with a pry bar or screwdriver.
Don't spend another night tossing and turning because you're worried about the security of your firearm or important papers. Stash them all securely away in the SentrySafe Security home safe. It's as tough as any other home safe at its price point and has very little space around the door a weasel could use to gain entry.
Specification:
Brand

SentrySafe

Model

X125

Weight

30 pounds
Attractive, tough, affordable and plenty of room inside.
Holds several handguns so you can keep them out of the reach of the kids.
One of the better looking safes on the list.
The number pad can be difficult to read if you have less than perfect eyesight.
Buyers Guide
People tend to know why they need a home safe. But they don't often know much about them and so they have questions. Here are some of the most common home safe related questions.
How Much Does A Safe Weigh?
A typical 1.2 cubic foot home safe will weigh anywhere from about 40 lbs to about 100 lbs when empty, depending on the build quality. Thicker steel means heavier weight.
How Much Can You Fit In To A Home Safe?
As mentioned a typical home safe has a volume of about 1.2 cubic feet. That's actually quite a bit of space that will fit several handguns, a large number of important documents, jewelry and other valuables.
How To Install A Home Safe
If you really want to make your home safe worth the investment you'll bolt it down to the floor or counter or wherever you've decided to put it.
How To Secure A Home Safe
If you've decided to bolt your safe down you'll need a power drill, drill bits, plugs and bolts. Once you have all those things:
Drill 2 or 4 holes in the bottom of your home safe.
Place the safe where you want it on the floor and put a marker through the holes leaving a mark on the floor for each hole.
Set the safe aside and drill the holes on the floor where the marks indicate.
Set your receptacle plugs into the holes.
Place the safe back over the holes
Put the bolts through the holes and screw them into the plugs until the safe is tight against the floor or countertop.
Things To Look For When Buying A Home Safe
Here are a few things you'll want to keep in mind when shopping for a home safe.
Size – The average size of a home safe is around 1.2 square feet. There are some that are smaller and some that are larger. But 1.2 square feet will provide you plenty of room to secure everything from important documents to laptops to firearms with no problem. And it won't be so big it draws attention to itself.
Fire and Waterproof – This is optional but many people who buy a home safe want either a waterproof or fire proof safe, or one that is both. It makes a lot of sense if you live in flood prone areas to have a waterproof safe. Having a fire proof safe is just a good idea no matter where you live. But again it's up to you.
Type of Locking Mechanism – Almost every home safe is fitted with a keypad so you can program your own access code and most also have a backup method (typically a key) of obtaining access. Biometric scanners are becoming more popular as the technology improves but as of this writing only the best home safe has a truly reliable biometric scanner. These systems typically have keypads as the backup method of gaining entry.
Price – As with most things in life you pretty much get what you pay for with a home safe. Although there are some bona fide great deals out there, if you want to be certain the home safe you're buying is of the highest quality you're going to need to pay a little extra. That said you should be able to get a perfectly reasonable home safe for less than $200.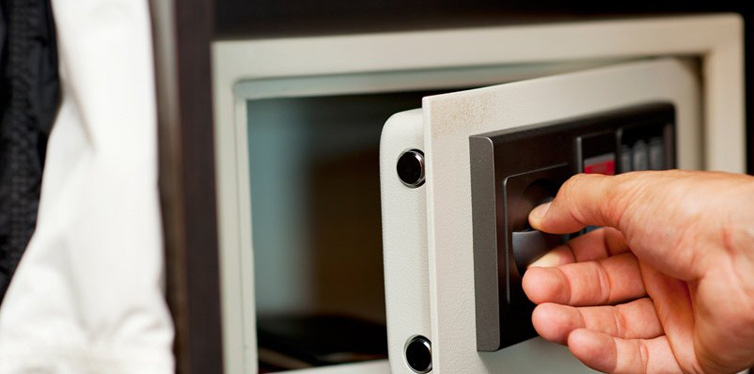 Conclusion
Making sure your valuable belongings are properly secured against intruders is important whether you live in a house, apartment or condo. The best way to do that is with a home safe that is bolted down. We hope you found this information useful and be sure to check back to gearhungry.com on a regular basis for more product review guides.