Keep Your Valuables Secure: Best Home Safes Of 2022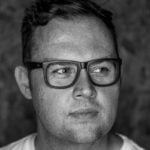 This product guide was written by Chris Worden
Last Updated
November 12, 2021
Chris Worden
Born and raised in Idaho, Chris's sensibilities are a small town, while his life experiences are anything but. He's had the chance to travel the globe with a camera in hand documenting action sports and cultural movements for over 15 years. His love of motorcycles, photography, adventure, and the outdoors has lent itself to a career telling stories and he wouldn't trade that for anything. Chris now resides in a small ski town in central Idaho and when he's not grinding away at his day job, he's feverishly penning articles at night about the products and playgrounds he loves.
GearHungry may earn a small commission from affiliate links in this article.
Learn more
If you've ever experienced a burglary, you know what a dreadful feeling it is knowing a stranger has been rummaging through your home. Natural disasters like wildfires and floods can also damage or completely destroy your possessions, including those that cannot be replaced such as family heirlooms.
To protect your valuables and your peace of mind, it's a good idea to install a sturdy safe in your home. These mini fortresses allow you to hide your valuables and keep them securely locked and out of reach. The best home safes are fire-resistant, virtually impenetrable, and can be hidden behind a painting or under the floor. Most have a decent storage capacity too, so you can securely stash your jewelry, such as that pricey Luminox watch, cash, firearms, and important documents.
The most secure home safe is one that no one knows about so if you're looking for safe storage for your collection of valuable heirlooms, cash, and other items, check out our selection of the best home safes and give yourself peace of mind knowing your most precious items are safe from thieves as well as fire or water.
The Best Home Safe
AmazonBasics Home Keypad Safe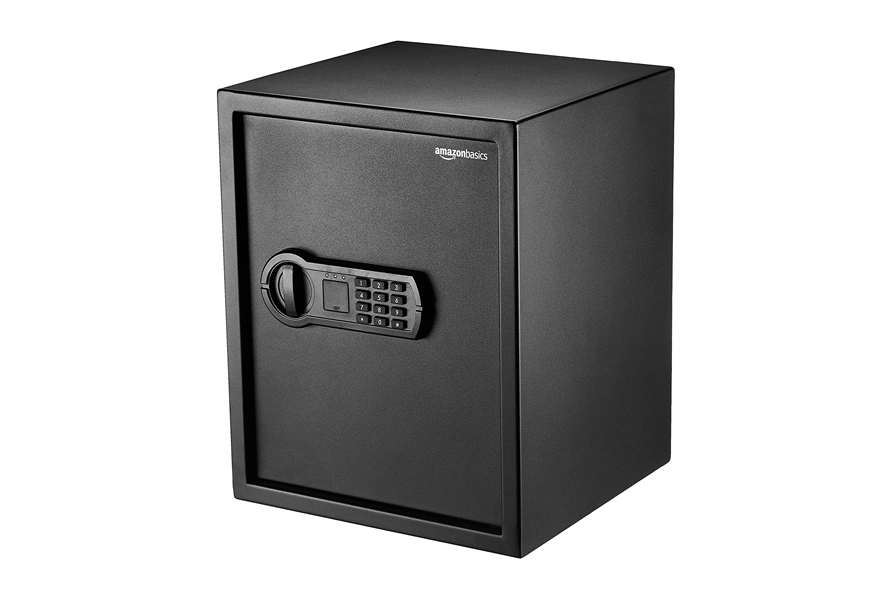 Keep your valuables concealed and protected in this sturdy 1.52 cubic feet home safe. The AmazonBasics Home Keypad Safe is a budget-friendly, highly secure floor and wall safe that takes the hassle out of preserving and securing your valuables. Made with tough, durable carbon steel, this safety box is made to provide maximum resistance if it happens to take heavy hits or falls.
It has an 8-gauge steel door with a 14-gauge steel body and two live-door bolts on the door to further enhance security with pry-resistant hinges well-concealed to prevent any breaches. To open the safe, there's an electronic keypad lock on the front with a simple setup and operation. Once the code is set, the safe door will open whenever the correct code is typed in. In the case where the passcode has been compromised or forgotten, the system can be reprogrammed or the backup key can directly be used to access the safe.
Key Features:
Carbon steel construction
Programmable electronic keypad
Comes with a backup key
Two live door bolts & pry-resistant hinges
Includes pre-drilled mounting holes
Specification:
Brand

AmazonBasics

Model

42SAM

Weight

37.7 Pounds
Secure and easy operation
Includes bolt-down hardware
Great value for money
The keypad tone is a bit loud
SentrySafe SFW123GDC Electronic Fire Home Safe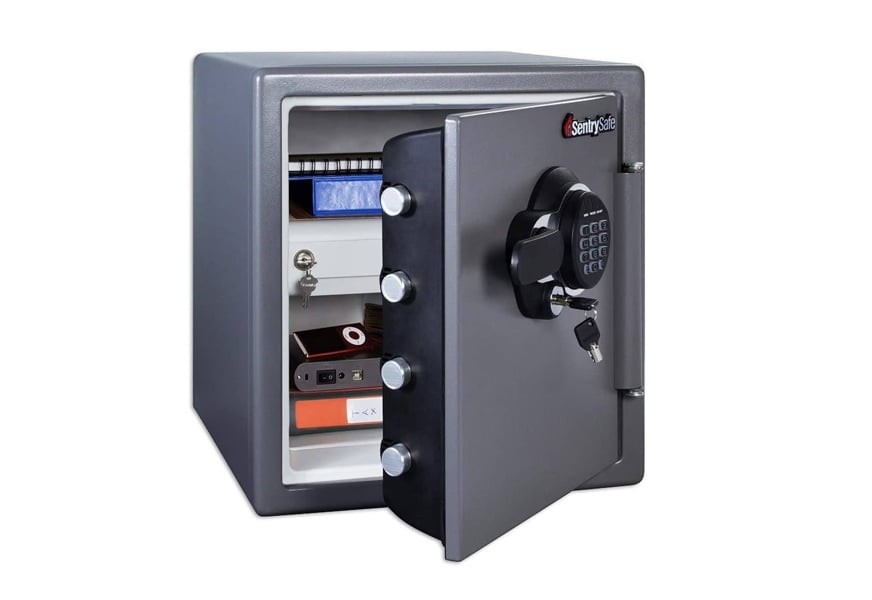 If you're looking for a durable, fireproof safe that also keeps water out, we highly recommend you check out the SentrySafe SFW123GDC Electronic Fire Safe. Rugged and secure, this safe will keep your papers, jewelry, precious photos, digital media, and cash safe from the ravages of fire and water. It features an electronic lock as well as a manual key lock so you can access your items even if you can't use the keypad.
The SFW123GDC is capable of enduring a full hour at 1,700° Fahrenheit or being submerged at a depth of 8 inches for a full day. It's also heavy (nearly 90 lbs) so even if it takes a direct hit from a fire hose it's not going far. For maximum protection, the safe is equipped with a reinforced pry-resistant hinge bar, four live-locking bolts, and bolt-down hardware. There's also a locking drawer, an interior light, and a few key hooks.
Key Features:
Digital keypad & key lock
Fire and water-resistant
Interior LED light
Interior locking drawer
Includes bolt-down kit
4 large locking bolts for enhanced security
Specification:
Brand

Sentry Safe

Model

SFW123GDC

Weight

86.6 Pounds
Sentry Safe will replace any of their safes damaged by water or fire
4 solid steel locking bolts won't succumb to prying
Backlit keypad so you aren't fumbling in the dark
SentrySafe Security Home Safe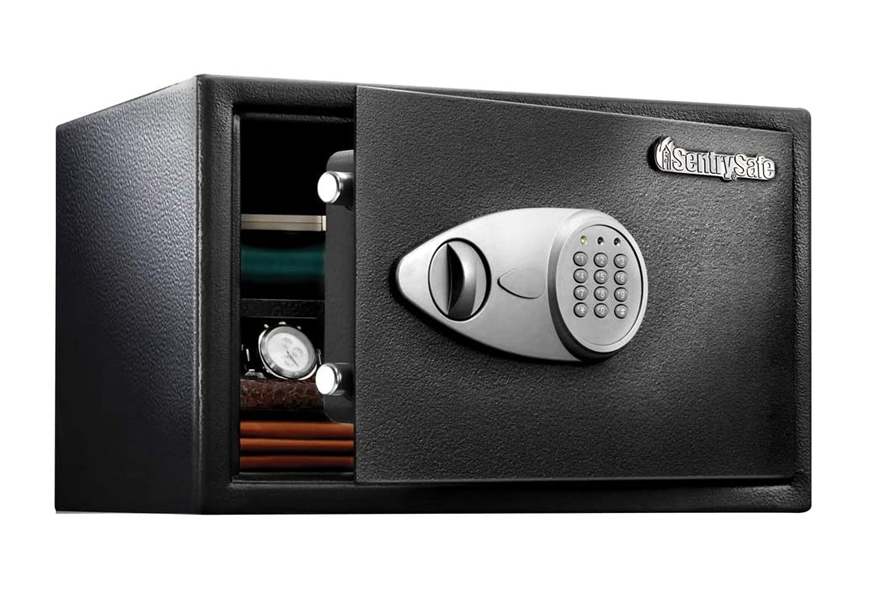 The sleek black profile of the SentrySafe Security Safe belies a toughness beneath the surface that will keep your precious items safe and secure. With an electronic lock with a backup key and a removable shelf for organization, this digital small safe box is perfect for storing and protecting important documents.
Don't spend another night tossing and turning because you're worried about the security of your firearm, important papers, or other valuables. Stash them all securely away in the SentrySafe Security home safe. With two live door bolts and steel construction, it's quite tough and has very little space around the door a weasel could use to gain entry. This is a solid budget-friendly security safe that performs best when mounted. To additionally protect your home from intruders, make sure you pick some of the best smart locks from our list. 
Key Features:
Digital locking system with override key entry
2 heavy-duty deadbolts
Solid steel construction throughout
Soft interior lining for delicate possessions
Can be bolted down for added safety
Specification:
Brand

SentrySafe

Model

X125

Weight

30 Pounds
Attractive, tough, affordable, and plenty of room inside
Comes with a removable drawer for organization
One of the better-looking safes on the list
The number pad can be difficult to read if you have less than perfect eyesight
SereneLife Home Security Lock Box Home Safe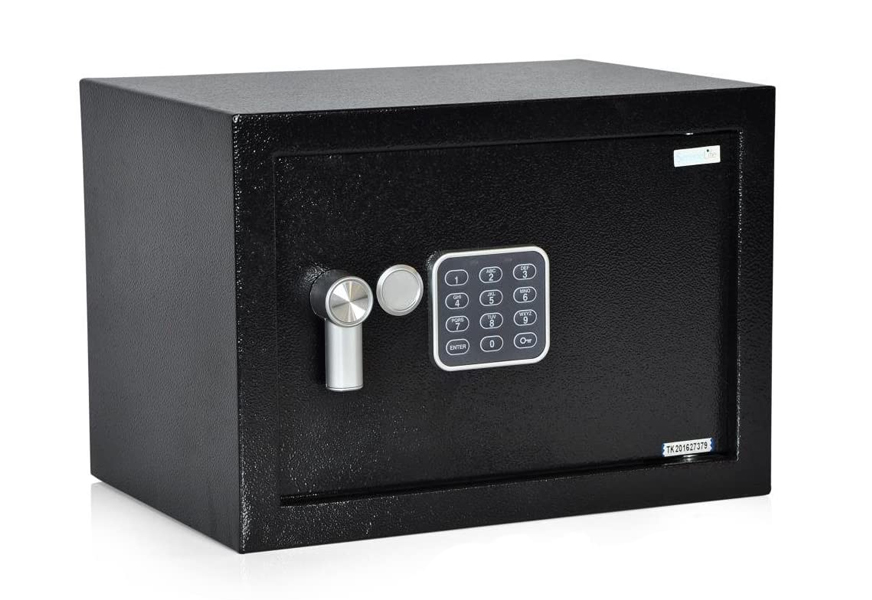 Budget-friendly and secure, the SereneLife Home Security Lock Box is the perfect choice if you're looking for a basic sturdy safe that's easy to use. With a steel alloy construction and touch button control pad that comes with a low-battery warning light, this is a great little portable safe that can be used both at home and office.
This compact safe comes with two keys for safe manual access for when you need to override the digital pin. There are also pre-drilled holes for wall or floor mounting if you want to secure it in one place. Perfect for storing important documents, deeds, insurance papers, digital backups, etc. Here are some of the best-rated biometric gun safes you may be interested in, as well. Check them out.
Key Features:
Solid steel 3mm door
Digital touchpad entry
Key access in case of emergency
Low battery indicator
Stain-resistant finish
Specification:
Brand

Serene Life

Model

SLSFE14

Weight

9.25 Pounds
Constructed with durable steel throughout
Programming your PIN code is a straightforward process
Portable but can be easily mounted on the wall, floor or counter
Plastic handle seems a little flimsy
Viking Home Security Home Safe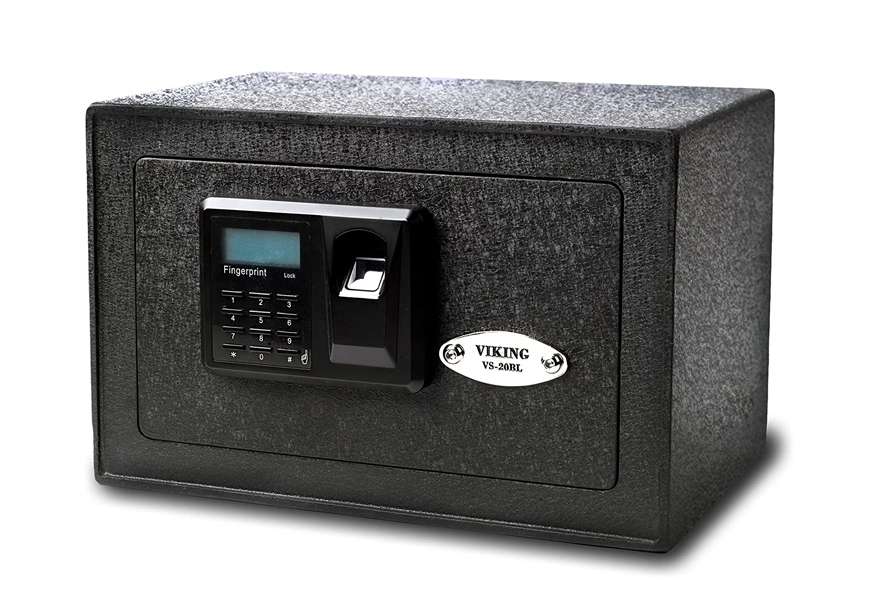 The Viking Security Safe is small enough to keep effectively out of sight but large enough to hold all your jewelry and important documents. The inner shelf can be removed so it can also accommodate your handgun. This is a high-quality small-scale strongbox with 2 types of keyless entry: via keypad or fingerprint.
The Viking Security safe is engineered to exacting specifications and is not going to succumb to a brute force, crowbar-driven assault. The thick steel door is held tight by two formidable deadbolts and forms an almost airtight seal. It's also very easy to use and you can save up to 32 fingerprints for your family or colleagues, but there's one pin code. There's also an interior LED light for when you need quick access to your valuables in the dark. One of the best home safes in this price range! Improve your home safety by installing some of the best-selling door alarms from our list, too.
Key Features:
500 dpi optical fingerprint scanner
5mm thick solid steel door
Dual 20mm deadbolts
Warning alarm if safe left unlocked
Stores up to 32 fingerprints
Specification:
Brand

Viking

Model

VS-20BLX

Weight

20 Pounds
Can store up to 32 fingerprints, so great for home and office use
Internal shelf is removable if you need more space
Small enough to easily hide should you wish to
Neither waterproof nor water-resistant
BARSKA Biometric Home Safe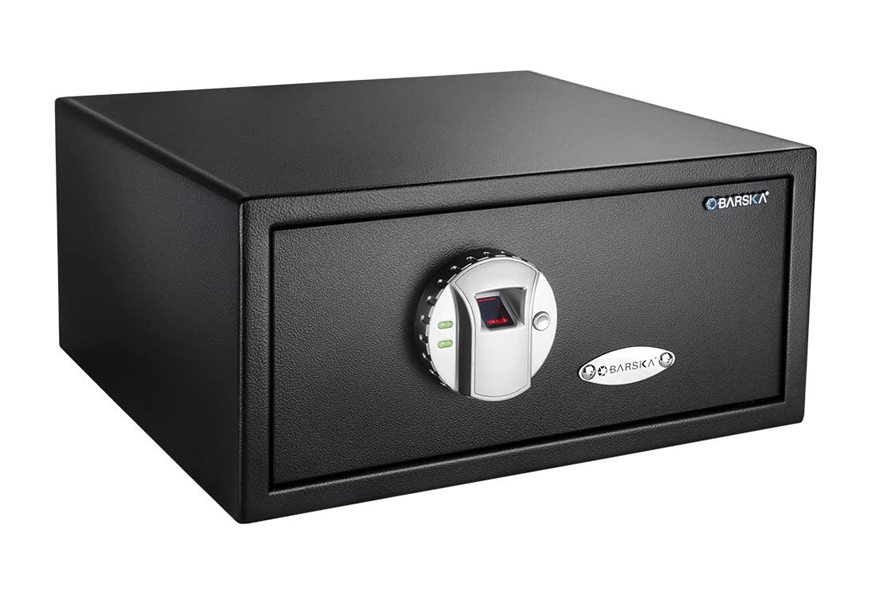 The Barska Biometric Safe is an excellent biometric security system for home and office use. It's about the same size as most home safes but it comes with more safety features, including a state-of-the-art biometric entry system that keeps your documents and other valuables completely safe and secure.
The safe can store up to 120 fingerprints and the scanner takes mere seconds to read and respond to your touch. Once inside, you'll find plenty of room to lay the deed to the house, the titles to your cars, your gold jewelry, and even your Colt 1911. The one downside is the loud beeping when the safe is about to open; thankfully, you can turn off the sound if it bothers you.
Key Features:
Stores up to 120 fingerprints
2 pry-resistant deadbolts
High-grade DOJ approved steel
2 backup emergency keys included
5-minute warning alarm if left open
Specification:
Brand

Barska

Model

94835

Weight

38 Pounds
State of the art biometric entry system
Ideal for storing handguns and important valuables
Small enough to hide from prying eyes
It's not waterproof or fireproof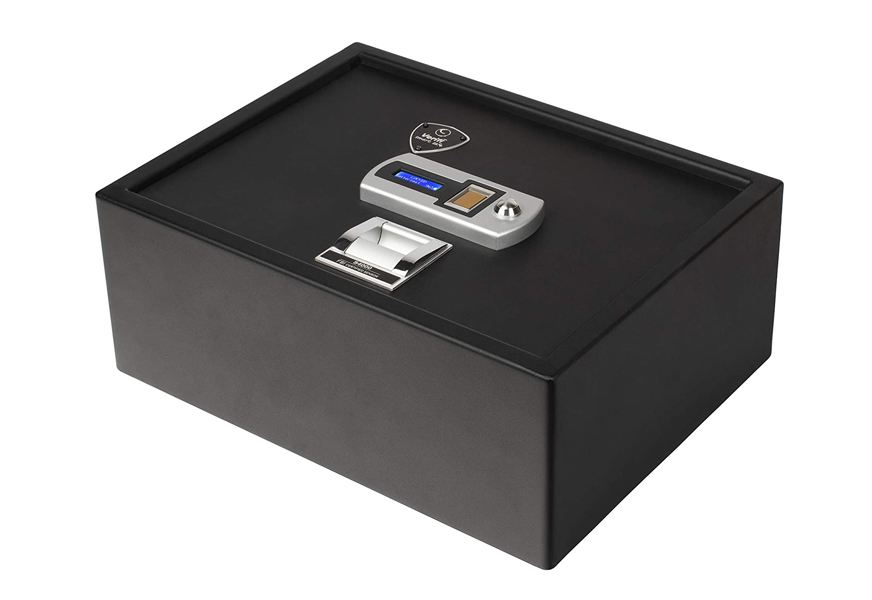 When it comes to securing firearms, you can never be too careful; you need durable safe construction, plenty of safety features, and ideally, tamper alerts (especially important if you have kids). The Verifi Smart Home Safe is the ideal choice because it ticks all the boxes, and then some.
This impenetrable safe features a professional fingerprint sensor that is tested and certified by the FBI. The technology recognizes dirty, worn, or delicate fingertips that many cheaper sensors may not be able to. On top of this, the safe comes with Open Door, Tamper, Backup Key, and Reset Attempt alerts. This biometric fingerprint safe is ideal for those who want secure storage for handguns as well as important documents, jewelry, and many other items. You can program and hold up to 40 different fingerprints and the lockbox is one of the most secure you will find. For more great safety options for your home, check out our guide to the top security cameras.
Key Features:
FBI certified fingerprint sensor saves up to 40 fingerprints
Accurate and up to date access and event logs
Notification of any tampering events
CPU designed for low power consumption
Pre-drilled holes for mounting
Adjustable LED light
Specification:
Brand

Verifi

Model

S5000

Weight

22.9 Pounds
The scanner is first-rate and provides security above and beyond the simple digit code
All your interactions with this home safe can be conducted via the Smart Safe LCD screen
Built tough using high-grade steel and tamper-proof/pry proof hinges
One of the best security systems but neither water nor fire resistant
TIGERKING Digital Safe Box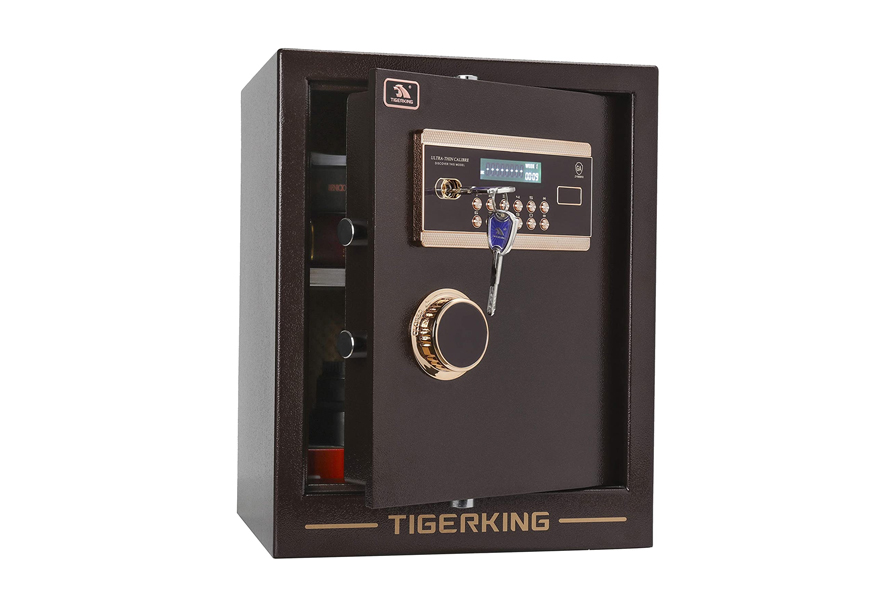 Tigerking is a top-rated brand that has been around since the early 2000s. The company manufactures a wide array of home/gun safes and panic doors with high-end security coupled with modern designs as a particular focus for the firm. The Tigerking Digital Safe Box merges the company's focuses perfectly, providing optimal security and a stylish look that marks a deviation from standard home safe boxes.
With this product., you're getting 1.34 cubic feet in capacity (but there's a 3.47 cubic feet option available as well). It's not the largest or most accommodating, but for items like jewelry, documents, and even a firearm, you've got a good fit here. The box has an extremely sturdy build, thanks in no small part to a thick steel-plated outer body. The safe's door is 2.8 inches thick, and it's also got four 1-inch locking bolts. For extra security, a dual alarm system is activated if the safe is violently shaken or if there are three incorrect entries.
Key Features:
Thick steel construction with 4 live-locking bolts
Digital lock with 2 override keys
Dual alarm system for extra security
Soft and padded inner layer protects your valuables
Pre-drilled wall attachment holes
Specification:
Brand

TIGERKING

Weight

39.7 Pounds
Extremely tough safe with multiple security features
Dual-entry system is a great addition
Great for both home and office use
Considering the price, we'd appreciate fire and/or waterproofing abilities
Yuanshikj Electronic Digital Security Safe Box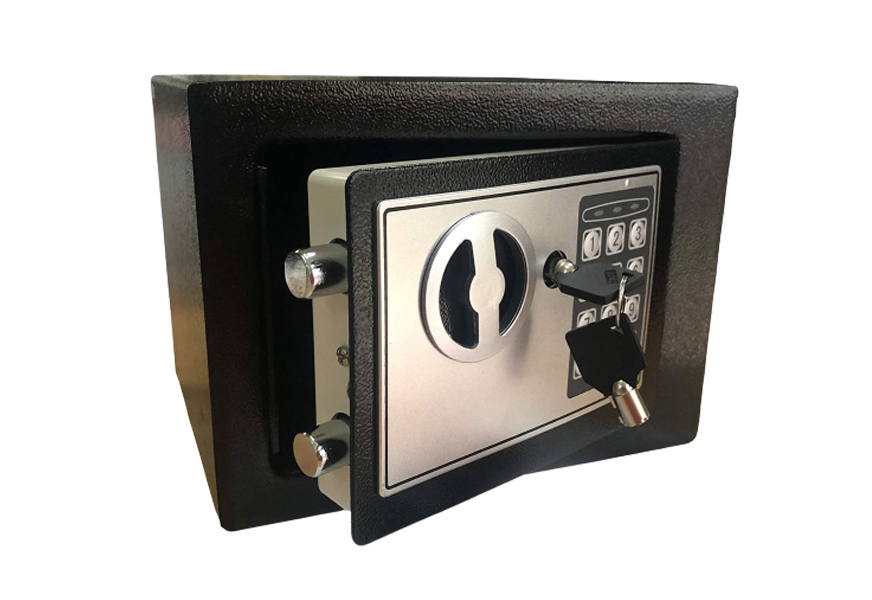 If you're looking for a cheap but reliable safe box for your home, this is likely the best small safe you will find. The Yuanshikj Electronic Digital Security Safe Box is ideal for home or office as it's compact and pretty simple to use. The electronic safe has a reinforced solid steel wall and a dual security steel door, plus a powder coat that's both stain and corrosion-resistant.
In terms of security, you get a simple digital keypad where you can program a security password and enter it whenever you want to access it. If you do forget your security password, you can take advantage of the safe's two security emergency keys. Definitely the best safe for home use if you're on a tight budget. Be sure to also browse our list of the most popular smart locks on the market.
Key Features:
Solid steel construction
Powder-coated finish
Dual security steel door
Keypad security
Pre-drilled mounting holes
Specification:
Brand

Yuanshikj

Weight

5.44 Pounds
Easy-to-use security features
Compact and sturdy build
Easy installation
Lacks premium strength and security features
Stalwart Electronic Digital Safe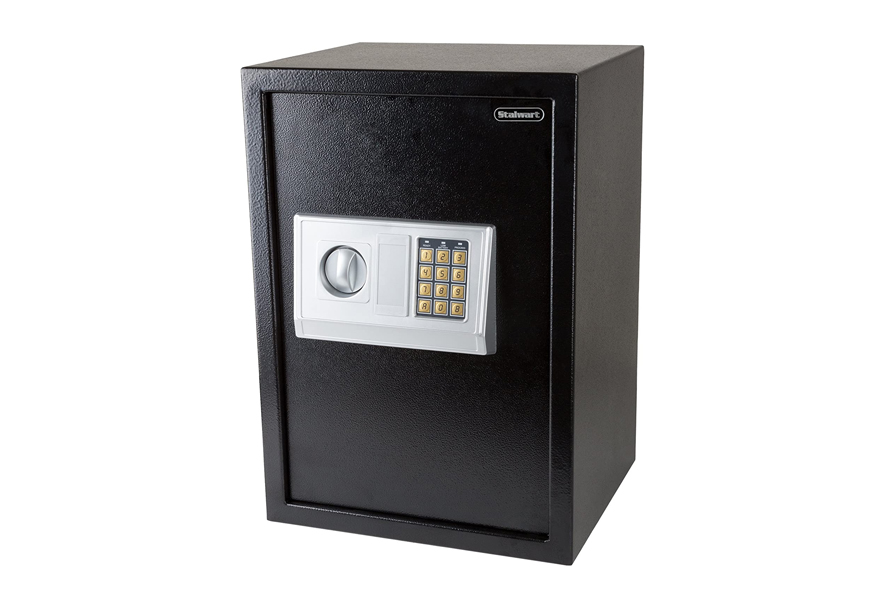 The Stalwart Electronic Digital Safe is made from cold-rolled steel sheets and comes with an abundance of storage space to keep your valuables safe. It's bigger than most home safes and it can hold just about anything – cash, guns, jewelry, essential documents, and more. Great for both home and office use.
In terms of security, you're getting some top-notch service with this floor and wall-mountable safe. There's a security keypad where you can program your code and set up master and guest codes so that even visitors can lock away their valuables. If you lose your security code, there are two manual override keys you can take advantage of. For additional security, the safe is equipped with an alarm that will sound for 20 seconds after 3 incorrect entries, and 5 minutes after three additional incorrect entries. For more useful products for your home, check out our guide to the best-selling keyless door locks.
Key Features:
Extra-large wall and floor mountable safe
Cold-rolled steel material
Digital keypad with 2 manual override keys
20 seconds and 5 minutes attempted theft alarm
Specification:
Brand

Stalwart

Model

65-EA-50

Weight

41.9 Pounds
Keypad security is top-notch
Great value for money
Large, so great for storing just about anything
Not so easy to mount on a wall 
Why Trust Us
Just like you, we take home and office security very seriously. This means keeping precious heirlooms, documents, and other valuables safe and secure. To give you the very best the market has to offer, we focused on safes made with durable steel that can't be pried open, as well as units that offer easy-to-use security features.
Who This Is For
Our selection of the best home safes is for folks who want added security for their valuables. Good-quality home safes will protect the contents from thieves, and some will also provide protection against fire or water in the event of a natural disaster. Home safes are also essential at keeping certain objects out of harm's way such as firearms and medication.
How We Picked
When selecting home safes for this guide, we made sure to pick only the most durable, secure, and easy-to-use options. While the best home safes are not only virtually impenetrable by force but are also fire-resistant and waterproof, we made sure to also include non-fire and water-resistant options because a) they're cheaper and b) not everyone needs fire-resistant and waterproof box units. You'll also notice that all our top choices come with manual backup keys - we believe this feature is very important as it's not uncommon to forget your code.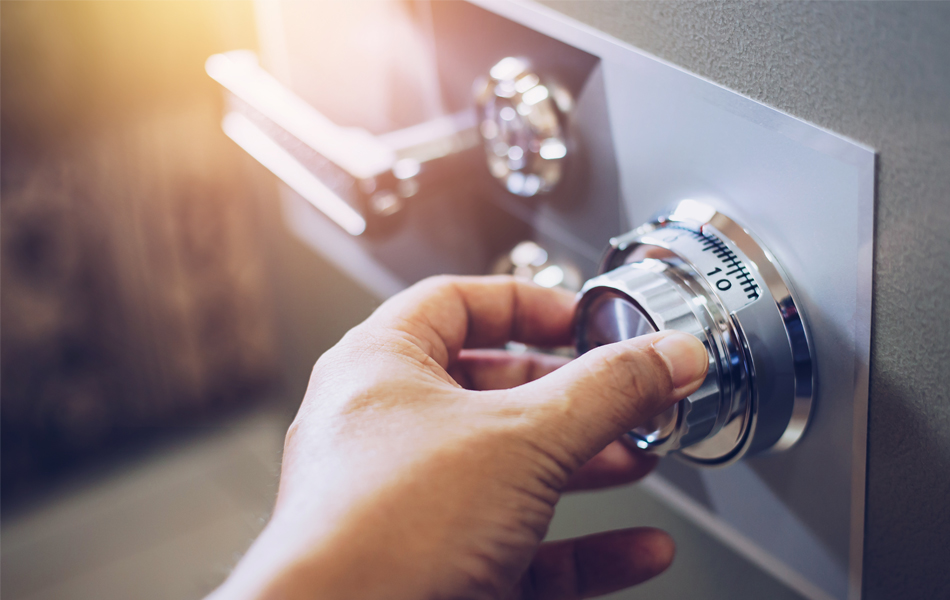 Features To Look For In Home Safes
Burglary protection - Home safes come with diverse features that prevent and discourage theft. Digital touchpads, dual lock option which include both the keypad and an extra bypass key, and even biometric security safes that use fingerprints to validate entry. All these features including concealed hinge bars will keep robbers from breaking into the safe.
Lock type - There are many different types of locks you can find with home safes. There is the traditional combination lock, although this has been replaced with the more modern electronic lock. Biometric fingerprint locks are also an option and these are increasing in popularity as they can't be copied and are individual to the user and whoever they choose to program into the code. A simple key lock is also an option although this is usually incorporated as a backup locking option.
Safety features- There are many different safety features you can look for when it comes to home safes. If your area is prone to floods or forest fires, we recommend looking for a safe with fire and water protection. Regardless of where you live, look for live locking bolts and concealed hinges that prevent the safe from being pried open. You also want a fast-access personal safe if you store firearms and need to get to them in an emergency.
Price - When it comes to home safes, you really do get what you pay for. However, you don't need to break the bank to have a good quality home safe. It all comes down to the safe's features and construction and how much protection the two offer. More expensive safes will protect your valuables from fire or water plus intruders, while cheaper ones typically offer just simple theft protection.
Fire-resistance - This feature will protect the safe and its contents in case of a sudden fire outbreak. Some safes are designed to withstand intense heat for up to 60 minutes without damage. Bear in mind that fire-resistant safes tend to be more expensive than standard ones.
Water-resistance - In case of flooding, a waterproof safe will be able to endure submersion in water for some time without the water seeping into the safety box. This feature is also essential in the event of a fire as water damage from fire hoses can destroy documents and other valuables.
Types Of Home Safes
Floor home safes - A floor security safe offers exceptional protection for your valuables and you can usually hide it under the carpet or in a built-in wardrobe. This is a great way to keep valuables secure as the safe can be anchored via internal bolts so they can't be accessed or removed.
Wall home safes - If you've ever watched a movie featuring a very wealthy character, chances are you saw them store or remove something from a wall safe. These are the most common home safes and they offer the best security if they can be concealed.
Commercial safes - Every business should have some type of safe. Whether it's used to store cash, firearms, confidential documents or other items, they are an absolute must. Quite often they are larger than the average home safe and can be free-standing or built into a wall.
Portable safes - Sometimes we need to take valuables, large amounts of cash or firearms with us when we travel. Your vehicle can be fitted with a portable safe to conceal such items and you can also keep a portable safe in your luggage so that it's with you at all times.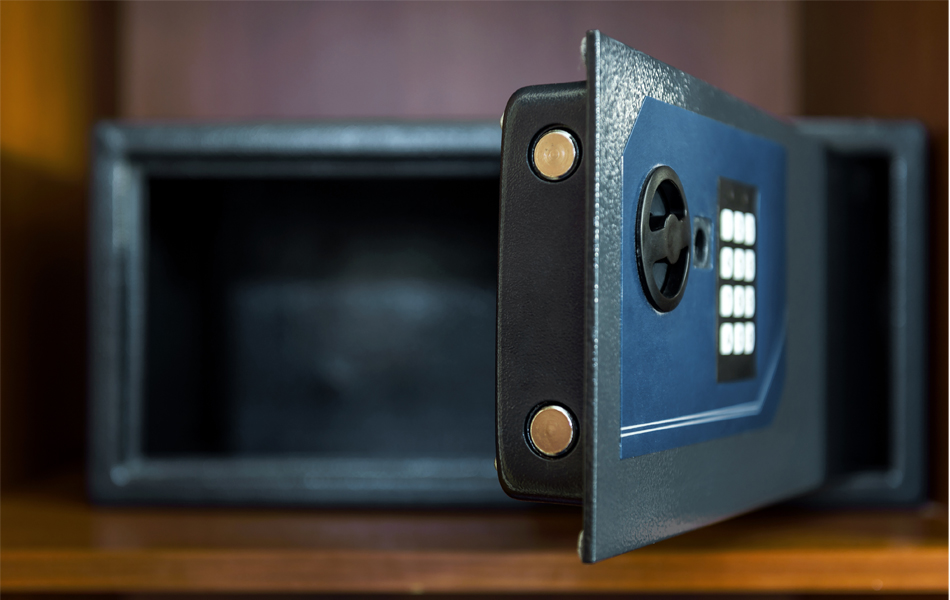 Home Safe FAQ
Q: What makes a good safe?
A: A safe should be made with strong and sturdy materials such as heavy-duty steel that is difficult to pry open. It should feature enhanced security and solid construction that stops prying hands from getting a hold of valuable contents enclosed in the safe.
Q: What is the best safe to buy for your home?
A: As much as this depends on personal preferences and your budget, a safe that protects from fire and water is beneficial in any household. The SentrySafe has both features as well as a tough build with hidden hinges to prevent hacking, but literally, any safe with decent protection features is better than none. Adjustable shelves are also welcome features as they can help you keep your documents neatly organized.
Q: What is the best fireproof safe for home use?
A: A fireproof safe should be able to tolerate at least one hour in a heated room without losing its integrity. For example, the Sentrysafe can tolerate up to 1700°F temperature for an hour without the internal contents getting damaged.
Q: Is a fireproof safe worth it?
A: A fireproof safe is definitely worth the hype. No one ever expects a fire to destroy the contents of their home and while home contents are usually insured, heirlooms, documents, and other valuables are difficult, if not impossible to replace. If you are already investing in a home safe, a fire and waterproof safe is the way to go.
Q: How are home safes installed?
A: Home safes are usually installed by bolting them to a wall or the floor. There are usually a few holes inside the home safe that facilitate a bolt anchoring the entire safe to the place you choose to install it.
Q: How do home safes work?
A: A home safe is basically a safe box for home use that offers added security for valuables, documents, and other items. The thick steel walls, steel construction, and live locking bolts are designed to provide an impenetrable vault to keep your valuables secure and preferably concealed as well. Modern home safes offer fire protection and generally have programmable digital access so that only the safe owner and those they authorize can gain access.
Q: How much do home safes weigh?
A: The average home safe can weigh anything from 200 to 600 pounds, however, larger ones can weigh up to 1,000 pounds.
Q: Can home safes be broken into?
A: For a professional safecracker, every safe, including home safes, can be broken into. The traditional combination lock was the easiest to crack but with advanced technology, the newer safes with digital keypads and biometric pads are a lot harder to crack. That being said, a professional can still break into a home safe, however, it can take a considerable amount of time and the goal of most thieves is to get in and out of their target as quickly as possible. A good home safe is not easy to break into so the more time it takes, the better your chances are of coming home and finding the safe with the contents intact.
Sources:
Safe - Wikipedia
What Pediatricians Can Do to Keep Children Safe From Guns - American Academy of Pediatrics
Sign Up Now
GET THE VERY BEST OF GEARHUNGRY STRAIGHT TO YOUR INBOX