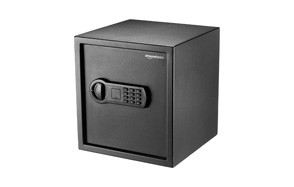 AmazonBasics Home Keypad Safe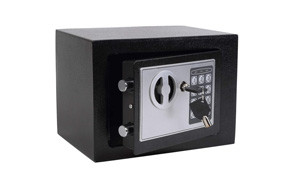 Yuanshikj Electronic Deluxe Digital Security Safe Box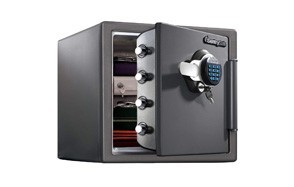 SentrySafe SFW123GDC Electronic Fire Safe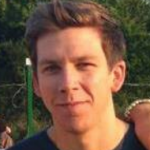 When it comes to securing your valuables at home you have a few options. You can rent a safe deposit box at the bank, you can dig a hole in the backyard, or you can buy a home safe. Let's eliminate the hole in the ground right off the bat. That leaves 2 viable options; the deposit box and the home safe. With the safe deposit box, your valuables are tucked away in a vault behind a steel door about 2 feet thick. Safe yes, but that doesn't mean it's the perfect solution. What if you decide you want to wear your $2,000 Luminox watch to dinner with the Mrs? Or she wants to wear the diamond pendant you gave her? Or you realize you need an important document that's in the box but the bank is closed? What you really need is a home safe. In this product review guide, we're going to take a look at what we consider to be the best home safes on the market. Let's get started.
The Best Home Safe
Things To Look For When Buying A Home Safe
A reliable home safe will save you the stress and concerns about where to store valuables and how to keep them securely in top condition. While they may be the answer to that dilemma, choosing the best safe can be another headache. Below is a useful guide that will possibly help you make a well-informed decision before the big purchase.
How We Chose Our Selection of Home Safes
Brand - Top brands with high integrity were our target when compiling this list. Such brands are more reliable and responsive to customer complaints and demands making them the best choice for such
Reviews - Reviews play an important part in our final decision on the top picks. The numerous feedback received on a successful purchase determines how viable, durable and functional the product actually is. We always thoroughly go through the reviews to ensure the product lives up to expectations in the real world.
Price - Home safe deposit boxes come with different prices depending on the brand and the features. Safes that are not fireproof range at $200 to $400 while larger safes with fire and waterproof functions are more pricey costing up to $600 to about $800. Our list has a combination of products that are priced differently to suit the average household's budget.

Features to Look Out For in a Home Safe
Size - Safes come in different sizes, from portable ones that could fit about anywhere to larger ones that accommodate more sizeable items.
Security Rating - Safes are supposed to be extremely inaccessible to intruders and prying hands of residents around the house or the work environment. This can be checked from the specs and reviews to ensure the safe is sturdy, and won't easily be hacked open.
Hidden Safe vs Wall Safe - Depending on your preference, there are safes that coming with mounting hardware to secure the box on a wall or floor. This makes it easier to conceal them behind cabinets, pictures of T.V sets to keep them out of sight.
Fire Resistance - This feature will protect the safe and its contents in case of a sudden fire outbreak. Some safes are designed to last under intense heat for up to 60 minutes without damage.
Water Resistance - In case of flooding, safes with this feature can endure submersion in water for some time without the water seeping into the safety box.
Burglary Protection - There are different safes with diverse features that prevent and discourage theft. Digital touchpads, dual lock option which include both the keypad and an extra bypass key and even biometric security safes that use fingerprints to validate entry. All these features including concealed hinge bars will keep robbers from breaking into the safe.

Home Safe FAQs
Q: What makes a good safe?
A: A safe should be made with strong and sturdy materials such as heavy-duty steel to make it hard to break into. It should possess enhanced security features and a reliable build that stops prying hands from getting a hold of valuable possessions.
Q: What is the best safe to buy for your home?
A: As much as this depends on preference and budget, a fireproof and waterproof safe with a reinforced structure would be great for any household. The SentrySafe has both features as well as a tough build with hidden hinges to prevent hacking.
Q: What is the best fireproof safe for home use?
A:  fireproof safe should be able to tolerate at least one hour in a heated room without being prone to destruction. The Sentrysafe can tolerate up to 1700°F temperature for an hour without the internal contents getting damaged
Q: Is a fireproof safe worth it?
A: A fireproof safe is definitely worth the hype, no one ever prays to experience a sudden fire destroy components of their home. However, it's the best way to prepare for such a possibility, keeping all valuables away from damage.