Keep Your Landscape Lush With The Best Garden Hoses Of 2022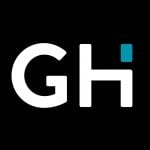 This product guide was written by GearHungry Staff
Last Updated
June 29, 2022
GearHungry Staff
GearHungry Staff posts are a compilation of work by various members of our editorial team. We update old articles regularly to provide you the most current information. You can learn more about our staff
here
.
GearHungry may earn a small commission from affiliate links in this article.
Learn more
Every garden, even a small one, needs a good garden hose. Whether you have a yard full of plants, grass, or even concrete, a hose will help you keep everything clean and watered. The question is, which type of garden hose best meets your needs?
Many people tend to grab the cheapest hose they can find, but these don't last very long. What you end up with is dozens of tiny holes along the length of the hose so it resembles more of a sprinkler than an actual hose.
A good quality hose will last you longer and can actually help you enjoy watering your lawn and flowerbeds, as well as other chores such as hosing down the driveway or washing your car. If you're ready to throw away your leaky old hose and invest in a new one, take a look at our list of the best garden hoses and pick a model that best fits your specific outdoor needs.
The Best Garden Hose
YYW Expandable Garden Hose
Our tester lives on a farm where a garden hose is an essential piece of equipment. There are gardens and lawns to be watered, driveways and pathways to be hosed down and many buckets and bowls to fill to ensure all the animals can stay hydrated. What our tester loves most is that this compact hose expands to three times its size once you turn the water on and it contracts to its original compact size when the water is turned off. The hose includes a handy spray nozzle with seven adjustable spray modes so you can offer your plants a light mist or turn on the jet to hose all the muck off the pathways.
This model has an inner hose with a tightly knitted fabric outer hose. It can withstand a considerable amount of water pressure and it won't kink or get tangled. Once you're done with the watering, the hose is easy to store and won't take up much space. The hose is available in different lengths so you can choose the right size for your property. The only downside is that if the fabric comes away from the end of the hose, it's an absolute pain to put it back together again and without the tight fit, the hose is useless.
Key Features:
The hose expands to three times its original length
The spray nozzle has seven adjustable spray modes
High water pressure resistance
Thickening latex inner hose pipe
Tightly knitted outer fabric
The hose is available in many sizes
Compact when not in use
Won't tangle or kink
The outer fabric can detach and is difficult to put back
Not as durable as pricier garden hoses
The Flexzilla Garden Hose is a premium quality garden hose that you can leave out in any weather. Engineered with a flexible hybrid polymer, this is one of those heavy-duty yet lightweight hoses that every homeowner should invest in as it can retain its flexibility even when temperatures drop to -40 degrees Fahrenheit. This garden hose is tough and tear-resistant thanks to the durable outer cover that resists abrasion and mold. It's easy to maneuver around the yard and it's highly resistant to kinks.
What you'll really love about the Flexzilla hose is the tough, aircraft-grade aluminum hose fittings that give you leak-free connections. Leave it out in the hot sun or on a frosty winter morning without a care. The hose is lightweight, easy to handle and lays flat, and the inner tube is made with a water-drinking safe material. If you're in the market for a new garden hose, the Flexzilla hose is a versatile, reliable and affordable option.
Looking to surprise the gardener in your life? Check out these fantastic gifts for gardeners!
Key Features:
Durable outer core resists abrasion
Engineered with flexible hybrid polymer
Anodized aircraft aluminum ends
Reinforced mid-layering for extra support
Leak-free connectors
5/8″ x 50 feet
Specification:
Brand

Flexzilla

Model

HFZG550YW

Weight

1.6 Ounces
Lightweight & easy to handle
Won't kink under pressure
Drinking water safe
Prone to kinking if left outside for extended periods
Camco TastePURE Garden Hose
The Camco TastePURE Garden Hose is made from lead-free and BPA-free is made from NSF-certified FWH PVC so you and your family can enjoy the time-honored tradition of drinking out the hose in the summer. The hose is also reinforced for maximum kink-resistant performance and the easy-grip connectors are compatible with most standard garden hose connectors which means you can also connect them to other hoses if you need to water all the way at the back of your property. You can also shove the wheelbarrow or drive the car over this hose without losing water pressure. However, this reinforced strength does make the hose a little less flexible which may not be appealing for some gardeners.
This is one of the best garden hoses for the suburban garden and can easily be connected to a lawn sprinkler, or you can use it for cleaning the car or the windows of your house. It's also a great hose for watering plants by hand when you just want to take your time and spend have an excuse not to go inside the house. You may also like some of these rain barrels which can also be connected to your garden hose for unbeatable convenience and water conservation.
Key Features:
PVC and BPA free, NSF and CSA low lead content certified
Reinforced for kink resistance
Easy-grip swivel female connector
Can be used for drinking water
25 feet long
Specification:
Brand

Camco

Model

22783

Weight

1 Pounds
Ends are compatible with most standard hose connectors
Drinking water safe – no rubbery taste
Durable, long-lasting construction
The hose is a little less flexible than you'd expect
It should only be used with cold water
TheFitLife Flexible And Expandable Garden Hose
There's no need for hose reels when you have this bad boy in your backyard. The TheFitLife Flexible and Expandable Garden Hose is an exceptional quality garden hose that expands to three times its length. It starts at around nine feet in length before expanding to 25 ft in length. It reverts back to its original size when you turn the water off. This one also features solid brass fittings and a shut-off valve which makes it incredibly convenient and durable. The rubber washer prevents leaking and the eight-pattern garden hose nozzle allows you to switch the spray nozzle to the perfect setting for watering, washing and even a bit of high-pressure hosing.
The exterior of this house is made from a dense and rugged polyester fabric that is durable and will neither melt from the heat or become brittle in the cold. It is lightweight and flexible making it easy to use and less cumbersome which makes it easy to gather together and put away. It can be connected to a high-pressure washer as well as connected to the pump for irrigation or for pumping water. At the end of the night, the hose is effortlessly rolled up again. Be sure to combine it with some of the best garden hose wands for when you need extra water pressure.
Key Features:
Expands up to three times its length
Lightweight and flexible hose
Solid brass fittings and shut-off valve
Twist and tangle-free
Can be used at temperatures of up to 98 degrees Celsius
Dense polyester fabric used in its construction
Available in 20, 50, 75, and 100 feet sizes
Specification:
Brand

TheFitLife

Model

TFL-2019NEW-BLACK-25FT-FBA

Weight

2 Pounds
Expands when water is turned on
No need for hose reels
Never kinks or tangles
The nozzle is not of the greatest quality
Bionic Steel 304 Stainless Steel Metal Garden Hose
Not all garden hoses need to be made of rubber compounds. The Bionic Steel Garden Hose is the epitome of long-lasting durability in a garden hose. It's narrower than most hoses with a flexible steel casing over a latex inner core with no plastic fittings.
The exterior of this hose is made from 304 stainless steel that is made to last. Its thinness may affect the water flow, but unless you need to do a lot of high-pressure blasting, this is still the best steel garden hose for domestic use. It features 500 PSI and is virtually burst-proof and crush-proof. This stainless steel hose is able to withstand extreme weather and although the water inside the hose may freeze in extreme cold, the hose will survive the cold.
While you're out in the garden, be sure to check out our guide on the top hedge trimmers.
Key Features:
Latex lining with durable stainless steel sleeve
Extremely flexible in all weather
Won't crack from the sun or cold
Lightweight and flexible
Aluminum fitting
304 stainless steel hose casing
Available sizes: from 25 to 100 feet
Specification:
Brand

Bionic Steel

Model

1583

Weight

3 Pounds
Coils and uncoils with ease
Comfortable grip stabilizer for easy handling
Exceptionally rugged construction
The inner tube can come loose
Not ideal for extremely cold conditions
Gilmour Pro Farm And Ranch Hose
The distinctive Gilmour Pro Farm and Ranch House hose is double reinforced for commercial applications and with a 5/8 inch diameter, it's also great for use around the home. This one has been specially designed with a collar that reduces kinks at the spigot. With high-quality brass hose fittings, everything about this hose makes it a durable and practical solution.
The heavy-duty metal couplings feature an O-ring for a tighter seal and the PSI of 500 makes the hose burst proof. The doubly reinforced hybrid exterior can withstand years of being dragged around the farm or yard and it also comes with a limited lifetime warranty. So, if you're looking for an ultra-durable hose for your yard or farm, this is the best option out there. When it's time to clean the garden, check out our guide to the best quality leaf shredders. 
Key Features:
Double reinforced construction
Abrasion-resistant exterior
Rubber O-rings for a tight seal
Kink resistant and crushproof
500 PSI burst strength
5/8 inch diameter with 90 foot length
Limited lifetime warranty
Specification:
Brand

Gilmour

Model

829901-1001

Weight

11.75 Pounds
Solid brass connectors are anti-microbial
Ultra-durable and long-lasting construction
Does not kink
The outer layer may blister if exposed to UV rays
Briggs And Stratton 50-Foot Garden Hose
With nickel-plated solid brass couplings that are virtually crushproof and robust genuine rubber O-rings guarding against leaks, you can tell just by looking at either end of the Briggs and Stratton 50-foot Garden Hose that it's built to last. This is a genuine heavy-duty hose with a 100T rubber cover that retains its flexibility regardless of the weather and stands up to any punishment you can dish out. It also has a high burst strength and is kink-resistant and easy to coil when not in use.
Drag the hose around the garden or the driveway as you wash the car because this hose has been built to last. And if you need a super-long hose for your yard? No problem, the Briggs and Stratton have a 100-foot option available, too. If you need extra water pressure for cleaning jobs outdoors, check out our selection of the best-selling pressure washer hoses.
Key Features:
Heavy-duty crush-proof couplings
100 % rubber garden hose cover over latex
Retains flexibility regardless of temperature
5/8 inch by 50 feet
Genuine rubber o-rings
Available sizes: 25 to 100 feet
Specification:
Brand

Briggs & Stratton

Model

8BS50

Weight

9.65 Pounds
Ideal for use in all weather conditions
Resistant to kinking and easy to coil for storage
The high burst strength can take a lot of pressure
Expect black hands from residue while the hose is new
Stanley Fatmax Professional Grade Water Hose
Stanley is well-known for making world-class power and garden tools, and now they have applied their knowledge and expertise to make the Fatmax Professional Grade Water Hose. This bright yellow hose features a swivel grip at each end to prevent connector kinks, and polyfusion technology where PVC and polyurethane are combined to produce a shell of incredible durability and flexibility. In addition, there are both anti-kink and anti-memory features that ensure the hose will always respond well to the water pressure and won't retain a coiled shape. The aluminum/titanium couplings are incredibly tough and the cherry on the cake is the 500 psi burst strength.
This is a top-rated garden hose that is perfect for use around the home or in your business. If you want to spend more time on your weekends relaxing instead of mowing, take a look at our guide to the best robot lawn mowers.
Key Features:
Polyurethane and PVC hybrid
Crush-proof aluminum/titanium couplings
500 psi burst strength
Anti-kink technology
For home or commercial use
Abrasion-resistant cover
Available sizes: 50, 75, and 100 ft.
Specification:
Brand

Stanley

Model

BDS6650

Weight

7 Pounds
The brass fittings are crush resistant
This hose offers the ultimate weather performance
Excellent anti-kinking abilities
Despite the anti-kink technology, it may still kink somewhat when not in use
Swan Products Camping And Boating Water Hose
Whether for home or vacation, Swan Products are hose manufacturers that know how to make great quality hoses. This one may be marketed towards camping and boating enthusiasts, but it will perform just as well as a good backyard watering hose. It is super tough, resistant to kinking and features hose armor to prevent the ends from kinking and tangling. This hose also meets California lead-free standards making it safe to drink water straight from the hose on a hot summer day.
The couplings are made from aircraft-grade aluminum which also makes them virtually crush-proof and thanks to a 300 PSI burst strength, it's also less prone to leaking. Overall, the hose is light and coils easily like a good garden hose should. It's 50 feet long to reach your remote flower beds and it won't take a big bite out of your bank account.
Key Features:
Crush-proof aluminum couplings
Lead-free construction
Highly resistant to UV damage
5/8 inch by 50 feet
300 psi burst limit
Hybrid rubber garden hose
Specification:
Brand

Swan Products

Model

ELMRV58050

Weight

5.5 Pounds
Certified as a safe drinking water hose
Lightweight and easy to store
Ideal for RV, campsite and boats
The ends may not be standard for all spigots
GrowGreen 50ft Garden Hose
The 50-ft GrowGreen Garden Hose comes to you at a mere 16 ft for unbeatable storage. This one expands to three times its length when you turn the water on and reverts back to its original size within seconds of you turning the water off. This ingenious design is perfect for anyone with a smaller garden, not much storage shed space, or for those who simply enjoy clever designs. The inner tube is made from a high pressure resistant latex that is durable and won't tangle or kink. All the connectors are made from corrosion-resistant and rust-resistant brass and the hose can handle 145PSI/ 10Bar.
This garden hose also includes a hose nozzle with 8 different spray patterns that you can adjust for light watering with a gentle mist or choose a direct stream to clean the car or driveway. With all these choices for the type of water flow you choose, there is no need to switch nozzles.
Key Features:
Space efficient expandable hose
50ft latex hose / 16 ft when not in use
Comes with an eight-spray pattern hose nozzle
Made with all brass connectors
Lifetime manufacturer's warranty
Specification:
Brand

GrowGreen

Model

82-GHB-50

Weight

2.89 Pounds
Excellent water flow
16ft when compact for easy storage
Well built, should last for years
The inner tube may detach and is difficult to put back into place
HBlife 150ft Garden Hose, Expandable Water Hose
Expandable hoses are all the rage for all the right reasons. This one from HBlife expands to an impressive 100 ft so you can get watering into every corner of your yard. It includes brass inserts for strength and reliability with a high pressure resistant inner tube and a high density knitted polyester fabric cover encasing the inner tube for extra strength.
For added convenience, this garden hose also includes a storage stack that makes it easy to put your hose away during the winter. You'll also love the 9-pattern water spray nozzle and the on/off valve. This garden hose is flexible, reliable as well as being lightweight and easy to drag around the yard.
Key Features:
150 ft expandable garden hose
High-quality brass connectors
Nine-function water spray nozzle
Heavy-duty rubber washes
High-density knitted polyester fabric cover
Specification:
Brand

HBlife

Weight

5.49 Pounds
Includes a sack for storage convenience
Lightweight & flexible design
100% money-back guarantee
The inner tube can balloon and detach
Why Trust Us
The average household replaces their garden hose every three years and some may even need to replace them more frequently. Our team has also gone through quite a few hoses so we like to think we have some experience when it comes to separating the good ones from the not-so-good ones. Some of us are enthusiastic gardeners and use garden hoses every day to keep garden beds nicely hydrated, while others use their hoses for hosing down the driveways and washing their cars.
Who This Is For
This guide is for anyone shopping for a top-quality garden hose for home, commercial or recreational use. Garden hoses have come a long way over the years and are no longer just rubber tubes we connect to spigots. They've also gone a little hi-tech so it may not be easy to choose a good quality hose that will last through several seasons or more. This guide should help you decide on the best garden hose for your needs.
How We Picked
We looked at hoses for practicality and convenience but also for durability. Whether you're looking for light-duty hoses or something a little more robust for cleaning around the yard or commercial use, we chose a variety that offers something for everyone.
How We Tested
Testing a hose is easy. Attach it to your spigot and turn the water on. While that may seem a little overly simplified, we also tested for water flow and the durability of the outer layer when dragged over concrete, asphalt and rocks which you normally see in the average suburban garden. We also looked at how well the connectors performed, especially where water pressure was a little higher.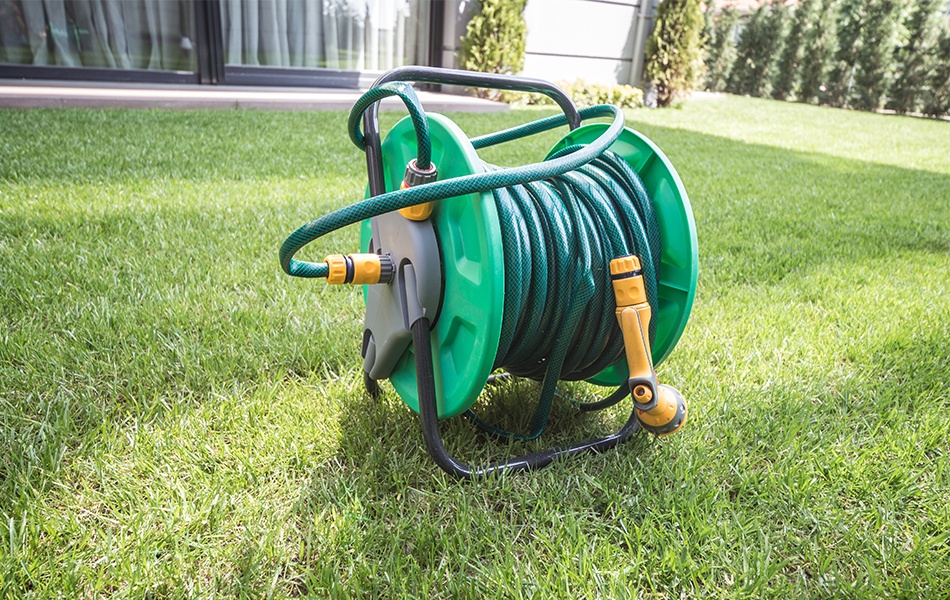 Features To Look For In Garden Hoses
Gone are the days when you would just walk into a store and grab the first (and possibly only) hose on the shelf. These days, many people opt for the most inexpensive hoses and usually regret the decision as cheap models need to be replaced before the first season is over. Here are some features to look for when shopping for a new garden hose:
Length - Bigger is not always better, especially when shopping for a garden hose. For example, if you have a yard of say 25 feet and you get a hose that is 50 feet, you are essentially paying for an extra 25 feet you don't need. Similarly, you don't want to grab a 25-foot hose if your garden stretches to 50 or 100 feet. A few feet of extra hose length is fine, but you definitely won't need 25 feet or more extra length.
Keep in mind that the longer the hose, the more weight you will have to drag around and the extra length may also affect the water pressure coming out from the other end.
Diameter - The diameter determines two things: how much water is released and how heavy the hose will be when it's full of water. Most garden hoses are 5/8", although 1/2" and 3/4" inch hoses are also available. In most cases, a 5/8 inch hose will be appropriate for just about any backyard application. 1/2-inch hoses will also work for hand watering flower beds and such but anything larger than that and you are getting into the realm of large-scale commercial applications. Keep in mind that a 3/4 inch hose will carry twice the water volume of a 5/8 inch hose. And twice the water volume means twice the weight. If you are unsure which diameter to get, but the area that needs watering is nothing out of the ordinary, a 5/8 inch hose should serve you well.
Flexibility - Flexibility is important for a couple of reasons. First, when you finish with the hose you have to coil it up. If the hose is not flexible, coiling it may cause kinking which will eventually cause cracks to appear. Often sooner rather than later. Second, you need to be able to move the hose around backyard obstacles and often into out-of-the-way areas of your yard. This requires a good deal of flexibility, especially around trees.
Material - Garden hoses are no longer made of plain old rubber. These days, you can find them manufactured from several different materials:
Rubber - For years rubber was considered the most reliable material in the making of garden hoses. This material is flexible and the hose is less likely to kink or puncture. Rubber is also durable and impervious to most weather conditions. So why isn't every garden hose made of rubber? For one, because it's heavy. A 50 or 100-foot rubber water hose full of water is going to present a challenge even for a healthy person to drag around the yard. Still, rubber hoses are fairly common for all the above-cited reasons. Plus the fact that many are rated safe to drink from and a rubber hose is also better at handling hot water. So if you ever need to drain the water heater for any reason you can use your rubber garden hose.
Vinyl - The vinyl garden hose is a lightweight alternative to the rubber garden hose. They're easy to drag around and easy to coil up when you're done with them. They're also typically the least expensive type of garden hose. The vinyl garden hose is good for use in moderate climates where it never gets extremely hot or cold. Extreme heat can warp a vinyl hose and extreme cold can cause it to become brittle, even if it's sitting in your garage during the winter unused. When you take it out in the spring to get gardening, you may find that during the winter it developed cracks. Even in moderate climates, the vinyl hose will eventually develop cracks and leaks, particularly around the connectors.
Polyurethane - Polyurethane occupies a kind of grey area between vinyl and rubber. The polyurethane hose is usually free of harmful chemicals so many of them are theoretically safe to drink from, it's stronger than vinyl, almost as light and it's very flexible like rubber. The polyurethane hose can also be used to transport hot water and does not develop kinks as easily as a vinyl hose will. So what is keeping every hose from being a polyurethane garden hose? Polyurethane hoses cost more than vinyl ones and many people don't see the point of investing the extra cash in something that will only be used for watering garden beds. If you don't mind the extra cost, you won't regret purchasing a polyurethane water hose.
Hybrid - Some contemporary garden hoses are fashioned from hybrid polymers that provide reliable flexibility and extreme durability at the same time. Others feature multi-layered construction with latex or some other similar inner material and a tougher outer layer that is equally flexible. This type of construction makes for a very light and flexible hose, even when the temperature plummets to well below zero. Other hoses feature a polyurethane/PVC hybrid blend that is extremely durable, lightweight, and flexible.
Couplings - The connectors on a garden hose may be made from any of several different materials, including:
Plastic - Yup. Plastic. Some garden hose connectors are made from high-quality plastic that's tough and light and relatively durable. But their main attraction is that they're inexpensive. That said, even the most durable plastic coupling isn't going to be able to compete with brass or stainless steel in strength and durability and you may find yourself replacing the couplings more often than you planned to.
Stainless Steel - Stainless steel connectors are likely to outlive your hose. They're unaffected by weather extremes, won't chip or crack like plastic connectors can and are virtually impervious to damage from being dropped or dragged across the yard or the driveway.
Brass - Brass connectors come in two forms: either cast or stamped. Stamped or formed brass couplings are the more fragile of the two and can be damaged without much effort. Even so, they're still more durable than plastic. Cast brass connectors are the classic garden hose connectors. They're heavier and tougher than stamped brass and as tough as stainless steel. Brass has the added benefit of being naturally antimicrobial. This is why brass connectors have long been a garden hose favorite.
Aluminum - In recent years aluminum couplings have become increasingly popular. They're light, inexpensive, corrosion-resistant and tough. Couplings cast from aircraft-grade aluminum are almost as tough as those cast from brass or stainless steel. If aluminum has a downside it's that it is susceptible to microbial development.
Types Of Garden Hoses
While many folks tend to think a garden hose is a garden hose, there are actually quite a few different types of garden hoses ranging from the traditional to the expandable and they also run from the incredibly cheap to some pretty pricey ones.
Traditional - The traditional garden hose has been around for decades and is as familiar a part of the domestic landscape as the porch light or mailbox (although the mailbox is becoming something of an endangered species of late). This is an all-purpose hose used for everything from watering the lawn to washing the car. It's usually made from vinyl, rubber or polyurethane and can be anywhere from 25 to 100 feet in length. Most of the garden hoses on our list are a form of traditional garden hose.
Flat hoses - The flat hose looks like a miniature version of the firefighter's hose. It lays flat on the ground with a deflated appearance until the water is turned on. Flat hoses are typically made of vinyl and are best for applications that don't require a lot of flexibility. It's not common to find them in homes but many homeowners seem to like them.
Sprinkler hoses - The sprinkler hose is perforated along its length and sends a mist into the air that settles on the garden or lawn. Some people turn them around so that the perforations are face down and use them as a soaker hose. Typically sprinkler hoses don't work well in flower beds because the plants prevent the mist from rising.
Soaker hoses - Soaker hoses can be found in gardens nationwide where they are used to seep water into the soil so it can be soaked up by plant roots. Soaker hoses make efficient use of water and many are used on a semi-permanent basis in gardens, although they're often covered in mulch because they can be negatively affected by direct, prolonged sunlight.
Pocket hoses - The pocket hose, also known as the expandable garden hose, expands to about 3 times its empty size when you turn on the tap. Several of the hoses on our list are expandable garden hoses for good reason. They're good for around the yard like long hoses but they pack away neater than even a short garden hose. The downside of the expandable hoses is that they tend not to last very long and they can be damaged by regular exposure to sunlight.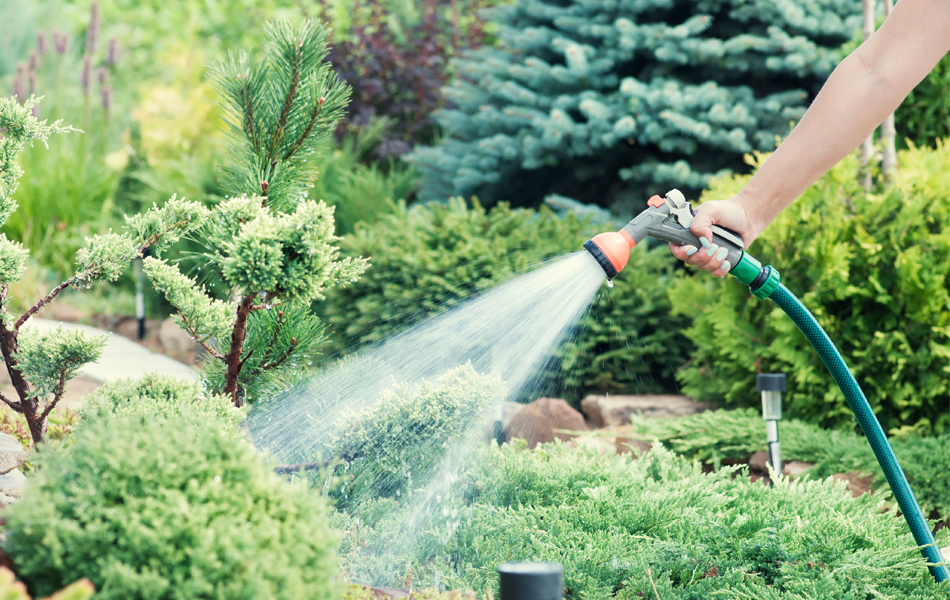 Garden Hose FAQ
Q: How long can I expect a hose to last?
A: In a perfect world, a good garden hose should last from 5 to 10 years. However, this will depend on the quality of the hose you buy and how you store it. Some of the more inexpensive hoses will need to be replaced after 3 years or less.
Q: What's the best way to store a hose?
A: The best way to store a hose that is not in use is to wrap it around a hose reel or a hose rack. Try to keep the hose relatively loose and keep it out of direct sunlight. If you live in a region with harsh winters, you should ensure the hose is completely devoid of water and store it in the garage or garden shed.
Q: How can I prevent kinking and knotting?
A: The best way to prevent kinking and knotting of your garden hose is to wrap it around a hose reel when you are not using it. Hoses kink when they are not properly rolled or coiled but the main problems arise when the hose is just left on the ground in a heap.
Q: Do I need a garden hose nozzle for my hose?
A: Technically speaking, you don't need a garden hose nozzle for your hose. Most people have simply placed a finger over the end of the hose to create a spray. While this does work to a certain degree, it does not allow for accurate watering and you may get more water everywhere but where it's needed. A garden hose nozzle allows you to choose the type of spray for different plants and many also give you the option to turn the water flow off so you are not wasting water on your way back to the spigot.
Q: Is drinking water from a garden hose safe?
A: You haven't had a normal childhood unless you drank water from the garden hose. That being said, it's not a good idea to do this unless you have a garden hose that is certified as drinking water safe. Keep in mind that hoses are often left out in the sun and heat can result in toxins leaching from the materials directly into the water. You are much better off disconnecting the hose from the spigot and drinking from your hands.
Q: What does PSI mean on a garden hose?
A: PSI refers to "pounds per square inch" and this denotes how much pressure the hose can take before bursting. Most households have water pressure up to 80 PSI and it is recommended to have a garden hose with a PSI of 300 or more.
Sources:
Pressure Gauge For Garden Hose - SF Gate
Is It Safe To Drink Water From A Hose? - ThoughtCo.
Sign Up Now
GET THE VERY BEST OF GEARHUNGRY STRAIGHT TO YOUR INBOX