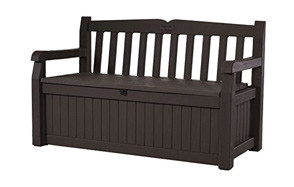 Keter Eden Garden Storage Bench Deck Box
Suncast Patio Storage Box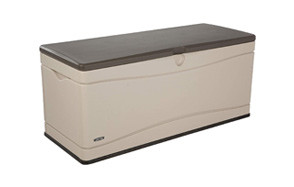 Lifetime 60012 Extra Large Deck Box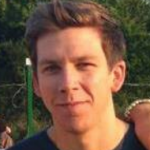 Just because summer has all but completely gone again for yet another year doesn't mean you need to confine yourself entirely the cozy comfort of your couch and wait out the winter months for that first glimpse of sunshine sometime (we hope) next year. Before the cold weather properly descends and moves in like an in-law you've spent months avoiding, you may as well get some last-minute backyard organization in, and the best garden storage box is the perfect place to start.
Nobody likes a cluttered and untidy backyard, but it's often difficult to work out where to keep everything you used throughout the summer. There's no space in the garage, there's little room in the attic, and your partner has made it abundantly clear that if they trip over one more damn Giant Chess Piece, then they are out the door.
To keep the family dynamic happy, garden storage is the best solution and ensures everything is organized and exactly where you left it when the warm weather comes back around. They come in a variety of sizes and work as either freestanding cabinets or benches to give you and your buddies an extra place to sit when you're entertaining that first sunny day of the year, BBQ, beers, and all.
The Best Garden Storage Box