Best Lawn Sprinklers in 2022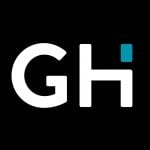 This product guide was written by GearHungry Staff
Last Updated
October 30, 2020
GearHungry Staff
GearHungry Staff posts are a compilation of work by various members of our editorial team. We update old articles regularly to provide you the most current information. You can learn more about our staff
here
.
GearHungry may earn a small commission from affiliate links in this article.
Learn more
We all love to keep our homes in excellent shape, and an integral part of our homes are the lawns and gardens that serve as the ideal spot for our evening tea time or outdoor parties and barbeques with friends and family. Therefore, having a well-kept lawn is just as important as maintaining any other part of the house. Thanks to technological innovation, it has become relatively simple and convenient to tend to our lawns and gardens without any professional help. Many gardening devices and tools save not only time but also energy and money in the long run. One such device is a water sprinkler that has made lawn maintenance that much easier. Water sprinklers serve many purposes; they primarily irrigate lawns, gardens, landscapes, golf courses, and even agricultural land. However, they can also be employed to cool these areas and keep airborne dust in check. Evenly distributing water to the entire lawn through a sprinkler head, the sprinkler makes sure that your lawn stays well-hydrated. These irrigation sprinklers come in various sizes, shapes, and levels of complexity. We have come up with a detailed list of the best lawn sprinklers along with their key features to assist you in finding the ideal fit for your lawn or garden. So let's start digging!
The Best Lawn Sprinkler
Melnor Turbo Oscillating Lawn Sprinkler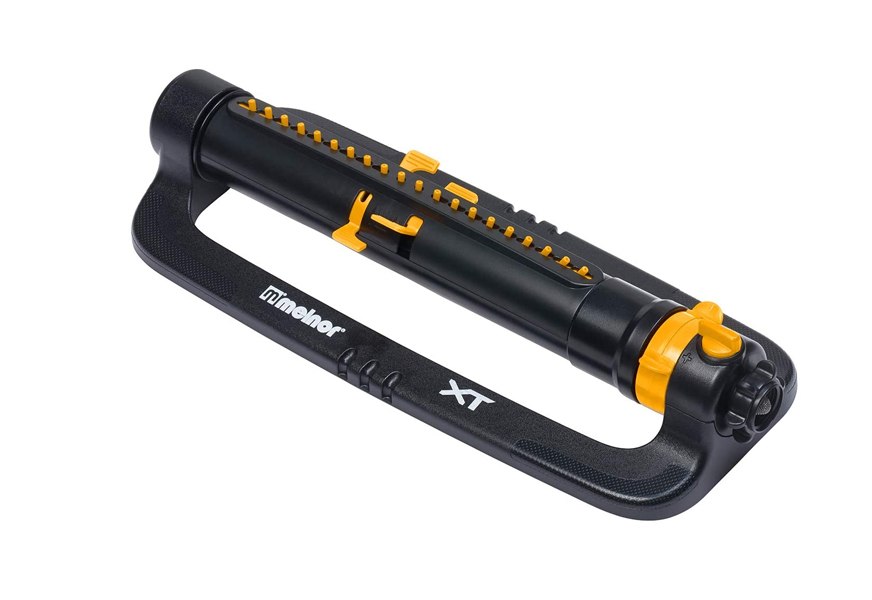 The proud manufacturer of the first successful oscillating sprinkler launched in 1946, Melnor, has presented us with innovative and premium quality home improvement solutions for decades. And like all other Melnor products, you can rely on Turbo Oscillating Lawn Sprinkler engineered using state-of-the-art technology with your eyes closed. This oscillation sprinkler is the ideal device for small, medium, and large-sized lawns and yards as it works well on areas of all sizes. Sporting a sleek and portable design, it can easily be placed anywhere on your lawn. The sprinkler features 20 precision nozzles that can easily cover areas of up to 4500 square feet, so no matter how big your lawn is, Melnor has it covered.
One of the most outstanding features of the sprinkler is its three-way adjustment system that enables you to customize the pattern of use and degree and direction of sprinkling. The twin touch controls allow you to set the width and range of the water pattern as you prefer; change the pattern's length using the range adjustment and employ the width adjustment for independent side modifications. A unique Zoom control allows you to change the size of the area covered for watering. Narrow it down to a small part of the garden or expand it to reach out and cover the entire lawn according to your particular needs and preferences. The Infinity Drive turbo motor leads to smooth movements for even watering, extending the product's working life. Another exceptional add-on is the Quick Connect product adapter that can swiftly connect and disconnect the sprinkler. Finally, you can rest assured that you made the right choice as the sprinkler comes with Melnor's limited lifetime warranty. For more amazing products for your yard, check out these handy reel mowers.
Key Features:
20 nozzles for maximum coverage
Can water areas of up to 4500sq ft.
Infinity drive turbo motor
Twin touch control with zoom control for 3-way adjustment
Comes with Melnor limited lifetime warranty
Specification:
Brand

Melnor

Model

65078-AMZ

Weight

2.99 Pounds
Melnor Metal Oscillating Lawn Sprinkler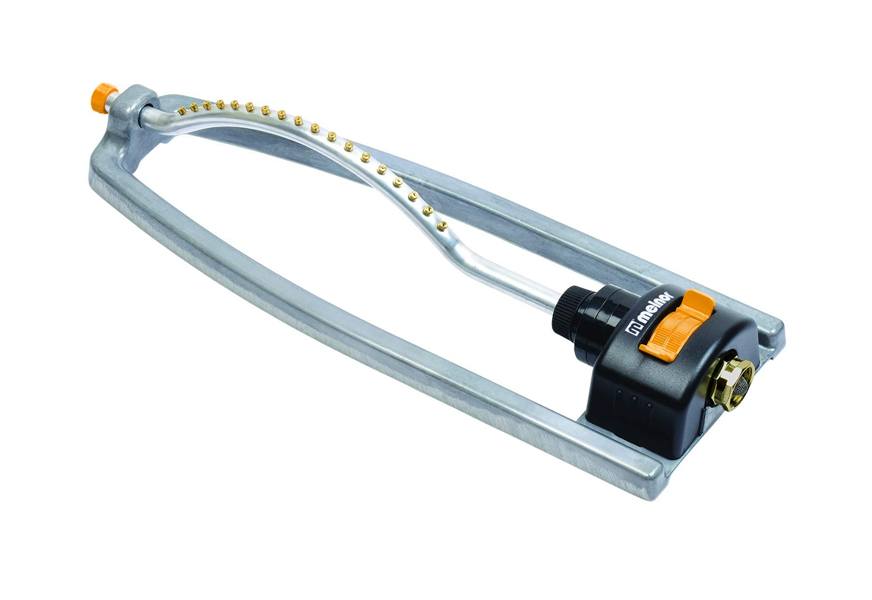 Melnor is the pioneer of high quality and durable water sprinklers. Melnor Metal Oscillating Lawn Sprinkler is yet another exciting creation by the established brand. This sprinkler boasts a wide range of coverage and can efficiently water areas of up to 3600 square feet. This means that keeping large gardens and lawns hydrated and well-maintained is not an issue for this powerful device. This broad-coverage sprinkler features 18 precision drilled brass nozzles that effectively and forcefully shoot water that reaches all corners of your lawn or yard. These nozzles add to the device's overall sustainability and provide even and consistent watering for your plants, flowers, and even those home-grown vegetable patches that you so cherish.
The Melnor XT metal oscillating sprinkler is driven by the Infinity Drive advanced turbo motor that ascertains a smooth operation devoid of any hitches. The motor derives results such as an even coverage and makes sure that your sprinkler keeps working for years on end without the need for any significant repairs or maintenance. Another feature that adds years to the product is its heavy-duty metal construction that can withstand harsh weather conditions. The device also features simple range controls that enable you to easily adjust the watering pattern's length and position it to the left, right, or center. A Quick Connect product adapter is included in the package for effortless connection or disconnection of the sprinkler. Melnor also prioritizes the security of your purchase by extending a limited lifetime warranty. To maintain a perfect lawn, make sure to use any of these efficient lawn fertilizers from our list.
Key Features:
Equipped with 18 brass nozzles
Covers areas of up to 3600sq ft.
Basic range controls for customized watering
Comes with a quick connect product adapter
Melnor lifetime limited warranty included
Specification:
Brand

Melnor

Model

65079-AMZ

Weight

1.45 Pounds
Kadaon 360 Degree Rotating Lawn Sprinkler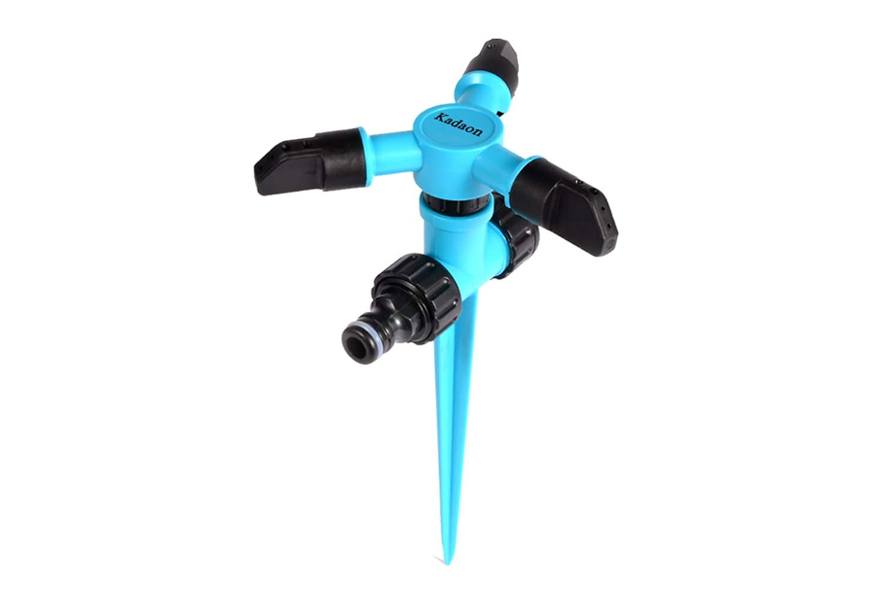 Have you always craved a well-manicured and lush green lawn but found gardening too mundane or time-consuming to concentrate your energies and efforts on? Do you find it unbearably tiring to manually water your garden and plants regularly using a watering can or a hose? Well, all this points to a simple yet highly useful solution in the form of a water sprinkler that does all the work for you so you can engage in other leisurely activities. A rotating sprinkler is a reliable choice as it effectively sprays the entire area and covers all corners of the lawn or garden. Kadaon 360 Degree Rotating Lawn Sprinkler is the optimal rotating sprinkler that works well on small and large areas alike and has a maximum coverage of 3000 square feet. 
This three-arm and ABS plastic rotary sprinkler can be channeled to spray either directly or at a 45-degree angle. An exceptional attribute of this sprinkler is its patented design engineered to conserve water as much as possible by adjusting the water density, size, and scope. It can be employed to spray vegetable patches to keep them fresh and water flower beds. The powerful spinning action in all directions is ideal for keeping the entire lawn hydrated. And in case you are getting bored and are looking for a fun outdoor activity to engage in with kids, it can also prove to be an apt toy. The use of the device is uber-convenient; all you need to do is fix the sharp ground spike into the grass, and the water joint can be connected to any standard connector and tap. Another perk is that the quiet operation of the sprinkler sounds like slight rain, so you can operate it at any time of the day without worrying about the noise level.
Key Features:
Three-arm + ABS plastic rotary lawn sprinkler
Water-saving design
Coverage area: 3000sq ft.
360-degree rotating action
100% money-back guarantee if not satisfied
Specification:
Brand

Kadaon

Weight

1.44 Ounces
Brizer Oscillating Lawn Sprinkler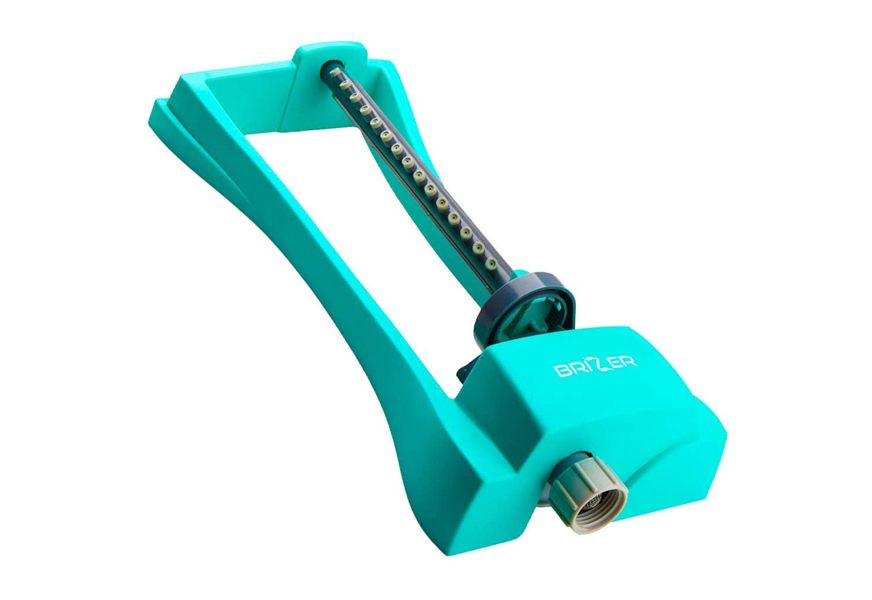 This beauty Brizer Oscillating Lawn Sprinkler is a winner and will become your favorite yard tool in no time. Constructed using heavy-duty plastic that promises to stand the test of time, this oscillating sprinkler is the best value for your hard-earned money. The plastic tube of the sprinkler is packed with 15 nozzles that ensure an enhanced and even coverage. A dial allows you to select the watering range; you can either direct it towards left or right or select narrow or full width for sprinkling. This feature gives you watering flexibility by letting you customize the water pattern according to your needs and preferences. 
Installation of the sprinkler is a straightforward affair. The lightweight tool can be easily carried and placed wherever you want, which can be in the middle of the lawn to irrigate the entire area. Adjust the oscillation as required and attach the sprinkler to a hose, and voila, it is ready to use. The sprinkler can easily water up to 3000 square feet of area. Included in your purchase is a nozzle cleaning tool that can unclog the nozzles if there is any blockage. Another safety feature is the sieve located at the hose connection that filters out any dirt that can enter the sprinkler and clog the nozzles. Bring home this beautiful grass sprinkler and make your lawn clean, happy, and healthy. For effortless maintenance, use any of these top robot lawn mowers from our list.
Key Features:
Oscillating sprinkler with 15 nozzles
Coverage areas: 3000sq ft
Fully adjustable with the control dial
Heavy duty ABS plastic construction
Customizable water patterns
Specification:
Brand

Brizer

Weight

1.05 Pounds
WOVUU 360 Degree Rotating Lawn Sprinkler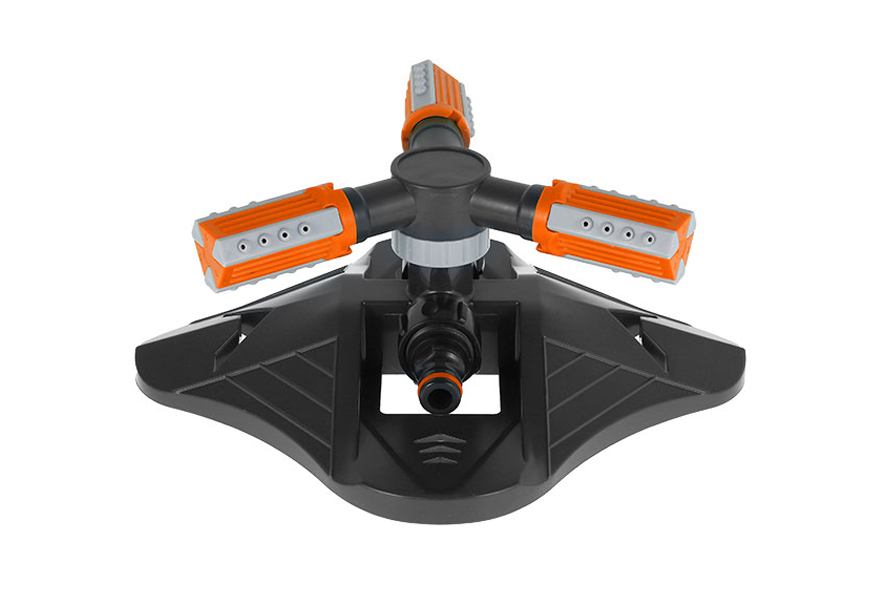 Rotary lawn sprinklers are a great way of irrigating home yards, agricultural land, and commercial areas such as golf courses and commercial gardens. WOVUU 360 Degree Rotating Lawn Sprinkler is a sensible choice for your home and commercial venues and is a suitable alternative to manual watering. The sprinkler is equipped with three adjustable swivel arms, with each arm featuring 3/4/5 spray nozzles that can be combined freely. This amounts to 36 units of angle spray nozzles, which contribute tremendously to the efficacy and watering power of the sprinkler. 
The construction of this sprinkler uses solid ABS engineered plastic that adds to the durability of the product. The spray range of the sprinkler varies from 32.8ft to 49.2ft under pressure of 60PSI, depending on the number of nozzles used. This handy feature lets you breezily adjust the spray distance so you can work on a small zone of the lawn or the entire lawn according to the need of the hour. The automatic rotation in 360 degrees provides you with quick and functional irrigation to save both time and water. And if you have larger spray areas at hand, the sprinkler can be connected in series. In case you own a traditional rubber hose, the WOVUU sprinkler comes with a quick connector fitting. Other accessories include waterproof tape and a user manual. For more must-have products for a perfect lawn, check out these electric weed wackers that can make your life so much easier.
Key Features:
Automatic 360-degree rotation
Coverage ranges from 32.8ft to 49.2ft under 60 PSI
3 Swivel arms with three different nozzle modes per arm
Constructed using durable ABS plastic
Comes with quick connector fitting, waterproof tape, and user manual
Specification:
Brand

WOVUU

Weight

11.7 Ounces
Melnor Pulsating Lawn Sprinkler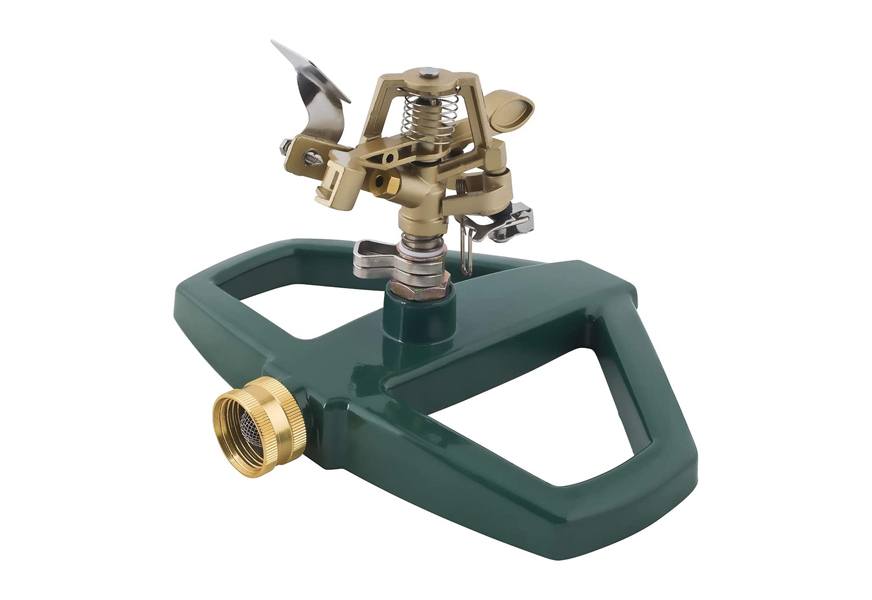 Melnor is a trusted name when it comes to buying sturdy tools for your yard. After all, the company has been generating home improvement solutions with a strong commitment to excellence for over 70 years. They have been continuously updating their products with the latest technology and chic designs. Melnor Pulsating Lawn Sprinkler is next in line on our list of the best lawn sprinklers. It features a sturdy all-metal sprinkler head perched on top of a robust sled base made of heavy-duty metal. The base provides a stable platform for hydrating large lawns and areas of up to 85ft. 
Buying this sprinkler is the same as making a solid investment as the rust-proof design is guaranteed to last ages and extend years of quality service. The device comes with a Quick Connect product adapter set that allows you to connect or disconnect the sprinkler in an instant. And when the Quick Connect system is not being used, you can attach the threaded end of the nozzle to any standard garden hose. A cleanable sieve is also located at the base to filter out any dust or debris. Melnor prioritizes its customers' satisfaction above all else and offers a 7-year limited warranty on the purchase.
Key Features:
All-metal sprinkler head
Sturdy metal base
Hydrates up to 85ft diameter
Quick connect product adapter included
Features Melnor 7-year limited warranty
Specification:
Brand

Melnor

Model

65067-AMZ

Weight

16 Ounces
Orbit H2O-6 Gear Drive Lawn Sprinkler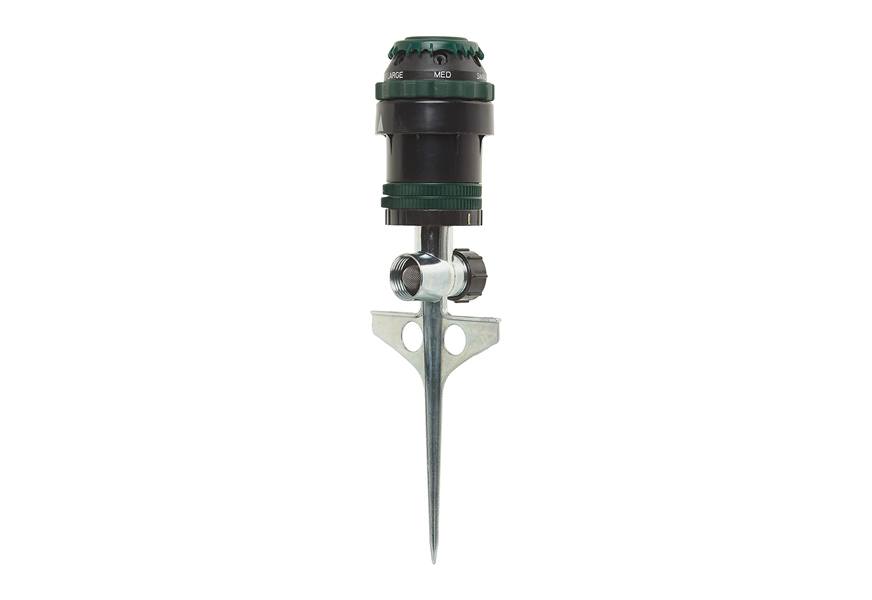 Lawn sprinklers are a true blessing if you own a huge garden or yard. Everyone wants a well-manicured and prim lawn space, but few find the time, energy, or willingness to roll their sleeves and delve into this tedious chore. Water sprinklers are, therefore, an essential tool for homes that consist of spacious lawns and gardens. They irrigate the grass, plants, and flowers and impart a cooling effect that is particularly inviting during summers. And if you are a first-time buyer perusing the market for a reliable yet user-friendly option, Orbit H2O-6 Gear Drive Lawn Sprinkler is the optimal fit for you. The most tempting part is that the device requires no assembly and is ready to use right out of the box, no more fumbling with the several small pieces or spending hours putting together the final product.
This versatile sprinkler boasts an effortless operation and presents a great deal of flexibility regarding the spray settings. With a capacity to spray up to 80 feet in diameter, this lawn irrigator can cover a massive surface area of 5026sq ft. at the full circle setting. The spray coverage can be switched between partial and full circle (360-degree) coverage with the help of collar tabs. Another remarkable feature is the presence of 11 different types of spray patterns to choose from, including small, medium, large, shower, vertical, and flat. On top of that, the four-position diffuser lets you adjust the spray in the form of either drops or small jets. The lightweight and portable sprinkler can be repositioned when needed by simply pulling out the spike and pushing it again into the soil in a different spot. The innovative design and quiet operation of this sprinkler, combined with its multiple unique features, make it a real keeper. To keep any unwanted leaves from your lawn, make sure to use a reliable leaf blower.
Key Features:
Easy to use
Covers up to 80ft diameter
Customizable spray settings
Whisper-quiet operation
Partial or full-circle coverage available
Specification:
Brand

Orbit

Model

58573N

Weight

5.6 Ounces
Signature Garden Three-Arm Lawn Sprinkler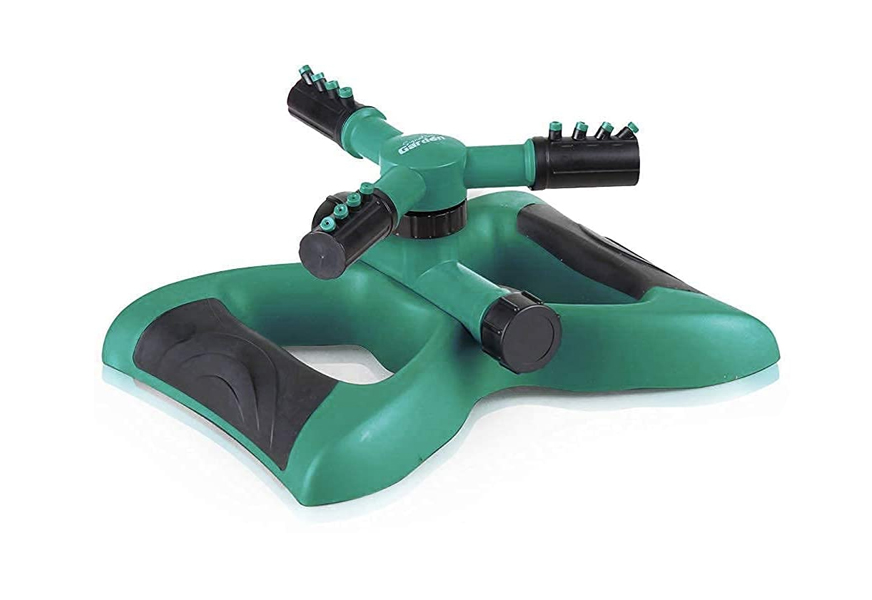 Signature Garden Three-Arm Lawn Sprinkler in a soothing green hue and a sporty design would make the perfect addition to any modern home lawn. One of the finest varieties of rotary lawn sprinklers in town is this premium tool by Signature Garden, which has three rotating arms. Each arm consists of four powerful built-in nozzles that eject a smooth stream of water. That makes a total of 12 nozzles that do an outstanding job covering 3600sq ft. evenly. The sprinkler can spray a distance of 32.8ft with a water pressure of 80 PSI. If you want to target monstrously large areas such as golf courses and other commercial areas and lawns, you can connect multiple sprinklers through connectors. 
Metal weights built in the base of the sprinkler provide augmented stability during function so that the device does not topple over or move uncontrollably while hydrating your lawn. The 360-degree rotation offers an incredible range of motion, while the angle of spray can be modified from 15 to 45 degrees upward and out. The sturdy ABS material used in its engineering ensures that the sprinkler remains resistant to rust, corrosion, and unfavorable weather conditions. Use this well-built product to hydrate every inch of your lawn or deploy it as an excuse to have some outdoor fun with kids. This sprinkler will live up to all your expectations. Moreover, Signature Garden grants you a bonus in the form of an unparalleled lifetime replacement guarantee. If you like this product, you might also like these handy lawn edgers.
Key Features:
360-degree rotating sprinkler
3 arms and 12 built-in nozzles
Coverage area: 3600sq ft.
Made with sustainable ABS material with TPR encapsulated sides
Lifetime replacement guarantee
Specification:
Brand

Signature Garden

Weight

1.85 Pounds
Eden Metal Oscillating Lawn Sprinkler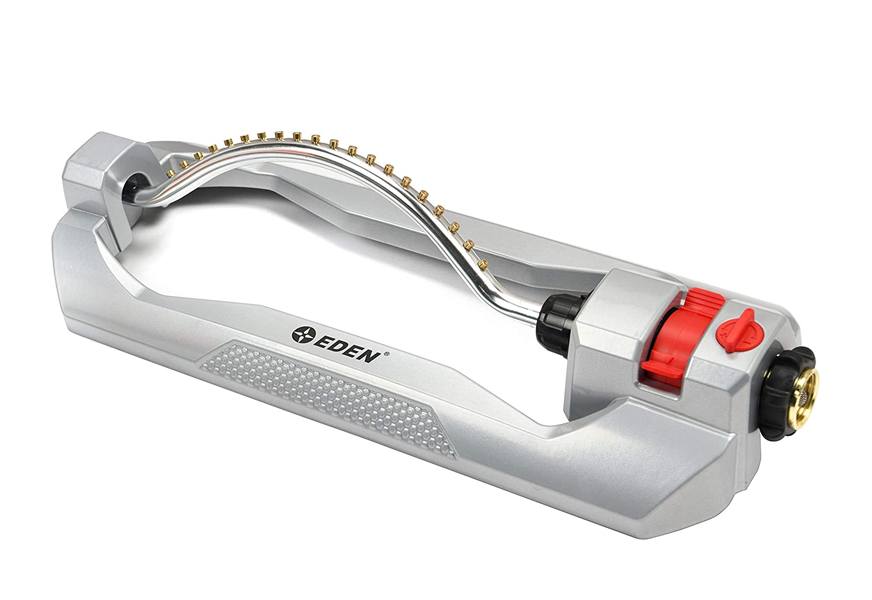 Eden Metal Oscillating Lawn Sprinkler in sleek silver and featuring an attractive design is bound to complement your garden or lawn with grace and style. Not only that, this device also makes sure that your lawn remains a lush green and well-hydrated at all times. The oscillating sprinkler is packed with 20 high-performance brass nozzles that extend excellent coverage of medium or large lawns and gardens. It can water up to 4300sq ft. with effortlessness, so no matter how immense your outdoor space, this sprinkler can comfortably cover all your watering needs. The sprinkler is also equipped with a built-in cleaning tool for nozzles to keep them in impeccable working condition.
The patented dirt-resistant sealed turbo drive motor contributes enormously towards a smooth operation regardless of water pressure. The water pattern can be breezily adjusted using the sliding tab range controls that are simple to maneuver. There is also a flow control knob to regulate water pressure. Another perky accessory included in the package is the Quick Connect adapter that snugly fits all standard garden hoses. Last but not least, the metal base of the sprinkler provides robustness and stability to the product.
Key Features:
Oscillating sprinkler with 20 precision-molded brass nozzles
Extensive coverage of up to 4300sq ft.
Turbo drive motor and sturdy metal base
Smooth control tabs for coverage adjustments
Comes with a quick connect adapter that is compatible with all standard garden hoses
Specification:
Brand

Eden

Model

94115

Weight

1.99 Pounds
MAXFLO Oscillating Lawn Sprinkler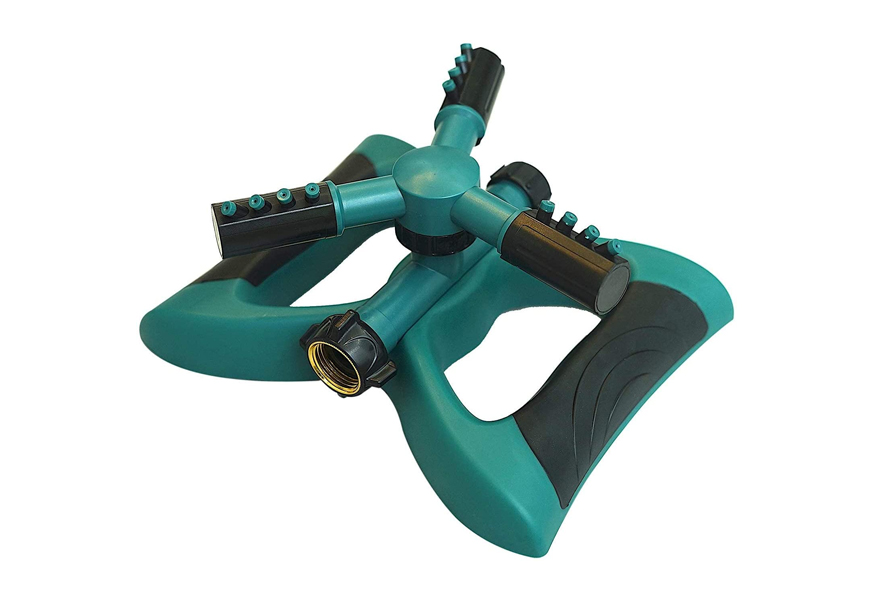 The final entry in our line-up of the best lawn sprinklers is the power-packed MAXFLO Oscillating Lawn Sprinkler. This 360-degree automatic rotary sprinkler boasts three swivel arms and 12 built-in angled spray nozzles, with each arm sporting four nozzles. The extra-wide coverage of 3600sq ft. ensures that every corner and square inch of your lawn is thoroughly irrigated. The sprinkler is engineered using superior quality ABS plastic and a rust-proof polymer and is, therefore, a dependable purchase.
Water is showered from the nozzles in a uniform, rain-like pattern that can be easily adjusted to suit your needs. The sturdy construction makes sure that the sprinkler stays firmly on the ground during operation, so there is no fear of tipping over. The two water inlets can be connected to all standard water connections. With its smooth and quiet functioning and premium quality manufacturing, this rotary lawn sprinkler is the ideal tool to water your lawns, flower beds, and vegetable patches. Our buying guide on best-selling garden hose nozzles features some more handy products like this one, so make sure to check them out, too.
Key Features:
360-degree rotating water sprinkler
3 arms and 12 nozzles
Coverage area: 3600sq ft.
Made using ABS plastic and rust-resistant polymer
Adjustable spray direction
Specification:
Brand

MAXFLO

Weight

10.4 ounces
Lawn Sprinkler Buying Guide & FAQ
Features to Look for in Lawn Sprinklers
Settings - This is the predominant feature to be on the lookout for in a lawn sprinkler. It is recommended to go for a sprinkler that offers multiple spray settings, including adjustable water patterns and spray direction.
Range - Range of coverage is a significant feature that cannot be overlooked while searching for a lawn sprinkler. Depending on your particular needs and the size of your garden, select the most appropriate option. Most home lawn sprinklers vary in range from 3000 to 4000sq ft.
Maintenance - No one likes to own high-maintenance tools or devices as it eventually becomes a hassle to keep them in top working condition. It is advisable to select a sprinkler that features solid construction and is easy to maintain with helpful add-ons such as a built-in cleaning tool for nozzles and a cleanable sieve to screen dust and debris.
Coverage Pattern - Most of the contemporary designs in the market these days offer multiple patterns of coverage. A common setting is a 360-degree rotary sprinkler. This is full circle or half circle coverage adjusted according to your lawn size and the soil and plants' water requirement.
Other Features - It is always good to have something extra, right?! Therefore, additional features and perks such as the presence of a Quick Connect adapter system or lifetime guarantee are always welcome bonuses with your purchase.
Types of Lawn Sprinklers
There are many different types of lawn sprinklers, but few have always dominated the market. The foremost among those types are rotary sprinklers, fixed-spray sprinklers, oscillating sprinklers, and traveling sprinklers.
Lawn Sprinkler FAQ
Q: How do lawn sprinklers work?
A: Lawn sprinklers have a relatively simple mechanism of action. A water hose is connected to a connector on the device's side, which acts as the water supply. Driven by a motor, the sprinkler then sprays water from its nozzles that then irrigate the surrounding area.
Q: How often should I water my lawn with a lawn sprinkler system?
A: That depends on several factors that determine the ideal frequency of watering, such as the type of soil, the kind of plants, and the season. Also, it varies from one homeowner to another how moist he wants his lawn to be. However, one should always watch out as there is a risk of overwatering with sprinkler systems.
Q: How long should I leave a lawn sprinkler on the lawn?
A: This again depends on the type of sprinkler head. For rotor heads, 60 minutes or an hour is sufficient to water the soil well, while in the case of spray heads, it usually takes 20 to 30 minutes.
Q: Are rotary lawn sprinklers better?
A: Rotary lawn sprinklers are usually inexpensive, easy to use, and work great on residential lawns and yards by evenly irrigating a more significant area over an extended period.
Sign Up Now
GET THE VERY BEST OF GEARHUNGRY STRAIGHT TO YOUR INBOX